Although Chinese society has rapidly changed over the past decades, little seems to have changed in when people get married and how the household is managed. A new report points out that the majority of Chinese people get married around the age of 26, and live within traditional family and household structures.
The   All China Women's Federation recently published the "Happy Marriage & Household Report" (中国幸福婚姻家庭调查报告). The report, that contains data and information about various issues within Chinese family structures, points out that the average age of marriage in China is 26. It also writes that over 90% of married women in China tie the knot before the age of 30. The "Happy Marriage & Household Report" results come from a nationwide year-long survey, with 10.000s of questionnaires in ten different provinces, Global Times writes.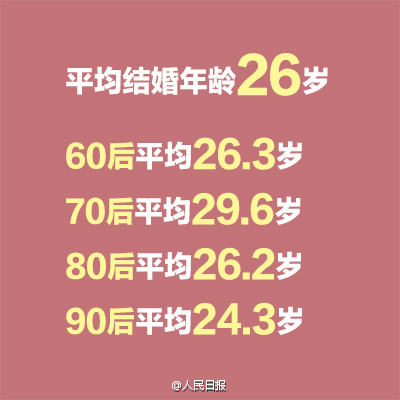 The report indicates that the average ages for marriage are 26.3 for the 1960s generation 29.6 for the 1970s generation, 26.2 for the 1980s and 24.3 for the post 1990s. (Source: Global Times).
More than half (54.3%) of married couples were already acquainted before they developed a relationship, the report says. For the younger generations, the Internet has generally played an important role in getting to know each other.
The report also indicated that the traditional gender roles are still persistent in the majority of Chinese families; the men are breadwinners, while the women are homemakers.
The report's results became trending topics on Sina Weibo under the hashtags of "China Average Marriage Age is 26" (#我国平均26岁结婚#) and "woman takes care of household, man in charge of earning money" (女方负责家务,男方负责挣钱).
Many Weibo netizens seem unhappy with the report's results, seemingly feeling pressured into marrying by their parents and society (also read: "Pressured to get married: for the country and for society").
"I am 27 and still not married," one netizen says with an unhappy emoticon. Another Weibo user responds: "Marriage is something big, it's not a game. Age is not important at all. If you compare yourself to the average age of getting married, then also don't forget to check the average age of getting divorced." A user called Seven says: "This world does not have an age when you have to get married, just an age when people think you should get married."
The All China's Women Federation is a government body established by the Communist Party of China in 1949 to promote "women's rights". One user expresses their critique with the federation: "You don't pay attention to such a grave problem as domestic violence, yet you do have the nerve to pressure us to marry. Such bullsh*t!"
"In my next life I want to be a man," one female netizen writes: "Because as a woman, you cannot be too fat, you cannot be too skinny, you cannot be a money-grubber, neither a party girl. You have to cook and do the household, you have to be hard-working and gentle, you have to take care of the elders while paying attention to the small kids, you have to make money to support the household. As a man you just have to earn money. They say women are made of water, but I feel women are made of cement – that's how strong they are."
– By Manya Koetse
Follow @WhatsOnWeibo
©2015 Whatsonweibo. All rights reserved. Do not reproduce our content without permission – you can contact us at info@whatsonweibo.com.