Incidents of online harassment against women continue to rise year on year across the world, with severe cases in the PRC and abroad. What's on Weibo's Cat Hanson, who has personally experienced online stalking in China, explores how cyber-bullying is gradually receiving more awareness – although the Chinese laws are lagging behind.
In the summer of 2016, romantic comedy So I Married my Anti-Fan (所以…和黑粉结婚了) released in theaters across China. Actress Yuan Shanshan (袁姗姗) starred as a scorned journalist who unleashes an online campaign against a Korean pop idol (Park Chanyeol). In the movie, Yuan's character spends hours leaving insulting comments about the star in her crosshairs, giggling with glee as she argues with his diehard fans.
The role wasn't entirely fiction for Yuan, who in 2013 became the target of a deluge of online abuse on China's Sina Weibo.
The actress shared her experience during a TEDx presentation in Ningbo two years later, describing her shock of waking up to thousands of comments and posts criticizing her acting: "Before 2013, I would never in my wildest dreams have imagined that I'd become the internet's troll-fodder," she said.
Yuan was not alone. In late 2016, Chinese women's rights group Chilli Pepper (尖椒部落) published figures obtained from their survey on online harassment, also known in Mandarin as wangluobaoli (网络暴力 – a homonym of 'online violence' and 'online bully').
The report aimed to show that "Internet harassment is another form of violence." According to the data, the majority of respondents were female students who had encountered online harassment in the past.
IDEAS ON 'ONLINE VIOLENCE' IN CHINA
"Chinese websites tend to blame young people's 'impulsive' and 'ignorant' behaviour for the rise in online harassment."
Discourse on China's online violence has usually revolved around infamous 'human flesh searches' (人肉搜索), a term used to describe the activities of the wangluo baomin (网络暴民 'internet mob') who seek out and share the personal information of people involved in public scandals.
Due to the internet's comparatively youthful demographic and the aggressive nature of these search campaigns, Chinese Wikipedia-style websites tend to blame young people's 'impulsive' and 'ignorant' behaviour for the rise in online harassment.
In contrast, the majority of Chilli Pepper's survey respondents reported a style of online harassment beyond 'human flesh searches.' They also believe the issue is rooted in gender discrimination.
Given the varying opinions between online women's groups and encyclopedic websites, it begs the question as to whether online platforms like Weibo are becoming a discursive space for issues of gender, abuse, and harassment.
GLOBAL ONLINE VIOLENCE
"Online misogyny is a global tragedy, and it is imperative that it ends."
The online harassment of young women is not unique to China. Writing for The Guardian, Elle Hunt reported that over three-quarters of women reporting harassment were under 30 years old, according to Australian research.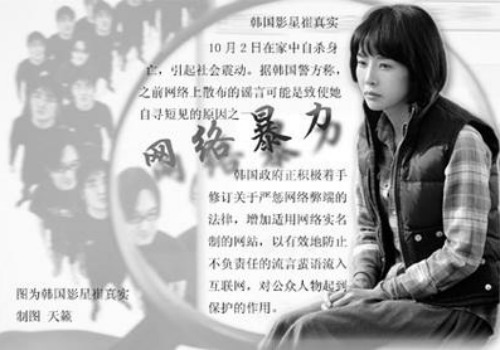 In 2016, American actress and activist Ashley Judd delivered a TED Talk claiming: "Online misogyny is a global tragedy, and it is imperative that it ends." The talk was internationally praised and shared on multiple social networking sites including Weibo.
The mechanisms of online violence in Australia and America were consistent with Chilli Pepper's findings in China; harassment, hyper-sexualised comments, and attacks on appearance. The LGBT community are also regularly targeted worldwide with homophobic and transphobic online attacks.
Other factors such as money, crime, and morality are less likely to be the subject of harassment, despite being the main focus of human flesh searches. This suggests that a form of online violence exists outside of these searches, in contrast with online definitions.
"How many deaths before you're satisfied?"
Incidents of online harassment against women continue to rise year on year across the world, with severe cases in China and abroad.
In June 2016, a man named as 'Aidyn C' was ordered to stand trial in the Netherlands for 'extortion, internet luring and child pornography' after the death of Canadian teenager Amanda Todd. The teenager posted a video to YouTube about her online harasser shortly before taking her own life. The case sent shockwaves throughout Canada and the world, leading to calls for stronger laws to combat online harassment.
In China, the death of Chinese singer Qiao Renliang (乔任梁) was also followed by public outcry over online violence. The television actor and singer committed suicide in November 2016 at the age of 28. Qiao's death was officially attributed to depression, although many netizens blamed the online abuse that stars such as Qiao and actress Yuan Shanshan receive on a daily basis.
In a critical post addressed to online anti-fans, Weibo user @Lun­_少女依 wrote: "How many deaths before you're satisfied?"
Qiao Renliang's death has never been officially connected to online harassment.
THE VULNERABLE ONES
"A high number of children aged 8-17 in China have undergone negative experiences online, ranking first among 25 countries."
Despite evidence that young women and public figures are most vulnerable to online harassment, figures obtained by Microsoft in 2012 show that a disproportionately high number of children aged 8-17 in China have undergone 'negative experiences' over the internet, ranking first among 25 countries.
Some netizens dispute the reliability of these research projects. After China ranked 8th in internet civility in another study by Microsoft, a netizen wrote: "The software is still in the early stages. The words they search for [in these studies] are only one part of the Chinese language; there are still loads of other words created by internet users."*
However, China ranked above average for education and formal school policies about online bullying, with almost half of the children surveyed having been made aware of online risks and 'manners' by their parents.
Microsoft believes that China demonstrates a high awareness of online bullying, however preventative and punitive measures are yet to receive legislative support.
*(Chinese netizens often create new ways to circumvent censorship or have an own online language. A famous example is the 3-character phrase 'cao ni ma' (草泥马), literally meaning 'grass mud horse', but pronounced in the same way as the vulgar "f*ck your mother", which is written with three different characters. Netizens can thus say 'f*ck you' without this being picked up as such by software).
TACKLING ONLINE VIOLENCE
"I'm sorry for what I said about you."
For Yuan Shanshan, the online and media abuse became so overwhelming that she was compelled to take action. Yuan eventually devised a campaign called""Loving Criticism" (爱的骂骂). Phonetically similar to the phrase "a mother's love," Yuan pledged to donate 0.5 RMB to a children's charity for every comment she received.
After twenty-four hours, she had raised over 50,000 RMB (±7270$). Across her Weibo a similar message was echoed hundreds of times: "I'm sorry for what I said about you."
Yuan concluded her talk by mentioning the risk of suicide for the victims of online harassment. The actress advised young people to step away from the screens and find support via family, friends, and exercise.
Meanwhile, respondents to Chilli Pepper's survey were asked for the best methods of combating online harassment. Ranking above answers such as 'blocking the offender' or confronting them with the same tactics, the majority favored reporting the harassment to social media platforms or the police. However, the legal parameters of online violence remain open to interpretation.
ONLINE VIOLENCE & CHINESE LAW
"The police suggested that I confront the harasser myself."
Global laws on internet harassment are often unclear, although attitudes are changing. In 2016 while living in China, I reported an incident of online harassment by a local man to police. The cyber-stalking campaign of abuse and hyper-sexualised messages had lasted almost nine months. With no way to identify him other than several social media accounts, a legal channel seemed difficult to pursue.
After reviewing the messages, local police were sympathetic. However, the abuser had stopped short of directly threatening my life, which would have been a clear crime under law. It was later suggested that I confront the harasser myself. Knowing the abuser ranked collecting pen knives and pellet guns amongst his main hobbies, I maintained radio silence until the abuser went away.
Perpetrators of online violence are by no means immune to prosecution, and they can be prosecuted under existing laws both in China and around the world. In 2014, the South China Morning Post reported the arrest of a 20-year-old man in Hong Kong for posting violent death threats to an online forum regarding the daughter of a police officer.
Other nations in the region have been forced to amend existing laws to cover online crime. For example, Japan added online communications to the legal definition of stalking after the murder of two women. Gota Tsutsui sent malicious emails to one of the women before stabbing them to death in 2011.
In 2015 India also convicted a man for cyber-stalking in a case considered to be a first in the country. The BBC reported similar attitudes from the Indian police to those in the case in Hong Kong and my own in mainland China – a focus on finding evidence of physical threats sent via the internet rather than sexual harassment and stalking. It seems that like many countries, China is undergoing a transformative period in its legal recognition of online violence.
THE ROLE OF WEIBO
"Netizens should not give online violence a chance to flourish."
Despite China reforming sexual harassment laws in real public spaces, the topic can still be considered taboo. However on Weibo, some netizens have taken to exposing or confronting their abusers, sharing articles and engaging in discussion. Internet anonymity apparently works both ways – masking the perpetrators of online violence, but also encouraging the abused party to bypass social taboos, speak frankly about their experiences, and generate conversation over the issue.
"Insulting people on the internet is against the law and lacking in education. Everyone should be civilized and respect one another. If you see these 'keyboard warriors' and 'flamers', report them to the police!", was one comment among many.
Netizens not only feel empowered to call out online violence on Weibo, but also to propose solutions and changes to the law. A video of famed public speaker Wang Fan presenting her thoughts on the issues received thousands of re-blogs and comments:
"I suggest implementing a system that identifies internet users, such as needing your ID number to set up a Weibo account," said one user.
"You can't force people into having a good moral character, but you can emphasize the importance of having a good moral character" (source).
"If the big microbloggers get threatened, they can call the police to sort it out. What about us regular folk?" (source).
"I wish the police could sort out these 'keyboard warriors', these internet bullies who curse others as soon as they open their mouths – I've gathered all the evidence…The People's Daily said earlier: 'Keyboard warriors are not outside of the law!'" (source).
While debate over the need for clarity in online violence laws is ongoing, discourse continues to grow on Weibo. There are also indications that netizens aren't the only ones who use the platform to raise awareness of the pressing nature of the issue, or even to link online violence with gender.
Earlier this year, the Weibo account for the Centre of the Chinese Communist Youth League posted a full copy of women's rights under Chinese law, finally adding: "Netizens should maintain rationality, post positively, and not give online violence a chance to flourish."
By Cat Hanson
Follow @WhatsOnWeibo
©2017 Whatsonweibo. All rights reserved. Do not reproduce our content without permission – you can contact us at info@whatsonweibo.com.