Chinese 3D artist Qi Xinghua (齐兴华) uses his skills to turn bleak walls in Chinese cities into stunning works of art – he brings concrete to life. But his street art often does not last, as Qi faces different forces that work against him and his work. On social media platform Weibo, Qi's fans can admire his art online, even if it has already disappeared from the streets.
"The crocodile is gone again," – Chinese artist Qi Xinghua posted on his Weibo account on August 25. Earlier this summer, he had transformed the dilapidated part of a Beijing brick wall into a cheeky crocodile, writing: "Beijing has a well-known red brick wall that's broken. It looks like a scar. I used the nighttime to make it more beautiful. I hope to show that what's broken can also be interesting. A city needs its tattoos." But now, the crocodile is gone – the painting's layer smashed into pieces.
On Sina Weibo, painter Qi Xinghua (@齐兴华) describes himself as "China's first 3D artist" ("中国首位3D画艺术家"). The artist was born in Heilongjiang in 1982. He was inspired by western 3D sidewalk chalk artists, and soon developed an interest to do the same. He enrolled in the Central Academy of Fine Arts, and started focusing on multi-dimensional art in 2002.
"Nature confronts me with a difficult problem, and I offer her a humorous solution"."
Since he fully dedicated himself to his 3D art work in 2010, Qi has become a much-praised artist and a four-time Guinness World record holder for making the world's largest 3D paintings. He is renowned for his incredible designs that can be mind-blowing, often leaving people wondering what is real and what is fantasy.
It is especially because of his record-winning work 'The Lion's Gate Gorge' (狮门峡谷) that Qi received much media attention, with the 3D effect being so strong that some people who stood on the painting even became dizzy.
According to Qi, he uses a technique called 'reverse version' or 'inverse-perspective'. As he told China.org: "From our normal vision, nearby objects are big and far away ones are small. I use the opposite method to make far away objects big and close objects small. In this way, a two-dimensional painting turns three-dimensional."
The Lion's Gate Gorge (狮门峡谷) by Qi Xinghua; the world's largest 3D (anamorphic) painting on display  in Guangzhou.
'The Waterfall' by Qi Xinghua is a depiction of a waterfall in a busy street, that seems to be protruding from the center.
Apart from working on his grand 3D projects, Qi also works on his street art with which he creatively turns bleak walls in the urban scenery into pieces of art, bringing messages of happiness, humour, and love of life.
For example, Qi has turned the holes in the wall of a deserted basement into Baymax from Disney's Big Zero.

Or he placed two pandas on two sides of a dilapidated brick wall.

Sometimes Qi gives his work original names, such as the project (image below) that is titled "Sharp Items will Hurt Grandpa's Hand (尖锐物品会划伤爷爷的手)".
Throughout the years, Qi Xinghuai has attracted many fans with his wall paintings. Apart from the 172,000+ followers he has on his Weibo account, many admirers also go around the city to seek for his work. Qi receives many invitations to decorate walls in different places. "I like this recreation of old walls", Qi says on Weibo: "It is like a cooperation with nature. Nature confronts me with a difficult problem, and I offer her a humorous solution".
"Seize the moment and pose with my work before it's gone."
On Weibo, Qi shares his working process with his followers. Either with paint or chalk, Qi adjusts his work to the place it is located. "I found this wall today," he recently wrote on his account: "And I got excited. I used the shape of the wall's broken parts to paint a face." He then shared the results with his fans.
Qi says he wants to "beautify the scars of the city" by focusing on broken walls and dilapidated parts of different cities within China.
"Seize the moment and pose with my work before it's gone," Qi tells his social media followers, who also send in their own pictures with Qi's different pieces, from Beijing to Nanjing and elsewhere.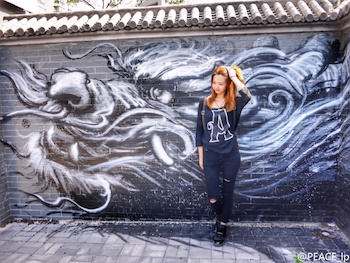 Despite his popularity, however, the humor and beauty of Qi's wall paintings usually do not last long, as Qi faces forces from within local communities and governments that work against his work and destroy it.
"It's not the seed that's lacking, it's the soil."
"I have been reported again," Qi writes. Besides the recent removal of Qi's crocodile, many other works have also been removed. The pandas, for example, have been "redecorated" with local advertisements. Another work titled "Sweetie, your bite is hurting daddy" ("宝贝,你咬疼爸爸了"), which depicts a baby lion biting the back of a father lion (Father and Son Lion), has been covered with paint and graffiti.
Besides people covering his work with their own advertisements or graffiti, Qi also faces the opposition of local land owners or city regulators. While finishing the crocodile, Qi posted on Weibo one picture of a police car and another one of himself running away from his work. Although he did not mention how and why the crocodile was destroyed, a picture of him sitting among the smashes of the painting suggests that it has been removed with force.
"Why am I reported? Nobody cares about people posting advertisements on walls, nobody fixes the walls that are broken. It grieves me. Tell me what city would like it, and I will come and paint," Qi wrote on July 22. Faced with setbacks of him being reported and his paintings being removed, Qi recently also wrote that "perhaps it is not the seed that is lacking, but the soil".
It might need more time before a relatively new phenomenon like street art will be accepted and accommodated by Chinese municipalities and citizens alike. In Shanghai and Shenzhen, efforts to regulate street performers were only introduced as recent as 2014. As for 3D and graffiti artists, their legitimate existence still relies on consensus between the artist, their local municipality and the residents, as there are currently no clear regulations. As The Diplomat wrote in 2015, China strictly controls graffiti that signals political dissent, but sometimes promotes graffiti that beautifies the city. But in the present situation, Qi's work will keep on facing an uncertain future.
On Weibo, many netizens are hopeful about the future of street art. "It takes time to obtain rich soil," one netizen writes: "It might be slow, but it will come."
In the meantime, Qi Xinghuai refuses to give up his street art activities. After the disappearance of his Father and Son Lion work, Qi wrote on Weibo: "I want to revive them, let them appear on the street again, with undestroyable spirit."
-By Diandian Guo and Manya Koetse
Follow @WhatsOnWeibo
©2016 Whatsonweibo. All rights reserved. Do not reproduce our content without permission – you can contact us at info@whatsonweibo.com.