A direct phone call between Trump and Taipei became a much discussed topic on Chinese social media on Saturday, where the majority of netizens see the phone call as a foolish move that demonstrates that President-elect Trump has "zero knowledge of foreign diplomacy."
Reports over a direct phone call between US president-elect Donald Trump and Taiwanese president Tsai Ing-wen on Friday became all the talk on Chinese social media on Saturday.
Taipei Times reported about the telephone conversation between President Tsai Ing-wen (蔡英文) and Donald Trump on Friday as the first time a Taiwanese president has spoken with a US president-elect since official diplomatic ties between the two nations were severed in 1979.
Donald Trump later tweeted that it was the Taiwanese president who had called him to congratulate him on winning the elections.
The President of Taiwan CALLED ME today to wish me congratulations on winning the Presidency. Thank you!

— Donald J. Trump (@realDonaldTrump) December 3, 2016
On Weibo, one post about Trump's Taiwan phone call was shared over 48600 times within half a day. Many Chinese social media users called Trump "stupid" and "foolish" for speaking directly to the Taiwan President.
"I think this might be serious – this hasn't happened since 1979."
Shortly after Trump won the elections, Chinese netizens initially responded with humor and praise. Many Chinese netizens supported Trump, not only because they seemed to like his pragmatic business background, but also because his opponent Hillary Clinton is often portrayed as an anti-China politician.
But after news of the phone call between Trump and Taipei came out, many netizens responded with confusion and worry to his Taiwan approach: "I think this might be serious – this hasn't happened since 1979," one Beijing netizen named @ProjectManagement said.
"Doesn't he understand foreign diplomacy at all?" Weibo user Brother Five, a USA-based Chinese scholar, wondered: "What kind of signal is he trying to send?"
"Trump has zero knowledge on what foreign diplomacy is."
On his Weibo account, Brother Five further wrote that he does not understand how Trump could directly call President Tsai Ing-wen, who is officially seen as a 'province governor' (省长) according to the PRC's One-China policy, in which the island is part of PRC territory under its constitution as the 'Taiwan Province.'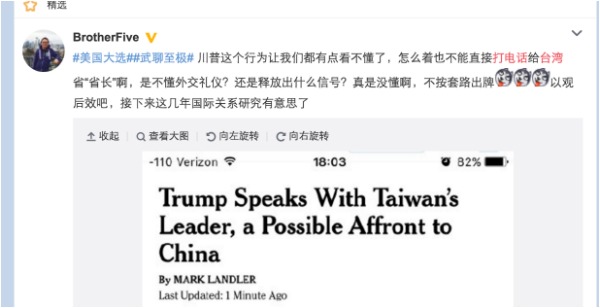 "Trump has zero knowledge on what foreign diplomacy is," another person also said.
Other netizens were also confused about Trump's latest move as they felt it does not benefit any party involved: "This will actually be more of a hindrance than a help to Taiwan," some remarked.
"Many Americans won't think this is a big deal, but this influences how we as mainland Chinese think of them," author Zhang Xinxin commented.
"It is not mainland China that should be worried – it is the White House."
Sina Military News reported that according to China's foreign minister Wang Yi, the phone call was just a "petty movement" by Taiwan that would not change the long-standing US policy towards China.
One group of netizens also agreed with this view: "I'd say it doesn't really matter – it is not mainland China that should be worried, it is the White House that should be most worried," one netizen commented.
In the end, the general reactions Chinese netizens have on Trump's Taipei call are mainly (1) confusion, (2) anxiousness and (3) indifference. The alleged indifference stems from the idea that closer relations between Washington and Taipei would eventually only hurt the USA and Taiwan, and would not affect China. "China will come out as the winner," many people said.
The majority of netizens seem to agree that the phone call is nothing but bad news. Although it might not necessarily do much harm, it will also not do any good for mainland China, nor for Taiwan, and certainly not for Trump and the future of Sino-US relations.
– By Manya Koetse
Follow on Twitter or Like on Facebook
©2016 Whatsonweibo. All rights reserved. Do not reproduce our content without permission – you can contact us at info@whatsonweibo.com.