China's State Administration of Press, Publication, Radio, Film and Television (SAPPRFT) issued a notice this weekend that Chinese television stations should refrain from broadcasting TV dramas "focused on entertainment" or "programs with foreign elements" during primetime.
China's SAPPRFT issued a notice this weekend regarding new regulations on primetime TV in China. The announcement, titled "Central Notice regarding the Orientation of Variety Channels and Platforms Broadcasting Cultural Items" (总局关于把电视上星综合频道办成讲导向, 有文化的传播平台的通知), was cited by all major official news outlets in China. The new guidelines drew some criticism on Chinese social media.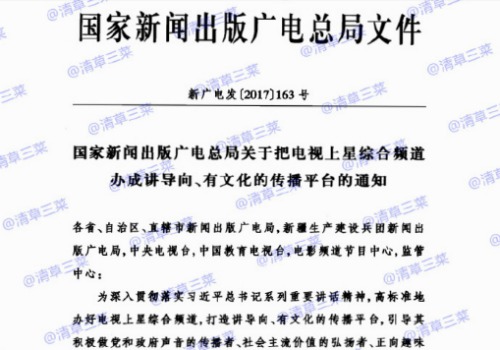 With the 19th National Congress of the Communist Party of China coming up this autumn, authorities have recently been strengthening control over Chinese websites, online videos, and television content.
The latest guidelines prescribe that TV series about "sensitive topics," TV dramas "too focused on entertaining" ("娱乐性较强、题材内容较敏感的电视剧"), and programs with "foreign elements" should be banned from prime time TV in China.
Instead, authorities "encourage" TV channels to "increase the number and frequency of programs about things such as the public good, culture, science & technology, and economy" ("总局鼓励电视上星综合频道在黄金时段增加公益、文化、科技、经济类节目的播出数量和频次").
China has around 2500 television channels at central, provincial, municipal and county level. Although they are commercialized, and often owned by a mixed group of investors, they are still supervised by the SAPPRFT and the Ministry of Industry and Information Technology (MIIT) – all television stations have to adhere to government broadcasting guidelines.
According to Xinhua News and Global Times, the latest measures are meant to contain the "hyping of pop stars" ("追星炒星"). Chinese television programs should rather focus on celebrities with "high moral standards" who offer "an educational value for the society."
The programmes aired by China Central Television (CCTV), China's main state broadcaster, should "serve as an example" for other channels, Xinhua said.
"Now we'll all just have to watch the red classics, worship the Party and adore the military."
Luo Ping, a media expert with the Communication University of China, was quoted by Global Times; about restricting programs with foreign elements on Chinese TV, Luo said: "Without careful examination, these foreign programs could easily deliver negative or harmful messages about our country, which will have a huge social impact."
Although discussions of this topic were limited on Chinese social media, the people who commented on the latest measures were not pleased.
China has one of the world's most booming TV drama industries in the world. Daily, millions of Chinese TV drama fans tune in to their favorite shows – nothing is trending more often on Chinese social media than the titles of the most popular TV dramas.
"Oh man, now I can only watch the news when I get home from work..", one netizen complained.
Another female Weibo user commented on the latest guidelines with a short monologue:


"What do you think about the latest restrictions?"
– "Can I use profanities?"
"No you can't."
– "Then I have nothing to say."
"Now we'll all just have to watch the red classics, worship the Party and adore the military," one anonymous Weibo user wrote.
By Manya Koetse
Follow @whatsonweibo
Thanks to Miranda Zhou Barnes (abearandapig.com).


©2017 Whatsonweibo. All rights reserved. Do not reproduce our content without permission – you can contact us at info@whatsonweibo.com.