Lavish chandeliers and marble floors are perhaps not the first things that come to mind when thinking about horse stables. Despite some media writing that "the world's most luxurious stable" is located in Dubai, this is the Heilan Equestrian Club in Jiangsu, China.
"Only in Dubai would you see a marble-floored horse stable", a Redditor named Randvoo12 posted on Reddit on March 16. The post made it to the top trending posts on Reddit, but soon turned out not to be about Dubai at all. As one user (Leehomf) pointed out, the stables are actually located in Jiangsu, China.
Netizen Leehomf, who has visited the stables, shared on Reddit that the equestrian club is owned by the founder of the Heilan group, "a multi-billion corporation based in Xinqiao, China. This man bought many breeds of horses from all over the world and put them in a lavishly constructed hall to show off his wealth." The Redditor pointed out that despite all the glitter and glamour, "the place smelt just like a farm."
Jiangsu's Luxury Town
The Heilan Equestrian Club (飞马水城管理中心) in Xinqiao (Jiangyin) is to be part of a larger luxurious town (衣尚小镇) that will include an ecological tourism resort with a Venetian water park, a university campus, a cultural center and other projects – an initiative by the China Heilan Group.
According to a local Jiangsu Weibo account (@暨阳网), the completion of the whole project will cost over 8 billion RMB (±1.1 billion US$) in the coming three years.
"Horse Culture Museum"
As also pointed out by the Pickle website, the pictures of the impressive marble stable are taken at the Heilan Equestrian Club's so-called "Horse Culture Museum", where equine-related art and fancy horses are displayed in an area that covers approximately 260,000 square meters.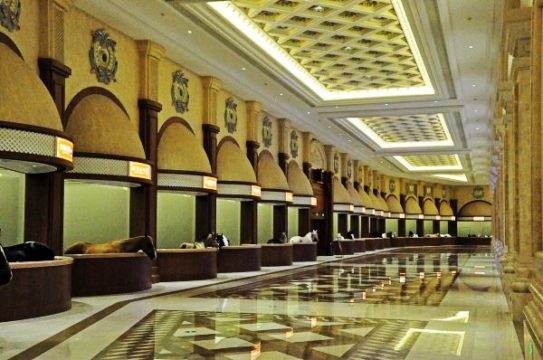 According to the official Heilan website, the horse center is located in the southern area of Xinqiao, and is China's "first-ever comprehensive equestrian facility", a place that offers equestrian training, performances, competition, and recreational services.
Some netizens (including @秋菘1676094607 and @共同的风景) also shared pictures of the Horse Center on Weibo.
The Heilan Group bought more than 200 high-end horses from countries such as the Netherlands, Spain, and Germany for their equestrian center, which was formally established in 2009.
The center is also home to approximately 60 Chinese horses from Xinjiang, Beijing, and Inner Mongolia. According to China's Baike wiki, there are 36 specialized equestrian trainers from various countries.
Stuffed Horses
In 2015, the Heilan Equestrian Club's owner Zhou Jianping placed an order at a Dutch taxidermy company to have a total of 12 horses stuffed for his museum.
The owner of the Dutch taxidermy company, Maurice Bouten, told website Horses at the time: "They called me asking if I could stuff horses. They wanted a total of twelve. I first thought it was a joke, but the project really happened."
The Chinese director came up with four Frisian and eight Andalucian horses that were about to be slaughtered. It took Bouten approximately 150 hours per horse to finish the project (image by 1limburg.nl). The horses were then exported to China per airplane.
No, not Dubai!
Not just on Reddit, but also on Weibo, many netizens seem to think the marble-floored stables are located in Dubai. A post saying "look at these Dubai stables" attracted attention on Weibo today.
"I am from Jiangyin," one netizen clarified: "And this is definitely the Heilan Horse Club!"
Besides the many people confirming that these photos most definitely were not taken in Dubai, there were also those who were critical in different ways: "People who really know about horses would never approve of this. This is not a proper environment for a horse!"
"This might all be glorious splendor to you, but it doesn't mean anything to the horses" another Weibo user wrote: "They should be grazing the grassland."
– By Manya Koetse
Follow @WhatsOnWeibo


Images in this post from Reddit, Weibo, oldkids.cn/blog, and www.1limburg.nl.
©2017 Whatsonweibo. All rights reserved. Do not reproduce our content without permission – you can contact us at info@whatsonweibo.com.