A service that lets college students pick up your packages and buy your groceries – it is a business model that proved successful for the female student Xue Jing, who now manages a team of 30 students who all work as 'package pick-up staff'.
On December 1st, Sina News reported how one college girl from China's Henan province has set up a successful company by picking up people's packages. With China's thriving e-commerce, the package business is hot business.
In 2015, college student Xue Jing (薛静) from Zhengzhou noticed how people had to go out in all weather to pick up their delivery packages at crowded pickup points. It gave her the idea that people might want someone else to do it for them. With the help of a teacher, she started her own company where a team of college students runs errands for others.
Now, Xue Jing has around 30 people working for her. With a public WeChat account, the company, that is named Pao Pao (跑跑, "run run"), can be easily contacted for errands. Besides picking up packages, the students can also do groceries for their customers.
Pao Pao's students attend classes during the day and are available to pick up some packages in the late afternoon or evening. Xue Jing told Sina News that by doing so, they can earn around a 1000 rmb (±145$) in extra earnings per month.
According to Sina, companies like Pao Pao are becoming more ubiquitous now, with other universities having similar services. It is referred to as a "run errands economy" (跑腿经济).
Nowadays, many Chinese universities and neighborhoods have so-called "delivery pick up points" where people can pick up their packages, or take them out of automated slots. Some pickup points have long waiting lines.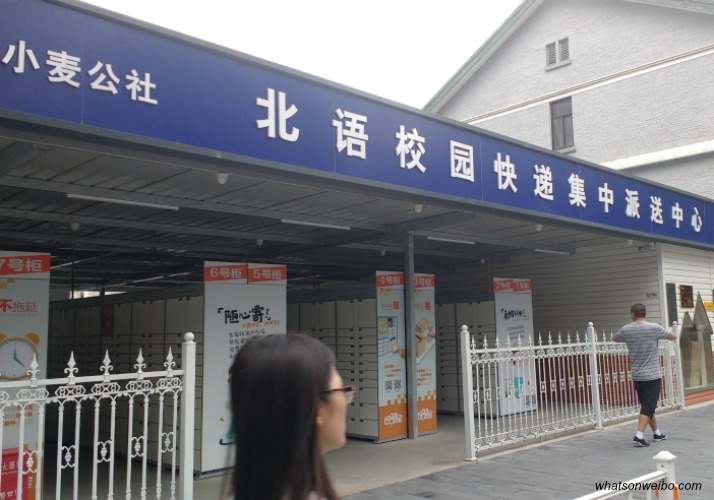 For some apartment buildings, these points are within their building, but for other communities, the points might not be that nearby. (Check out our video below to see how this works:)
The story of Pao Pao became a hot topic on Weibo, where many netizens appreciate the business model: "This is perfect for lazy people with money."
Other do not see it as a novelty: "We had this in Chengdu 8 years ago. I even used it once."
"Our university also has this. They charge 1 RMB for 1 package, so I don't actually know how they make money," another Weibo user comments.
"It actually is quite difficult to be poor in China nowadays," another netizen says: "There are just so many ways to make money."
– By Manya Koetse
Follow on Twitter or Like on Facebook
©2016 Whatsonweibo. All rights reserved. Do not reproduce our content without permission – you can contact us at info@whatsonweibo.com.