American Randy's Illegal Changzhou Food Booth Sparks Discussion over "Double Standards for Foreigners"
When Chinese local authorities reacted leniently to the improvised breakfast food stall of 'grandpa' Randy in Changzhou, debates erupted on Weibo about double standards for foreigners in China.
A hot topic that has been included among Weibo's top posts this week involves the American 'Randy', nicknamed 'grandpa,' who has set up an improvised and unlicensed breakfast food stall in the city of Changzou, Jiangsu province.
The post was shared by popular Weibo account Meishi Shijie (@美食视界, 'Food Horizons'), which has 2.25 million followers. Within 72 hours, the post was liked more than 8000 times, shared over a 1000 times and received 2600 comments.
The topic was also widely discussed elsewhere on Weibo.
The post said:
"American grandpa Randy recently opened a breakfast stall on a street in Changzhou, Jiangsu, selling hamburgers, hot-dogs, and mineral water. Because the food is so delicious and the stall so hygienic, his business has become very popular. This has come to the attention of city law enforcement, but they've not bothered him at all. In fact, they simply shook hands with him as they talked about matters regarding his license."
According to People's Daily, Randy is a 62-year-old American who has been living in Changzhou for seven years. He reportedly received permission from the local market to set up his stall there. He sells his hamburgers for 15 RMB (±$2).
The apparent lenient reaction of the city authorities towards Randy's illicit food stall did not go down too well with some Chinese netizens. Many expressed that they felt the treatment was unfair, arguing that the leniency shown was based on the fact that the man is a white foreigner.
"What if the old man was Chinese? Surely the outcome would be different …" read the most popular comment, which was liked 4500 times.
"Wouldn't they (the authorities) have confiscated the stall if he were Chinese?", others wondered.
Many cities across China have seen crackdowns on unlicensed food stalls over the past year.
In the city center of Beijing, for example, many street food stalls have disappeared over the last years due to "civilized Beijing" campaign; street food is often seen as an indication of underdevelopment, but pollution caused by street barbecues and food safety issues are also said to be reasons for crackdowns.
Double standard for foreigners?
In the case of Randy, some netizens point out that had the street vendor been Chinese, authorities may have even resorted to violence to close down the food stall.
Confrontations between local officers and street vendors have turned into physical altercations before.
One popular comment, with more than 2000 likes, read: "Foreigners are
'friendly', but you wouldn't hesitate to hit your own people.."
It is not the first time Chinese netizens complain about state authorities putting foreigners' rights ahead of their own. Earlier this year, a video that showed the differences in dorms across China between foreign students and Chinese went viral. Many Chinese netizens felt outraged that the living conditions for foreigners were better than those of Chinese students.
In this case, there were also those netizens who came to the defense of the city authorities, saying they are generally good people and had been lenient with the American 'grandpa' because of their good will.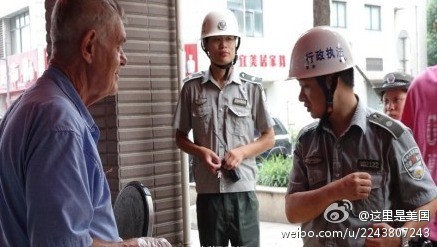 "Our city authorities here in Changzhou can be very helpful to the street merchants. Once, I saw with my own eyes as they helped some merchants move their watermelons back into their houses … do all people really think that they are monsters?," said one commenter, gathering over 1700 likes.
"There are many examples of local officers helping old grandpas and grandmas sell their vegetables. But you wouldn't mention those, would you? To put it bluntly, you are being narrow-minded. How sad."
But there are also those commenters who apparently only have one thing in mind: Randy's hamburgers. They write: "I just want to go to Grandpa's food stall.."
If they're lucky, they'll have a chance to taste Randy's hamburgers soon; according to business media account @Avirex, Randy has now started to apply for an official license to run his hamburger stall, and is planning to open up his own fast food shop in the near future.
Note: It has come to our attention that Randy's food stall generated media attention in 2014. The state media article referred to in this article also is from 2014. Nevertheless, this topic (again) became trending this week, along with the aforementioned discussions. All comments quoted in this article are from this week. If you have any updates as to how Randy is doing now and if he in fact has started up his restaurant, we'd like to know for a follow-up!
By Luka de Boni
Follow @whatsonweibo
This article has been edited and modified for clarity
Spotted a mistake or want to add something? Please let us know in comments below or email us.
©2018 Whatsonweibo. All rights reserved. Do not reproduce our content without permission – you can contact us at info@whatsonweibo.com.