Banter and Doubts on Weibo after Trump Tests Positive for COVID-19
First published 15:00 CST, updated 20:00 CST
News of U.S. President Donald Trump testing positive for COVID-19 has immediately become one of the most discussed topics on Chinese social media.
"Tonight, @FLOTUS and I tested positive for COVID-19. We will begin our quarantine and recovery process immediately. We will get through this TOGETHER!" – it is the tweet that was sent out by American President Donald Trump on October 2nd, early afternoon Beijing time, on the second day of the Chinese Golden Week holiday.
This Golden Week marks a joyous occasion in China, as the country's National Day and Mid-Autumn Festival both fall on October 1 this year.
News of President Trump testing positive for COVID-19 immediately spread on Chinese social media and reached a top position on the Sina Weibo platform, where many people respond to the news with banter.
"Is this a National Day gift?" ("国庆礼物?") some commenters wonder.
Other responses just say "ha ha ha ha ha ha."
"The whole world rejoices!" a top comment says, using a Chinese expression ("普天同庆") that indirectly is also a reference to Trump's name in Chinese.
Confirmation of President Trump testing positive for COVID-19 comes after Hope Hicks, one of Trump's senior advisers, reportedly also tested positive. Hicks traveled together with President Trump to a rally in Duluth, Minnesota. News of Hicks getting infected with the coronavirus also went trending on Weibo earlier today (#特朗普女助理确诊新冠#).
Within moments, the Weibo hashtag "Mr & Mrs Trump Test Positive for Corona" (#特朗普夫妇确诊新冠#) rose from a few thousand clicks to 280 million views around 14:00 in the afternoon, to 660 million clicks an hour later.
The main news sources shared on Weibo are not official state media sources, but Chinese news outlets such as Phoenix News and Sina World. State media outlets People's Daily and Xinhua News did not report the news on its main news pages at time of writing.
The responses on Chinese social media are partly because of how the American President has dealt with the COVID-19 pandemic in his own country, not just playing down the severity, but also calling it the "Chinese virus."
But there are also Weibo users who doubt that Trump is actually infected with the virus, calling it a "crafty strategy" to win sympathy in the middle of the presidential election campaign. Getting criticism for how he dealt with the COVID-19 epidemic in America, "this is the chance for him to show he stands together with the American people," one news blogger (@财神军哥, 85.550 fans) writes, speculating that the feelings of those people in the US who were infected and criticized Trump will "instantly change from hatred to sympathy."
"If it is really true [that Trump is infected], I hope he drinks enough warm water," one person writes: "If it is not true, I hope he drinks boiling water."
Update 20:15 CST
By 20:00 Beijing time, the topic "Mr & Mrs Trump Test Positive for Corona" (#特朗普夫妇确诊新冠#) has attracted a staggering 1.4 billion clicks on Sina Weibo.
One of the topics discussed on Sina Weibo is "what is your first response to Trump testing positive for the new coronavirus?"
"It is a script that is well-written," one popular comment says: "Pretend to be infected > then cured > no need to fear COVID-19 > it's just like the flu > the economy can be restarted > the support levels [for Trump] will rise > he will be re-elected."
This idea of Trump following a script is further spread on social media via a photoshopped film poster saying "TAKING THE CROWN", "directed and written by Trump." The character for 'crown' (冠) is also the Chinese term for the new coronavirus.
There are other memes and wordplay jokes relating to President Trump "taking the crown" / "getting corona" (夺冠) on Chinese social media. Another image designed by 'Four Four Six Six' (@就是四四六六) also shows Trump being 'crowned.'
In an online poll held by Toutiao News, Weibo users could respond to what they first thought after hearing the news, allowing participants to choose between seven different answers, but the one chosen by a great majority is: "I already expected this to happen."
Meanwhile, under the tagline "Latest news from America – Trump tests positive for COVID19" this photo is being shared. pic.twitter.com/Yk9bbeaHe7

— Manya Koetse (@manyapan) October 2, 2020
In talking about Trump, netizens commonly refer to him as '川建国' ('Chuan Jianguo'), meaning "Build-the-Country Trump," an online joke to refer to the president as someone whose deeds and words only help to accelerate the further rise of China. The fact that the president's positive COVID-19 test comes at a time when the mainland Chinese are celebrating their National Day only further adds to this joke.
One Weibo user jokes: "I didn't expect that Trump would congratulate us on our National Day, let alone that he would do it in this way!"
"It's really not ok to take in other people's misery," one Shanghai netizen says: "…but I really can't help myself."
By Manya Koetse
Follow @WhatsOnWeibo
Spotted a mistake or want to add something? Please let us know in comments below or email us. First-time commenters, please be patient – we will have to manually approve your comment before it appears.
©2020 Whatsonweibo. All rights reserved. Do not reproduce our content without permission – you can contact us at info@whatsonweibo.com.
The 'Zhenlouqi' Floor Shaker: The Chinese Noise Machine to Take Revenge on Your Noisy Upstairs Neighbors
Noisy upstairs neighbors? The zhenlouqi is a way more effective revenge than hitting your broom against the ceiling.
How to deal with noisy upstairs neighbors? Some Chinese e-commerce sellers say they have found the solution for you: get back at them by making their floors vibrate! The zhènlóuqì is marketed as a 'magical tool', but in reality, it seems to only make problems worse.
It is called the zhènlóuqì (震楼器), the 'floor shaker', a device designed to get back at noisy upstairs neighbours. Over the past weeks, the zhènlóuqì has been popping up more frequently in stories on Chinese social media.
Due to various local Covid-related lockdowns across China over the past weeks, many people have again been spending a lot of time at home. For those living in residential apartments, neighbors making noise can be a real nuisance – especially if it is the upstairs neighbors who can leave you feeling powerless and annoyed with their heavy walking, stomping, pushing chairs, or loud music.
To put an end to the suffering of downstairs neighbors, there is the 'floor shaker' (also called 'vibration motor' 振动马达), an electrical device that can be attached to the ceiling and will drive your upstairs neighbors crazy by creating floor vibrations.
The device was first sold on Chinese e-commerce site Taobao in 2015 as a "magical object" to deal with noisy upstairs neighbors and has become more popular over the past few years with many different online stores selling them. Its original intended use is actually not to torment neighbors; electric vibration motors are used in many different industrial applications, including in product quality control and mining operations.
Together with a supporting pole, a small zhènlóuqì can be placed against the ceiling. Once it is turned on (remote control included) the floor above the ceiling will start to shake.
Unsurprisingly, various social media stories and videos prove that the zhènlóuqì is not really the magical device it claims to be, as it often only worsens the relations between neighbors.
One video posted on Weibo recently showed security footage from a residential building where one man angrily came to the door of his downstairs neighbor with a long knife, asking if they had installed a 'floor shaker.' The woman at the door then answered that there's always noise coming from his apartment, with him responding that all they hear every day is the vibrating of the floor shaker. The man's partner then suddenly appears out of nowhere and the altercation turns into a physical fight.
What are they fighting about? It's about a vibrating device that was installed by the lady downstairs to take revenge on her noisy upstairs neighbors. It can drive people crazy and the noise can make them dizzy (and apparently very agressive)… pic.twitter.com/1RRGzqPaKJ

— Manya Koetse (@manyapan) January 25, 2022
Another story is that of Mrs. Chen who moved into a new apartment in Hangzhou in 2020 together with her husband, little son and mother-in-law. Although the family was leading a normal life without making a lot of noise, the downstairs neighbor kept complaining about their stomping and the moving of furniture. Although they tried to be as quiet as they could, the downstairs neighbor eventually installed a floor shaker which would be turned on every night from 8 pm to midnight. Besides the fact that the family was bothered by the shaking floor, the noise also stressed them out and affected their sleep.
Although the use of the zhènlóuqì is not necessarily illegal in itself, it does create a noise problem and also might do damage to the structures of the buildings – enough reasons for neighbors to call the police when they think their downstairs neighbors have installed such a device.
This is probably also why zhènlóuqì has now been flagged as a 'sensitive word' on Taobao, although the device can still be bought under other names for approximately 168 yuan ($26). The device is often not advertised as 'taking revenge on neighbors,' but as an effective method to create a quiet home, picturing a sleeping baby or someone relaxing in bed while the zhènlóuqì is turned on.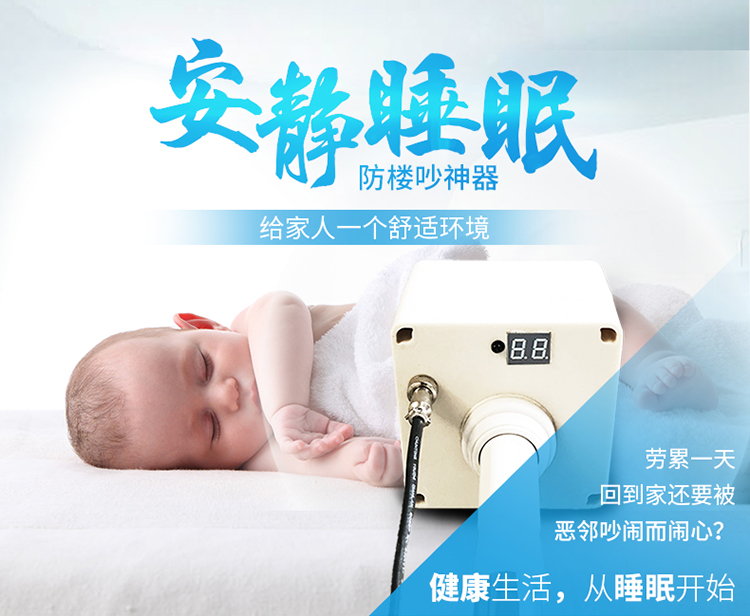 Some 'floor shaker' models even come with wifi and an app, so users can turn it on via their smartphone and annoy their neighbors – even when they're not home themselves.
Another 'magical object' that recently went viral on Chinese social media is an 'anti-square-dancing device' that helps local residents find some peace and quiet when dancing grannies take over their public squares with loud music.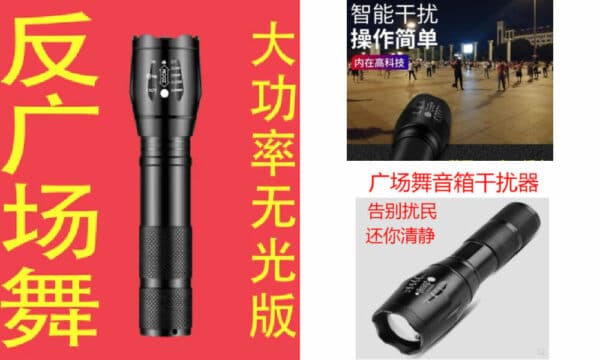 The device is a remote control that can stop any speaker at a distance of 50-80 meters, leading to much confusion among those dancing on the streets why their music keeps stopping.
Although installing a zhènlóuqì might lead to worsening relations between neighbors, there are many people on Weibo expressing the wish to buy one: "I am lying awake again because of the noise the upstairs lady is making, I really want to buy one!"
With the 'floor shaker' becoming more well-known, the threat of buying one hopefully should be enough to make a noisy upstairs neighbor calm down.
For those who feel installing such a device would definitely be too extreme, there is always the classic broom or even a special extendable soft hammer sold on Taobao – which is also much cheaper than the zhènlóuqì– to make your neighbors aware that they are being too loud.
By Manya Koetse
Spotted a mistake or want to add something? Please let us know in comments below or email us. First-time commenters, please be patient – we will have to manually approve your comment before it appears.
©2022 Whatsonweibo. All rights reserved. Do not reproduce our content without permission – you can contact us at info@whatsonweibo.com.
Disgruntled Woman Cuts Up 32 Wedding Dresses in Chongqing Bridal Salon
The woman ruined 32 wedding dresses – worth at least $11,000 – because she wanted her $550 deposit back.
On January 9, an argument between a female customer and a bridal store staff member escalated when the angry customer took out scissors and ruined more a total of 32 wedding dresses by cutting them up.
A video of the incident went viral on Chinese social media, showing the woman taking out wedding gown after wedding gown and cutting them with scissors. The person filming can be heard saying "Think clearly, these dresses cost thousands [yuan]," with the woman responding: "Thousands? Even it's ten-thousands, it doesn't matter."
This angry customer at a Chongqing bridal salon took out scissors and cut up wedding dress after wedding dress. The video has since gone viral on social media. pic.twitter.com/LSRXoI0OAa

— What's on Weibo (@WhatsOnWeibo) January 13, 2022
The incident happened in the city's Jiangjin District at a store that sells bridal gowns and also offers wedding services. According to Chinese media site Sohu.com, the wedding store manager told reporters that the woman named Jiang first made arrangements with the bridal salon in April 2021 for her October 5th wedding – she booked a wedding package for 8000 yuan ($1260).
Four months later, in August, the woman asked the bridal shop if her wedding arrangements could be postponed. When the woman came to the shop again in November, saying she wanted to cancel all arrangements and get her down payment of 3500 yuan ($550) back, the shop refused due to their policy of not refunding advanced payments. They did offer to instead provide some arrangements for a child's 100th-day celebration, as the woman was allegedly expecting a baby.
Although the woman initially agreed with this, she suddenly returned to the shop on January 9th and started acting out. In her anger, she proceeded to ruin 32 wedding dresses. The woman was taken away by the police after the shop assistant alerted them and was detained. She has since said she is sorry for her behavior.
According to the shop owner, the woman's husband offered to compensate the store for over 60,000 yuan ($9420), but he has not paid a penny yet. The woman allegedly ruined 32 dresses with a total worth of at least 70,000 yuan ($11,000).
On Weibo, thousands of commenters have responded to the incident.
"What on earth was she thinking?" some write, with others saying that the woman should be held criminally liable for her acts and deserves a prison sentence. Others argued that pregnancy hormones could be blamed for the woman's unreasonable behavior, and said the woman should no go to prison but stay home and rest instead. There was one thing virtually all commenters agreed on, which is that the shop should soon be fully compensated for all damages.
By Manya Koetse
Spotted a mistake or want to add something? Please let us know in comments below or email us. First-time commenters, please be patient – we will have to manually approve your comment before it appears.
©2021 Whatsonweibo. All rights reserved. Do not reproduce our content without permission – you can contact us at info@whatsonweibo.com.