"Be as Good as Your Word": The Chinese Social Credit Song is Here
First published
"Be as Good as Your Word" is a pop song featuring young Chinese celebrities who sing about the importance of being 'trustworthy.' The new music video is part of a bigger initiative propagating China's Social Credit System among the younger generation.
No matter where you go in China nowadays, the idea of 'trust,' 'integrity,' 'creditworthiness,' and 'social credit' is promoted virtually everywhere: in the media, in trains, in banks, in traffic, and in public announcements on the streets.
Now, there is a song that comes with China's ubiquitous official government and media narrative on the importance of 'trust' and 'credit' in Chinese culture and society.
"Be as Good as Your Word" (Shuō dào zuò dào 说到做到) is a song and music video released under the guidance of the Communist Youth League (共青团), China Youth Daily (中国青年报), and the China Youth Creditworthiness Operation Office (中国青年诚信行动办公室), in cooperation with Chinese music streaming platform Kugou (酷狗音乐).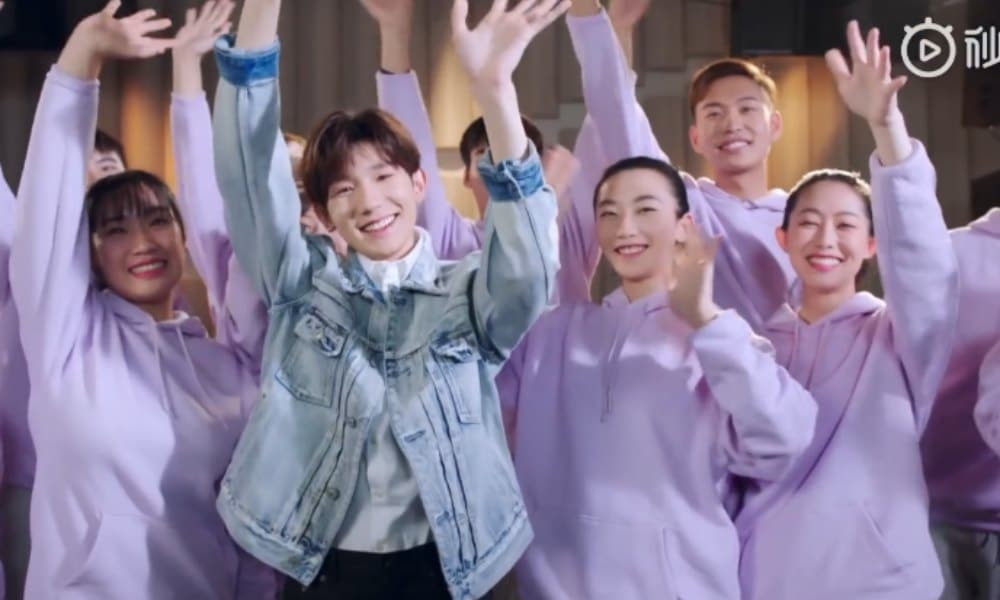 The song is performed by Roy Wang (王源) from the ever-popular Chinese boy band TFBoys, Chinese actor and singer-songwriter Timmy Xu (许魏洲), actor Wei Daxun (魏大勋), actresses Crystal Zhang (张天爱) and Shen Yue (沈月), Chinese actress/dancer Wang Likun (王丽坤), and a group of Chinese students.
The lyrics are by well-known musician Cui Shu (崔恕), and the music is by composer Zhao Jialin (赵佳霖), who had an Internet hit with "Little Apple" and also worked on the theme song for the Beijing 2022 Winter Olympics bid.
In the song, the performers sing about living up to one's promises, stressing the importance of credit for the future, and that "being as good as your word" ("说到做到") is what the "trustworthy youth" ("诚信青年") is all about.
The word 'chéngxìn' (诚信) is mentioned and displayed throughout this music video. It stands for 'integrity,' 'honesty,' and 'trustworthiness,' and is one of China's Core Socialist Values. In light of China's emerging Social Credit System, as pointed out by China Law Translate here, it is mostly used "in terms of a moral assessment component," and also stands for "creditworthiness."
This idea is also reiterated in the video, that shows various levels of being 'creditworthy,' for example as a consumer of the sharing economy, but also as a businessman sealing deals.
Although this pop song makes no direct reference to China's nascent Social Credit implementation and is quite general (and poetic) in stressing the importance of honesty and "matching one's deeds to one's words," it was launched in the context of "Credit China" (信用中国) and is part of a bigger initiative propagating the Social Credit System among China's younger generations.
In November of 2013, during the Third Plenary Session of the 18th CPC Congress, new plans were adopted to "establish and improve a social credit system to commend honesty and punish dishonesty" (USC 2013). In 2014, the Chinese State Council officially announced its plans on building and standardizing a 'Social Credit' system, that should go nationwide in 2020.
Under this scheme, as explained by Genia Kostka, "individuals, businesses, social organizations, and government agencies are assessed based on their 'trustworthiness'" (2018, 1).
As of now, there is no unified system in place yet, although there are many different local initiatives relating to Social Credit. Daum (2017) describes it as a 'policy' or 'ideology of data use' rather than a 'system', characterizing this policy as "the Chinese Party-State's shorthand for a broad range of efforts to improve market security and public safety by increasing integrity and mutual trust in society."
(For more information about China and Social Credit, please check our articles here).
"Creditworthiness Lights Up China"
The hashtag used to promote the Be as Good as Your Word song on social media platform Weibo is "Creditworthiness Lights Up China" (#诚信点亮中国#, also translated as 'Integrity Lights Up China').
The Weibo hashtag page, which has now been viewed over 340 million times, is hosted by China Youth Daily, the official newspaper of Communist Youth League of China. The description of 'Creditworthiness Lights Up China' is as follows:
"The youth emphasizes trustworthiness, credit is valuable; every aspect of life contains concepts of creditworthiness [integrity]. Let's give the thumbs up for creditworthiness, and unite in building Credit China together."**
'Creditworthiness Lights Up China' is a project that was launched in 2018 by the Communist Youth League, China's National Development and Reform Commission, and the People's Bank of China. Its specific aim is encouraging China's younger generations to be trustworthy and educating them about credit.
Last year, there was even a national 'Creditworthiness Lights Up China' tour, which visited 300 universities in 100 cities throughout the nation to teach young people about China's establishment of the Social Credit System and the country's nascent 'trust culture' at large (Xinhua 2018).
The Be as Good as Your Word music video focuses on the importance of trustworthiness in multiple realms of society. The scenes are set in various settings, showing school life, business meetings, and Chinese consumers embracing new technology.
China's sharing economy is specifically highlighted in the video, making it clear that 'trustworthy' people can enjoy the benefits of using shared bikes or credit-based libraries.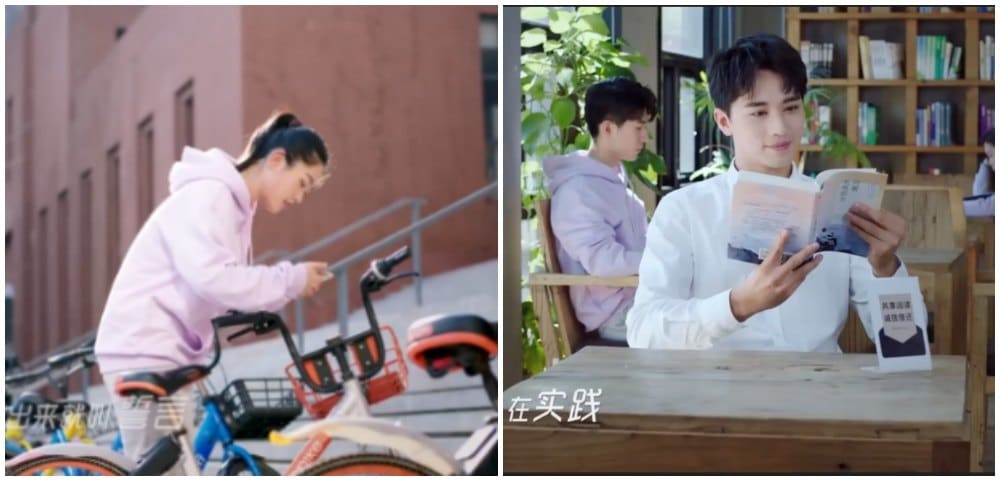 By also integrating these scenes, this video is not only about the nascent Social Credit scheme, but also about China becoming a more credit-based society overall.
The government's plans on China's 'Social Credit System' (社会信用体系), the Central Bank's endeavors to build a stronger personal credit industry (个人征信行业), and commercial credit initiatives such as Alibaba's Sesame Credit (芝麻信用), have been major developments over the past six years, all contributing to the 'credit-ification' of China.
"We'll Build on Trustworthiness Together"
Since Be as Good as Your Word was launched on April 22, the initial post promoting the music video has been shared more than 492,400 times on Weibo.
The video's popularity, however, perhaps says more about the pop stars it features than the message it propagates.
Crystal Zhang, for example, has 15.6 million followers on her Weibo account. TFBoys member Roy Wang is among the top Weibo celebrities and has more than 72 million fans on his Weibo page.
Wang's own post about the video attracted more than 170,000 likes and nearly 350,000 shares.
"We'll build on trustworthiness together with you, brother," many fans write, with others stressing the importance of credit and trust.
Although virtually no one among the thousands of commenters mentions Social Credit, the video seems to have reached its goal of propagating the concept of 'trustworthiness' among young people and reaching China's music-loving, social media generations.
Check out the video here:
By Manya Koetse
*"青年讲信用,信用有价值,生活的点点滴滴都蕴涵着诚信理念,让我们点赞诚信,同心共筑信用中国."
*'Credit China' (信用中国) is translated as such here because the centralized website dedicated to the nascent Social Credit scheme is literally translated this way in English too (creditchina.org). The term itself, however, could also be translated as 'Trustworthy China.'
References
Daum, Jeremy. 2017. "China through a glass, darkly." China Law Translate, Dec 24 https://www.chinalawtranslate.com/seeing-chinese-social-credit-through-a-glass-darkly/?lang=en [24.5.18].
Daum, Jeremy. 2017b. "Giving Credit 2: Carrots and Sticks." China Law Translate, Dec 15 https://www.chinalawtranslate.com/giving-credit-2-carrots-and-sticks/?lang=en [27.5.18].
Kostka, Genia. 2018. "China's Social Credit Systems and Public Opinion: Explaining High Levels of Approval" SSRN, July 23. Available at https://ssrn.com/abstract=3215138 or http://dx.doi.org/10.2139/ssrn.3215138 [29.10.18].
USC. 2013. "Decision Of The Central Committee Of The Communist Party Of China On Some Major Issues Concerning Comprehensively Deepening The Reform, November 12, 2013." USC, 12 November https://china.usc.edu/decision-central-committee-communist-party-china-some-major-issues-concerning-comprehensively [10.9.18].
Xinhua 新华网. 2018. "Official Launch of the 2018 Nationwide 'Creditworthiness Lights Up China' Tour [2018年"诚信点亮中国"全国巡回活动正式启动]." Xinhua, May 10 http://www.xinhuanet.com/local/2018-05/10/c_129869294.htm [30.4.19].
Spotted a mistake or want to add something? Please let us know in comments below or email us.
©2019 Whatsonweibo. All rights reserved. Do not reproduce our content without permission – you can contact us at info@whatsonweibo.com