Made-in-China Olympic Design: The Helmets of China's Cycling Track Team
China's Olympic track design helmets attracted the attention of sports lovers today.
China's Olympic track cyclists did not just make headlines today for their sporting performances, but also for rocking some very original and eye-catching helmets. The helmets fulfilled multiple functions – serving as safety gear, lucky charms, and as a promotion of China's design and cultural heritage.
During the women's team sprint at the Rio Olympics on August 12, Chinese female cyclists Gong Jinjie (宫金杰) and Zhong Tianshi (钟天使) of China' track cycling team did not just display their sporting talent by winning gold, they also showed off some original style by wearing the sprint's most eye-catching helmets, which portrayed Chinese female masks. Male colleague Xu Chao (徐超) rocked a similar helmet depicting a male mask. The helmets soon became a much talked about topic on Chinese social media.
Besides serving as safety gear, the helmets promoted China by portraying typically Chinese Peking Opera masks that, according to state media, conveyed China's "national essence" and, in this way, could "show the world" this image of China – as China Daily wrote.
The female cycling helmets portrayed the Peking Opera facial masks of Hua Mulan (花木兰) and Mu Guiying (穆桂英), two legendary Chinese war heroines. Male cyclist Xu Chao wore a helmet depicting the comic Peking Opera mask of Zhang Fei (张飞). All masks were as bright as the flag of China. Red is also considered the most prosperous color in China.
Peking Opera is ingrained in Chinese culture, its stories draw from Chinese history and legends. China has a long tradition of woman warrior literature, of which the saga of Hua Mulan and Mu Guiying are amongst the most famous. Hua Mulan is a legendary woman warrior that has become famous in the West through Disney's 'Mulan' animation, that tells the story of a courageous girl who takes her aged father's place in the army. Mu Guiying is perhaps less well-known outside of China, but she is an equally famous woman general of the Song dynasty.
Zhang Fei is a famous Peking Opera character, a warrior general who lived during the late second and early third century whose legend is described in the Romance of the Three Kingdoms, one of the Four Great Classical Novels of Chinese literature.
Besides promoting China's "national essence", the masks also show the creative side of 'made-in-China' design. The helmets were created by a Guangzhou-based studio named 'Incolor'. Designers and studio founder Zhang Dongliang (张栋良) reportedly is a cycling lover who studied industrial design, and who has been painting and rebuilding bicycles for a long time. The helmet design was supposed to "fully embody Chinese elements", as it was meant for the Chinese team, created by a Chinese studio.
Design studio Incolor also features their three Olympic masks on their Weibo account.
Weibo netizens applauded the design, saying it "shows off the distinctive character of China's heroes" and praising its originality.
There were also netizens who pointed out that the helmets were already being imitated and sold online (also on Taobao), showing screenshots of someone selling a copy for 288 RMB (±43 US$). "They have no respect for original design," one angry netizen says.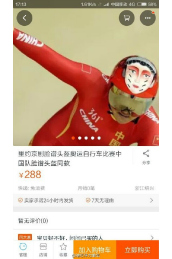 The female warrior helmets seem to have worked as a lucky charm the female team, as they won China's first ever Olympic track cycling gold. Xu Chao's helmet brought him less luck – he ranked 13th for the qualifications of the men's sprint.
-By Manya Koetse
Follow @WhatsOnWeibo
©2016 Whatsonweibo. All rights reserved. Do not reproduce our content without permission – you can contact us at info@whatsonweibo.com.
Shanghai Disney's Crystal Castle Sold for RMB 1.8 Million
Shanghai Disney's cherished object was sold off to the "dirty rich."
Who'd spend RMB 1.8 million on a small crystal Disney castle? For most Weibo commenters, it's just a castle in the air.
Almost three years after Shanghai Disney first opened its doors, its sparkling 'enchanted storybook' crystal castle has now been sold for RMB 1.8 million ($276.500).
The minitiature bling bling castle has been an eyecatcher and a much-photographed object at the Disney resort.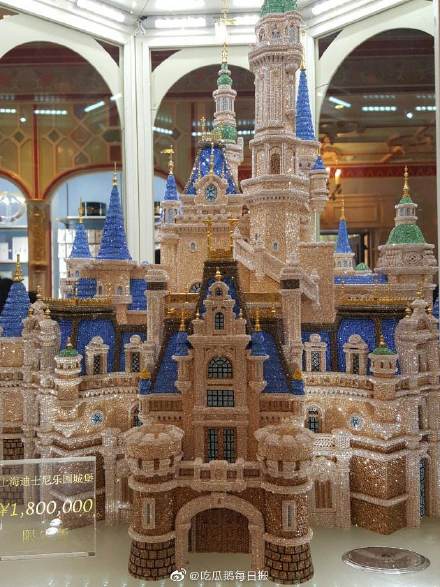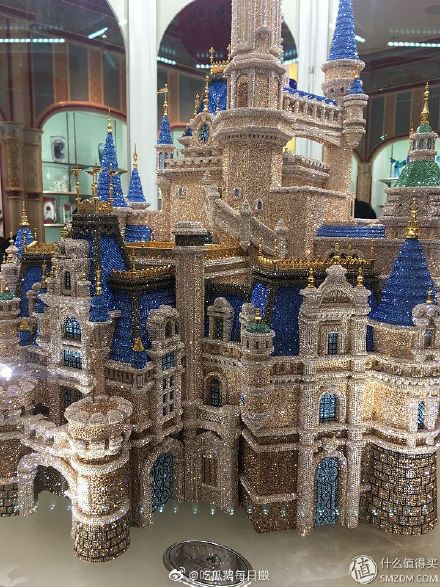 Today, the hashtag "1.8 Million Shanghai Disney Crystal Castle Sold" (#迪士尼180万水晶城堡被买走#) went trending on Sina Weibo with some 180 million views, with many people wondering what kind of person would spend so much money on a decorative crystal castle.
According to a Weibo user, the castle was bought by a "tuhao" (土豪), Chinese slang for a "dirty rich" or extravagantly wealthy person (more info).
"Even if was RMB 180 [$27], I still wouldn't be able to afford it," a popular comment said.
"I went there just some days ago and was joking about whether someone would actually ever buy it – now it's sold!"
"I'm happy I was still able to see it [before it was sold]," many commenters write, with hundreds of people sharing their own photos of the little castle. In 2017 alone, the park attracted 11 million visitors.
For the same price of the small crystal castle, the buyer could have visited the park 3706 times during high season (a peak season entrance ticket is priced at RMB 499/$75).
The display where the crystal palace was shined now shows a bronze statue of Frozen.
By Manya Koetse
Spotted a mistake or want to add something? Please let us know in comments below or email us.
©2019 Whatsonweibo. All rights reserved. Do not reproduce our content without permission – you can contact us at info@whatsonweibo.com
Digitalizing China's Beauty Industry: Introducing Supermakeup's 'Beauty Charging Stations'
Are 'makeup charging stations' the next trend in China's beauty industry?
You're on the road and need a skin, make-up, or hair fix-up before your next appointment, but have no time for a spa session and would rather avoid dirty toilet rooms? These are the kinds of situations that Beijing's Supermakeup company has claimed to have found the solution for.
With its 'beauty charging stations' in public urban spaces, the Supermakeup company is trying to launch a new kind of beauty industry where women can use their self-service 'spa booths' and make-up product stores in the middle of a street or shopping mall.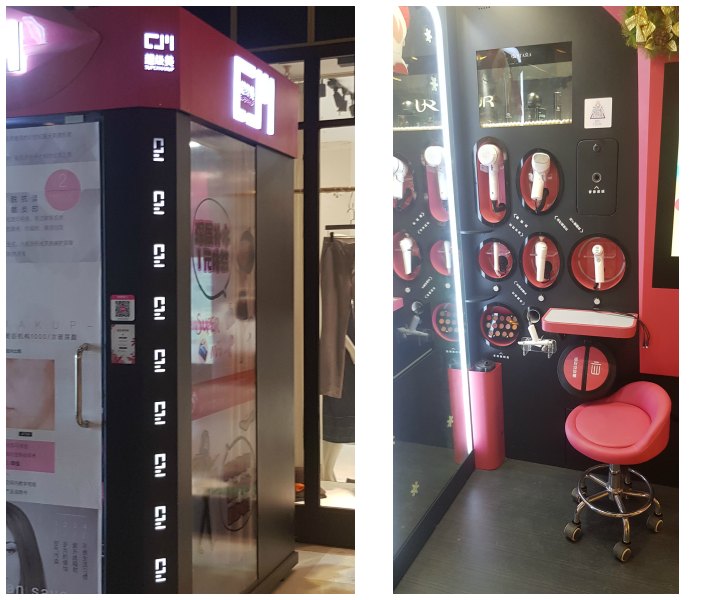 Access to the booths is provided through the Supermakeup app or via its WeChat programme, and payment of products and access is done via WeChat Pay.
The Supermakeup Company (北京超级美科技有限公司) was established in March of 2018 and is headquartered in Beijing.
Will this be the big next trend that will further digitalize China's beauty industry? We tried it out for you, check out our latest video below.
By Manya Koetse 
Spotted a mistake or want to add something? Please email us.
©2019 Whatsonweibo. All rights reserved. Do not reproduce our content without permission – you can contact us at info@whatsonweibo.com.