China's Popular Energy Drinks and Their Potentially Harmful Effects
Now that a new research found energy drinks to be potentially harmful to health, Chinese state media warn netizens to "think twice" before drinking them. China currently has the largest energy drink market in the world.
A new American study on the health impact of energy drinks points out that the negative effects of drinking one 32-ounce can are worse than drinking other caffeine-heavy drinks.
According to the research, that was published in the Journal of the American Heart Association, energy drinks can trigger potentially dangerous changes in blood pressure and heart activity.
Researchers have said that for people who have high blood pressure, heart problems other health issues, it might be better not to drink energy drinks until more is known about their health impact.
News about the study was shared on Chinese social media by state media outlets People's Daily and CCTV, writing that after drinking energy drinks, people have a 10-milliseconds higher QT interval, which is the time of the heart muscle to 'recharge' between beats. When your heart muscle takes longer than normal to 'recharge', it can lead to abnormal heart beats.
They also reported on the study's findings that people who drink energy drinks have an elevated blood pressure for more than six hours after finishing the beverage.
CCTV encouraged people to share the news and warned them to "think twice" before drinking energy drinks.
As in other parts of the world, energy drinks are most popular among young people in China who drink it as a normal beverage. According to Statista, the retail sales value of canned energy drinks in China increased from 9 billion RMB (±1,3 billion US$) in the year 2009 to an estimated 87.5 billion RMB (±12,6 billion US$) in 2019.
In Chinese, energy drinks are called 'functional beverages' (功能性饮料), which could also refer to sports or nutrient-enhanced drinks. As explained by Daxue Consulting, sports drinks primarily contain sodium, potassium, and magnesium, whereas nutrient-enhanced drinks usually include an extra supplement of vitamins.
Within 'functional beverages', energy drinks are classified differently from sports or nutrient-enhanced drinks as "drinks with other special functions" containing caffeine, taurine, and sugar together with other ingredients such as guarana and B vitamins.
Although the Maidong (脉动) sports drink (or 'vitamin water') is China's most popular 'functional beverage', Red Bull (红牛) is the market leader when it comes to the energy drinks category.
Other big players within this category are Hi Tiger (乐虎), Qili (启力), Lipovitan (力保健), and Eastroc Super Drink (东鹏特饮).
On Weibo, many netizens expressed their worries after reading the reports. "I just bought Red Bull yesterday!", one netizen responded, posting shocked emoticons. "I will stop drinking this from now on," a typical comment said.
"No wonder I always feel like my heart skips a beat when I drink Red Bull in the morning," a netizen named yoyowon wrote: "It makes me feel vague and absent-minded."
"I am happy I never bought this stuff – I always thought it was too expensive anyway," others wrote.
But some people were also confused, asking if the Maidong drink belongs to the same category as Red Bull. "Maidong is a sports drink," one person responded: "Functional beverages are not the same as sports beverages."
Many people wondered about the purpose of energy drinks after reading about the recent study. "Why don't people just drink coffee instead?", many asked. "In the end, drinking plain water is simply the best," one netizen said.
It remains to be seen how and if the recent study will affect the Chinese energy drink market, which has been explosively growing over the past few years. In 2015 alone, the energy drink consumption in China saw a 25% volume growth compared to the year before – four times more than the US.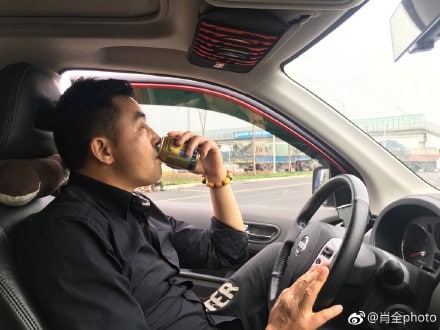 One male Weibo user does not seem to care about the recent study, posting photos of himself drinking Red Bull: "I flew back to Chengdu last night, and am now off to Chongqing. Drinking some Red Bull – I am unstoppable!"
– By Manya Koetse
Follow @WhatsOnWeibo
[showad block=1]
©2017 Whatsonweibo. All rights reserved. Do not reproduce our content without permission – you can contact us at info@whatsonweibo.com.