Chinese Netizens' Response to New Zealand Mosque Attacks
The shocking New Zealand mosque attack, killing at least 49 people, is making headlines worldwide. On Weibo, it is the top trending topic today. A short overview of some of the reactions on Chinese social media.
At least 49 people were killed and 20 wounded when an attacker opened fire at two mosques in Christchurch, New Zealand, on Friday. According to various media reports, one man in his late 20s had been arrested and charged with murder. Three other people, two men and one woman, have also been arrested in relation to the attack.
Footage of the brutal shootings, which was live-streamed by the gunman, has been making its rounds on social media. Although the videos are being taken down from Facebook and Twitter, people are still sharing the shocking images and footage on Weibo at time of writing.
The gunman, who has been named as the 28-year-old Brenton Tarrant, reportedly also posted a 70-page manifesto online expressing white supremacist views.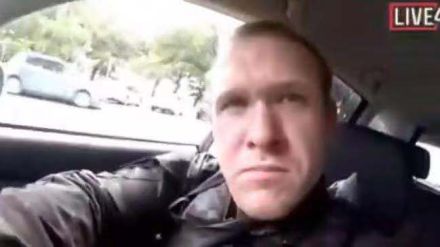 On Chinese social media platform Sina Weibo, the New Zealand mosque attack became a number one trending topic on Friday night, local time, with the hashtag "New Zealand Shootings" (#新西兰枪击案#) receiving at least 130 million views, and thousands of reactions.
"It takes the collaborate efforts of all people to work on a beautiful world, it just takes a few people to destroy it," one Weibo user wrote.
"Extremism is incredibly scary," others said. "I saw the livestreaming video and it's too cruel – like a massacre from a shooter video game." "I'm so shaken, I don't even want to think of the panic these people must have felt."
"I've seen the footage, and this is so horrible. It makes me want to cry. It's a massacre." Other commenters also write: "This is just so inhumane."
One aspect that especially attracted attention on Chinese social media is that, according to many people posting on Weibo and Wechat, the main suspect expressed in his manifesto that the nation he felt closest to in terms of his "political and social values" is "that of the People's Republic of China."
Journalist Matthew Keys reportedly uploaded the main suspect's manifesto, which was published on January 21, 2019. This article says that to the question about whether he was a fascist, Tarrant indeed wrote that "the nation with the closest political and social values to my own is the People's Republic of China."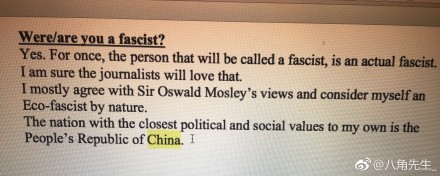 Some netizens wrote that, in mentioning the PRC, the shooter "also vilified China." Others also said that the shootings definitely "do not correspond to the values of China."
There are also dozens of Weibo users who blame Western media for the attacker's comments on China corresponding to his own values. "What he appreciated is what Western media is propagating about our management of Muslims in Xinjiang," some say: "He was influenced by the foreign media disseminating that we're anti-Muslim."
"He sympathized with the China portrayed by foreign media, not with the real China."
"Western governments and media have demonized China for a long time, what they are making Western people believe about what China is, this is what the New Zealand shooter felt closest to in terms of his values," one person wrote.
"These kinds of extreme-right terrorists would be destroyed in China," others wrote.
Among all people expressing their disgust and horror at the Christchurch shootings, there are also those expressing anti-Muslim views and hatred, with some comment sections having turned into threads full of vicious remarks.
Then there are those criticizing the Muslims that are also commenting on Weibo: "The Muslims in China were quiet when it was about the [islamist extremist] attacks in Kunshan, but now that this massacre happened at the pig-hating mosque, they are all bemoaning the state of the universe and are denouncing terrorism."
Among the thousands of reactions flooding in on Weibo, there are countless comments condemning those who turn the shocking attack into an occasion for making anti-Muslim or political remarks. "This is a terrorist attack. The victims are ordinary people. Why would you make malicious comments?"
One Weibo user simply writes: "The world has gone crazy." "A tragic event. I hope the victims will rest in peace."
By Manya Koetse 
Spotted a mistake or want to add something? Please email us.
©2019 Whatsonweibo. All rights reserved. Do not reproduce our content without permission – you can contact us at info@whatsonweibo.com.