How Social Media Is Speeding Up Zhengzhou Flooding Rescue Efforts
Chinese social media are speeding up local rescue efforts after Zhengzhou saw the heaviest rain in 1,000 years.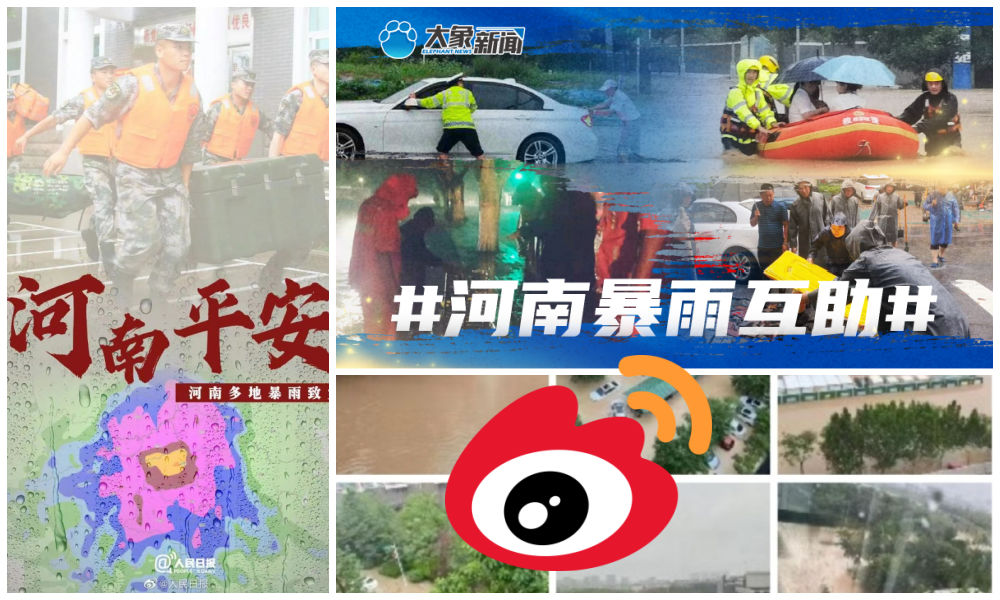 Social media is utilized as a tool in the response to the floodings in Henan province. Once again, Weibo facilitates active public participation to provide immediate assistance to the people facing this natural disaster. 
On Tuesday, July 20, heavy rainfall caused major disruptions in the central province of Henan. The amount of rain over the last three days in Zhengzhou is reported to be the same as what it would usually receive in an entire year.
It is reported that Henan Province has initiated the highest-level emergency response to floods, and China's State Flood Control and Drought Relief Bureau has dispatched a workgroup to Henan, initiating level III emergency response rescue work.
Since the evening of July 20, news and information streams on the heavy rains and floods have been dominating Chinese social media. In the midst of the disastrous events, Weibo has become an online space for people seeking help, those disseminating information on available resources, and for other related activities that help netizens engage in emergency management and accessing information.
The volume of such messages is huge, with thousands of netizens seeking ways to help speed up rescue work and actively contribute to the emergency relief efforts.
The organically improvised response protocol on social media includes the following guidelines:
Verify, summarize, highlight, and spread online help requests posted by people from different locations
Remind people to delete help-seeking posts once they have been rescued or have found assistance.
Disseminate relevant knowledge relating to emergency care and response, and public health information, such as how to deal with different disaster scenarios, warning people about the safety of drinking water during floods, etc.
Share information regarding mental health and psychosocial support during the different phases of the disaster.
When posts of people trapped by the heavy rain started to be published on Weibo, many online influencers, no matter what subject they usually focus on, participated in spreading help-request posts that were not getting a lot of online attention.
Erdi 耳帝, a music influencer with nearly 15 million fans on Weibo, has been retweeting the online posts of people asking for help since the night of July 20.
An example of such an online emergency help request (求助贴) is the following post of July 21st, 17:15 local time:
"Our entire neighborhood is cut off from water and electricity, the water level is rising to chest level, and we currently have no drinking water at the moment. Need help urgently.
Status: Verified, pending rescue.
Seeking help: Wu M**, phone 13*****27
Number of people to be rescued: five or six thousand
Location: Zhengzhou City, Henan Province, Zhengdong New District, Shangdu / Xuzhuang Street intersection, east courtyard of Shangdu Jiayuan Muzhuang district (we can't exit the building, there is no water, no electricity, no supplies, and it's been 24 hours)"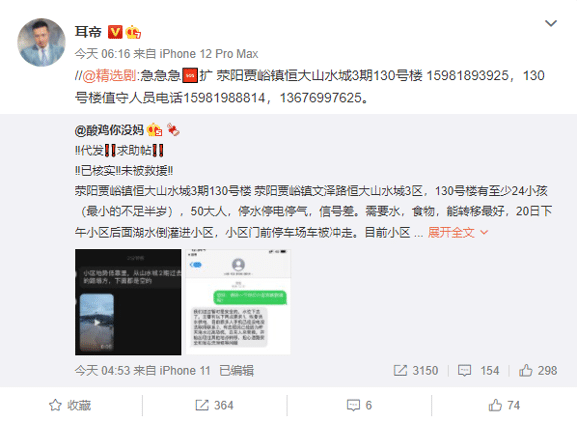 Some Weibo users engage in organizing scattered online information in one single post, e.g. posts regarding local electricity leakage, making this information more accessible and easier to understand.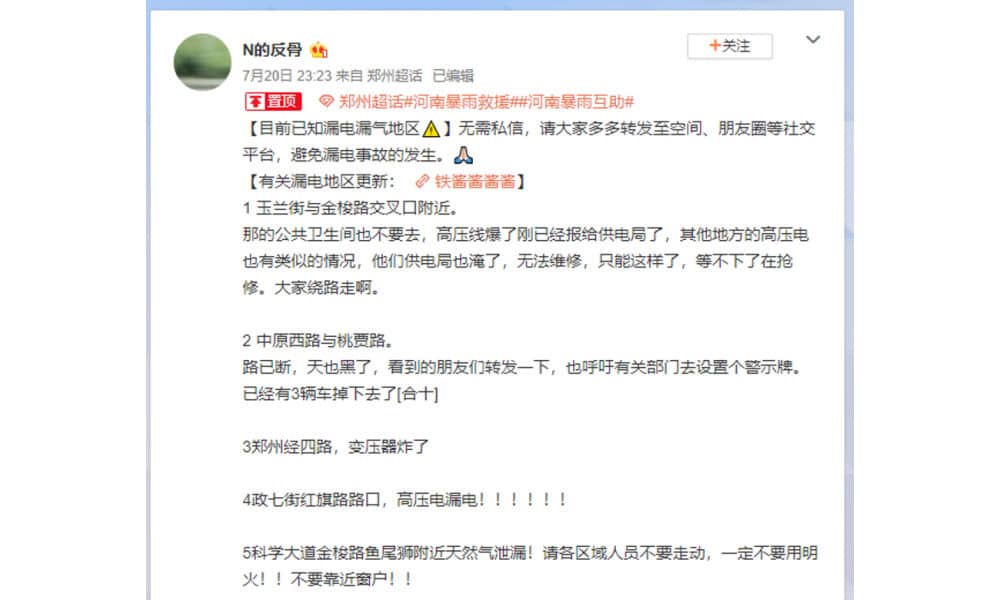 One post that was among the top-shared ones this week, is a picture that includes contact information of rescue teams of both officials and civilians. When realizing that some people were unable to upload the picture due to poor internet connections caused by the heavy rain, an up-to-date and full-text version was quickly shared by netizens.
Some Weibo users listed various methods to get assistance for hearing-impaired and deaf-mute people affected by the floods, advising people to download various apps to help to communicate and translate.
Besides the more general practical advice and emergency action plans shared by Chinese social media users, there are also those who pay attention to the importance of personal hygiene during these times. Some are sending out information about menstrual hygiene needs during floods, reminding women to frequently change sanitary pads and try to keep the genital area clean and dry due to the risk of infection. A hashtag related to menstruation during the flooding momentarily ranked fifth in the top search lists (#河南暴雨 如果你出在经期<).

Information on mental health support is disseminated all across social media.
People also try to provide mental support in other ways. A student orchestra spontaneously performed at the Zhengzhou station, where dozens of passengers were left stranded in the night. The video clips of the performance went viral, with the young musicians playing two widely-known songs, "My People, My Country" (我和我的祖国) and "Ode to the Motherland" (歌唱祖国). Many social media users shared the clips and expressed how the performance moved them to tears.
A kind gesture in these terrible times. This youth orchestra pulled out their instruments and performed for all those other passengers who are stranded at the Zhengzhou East Station tonight ❤️ All trains were suspended after 2am on the 21st. pic.twitter.com/50THGOhy6O

— Manya Koetse (@manyapan) July 20, 2021
Some video clips that show how ordinary people save ordinary people amid such a natural disaster have also been widely shared. One video shows citizens of Zhengzhou standing in a line and use a rope to pull people from an underground floor where they were trapped by the water flooded.
Earlier in this thread there was a video of people helping those trapped in lower levels. There is more footage showing other places in Zhengzhou where citizens also joined forces to help those trapped by the water to get out safely. pic.twitter.com/1R9q1JcUtY

— Manya Koetse (@manyapan) July 20, 2021
In all the aforementioned ways and many more, Weibo has become a public platform for Chinese people to respond to the Henan disaster, efficiently communicate and keep track of help requests, organize and disseminate related information, and provide access to timely knowledge and relevant advice.
With so many online influencers and ordinary netizens voluntarily joining in, the online information flows are quickly circulating, allowing for necessary public communication channels while other resources and communication methods are still overwhelmed or in the making. The last time Weibo was used as an efficient emergency communication tool was during the early days of the COVID19 outbreak in Wuhan.
"Please stand strong, Zhengzhou" and "Hang on, Henan," many commenters write: "Help is underway!"
Also see our previous article on the situation in Zhengzhou here.
By Wendy Huang
Follow @whatsonweibo
Spotted a mistake or want to add something? Please let us know in comments below or email us. Please note that your comment below will need to be manually approved if you're a first-time poster here.
©2021 Whatsonweibo. All rights reserved. Do not reproduce our content without permission – you can contact us at info@whatsonweibo.com
Tick, Tock, Time to Pay Up? Douyin Is Testing Out Paywalled Short Videos
Is content payment a new beginning for the popular short video app Douyin (China's TikTok) or would it be the end?
The introduction of a Douyin novel feature, that would enable content creators to impose a fee for accessing their short video content, has sparked discussions across Chinese social media. Although the feature would benefit creators, many Douyin users are skeptical.
News that Chinese social media app Douyin is rolling out a new feature which allows creators to introduce a paywall for their short video content has triggered online discussions in China this week.
The feature, which made headlines on November 16, is presently in the testing phase. A number of influential content creators are now allowed to 'paywall' part of their video content.
Douyin is the hugely popular app by Chinese tech giant Bytedance. TikTok is the international version of the Chinese successful short video app, and although they're often presented as being the same product, Douyin and Tiktok are actually two separate entities.
In addition to variations in content management and general usage, Douyin differs from TikTok in terms of features. Douyin previously experimented with functionalities such as charging users for accessing mini-dramas on the platform or the ability to tip content creators.
The pay-to-view feature on Douyin would require users to pay a certain fee in Douyin coins (抖币) in order to view paywalled content. One Douyin coin is equivalent to 0.1 yuan ($0,014). The platform itself takes 30% of the income as a service charge.
According to China Securities Times or STCN (证券时报网), Douyin insiders said that any short video content meeting Douyin's requirements could be set as "pay-per-view."
Creators, who can set their own paywall prices, should reportedly meet three criteria to qualify for the pay-to-view feature: their account cannot have any violation records for a period of 90 days, they should have at least 100,000 followers, and they have to have completed the real-name authentication process.
On Douyin and Weibo, Chinese netizens express various views on the feature. Many people do not think it would be a good idea to charge money for short videos. One video blogger (@小片片说大片) pointed out the existing challenge of persuading netizens to pay for longer videos, let alone expecting them to pay for shorter ones.
"The moment I'd need to pay money for it, I'll delete the app," some commenters write.
This statement appears to capture the prevailing sentiment among most internet users regarding a subscription-based Douyin environment. According to a survey conducted by the media platform Pear Video, more than 93% of respondents expressed they would not be willing to pay for short videos.
"This could be a breaking point for Douyin," one person predicts: "Other platforms could replace it." There are more people who think it would be the end of Douyin and that other (free) short video platforms might take its place.
Some commenters, however, had their own reasons for supporting a pay-per-view function on the platform, suggesting it would help them solve their Douyin addiction. One commenter remarked, "Fantastic, this might finally help me break free from watching short videos!" Another individual responded, "Perhaps this could serve as a remedy for my procrastination."
As discussions about the new feature trended, Douyin's customer service responded, stating that it would eventually be up to content creators whether or not they want to activate the paid feature for their videos, and that it would be up to users whether or not they would be interested in such content – otherwise they can just swipe away.
Another social media user wrote: "There's only one kind of video I'm willing to pay for, and it's not on Douyin."
By Manya Koetse
Get the story behind the hashtag. Subscribe to What's on Weibo here to receive our newsletter and get access to our latest articles:
Spotted a mistake or want to add something? Please let us know in comments below or email us. First-time commenters, please be patient – we will have to manually approve your comment before it appears.
©2023 Whatsonweibo. All rights reserved. Do not reproduce our content without permission – you can contact us at info@whatsonweibo.com.
Too Sexy for Weibo? Online Discussions on the Concept of 'Cābiān'
Delving into the ongoing discussion on 'cābiān' and its influence on women's expression in China's digital realm.
Chinese social media is seeing more discussions recenty on the blurred boundaries of Cābiān. This seemingly never-ending discussion raises questions – not just about sexually suggestive content, but also about the evolving perceptions of women's bodies and freedom in the digital age.
In the fast-moving world of China's internet, a new term has emerged: Cābiān (擦边). Originally a sports term describing a ball grazing the edge of a table (擦边球), it now primarily refers to the delicate balance in content that may be seen as sexually suggestive, teetering on the line between 'sexy' and 'sexually explicit' in the context of China's internet culture.
The term mainly refers to women's behavior, style, language, and actions that are considered inappropriate or that are pushing the boundaries of acceptability. Cābiān can be understood as borderline sexual content that basically navigates the boundaries of platform rules without actually breaking them. Nevertheless, is generally seen as 'not in line' with what is expected of Chinese women in today's society.
This term has sparked controversy recently, prompting fervent debates surrounding its implications for women's self-expression.

Too Sexy for Weibo? Jingchuan Liyu's Divisive Pictures

Social media plays a central role in the "cābiān" debate. A recent example involves a Weibo post by Jingchuan Liyu (井川里予, @悲伤荷包蛋), a prominent Chinese influencer active on Weibo and Xiaohongshu.
Jingchuan Liyu is known for embodying both innocence and sensuality in her online persona. Mainly by male netizens, she has been labeled as a symbol of "chúnyù" (纯欲). This term signifies a blend of childlike innocence (纯洁, chúnjié) and allure (欲望, yùwàng).
Jingchuan Liyu became a focal point in the cābiān debate when she posted a series of photos during the summer of this year. While these photos didn't violate any official guidelines, they departed from her typical "innocent yet sexy" style. In these pictures, she was seen wearing thongs and other undergarments, which apparently made some social media users uneasy.
The controversy surrounding the photos intensified when Jingchuan Liyu responded to these criticisms on her Weibo page. While her supporters defended her freedom to dress as she pleases, others viewed her photos as being more about provocative sexual suggestion than about freedom of fashion.

Dog-Headed Lolita: Judged, Harassed, and Labeled Cābiān

Beyond online debates, the condemnation of "cābiān" is also having real-world consequences. One recent example is the case of the Chinese influencer known as Dog-Head Lolita (狗头萝莉 @我是狗头萝莉).
Despite having a problematic childhood, 'Dog-Head Lolita' managed to turn her life around and became a successful streamer. But her reputation suffered a severe blow when explicit videos of her, recorded by her ex-boyfriend, were made public.
This incident and its aftermath damaged her career and, partly due to getting cheated by her manager, was left with a staggering debt of 6 million RMB ($836K). Trying to start an alternative career, Dog-Head Lolita took up selling Chinese pancakes (jiānbǐng 煎饼) at a street stall as a means to make a living and work towards repaying her debts.
In addition to her physical labor, she also posted short videos of herself selling pancakes online and continued to livestream and engage with her followers to generate more income.
While her efforts garnered sympathy and admiration from some netizens, she also faced accusations of using her pancake-selling business as a form of cābiān.
Her choice of attire, which emphasized her figure, became a central topic of discussion. Some netizens raised questions about whether her videos, showcasing her interactions with fans while selling pancakes, carried a sexual undertone. Moreover, there were arguments suggesting that her true business wasn't selling pancakes but rather producing sexually suggestive content.
Some critics of Dog-Head Lolita went further and turned online criticism into harassment. Some filed reports regarding the hygiene conditions of her business, while others intentionally vandalized her pancake cart and left insulting messages on it.
Facing this harassment linked to accusations of being cābiān, Dog-Head Lolita voiced her frustration on her Weibo page.
She emphasized that her physique was something beyond her control and that selling pancakes shouldn't be judged in the same way as her previous online presence. She complained that her livelihood was being scrutinized, even in the most ordinary and innocuous settings.

Challenging the Concept of Cābiān

Defining the precise boundaries of what is and is not cābiān is not easy, as it has become a catch-all term for anything remotely sexually suggestive, erotic, or resembling "soft pornography."
While the distinction between suggestive and non-suggestive content remains hazy, new voices have emerged to challenge the very idea of "cābiān."
Some believe that cābiān is a societal construct imposed on women, rather than an intrinsic concept. They argue that before the term "cābiān" gained popularity, suggestive pelvic dances were widespread in China due to the prevalence of K-pop boy groups, and male celebrities could appear shirtless and flirtatious on TV without anyone accusing them of "cābiān."
But when it comes to women, the standards of cābiān can be unclear and are often unforgiving. This term is used not only to regulate their clothing choices but also their behavior or even facial expressions—essentially, anything a woman might do.
Once a female online influencer is seen as attractive and desireable, she seemingly becomes more prone to be labeled a "cābiān nǚ" (擦边女) – a woman who is seen as flaunting her sensuality within the context of social media and online platforms.
If this trend of labeling people as sexually suggestive continues, "cābiān" might turn into an unclear social rule, resulting in ongoing moral judgments of women, especially female online influencers.
On the other hand, some netizens see the increasing acceptance of women displaying their bodies in a sensual manner as a form of female empowerment.
One notable Weibo by 'Wang'ede' (@王饿德) post that gained a lot of attention suggested that there is a distinction between how others interpret women's bodies and how women themselves perceive it. The post asserts that revealing skin and wearing "sexy" clothing can be a proactive expression of women's own desires and confidence rather than solely meaning to please a male audience.
This active pursuit is seen as a form of 'decolonization' of the traditional patriarchal gaze— it's described as "a reevaluation of women's bodies by women themselves that allows us to reclaim ownership of our bodies," as stated by the author of the post.

Neverending Discussions

As the debates continue, Weibo users are noticing a deadlock in these online discussions. Conversations about the who, what, and why of cābiān are recurring and appear to be never-ending.
In 2019, a significant debate arose concerning the attire worn by actress Rayzha Alimjan. In 2022, controversies revolved around busty women. There was also a cyberbullying incident involving a mother who had recently lost her son in a car accident and faced criticism for wearing elegant clothing and makeup (read). Most recently, there has been a series of new discussions, ranging from criticizing the latest TV drama starring singer/actress Lai Meiyun and onwards.
Contemplating this phenomenon, some internet users are thinking about the evolution of Jingchuan Liyu's style. A decade or two ago, her aesthetic might have been categorized as 'emo,' 'alternative,' or just seen as a form of decadent beauty. However, nowadays, it is quickly subjected to examination to determine whether or not it falls into the category of cābiān.
In the eyes of many Chinese netizens, this trend is seen as a discouraging step backward. Influential bloggers repost their previous cābiān-related Weibo posts from years or even just months ago, highlighting the seemingly futile nature of these discussions.
Who will be the next woman to be branded as cābiān? Will she face online insults and offline harassment? On Weibo, some express their exhaustion at being stuck in this repetitive loop, engaging in similar debates time and time again.
Perhaps it is time to reevaluate the term "cābiān" and engage in more meaningful discussions about women's bodies and their freedom in China. As one netizen put it on Weibo: "Maybe we should redirect this energy toward discussions that genuinely promote progress instead of endlessly revisiting these cyclic debates."
By Ruixin Zhang
edited for clarity by Zilan Qian & Manya Koetse
Get the story behind the hashtag. Subscribe to What's on Weibo here to receive our newsletter and get access to our latest articles:
Spotted a mistake or want to add something? Please let us know in comments below or email us. First-time commenters, please be patient – we will have to manually approve your comment before it appears.
©2023 Whatsonweibo. All rights reserved. Do not reproduce our content without permission – you can contact us at info@whatsonweibo.com.
Subscribe to our newsletter
Stay updated on what's trending in China & get the story behind the hashtag
Sign up here to become a premium member of What's on Weibo today and gain access to all of our latest and premium content, as well as receive our exclusive Weibo Watch newsletter. If you prefer to only receive our free newsletter with an overview of the latest articles, you can subscribe for free here.
Would you like to become a contributor, or do you have any tips or suggestions for us? Get in touch with us here.