IKEA China Masturbation Video Causes Consternation on Weibo
For some people, IKEA apparently feels a little too much like home.
First published

A video of a woman masturbating in an IKEA store in China has gone viral among Chinese social media users.
In the video, a woman is filmed while fondling herself within an IKEA store while regular customers are shopping in the background. The video is rumored to have been filmed at the store's Guangzhou location.
In the 2-minute video that is making its rounds, the woman is first posing on an IKEA sofa – without any pants on – pleasuring herself while another person films her.
Another shot shows her masturbating on an IKEA bed with multiple customers passing by in the background, seemingly not noticing the woman's behavior.
In a third scene, the woman continues to masturbate within one of the store's showrooms.
Since the pornographic video has spread across Chinese social media like wildfire, IKEA China released a statement on its Weibo account on May 9th, in which it condemned the video.
The Swedish furniture company stated that it is "committed to providing home inspiration for the public" and strives to provide a "safe, comfortable, and healthy shopping experience and environment" for its customers. IKEA further writes it "firmly opposes and condemns" the video.
In 2015, a similar incident went trending on Chinese social media regarding a video of a naked girl and a man having sex in a fitting room at the Sanlitun location of Japanese clothing brand Uniqlo.
Because of the unlikely combination of a 'sex video' and 'Uniqlo', many people wondered at the time if the viral video was actually a secret marketing campaign meant to spice up the image of Uniqlo – something that was denied by the chain.
Later on, five people were arrested over the sex tape and the personal details of the woman in the video were revealed and shared by Chinese web users.
"This is the 2020 Uniqlo," one commenter said about today's IKEA controversy.
Although IKEA has filed a police report against the people involved in the making of the video that has now gone viral, the identities of the woman and her accomplice are not yet known or revealed at the time of writing.
Some netizens suggest the video was filmed some time ago – in the pre-COVID-19 era – since the people in the background are not wearing face masks.
The controversy has not made the IKEA brand any less popular on Chinese social media – on the contrary. On Weibo, thousands of web users have posted about the issue, with many flocking to the IKEA Weibo account to comment.
Underneath an IKEA post promoted with the brand's slogan "Your Home, Your Way" – that now seems a bit dubious – people are leaving all sorts of comments about the video.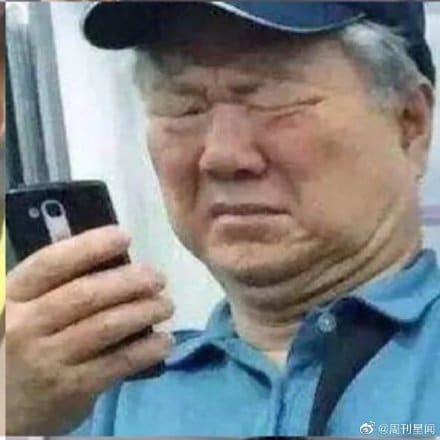 Although some people express anger over the woman's vulgar behavior, there are also many people who seem to find the controversy somewhat amusing, and many others who want to know where they can find the video.
"I'm asking for a friend," is one of the comments that is currently recurring the most in threads about the video.
By Manya Koetse (@manyapan)
With contributions from Miranda Barnes
Follow @whatsonweibo
Spotted a mistake or want to add something? Please let us know in comments below or email us. First-time commenters, please be patient – we will have to manually approve your comment before it appears.
©2020 Whatsonweibo. All rights reserved. Do not reproduce our content without permission – you can contact us at info@whatsonweibo.com.
"Hi, Mom!" Box Office Hit Sparks 'When My Mum Was Younger' Trend on Weibo
The touching Chinese hit movie "Hi, Mom" has sparked an emotional trend on Weibo.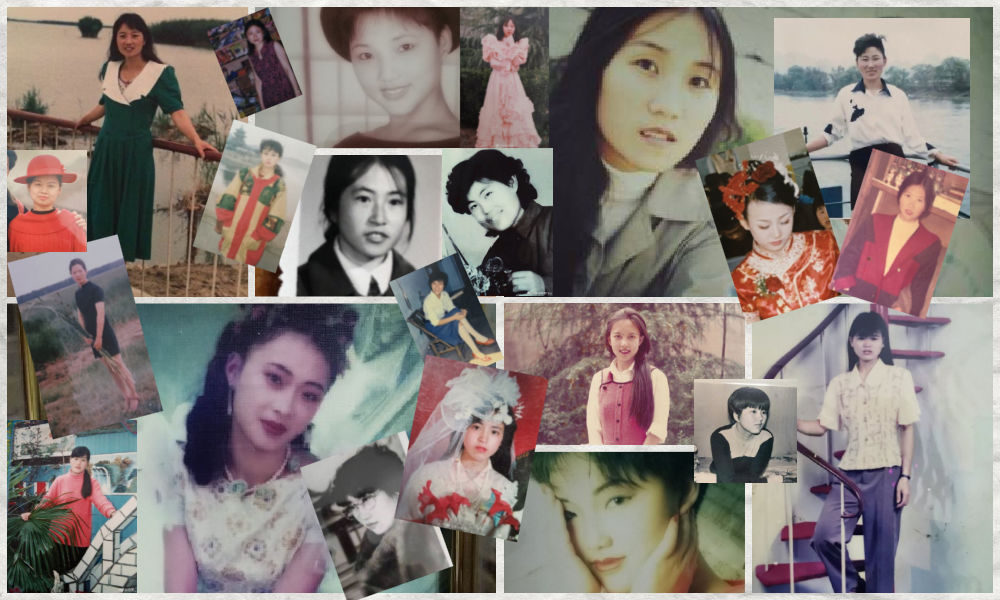 The movie Hi, Mom is all the rage in China, where social media is flooding with hashtags, photos, and texts celebrating moms and the bond between mothers and daughters. One big discussion is focused on all the things daughters would tell their younger moms: "Please don't marry dad."
If you could travel back in time and meet your mum before she had you, what would you say to her? What would you do?
This question is the idea behind Hi, Mom (Chinese title Hi, Li Huanying 你好,李焕英), the box office favorite in China this Spring Festival. The movie is directed by Jia Ling (贾玲), who also plays the female protagonist. For comedian Jia Ling, who is mostly known for her sketches during the Spring Festival Gala, this movie is her directorial debut.
Hi, Mom tells the story of Jia Xiaoling (Jia Ling) who is devastated when her mother Li Huanying has a serious accident one day. Jia is especially grief-stricken because she feels she has not become the daughter she wanted to be for her mother. When she finds herself transported back in time to the year 1981, she meets her young mother before she was her mum, and becomes her friend in the hopes of making her happy and change her life for the better.
Li Huanying is also the name of Jia Ling's own mother, who passed away when Jia was just 19 years old. Jia Ling reportedly did not make the movie because she wanted to be a director, but because she wanted to tell her mother's story.
The film has become super popular since its debut on February 12 and raked in 2.6 billion yuan (over $400 million) within five days. On day five alone, the movie earned $90 million.
The movie has sparked various trends on Chinese social media. One of them is an online 'challenge' for daughters to post pictures of mothers when they were young. The hashtag "Photo of My Mother When She Was Young" (#妈妈年轻时的照片#) received 120 million views on Weibo by Wednesday. Another hashtag used for this 'challenge' is "This is My Li Huanying" (#这是我的李焕英#). The hashtags have motivated thousands of netizens to post photos of their mother before she became a mom.
The trend has not just sparked an online movement to celebrate and appreciate mothers – it also offers an intimate glance into the lives of Chinese older women and shows just how different the times were when they were young. This also gave many daughters a new appreciation of their mothers.
"I used to have many wishes," one female Weibo user wrote: "But now I just hope to make my mum happy." Others praised their mother's beauty ("My mum is so pretty!") and said that they are proud to look like their mom, although some also complained that they had not inherited their mother's looks.
The trend has also provided an opportunity for a moment of self-reflection for some. Seeing the unedited photos of their younger mothers, some called on female web users to stop losing themselves in 'beautifying' photo apps that alter their facial features, saying they will not have normal photos of themselves in the future that show their true (and unedited) natural beauty.
"Don't marry dad, don't believe his sweet talk."
There is also another hashtag trending in light of Hi, Mum. It is "If You Could Go Back to Before Your Mum Married" (#如果穿越回妈妈结婚前#) and started with one popular fashion influencer (@一扣酥) asking her followers what they would want to tell her.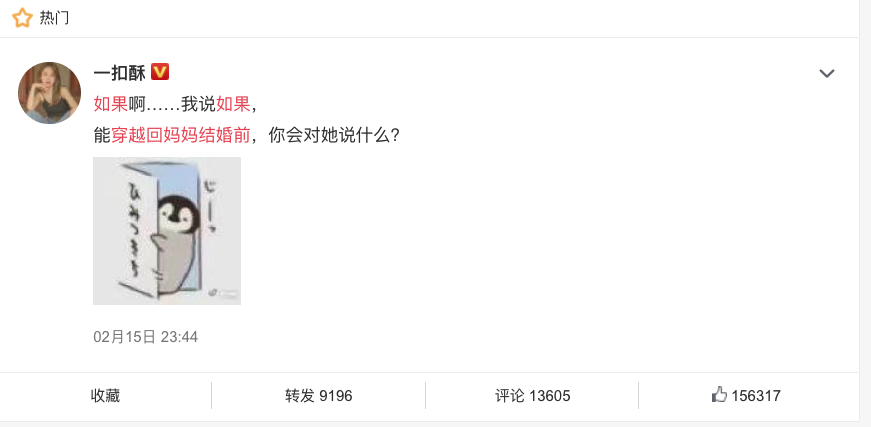 "Don't marry dad. Don't believe his sweet talk," one person replied, with many others also writing that they would want to tell their younger mom not to marry their fathers: "I would tell her to look for someone who loves her, and not for someone she loves," one person responded.
"Please leave dad," another Weibo user writes, adding that her father drank too much and would hit her mother.
"Don't feel like you need to marry because you're older," another daughter writes: "Don't get into a 'lightning wedding' and don't care so much about what other people say."
"Live for yourself for once," a blogger named 'Zhi Zhi El' wrote, with another young woman named Yumiko writing: "Don't close your bookshop, be independent and confident, don't listen to everything dad says, and don't become a housewife."
But there are also those who are happy with the way things turned out: "Mum! Marry dad! He's good!"
In the end, most commenters just want one thing. As this Weibo user (@·__弑天) writes: "Mum, I just hope you have a happy life."

By Manya Koetse
with contributions by Miranda Barnes
Follow @whatsonweibo
Spotted a mistake or want to add something? Please let us know in comments below or email us. First-time commenters, please be patient – we will have to manually approve your comment before it appears.
©2021 Whatsonweibo. All rights reserved. Do not reproduce our content without permission – you can contact us at info@whatsonweibo.com.
Six Years After Becoming a Viral Hit, "Little Jack Ma" is Not Doing Well At All
Recent videos of 'Little Jack Ma' have caused concern among netizens. They are angry at those who exploited and abandoned him.
He became famous overnight for looking like a mini-version of Jack Ma. Now, he's worse off than before he became an online sensation.
Six years after he became famous for looking like Alibaba founder Jack Ma (Ma Yun 马云), the young boy known as 'Little Jack Ma' seems to be struggling and lagging behind his peers.
The boy's name is Fan Xiaoqin (范小勤) and he is from a rural village in Yongfeng County in Jiangxi Province. In November of 2015, at eight years old, he became an online sensation for resembling Jack Ma. After his photo went viral – one of his cousins initially posted it online – he was nicknamed 'Little Jack Ma' (also 'Mini Ma Yun', 小马云).
Fan Xiaoqin's resemblance to Jack Ma is so striking, that there have even been persistent fake news posts including a photo of Fan, claiming it is Jack Ma as a young boy.
Fan Xiaoqin was all the rage – he even became a meme. People wanted to take a photograph with him, companies wanted him to promote their business, and social media influencers wanted to share a moment with him for clout-chasing reasons. 'Little Jack Ma' traveled the country to attend banquets and fashion shows and to meet with celebrities.
After Jack Ma himself even acknowledged the resemblance between him and Xiaoqin in a Weibo post, Chinese state media claimed Alibaba was funding Fan Xiaoqin's education until university graduation, something that was soon denied by the company's spokesperson.
At the time, the boy's sudden fame was already a cause of concern to some. Just a year after becoming famous, it became known that Fan was not doing well at school and that his parents, who are poor and struggling with health issues -his mum has polio and his dad is handicapped -, did not know who to trust or how to deal with their son's rise to fame.
A Tragic Story Behind a Famous Meme
At the height of his fame, Xiaoqin was managed by a company that arranged his gigs and he also had his own nanny to accompany him during his travels and performances. At events and dinners, Xiaoqin was often constantly playing a role and shouting out Alibaba slogans.
Now, Fan Xiaoqin is once again a topic of online conversation as recent videos and a live stream on the boy came out, showing the boy is back with his family in the village.
He was previously let go by the company that managed him. His former official Weibo account and Kuaishou account, where he was known as 'Chairman Little Jack Ma' (小马云总裁) are no longer online, and there have been no new updates on his activities since the launch of a Mini Jack Ma schoolbag in 2019.
The video shows that the boy, both physically and mentally, appears to be much younger than his actual age. At the age of 14, his physique is more similar to a 6 or 7-year-old child and he suffers from painful legs. Another video also shows that the boy falls behind in language development and struggles to answer the most basic math questions.
The moment that Xiaoqin is approached by the (self-media) reporters live streaming their visit, he walks up in dirty clothes and says: "Money, do you have money?"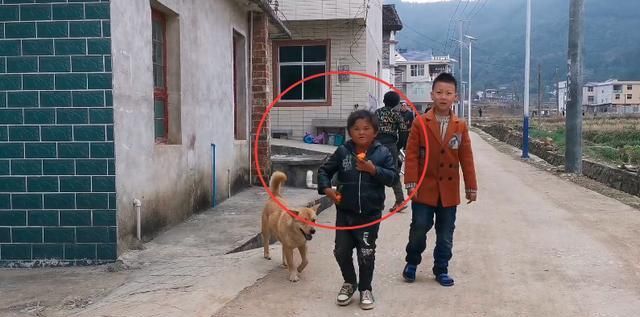 According to an article on Sohu by author Li Honghuo (李洪伙), the company that managed Xiaoqin promised to send the family 2000 yuan ($310) every month, but they have stopped issuing payments seven months ago.
News about Fan Xiaoqin's current situation triggered anger online, with many people saying Fan Xiaoqin is a victim of greedy people who exploited the boy and then abandoned him. The recent video shows the boy has small spots on his skin; some claim it is because the boy was given hormones to slow down his growth.
What commenters are most upset about is how Xiaoqin did not get the chance to properly go to school together with his peers, and that the most important years of his childhood were taken away from him for a piece of fame that eventually left him empty-handed. He now seems to be worse off than before he became 'Little Jack Ma.'
"They abandoned him once he was no longer of value to them," some say. "They destroyed him, let's hope he can still lead a happy life."
Some people also wonder if the child has an intellectual disability, with his situation only getting worse during the years he was exploited. They blame his parents for allowing their son to be taken away from them.
But there are also those who criticize the people who now visited Xiaoqin and filmed him, questioning their intentions and calling on people to leave the child in peace.
Overall, the majority of commenters still hope that Xiaoqin can receive a proper education and enjoy what is left of his childhood.

By Manya Koetse
Follow @whatsonweibo
Spotted a mistake or want to add something? Please let us know in comments below or email us. First-time commenters, please be patient – we will have to manually approve your comment before it appears.
©2021 Whatsonweibo. All rights reserved. Do not reproduce our content without permission – you can contact us at info@whatsonweibo.com.