"Is the Moon Still Rounder in Europe?" – Weibo Responses after Strasbourg Shooting
As the Strasbourg shooting is making headlines worldwide, the idea that is dominating public discussions on Chinese social media is that Europe, in general, has become an unsafe place.
At around 20:00 local time, a man opened fire near a Christmas market in the French city of Strasbourg on Tuesday night, killing at least four people and injuring eleven others.
French authorities have identified the gunman as the 29-year-old Cherif Chekatt, who is listed on a security and terror watch list.
As the gunman is still at large, approximately 350 security officers – including two helicopters – are involved in the search for the suspected terrorist, who reportedly had criminal convictions in France and Germany, had served time in prison, and was supposed to be arrested by the French police hours before the shooting occurred.
News of the shooting has been reported on Chinese social media by state media outlets including China News Service (中国新闻网), CCTV, People's Daily (人民网), Legal Evening News (法制晚报), and many others.
The Consulate of the People's Republic of China in Strasbourg has issued an "urgent safety reminder" on its website, warning Chinese who are in Strasbourg to stay vigilant, to remain indoors as much as they can, and to avoid the city center.
On Weibo, the Strasbourg shooting is receiving hundreds of comments across dozens of posts, with many similar reactions coming up as those after earlier terrorist attacks in Europe. Whether it is the Paris attacks of 2015, the New Year's mass sex assault in Cologne in 2016, the Brussels explosions of 2016, the Manchester Arena attack of 2017, or others, a sentiment that is often dominating discussions on Chinese social media is that 'Europe' in general is not a safe place.
"I am supposed to go and study in the UK next year, would it be safe? I am a bit scared," one popular comment said, with another person responding: "UK or France, it's all the same, depending on the city or neighborhood where you live."
"I am preparing to go back to China," one Spain-based netizen writes: "At least China is safe."
"My god," another person says: "I've just been to Strasbourg last week. Our car got stuck in between a march of the Yellow Vests and the riot police."
"France has been in chaos recently, I hope our compatriots are safe. My sister is there, and we've been terribly worried."
"It's better in China," a typical comment said.
"I'm scared. My dad has been pleading with me not to make my move to France," another concerned commenter writes. "Go to another country," a Chinese student living in France responds: "Right now I am looking forward to graduate as soon as possible so I can return to China."
"How is the situation in Italy?" another person asks: "I am going, but I'm afraid to." There are many more similar responses, with people saying they have booked a trip to France or Europe, and are now doubting whether they should go or not.
Although there are also some voices who are saying the Chinese media is exaggerating reports about Europe, and that France is safe depending on the area, there are those responding saying: "How can you still say it's safe when you also say 'don't go there and there and you'll be ok,' 'just avoid the demonstrations and you'll be fine,' 'don't go out at night and it's no problem,' – isn't this what 'unsafe' means?"
For many, the reports about Strasbourg are adding to the image they have of France and Europe following a week of turmoil involving the Yellow Vests (黄马甲) movement, which has also been widely covered in Chinese media.
There are many who respond to the shooting with sarcasm, saying the suspect used the "weapon of democracy" and that it is not a 'terrorist attack' but a "rise of oppressed ethnic groups in France," also adding slogans such as "Vive la France!"
The expression "Is the moon still rounder in Europe?" or "Is the moon still rounder abroad?" ("国外的月亮不是圆吗") is also posted multiple times in response to the attack.
It refers to a popular sarcastic expression that was ubiquitous in China during the early years of the Reform and Opening Up, that everything in America, Europe, or 'the West' is allegedly better (the grass 'greener') than in China – even the moon.
Public opinion on Chinese social media is now seemingly turning towards the idea that China is the safer place to be. As one commenter writes: "We were not born in safe times, but at least we were born in a safe country" ("我们不是生在和平年代,我们只是生在和平的国家").
"France was messy before, now it's even more chaotic. Friends in France, please stay safe!"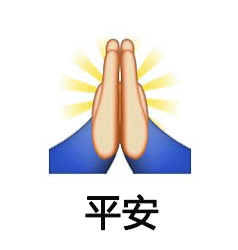 By Manya Koetse
Follow @whatsonweibo
Spotted a mistake or want to add something? Please let us know in comments below or email us.
©2018 Whatsonweibo. All rights reserved. Do not reproduce our content without permission – you can contact us at info@whatsonweibo.com