From Mountains of Taishan to Faces of Amsterdam – Interview with Photographer Jimmy on the Run
Fashion & Street Photographer Huang Jianmin a.k.a. Jimmy is the focus of the recently released short doc Jimmy on the Run by filmmaker Wytse Koetse. The short film [7 min] shows Jimmy's passion for the lens, his dynamic lifestyle, and his struggle with family expectations. What's on Weibo spoke to Jimmy about his past in China, his present in Amsterdam and his future in photography.
ANOTHER LIFE
"I had never even seen a city until I was 12 years old."
I meet Jimmy in his home in the city center of Amsterdam. It is the first time we meet, but I feel like I know him quite well – it is because I have seen the short doc Jimmy on the Run that gets up close and personal with this photographer and his work. On Jimmy's comfortable couch, we talk about his life in China, his love for the streets of Amsterdam and the journey he's made to get where he is today.
"I was born and raised in a village in China's Guangdong province," Jimmy, whose Chinese name is Huang Jianmin (黄健敏), begins: "Taishan is my hometown, Taishanese [台山话] is my native language. We lived in a rural area on the outskirts, which was like a small village. There was nothing there when I was young. I had never even seen a city until I was 12 years old. It has now changed enormously; there's even a train going there. It was a good place for me to grow up. I could play outside with my friends all day. We would catch fish, go up the mountain and pluck fruit from the trees."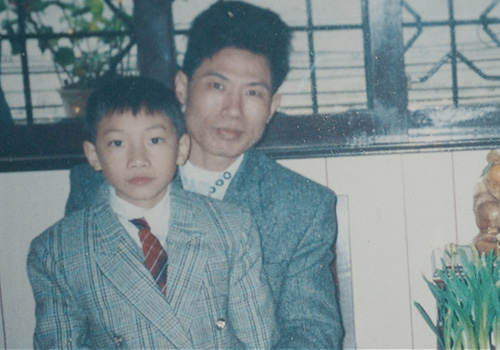 "My dad started working in Amsterdam when I was seven years old, so I mostly grew up alone with my mum. Many people from Taishan leave for America or Europe. Already since the 1900s people from [tooltip text="Taishan is known as the No 1 Home of Overseas Chinese."]Taishan[/tooltip] left in great numbers to the 'Old Gold Mountain' [旧金山, San Fransisco]."
"I was sixteen when my mum and I also moved to Amsterdam. I was afraid to leave China, and actually did not want to go. But gradually, I started to see that life in the Netherlands might bring me new opportunities. Some of my friends in Taishan are jobless now. If I would've stayed, I probably would've been married and have my own family now. I'd be in the village, and would go to the big city once a year. But my life turned out differently."
COMING TO AMSTERDAM
"I was lucky to discover my love for photography – it saved me."
"I soon discovered I really liked Amsterdam. It's easier to get what I want here. It's colorful and people are very approachable. I have been to big cities like Hong Kong, New York and Paris, but never got that same feeling there. People are down to earth here. Amsterdam might not be a fashion city like Paris, but Amsterdam sure is a people's city."
"I started out doing different jobs after I arrived in Amsterdam. I never graduated from any school, because of the language barrier and the different educational systems in China and the Netherlands. I would work in Chinatown supermarkets, help out in restaurant kitchens here and there, sort out the luggage at Schiphol Airport. I was also a mailman for some time, and worked as a cleaner in houses. I once found a dead guy while cleaning. After that, I was no longer afraid to get my hands dirty."
"I am prone to addiction, and this started becoming somewhat of a problem after I came to Amsterdam. I developed an addiction for gaming. I don't drink, I don't smoke and I don't gamble – but I couldn't stop gaming."
"Some years after I'd moved to Amsterdam, I had a girlfriend and it was through her that I first got interested in photography; she had a brother who was into it. He would take pictures at parties. I thought it was pretty cool. I would play around with my father's camera, but then bought my own first camera in 2008 – I was just smitten with it. I started going out into the streets with it. I would search for something to shoot, and would always find it. I was lucky to discover my love for photography – it saved me from gaming. It became my new addiction."
JIMMY ON THE RUN
"I am used to running after things – I've done so all my life."
"Taking self-portraits became a way to express myself. I did not take these pictures to represent myself to others, but to record a moment in time and try to capture the feelings I had. It was something personal."
"One time when I was out taking photos, I saw a girl on the streets. She probably was around 16 years old, and was very slender with long legs. Blue jeans jacket, boots and a cigarette dangling from her mouth. When I saw her, I knew I had to take her picture. I am used to running after things – I've done so all my life. But this was the first time I ran after someone to take a picture, and it turned out perfect. She was the start of me taking pictures of people. I started blogging and getting active on social media. I then became Jimmy on the Run."
"I can't really explain how I work in doing street photography. It's a feeling. I met a 17-year-old ginger boy today, and I thought: I need to talk to you, I need to photograph you. There will always be people saying no when I ask if I can take their picture, but you still need to ask. It has made me more confident."
"Faces, fashion, people moving – my photographs are about the moment someone gives me. I like unique faces, they don't have to be pretty. I like anything that's timeless. Portraits, classic looks. I don't feel like I need to capture the era we live in, I want to capture the moment we live in. My photos should still look good on your wall fifty years from now."
"Filmmaker Wytse Koetse liked my pictures, and started following me on social media. I also liked his work, especially the short documentary Cola Chicken. It was real, simple and pure. I loved the scene where Chen Chen [the main subject] talks about how he loves dogs, but also eats dog meat, and then says sorry to the dog. That guy is real, that's the real shit."
"I did not just agree to him filming me because I liked his work, but also because I felt a little lost at the time and it helped me. I had just started as a freelance photographer. It was the right timing. Wytse started coming over and followed me as I worked. We spent so much time together that we became much closer throughout the process of filming. The documentary initially was supposed to be just about my work, but in the end, it also became more about myself. We talked a lot, and I'm quite a sensitive person. My father is the man I respect most, but he's not proud of me. When I start talking about him, I often have to cry. It's good to face yourself. Things are much better now. If I'm gonna show my dad the documentary? I'm not sure yet. Maybe later."
BETWEEN CHINA AND AMSTERDAM
"I grew up with Deng Xiaoping, but we learned that Mao was the sun. He was like a God to us."
"Amsterdam has helped me open my eyes to new things. In China, I always felt restricted. In school, I had to wear a uniform and the teachers were very strict. I grew up with Deng Xiaoping, but we learned that Mao was the sun. He was like a God to us. We had one cinema and the only movies we saw were those about Mao fighting against the Japanese. Of course, my parents had it much worse than me and my life was good, but I did not feel free. Amsterdam has changed me. I look differently at life now. I never really saw things over there. I now see fashion, and see different scenes. Like the gay scene – I had never seen something like that before."
"In China there is a great divide between the rich and the poor. In Amsterdam, there is this overall vibe of people being people – it doesn't matter if you're homeless or a celebrity. It's one of the reasons I love Amsterdam so much; there's a sense of equality."
"For me, Holland means freedom. I can dress how I want and say what I want here. In China, I cannot. I was once hit when I tried to take a picture in Hong Kong. I am not sure I want to try to do photography in China anymore. I am more scared to do it there.  I feel safer here. People here are very straightforward, and I like that: yes is yes, no is no. Shit gets done this way."
"I don't miss my life in China, but I do miss the food. I used to go back a lot, but now not so much. I sometimes feel a bit caught between China and Amsterdam. I'm a mix of both now. Many of the second generation Chinese who were born in the Netherlands don't understand me. I was not born here, and our backgrounds are very different. I don't consider them Chinese like me. But at the same time I can no longer move back to China, because I might be too Dutch now. Although I must admit, I am not as open-minded as Dutch people are. My parents will never be my 'friends', like it is for many Dutch here. Anyway, there is no way I could indefinitely move back to China, maybe only for a year or so. I can't handle the smog. My friends in Shenzhen have started to look old. Besides, there is no life there for me now."
CHOOSING A NEW PATH
"There's no sweet without sweat – you have to work hard to achieve your dreams. "
"Am I a street photographer or a fashion photographer? I am both. Street photography is in my heart. I want to mix street and fashion. My style is raw, I like to keep things as authentic as possible. I'm rather nostalgic and have a soft spot for the 1950s and 1960s. Sherlock Holmes, Dorian Gray, Helmut Newton, Richard Avedon. I love doing everything analog, not digital. I hate social media. I need it because it helps me, but I hate it. I used Chinese microblogs before, now I use WeChat and have Tumblr, Facebook, my blog and my website. I sometimes post very personal stuff and people don't even see it. Every time you post something on social media you give away a little bit of yourself."
"The relationship with my parents is now good, but they are more traditional than I am. My mum is somewhat more western than my dad is. My dad is the one I respect most in this world. I love him. But I cannot let go of the fact that I don't make my father proud. He envisioned another life for me than the one I chose. They'd hoped that I would've been married by now, with kids."
"My dream for the future? I am a one-child-policy kid, and I've always been jealous of people with brothers or sisters. I hope to have at least two children one day. And I would really love to have a daughter. I would take her to Disneyland. She can dress up as Batman, I'll be Robin."
"I also want to publish a book with my photos. It will be called the Faces of Amsterdam. I hope I can work for high-end magazines. For now, I'll just keep on working hard. I live by 'xian ku hou tian' [先苦后甜, Chinese expression]: 'there's no sweet without sweat'. You have to work hard to achieve your dreams. That's what happiness is, right?"
This interview was conducted and condensed by Manya Koetse in Amsterdam.
Follow @WhatsOnWeibo
To watch the short film about 'Jimmy on the Run', see the featured video on top of this article, or go view it at Filming Freedom. For more of Jimmy's work, see www.jimmyontherun.com.
©2016 Whatsonweibo. All rights reserved. Do not reproduce our content without permission – you can contact us at info@whatsonweibo.com.