McDonald's Celebrates 26th Birthday in China
McDonald's celebrates its 26th birthday in China this weekend. Despite its rocky journey, the American fast food chain is still popular amongst Chinese, with many sharing fond memories of their first McDonald's experience.
This weekend, McDonald's (麦当劳) celebrates its 26th birthday in the People's Republic of China. On Sina Weibo, the official McDonald's account wrote: "Do you remember the first time you ate at McDonald's? 26 years ago today, we opened our first restaurant in Shenzhen."
The McDonald's birthday came with a smart marketing campaign. Every WeChat user sharing the post and wishing McDonald's happy birthday would get the 5 toy figures specially designed for the McDonald's birthday with their meal on the night of October 8 only.
The special building block toys made for the birthday of McDonald's China.
Mainland China's first McDonald's opened up on October 8, 1990, in the city of Shenzhen.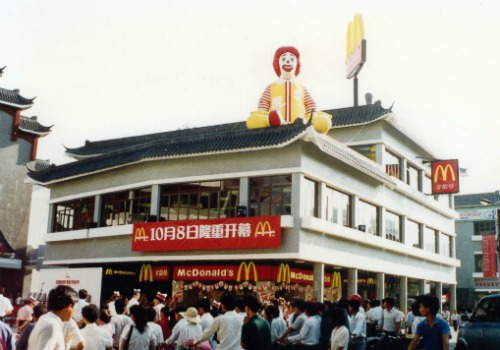 The very first McDonald's of mainland China: Shenzhen, 1990.
But the Shenzhen restaurant was not the first McDonald's in greater China. In 1975, the first McDonald's already opened in Hong Kong's Causeway Bay.
Early Hong Kong McDonald's menu, via hongwrong.com.
Since its first appearance in China, McDonald's has always faced strong competition within the fast food market. In 1984, China's first western-style fast food restaurant 'Yili's Fast Food Shop' opened its doors in Beijing's Xidan central area. Kentucky Fried Chicken arrived in 1987 and soon became very popular in China.
On Weibo, McDonald's has over 670.000 followers, whereas its competitor Kentucky Fried Chicken has over 1.4 million fans.
McDonald's suffered a major setback in China when in 2014 a local reporter exposed how expired meat products were used in different restaurants across the country.
But McDonald's China sales went up again in 2015. The chain still has more room for growth in the PRC, and is looking at new ways to franchise on the mainland.
The chain is also adapting to local tastes. The Chinese menu offers products such as the chicken rice bowl, double chicken burgers, or spicy chicken fillet burgers. In Japan, McDonald's also adapted to local preferences by introducing products such as the Teriyaki Burger, the Rice Burger and Green Tea ice-cream.
On Weibo, netizens share their McDonald's experiences: "The first time I ate at McDonald's was in Xiamen, and it was still quite expensive at the time," one netizen writes: "But my dad spoiled me, and I could eat there three times per month."
Other netizens also recall the relatively high prices of McDonald's: "We would save up to gather 50 yuan [±7.5US$] so we could go to McDonald's; we didn't really have any money."
Other Weibo users shared pictures of their childhood memories at McDonald's.
There are also users who have taken their love for McDonald's to the next level. This Weibo user collects Happy Meal toys, and has gathered quite the collection over the past 26 years..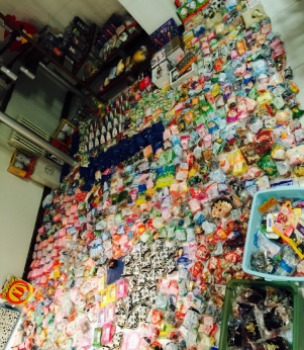 – By Manya Koetse
Follow on Twitter or Like on Facebook
©2016 Whatsonweibo. All rights reserved. Do not reproduce our content without permission – you can contact us at info@whatsonweibo.com.