Ministry of Education Bans the Idolization of China's Top Gaokao Scorers
Stories of the top achievers of China's national exams can no longer be propagated by state media; the emphasis should shift to the average, harmonious student.
The countdown has started for China's national exams, the gaokao. Although the top scorers of these decisive exams are usually praised as champions, the Ministry of Education now warns against their idolization and orders schools and media to use 'Xi Jinping Thought' as their guide.
China's Ministry of Education has issued an official announcement this week that it is no longer allowed to idolize the top scorers of China's upcoming National Higher Education Entrance Examinations, usually abbreviated to gaokao (高考, 'high exams').
The notice was issued after a top-level conference on May 8, which focused on the enrollment process for China's national graduation exams.
The gaokao will take place in June and always attract nationwide attention – both offline and online – in the weeks before they start. The exams are the most important moment of the year for those taking part; they are a prerequisite for entering China's higher education institutions and are usually taken by students in their last year of senior high school.
"It is strictly prohibited to give publicity to gaokao top scorers."
"It is strictly prohibited to give publicity to gaokao top scorers," the head of the Ministry of Education, Chen Baosheng (陈宝生), was quoted saying by various state media outlets on Weibo, adding that "those who do so anyway will be dealt with accordingly."
In the Ministry of Education's announcement, it further said that education departments all over China should use Xi Jinping's socialist ideology with Chinese characteristics as a guide to their work relating to the college national entrance exams this year.
The exams, that take place during a period of 2 days, are so important because scoring high grades for this exam can give high school students access to a better college, which enlarges their chances of obtaining a good job after graduation. Because the exam results are potentially life-changing, the gaokao period is generally a highly stressful time for students and their parents.
Those who succeed in becoming the number one scorers in their field and area, also known as the gāokǎo zhuàngyuán (高考状元, 'gaokao champions'), are usually widely praised by Chinese media and educational institutions.
Year on year, the scores, names, photos, and stories of those students excelling in the humanities (文理状元) and science (理科状元) are publicized by national, provincial, and local newspapers.
Changing Propaganda: From Top Achievers to Harmonious Students
The announcement by the Chinese Ministry of Education to ban the promotion of the top scorers in the university entrance exams became a much-discussed topic on Chinese social media today.
In their report of the ban, Party newspaper People's Daily published pictures showing how students and schools are preparing for the upcoming exams.
The photos are full of socialist-style propaganda-like slogans (e.g. "trials and hardships strengthen determination"), encouraging students to work and study hard and to repay their parents for the efforts they put into them.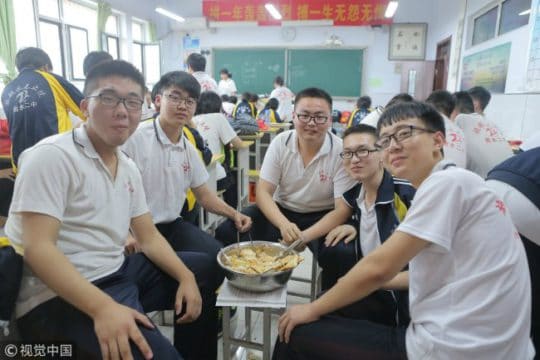 Various pictures show how, to prepare for the decisive exams next month, students in Hengshui, Hebei, bring in meals for the class and then eat together from the same bowl in order to not waste valuable study time.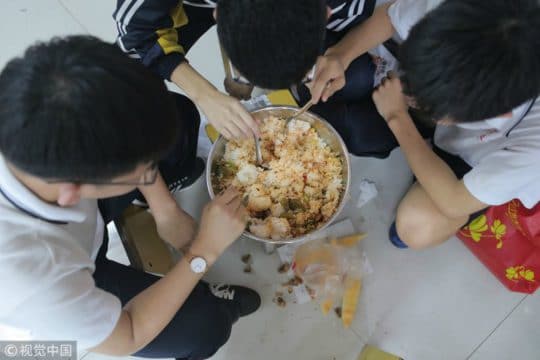 Instead of promoting and propagating the stories of China's top scorers, Chinese state media now seem to shift their focus to students' hard work and collaborate efforts to prepare for the exam.
In line with Xi Jinping's socialist thought, which also promotes equality in education and the nurturing of "a new generation of capable young people who (..) are well-prepared to join the socialist cause", the official focus has now apparently changed from top achievers to the average, harmonious and social student.
China's higher education is extremely competitive, and so is the battle for the high gaokao scores; although as much as 9.75 million senior high school students are going to take part in the 2018 University Entrance Exams, only less than 100 of them will have the opportunity to become an actual gāokǎo zhuàngyuán or 'top-score champion.'
Inequality behind the 'zhuàngyuán'?
The gaokao top-score achievers are not just the minority when it comes to statistics, they are also the 'elites' of the supposed socialist society.
After claiming the title of 2017 Beijing University Entrance Exam top scorer, the 2017 zhuàngyuán Xiong Xuan'an was interviewed by Chinese media outlet The Paper and addressed some controversial issues on becoming one of the top scorers.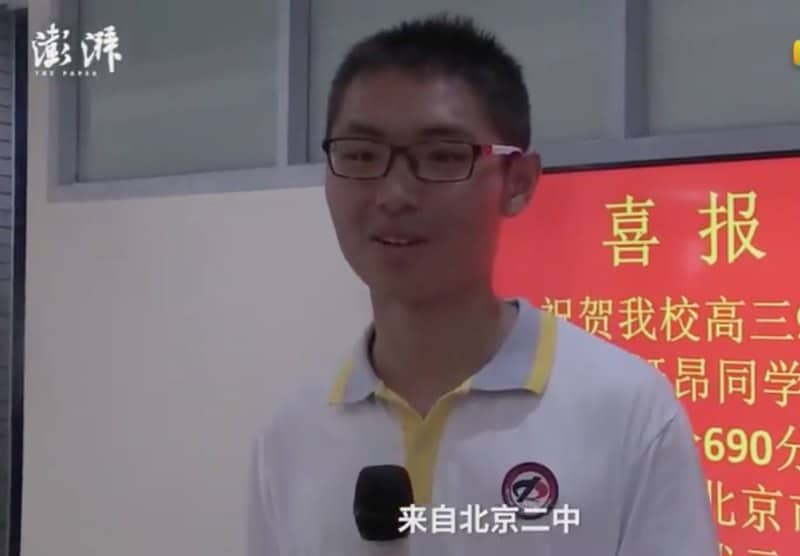 Xiong, during the interview, said that for students coming from rural areas, it is much harder to get into good universities, saying: "People like me are from middle-class families. We do not have to worry about food or clothes. Our parents are educated."
He added: "We were born in large cities like Beijing. We simply got better education resources than the rest. Students from other places and rural areas are not able to get these benefits."
"The top scorers nowadays are, generally speaking, coming from prestigious families."
Over the past years, Chinese parents are increasingly spending huge amounts of money towards their children's education, varying from extravagant summer programs to hiring 'gaokao nannies' to support children taking the exams. Spending money on high-quality private schools and tutoring starts as early as kindergarten.
But not all families can afford top-notch schools for their children. Official statistics show that in 2017, dispensable income per capita in China is approximately 25,974 yuan (±US$4072).
Xiong told reporters that his parents are diplomats, saying: "It made my learning path easier. And the top scorers nowadays are, generally speaking, coming from prestigious families and are good at studying."
Perhaps the general promotion of top-score achievers used to be an efficient way for state media to promote hard-working attitudes and the 'Chinese dream', but the emergence of the more elite zhuàngyuán now has come to show how differences in educational resources have created inequality in educational opportunities.
Weibo Discussions
The recent ban on stories about the 2018 gaokao top scorers is an indication that the Chinese Ministry of Education now wants to de-emphasize worsening disparities within society, but not all commenters on Weibo agree with this shift.
"Why can't we give publicity to the top scorers?", author Tan Yantong (@谭延桐) asks on Weibo: "There is so much rotten entertainment news (..) and bullsh*t news, unbearable news, ruining our value system – why don't you ban that sort of news?"
"What's the use for me to become a number one scorer now?"
"Then you might as well ban the top scorers in sports," others say: "That's also highly competitive."
"Now what's the use for me to become a number one scorer anyway?" another commenter jokingly says.
But there are also supporters of the new guideline. "This is a good start," one other Weibo user writes: "Elementary education is general education – not elite education. How to provide efficient and equal education is something the Ministry of Education needs to figure out through new strategies."
By Chauncey Jung and Manya Koetse
Follow @whatsonweibo
Spotted a mistake or want to add something? Please let us know in comments below or email us.
©2018 Whatsonweibo. All rights reserved. Do not reproduce our content without permission – you can contact us at info@whatsonweibo.com.
Online Outrage over Gansu Female Medical Workers Required to Shave Their Heads
Heroes of the coronavirus crisis or victims of visual propaganda? A video showing female medical workers having their heads shaved has triggered controversy.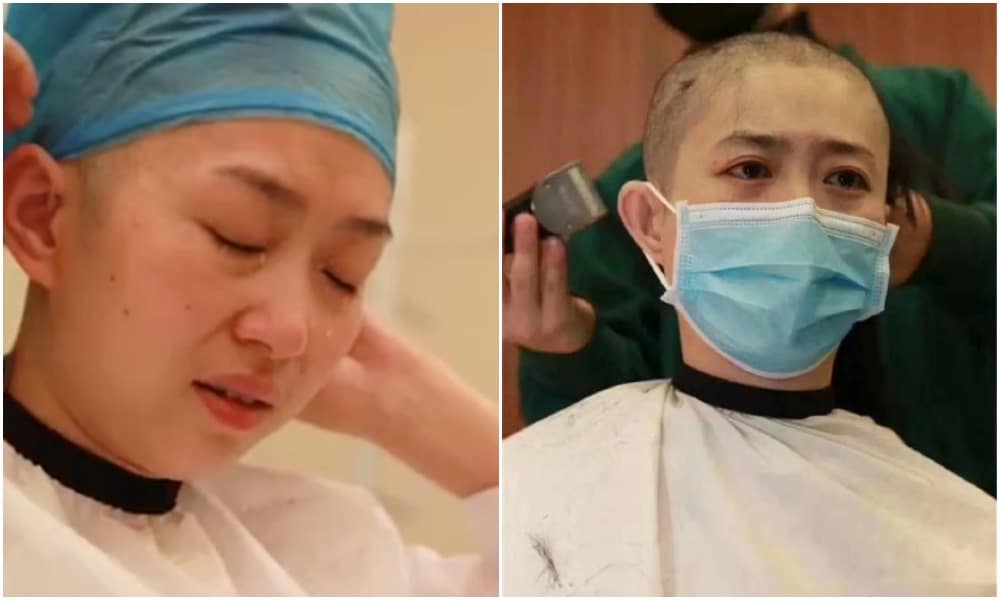 First published
A Chinese media post praising female nurses for having their heads shaved has sparked outrage on Weibo and WeChat. Are these women heroes of the coronavirus crisis or victims of gendered visual propaganda?
A video showing tearful female medical workers having their head shaved before going to COVID-19 epicenter city Wuhan has sparked outrage on Chinese social media.
The video, originally posted by Gansu Daily (每日甘肃网) on February 15, shows how a group of female nurses is standing in line to have their hair shaved off in preparation of their mission to Hubei to assist during the ongoing coronavirus crisis.
In the short segment that has since gone viral on Weibo and WeChat, some women can be seen crying while having all of their hair shaved off.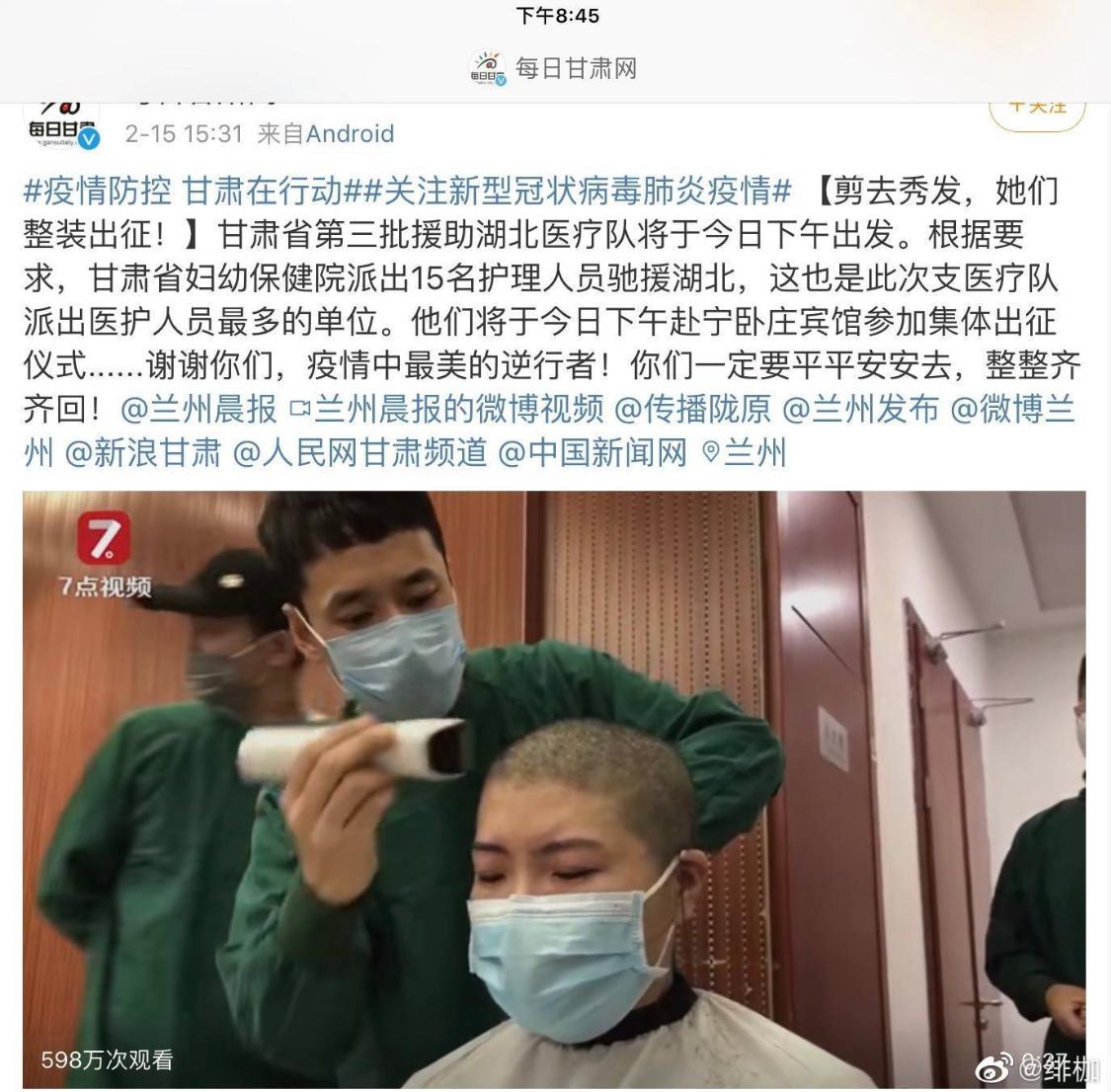 According to Gansu Daily and other Chinese media, the fifteen nurses, including one man, are part of a medical aid group that was sent out to Wuhan this weekend. Their hair was reportedly shaved off "in accordance with requirements" to make their work more efficient and reduce the risk of infection.
The original news post praises the women as "the epidemic's heroes in harm's way" ("疫情中最美的逆行者") – a term also used to describe brave firefighters during the 2015 Tianjin explosions (for more background on this term in Chinese, also see Xinhua and Zhihu).
Although the story praises the female medical workers as heroes and was soon reposted and promoted by many other (state) media, it was not just met with positive reactions from Chinese netizens.
On the contrary: it triggered waves of criticism over the medical team's supervisors requiring the women to shave off their hair, with many deeming the measures unnecessary, humiliating, and sexist.
"Why do they need to shave all of their hair, the men don't even need to do that?!", some Weibo commenters wonder.
Many Weibo users wonder how necessary it actually is for the women to go completely bold for medical work purposes, wondering why the male workers do not need to shave their heads and why the women could not just opt for a shorter hairstyle instead – suggesting the media circus surrounding the shaving of the heads is more about visual propaganda than actually being a necessity.
"I am a medical worker myself," one Weibo user writes: "I consulted an infection control doctor [on this matter] and they said it is not necessary at all to have a bald head. Short hair is convenient enough, and hair has a protective function too to reduce [skin] irritation from the friction of wearing hats and masks. It furthermore also has a function of catching sweat, preventing it from dripping to your eyes. A shaven head does more harm than good."
"Why do people need to bleed and cry in order for them to become heroes?", others say: "This is just cruel."
Adding to the online fury was a photo showing the group of medical workers after their heads were shaved, as the one male nurse in the group not only seemed to wear a better quality face mask, but also appeared to have much more hair left than the female nurses.
The original Gansu Daily post has since been deleted from social media.
On WeChat account Epoch Story ("epochstory2017″/Epoch故事小馆), author Chen Mashu (陈麻薯) posted a critique on February 17th titled "Please Stop Using Female Bodies as Propaganda Tools" ("请停止用女性的身体,作为宣传的工具").
Recent online Chinese visual propaganda in times of the coronavirus crisis has seen a strong focus on Wuhan medical workers.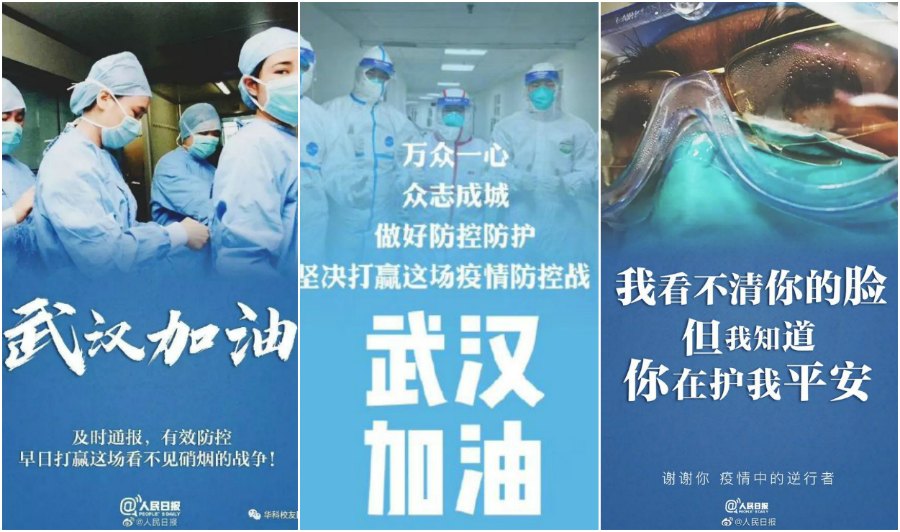 This kind of visual propaganda often highlights the idea of "sacrificing," especially when it comes to women as pretty girls, loving mothers, or good wives.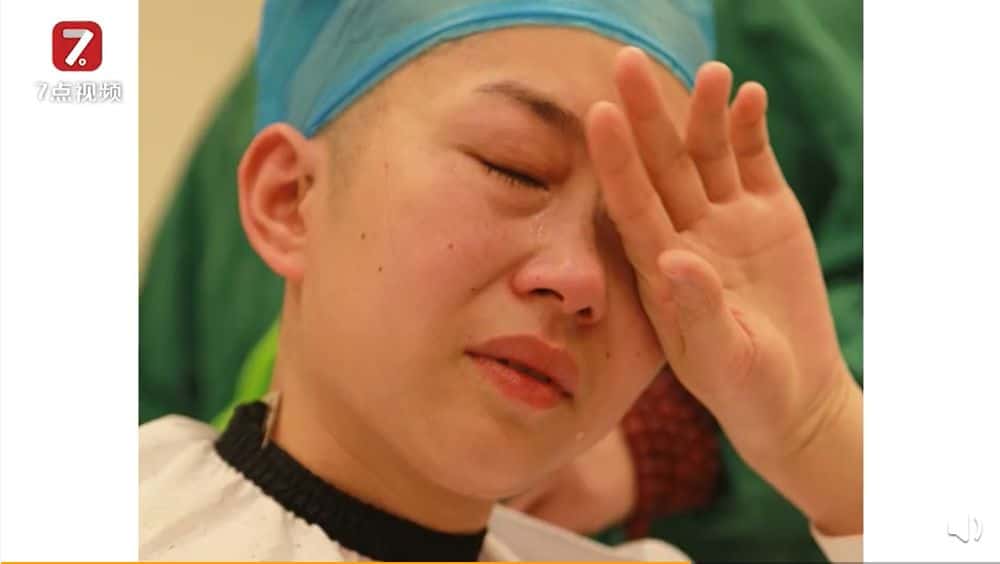 In the WeChat article, author Chen argues that Chinese state media always uses women's bodies as a tool for propaganda, and argues that it should not be necessary for women to endure extra hardship or suffering (in this case, sacrifice their hair) in order to make them admirable 'model workers.' The fact that they are fighting on the front line should be more than enough reason to praise them, Chen writes.
While these women's tears were "used to try to impress the audience" and become an example of some "collectivist spirit," Chen argues, this kind of propaganda backfired because the individual needs and wishes of these women were completely ignored during the process.
Although the original story and visuals may have meant to be empowering in times of coronacrisis, they are actually counterproductive to female empowerment at large.
This is not the first time the role of women in Chinese state media propaganda become a big topic of discussion online.
In 2016, a photo series titled "100.000 soldier-loving girls" (十万恋军女孩) posted by China's Military Web during the Wuhan flood also caused controversy. In the online media campaign, Chinese state media paid a 'tribute' to rescue workers by sharing pictures of girls holding the message "I wish to wash your uniform for you". It triggered online discussions on the submissive female image propagated by Chinese state media.
At time of writing, various posts about the shaved heads of the Gansu medical workers have been taken offline.
For more COVID-19 related articles, please click here.
By Manya Koetse (@manyapan) and Bobby Fung (@bobbyfungmr), with contributions by Miranda Barnes
Spotted a mistake or want to add something? Please let us know in comments below or email us. First-time commenters, please be patient – we will have to manually approve your comment before it appears.
©2020 Whatsonweibo. All rights reserved. Do not reproduce our content without permission – you can contact us at info@whatsonweibo.com.
"Our Cities Are Sick, But We Will Make Them Better" – Popular Online Video Promotes Chinese Unity in Times of COVID-19
Chinese state media are spreading more hopeful and positive online content in times of coronacrisis.
From Guangzhou to Shenzhen, from Wuhan to Chengdu, bustling streets and busy markets are left empty and quiet, as China is in the midst of dealing with the coronavirus (COVID-19) crisis.
"[People are] afraid, they are anxious, and the masks they wear widens the distance between them," a whispered female voiceover says in a new 3-minute 'documentary' video that has been propagated online by Chinese state media over the past week.
The short video shows scenes from cities all across China – a deserted train station in Wuhan, a person cycling on a quiet Beijing street, a nearly empty highway in Shenzhen – while a tracker in the corner shows the number of confirmed coronavirus diseases cases in that location.
While the first half of the online 'shortdoc' emphasizes how COVID-19 has affected every corner of the country in negative ways, making the past Chinese New Year the most depressing one in decades, the second half shifts to a message of hope and positivity.
Instead of highlighting the grey and empty streets across China, the video focuses on the energy and courage of the medical workers, policemen, and construction workers across the country doing what they can to fight the battle against the coronavirus.
"We are looking forward to the day we will take off our masks again, leave our homes, be with our loved ones, and enjoy that tasty bite of steaming hot buns."
The voiceover continues to say that "every city will wake up again" and that "the smiles will return to people's faces," concluding: "Because we are still together [in this], because we are Chinese."
The short video ends with the slogan "Our cities are sick, but we will cure them" ("我们的城市生病了,但是我们会治好它").
Originally posted by state-run media People's Daily on Weibo, the three-minute film attracted more than 80 million views within two days after it was posted. By now, the hashtag "3-minute Documentary Features Chinese Cities in Times of Epidemic" (#3分钟记录疫情下的中国城市#), also hosted by People's Daily, was viewed almost 90 million times.
The video was produced under the 'New Studio Media Group' (Xinpianchang / 新片场社区) with video contributions from 48 different content producers from all over the country. Xinpianchang is a Beijing-based online media group and video content platform founded in 2012.
Many online viewers express that they are touched and inspired by the short doc.
Recently, Chinese social media has seen more short videos depicting what life in times of coronacrisis is like for people living in different parts of China.
Chinese publication The Cover (封面新闻) recenty also posted a three-minute video of the scenes in Chengdu city, showing that its once bustling streets are now more like a ghost city.
Some Weibo netizens from Wuhan also post short videos of their city, repeating the slogan "Our city is sick, but we will cure it" and welcoming people to visit Wuhan once this epidemic is over.
Over the past weeks, Chinese state media have started to disseminate and propagate more hopeful online content, praising the work of those fighting COVID-19 and showing support to the people of Wuhan and emphasizing the unity of China in times of crisis.
For more about this and other COVID-19 related articles, please click here.
By Jialing Xie
This article has been edited for clarity.
Spotted a mistake or want to add something? Please let us know in comments below or email us. First time commenters, please be patient – we will have to manually approve your comment before it appears.
©2019 Whatsonweibo. All rights reserved. Do not reproduce our content without permission – you can contact us at info@whatsonweibo.com