No 'Novoland': This Really Is a Tough Year for Chinese Costume Dramas
First published
With 1,4 billion views on its Weibo page, the Chinese fantasy drama Novoland: Eagle Flag was one of the most-anticipated series of the year. This week, the show was suddenly canceled twenty minutes ahead of its premiere. The incident is indicative of recent tensions within China's TV drama industry, where some costume dramas have apparently failed to win the support of official regulators.
Just a week ago, What's on Weibo reported about the Chinese fantasy drama Novoland: Eagle Flag (九州缥缈录, Jiǔzhōu piāomiǎo lù) being one of the most anticipated TV dramas in China this summer. On June 3rd at 21:40 CST, however, just twenty minutes before the drama's much-awaited premiere on Tencent, Youku, and Zhejiang TV, the show was suddenly canceled.
Novoland: Eagle Flag, which has been called China's answer to Game of Thrones, is a costume drama that tells a story of war, conspiracy, love, and corruption in a fantasy universe called Novoland. It is based on a popular web fantasy novel series by Jiang Nan (江南), and produced by Linmon Pictures. Production costs reportedly were as high as RMB 500 million ($72 million).
Why was the show's premiere suddenly canceled? The only reason given for it on June 3rd was that there was a 'medium problem' ("介质原因").
China's English-language state tabloid Global Times reported on June 4th that their official sources also did not know the reason for the withdrawal, although they did admit to having received an order from "higher level," which would come from China's National Radio and Television Administration (NRTA,国家广播电视总局).
In March of 2018, China's State Administration of Press, Publication, Radio, Film, and Television (SAPPRFT), the former top regulatory body overseeing television productions, was officially abolished and replaced by three different state administrations in the ideological sector.
The NRTA is responsible for media control on radio and TV, and falls directly under the State Council. It is led by Nie Chenxi (聂辰席), who is also the deputy director of the Publicity Department of the Communist Party of China. This appears indicative that the Party now has more direct influence over this industry, as also recently suggested by Global Policy Watch, SupChina, and Variety. Under the NRTA, the regulation and censorship of Chinese TV dramas are as strict, and arguably stricter, than under the SAPPRFT.
Costume dramas: not enough "spiritual guidance"?
The strict control of the NRTA over China's TV industry is especially visible this year. As reported by CCTV News, China's regulatory body started to severely crack down on the rising popularity of Chinese costume dramas (古装剧) in March of 2019.
Regulatory rules were supposedly issued for costume dramas with 'themes' (题材) such as martial arts, fantasy, history, mythology, or palace, stating that they should not air or were to be taken down from online video homepages. The strictest crackdown would allegedly last until July.
From early on in 2019, it was already rumored that Chinese costume dramas would face a tough year.
On January 28 of 2019, Beijing Daily, the official newspaper of the CPC Beijing Municipal Committee, published a critical post on its social media account listing negative influences of court-themed TV dramas (宫廷剧).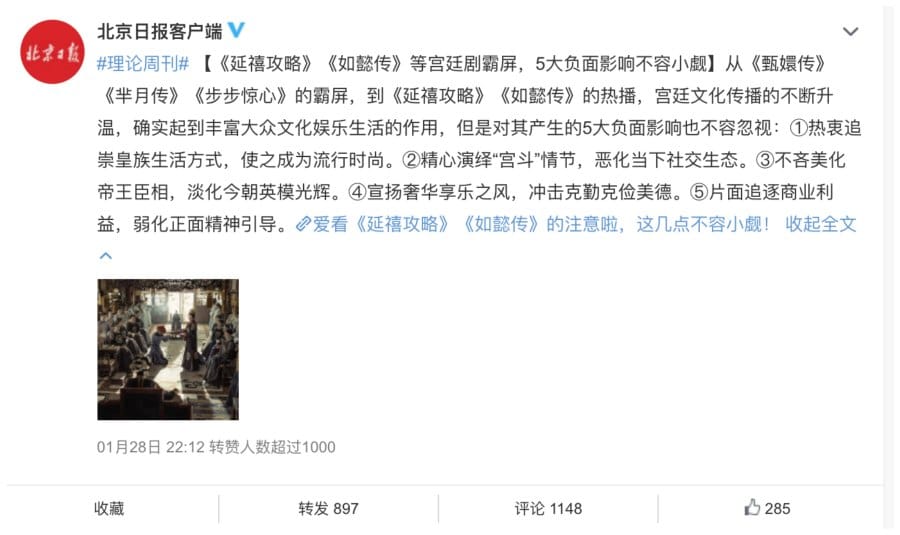 The critique included arguments such as that the imperial lifestyle was being hyped in these dramas, that the social situation of the dynastic era was being negatively dramatized, and that these productions are just aimed at commercial interests while weakening China's "positive spiritual guidance."
In February of this year, two weeks after the Beijing News post, Eduardo Baptista at CNN.com reported on the abrupt cancelation of the planned rebroadcasting of two costume dramas that were also targeted by Beijing News, namely the super TV drama hit Story of Yanxi Palace (延禧攻略) and period drama Ruyi's Royal Love in the Palace (如懿传).
Other costume dramas such as iQiyi's The Legend of White Snake (新白娘子传奇) or The Longest Day in Chang'an (长安十二时辰) were also withdrawn (or postponed) in March. Investiture of the Gods (封神) was replaced by another drama on Hunan TV this month.
"Historical dramas in many cases twisted the narrative of the country's past and the image of historical figures," TV critic Shi Wenxue was quoted by Global Times recently: "[they are] having an adverse effect on teenagers who may regard such fictional stories as real history."
A state and marketplace collusion
With China being the world's largest consumer of TV dramas in the world, the drama industry is a powerful channel for spreading Party ideology.
The political and cultural agenda is especially apparent in those TV dramas that are official propaganda productions. But since the TV drama industry has become increasingly commercialized and TV dramas became more market-oriented in the 1990s, their programming is no longer a mirror reflection of 'Party narratives.'
The number of profit-driven productions has grown over the past 25 years and has skyrocketed with the arrival of video streaming sites such as iQiyi or Tencent Video.
Although non-official productions are ultimately still regulated and overseen by the relevant state departments, they also have to compete for viewer ratings in a highly competitive (online) media environment.
There are many visible trends in China's TV drama industry. There have been peaks of popularity in those TV dramas depicting rural struggles or urban family life, for example, but historical costume dramas (especially dynasty dramas) have consistently been popular and rising since the mid-90s.
One reason for the growing popularity of these historical or fantasy costume dramas is that official censors initially had different standards for them than for more contemporary storylines, resulting in more creative freedom for scriptwriters (see Zhu et al 2008, 7).
There also have been many popular Chinese dynasty dramas that were commercial successes while also serving as propaganda tools.
As pointed out by Shenshen Cai in her work Television Drama in Contemporary China (2017), for example, TV drama serials such as Yongzheng Dynasty (雍正王朝) or The Great Han Emperor Wu (汉武大帝) promoted the ideal of strong central government, harmonious relations between the fatherly ruler and his devoted people, or the exemplary ruler cracking down on corruption – these narratives contributed to the leadership agenda in "stabilizing and re-energizing the dominant moral order" (Cai 3-4; also see Schneider 2012).
But more recent historical dramas have taken a fantasy route that, apparently, resonates with viewers but does not successfully appropriate the official propaganda apparatus.
The sudden withdrawal of new costume dramas is actually not about costume dramas at all. It just shows that although China's TV drama industry is no longer the propaganda machine it once used to be, it still needs to adhere to those narratives that are in line with Party ideology.
Even if their scripts and productions were apparently given the green light in earlier stages, the official supervision bodies still have the power to intervene until the last moment before airing – even if that, apparently, means that moment is twenty minutes ahead of the grand premiere.
"Things don't look too optimistic"
For Chinese drama fans, the recent cancellations have been a real slap in the face. The Novoland: Eagle Flag TV serial was super popular before it even aired: its hashtag page has a staggering 1.4 billion views on Weibo.
"I cried," one 'Novoland' fan comments: "Why such a sudden and abrupt withdrawal?"
"When can we finally see this show?" others wonder.
[Eng Sub] #Novoland: #EagleFlag director's edition – Dir. #ZhangXiaobo talks about his vision for the drama, his understanding of the three main characters (ft. #LiuHaoran, #SongZuer, and #ChenRuoxuan), the harsh conditions during filming, and more

Full – https://t.co/Jqa2z7LMEm pic.twitter.com/2RvsrMcsNW

— NOVOLAND: EAGLE FLAG (@eagleflag_intl) 3 juni 2019
For now, the show's premiere has officially been "postponed" and is "waiting for specific broadcasting time." Whether or not the 55-episode series will be allowed to broadcast after June is still to be seen.
On Twitter, the fan account of Liu Haoran (刘昊然), one of the show's main stars, writes: "You're going to see rumors of tentative dates flying around this week, but note that it's more of a deadline to get things sorted, not an air date. As of right now, things don't look too optimistic. We'll just have to be patient!
More: For an overview of all of our articles on Chinese TV Dramas, please check this list.
By Manya Koetse
Follow @whatsonweibo
References
Cai, Shenshen. 2017. Television Drama in Contemporary China: Political, social and cultural phenomena. London and New York: Routledge Taylor & Francis Group.
Schneider, Florian. 2012. Visual Political Communication in Popular Chinese Television Series. Leiden and Boston: Koninklijke Brill NV.
Zhu, Ying, Michael Keane, Ruoyun Bai (eds). 2008. TV Drama in China. Hong Kong University Press.
Spotted a mistake or want to add something? Please let us know in comments below or email us. Please note that your comment below will need to be manually approved if you're a first-time poster here.
©2019 Whatsonweibo. All rights reserved. Do not reproduce our content without permission – you can contact us at info@whatsonweibo.com