Op-Ed: Your Use of "Netizen" Hurts Responsible China Coverage
It's not innocent jargon. Not anymore.
Far from innocent jargon, the word 'netizen' has political implications in its use today and should not be casually tossed around, says Beijing-based journalist Dave Yin. In this op-ed contribution, Yin responds to our recent article "Netizens or Not?"
It's unlikely that when internet theorist and author Michael F. Hauben coined the word "netizen" more than thirty years ago, he would have imagined that, one day, on the other side of the world, a few handfuls of Western reporters and media critics covering China would be divided: in one camp applauding and in the other cursing his creation. It's equally unlikely he'd recognize at first glance what his word has come to mean in 2018 – and to whom.
Common thought is that whether or not "netizen" should be used, and what it means, are at the heart of this debate, which by now spans publications both big and small, free and censored. It hasn't gotten us anywhere.
But in view of China's escalation of online policing and digital surveillance, the concept of "netizen" is evolving, as must its coverage in Western media. Far from innocent jargon, the word today has political implications and a growing potential for harm, one Western media must recognize if it is to conduct responsible reporting.
A Western interpretation
When considering the word "netizen," it helps to know what one is talking about. Namely, pick a definition, and stick with it.
Scenario A)
One clear-cut definition offered by the Atlantic designates a unique identity; young, wealthy, educated Chinese urbanites and/or politically active individuals in online communities adept at skirting censorship.
Here, simple protocol applies. Writers using "netizen" must first make sure the subjects of their story actually match this description. Then, they must assess whether these complex socioeconomic and political elements are evident in this word. Hint: they're not.  Inevitably, writers should be explaining these elements to accompany the use of this term in each article it appears in. Anything short of this is incomplete reporting.
Scenario B)
If broadly defined to be a synonym to "Chinese internet users," as is more often the case, then several questions emerge: Why do Chinese internet users need a special label in the first place? Why is "Chinese internet user" inadequate when this type of terminology works for everyone else? If research (paywall) suggests the online habits of Chinese are similar to the rest of us, what are we trying to accomplish by othering them?
Self-applied labels
In advocacy reporting, we try to respect a person's self-applied labels, such as with race or sexual orientation, so I appreciate the irony when I say that just because Chinese people call themselves "netizens" doesn't necessarily mean we should.
Be it when describing race, sexual orientation, disability, etc. there is a general effort to use terminology that centers the person, and not the circumstance, which is often complex. "Person with impaired vision," "a cisgender gay man," "the woman, who identifies as a second-generation Filipino immigrant," "individuals claiming to be members of the Anonymous collective" are infinitely better than "the blind," "the gay," "the Filipino," "Anonymous." In pieces where nuance and individuals matter, these words do more than fill up space.
"Netizen," as it is currently used, erases both.
What's more, these often political labels emerged in societies with freedom of association where one makes a statement simply by publicly identifying. By contrast, what does it mean to label yourself with something as vague and abstract as "netizen" in a society that doesn't allow such freedom, and what effect does it have when Western media take up this cause?
A Chinese strategy
The self-applied label argument is also unsound when you consider that "netizen" is actually a mistranslation of the word "wǎngmín" (网民).
In wǎngmín 人民 (people), nóngmín 农民 (farmer), jūmín 居民 (resident), yímín 移民 (migrant), yúmín 渔民 (fisherman), and míngē 民歌 (folk song), "mín" 民 simply means "people," without any "citizen" connotation, and therefore "wǎngmín" 网民 really just means "internet people/people on the internet."
In other words, "netizen" and "wǎngmín" are faux amis. It's a mistake that Western media has allowed to proliferate and one that we must now contend with.
While the use of the English word by ordinary Chinese and private Chinese media could boil down to guileless ignorance towards English nuance, by contrast, "wǎngmín," when applied by the Chinese government and its mouthpieces, is part of deliberate national policy. As described by Manya Koetse in her analysis, the Chinese term is an official category of Chinese nationals on which the CCP imposes severe restrictions.
What ramifications are there for Western media in not consciously decoupling these wildly different interpretations by different actors? By casually tossing the word around, do we not run the risk of normalizing Chinese internet policy?
While we, working in the Far East, may feel at times that our work is isolated, it should be noted that people are, in fact, reading, for better or worse.
"['Netizen'] has been used when reporting on China for a decade+ [sic] in order to relieve journalists of understanding what they're reporting on," one Reddit user (Western netizen?) writes. "Today it is a lazy way to assume all internet users in China think the same way by f*cking lazy journalists."
"Netizen" may well stick around. China's emerging digital policies have all but ensured it. But we owe it to our readers and the people we cover to get with the program, to evolve our terminology and critical judgment at the same pace as the subject matter.
We need to understand that the benefits of its selective, judicious use, as a result of explicit purpose, come from highlighting and decoding China's socioeconomic and political situation, not from generalizing 772 million individuals, and least of all from othering them or normalizing their constraints. It may help everyone's understanding of this country, including our own.
By Dave Yin
Follow @whatsonweibo
Spotted a mistake or want to add something? Please let us know in comments below or email us.
©2018 Whatsonweibo. All rights reserved. Do not reproduce our content without permission – you can contact us at info@whatsonweibo.com.
News of US Sanctions Against Hong Kong Top Officials is "America Penalizes Chinese Officials" on Weibo
US imposing sanctions on Hong Kong officials is hashtag " America Penalizes Chinese Officials" on Weibo.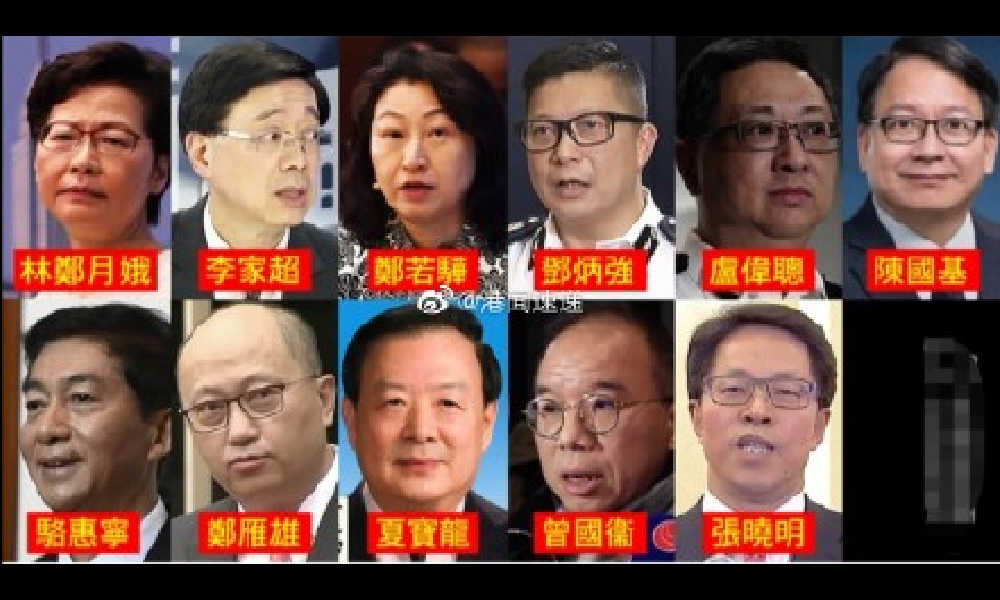 As ensions between the United States and China have been increasing on a daily basis, the US government has announced sanctions against the Hong Kong government senior leadership for carrying out Chinese "policies of suppression," right after signing executive orders to ban Chinese apps TikTok and WeChat from operating in the US.
The targets of the Hong Kong sanctions are eleven individuals, including Hong Kong leader Carrie Lam, and come three weeks after the implementation of the Hong Kong National Security Law.
On Friday, August 7th, the US Department of the Treasury issued the names and personal details (home addresses, ID numbers) of the Hong Kong individuals added to the Office of Foreign Assents Control list of Specially Designated Nationals.
A Washington press release on Friday declared the situation in Hong Kong "a national emergency," stating that the recent actions taken by the People's Republic of China "fundamentally undermine Hong Kong's autonomy and democratic processes," and that these developments provide for "the imposition of sanctions on actors engaged in these malign activities."
The sanctions freeze any property or financial assets the eleven individuals have in the United States, though, as reported by the BBC, Lam has said she does not have assets in the country.
On Chinese social media, where Trump's sanctions on WeChat and Tiktok are still trending at time of writing, news of the second US official move of the day received less attention.
Not only did the news come when it was already night time in Beijing, but some hashtag pages relating to the issue were also taken offline.
The hashtag "America penalizes Chinese officials" (#美国制裁多名中国官员#) is currently online with some 2.7 million views, while the hashtag page for the hashtag "United States Sanctions Hong Kong SAR Chief Executive Carrie Lam" (#美国制裁香港特区行政长官林郑月娥#) was taken offline. This also means that all of these hashtags on Weibo are no longer linked to any page or overview.
The hashtag "America penalizes Chinese officials" (#美国制裁多名中国官员#) was initiated by Chinese media outlet Sina News, which is the current host of the hashtag page.
This article will be updated.
By Manya Koetse
Follow @WhatsOnWeibo
Spotted a mistake or want to add something? Please let us know in comments below or email us. First-time commenters, please be patient – we will have to manually approve your comment before it appears.
©2020 Whatsonweibo. All rights reserved. Do not reproduce our content without permission – you can contact us at info@whatsonweibo.com.
"What's Next?" – Trump's Executive Orders to Ban TikTok and WeChat from Operating in the US
The announced US sanctions on WeChat cause concern on Weibo, where the question "Apple or Wechat?" is trending.
At a time of escalating tensions between the US and China, President Trump has signed executive orders to ban Chinese apps TikTok and WeChat from operating in the US in 45 days, if they are not sold by their parent companies Bytedance and Tencent.
The latest Wechat and TikTok sanctions are trending on Twitter, and also on Chinese social media.
On Weibo, the hashtag "Trump Declares that Bytedance and WeChat Will Be Banned from Operating after 45 Days" (#特朗普宣布45天后禁止与字节跳动及微信交易#) attracted a total of 250 million views on Weibo by Friday afternoon, Beijing time.
"WeChat" also became the number one search term on Weibo's hot search lists.
The executive orders issued on August 6 address the "threat posed by WeChat" and the "threat posed by TikTok," and "the national emergency with respect to the information and communications technology and service supply chain." The orders prohibit American companies and individuals from conducting transactions with TikTok and WeChat.
The order on TikTok, which is practically the same as that on WeChat, states that "the spread in the United States of mobile applications developed and owned by companies in the People's Republic of China (China) continues to threaten the national security, foreign policy, and economy of the United States."
It states that "the United States must take aggressive action against the owners of TikTok to protect our national security" and that..
– ..TikTok has been downloaded over 175 million times in the US.
– ..TikTok collects large amounts of data from its users, including location data and browsing history.
– ..TikTok use in the USA potentially gives the Chinese Communist Party access to Americans' personal and proprietary information.
– ..Tiktok use heightens the risk of potential espionage and blackmailing practices.
– ..TikTok engages in disinformation campaigns and censors content deemed politically sensitive to the Chinese Communist Party.
The order prohibits any transaction by any person subject to the US jurisdiction with Bytedance. The WeChat order, similarly, also prohibits, from September 20 on, "any transaction that is related to WeChat by any person, or with respect to any property, subject to the jurisdiction of the United States, with Tencent Holdings Ltd. (a.k.a. Téngxùn Kònggǔ Yǒuxiàn Gōngsī), Shenzhen, China, or any subsidiary of that entity."
Tencent stocks plummeted on Friday following the release of the executive orders.
On Weibo, there are mixed reactions to the executive orders, with many questioning what a ban on Tencent and Bytedance operations in the US would actually mean. The position of Apple in China frequently pops up in online discussions, with some claiming the order also means that Apple will ban WeChat from iOS, and suggesting that Apple should then also be boycotted in mainland China.
One online poll asked netizens: "What would you choose if iPhones were to ban WeChat, Apple or WeChat?" A great majority indicated they would choose Tencent's WeChat over Apple products.
The question "Apple or WeChat" received so much attention that it soon also went trending.

"For me personally, WeChat is indispensable. There's nothing that could replace it," one commenter wrote.
More than a messaging app, WeChat is China's superapp that functions as a messaging tool, a social media platform, a payment platform, an e-commerce app, a news source, and more. The app is also the main communication tool for many overseas Chinese to stay in touch with their families in the PRC.
"What are we gonna do now, write letters to each other?" one comment in a popular thread said.
China's Ministry of Foreign Affairs responded to the recent developments, saying that America will ultimately "suffer the consequences of its own actions" ("最终将自食其果").
There are also people on WeChat and Weibo commenting on the fact that China has already banned so many American products, from Google to Facebook and Twitter, that "there is nothing left to ban."
"We have few countermeasures left to take," multiple web users write about the recent developments, also noting that the US targeting TikTok and WeChat is not much different from China blocking American sites and apps.
"World War III takes place in cyberspace," according to one Weibo commenter.
Some Weibo users are just concerned about their new iPhone: "I just wanna know how this will affect the use of WeChat on my iPhone," one person writes. "I just bought a new Apple phone, and suddenly it doesn't seem so appealing to me anymore."
"I'll just wait 45 days to see what happens next," another Weibo user says.
By Manya Koetse
Follow @WhatsOnWeibo
Spotted a mistake or want to add something? Please let us know in comments below or email us. First-time commenters, please be patient – we will have to manually approve your comment before it appears.
©2020 Whatsonweibo. All rights reserved. Do not reproduce our content without permission – you can contact us at info@whatsonweibo.com.