The Tom Hiddleston China 'Centrum' Commercial That Has Got Everyone Confused
A new commercial for Centrum Vitamins in China that was released on Weibo this week, starring Tom Hiddleston, has attracted the attention of Chinese netizens for being both "weird" and "irresistible."
"Hey, good morning! I finished early, so I popped by and made you breakfast" – it is the English actor Tom Hiddleston speaking, who is preparing breakfast in the kitchen wearing an apron in the latest Chinese Centrum Vitamins commercial. While he is serving out a plate full of vegetables and a heart-shaped egg ("peppers on top, right?"), he suddenly starts speaking Mandarin when he grabs a bottle of Centrum vitamin pills, saying: "And here's your Centrum!"
The 38-year-old Hiddleston then looks straight into the camera again – the entire commercial is shot in that manner – and says: "You look great."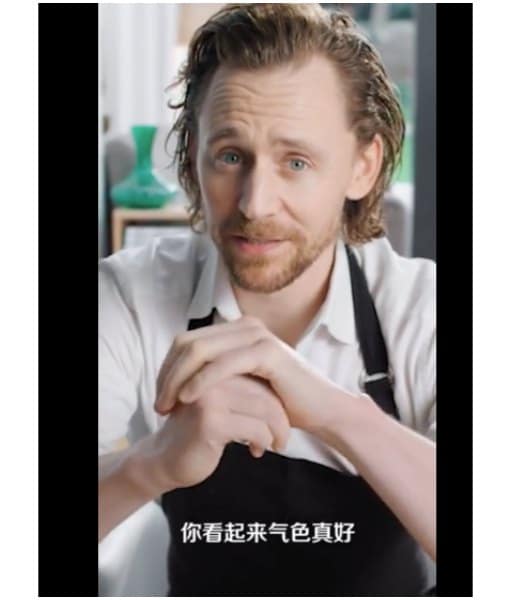 The 50-second commercial ends when Hiddleston puts on his coat and says: "I'll probably be a bit busy in the coming few weeks, but I'll make it up to you soon, I'll promise." We then, still from a first-person person perspective, see the hands of a woman straightening his jacket and Hiddleston walks out the door.
What was that about? That's what everyone is now trying to figure out. Hiddleston coming back from work to cook his girlfriend breakfast, and then leaving for weeks? What kind of goodbye was that? Why is the woman not saying anything? And what is the popular actor doing in a Chinese Centrum Vitamins commercial in the first place?
Hiddleston is known for playing Loki in Marvel's Thor and The Avengers. In the TV series Night Manager, Tom Hiddleton stars as Jonathan Pine, the night manager of a Cairo hotel. Some commenters think that he is also a manager working night shifts in this commercial.
On Tom Hiddleston's official Weibo account, where the actor has over 600,000 followers, he promoted the Centrum commercial on March 27: "Here's something special for you at breakfast time. Wishing all my friends in China a great start to their day!"
"My god, how can women resist this commercial?" some commenters wonder: "Please feed me, too!"
There are also commenters on Weibo who wonder why the actor is starring in this commercial at all: "But Tom is just so handsome, I can forgive him for it." One Hiddleston fan writes: "This commercial just gives me the motivation to keep on living!"
"I saw the ad last night, and then I dreamed that Tom and I were together."
Although the die-hard Tom fans praise the Centrum commercial, many netizens are very confused about it – calling it "crazy," "awkward," and "weird."
Despite the mixed reactions, the commercial does seem to be a marketing success for the Centrum brand. "I've seen the commercial, I'm going to buy Centrum tomorrow," some netizens write on Weibo, with others sharing pictures of their own Centrum vitamins and online order status.
Judge for yourself and see the commercial here:
By Manya Koetse  and Miranda Barnes
Spotted a mistake or want to add something? Please email us.
©2019 Whatsonweibo. All rights reserved. Do not reproduce our content without permission – you can contact us at info@whatsonweibo.com.