Weibo Netizens Show Support for Shanghai Restaurant Harassed By Muslim "Noodle Gang"
What was supposed to be a celebratory opening of a new Hui noodle restaurant in Shanghai turned into a weeklong nightmare as a local "noodle gang" (拉面帮) harassed the owner and threatened him to close his business. Chinese netizens played an important role in supporting the restaurant to continue its business.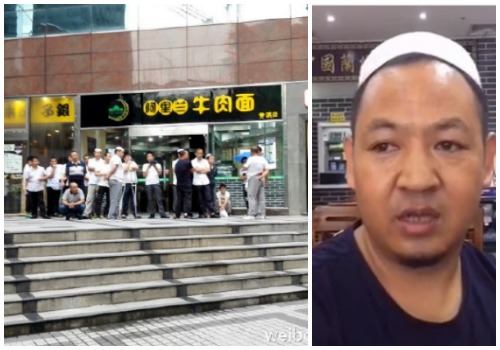 What was supposed to be a celebratory opening of a new Hui noodle restaurant in Shanghai, turned into a weeklong nightmare as a local "noodle gang" (拉面帮) harassed the owner and threatened him to close his business. Chinese netizens played an important role in supporting the restaurant to continue its business.
On July 1st, halal restaurant Alilan Beef Noodles (阿里兰牛肉面) opened its doors on Shanghai's famous East Nanjing Road. What was supposed to be a celebratory first day turned into a nightmare when more than 100 angry people, allegedly from the Hui ethnic group, surrounded the restaurant and blocked customers from coming in while threatening the staff. The Hui people are a predominantly muslim ethnic group in China.
In an interview published on video platform Miaopai, Alilan owner Xian Guolin, a Hui muslim himself, stated that he was offered 300,000 RMB (±45,000$) to close his business – a small amount compared to the 1,5 million RMB (±224,700$) he invested in it.
The people who harassed him claimed to be muslim representatives of Shanghai's beef noodle shops and demanded the owner to leave. According to owner Xian, he was told that his own life and that of his family would be in danger if he would not close his business.
As reported by Sixth Tone, the people told him he needed to shut down his business because it allegedly violated the so-called "Shaanxi-Gansu-Ningxia treaty", which claims that there should be no other beef noodles restaurant within 400 meters of a Hui muslim restaurant.
The 'agreement', that alleges to promote a "harmonious and stable" noodle market, states that those who do not abide by the rules will have to face the consequences and accept any financial losses. The document also states it is meant to protect 'ethnic solidarity'.
The noodle agreement is highly controversial as it does not have any legal standing, with some calling it "ridiculous". A similar conflict erupted in the south of China last summer when Lanzhou beef noodles where at the center of a huge noodle war also evolving around a local noodle contract.
[rp4wp]
In the weeks following the opening of Alilan, the group of people remained to stand in front of the restaurant. According to the owner, this caused a daily loss of around 4500 RMB (±670 US$) to his business.
The topic became popular on Chinese social media under the hashtag of "Beef Noodle Gate" (#拉面风云) as owner Xian (@阿里兰牛肉面) shared the turbulence with his followers. It soon attracted 400 million views and 90,000 discussions on Sina Weibo.
With people like Weibo VIP user and editor Hey-Xiaodiao (@嗨-小刁) closely following the event and writing about it, the affair became a social media hype that resulted in many Shanghai residents showing their support for Alilan by dining there despite the presence of the noodle gang.
The Alilan restaurant kept its followers up to date on recent developments through its official Weibo account. On July 18, they posted the following pictures, writing: "They were chased away by the police today but then came back during the night with over 40 persons. There were netizens who confronted them while smoking. Because smoking is not allowed according to Islamic religion, this then led to an argument between them, and all our customers were also driven away."
Large numbers of Weibo netizens offered their support to Alilan and rejected the noodle gang for their actions. Many Weibo users also expressed their worry that such a thing could happen in one of China's most famous city centers: "Is this Shanghai or is this Islam territory?!"
But over the past few days, netizens' help seemed to bring an end to the blockade, as one diner wrote on July 22: "No more people standing in front of the door, and 50% discount thanks to netizens' support", and: "Business is quite good. Many things are sold out. Support Alilan and oppose white hats!" ('White hats' refers to Hui Muslims, who usually wear the taqiyah white cap for religious purposes.)
"Come over, food is good," others wrote, posting pictures of the noodles and themselves having dinner at the restaurant.
The Alilan restaurant thanked Chinese netizens for their overwhelming support through Weibo, and shared that it even had supporters coming from as far as Nanjing and Hangzhou to have dinner at their restaurant.
Although the Alilan owner and staff expressed their joy and gratefulness, many netizens were not satisfied with how the affair was handled as the actions of the "noodle gang" went unpunished.
"The 'noodle gang' has won", one Weibo user (@霜叶不活跃) writes: "This shows all noodle gangs around the country that even if they cause huge problems in cities like Shanghai against their fellow ethnic minorities, they will not be punished for it. If they succeed, they earn loads of money, if they fail, they just need to walk away and find another victim. Nothing serious."
Other netizens stressed that everyone should be equal before the law , and that there should be no excemptions made for conflicts taking place within ethnic or religious groups: "The Alilan issue seems be to a conflict among muslims ("穆斯林内部冲突"), but if you look at it from another side, it is also a collision and compromise between Han Chinese and muslims, and a manifestation of a culture clash between our national ethnic groups", writes one netizen.
For now, the Alilan restaurant is seemingly doing good business as many netizens point out its tasty dishes and ignore the negativity of the past few weeks. "We will resist all people who attempt to dominate the market under the flag of religion," one Weibo user writes.
"I congratulate Alilan noodles," one netizen writes: "You have now become a famous Shanghai brand."
-By Diandian Guo and Manya Koetse
Follow @WhatsOnWeibo
©2016 Whatsonweibo. All rights reserved. Do not reproduce our content without permission – you can contact us at info@whatsonweibo.com.
Coca Cola Introduces "Ocean Plastic Bottles" to Combat Marine Waste Problem
Coca Cola's innovative ocean plastic bottles have become top trending on Weibo.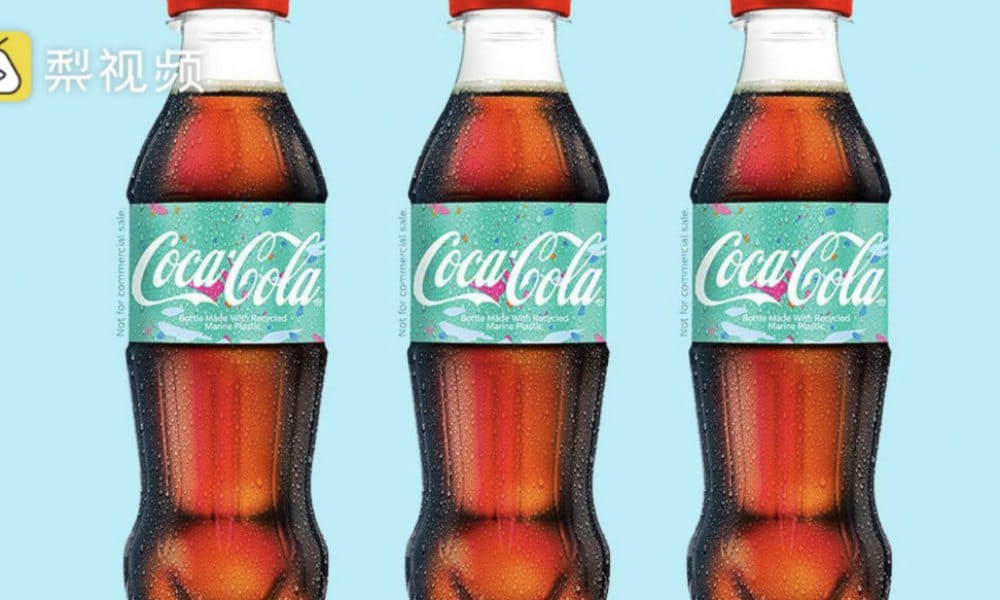 As Coca Cola introduced the world's first bottles made from recycled ocean plastic waste this week, the topic has risen to the top trending on China's Sina Weibo.
As reported by Business Insider, Coca Cola has released 300 sample bottles showing the potential of its new technology that is able to transform lower-grade recycables into high-quality food packages.
The Coca Cola bottles were produced using 25% recycled marine waste, collected by volunteers and fishermen during 84 beach cleanups in Spain and Portugal, the report says, with the company's long-term goal being to have all its plastic bottles be made from 50% recycled plastics by 2030.
Coca Cola will start to use more recycled plastic for its bottles from 2020 on.
With the topic now having reached 140 million views on Weibo, many people are discussing the issue. The majority of commenters applaud the environment-friendly initiative, but there are also some who say they fear the bottles would somehow contain "more pollutants" or start to "taste like the ocean."
Others write they do not necessarily want to drink Coca Cola, but would like to obtain one of their 'ocean plastic' bottles as a collector's item.
The Chinese news reports about the new Coca Cola initiative raise awareness on the problems of how plastic waste in oceans jeopardizes marine life.
"Environmental problems require immediate action," one Weibo users writes: "A good company will take on the responsibility to do something."
Some 200 billion plastic bottles are sold in China every year – many of them are already being recycled. Coca Cola, however, will reportedly be the world's first company to use ocean plastic waste for its bottles.
Coca Cola is an important player in the Chinese beverage market; the company has introduced more than 60 products under 20 brands within mainland China.
Also read:
McDonald's China Introduces Cola Chicken on Its Menu
Coca Cola in China: "Not a Single Bottle of Coke Should Be Sold to Chinese"
Ginger Coca-Cola Comes to China with Some Smart Yin Yang Marketing
By Manya Koetse
Spotted a mistake or want to add something? Please let us know in comments below or email us. First time commenters, please be patient – we will have to manually approve your comment before it appears.
©2019 Whatsonweibo. All rights reserved. Do not reproduce our content without permission – you can contact us at info@whatsonweibo.com
This Is the BBQ Restaurant Jack Ma Visited in Zhengzhou
Jack Ma's late-night snack means overnight success for this Zhengzhou skewer place.
Whatever Jack Ma does or says makes headlines in China. The superstar Alibaba founder has especially been a topic of discussion over the past week since his meeting with Tesla's Elon Musk at the World AI Conference in Shanghai, where the two billionaires had a discussion about the risks and rewards of AI development.
But on social media platform Weibo, Chinese netizens have not just been discussing what Jack Ma has been saying over the past few days – what he has been eating has also become a topic that has attracted thousands of views and comments this week.
A BBQ skewer restaurant in Zhengzhou, Henan Province, gained overnight fame after a visit from the business magnate and his group. The Alibaba delegation visited Zhengzhou for a meeting concerning a strategic partnership between Alibaba and the local government.
Jack Ma visited the barbecue skewer restaurant around one o'clock in the morning, and was photographed and filmed by many people standing around.
Ma visited Dehua Pedestrian Street and Zhengdong New Area before arriving at the Zheng Xiwang restaurant. Ma was with a small group of people and spent a total of 700 yuan (around 100 US dollars).
Grilled skewers are popular all across China, but especially in the Zhengzhou region, which is also nicknamed the "holy land of skewers."
The Zheng Xiwang restaurant visited by Ma was founded in 1991 – although it was just a street stall at the time – and has been thriving ever since.
Besides skewers, Jack Ma allegedly ordered stir-fried Hunan prawns and spicy clams.
As Ma's visit to Zhengzhou and the restaurant has gone viral, some social media users write that they have also visited the restaurant immediately after, sharing photos and their receipts as proof.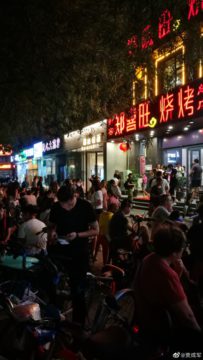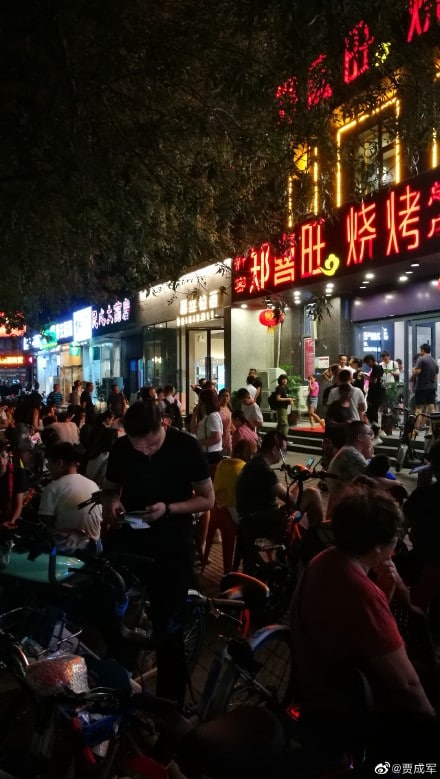 Weibo user Jia Chengjun (@贾成军) from Henan shared photos of people lining up to get a table at the popular restaurant.
According to various reports on Weibo, the restaurant's owner initially offered Jack Ma the dinner for free, but the billionaire refused and paid anyway. His payment method will not come as a surprise; he paid with Alibaba's online payment platform Alipay.
"Why would you offer him a free meal anyway?" some netizens wondered: "He surely has more money than you!"
Curious to try the same food as Ma? Zheng Xi Wang is located at the intersection of Fuyuan Street and Yingxie Street in Zhengzhou (福元路与英协路交叉口向西160米路北(银基王朝南门)).
By Manya Koetse
Follow @whatsonweibo
Spotted a mistake or want to add something? Please let us know in comments below or email us. Please note that your comment below will need to be manually approved if you're a first-time poster here.
©2019 Whatsonweibo. All rights reserved. Do not reproduce our content without permission – you can contact us at info@whatsonweibo.com