"What Is Peppa?" – Viral Ad Campaign for 'Peppa Pig' Movie Makes the British Pig More Chinese Than Ever
It's the Chinese new year of Peppa Pig.
A new ad campaign for the upcoming Peppa Pig movie features a grandfather living in rural China who goes on a quest to find out what Peppa is. The commercial is a huge success on Chinese social media, and strikes a chord with netizens for touching upon various societal and cultural issues. Peppa is more Chinese than ever now.
"What is Peppa?" That is the question that is currently going viral on Chinese social media, with the hashtag #WhatisPeppa (#啥是佩奇#) receiving a staggering 400 million times on social media platform Weibo at time of writing.
The reason for the trend is an ad campaign, titled 'What's Peppa', promoting the Peppa Pig Celebrates Chinese New Year film, a production by Entertainment One and China's Alibaba Pictures.
The promotional video (5:39 length, watch featured video), that came out via various online channels on January 17, focuses on a grandfather living in a remote rural village who is anticipating the Spring Festival reunion with his son and his family, who now live in a big city.
The grandfather, named Yu Bao, wants to know what gift to get for his little grandson. When calling his family on a bad connection through his old 2G mobile phone, the word "Peppa" is all he gets from his little grandson before his phone breaks down. But what's Peppa?
Yu Bao then goes on a comical mission to find out what Peppa is: looking it up in the dictionary, asking his friends -who are just as oblivious as he is-, and asking the entire village.
At the local shop, it is suggested that 'Peppa' is some kind of shampoo.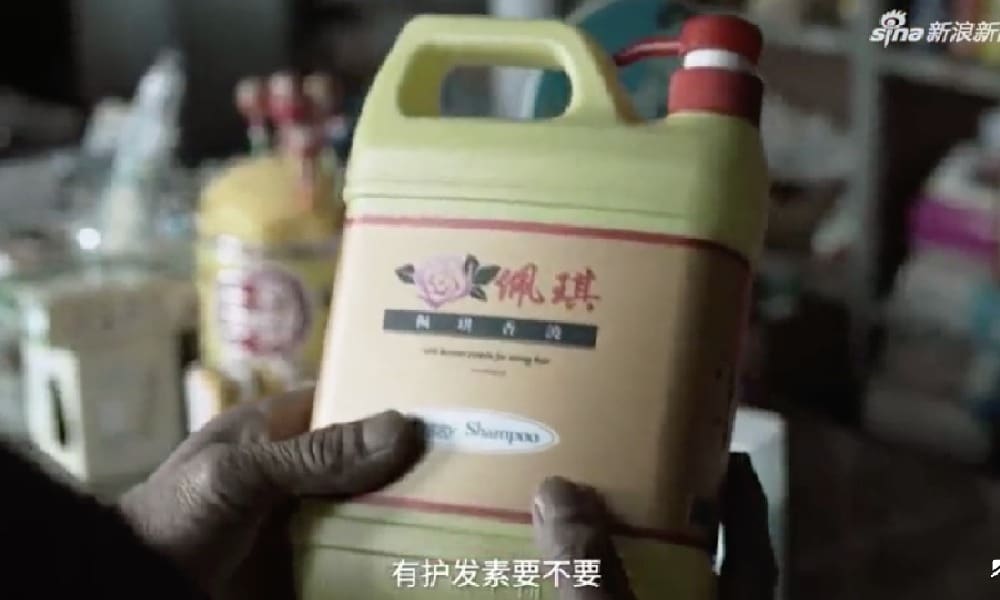 Eventually, one of the female villagers, who used to be a nanny, knows what Peppa is. She tries to explain it to Yu Bao, who now even seems willing to paint his own pig pink for his grandson. She explains that it is a pink cartoon pig whose face looks somewhat like a traditional fire blower.
With some guidance, the grandfather then goes to work and creates a unique 'Peppa Pig' gift from a metal air-blower to surprise his grandson during Chinese New Year.
But much to his disappointment, he then receives a phone call from his son, who tells him they are not coming home for Chinese New Year – before the connection drops again.
As grandpa, sad and lonely, is walking by the side of the road, his son suddenly appears in his car, telling him that the connection dropped too soon; he was not just telling him the family was not coming for Chinese New Year, he was trying to tell him that they invited him to come to their home instead.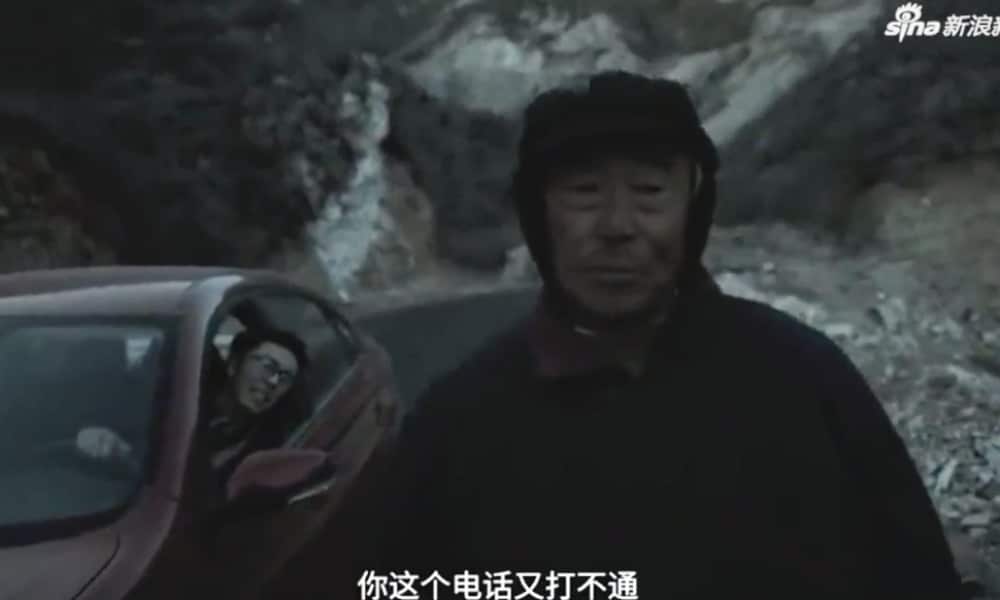 When the family is finally reunited, it is time for the proud grandfather to show the result of his difficult quest for Peppa to his grandson.
The grandpa's mission is complete: he gives his grandson a one-of-a-kind Peppa Pig.
The commercial ends with the entire family enjoying the upcoming Peppa film in the cinema together. When a friend from the village calls the grandfather to let him know he finally found Peppa thanks to his new smartphone, Yu Bao says: "It's okay, I found Peppa already!"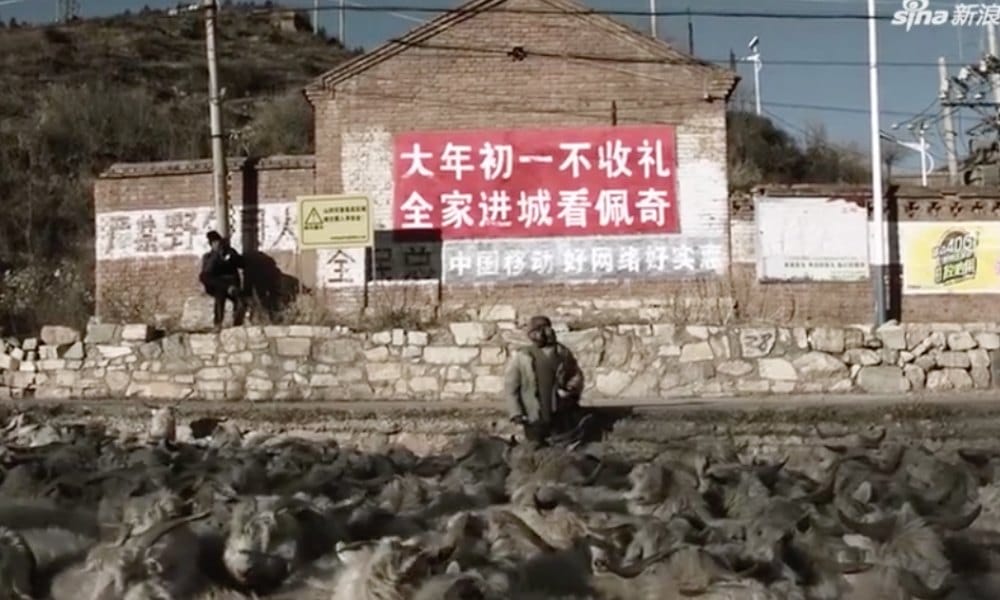 The last shot of the video shows Yu Bao's friend, a sheepherder, standing with his new phone, while someone in the back plays the tune of the Peppa cartoon. The big slogan on the wall is partly based on a popular catchphrase from another Chinese ad, and says: "At the start of the New Year, don't accept gifts; the whole family goes to the city to watch Peppa instead."
What's Peppa Pig?
Peppa Pig is a popular children's cartoon that first aired as a British animated television series (produced by Astley Baker Davies) in May of 2004. It took more than eleven years before the show was officially launched in the PRC (CCTV/June 2015).
Since then, Peppa Pig has become one of the most popular programs for preschoolers in China. But not just preschoolers love the pig; it has also become highly popular among young adults, who wear Peppa t-shirts, Peppa watches, and are major consumers of China's thriving Peppa industry.
In 2018, Chinese popular short video app Douyin (also known in English as Tik Tok) removed approximately 30,000 short videos relating to British cartoon Peppa Pig from its platform, as Peppa had turned into somewhat of a subversive symbol to a Chinese online youth subculture dubbed 'shehuiren' (社会人) (read more here).
This news item led to some confusion in Western media, where it was often suggested that Peppa was completely banned in China. She is, in fact, not banned; she is now more popular than ever.
Peppa the Movie
Amid the huge success of Peppa in China, it was announced in the summer of 2018 that Chinese tech giant Alibaba was working together with Entertainment One on the release of a Peppa Pig movie especially for the Chinese market, as this year's Chinese New Year is the start of the Year of the Pig.
The movie, titled 'Peppa Pig Celebrates New Year' (小猪佩奇过大年), is set for a nationwide release on February 5, the first day of the Chinese Lunar New Year. This is the most popular time for big blockbusters to come out, as many people are free during Chinese New Year and have the time to go out to the cinema together with their families.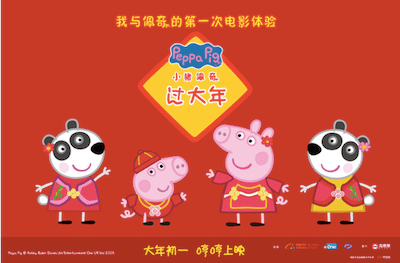 The movie itself revolves around Peppa and little brother George and their parents, who are having a reunion for the Spring Festival. It features various Chinese traditions, and of course, something unexpected will happen.
Why This Peppa Ad Campaign is So Brilliant 
The Peppa ad has really struck a chord on Chinese social media for various reasons. The video was directed by Beijing director Zhang Dapeng (张大鹏, 1984), who also directed the actual Peppa movie, and the campaign is also sponsored by China Mobile.
What this ad campaign does:
– It mixes the love for Peppa with the warm feeling of Chinese family reunions during Chinese New Year.
– It presents a nostalgic idea of the Chinese village community, where neighbors come together and look out for each other.
– It touches upon the issue of China's rapid urbanization, that has caused many villages to become deserted and isolated as younger generations have settled in the cities.
– It highlights how China's digitalization is leaving behind its elderly population (read more here).
– It shows the strong grandparent–grandchild relationship; usually, Chinese grandparents play an active role in raising grandchildren, something that has been changing due to younger generations moving to the city.
In other words; the advertisement completely draws the figure of Peppa Pig into a Chinese socio-cultural context, where it symbolizes the strong connection between Chinese families amid China's rapid urbanization and digitalization.
By now, the Peppa campaign is making its rounds from Weibo to WeChat and elsewhere on the Chinese internet, with some online sellers already offering a remake of the Peppa present for sale as a collector's item. Bloomberg reports that Chinese stocks connected to Peppa Pig have surged after the clip went viral yesterday and today.
"I give this video 100 points!" some commenters on social media write, with others saying it has made them tear up. "This already is the best ad campaign of the year."
Peppa was already a famous figure in China, but with this viral hit and the upcoming movie, the British pig really has become a part of China's popular culture and media environment: it's the Chinese new year of Peppa Pig.
UPDATE (Jan 19): [Now passed one billion views] Want to understand more about this movie and its context? Check out our video here.
By Manya Koetse and Miranda Barnes
Follow @whatsonweibo
Spotted a mistake or want to add something? Please let us know in comments below or email us.
©2019 Whatsonweibo. All rights reserved. Do not reproduce our content without permission – you can contact us at info@whatsonweibo.com
Social Media Blows up over Chinese Teen Celebrity Roy Wang Smoking in Beijing Restaurant
The star, who recently featured in a 'social credit' song, triggered controversy for smoking indoors and breaking the law.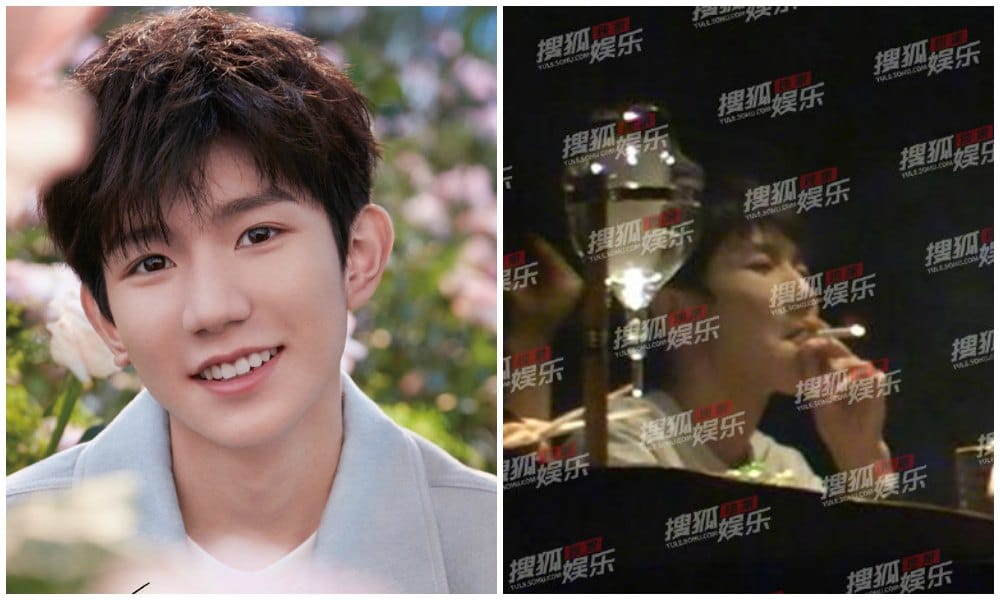 Roy Wang (Wang Yuan 王源), who is considered one of the most influential teens in China, was caught smoking during a '520' banquet in Beijing. May 20 (5.20) is China's unofficial second Valentine's Day.
The Sohu Entertainment channel published the exclusive photos of Wang smoking a cigarette. The hashtag 'Wang Yuan Smoking' (#王源抽烟#) received a staggering 1,4 billion views on Weibo on Tuesday, making it the number one trending topic of the day.
Wang was having dinner at a Japanese restaurant near Beijing's Worker's Stadium together with Chinese actor Jia Nailiang (贾乃亮) and teen idol Yang Chaoyue (杨超越) when the pictures were taken.
Roy Wang, who is now 18 years old, is a member of the super popular boy band TFBoys, but also has a solo career as a singer-songwriter and actor.
Wang often appears in high profile (government) events and media campaigns. With the TFBoys, he performed for the CCTV Spring Gala multiple times. Recently, he also starred in the 'social credit song' that was released by the Communist Youth League.
The fact that Wang's smoking has blown up on Chinese social media relates to two things. Beijing has banned smoking in all public indoor spaces since 2015, meaning that Wang was breaking the law by lighting up in a restaurant. Then there is also the fact that Wang, as a teen icon, is young and influential, with many people considering it inappropriate for him to smoke at all.
One popular comment on Weibo summarized the issue as follows: "Actually, smoking is quite normal. But 1) as a very influential teen idol you must surely avoid it – the fans are all young and they can easily be influenced. 2) It is not okay for him to smoke in a public place. It is forbidden by regulations, should you break those [regulations] as a celebrity?"
The incident led to Sina Headlines introducing the Weibo hashtag "Can You Accept that [Your] Idol Smokes?" (#你能接受偶像吸烟吗#), which received over 21 million views on Tuesday.
"Smoking is not a problem. It is harmful to one's health, and that's an individual choice. But smoking in a public place is inappropriate and bothers other people," some said, with others being less forgiving, writing: "If Wang does it again, he'll surely lose fans. It's unacceptable."
A poll, that 530,000 responded to, asked people if they could accept their idol smoking. A majority of people (50.3%) responded: "No, it's not setting a good example." Over 49% of respondents said they could forgive their idol for smoking.
Wang Yuan has now expressed regret on his social media account, after getting a warning from health authorities. He reportedly has been fined for smoking indoors.
Wang has nearly 73 millions fans on his Weibo page.
"I'm so sorry!" he wrote on May 21st: "This issue has made me deeply reflect on my actions, and how they negatively affect society. I feel sorry and ashamed. I apologize for setting the wrong example. I take on all responsibility and will accept punishment. As a public figure, I will now pay more attention to my words and actions. I hope nobody will follow my wrongful actions. I apologize again, and I will take this as a lesson to become a better person."
His post received over 219,000 shares.
Meanwhile, the restaurant where Wang smoked has received a visit from local inspectors, who found that there were no stipulated "No Smoking" signs on the premises. The restaurant has been ordered to adhere to local regulations as soon as possible, Phoenix News reports.
Update May 22: The first memes relating to Wang's smoking scandal have now also appeared online:
I was already expecting some 'Wang Yuan breaks the internet by smoking' memes. Voila. pic.twitter.com/nFJsoQDfgF

— Manya Koetse (@manyapan) 22 mei 2019
By Manya Koetse
Follow @whatsonweibo
Spotted a mistake or want to add something? Please let us know in comments below or email us. Please note that your comment below will need to be manually approved if you're a first-time poster here.
©2019 Whatsonweibo. All rights reserved. Do not reproduce our content without permission – you can contact us at info@whatsonweibo.com
Surprise Attack: CCTV6 Unexpectedly Airs Anti-American Movies as China-US Trade War Intensifies
"They have no new anti-American films, so they're showing us the old ones instead."
First published
CCTV 6, the movie channel of China's main state television broadcaster, has gone trending on Chinese social media today for changing its schedule and playing three anti-American movies for three days in a row.
Some suggest the selection for the movies is no coincidence, and that it's sending out a clear anti-US message while the trade war is heating up.
The three movies are the Korean war movies Heroic Sons and Daughters (英雄儿女, 1964), Battle on Shangganling Mountain (上甘岭, 1954), and Surprise Attack (奇袭, 1960), airing from May 17-19 during prime time at 20:15.
Ongoing trade tensions between China and the United States heightened when Trump raised an existing 10 percent tax on many Chinese imports to 25 percent earlier this month. Chinese authorities responded by raising taxes on many American imports.
Over the past week, anti-American propaganda has intensified in Chinese state media, with the slogan "Wanna talk? Let's talk. Wanna fight? Let's do it. Wanna bully us? Dream on!"* ("谈,可以!打,奉陪!欺,妄想!") going viral on Chinese social media.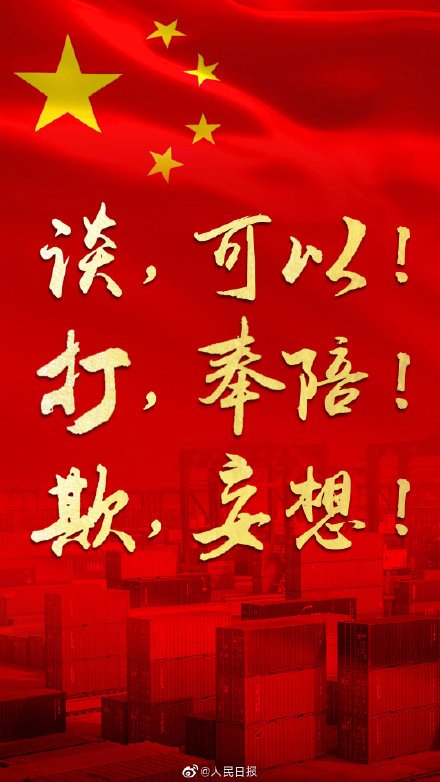 The movies broadcasted by CCTV these days are so-called "Resist America, Help North Korea" movies ("抗美援朝影片").
The 'Resist the USA, Help North Korea' (or: "Resist American Aggression and Aid North Korea") was a propaganda slogan launched in October 1950 during the Korean War (1950-1953). China came to the assistance of North Korea after the war with the South had broken out in June that year and the UN forces intervened in September.
The government, led by Mao Zedong, sent troops to fight in the war. Mao's own son, Mao Anying, was killed in action by an air strike a month after the start of this 3-year war against US aggression in support of North Korea. The war ended with the armistice of July 1953.
All three movies aired on CCTV6 are set during the "War to Resist US Aggression and Aid Korea."
Battle on Shangganling Mountain focuses on a group of Chinese People's Volunteer Army soldiers who are holding Triangle Hill for several days against US forces.
Heroic Sons and Daughters tells the story of a political commissar in China's volunteer army who finds his missing daughter on the Korean battlefield.
Surprise Attack revolves around the mission of the Chinese army to blow up the strategic Kangping Bridge, cutting off supplies to the American army and allowing the Chinese to engage in a full attack.
On Chinese social media, the unexpected decision of the CCTV to change its original schedule and to air the three historical films has become a much-discussed topic, with many people praising CCTV6 for showing these movies.
The issue was also widely reported on by Chinese media, from Sohu News to Global Times, which called the broadcast programming itself a "Surprise Attack."
Not all netizens praise the initiative, however, with some commenting: "It seems that there are no new anti-American TV series or movies now, so they've come up with these old films to brainwash us." Others said: "This kind of brainwashing is not useful."
Many Weibo users, however, just enjoy seeing classic movies, saying "They don't make movies like this anymore," and "It's good for the younger generation to also see these classics."
If you're reading this article on Saturday night China Central Time, you're still in time to watch the airing of Battle on Shangganling Mountain on CCTV6 here.
Update 18th May CST: It seems that a fourth movie has been added to the series now. This might just become the CCTV6 Anti-American movies month! We'll keep you updated.
By Manya Koetse and Miranda Barnes
*Translation suggested by @kaiserkuo.
Spotted a mistake or want to add something? Please let us know in comments below or email us.
©2019 Whatsonweibo. All rights reserved. Do not reproduce our content without permission – you can contact us at info@whatsonweibo.com