Chinese company M-Bar (@友唱Mbar) has thought of a new solution for people who love karaoke but are too shy to sing in front of a crowd. M-Bar's private self-service karaoke booths, located in shopping malls across the country, are all the rage in China now. More than just a karaoke box, it's a recording studio and a place to take a break from the hustle and bustle of the big city. With its fully WeChat-based service, this is what karaoke 2.0 looks like in China today.
A new trend is taking mainland China by storm as private karaoke boxes are popping up in malls and others places. The so-called M-Bar (友唱Mbar) karaoke rooms allow people to sing along to their favorite music and record themselves to share their own songs with friends.
The rooms are more than just a karaoke box; they offer a place for people to step away from the hustle and bustle of the big city life. The tiny rooms are air-conditioned and have a mobile charge station.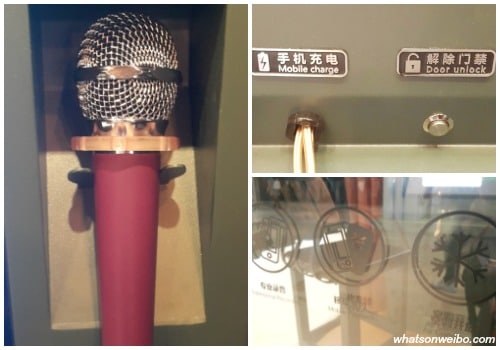 The M-Bar karaoke boxes are fully based on China's super app WeChat (Weixin in Chinese). M-Bar users need to have Wechat, WeChat wallet, and access to wifi or 4G in order to connect with the computer. The booth's main touchscreen shows a QR-code that can be scanned with WeChat, after which your profile will pop up on the screen.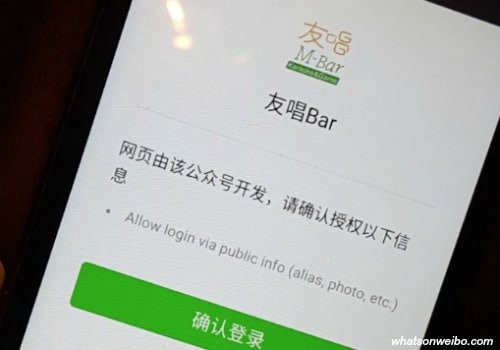 WeChat and M-Bar are fully integrated. After connecting with your profile, M-Bar automatically stores your recordings in the app during your KTV session.
The KTV booths offer a large selection of songs in multiple languages (Chinese, English, Korean, Japanese). After selecting a song, you scan its QR code and pay through WeChat pay. Songs can be separately selected (12 RMB/1.7$ per song/recording) or you can pay for all-you-can-sing per half hour or hour.
Your song recordings can be played from with WeChat. You can also share them with friends or delete them from within the app.
From home you can keep enjoying your M-Bar experience, as you can connect with other M-Bar users through the M-Bar WeChat home and listen to your friend's singing. The app also shows the nearest M-Bars in your neighbourhood and allows users to book a booth in advance.
Chinese media started reporting about the newest "digital karaoke trend" at the beginning of this year, although it has been around for longer.
The karaoke booths were first launched in 2015, backed by the Ubox group (友宝集团). The M-Bar company (@友唱Mbar) is based in Xiamen, China. It is an entertainment brand that focuses on games and KTV.
The recent popularity of M-Bar is clearly visible on Chinese social media. On Weibo, hundreds of netizens share pictures and recordings of their recent M-Bar visits.
Besides all of its digital entertainment 2.0 features, one of the reasons why the mini KTV booth have become so popular is its game element. Friends can compete in singing contests as their skills are rated; M-Bar awards points for hitting the good points at the end of every song. It also shows a big "bad" when you are singing out of tune.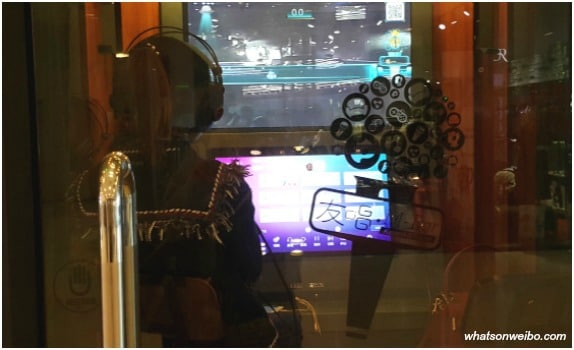 Now that the mini KTV booths have become a hype in mainland China, M-Bar will also go abroad. According to United Daily News, the company will also launch its booths in Singapore, Taiwan, and Japan.
Check out our latest Weivlog on this new trend in the featured video.
– By Manya Koetse
Follow @WhatsOnWeibo
©2017 Whatsonweibo. All rights reserved. Do not reproduce our content without permission – you can contact us at info@whatsonweibo.com.