China's "Most Famous Foreigner" Mark Rowswell: Ready for Dashan 3.0
He has been China's most famous foreigner for nearly three decades: Canadian Mark Rowswell aka Dashan. On March 30, he talked about his life as a household name and his work as a comedian in the PRC at Beijing's the Bookworm. What's on Weibo was there to take note.
He is China's "most famous foreigner" since the late 1980s: Canadian Mark Rowswell, better known as Dashan. On March 30, he talked about his life as a Chinese household name and his work as a comedian at Beijing's The Bookworm. After a fruitful China career of nearly three decades, Rowswell says he's now ready for 'Dashan 3.0.' What's on Weibo reports.
Canadian Mark Rowswell aka Dashan (大山) has been working as a comedian and media personality in China since the late 1980s. His excellent Chinese made him instantly famous when he starred in the most-watched televised show in the world, the CCTV Spring Gala. Since then he has appeared on countless Chinese TV shows and dramas, and has appeared on the Spring Gala a total of four times.
On Sina Weibo, Dashan (@大山) now has over 3.8 million fans. He might not be the most popular non-Chinese person on Weibo (Stephen Hawking gained 4.2 million followers since he joined Weibo), but he certainly is the most famous Canadian in China ever since Norman Bethune.
One of the reasons for Rowswell to talk about his work during a special talk at Beijing's the Bookworm on March 30 (moderated by Asia correspondent Nathan VanderKlippe), is his upcoming show in Australia at the Melbourne Comedy Fest, where he will be performing in Chinese. It's now all about the physical audiences for Rowswell, who says he's disappointed with Weibo and the virtual world, and wants to do comedy offline – up close and personal.
THE BIRTH OF DASHAN
"I thought it was just an audience of 500 people; nobody told me there were 550 million people watching the show on TV."
As Dashan's career in China will soon hit the 30-year mark, the Ottowa-born performer is perpetually known as "the foreigner who speaks fluent Chinese."
Perhaps surprising for someone who masters Mandarin so well, Rowswell did not speak a word of Chinese until the age of 19. He chose to study the language out of curiosity after the phrase "the next century belongs to China" started to make its rounds in Canada. From 1984 to 1988, he studied Chinese at the University of Toronto and then headed to China.
"We all knew that China was going to be a big part of the world, that many Chinese would come to Canada – but how many Canadians were going to China?", Rowswell tells his audience at the Bookworm. He set out to the People's Republic of China (PRC) to "ride the wave", although he was not sure about his exact plans yet.
Within 3 months after starting his studies at Beijing University, Rowswell was asked to participate in a TV show and 'Dashan' was born. His Chinese name (that literally means 'big mountain') is a peasant one, which in itself already was a joke.
But the name Dashan grew bigger than Rowswell could have ever imagined when he later appeared at the national CCTV gala. "I had no background in performing, and I thought it was just an audience of 500 people; nobody told me there were 550 million people watching the show on television. The little skit that we did somehow hit a sweet spot somewhere, and it ended up being the most popular act of that particular show," Dashan recalls.
Dashan performing at the 1998 Spring Festival Gala, the best-watched televised event in the world (appears at 3.00 minute mark).
Rowswell's career soon set off and 'Dashan' became a national hype. For a long time, Rowswell did not see his work at the time as a goal in itself: "I thought of it as a stepping stone to get into Chinese society, and to get away from campus and my study books. I traveled with a Chinese performing group and experienced things other foreign students in China would never experience – I even went to places foreigners were not allowed to go."
Although Rowswell at the time still aspired to work at the Canadian embassy or somewhere else, his work as a freelance performer eventually turned out to be decisive for his eclectic career path, that has brought him to where he is today at the age of 52.
DISAPPOINTED IN SOCIAL MEDIA
"I have trouble reading Weibo because I just don't find anything interesting on it. It's very hard to keep engaged on a platform that you don't find interesting."
Looking back on the past thirty years, Rowswell says he can roughly divide his story into three parts. "Dashan 1.0" is the foreign student who appeared on TV as a comedian and TV host. That first stage led him to the "2.0" stage, where his role as a freelance performer also grew into one of being more of a cultural ambassador.
Rowswell received official recognition for this cultural role when he was part of Canada's Team Attaché during the 2008 Olympics, and later became the Commissioner General for Canada at Expo 2010 in Shanghai. After this period, he searched for a new goal and hoped to find it online.
"After 2010 I thought the answer was Weibo," Rowswell says: "I really got into Weibo around 2010, 2011, 2012. But post-2012 or so, Weibo is really…I mean, I still maintain it, but I really have trouble reading Weibo now because I just don't find anything interesting on it. It's very hard to keep engaged on a platform that you don't find interesting."
Rowswell expresses his disappointment when he says he feels that "the promise of social media has not played out." Although he says he thought that internet was the channel to lead the next stage of his career, "it did not work out that way."
It is not just Sina Weibo that has not brought Dashan what he had hoped for: "I just think social media in general.. (..) We used to think technology was going to make it easier to communicate and that social media was going to bring people together but that has not worked; social media has unleashed the basic human tribalism and reinforced it."
As Rowswell felt that the future of his career would not take place online in front of a virtual audience, he decided to focus on physical audiences and returned to the offline stage.
THE THIRD ACT
"Stand-up comedy is something that is closely tied to the rise of counter-culture and individualism in China."

From foreign comedian to cultural ambassador, Rowswell reveals that he has always felt he was not truly doing his own things as a freelancer. "I was always doing stuff for someone else, doing someone else's show. But where is my show?!," he laughingly says.
It is stand-up comedy in which Dashan has found the next stage of his career, which he calls "Dashan 3.0" or "the third act." Rowswell stresses that he does not want to be the foreigner in China performing solely for foreign audiences in expat bars. He specifically wants to connect with Chinese audiences; Chinese-language comedy is giving Dashan the stage and the possibility to directly speak to them.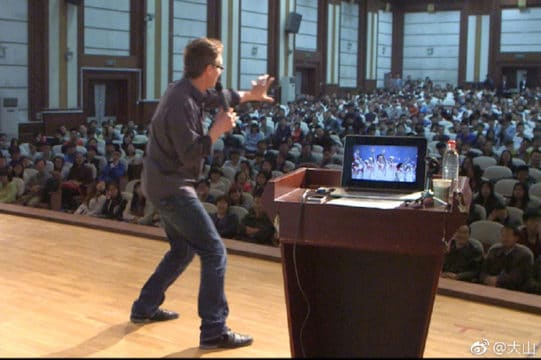 As stand-up comedy (站立喜剧) is finding more channels and bigger audiences in China, Rowswell feels this is the right niche to explore: "It allows me to build on something new. It is not mainstream comedy here, but is something that is closely tied to the rise of counter-culture and individualism in China."
Rowswell also finds that his eclectic career and experiences now give him the opportunity to take on some kind of mentoring role as a performer. The upcoming Chinese "Dashan Live" show at the Melbourne International Comedy Festival – where he will be the only "non-Chinese Chinese performer" – is an important part of this new journey.
"It takes time to find your own voice," Rowswell remarks. As Dashan 3.0, he now has the opportunity to finally share his own experiences and his own stories, in his own Dashan show.
"Dashan Live" will take place from April 12-16 at The Forum, Melbourne.
– By Manya Koetse
Follow @WhatsOnWeibo
©2017 Whatsonweibo. All rights reserved. Do not reproduce our content without permission – you can contact us at info@whatsonweibo.com.
Social Media Blows up over Chinese Teen Celebrity Roy Wang Smoking in Beijing Restaurant
The star, who recently featured in a 'social credit' song, triggered controversy for smoking indoors and breaking the law.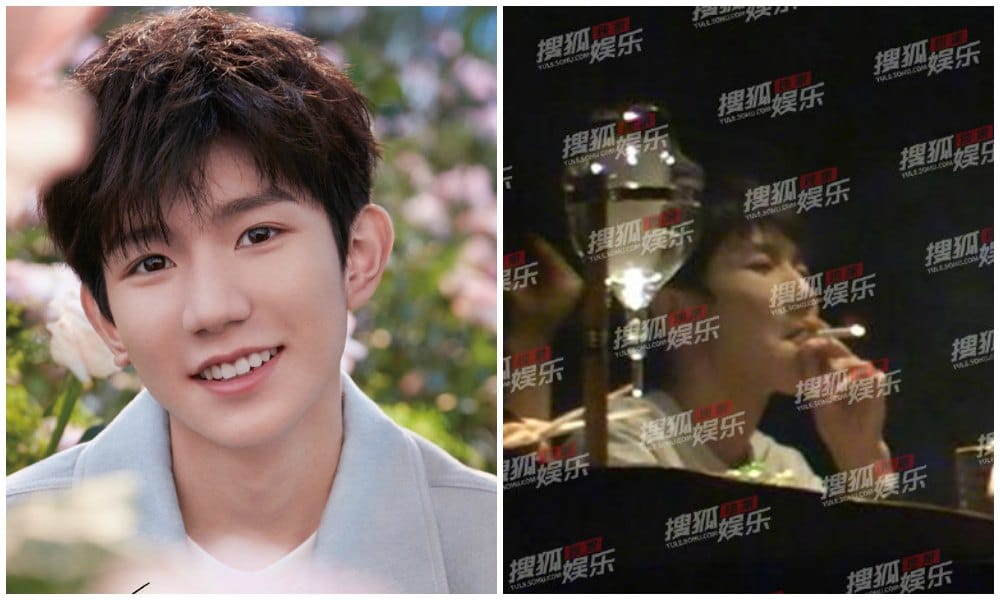 Roy Wang (Wang Yuan 王源), who is considered one of the most influential teens in China, was caught smoking during a '520' banquet in Beijing. May 20 (5.20) is China's unofficial second Valentine's Day.
The Sohu Entertainment channel published the exclusive photos of Wang smoking a cigarette. The hashtag 'Wang Yuan Smoking' (#王源抽烟#) received a staggering 1,4 billion views on Weibo on Tuesday, making it the number one trending topic of the day.
Wang was having dinner at a Japanese restaurant near Beijing's Worker's Stadium together with Chinese actor Jia Nailiang (贾乃亮) and teen idol Yang Chaoyue (杨超越) when the pictures were taken.
Roy Wang, who is now 18 years old, is a member of the super popular boy band TFBoys, but also has a solo career as a singer-songwriter and actor.
Wang often appears in high profile (government) events and media campaigns. With the TFBoys, he performed for the CCTV Spring Gala multiple times. Recently, he also starred in the 'social credit song' that was released by the Communist Youth League.
The fact that Wang's smoking has blown up on Chinese social media relates to two things. Beijing has banned smoking in all public indoor spaces since 2015, meaning that Wang was breaking the law by lighting up in a restaurant. Then there is also the fact that Wang, as a teen icon, is young and influential, with many people considering it inappropriate for him to smoke at all.
One popular comment on Weibo summarized the issue as follows: "Actually, smoking is quite normal. But 1) as a very influential teen idol you must surely avoid it – the fans are all young and they can easily be influenced. 2) It is not okay for him to smoke in a public place. It is forbidden by regulations, should you break those [regulations] as a celebrity?"
The incident led to Sina Headlines introducing the Weibo hashtag "Can You Accept that [Your] Idol Smokes?" (#你能接受偶像吸烟吗#), which received over 21 million views on Tuesday.
"Smoking is not a problem. It is harmful to one's health, and that's an individual choice. But smoking in a public place is inappropriate and bothers other people," some said, with others being less forgiving, writing: "If Wang does it again, he'll surely lose fans. It's unacceptable."
A poll, that 530,000 responded to, asked people if they could accept their idol smoking. A majority of people (50.3%) responded: "No, it's not setting a good example." Over 49% of respondents said they could forgive their idol for smoking.
Wang Yuan has now expressed regret on his social media account, after getting a warning from health authorities. He reportedly has been fined for smoking indoors.
Wang has nearly 73 millions fans on his Weibo page.
"I'm so sorry!" he wrote on May 21st: "This issue has made me deeply reflect on my actions, and how they negatively affect society. I feel sorry and ashamed. I apologize for setting the wrong example. I take on all responsibility and will accept punishment. As a public figure, I will now pay more attention to my words and actions. I hope nobody will follow my wrongful actions. I apologize again, and I will take this as a lesson to become a better person."
His post received over 219,000 shares.
Meanwhile, the restaurant where Wang smoked has received a visit from local inspectors, who found that there were no stipulated "No Smoking" signs on the premises. The restaurant has been ordered to adhere to local regulations as soon as possible, Phoenix News reports.
Update May 22: The first memes relating to Wang's smoking scandal have now also appeared online:
I was already expecting some 'Wang Yuan breaks the internet by smoking' memes. Voila. pic.twitter.com/nFJsoQDfgF

— Manya Koetse (@manyapan) 22 mei 2019
By Manya Koetse
Follow @whatsonweibo
Spotted a mistake or want to add something? Please let us know in comments below or email us. Please note that your comment below will need to be manually approved if you're a first-time poster here.
©2019 Whatsonweibo. All rights reserved. Do not reproduce our content without permission – you can contact us at info@whatsonweibo.com
Chinese Actor Zhao Lixin Banned from Weibo over Comments on Second Sino-Japanese War
The actor was banned for "downplaying" the Japanese aggression in China during the Second Sino-Japanese War.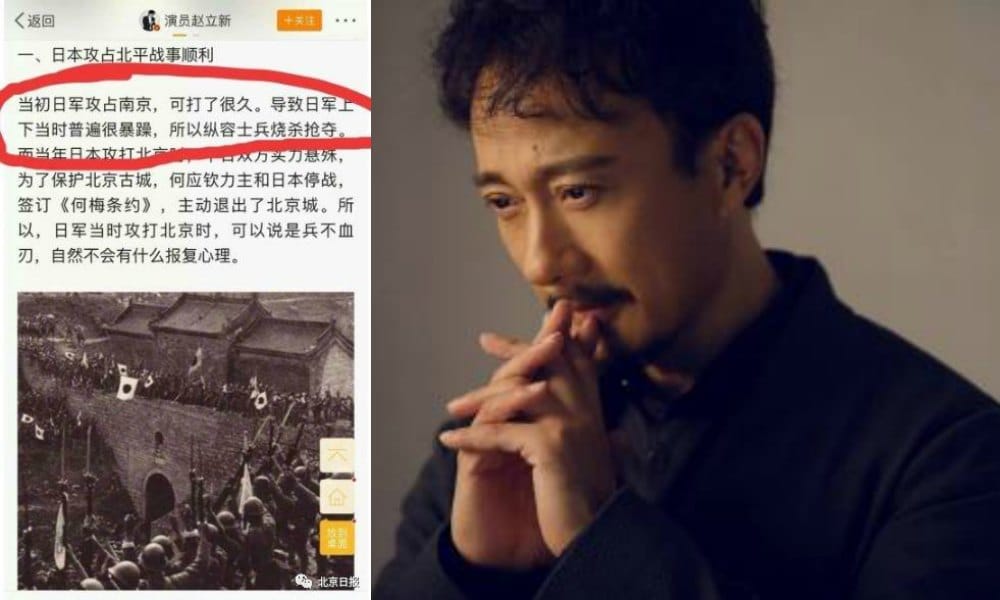 Sina Weibo issued a statement on April 16 that the Weibo account of the Chinese-Swedish actor Zhao Lixin has been terminated following remarks he made about Japan's invasion of China and the Second Sino-Japanese War.
The Weibo account of Zhao Lixin (赵立新, 1968) has been closed after the Chinese-Swedish actor made controversial comments on the Second Sino-Japanese War.
On April 2nd, Zhao Lixin, who had more than 7 million followers, posted a message on Weibo that questioned why the Japanese military did not pillage and destroy the Beijing Palace Museum during the Second Sino-Japanese War:
"The Japanese occupied Beijing for eight years. Why didn't they steal relics from the Palace Museum and burn it down [during that time]? Is this in line with the nature of an invader?"
The actor also commented on the Nanjing Massacre of 1937, suggesting that it was a consequence of Chinese resistance to the Japanese invasion.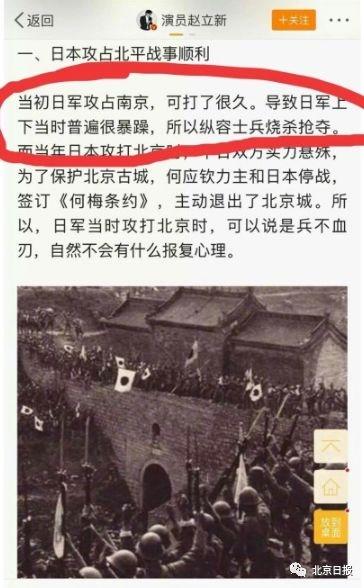 Zhao's post led to much controversy in early April, followed by a lengthy apology statement from the actor on April 3rd, in which he said he did not phrase his comments carefully enough and that he was remorseful over the storm of criticism he had ignited. His controversial Weibo post was soon taken offline.
Many people were mostly angered because they felt Zhao's comments "defended" the Japanese invaders. "Zhao's permit to work in China should be terminated forever!", some commenters posted on Weibo.
The Second Sino-Japanese War is still a highly sensitive topic in China today, with anti-Japanese sentiments often flaring up when Japan-related topics go trending on Chinese social media.
The 'Nanjing massacre' or 'Rape of Nanjing' is an especially sensitive topic within the history of the Second Sino-Japanese War, also because some Japanese politicians and scholars consistently deny it even happened, heightening the tension between the two countries. For a Chinese celebrity to seemingly 'downplay' the aggression and atrocities committed by Japanese invaders in the 1937-1945 period is therefore highly controversial.
Despite Zhao's apologies, Sina Weibo issued a notice on April 16 "Relating to Harmful Political Information" (关于时政有害信息的处理公告), stating that the account of Zhao Lixin, along with some others, had been closed for spreading this kind of information.
The hashtag relating to Zhao's social media suspension received more than 57 million views on Weibo today.
"It's good that his account was taken down," a popular comment said: "It's insulting our country." Others said that Zhao should not have posted something that is "out of line" "considering his position as an actor."
Zhao Lixin is mainly known for his roles in TV dramas such as The Legend of Mi Yue, Memoirs In China, and In the Silence.
Zhao is not the first KOL (Key Opinion Leader) to have been banned from Weibo after making controversial remarks relating to China's history. In 2016 the famous entrepreneur Ren Zhiqiang disappeared from Weibo after publishing various posts on his experience with communism in the past, and the status quo of media in China.
By Manya Koetse , with contributions from Miranda Barnes
Spotted a mistake or want to add something? Please email us.
©2019 Whatsonweibo. All rights reserved. Do not reproduce our content without permission – you can contact us at info@whatsonweibo.com.