Ginger-flavored Coca-Cola (姜味可口可乐) has recently hit the Chinese market, where the combination of ginger with cola is a well-loved one; boiled Coca-Cola with ginger is often used as a remedy against a cold. With its "bring out the heat" tagline, Coca-Cola is emphasizing the Chinese yin-yang philosophy in the marketing of Ginger Cola in the PRC.
After being introduced in New Zealand, Australia and Japan in 2016, ginger-flavored Coca-Cola (姜味可口可乐) has now hit the Chinese market since March 2017.
Coca-Cola China announced its new Ginger Coca-Cola on its Chinese Weibo page on March 16: "The all new ginger-flavored Cola has hit the market! A sip of Ginger Coke will bring the warmth to your heart in the cold seasons; during the days of eating crab, drink a Ginger Coke to bring you warmth. Bring out the heat! It feels good!"
By marketing Ginger Cola as a 'warming' drink, Coca-Cola is placing emphasis on the Chinese philosophy of yin (阴) and yang (阳), a concept used to describe how opposite forces are actually complementary to each other and need to be balanced.
In Chinese cuisine, many foods can be categorized in either being 'yin' ('cool') or 'yang' ('warm'), regardless of their physical temperature. Typical yang foods, for example, are garlic, pepper, red meat, and ginger. Products such as cucumber, tomato, watermelon, crabs, and clam are considered to be predominantly yin.
It is traditionally believed that the body's yin and yang can be balanced through the warming and cooling characteristics of food. In promoting Ginger Cola ('warm') as the best drink to have with crab ('cool'), Coca-Cola China is turning it into the perfect yang drink.
The use of Coca-Cola with ginger as a 'yang drink' is already popular in China, where boiling coke with ginger is a common remedy to alleviate the symptoms of a cold. "I boil Cola with ginger when I have a cold, and feel nice and warm after drinking it," one Weibo commenter says.
On Chinese social media, many people are happy with the introduction of Ginger coke. The launch of the new flavor also especially drew attention because popular Chinese actor and singer Luhan (鹿晗) is the face of the Chinese Ginger Coca-Cola.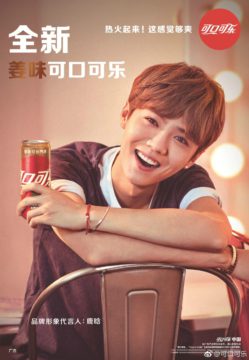 But not everyone agrees on the flavor of Ginger Coca-Cola, which basically tastes like a mix of regular coke and ginger beer. "I've tasted it and it's actually not much different from regular coke at all," one disappointed person said on Weibo.
"Its taste is very similar to normal cola, but it does leave a distinct ginger taste in your mouth after drinking," another netizen remarked.
One person was more enthusiastic about the new drink, writing on Weibo: "It is so good to drink! The ginger flavor is very light and perfectly matches the sweet coke taste. You must try it!"
– By Manya Koetse
Follow @WhatsOnWeibo
©2017 Whatsonweibo. All rights reserved. Do not reproduce our content without permission – you can contact us at info@whatsonweibo.com.