Bold Breastfeeding Photos of Kyrgyzstan's President's Daughter Spark Debate on Weibo
The daughter of President Atambayev of Kyrgyzstan, Aliya Shagieva, recently sparked controversy for posting photos of breastfeeding her newborn son on Instagram. On Sina Weibo, Chinese netizens applaud Aliya for breaking taboos around breastfeeding in public – a recurring topic of debate on Chinese social media.
The daughter of President Atambayev of Kyrgyzstan, Aliya Shagieva, recently sparked controversy for posting photos of breastfeeding her newborn son on Instagram. Aliya's pictures are a bold statement in a country where the influence of religious ideology over how women should dress and act is considerable. On Sina Weibo, many netizens applaud Aliya for breaking taboos around breastfeeding – also a recurring topic of debate on Chinese social media.
Photos of the 20-year-old daughter of Kyrgyzstan President Almazbek Atambayev, Aliya Shagieva, breastfeeding her baby are being widely shared and discussed on Chinese social media this weekend.
Aliya Shagieva made headlines earlier this month after she posted multiple revealing photos on her Facebook and Instagram (@homesickbluess), sparking a storm of criticism in Kyrgyzstan, where an estimated 80 percent of the population is Muslim.
Aliya Shagieva is the youngest daughter of the leader of Kyrgyzstan. She got married last year and revealed her pregnancy in March, when she posted a picture of her baby bump.
After she gave birth to her son, Tagir, she posted multiple photos of her breastfeeding her baby.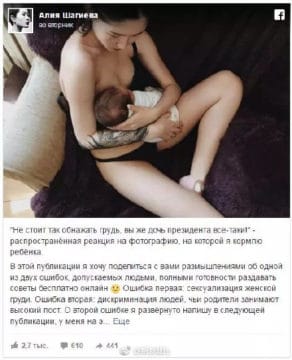 The photos sparked controversy in Kyrgyzstan, with many saying it is wrong for a woman to show off her body and with people calling Aliya "shameless" and a "disgrace to her father."
Aliya's father, President Almazbek Atambayev, made international headlines last year when he attacked people who are critical of women who wear more revealing outfits. At a press conference, he stated that women are more prone to become radicalized if they put on Islamic dress, saying: "Women in mini-skirts don't become suicide bombers."
According to a report published by the Forum of Women's NGOs of Kyrgyzstan, the influence of religious ideology in Kyrgyzstan "substantially contributes to discrimination against women." Bermet Stakeeva, programme officer at the forum, previously told The Guardian: "Islam has a strong influence on women, how to dress and act and it's now being discussed widely, in mosques and on television, that women should live moral lives."
Aliya responded to the criticism online saying that it is not right to sexualize breasts this way and that "the most important purpose of female breasts is to breastfeed" and that it is "nothing to be ashamed of." She emphasized that women's breasts are not men's pleasure objects.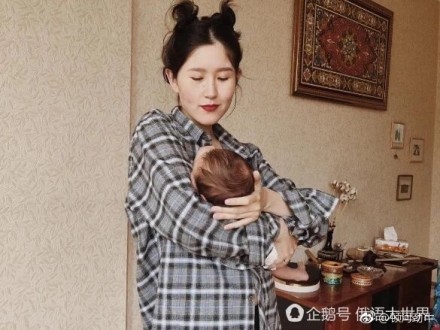 Sina Hubei and other Chinese media accounts posted the photos and Aliya's statements on Weibo on April 21, soon triggering thousands of reactions. The majority of netizens supported Aliya, saying that breastfeeding is nothing to be ashamed of and applauding her for her stance and braveness.
"Kyrgizstan is a country where the majority of people are Muslim (..)," one person commented: "It's good that she's the daughter of the President, otherwise she could've been killed for this," one netizen wrote.
"I saw these photos on WeChat and I really admire Aliya's bravery," one girl wrote.
"Only human thoughts are dirty, not any part of the body," a popular comment said.
Many Weibo users wrote comments such as: "She is completely right. Breasts are for feeding your baby, there's nothing offensive about it."
Breastfeeding is a recurring topic on Chinese social media. In 2015, an incident where a mother was shamed for breastfeeding on the Beijing subway caused huge controversy on Weibo, even attracting the attention of UNICEF and Beijing authorities.
One Weibo user at the time said the mother should "pay attention to her manners in public place" and that she should not "expose her sex organ." Weibo netizens collectively responded to the issue; some agreeing that breastfeeding in public is inappropriate, while others defended the woman.
Although the majority of Weibo netizens show their support for Aliya Shagieva in normalizing breastfeeding, not all netizens were supportive: "It's great that your motherly love is so big, but why do you need to show it off like this?"
Others agreed with this stance, saying: "We all know how mothers feed their babies, but you're the daughter of the president, why do you want to show us? I don't want to see it."
"What is she doing not wearing any pants," one female commenter said: "She's shameless."
As for the young mother Aliya Shagieva herself – it seems that she is no longer active on social media after her photos attracted the attention of national and international media. On April 23, her Instagram account @homesickbluess was no longer available.
– By Manya Koetse
Follow @WhatsOnWeibo
©2017 Whatsonweibo. All rights reserved. Do not reproduce our content without permission – you can contact us at info@whatsonweibo.com.
15 Chinese Ad Campaigns That Make Abortion Procedures Look Glamorous
With pink flowers and dreamlike imageries, these prevalent advertisements promise Chinese women a fast and 'glamorous' abortion.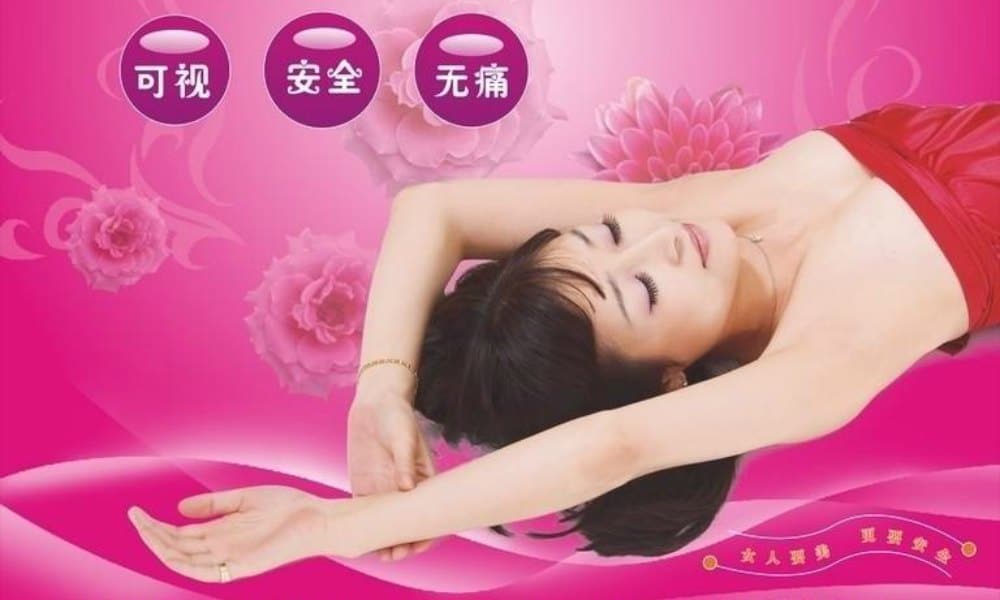 From bus stops to magazines, advertisements of clinics promising women a 'fast' and 'painless' abortion are commonplace in China, sending out the message that terminating a pregnancy is as easy as getting your nails done.
When it is rush hour in Beijing, street marketers often pass out flyers to people around busy subway stations. Most of the time, these pamphlets promote a new neighborhood restaurant or an upcoming real estate project.
Often, however, they promote abortion procedures at a local clinic. The pink and shiny ad campaigns advertise their abortion procedures in similar ways as beauty parlors or nail salons would market their services – a phenomenon which would be unimaginable in many western countries.
China's "Abortion Culture"
The legal and moral obstacles to abortion that are ubiquitous in the US or elsewhere are much less pervasive in China, a country that has one of the highest abortion rates in the world. According to the National Health and Family Planning Commission, approximately 13 million abortions are carried out in China every year (Yang 2015).
The actual number, however, is probably much higher. The official figures do not include the abortion statistics from private clinics, nor the estimated 10 million induced abortions per year through medicine (Xinhua 2014), let alone the numbers of sex-selective abortions– a practice that has officially been illegal since 2004.
There are various reasons why China's abortion rates are so high. In "Women's Health and Abortion Culture in China: Policy, Perception, and Practice," author Naomi Bouchard describes how the "visible abortion culture" in China today is an (indirect) consequence of the 1979 Family Planning Policy (better known as the One-Child Policy), family pressure, traditional values, and insufficient sexual education (2014, 2).
Especially the last dimension leads to unplanned pregnancies, notably in young women. According to official data, 4% of China's unmarried female teenagers experience an unplanned pregnancy, with 90% of them ending in abortion (Pan 2013). According to a doctor quoted in Bouchard's study, it is both lack of knowledge as well as embarrassment about buying condoms or other contraceptives that contributes to unplanned pregnancies in young women (2014, 17).
Thriving Abortion Industry
Besides the social factors that play an important role in China's "abortion culture," there is also the legal aspect that makes abortion procedures relatively common in the PRC. Unlike many other countries, China allows abortion for any reason (Theodorou & Sandstrom 2015).
The upper limit for legal abortions depends on circumstances. According to Hemmenki et al (2005), China's 1979 abortion law sets 28 weeks of gestation as the upper limit for pregnancy termination, although some provinces "have made their own laws stipulating the place and performer of the abortion." Other literature suggests that there is no limit fixed by statue (Jackson 2013, 423), and that abortions can take place up to the ninth month if the pregnancy is affected by severe anomalies (Deng et al 2015, 312).
All the aforementioned components have led to the existence of a thriving medical industry focused on abortion procedures in China, which comes with a strong commercial marketing of these procedures – advertised anywhere from bus stops to magazines and through flyers.
Scroll through the slider below (move arrows below) to see a selection of 15 advertisements for abortion procedures. The majority of these ads use the color pink and show young women either by themselves or with their partner. Besides addressing the women, their slogans also often speak to their partners ("If you love her, give her the best").
This ad by Jinzhong Friendship Hospital offers the service of "Korea JRS's dream abortions," persuading people to choose for their services with the underline: "You love her, give her the best." The main slogan says: "Bye bye pain, hello happiness."
Wife Killed in Guangdong While Chasing Car of Husband and Mistress
A woman in Guangdong's Zhongshan was crushed by her husband's car in September of this year while trying to catch her spouse in the act of cheating on her.
A woman chasing a car with her husband and his alleged mistress in it was tragically killed in Zhongshan earlier this year. Footage of the incident made its rounds on Weibo this weekend.
A 44-year-old woman was tragically killed earlier this year in Zhongshan, Guangdong, while trying to catch her cheating husband in the act while he was driving his Mercedes with his alleged mistress in the passenger's seat.
A surveillance video of the incident, that reportedly occurred on September 1st in Nantou (north of Zhongshan), was making its rounds on Chinese social media on Sunday. The video was released by Chinese audiovisual news platform Pear Video.
Footage shows how the Mercedes driver, later identified as the woman's 46-year-old husband, slows down for oncoming traffic in a narrow road, when his wife runs up from behind the car and spots a girl in the passenger seat.
She runs towards the passenger side's car door, and tries to open it, but the girl inside blocks the door.
As the woman keeps trying to pull the car door open, she follows the car as it slowly starts to drive away. When the driver suddenly hits the gas and speeds up, the woman is pulled along with the car, still holding the door handle.
Another surveillance camera further down the street captures how the woman first runs along but then trips and is dragged along under the car. She then falls on the street, where her lifeless body is left behind.
According to Chinese media reports, witnesses called for an ambulance but medical workers were not able to rescue the woman – she died as a result of being crushed by the car. The husband, the CEO of a local paint factory, later turned himself in at a local police station.
Three months after the incident took place, the case attracted the attention of netizens again when it became a hot social media topic this weekend. One video of the incident received 3,1 million views in a few days time.
"This just hurts to watch," one commenter said: "If you don't love each other anymore, just separate, there is no need for such a thing."
Others said that the man was definitely guilty of killing his wife – some even argued he deserved the death penalty for his actions.
Violent confrontations between women or men and their cheating spouses, or their lovers, often become trending topics on Chinese social media. In November of this year, footage of a woman smashing her husband's car windows also became trending online.
Various videos showing women publicly humiliating and beating up their husband's mistress also made their rounds on Weibo last year.
"China should set up special laws for cheating spouses and their lovers," some people on Weibo suggested.
By Manya Koetse
Follow @whatsonweibo
Spotted a mistake or want to add something? Please let us know in comments below or email us.
©2017 Whatsonweibo. All rights reserved. Do not reproduce our content without permission – you can contact us at info@whatsonweibo.com.