Bold Breastfeeding Photos of Kyrgyzstan's President's Daughter Spark Debate on Weibo
The daughter of President Atambayev of Kyrgyzstan, Aliya Shagieva, recently sparked controversy for posting photos of breastfeeding her newborn son on Instagram. On Sina Weibo, Chinese netizens applaud Aliya for breaking taboos around breastfeeding in public – a recurring topic of debate on Chinese social media.
The daughter of President Atambayev of Kyrgyzstan, Aliya Shagieva, recently sparked controversy for posting photos of breastfeeding her newborn son on Instagram. Aliya's pictures are a bold statement in a country where the influence of religious ideology over how women should dress and act is considerable. On Sina Weibo, many netizens applaud Aliya for breaking taboos around breastfeeding – also a recurring topic of debate on Chinese social media.
Photos of the 20-year-old daughter of Kyrgyzstan President Almazbek Atambayev, Aliya Shagieva, breastfeeding her baby are being widely shared and discussed on Chinese social media this weekend.
Aliya Shagieva made headlines earlier this month after she posted multiple revealing photos on her Facebook and Instagram (@homesickbluess), sparking a storm of criticism in Kyrgyzstan, where an estimated 80 percent of the population is Muslim.
Aliya Shagieva is the youngest daughter of the leader of Kyrgyzstan. She got married last year and revealed her pregnancy in March, when she posted a picture of her baby bump.
After she gave birth to her son, Tagir, she posted multiple photos of her breastfeeding her baby.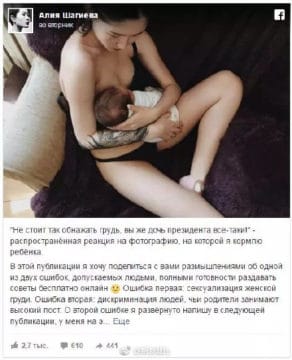 The photos sparked controversy in Kyrgyzstan, with many saying it is wrong for a woman to show off her body and with people calling Aliya "shameless" and a "disgrace to her father."
Aliya's father, President Almazbek Atambayev, made international headlines last year when he attacked people who are critical of women who wear more revealing outfits. At a press conference, he stated that women are more prone to become radicalized if they put on Islamic dress, saying: "Women in mini-skirts don't become suicide bombers."
According to a report published by the Forum of Women's NGOs of Kyrgyzstan, the influence of religious ideology in Kyrgyzstan "substantially contributes to discrimination against women." Bermet Stakeeva, programme officer at the forum, previously told The Guardian: "Islam has a strong influence on women, how to dress and act and it's now being discussed widely, in mosques and on television, that women should live moral lives."
Aliya responded to the criticism online saying that it is not right to sexualize breasts this way and that "the most important purpose of female breasts is to breastfeed" and that it is "nothing to be ashamed of." She emphasized that women's breasts are not men's pleasure objects.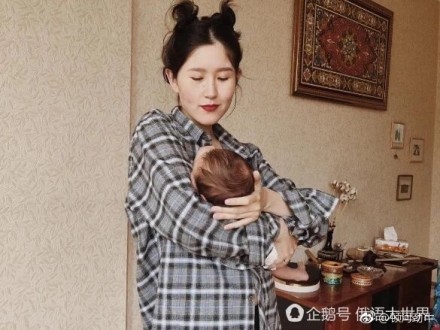 Sina Hubei and other Chinese media accounts posted the photos and Aliya's statements on Weibo on April 21, soon triggering thousands of reactions. The majority of netizens supported Aliya, saying that breastfeeding is nothing to be ashamed of and applauding her for her stance and braveness.
"Kyrgizstan is a country where the majority of people are Muslim (..)," one person commented: "It's good that she's the daughter of the President, otherwise she could've been killed for this," one netizen wrote.
"I saw these photos on WeChat and I really admire Aliya's bravery," one girl wrote.
"Only human thoughts are dirty, not any part of the body," a popular comment said.
Many Weibo users wrote comments such as: "She is completely right. Breasts are for feeding your baby, there's nothing offensive about it."
Breastfeeding is a recurring topic on Chinese social media. In 2015, an incident where a mother was shamed for breastfeeding on the Beijing subway caused huge controversy on Weibo, even attracting the attention of UNICEF and Beijing authorities.
One Weibo user at the time said the mother should "pay attention to her manners in public place" and that she should not "expose her sex organ." Weibo netizens collectively responded to the issue; some agreeing that breastfeeding in public is inappropriate, while others defended the woman.
Although the majority of Weibo netizens show their support for Aliya Shagieva in normalizing breastfeeding, not all netizens were supportive: "It's great that your motherly love is so big, but why do you need to show it off like this?"
Others agreed with this stance, saying: "We all know how mothers feed their babies, but you're the daughter of the president, why do you want to show us? I don't want to see it."
"What is she doing not wearing any pants," one female commenter said: "She's shameless."
As for the young mother Aliya Shagieva herself – it seems that she is no longer active on social media after her photos attracted the attention of national and international media. On April 23, her Instagram account @homesickbluess was no longer available.
– By Manya Koetse
Follow @WhatsOnWeibo
©2017 Whatsonweibo. All rights reserved. Do not reproduce our content without permission – you can contact us at info@whatsonweibo.com.
China's 'Masculinity Crisis': The Internet Slang That Stereotypes Chinese Men
How a Chinese boyband triggered social media discussions on what it means to be 'masculine'.
This month, a well-known Chinese educational program for children that featured a 'feminine-looking' boyband ignited discussions on masculinity in China. What's on Weibo provides an overview of Chinese media's stance on the recent discussion, and an introduction to five popular social media slang terms stereotyping Chinese men.

At the beginning of this month, a discussion about the meaning of 'masculinity' sparked discussions on Chinese social media. Discussions started when Chinese state broadcaster CCTV aired Back to School: The First Class (开学第一课).
The programme is an annual educational television program by CCTV and the Ministry of Education, dedicated to the celebration of the new school year. The show, that had one of the highest viewers ratings since years, opened with a performance of the boy band New F4 (新F4).
The boy band New F4 consists of Guan Hong (官鸿), Dylan (王鹤棣), Wu Xize (吴希泽), and Liang Jingkang (梁靖康). In China, the four young men are known to be 'feminine-looking' or so-called 'sissies' (娘炮男), meaning they pay much attention to their clothing, hair, and make-up.
Since the airing of the 'Back to School' programme, many parents questioned the suitability of the performance of New F4, calling for some more 'masculinity' ("阳刚之气") on social media. They criticized the program for being "too entertaining" and having "not enough educational value."
SISSY BOYS? CHINESE MEDIA RESPOND
A few days after the controversial show broadcasted, state media outlet Xinhua News published a commentary calling the New F4 'sissies' (娘炮). Xinhua stated:
" (..) "these sissies promote an unhealthy and unnatural culture which has a not-to-underestimate negative impact on the youth. The sissy culture, driven by consumption, challenges the public order and worships a decadent lifestyle."
Within a few hours after Xinhua News published the article, a column published on the platform of Party newspaper People's Daily (author @百家号) responded with an article titled 'People's Daily Review: What Should Today's 'Masculine Traits' be?' (人民日报评论:什么是今天该有的"男性气质") questioning the definition and purpose of masculinity in modern society.
People's Daily Review column's author stated that:
" (..) modern society broadened the perception of aesthetics, and in a mature society, people should be tolerant towards other people and no longer [should] evaluate a person based on its gender characteristics only."
Later in the article, the author proposes a new construction of masculinity; one that has not much to do with one's appearance but more with one's inner qualities. It also criticizes the use of derogatory terms such as 'sissy' for failing to "respect individual choices."
This is not the first time that a voice featured on a People's Daily platform supports so-called feminine-looking men. On the 13th of August this year, the People's Daily Overseas Edition also published an editorial article, calling for tolerance towards this new lifestyle.
DISCUSSIONS ON WEIBO
On Chinese social media, there are also many netizens who see no threat in the rising popularity of the androgyne looking men. A typical comment said:
"What is a good man? A good man's most essential qualities are to have an idea and be responsible, be brave and kind. These are the things that are important. Only looking at somebody's appearance is too simplistic."
Other Weibo users responded: "Determining whether a man is effeminate or not has nothing to do with his appearance. It can be found his sense of responsibility."
Also, the hashtag "I've deleted the names of people who call feminine-looking men names" (#骂娘炮的人已经被我拉黑了#), initiated by the Chinese edition of News China, has since gone viral on Chinese social media.
But the supposed 'disappearance of masculinity' also led many to worry about an alleged 'masculinity crisis.'
One Weibo user wrote a typical comment saying: "Men should stand up and be more masculine!", with many more praising Xinhua for sending out a strong and clear message, warning society for the rise of 'sissy-culture'.
5 TERMS STEROTYPING CHINESE MEN
This is not the first time that there is talk of a supposed 'crisis of masculinity'. Throughout the years, various terms have popped up on Chinese social media defining certain types of men and their traits. These are five popular examples:
1. Sissy boy (娘炮男, pinyin: niángpàonán)
Derogatory term for androgyne men whose personality and appearance is quite feminine. They often like to put much care into their appearance, including wearing makeup, and a love for shopping. On social media, many claim the reason for this alleged 'soft behavior' is said to be nurtured by the overprotection of children and the lack of gender awareness in upbringing.
2. The Chauvinist(男子汉,pinyin: nánzǐhàn; or 'Straight Man Cancer' 直男癌 zhínán'ái)
Refers to men who live in their own world, with their own values and who tend to reveal their dissatisfaction towards other people. The general view is that these 'Chauvinist men' are self-righteous and indifferent to women's values. Their way of getting acquainted with a woman is often through buying her gifts and spending a lot of money.
3. Phoenix man (凤凰男,pinyin: fènghuángnán)
'Phoenix male' refers to those men who came from poor rural areas and who have been admitted to college after hard work and dwelling in the city to work after graduation. Although they have left the countryside, they still hold on to many rural and traditional concepts and ideas.
4. Wretched or Vulgar Man (猥琐男,pinyin: wěisuǒnán), also often referred to as loser (男屌丝,pinyin: nándiǎosī)
The terms 'vulgar man', 'loser' or 'pervert' are given to a person making other people feel uneasy and uncomfortable. These men are said to be shameless and show an abnormal and inferior behavior caused by long-term sexual repression.
5. Mommy's Boy (妈宝男,pinyin: mābǎonán)
The 'mommy's boy' label refers to men who listen to everything their mother says. Whatever it is that their mother says, they regard it as the truth, and they live by the decisions their mother takes – including what job to take on, who to marry, and where to live.
For now, discussions on what a 'real man' is seem to be continuing on Chinese social media. In the meanwhile, the Weibo page of the 'feminine-looking boyband' New F4 already received 110 million views- a number that just keeps on growing.
Link to the New F4 performance on the CCTV program Back to School: The first class (开学第一课): here.
By Gabi Verberg
Follow @whatsonweibo
Spotted a mistake or want to add something? Please let us know in comments below or email us.
©2018 Whatsonweibo. All rights reserved. Do not reproduce our content without permission – you can contact us at info@whatsonweibo.com.
Alleged Accuser in Richard Liu Case: "This Has Nothing to Do with Me"
The woman became an overnight celebrity when dozens of her private photos went viral in connection to the Richard Liu case.
Jiang Pingting became an overnight celebrity when dozens of her glamorous private photos went viral on Weibo, with strong rumors suggesting she was the woman accusing Chinese billionaire businessman Richard Liu of rape. She has now come forward denying these claims.
Ever since news has come out on the brief arrest of JD.com CEO Richard Liu (刘强东) in Minneapolis last weekend, the mug shot and arrest of the Chinese tech mogul have been a major topic of discussion on Chinese social media.
Liu was arrested on August 31st in connection to a suspected rape, after he had dinner with a group of people at a Japanese restaurant during his business trip in the USA.
Photos of the night show that a woman is seated next to Liu, with Chinese netizens and media alleging that this woman is the Chinese exchange student who accused Liu of assaulting her after the banquet.
Although Liu was released without charges the next day (status: "released pending complaint") with JD.com officially stating that all accusations were "false," the case continued to ignite rumors. Many netizens sided with Liu and claimed that he had been "trapped."
One particularly strong rumor concerned the identity of the female student accusing Liu, with dozens of photos of a young, curvy woman going viral in connection to this case.
One person spreading photos of the supposed accuser is the internet celebrity Luo Yufeng (@罗玉凤), better known as Sister Feng, who has a fanbase of more than 9 million Weibo users.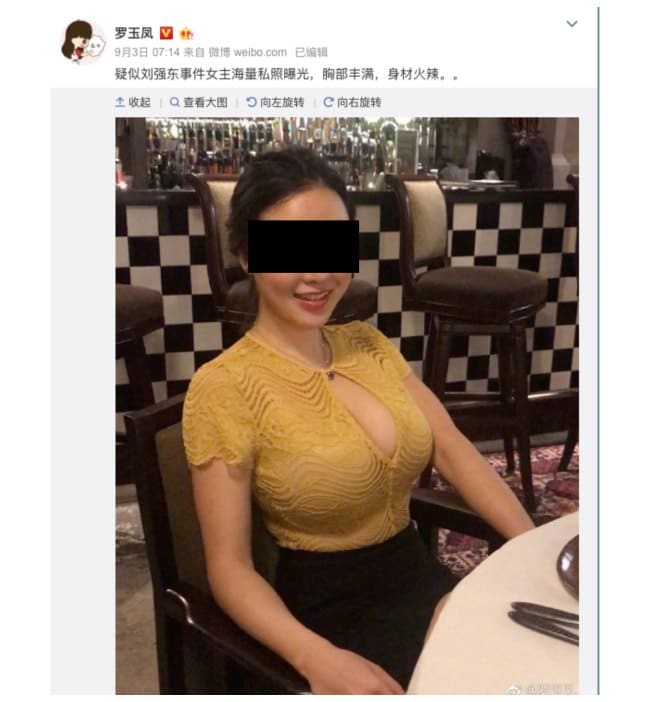 "Many private photos have been exposed of the woman involved in the Richard Liu case," she posted: "She has a big bosom and she looks hot."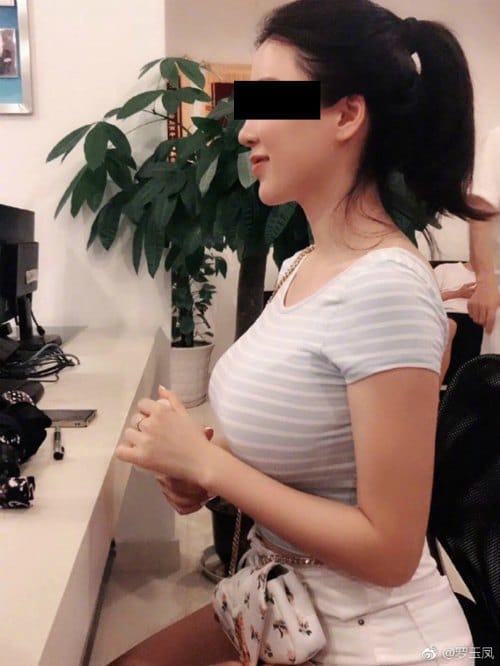 The many photos making their rounds on Chinese social media for the past days show the woman going out for dinners, relaxing on the beach, or posing while golfing.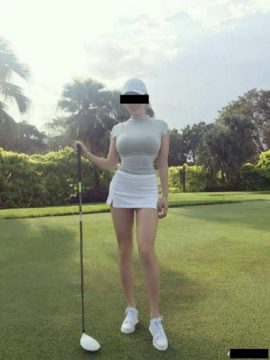 The photos soon became popular on Weibo, with people comparing the woman with Richard Liu's wife Zhang Zetian (章泽天).
Rather than discussing the alleged rape case, many netizens seemed more concerned with the appearance and life-style of the woman, and how her body shape compares to Liu's wife.
The female, a yoga fanatic named Jiang Pingting (蒋娉婷), became an overnight celebrity.
But now, days after her name and photos were first connected to the case, she has issued a statement on her Weibo account saying:
"I am Jiang Pinting! The fact that several large media websites, without verifying, have distributed my personal details and photos assuming I am the female involved in the Richard Liu Minneapolis arrest case, has greatly impacted my reputation and has invaded on my personality rights."
She further states that her personal life has been turned upside down by the incident.
Since 2010, Jiang writes, she has been residing in Singapore and only recently returned to mainland China. Jiang states:
"I do not know Richard Liu at all. We have never met. I've not even been to the US recently. This incident has absolutely no connection to me."
It is not clear why Jiang was brought in connection with the case in the first place.
Some people are critical as to why Jiang only responded to the rumors days after they first went viral. "You first waited to become famous before refuting the rumors," one person wrote.
"I still think you're hot," some among thousands of commenters wrote.
By Manya Koetse
Follow @whatsonweibo
Spotted a mistake or want to add something? Please let us know in comments below or email us.
©2018 Whatsonweibo. All rights reserved. Do not reproduce our content without permission – you can contact us at info@whatsonweibo.com.