"Bring out the Heat" – Ginger Coca-Cola Comes to China with Some Smart Yin Yang Marketing
Ginger-flavored Coca-Cola (姜味可口可乐) has recently hit the Chinese market, where the combination of ginger with cola is a well-loved one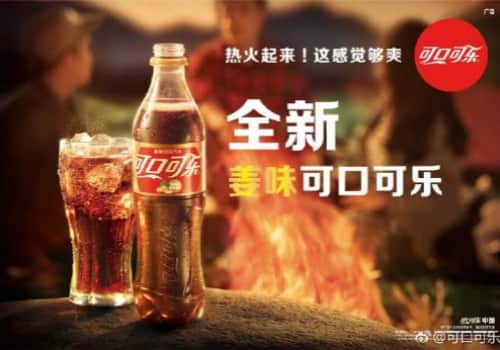 Ginger-flavored Coca-Cola (姜味可口可乐) has recently hit the Chinese market, where the combination of ginger with cola is a well-loved one; boiled Coca-Cola with ginger is often used as a remedy against a cold. With its "bring out the heat" tagline, Coca-Cola is emphasizing the Chinese yin-yang philosophy in the marketing of Ginger Cola in the PRC.
After being introduced in New Zealand, Australia and Japan in 2016, ginger-flavored Coca-Cola (姜味可口可乐) has now hit the Chinese market since March 2017.
Coca-Cola China announced its new Ginger Coca-Cola on its Chinese Weibo page on March 16: "The all new ginger-flavored Cola has hit the market! A sip of Ginger Coke will bring the warmth to your heart in the cold seasons; during the days of eating crab, drink a Ginger Coke to bring you warmth. Bring out the heat! It feels good!"
By marketing Ginger Cola as a 'warming' drink, Coca-Cola is placing emphasis on the Chinese philosophy of yin (阴) and yang (阳), a concept used to describe how opposite forces are actually complementary to each other and need to be balanced.
In Chinese cuisine, many foods can be categorized in either being 'yin' ('cool') or 'yang' ('warm'), regardless of their physical temperature. Typical yang foods, for example, are garlic, pepper, red meat, and ginger. Products such as cucumber, tomato, watermelon, crabs, and clam are considered to be predominantly yin.
It is traditionally believed that the body's yin and yang can be balanced through the warming and cooling characteristics of food. In promoting Ginger Cola ('warm') as the best drink to have with crab ('cool'), Coca-Cola China is turning it into the perfect yang drink.
The use of Coca-Cola with ginger as a 'yang drink' is already popular in China, where boiling coke with ginger is a common remedy to alleviate the symptoms of a cold. "I boil Cola with ginger when I have a cold, and feel nice and warm after drinking it," one Weibo commenter says.
On Chinese social media, many people are happy with the introduction of Ginger coke. The launch of the new flavor also especially drew attention because popular Chinese actor and singer Luhan (鹿晗) is the face of the Chinese Ginger Coca-Cola.
But not everyone agrees on the flavor of Ginger Coca-Cola, which basically tastes like a mix of regular coke and ginger beer. "I've tasted it and it's actually not much different from regular coke at all," one disappointed person said on Weibo.
"Its taste is very similar to normal cola, but it does leave a distinct ginger taste in your mouth after drinking," another netizen remarked.
One person was more enthusiastic about the new drink, writing on Weibo: "It is so good to drink! The ginger flavor is very light and perfectly matches the sweet coke taste. You must try it!"
– By Manya Koetse
Follow @WhatsOnWeibo
©2017 Whatsonweibo. All rights reserved. Do not reproduce our content without permission – you can contact us at info@whatsonweibo.com.
"Zang Zang Bao" – The Hype Surrounding Beijing's "Dirty Dirty" Chocolate Bread
Being dirty has never been this sweet.
The so-called 'Zang Zang Bao' (Dirty Dirty Bread) has become a hype in Beijing and beyond. Showing off one's chocolate-covered face after eating the pastry is the latest online fad. Even with minus ten degrees, crowds of people are queuing up for their piece of dirty bread.
Those who have wandered around downtown Shanghai or Beijing's Sanlitun recently might have noticed the long queues of people in front of various bakeries and tea shops, wondering what's so special about their tea or sandwiches. But it is not the tea and sandwiches people are waiting for in the freezing cold – it is their dirty dirty chocolate bread.
"Zang zang bao" (脏脏包), literally meaning "dirty dirty bread", has become an online craze in China over the past few months. The Chinese chocolate croissant was already named "one of the most popular baked goods in China in 2017" by CGTN (CCTV International) in December, but the social media hype over the bread has carried on well into 2018 and is now making it to the top trending topics on Weibo.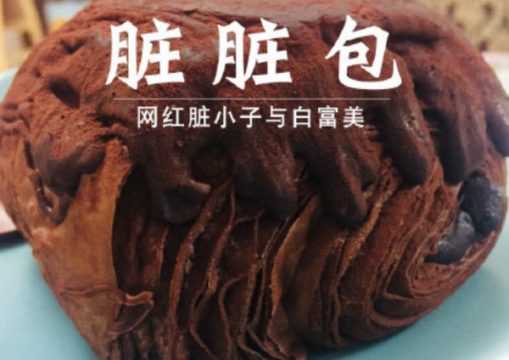 The bread's name comes from the fact that it actually looks dirty and that is virtually impossible to eat the snack without getting messy. Containing large amounts of chocolate, cream, and cocoa powder, people eating this bread are bound to end up with chocolate stains all over; which is one of the main reasons that sparked the online craze for it in the first place.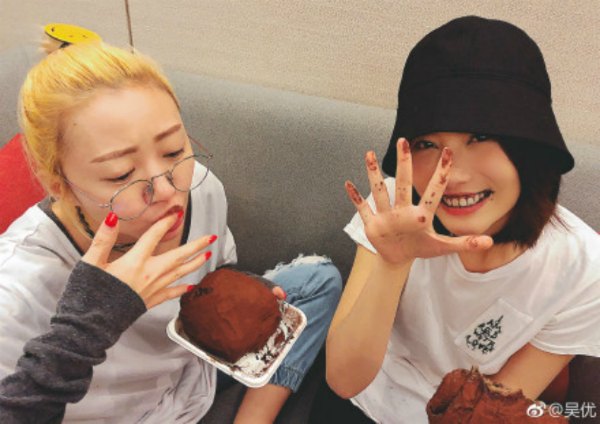 Hundreds of people – specifically young women – are recently posting photos of themselves on Wechat and Weibo eating the bread and then having their hands and mouths covered in chocolate, triggered by celebrities and online influencers (KOL) who have previously done the same. Showing off their chocolate-covered faces is another way of being 'cute' and playful.
The bread's recipe originally comes from the Japanese version of the chocolate croissant, and first started gaining attention in China when a Beijing bakery named Bad Farmers & Our Bakery started selling the pastry at limited hours during the afternoons in 2017.
According to the online media platform AI Finance (AI财经社), the trend then blew over to Shanghai, where LeLe Tea (乐乐茶) started selling the buns in June of 2017 with much success – within six months, the tearoom franchise was able to open four additional shops in Shanghai.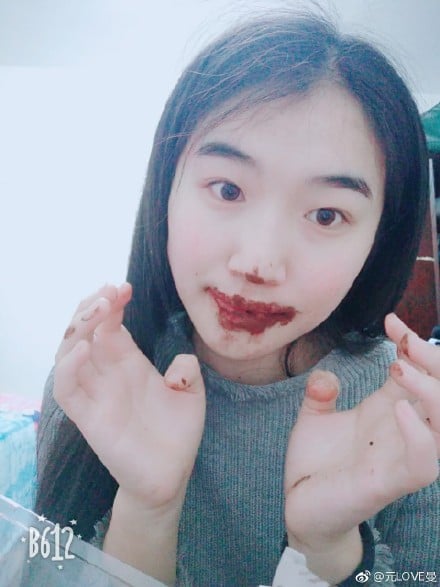 The Zang Zang Bao success has now triggered teashops across China to sell their own version of the popular bread. A shop of a franchise called HeyTea (喜茶) in Sanlitun, Beijing, is gathering large crowds of people who are curious to try out its "dirty bread".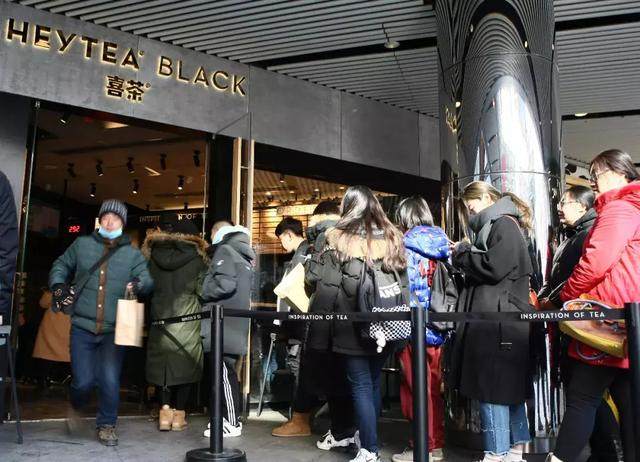 The spokesperson of HeyTea, however, denied to AI Finance that its company has become an 'internet hype.' In the end, many companies dislike becoming a 'hype', which suggests that there is a peek of interest which will soon blow over. Companies such as HeyTea hope that the Zang Zang Bao will not be a "short-lived glory" but a classic item on their menus.
On January 29, Zhejiang University warned on Weibo (@浙江大学) that fans of the bread should not eat their favorite new snack too often: one roll of Zang Zang Bao holds no less than 450 kilocalories.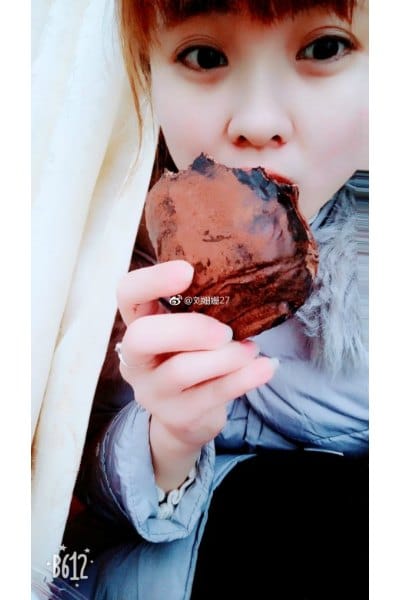 But many netizens do not seem to care too much about the calories: "It's only two bowls of rice," some said: "I've already bought another dirty bread today!"
There are also others, however, who do not understand what all the fuss is about: "What's so delicious about this stuff?", one netizen wonders: "It indeed tastes as if it is stuffed with dirt."
By Manya Koetse
Follow @whatsonweibo
Spotted a mistake or want to add something? Please let us know in comments below or email us.
©2018 Whatsonweibo. All rights reserved. Do not reproduce our content without permission – you can contact us at info@whatsonweibo.com.
8-Year-Old Boy Loses Eye After Playing with Desiccant 'Dry Pack'
One Chinese mother is on a mission to warn other parents that this small packet can pose a big risk.
Most are familiar with those little "do not eat" packets that can be found in various food and household items packaging, but their potential danger might be less well-known. A Chinese mum is now warning others to keep the dry packs away from children after her son lost his eye because of them.
An 8-year-old boy named Keke was recently blinded in one eye after playing around with a desiccant pack. Keke's mother is now seeking media attention for his case to warn others not to make the same mistake.
According to Chinese media, the incident occurred just after the mid-term exam period, when Keke was enjoying some snacks on the couch while watching cartoons. His mother was busy cooking in the kitchen when she heard Keke screaming. As she rushed towards him, she saw that something was terribly wrong with his eye. She saw a deformed bottle filled with fluid on the floor and hurried her son to the hospital.
Keke's mother recounts: "After the examination, the doctor told us that Keke's right eye tissue was completely dissolved by an alkaline fluid (..), and that there was nothing to do about it."
"When the doctor asked how the accident happened, my son told him that he found a small packet in his bag of snacks and that he had played around with it. He first smelled it, and then later put it inside a bottle that contained his beverage. He had never expected the bottle to explode shortly afterward."
The moment some fluid entered his right eye, the little boy lost his eyesight and felt immense pain. Shocking photos shown by a local Chinese tv station show that the boy's eye has been severely damaged by the acid fluid.
Keke's parents later found out the 'small packet' mentioned by Keke was, in fact, a food desiccant (食品干燥剂), which is used to keep products dry and in good condition.
Desiccant packs are usually made with silica gel grains, which can adsorb up to 40% of their weight in moisture. It is useful for keeping things dry and 'sucking up' excess moisture. It is generally not considered to be harmful; the big "do not eat" warnings are more about choking hazard than the packets being toxic. Apart from coming with new shoes or electronics, the little packets can also often be found in various snacks (such as the Japanese nori seaweed).
On Weibo, news about the boy has generated much discussion, especially after it was shared by People's Daily. "If this stuff is so dangerous, then why is it not replaced by something that is safe?" a typical comment said.
A very similar news item made headlines in China in August 2015, when a 5-year-old boy was also blinded in one eye because of a desiccant pack when he put a package inside a pet bottle, causing it to explode.
Public health professor Liu Ping (刘萍) from Shandong University explained to Iqilu.com at the time that apart from the silica gel desiccants, there is also another type of desiccants which is made from calcium oxide (氧化钙), also known as quicklime. Cheaper than silica gel, it is also commonly used but is also relatively more dangerous than silica gel desiccant and other desiccants.
Quicklime has a chemical reaction when it is mixed with water, making it possible for a closed bottle with fluid and quicklime to explode. The fluid then becomes dangerously corrosive (as many science experiment tutorials will show).
A Chinese local television station also broadcasted footage today of experiments done with desiccants in bottles, showing that a violent explosion can occur within 80 seconds.
"Why do we use these desiccants at all," some people wonder on Weibo: "Isn't a tight seal enough to keep it fresh?"
"These desiccants need to be harmless, odorless, and non-corrosive. Strong alkalic desiccants such as the quicklime one should be eliminated," one commenter writes: "In Europe and America, the harmless silica gel desiccants are generally used, why do we still need to go through these tragedies? Why are these standards different?"
As for Keke's mother – she just hopes other parents will now understand the potential dangers of the small packets. "I greatly regret my negligence as a mother," she told Chinese media: "I knew that you're not supposed to eat these desiccants, but I never knew they posed such a great risk that could lead to such a severe outcome."
– By Manya Koetse
Follow @WhatsOnWeibo
Spotted a mistake or want to add something? Please let us know in comments below or email us.
©2017 Whatsonweibo. All rights reserved. Do not reproduce our content without permission – you can contact us at info@whatsonweibo.com.