From 'Starting a War' to 'Just for Show': Chinese Social Media Views on Pelosi's Potential Taiwan Visit
Some voices say that regardless of a Taiwan visit by Pelosi, US-China relations have already reached one of the lowest points in decades.
On Chinese social media there are different views on what a potential Taiwan visit by Nancy Pelosi might mean for China, the U.S., and Sino-American relations. But whether she might actually visit Taiwan or not, virtually nobody seems to be looking at the latest developments with rose-colored glasses.
She is called 'the American Old Lady' and 'the Old Witch' on Chinese social media. Nancy Pelosi, or Pèiluòxī (佩洛西), is all the talk on Weibo this week since reports came out that the U.S. House Speaker is planning a visit to Taiwan.
It is the second time this year a potential Pelosi Taiwan trip raises U.S.-China tensions. Earlier this year, there were also reports that Pelosi would lead a delegation to visit Taiwan on April 10. But just days before, on April 7, news came out that Pelosi had tested positive for Covid-19 and her Asia trip was postponed.
In July 2022, although not officially announced, reports again came out that Pelosi might visit Taiwan during her rescheduled Asia trip, during which she is planned to visit Singapore, Malaysia, South Korea, and Japan (no mention of Taiwan as of July 31st). If she would also land in Taiwan, she would be the first House speaker to visit Taiwan in 25 years.
There have been several hashtag pages on Weibo dedicated to the topic of Pelosi's alleged Taiwan visit. One of the hashtags popping up on Chinese social media on July 25 was "Pelosi Visiting Taiwan" (#佩洛西访台#). By July 30, there was the CCTV-initiated hashtag "If Pelosi Visits Taiwan, China's Military Will Not Sit Back and Watch" (#若佩洛西访台中国军队绝不会坐视不管#).
On the same day, there was the Global Times-initiated hashtag "Trump Slams Pelosi's Possible Visit to Taiwan" (#特朗普抨击佩洛西可能访台#), and "If Pelosi's Visit Happens, Mainland Will Take Decisive Taiwan Measures" (#佩洛西若窜访成行大陆将对台采取断然措施#), hosted by the official account of the Chinese People's Political Consultative Conference (CPPCC). And then there was the "Geng Shuang Says Involved Countries Should Not Play With Fire" hashtag (#耿爽说有关国家不要玩火自焚#), referring to an address by China's deputy permanent representative to the UN. On July 29, Geng Shuang highlighted the apparent hypocrisy of individual countries repeatedly stressing the principle of sovereignty when it comes to Ukraine, while challenging China's sovereignty when it comes to the Taiwan issue – and in doing so, "deliberately creating tensions."
On Sunday, the hashtags "Pelosi" and "Pelosi Sends Our Four Messages without Mentioning Taiwan" (#佩洛西发文4条没提台湾#) (referring to these tweets by Pelosi) both went trending, receiving 110 and 270 million views respectively within one day.
What would Pelosi's potential visit to Taiwan mean to mainland China? Chinese state media outlets are clear about China's official stance. China Daily (Global Edition) headlined "Xi: No Room for interference on Taiwan question" on its newspaper frontpage on Friday. The English-language Global Times published a statement via Twitter, saying: "We have ways to raise the risk of Pelosi's "performance" through the visit, greatly increase the cost of her performance, and boost the price she has to pay. Let Pelosi deeply realize that Taiwan island is not a place where she can run wild."
In light of a two-hour telephone conversation between President Xi Jinping and President Joe Biden on July 28, there were also some softer stances. The Chinese-language People's Daily published an article suggesting that Sino-American relations should focus on strengthening communication to avoid misunderstandings and promote further cooperation between the two countries.
Meanwhile, there are many netizens and bigger bloggers discussing this issue on Chinese social media. Combing out all the posts on Pelosi flooding Weibo these days, there seem to be three main views shared by the majority, which we will further detail below.
VIEW 1: PELOSI'S VISIT MEANS THE U.S. SUPPORTS TAIWAN INDEPENDENCE (AND THAT MEANS WAR)

A common stance on Chinese social media regarding Pelosi's visit is that it would mean a U.S. recognition of Taiwan as an independent state, which is a direct provocation of mainland China.
One popular blogger (@封起De日子) writes:
"If Pelosi really visits Taiwan, it actually means the U.S. approves of Taiwan independence. Taiwan has then become de facto independent. Pelosi would be the third U.S. government person to do so, which is extraordinary. Taiwan is Chinese territory, and if we ignore such an undertaking, we would deny that foundation ourselves. This is a serious provocation. We have so far lacked a strong voice and statement, and the central government and the Central Military Commission and other departments should declare that Pelosi's visit to Taiwan means a war provocation! If Pelosi's plane enters China's airspace and territorial waters of Taiwan, the armed forces of the Chinese People's Liberation Army have the right to decisively shoot down (kill) it at any time! This position would be the right one for any sovereign country."
Another commenter writes: "If Pelosi visits Taiwan in the next two days she'll cause a war. If the country needs donations, I, as an ordinary Chinese citizen, am willing to donate to my country, and I would even be willing to sacrifice my life."
"If a U.S. Army Aircraft dares to enter Taiwan, it is an invasion, and we can shoot it down," an influential gaming blogger (@老刀99, over 2 million fans) also wrote.
This kind of reasoning follows that of the influential Global Times commentator Hu Xijin (@胡锡进), who suggested that a Taiwan visit by Pelosi would be a clear provocation, giving the People's Liberation Army (PLA) "good reason" for "waging a war."
One of Hu's tweets, in which he voiced the view that U.S. military planes escorting Pelosi to Taiwan could potentially be shot down, was deleted from Twitter. He reported about this on his Weibo account.
In another post on July 31, Hu warned Taiwan leadership that by agreeing to a Pelosi visit and "seeking 'international support,'" they are "forgetting that their fate is in the hands of the mainland."
Some commenters said they actually hoped Pelosi would go to Taiwan in order to let the real conflict begin: "I hope Pelosi's visit to Taiwan will succeed," one Weibo user wrote: "These years, I've heard too many forced righteous words, I don't know where our bottom line is anymore, I just see the non-stop favors, while they're snickering and looking down on us. It's no use when it's all talk and no action and it's ineffective to keep on crying wolf. Pelosi, come on!"
"If the day Pelosi visits Taiwan is the day we recover Taiwan, should we still prevent her from visiting?" another Weibo user wonders.
On July 28, Fujian's Pingtan Maritime Safety Administration issued a navigation warning that there would be live-fire exercises on July 30 in the waters near Fujian, opposite Taiwan. On Weibo, the live-fire drill also became a topic of interest (#福建平潭部分海域实弹射击训练#), with many applauding the exercises.
"We must resolutely defend national sovereignty and defend our territorial integrity," one commenter wrote.
VIEW 2: IT'S ALL JUST FOR SHOW (AND TAIWAN IS A POLITICAL PLAYFIELD)
Another view expressed on Chinese social media is that a potential Taiwan visit would be just for show, and that neither Pelosi nor the U.S. truly have Taiwan's best interests at heart.
According to some, a visit to Taiwan would be nothing more than a political "fashion show" for Pelosi, since this might be the last big Asia trip for the 82-year-old politician. "It's just a superficial performance," one military blogger wrote. There are more people agreeing with this stance. "This is to show off her courage and guts as a way to end her term of office," author Zhang Huilin writes (over 2M followers @张慧林).
Others also suggest that China would not start a war over such a move. Keluo Liaofu (@科罗廖夫), an author on military affairs with over 6 million fans, writes:
"If Pelosi really visits Taiwan, the mainland will certainly be furious, and there will be fierce retaliation, including military-diplomatic and economic retaliation such as halting certain Sino-American cooperations, expulsion of diplomats, and other punitive sanctions. Then, as things go, this will be forgotten after a few months."
Another blogger describes Taiwan as a political play field, literally a 'chessboard', that is used by the big 'chess players' – China and the United States – who are also surrounded by other supporting players. Taiwan is just a "gambit" and it is not about Taiwan itself, the blogger suggests: the Taiwan issue is just a strategy for the U.S. to "suppress China" and the moves made by both the U.S. and China regarding Taiwan are ways to test out each other's "red lines."
"It's all just bluff. She won't even dare to visit," another person writes.
VIEW 3: U.S.-CHINA RELATIONS ARE ALREADY BAD REGARDLESS IF SHE VISITS OR NOT (AND THINGS WILL NOT CHANGE)
Another view on the potential Taiwan visit is that whether Pelosi actually visits or not, reports about the trip have already brought China-U.S. relations to a new low point.
"Regardless of whether Pelosi visits Taiwan in whatever way, the political basis for U.S.-China relations is already severely broken, [because] it means that the national will of the United States does not take [our] relationship seriously at all," one Weibo blogger writes: "No need to harbour any illusions."
Some netizens express that China always has to be the 'reasonable voice' that is ignored by an obstinate and provocative America.
Weibo vlogger Yuanzhezhi (@袁者之) writes:
"As just one web user, and as a Chinese, I would like to express my personal voice. The U.S. side should stop obstinately persisting in making things go the wrong way, to insist on creating global unrest. Can they only be happy when there are regional tensions? If Pelosi ignores the voice of the Chinese, the consequences and responsibilities will be borne by the U.S. side. I hope that the U.S. can listen to some of the domestic and international voices of reason, and that they can stop obsessively making the same mistakes over and over again, resulting in an irreversible situation, moving further and further away from the U.S.-China relationship!"
Another popular educational blogger (@才疏学浅柏拉图, over 1M fans) writes:
"My guess is that America is not prepared, and that we're not prepared enough either. But our public opinion is already shaped and fixed in place. It makes me think of how Zhuge Liang used the empty city to scare Sima Yi (t/n: reference to 'Empty Fort Strategy', reverse psychology to scare the enemy). Maybe the American Old Lady ends up going to a third-party location where she'll invite Taiwan leadership, so she can express the American support [for Taiwan] without making us lose face, but the struggle between the U.S. and China remains the same."
Just before Sunday midnight, news blogger Dayue Chuqing (@大越楚卿) asked his followers what the motive might be for Pelosi to visit Taiwan.
While some say she is doing for herself and others suggest it's U.S. power politics, there are also those who consider an entirely different motive: "Maybe she just really feels like eating Taiwanese cuisine."
To read more of our articles on Sino-US relations, click here.
By Manya Koetse
Get the story behind the hashtag. Subscribe to What's on Weibo here to receive our weekly newsletter and get access to our latest articles:
Spotted a mistake or want to add something? Please let us know in comments below or email us. First-time commenters, please be patient – we will have to manually approve your comment before it appears.
©2022 Whatsonweibo. All rights reserved. Do not reproduce our content without permission – you can contact us at info@whatsonweibo.com.
"New Chapter of Sino-Russian Friendship": Putin Publishes Op-Ed in China's People's Daily, Xi in Rossiiskaya Gazeta
In Xi's piece, the word "China" was the most recurring one. In Putin's article, the word "Russia" was repeated the most.
Op-eds authored by Chinese leader Xi Jinping and Russian President Vladimir Putin were published in the other countries' government newspapers ahead of Xi's three-day state visit to Russia. Both articles emphasized the importance of partnership, mutual trust, and friendship between the two nations.
Chinese leader Xi Jinping arrived in Moscow on Monday, March 20, for his scheduled state visit to Russia.
During his three-day Moscow visit, Xi will have one-on-one talks with Russian President Vladimir Putin. This is the first time Xi visits Russia since the Russian invasion of Ukraine.
On the first day of the top-level meeting, the Chinese state media outlet People's Daily headlined that Xi Jinping published an article in the Russian government newspaper Rossiiskaya Gazeta on the occasion of his state visit, while also featuring the news about Putin's signed article on the front page (the actual article was published on page three).
Meanwhile, the Rossiiskaya Gazeta did the same: they also featured Xi's publication on the front page of their digital newspaper, while also turning Putin's contribution to the People's Daily into one of the main headlines. The newspaper also published a special section dedicated to Sino-Russian friendship.
Xi's article, in Russian here and in Chinese here, was also translated to English and published by China's Ministry of Foreign Affairs on their website here.
The article, titled "Forging Ahead to Open a New Chapter of China-Russia Friendship, Cooperation and Common Development" ("踔厉前行,开启中俄友好合作、共同发展新篇章") mainly stresses the strong bond and mutual trust between China and Russia and the future of Sino-Russian relations, with the word "cooperation" being used 22 times and the word "friendship" used 8 times in the text. The most-mentioned word in the text is "China" (24 times); "Russia" was mentioned 22 times.
"Ukraine" was mentioned three times in one paragraph about the 'Ukraine crisis,' which emphasized China's "impartial position" and its active promotion of peace talks.
The article by Putin is titled "Russia and China – A Future-Bound Partnership" ("俄罗斯和中国——面向未来的伙伴关系") (link in Chinese, link in English) and it is similar to Xi's op-ed in multiple ways, and also focused on stressing the special friendship between both countries and how similar they allegedly are in their culture, tradition, and foreign policy.
The article was actually also very similar to an earlier article titled "Russia and China: A Future-Oriented Strategic Partnership" published by Vladimir Putin for Chinese state media outlet Xinhua just before the Winter Olympics and Putin's visit to China in 2022 (link in English).
The current article condemns America's role in the international community and thanks China for its approach to the Ukrainian issue. The word that comes up most often in the text is "Russia" (20 times); "China" is mentioned 18 times. Words such as "cooperation" and "partnership" also come up a lot (7 and 5 times respectively).
The hashtag "Xi Jinping Published Signed Article in Russian Media" (#习近平在俄罗斯媒体发表署名文章#) was posted on social media site Weibo by Xinhua.
China Daily posted images featuring several quotes from Xi's signed article in Chinese and English.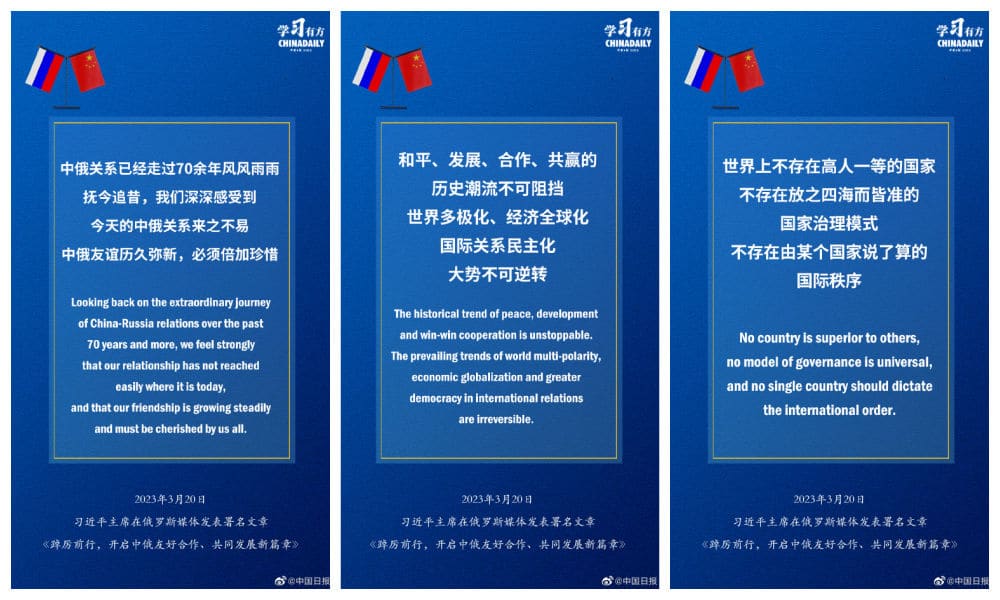 While it was not the first time for Putin to post an op-ed in a Chinese state media newspaper, it was also not the first time for Xi Jinping to publish a signed article in a Russian government newspaper. He also posted one in 2015 (link in Chinese).
Xi previously also published letters or bylined articles in the media of other countries.
Ahead of his state visit to Finland in 2017, the Finnish newspaper Helsinki Times featured Xi's article titled "Our Enduring Friendship" ("穿越历史的友谊"). Xi also stressed bilateral relations in letters to the foreign media of countries such as Myanmar, Greece, Nepal, North Korea, and others.
The term used by Xi in the article, "starting a new chapter" ("开启时代新篇章") was repeated by many commenters replying to the topic on Weibo, where Xi's Russia visit is covered by many media accounts in videos, text, and images.
In a recent post, political commentator Hu Xijin (@胡锡进) noted how Xi's Russia visit made international headlines, underlining the major significance of the meeting. Hu wrote that no third party could hinder the "steady development of Sino-Russian relations." At time of writing, only three out of more than a hundred replies to Hu's post were displayed – the three replies consisted of hearts and thumbs up emoji only – with the other comments being filtered.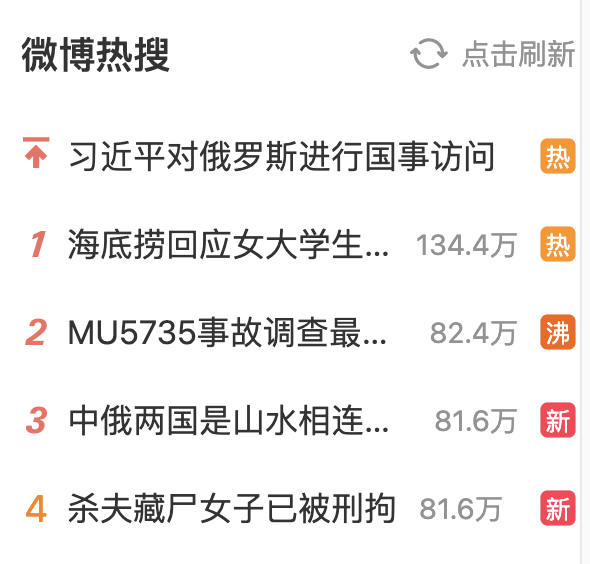 Although the meeting between Xi and Putin was promoted in the Weibo trending lists, most posts about the state visit only allowed some selected replies in the threads below, or simply closed the comment sections. This was also the case went Putin's annual address in Moscow was featured by various accounts on Weibo.
For more articles on China-Russian relations and related Weibo discussions, check our archives here.
By Manya Koetse 
With contributions by Miranda Barnes
Get the story behind the hashtag. Subscribe to What's on Weibo here to receive our newsletter and get access to our latest articles:
Spotted a mistake or want to add something? Please let us know in comments below or email us. First-time commenters, please be patient – we will have to manually approve your comment before it appears.
©2023 Whatsonweibo. All rights reserved. Do not reproduce our content without permission – you can contact us at info@whatsonweibo.com.
Meet Ren Xiaorong, People's Daily AI Virtual News Anchor
Although their functions are still limited, AI news anchors such as Ren Xiaorong are a sign of the future.
Ren Xiaorong (任小融) joined the Chinese state media outlet People's Daily as a virtual presenter/news anchor this week.
Ren Xiaorong is the AI-powered host of an app allowing users to ask questions related to the Two Sessions, the annual plenary sessions of the National People's Congress and of the Chinese People's Political Consultative Conference that have been taking place this week.
Through the People's Daily app, you can ask Ren Xiaorong to tell you more about various topics covered during the Two Sessions, including education, epidemic prevention, housing, employment, environmental protection, and many other issues.
According to the introduction video launched by People's Daily, Ren is also available to discuss other news topics people would like to know more about.
Ren Xiaorong is interactive to a certain (very limited) extent; users can select the topics they want to learn more about, but the app does not yet allow to ask specific questions.
A related hashtag went viral on Weibo on Sunday (#人民日报AI虚拟主播#), triggering discussions on the use of virtual news presenters.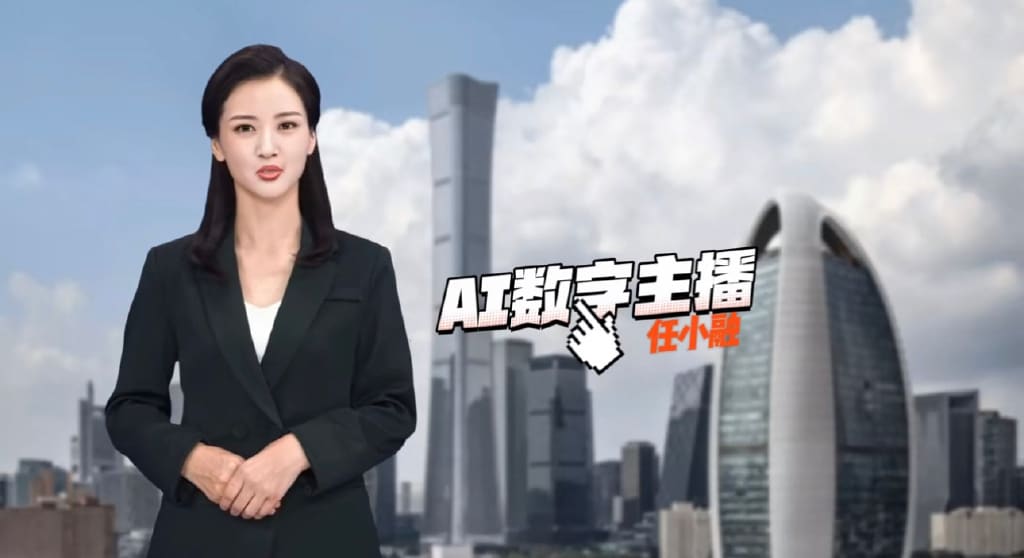 Ren Xiaorong is not the first People's Daily virtual news anchor. In 2019, the very first AI-powered presenter was unveiled at the 2019 Big Data Expo (#人民日报首位AI虚拟主播#). Guo Guo (果果), aka Little Guo Guo (小果果), was based on the real-life Chinese reporter Guo Xinyu (果欣禹).
China's state media outlets Xinhua, Beijing TV, Hunan TV, and CCTV previously also unveiled their own AI-powered virtual news anchors at a time when China's virtual idol market started to explode.
During the 2022 Winter Olympics in Beijing, there was also a virtual host and China's first AI sign language presenter.
Although news media outlets have started experimenting with virtual presenters for some time now, some netizens are still not convinced about the actual purpose of having virtual TV hosts and news anchors, especially when their AI-driven interactive functions are still limited.
Weibo blogging account 'Media People Online' (@传媒人在线) writes: "I've never really understood this, is there a shortage of broadcasting talent, or are AI anchors better at it? Why would you use a robot to broadcast the news? Are you spending so much money on an AI presenter just to show technological progress?"
But other bloggers (@夏日之阳新闻传播考研) think that virtual anchors could improve the quality and availability of news, since they could broadcast around the clock while saving on manpower, alleviating the pressure on newsrooms.
Whether people approve of virtual news readers or not, most agree Ren Xiaorong, along with her virtual colleagues, is a harbinger of the digitalization of the media at a time when artificial intelligence has already come to play a pivotal role in everyday activities.
Want to see Ren Xiaorong at work? Click this link on mobile.
By Manya Koetse 
Get the story behind the hashtag. Subscribe to What's on Weibo here to receive our newsletter and get access to our latest articles:
Spotted a mistake or want to add something? Please let us know in comments below or email us. First-time commenters, please be patient – we will have to manually approve your comment before it appears.
©2023 Whatsonweibo. All rights reserved. Do not reproduce our content without permission – you can contact us at info@whatsonweibo.com.