CCTV's New Year's Gala 2016 Liveblog
It is time for the CCTV New Year's Gala, Chunwan in short, the special annual evening variety show that captures millions of viewers on the night of Chinese New Year. Read all about the ins and outs of the 2016 edition here.
It is time for the CCTV New Year's Gala, Chunwan; the special annual evening variety show that captures millions of viewers on the night of Chinese New Year. What's on Weibo provides you with the ins & outs of the 2016 Gala and its social media frenzy, with updates before, during and after the show. *After the live stream of the Gala, we have added most of the videos of all the show's acts (yes, also the robots) into this blog so you can (re)watch them. The live blog is now closed.*
CCTV Gala Liveblog Updates Chinese Time Zone UTC+8
17:00 Three hours before the show starts! What can we expect tonight? According to the directors, it will be all about singing and dancing today; about 80% of the show's performances are music and dance. One of the Gala's directors, Zou Wei, tells CCTV: "We've come up with some innovative approaches for the song and dance numbers. We'll also be moving and changing the stage a lot. The audience will get a very refreshing take. Ninety percent of the song and dance programs are newly created; the remaining 10 percent are a salute to the gala's past classics." Besides dance and music, there will also be acrobatic performances and comedy sketches ('crosstalk').
17:30 2,5 hours to go. The theme of this year's CCTV Gala is "You and Me, Our Chinese Dream – Building a Moderately Prosperous Society". Every year the Gala has a different theme. Last year's theme was "Family Harmony Yields Success". The CCTV Gala is known for its political messages, as it is a way for the government to reach an audience of millions.
18:30 There will be a total of 37 acts in tonight's gala. Amongst the performers are many veterans who have performed at the Gala before, but there are also newcomers, such as the TFBOYS, one of China's most popular pop groups – they will be performing at the show for the first time. They have a fanbase of nearly 7.5 million on their official Weibo account.
18:45 The TFboys are in the building! The three boys looked somewhat nervous as they entered the Gala venue earlier today. The popular boy band will perform in tonight's during the show as the 5th act. They told the host their families have all come to Beijing to celebrate the New Year together, eating and exchanging hongbao (red envelopes). When the host asked them how much money was in the hongbao they received from their parents, they did not really want to answer. They might be the ones giving their parents hongbao now..
19:00 One hour to go! This year's gala will be extra special, because it has four extra venues apart from the main one at the CCTV Beijing studio. The additional venues are in southeast China's Quanzhou city, northwest China's Xi'an city, south China's Guangzhou city and Hulun Buir city in Inner Mongolia Autonomous Region, representing the east, west, south and north of China: a gathering of the whole country.
19:30 Just thirty minutes before the start of the show. Tonight's Gala will be presented by well-known CCTV faces. In the Beijing main venue the gala will be hosted by a total of six presenters, three men and three women, namely: Zhou Tao (周涛), Zhu Jun (朱军), Dong Qing (董卿), Sa Beining (撒贝宁), Li Sisi (李思思) and Nigel Amat. All of them presented the CCTV Gala before, the 51-year-old Mr. Zhu Jun has hosted the gala since 1997. The other venues in Xi'an, Guangzhou, Hulun Buir and Quanzhou will be hosted by, amongst others, Zhu Xun, Ma Yue, Li Jiaming and Ren Luyu, along with some newcomers from local TV stations.
19:50 The biggest show of the year is about to start! The chief director of today's show is Lu Yitao. Just 38 years old, he is the youngest chief director of the Spring Festival Gala ever.
20:00 Here we go. The opening act is a dance performance called "Spring brings Good Fortune" by, amongst others, actress Yan Ni (闫妮, dressed in blue) and other movie stars. The dancers in the background just formed the shape of 'fu', the character for prosperity. The hosts of the night welcome the audiences to CCTV's 2016 Spring Festival Gala.
20:15 Zhou Tao and Zhu Jun are the first hosts to welcome everybody. They represent the older CCTV generation, having presented the Gala multiple times since 1997.
The CCTV Gala is an annual event since 1983. This year is extra special for the several venues where the Gala is aired: Quanzhou city, Xi'an city, Guangzhou city and Hulun Buir city. Every city has its own hosts, welcoming the audiences in their own local dialect or language.
The second act tonight is a joined act by the two famous bands Phoenix Legend and Jiuye Qiji (玖月奇迹), who sing about "A Beautiful China Rises" (美丽中国走起来). Most of the songs presented tonight are new works made for the CCTV Gala. The performers on the left are the musical performers named 'Phoenix Legend', the right band is Jiuye Qiyi.
20.20 Most of the performances tonight are dance and singing, but there will be a total of 7 spoken acts. This short sketch is called 'Happy grandpa', performed by Feng Gong (冯巩) who is a familiar face at the CCTV Gala. The sketch is about spending New Year's Eve, although some netizens seem to have no clue what it was actually about..
20.30 "Let's Follow the Path of Peace" is a song sung by Chinese singer Zhang Ye (张也, 47 years old). She is especially famous in China for her song "Into a New Era" (走进新时代).
In the meantime, the Gala has become the number one trending topic on Weibo, together with the TFboys, who will soon perform in the show.
20.40 Time to shake your mobile phone! Viewers of the Gala can shake their smartphones to grab a hongbao (red envelope) from CCTV. This is a game that was first introduced last year as a cooperation between WeChat and CCTV.
Here we go for the much-anticipated act of the TFBoys. Aged around 13/14 years old, they are one of China's most popular acts, often becoming a trending topic on Weibo. They perform together with Yueliang Jiejie, presenter of a children's show. They are accompanied by dancing cartoons – all China-made.
I am not sure if everybody heard it, but during their act the sound went terribly off during the live broadcast.
20.50 The sixth act of the evening is a short sketch called "Don't worry" by Sun Tao and other actors about scamming practices per phone in China, and people being oversensitive to being afraid of people cheating you- even when they are not. This act, that is liked by most netizens, is followed by a special performance by different singers from Mainland China, Hong Kong and Taiwan who sing about the ecological heritage of China in the song "Beautiful mountains and rivers of China" (山水中国美). Some of the singers sing in their local dialect. The woman in yellow is the famous Gigi Leung from Hong Kong.
During the show, there seem to be some problems with the sound system. If things would really go wrong, the show has a taped version of the full dress rehearsal. The tape runs together with the live broadcast, so that in the event of a problem or disruption, the producers can seamlessly switch to the taped version without TV audiences noticing anything. We would probably not even know if we were watching the live or the taped version!
21.10 The 8th act of the night will not be performed in the Beijing main location, but in southeast China's Quanzhou city. It is a song called "Happy Thought of You" (快乐想念). The dancing puppets are typical for the region.
This puppet performance interesting change of pace. Usually when I see puppets perform on CCTV the strings are not so obvious.

— Jeremiah Jenne (@GraniteStudio) February 7, 2016
This performance is followed by a quite stunning dance act by the Atlanta Morningstar dance school by overseas Chinese.
21.30 2.5 hours to go until Chinese New Year! We first see a short film followed by the 11th act; one of the few short sketches of the night called "The General and the Soldiers". The video of marching troops and the sketch about China's troops and army life in preparation for the 2015 parade show a strong China. One of the actors is the famous actor Hou Yong (Weibo), who has performed at the Gala two times before. In the sketch, roles are reversed as the soldier teaches the general how to do it right – suggesting equality amongst the people of different positions and sending out a clear message to corrupt officials: don't forget to be a good communist.
Presenter Dong Qing, in a beautiful red dress, honors China's veterans, with one old veteran being honored on stage.
21.45 Singer Lei Jia (雷佳) performs the song "I want to tell you" (多想对你说). According to the CCTV, it has always been her dream to perform at the Gala. Her dream has already become a reality multiple times, as she has become a familiar face in the show. The song has been specially produced for the Gala. In the background, we see 55 different ethnic minorities of China in traditional dress, a recurring feature of the annual Chunwan.
The 13th act of the night takes place in Xi'an, one of the four alternate locations where the Gala is taking place tonight. Impressive drums, similar to what we saw during the opening act of the 2008 Beijing Olympics, are followed by the song "The Silk Road", promoting the success of China's Go West policy.
The only piece of Chinese opera in this year's show is part of the Journey to the West (act number 14), in which the main character is the Monkey King.
22:00 We have arrived at the 15th act, are you still awake?! Two more hours before New Year's! This act is shown as a part of showcasing Chinese cultural heritage, introducing the loud Huayin singing style (华阴老腔) at the Gala, with main performances by the pretty Tan Weiwei (谭维维) and Zhang Ximin (张喜民). The 34-year old Tan was the runner-up of the third season of Super Girl, a popular singing contest in China.
22.15 The next act is one of the seven spoken acts of the night, a comical skit about a courier played by several well-known actors.
Meanwhile, complaints about the show are pouring in through social media. It is somewhat of a tradition to comment on the show and complain about it; criticism on the Gala is actually so commonplace that the sentence "there'll never be a 'worst', just 'worse than last year' (央视春晚,没有最烂,只有更烂) has become a popular saying over the years. One of the current critiques is that Liu Xiao Ling Tong (六小龄童, see photo below), the most famous performer of the Monkey King, was not invited to participate in the Journey to the West act.
22:25 "Father and Son" (父子) is supposed to strike the audience's emotional chord tonight. Singer Yang Yang is one of the more popular acts of the night, attracting younger audiences to watch the show, together with the TFboys. Yang Yang has become especially popular over the last two years. Here, he sings together with famous singer Tong Tiexin. The song is followed by a "public welfare commercial" (公益广告) about the bond between father and son.
*FYI: We are supposed to reflect on our lives and cry here*
22:35 This is the only martial arts act of the night by Donnie Yen or Zhen Zidan (甄子丹) and the Shandong martial arts group. Donnie Yen is a famous Hong Kong actor and martial artist.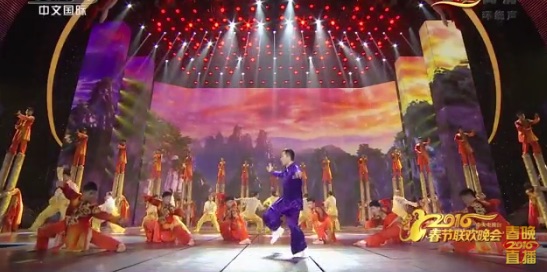 22.45 Amazing display of communist nostalgia during the 20th act of the night, with a performance of different revolutionary songs including the old 'Without the Communist Party, There is No New China' (没有共产党就没有新中国), 'The Bright Red Flowers of Shandan' (山丹丹花开红艳艳) and 'The Motherland' (我祖国). Although the majority of tonight's compositions are new songs, these are old songs that most Chinese will be very familiar with, especially those growing up during the cultural revolution.
22.50 We have moved from Beijing to Guangzhou for the 21st act of the CCTV Gala. Together with Quanzhou city, Xi'an city and Hulun Buir city, Guangzhou is one of the different alternate venues from which the show is broadcasted this year.
Don't ask me why, but singer Sun Nan (孙楠) is now performing his song together with 540 dancing robots. He sings about the future ahead – this reinforces the image of Guangdong as the home of China's tech startups.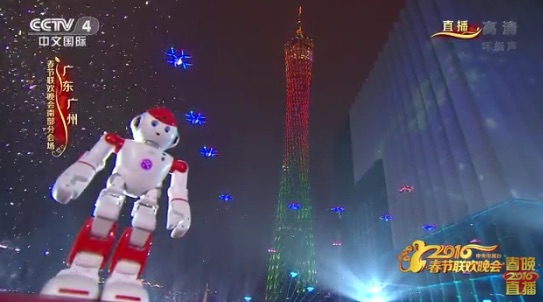 23.00 While the noise of fireworks and crackers is starting to fill the streets all over China, we are seeing the only acrobatic act of tonight, performed by Li Tong and the Dengfeng Shaolin college.
23.15 In the final hour of the New Year's Gala, there are some very famous performers on stage. In this comical sketch, we see actor Donglin Guo (郭冬临) – a Chinese actor and xiangsheng (comic dialogue) performer who always performs in the annual Gala. He has made appearances ever since the 1993 edition. The sketch is about 50,000 yuan that has 'miraculously' appeared on Donglin's bank account, after which his wife accuses people of putting it there for favours. But then their daughters friend appears, and it turns out Donglin lend him money as he was setting up a software company, and this is the money he returned to him. This turns Donglin from a possible corrupt official into a good guy government official who believes in the future of China's youth.
The comic dialogue is followed by one the night's many dance performances. This one is title "In Your Embrace" by famous Uyghur dancer Mahire Emet (马依热·艾买提江). The dancers are dressed in traditional clothing, showcasing China's many colorful & cheerful ethnic minority groups. They just seem to always be happy. It sometimes reminds me of Disneyland's "It's a small world after all…"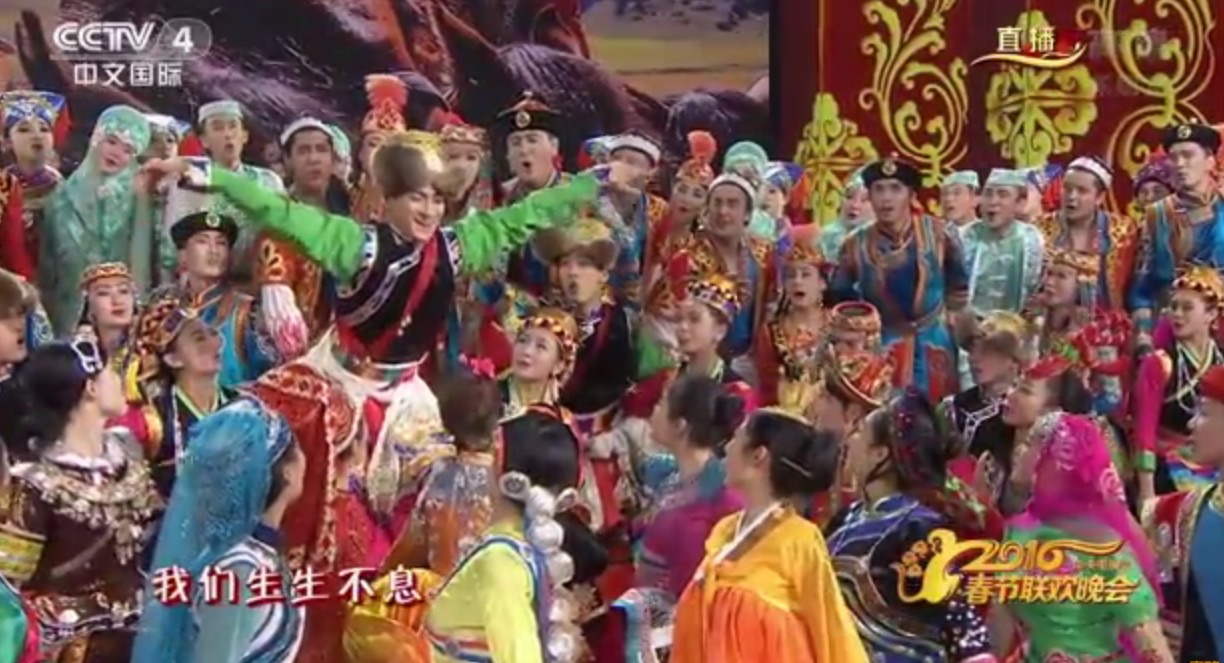 23.30 The last venue of the night is Inner Mongolia's Hulun Buir city, where we see the hosts dressed in local traditional clothing and speaking some of the local language. It is interesting to see the contrast between the venue cities tonight, where some, such as Hulun Buit, are portrayed as being very 'ethnical' and others, such as Guangzhou (with the robots), is showcased as very modern, trendy and technical.
The act is followed by a performance of the famous Vicky Zhao. She is one of the bigger stars of tonight's Gala. She is a Chinese actress, pop singer, and film director. An incredibly popular actress in various top TV shows in China, she is considered one of the top four actresses in China and is one of the most famous Weibo celebrities; she has over 73 million followers!
23.40 We have arrived at the 27th act of the night, and there are just twenty minutes left before the Year of the Monkey starts. Chen Sisi (陈思思) sings 'Snow Love' with performers from the Beijing Sports Academy – this, according to the hosts, is in honor of Beijing being the first city to host both the Summer and the Winter Olympics (2022).
23.45 This is the last spoken sketch for tonight, only followed by a xiangsheng (comic dialogue) just before the end of the show. This sketch is about internet shopping, and features Chinese skit actor Pan Changjiang. In his early years, he regularly appeared in the Gala.
23.55 Almost time for the New Year! The hosts first list all the country embassies wishing China a happy new year, before Yin Xiumei (殷秀梅) sings the song 'Honor & Glory': a moment to reflect on China, the great nation, and its leaders. In the video behind the singer, we see Mao Zedong and other leaders, with special focus on 'Daddy Xi'.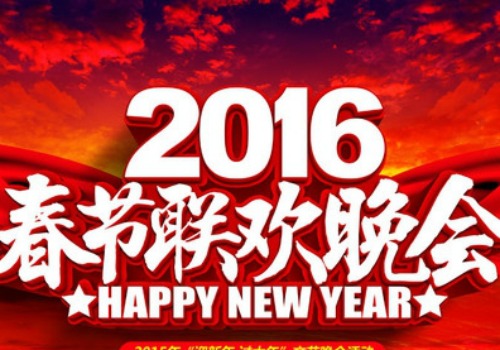 0.00 Happy new year! The hosts wish everybody a Happy Year of the Monkey (and so does What's on Weibo).
0.05 The New Year is welcomed with the song "Meeting Spring" by various famous singers such as the famous baritone Liao Changyong. The song is immediately followed by one of the evening's "public welfare commercials", in which the importance of family ties is emphasized – part of the China dream.
0.10 A young man named 'Yif' is tonight's magician. Yif also seems to have done some magic on his own face. He is a professional magician from Taiwan. On his official Weibo account, he told his fans that he was incredibly nervous for tonight's performance, as it is the first time he appears on the CCTV Gala.
The Gala's hosts Zhu Jun and Zhou Tao announce the next act, which is a xiangsheng act. Xiangsheng, also known as 'crosstalk', is a traditional comic dialogue, which is mostly performed as a dialogue between two performers (in this case, by Li Yinfei 李寅飞 and Li Ding 李丁). The focus is on language jokes, which are sometimes hard to grasp for a laowai like myself. It is one of China's most popular performing arts, and is typically performed in the Beijing accent. Some Chinese media wrote about the fact that this year's Gala only features one xiangsheng act, as there previously were more. This year, the focus of the evening clearly is on song and dance.
0.20 We are nearing the end of the show, but not before the show puts more emphasis on the Gala's theme: "You and Me, Our Chinese Dream – Building a Moderately Prosperous Society". This song, titled "Small and Big Dreams" is sung by Wang Zineng and Ping An.
0.35 The last two acts of the night are the songs "Lucky Lucky" and "Unforgettable Night". The first is sung by Sa Dingding 萨顶顶 who is joined by a dancing group from Yunnan.
The last song of the night is performed by various performers, bringing together some of the country's major celebrities from different generations including the 71-year-old folk singer Li Guyi (李谷一) and the 8-year-old child star Zhou Anxin (周安信). They conclude the night with a song about their good homeland China. The hosts wish you all a happy new year.
0.45 That's a wrap – happy new year 新年快乐!
About the Gala
The CCTV New Year's Gala (中国中央电视台春节联欢晚会 or Chunwan 春晚) is an annual live television event that is broadcasted by state enterprise CCTV on the evening of Chinese New Year. It has been broadcasted since 1983, and is watched by over 700 million people. It is the most-watched variety shows in the world and is much anticipated every year – somewhat comparable to the Oscars or the Super Bowl. The Gala features different acts, including singing, dancing and comedy, in a time frame of around 4 hours.
It is a tradition for families to gather around the TV to watch the Gala before the New Year comes at midnight. It is also somewhat of a tradition to comment on the show and complain about it; criticism on the Gala is actually so commonplace that the sentence "there'll never be a 'worst', just 'worse than last year' (央视春晚,没有最烂,只有更烂) has become a popular saying over the years (Wang 2015, 192).
The 2016 Edition
This is the 34th edition of Chunwan (February 7th, 2016). This year the show lasts a total of 4 hours and 18 minutes, starting on 20.00 and ending 00.18.
This year's show, like last year's, has its own mascot. As this will be the Year of the Monkey, it is a colorful monkey named Kang Kang. The mascot was revealed on CCTV's Weibo account on the evening of January 21st. The mascot was ridiculed by netizens, who thought it was ugly. The 3D design (image below, on the right) was different from the original sketch (left). According to the majority of Weibo's netizens, the designers of the 3D version had mistaken Kang Kang's paws for balls, resulting in a Kangkang with 'tumors on his ears'.
The current version of Kang Kang as pictured below has been adjusted; he no longer has 'tumors' growing from his head.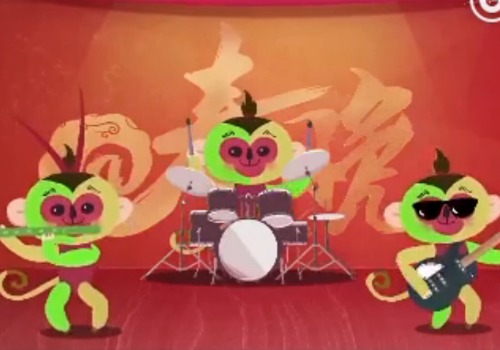 Social Media
Chunwan is a hot topic on Sina Weibo and WeChat, as millions of people are watching and share their comments on the show through social media. The Gala's official Weibo account has over 7,5 million followers. Sina Entertainment (17+ million followers) also writes about the show through their official Weibo account.
One important new feature of the show that links it to social media platforms is the exchange of hongbao, red envelopes with money, which is a Chinese New Year's tradition (also read our article about Lucky Money). During the show, viewers are able to receive virtual hongbao by shaking their smartphones. This new cooperation between the CCTV Gala and the WeChat app first started in 2015. Last year, when the game was announced during the live broadcast, WeChat users shook their phones 11 billion times. The value of these monetary gifts was around 500 million RMB (76 million US dollar).
The hongbao game attracts more people to watch the show, which is often considered boring or old-fashioned by younger generations. This year the game will start again, increasing the Gala's viewer ratings. One Weibo netizen comments: "Actually, there are many people who want to watch the Gala now. The reason is simple: it's not for the show but for the red envelopes."
The Live Show
Although the Gala is a live broadcast from CCTV's No.1 Studio, every year's show has a taped version of the full dress rehearsal. As described by Scocca (2011), the tape runs together with the live broadcast, so that in the event of a problem or disruption, the producers can seamlessly switch to the taped version without TV audiences noticing anything.
According to the CCTV, the committee members of the Politburo of the Communist Party of China already attended the full dress rehearsal on Friday night.
Please check out this blog on Sunday, February 7th, from 19.00 China Standard Time (CST) +0800 UTC (12.00 CET) for more information about the show and its programme. New updates will be added on the top of this page.
– By Manya Koetse
Follow @WhatsOnWeibo
References
Wang Ge. 2015. "Popular Spring Festival Gala language: Sociocultural Observations." In Linda Tsung and Wei Wang, Contemporary Chinese Discourse and Social Practice in China, 185-200. Amsterdam/Philadelpia: John Benjamins Publishing Company.
Scocca, Tom. 2011. Beijing Welcomes You: Unveiling the Capital City of the Future. New York: Riverhead Books.
Featured image from ZZM3.com: http://www.zzm3.com/gear/rs/457.html
©2016 Whatsonweibo. All rights reserved. Do not reproduce our content without permission – you can contact us at info@whatsonweibo.com.
Chinese Comedian Li Dan under Fire for Promoting Lingerie Brand with Sexist Slogan
Underwear so good that it can "help women lie to win in the workplace"? Sexist and offensive, according to many Weibo users.
Popular talk show host and comedian Li Dan (李诞) has sparked controversy on Chinese social media this week for a statement he made while promoting female underwear brand Ubras.
The statement was "让女性轻松躺赢职场", which loosely translates to "make it easy for women to win in the workplace lying down" or "make women win over the workplace without doing anything," a slogan with which Li Dan seemed to imply that women could use their body and sex to their advantage at work. According to the underwear brand, the idea allegedly was to convey how comfortable their bras are. (The full sentence being "一个让女性躺赢职场的装备": "equipment that can help women lie to win in the workplace").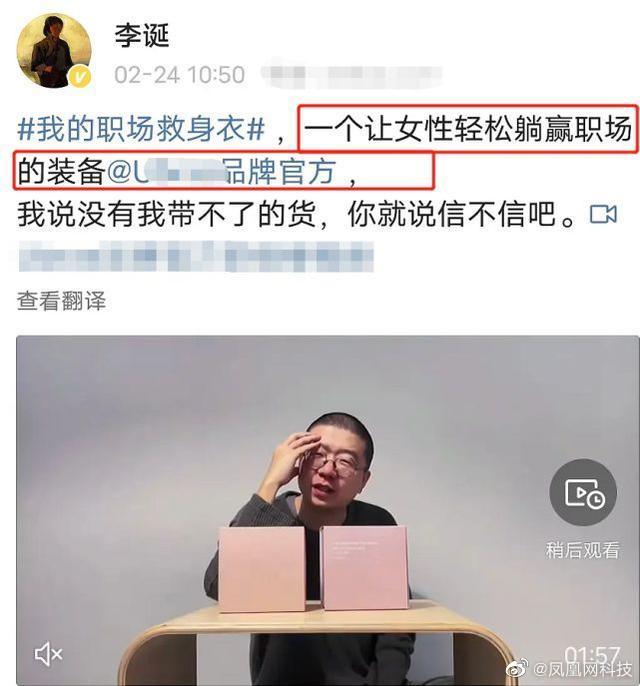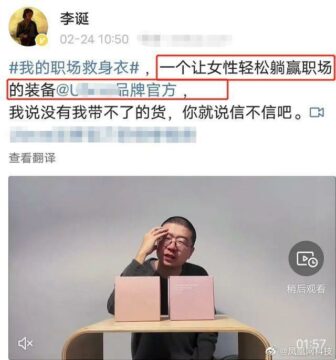 Li Dan immediately triggered anger among Chinese netizens after the controversial content was posted on his Weibo page on February 24. Not only did many people feel that it was inappropriate for a male celebrity to promote female underwear, they also took offense at the statement. What do lingerie and workplace success have to do with each other at all, many people wondered. Others also thought the wording was ambiguous on purpose, and was still meant in a sexist way.
Various state media outlets covered the incident, including the English-language Global Times.
By now, the Ubras underwear brand has issued an apology on Weibo for the "inappropriate wording" in their promotion campaign, and all related content has been removed.
The brand still suggested that the slogan was not meant in a sexist way, writing: "Ubras is a women's team-oriented brand. We've always stressed 'comfort and wearability as the essence of [our] lingerie, and we're committed to providing women with close-fitting clothing solutions that are unrestrained and more comfortable so that more women can deal with fatigue in their life and work with a more relaxed state of mind and body."
Li Dan also wrote an apology on Weibo on February 25, saying his statement was inappropriate. Li Dan has over 9 million followers on his Weibo account.
The objectification of women by brands and media has been getting more attention on Chinese social media lately. Earlier this month, the Spring Festival Gala was criticized for including jokes and sketches that were deemed insensitive to women. Last month, an ad by Purcotton also sparked controversy for showing a woman wiping away her makeup to scare off a male stalker, with many finding the ad sexist and hurtful to women.

By Manya Koetse
with contributions by Miranda Barnes
Follow @whatsonweibo
Spotted a mistake or want to add something? Please let us know in comments below or email us. First-time commenters, please be patient – we will have to manually approve your comment before it appears.
©2021 Whatsonweibo. All rights reserved. Do not reproduce our content without permission – you can contact us at info@whatsonweibo.com.
Top 10 Chinese Celebrities with the Most Followers on Weibo in 2021
The top celebrities with the most followers on social media – who are they, why are they famous, and what do they do?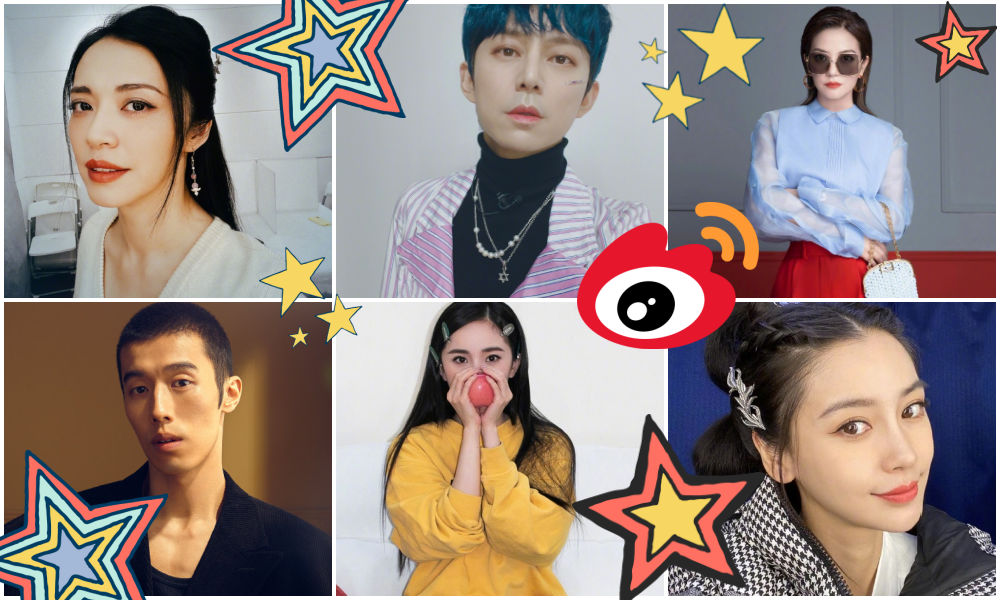 They are the crème de la crème of China's giant pop entertainment scene. These are the top celebrities and influencers on Weibo in early 2021.

This is the "WE…WEI…WHAT?" column by Manya Koetse, original publication in German by Goethe Institut China, see Goethe.de: WE…WEI…WHAT? Manya Koetse erklärt das chinesische Internet.

While celebrities such as Justin Bieber, Barack Obama, and Katy Perry are the leaders of Twitter in terms of followers, there are Chinese celebrities with an equally large fanbase on the country's biggest social media platform Weibo, yet these are names that are generally less well-known outside of China.
Although China's social media landscape has seen the rising popularity of new social apps and sites, Weibo is still the number one platform for the entertainment industry. This is a list of Weibo celebrities with the most followers as of early 2021.
There are some things worth noting about this list. First, it does not contain any 'internet celebrities' (网红 wanghong), meaning people who have become self-made online influencers through the internet. The biggest Weibo stars are still the 'traditional celebrities' in the sense that they have made their big breakthrough through TV drama, cinema, or the mainstream pop music scene.
Second, although the top list of Chinese celebrities with the most followers on Weibo has changed somewhat throughout the years, many of these celebrities have been at the top for a long time already. Some of them simply have become so big on Weibo because they were among the first celebrities to join the platform since its beginning in 2009. Celebrities such as Yao Chen or Chen Kun already had over 50 million followers on Weibo in 2013. This indicates that while China's social media landscape is becoming more diverse, it is also more difficult for new social media superstars to emerge and become bigger than the long-time Weibo champions.
Third, the most-followed celebrities on Chinese social media are often true 'superstars' in the sense that they are all incredibly versatile. They often do acting, singing, presenting, but also have their own (restaurant) business or engage in other activities as 'celebrity entrepreneurs.' Virtually all celebrities in this list are also active contributors to charity or represent a good cause, as well as being brand ambassadors – they often have lucrative deals to do advertisements for world-renowned brands, from fashion brands to cosmetics or high-end spirits. This multidimensionality makes these celebrities all the more appealing to fans: they are talented, beautiful, wealthy, fashionable, virtuous and successful in business.
This article first introduces the ten Weibo accounts with the highest number of followers, and then also includes some newer accounts with the highest "influence rate" (博主影响力) according to Weibo Charts, meaning they have high network interaction and follower growth.
1. Xie Na 谢娜 – The Queen of Weibo
Fans on Weibo: 129.4 million followers, @谢娜
Main occupation: TV host
Date of birth: 6 May 1981
Birthplace: Deyang, Sichuan
Xie Na (1981), also nicknamed 'Nana,' is an extremely popular Chinese presenter, singer, actress and designer who is also known as 'the Queen of Weibo.'
One of the reasons she has become so famous in mainland China is that she is the co-host of Hunan Satellite TV's Happy Camp (快乐大本管), one of China's most popular variety shows that has been running since 1997. She presents the show together with, amongst others, colleague He Jiong, who also appears in this list.
But 'Nana' is also very popular because she is such a versatile celebrity. Besides hosting various variety TV shows and starring in many popular Chinese films and television series, she has also released several albums, founded a personal clothing line, and published two books. Xie Na made headlines in March 2017 when she announced she would go to Italy as an overseas student to study design.
The TV host also stars in various commercials. She is, for example, the Chinese brand ambassador for American skin care brand Olay.
Xie Na holds the official Guinness World Record as the First Person to Accumulate 100 Million Followers on Weibo and for having the Most followers on Weibo.
In January of 2021, the 39-year-old Xie Na announced her second pregnancy together with her husband Zhang Jie, with whom she has been together for ten years. If you're not on Weibo, you can also find Xie Na on Instagram here, where she has 485.000 followers.
2. He Jiong 何炅 – Key Figure in China's Entertainment Industry
Fans on Weibo: 120.6 million followers, @何炅
Main occupation: TV host
Date of birth: 28 April 1974
Birthplace: Changsha, Hunan
He Jiong has been the host of China's popular Happy Camp TV show for over two decades. He is also a singer, actor, writer, and used to be an Arabic teacher at Beijing's Foreign Studies University, which is why he is often nicknamed 'Professor He' (何老师). Chinese media have called He Jiong "a key figure in China's entertainment industry."
Like Xie Na, He Jiong made it to the Guinness Book of Records for being the male celebrity with the most Weibo followers.
He Jiong recently was criticized for 'exploiting his fame' when it became known that he was accepting lavish gifts from fans, together with other hosts at Hunan Satellite TV. The broadcaster later stated that they would no longer allow any of their staff to receive gifts from fans, and He Jiong also wrote on Weibo that he would decline all presents in the future.
3. Yang Mi 杨幂 – One of the Most Bankable Female Stars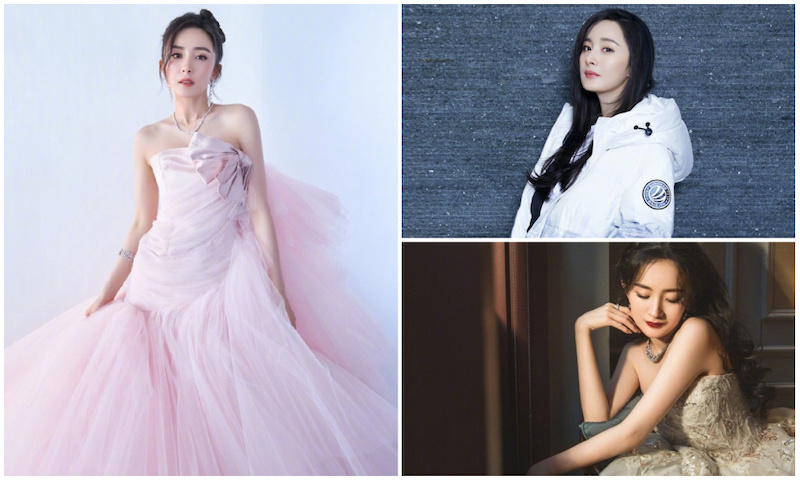 Fans on Weibo: 109.8 million fans on Weibo @杨幂
Main occupation: Actress
Date of birth: 12 September 1986
Birthplace: Beijing
The beautiful actress and singer Yang Mi (1986) gained fame and popularity through her various roles in Chinese hit TV dramas. Born in Beijing, Yang started her acting career at the age of 4. Yang starred in many successful films and tv dramas, including hit shows such as Eternal Love (三生三世十里桃花) and The Interpreters (亲爱的翻译官), which happen to be produced by Yang's own media company Jay Walk Studio.
Yang is now seen as one of Chinas biggest actresses, and also as one with the most commercial value; she was listed in the Top 10 Forbes Chinese Celebrities of 2020. Yang was previously named as one of China's "New Four Dan Actresses" (the 'top 4' actresses).
Besides her acting career, entrepreneurship, and charity efforts, Yang Mi is also active as a brand ambassador for various renowned fashion and skincare brands, including Estee Lauder, Michael Kors and Victoria's Secret.
This year, the actress will star in the live action movie A Writer's Odyssey by director Lu Yang.
Yang has a daughter and was previously married to Hong Kong actor and singer Hawick Lau How-wai, with whom she co-starred in various productions. They announced their divorce in 2018. Fun fact: Yang Mi's dad is also active on Weibo (@休闲小林哥), where he rebutted ongoing rumors about Yang undergoing plastic surgery by sharing her childhood photos. Though not as impressive as his daughter's, his fanbase of 364,000 followers is still relatively big. Yang Mi is also active on Instagram here.
4. Angelababy 杨颖 – A Household Name
Fans on Weibo: 103.3 million followers @angelababy
Main occupation: Actress
Date of birth: 28 February 1989
Birthplace: Shanghai
'Angelababy' (nickname for Yang Ying aka Angela Yeung Wing) has practically become a household name in China over the past years. The award-winning actress, model, and singer started her acting career in 2007 and has taken on many roles in different movies and TV dramas since.
The famous actress married actor Huang Xiaoming (黄晓明) in 2015, with whom she has a son. Their lavish $31 million wedding is the most-discussed Chinese weddings of the past decade, and their marriage and relationship status is a popular gossip topic on social media. There are ongoing rumors that the two might already have separated.
Angelababy is the brand ambassador for Dior. She recently opened her own hotpot restaurant named 'Douliu Hotpot' (斗鎏火锅) in Chengdu. She is also involved in charity and has previously donated to hospital relief efforts related to the COVID19 crisis in Hubei.
You can also find Angelababy on Instagram, where she has 8.1 million followers.
5. Chen Kun 陈坤 – With Love from Chongqing
Fans on Weibo: 93.3 million fans @陈坤
Main occupation: Actor and singer
Date of birth: 4 February 1976
Birthplace: Chongqing
Chinese top actor, singer and writer Chen Kun, sometimes also credited as Aloys Chen, is known for his roles in many television dramas and movies. The award-winning actor starred in popular TV dramas such as Love Story in Shanghai (像雾像雨又像风) and The Story of a Noble Family (金粉世家), as well as many movies including the 2016 comedy Chongqing Hotpot (火锅英雄) that is set in his hometown. Internationally, he mainly gained recognition for his role in Painted Skin (2008).
Chen belongs to the same generation of Beijing Film Academy graduates as his former classmate Vicki Zhao, who also appears in this list, and Huang Xiaoming, Angelababy's husband.
Chen Kun is not only popular because of his acting work, but also for his looks – he is known to have a large gay fanbase. He is not shy about his looks, and likes to post a lot of photos of himself on his Weibo page.
Chen is a brand ambassador for Braun, Italian fashion house Prada, and was recently also featured in the campaign for French Cognac brand Martell Noblige. He is also active in charity and is a global ambassador for WildAid. He also founded 'Power to Go,' an initiative that aims to encourage people to improve their health and spirit by leading a more energetic lifestyle.
6. Zhao Liying 赵丽颖 – An Audience Favorite
Fans on Weibo: 88.4 million followers on Weibo @赵丽颖
Main occupation: Actress
Date of birth: 16 October 1987
Birthplace: Langfang, Hebei
The award-winning actress and singer Zhao Liying, also known as Zanilia Zhao, is an audience favorite in China. Her acting career started some fifteen years ago but Zhao mainly gained recognition when she starred in 2010 Chinese television series The Dream of Red Mansions (红楼梦) and then played the main role in the 2013 popular series Legend of Lu Zhen (陆贞传奇). In 2017, she starred in the film Duckweed (乘风破浪), directed by Han Han.
Zhao is a tourism ambassador for her home province of Hebei, and she is the brand ambassador for fashion house Dior. Like others in this list, the actress was included in the top 10 of Forbes China Top Celebrity List for 2020.
7. Jackson Yee 易烊千玺 – Teen Idol with Power Star Status
Fans on Weibo: 86.9 million followers on Weibo @TFBOYS-易烊千玺
Main occupation: Singer/dancer with boyband TF Boys
Date of birth: 28 November 2000
Birthplace: Huaihua, Hunan
Although he is a 'newcomer' compared to other celebrities in this list, Jackson Yee (Yi Yangqianxi) is one of the most popular Chinese celebrities of the moment. Debuting as a child star, he is a member of China's hugely popular band TFBoys and was recently included in the Forbes list of "Asia's 100 Digital Stars" and ranked first in the 2020 Forbes Chinese Celebrity list. The 19-year-old singer-actor also is the number one blogger with the most influence on Weibo at the time of writing, according to Chinese social media data platform Xiguaji.
Besides a band member and solo singer, he is also an actor ad starred in the movie Better Days (2019), for which he won the Hong Kong Film Award for Best New Performer. He also stars in the box office hit A Little Red Flower (2020).
Yee is the global brand ambassador for Armani, and also works for brands such as Bulgari, Tiffany & Co, and Adidas.
8. Vicki Zhao 赵薇 – China's Billionaire Actress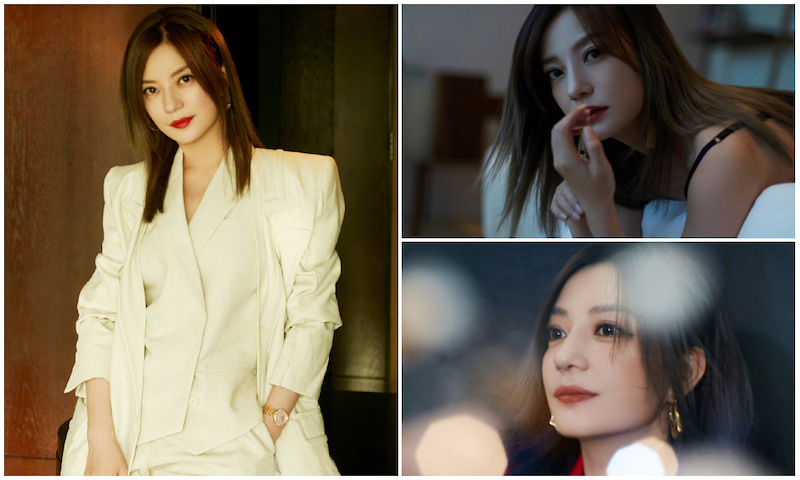 Fans on Weibo: 85.8 million followers on Weibo @赵薇
Main occupation: Actress
Date of birth: 12 March 1976
Birthplace: Wuhui, Anhui
Vicki Zhao is a Chinese film star, singer, entrepreneur, and director. She is also known for her work as the face for various brands (Samsung, Burberry, Fendi), which has added to her wealth: she was previously named as China's richest actress and even as one of the world's wealthiest working actresses.
But above all, Zhao is one of China's most famous actresses. She starred in the highly successful Chinese costume television show My Fair Princess (還珠格格) which first aired in 1998, after which she went on to star in many TV series and big films, including Painted Skin (2008) and Lost in Hong Kong (2015). Together with actresses Zhang Ziyi, Zhou Xun and Xu Jinglei, Zhao was named as one of China's 'Four Dan Actresses' (四大花旦, the four greatest actresses of mainland China) in the early 2000s.
Zhao is known for her work in charity and her efforts for good causes. She is a goodwill ambassador for the United Nations. Zhao is married to Chinese businessman Huang You Long (黄有龙) with whom she has a daughter.
9. Yao Chen 姚晨 – "China's Answer to Angelina Jolie"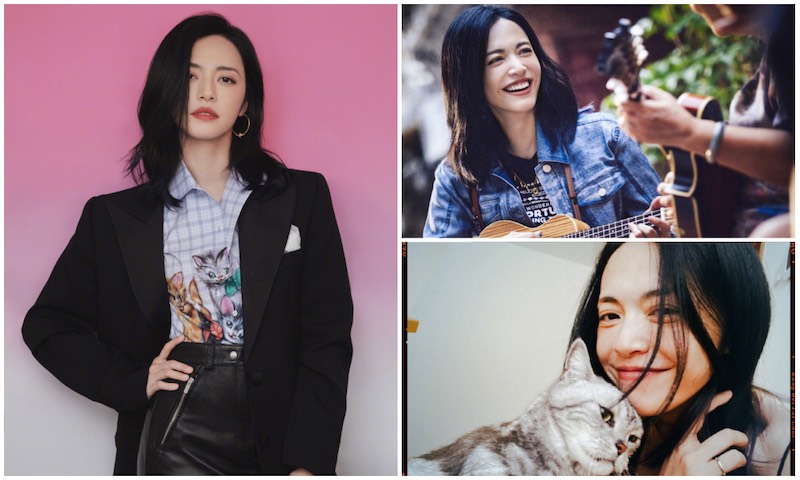 Fans on Weibo: 84.6 million followers @姚晨
Main occupation: Actress
Date of birth: 5 October 1979
Birthplace: Quanzhou, Fujian
Fujian-born Yao Chen is a Chinese actress and Weibo celebrity, who was previously mentioned as one of the 100 most powerful women in the world by Forbes magazine. Speaking out about social issues and being the first-ever Chinese UNHCR Goodwill Ambassador, she has also been called 'China's answer to Angelina Jolie.'
Yao Chen is not necessarily China's number one actress, but she was one of the first celebrities to share her personal life on Weibo since 2009, and interact with her fans. On Weibo, she talks about her everyday life, family, news-related issues, work, and fashion. She posts personal pictures every day. Yao Chen's popularity as an actress and philanthropist combined with her frequent Weibo updates and closeness to her fans have made her a huge Weibo celebrity.
Yao has acted as an ambassador for various brands, including Miu Miu, Fendi, and Lululemon.
10. Deng Chao 邓超 – Box Office Hit
Fans on Weibo: 81,6 million followers on Weibo @邓超
Main occupation: Actor
Date of birth: 8 February 1979
Birthplace: Nanchang, Jiangxi
Deng Chao is an award-winning Chinese actor, director, and singer. He is, amongst others, known for his role in the popular variety program Keep Running (奔跑吧). Many films in which Deng played, such as The Breakup Guru (2014), The Mermaid (2016), Duckweed (2017), and The Sacrifice (2020) have been box-office hits. Deng is one of China's most favorite actors.
Deng is married to Chinese actress Sun Li (孙俪), also known as Susan Sun, with whom he has two children. Like many other celebrities, the two donated money to contribute to China's fight against COVID19 in 2020, but received some online criticism when some thought their donation was 'stingy' compared to those of others.
Top Influencer: Wang Yibo 王一博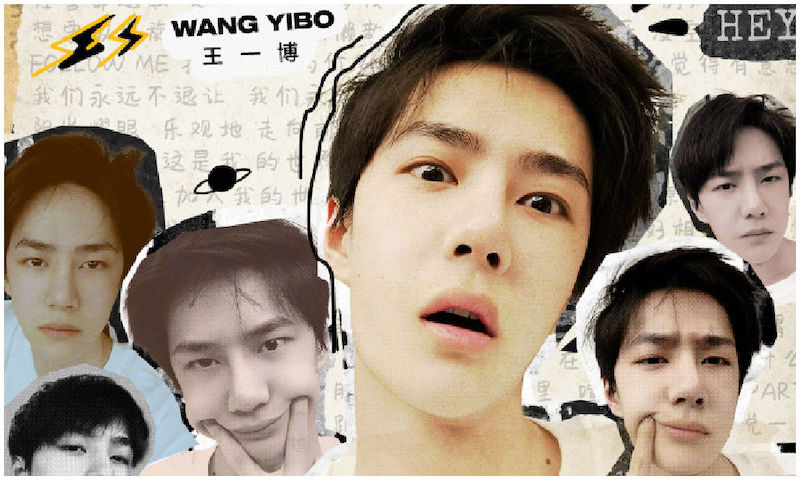 37.3 million followers @UNIQ-王一博
Wang Yibo (1997) is a Chinese actor, singer, dancer, and rapper who debuted as a member of the South Korean-Chinese boyband UNIQ in 2014 and starred in the 2019 Chinese TV series The Untamed (陈情令). On Sina Weibo, the celebrity was the champion of Weibo's 'Most Influential Celebrity' charts in December of 2020 – he has a huge fanbase. Like many other Chinese celebrities, Wang often features in various commercials and represents various brands, including Audi and Swarovski. He also has an Instagram account with 1.9 million followers.
Top Influencer: Wang Junkai 王俊凯
79.4 million followers @TFBOYS-王俊凯
Wang Junkai (1999), also called Karry Wang, is a singer and actor who debuted as the lead member of the super popular group TFBoys in 2013. The boy band consists of three members; besides Wang, there's Jackson Yee, who is also in this list, and Wang Yuan (王源also known as Roy Wang). The band recently won a Guinness World Record for most-viewed paid concert, which was their live NetEase cloud music concert for which 786,000 fans bought a virtual ticket. Wang Junkai, who also has a thriving career as a solo singer and represent brands like Swatch and Dior, is one of China's wealthiest people born after 1990.
Top Influencer: Xiao Zhan 肖战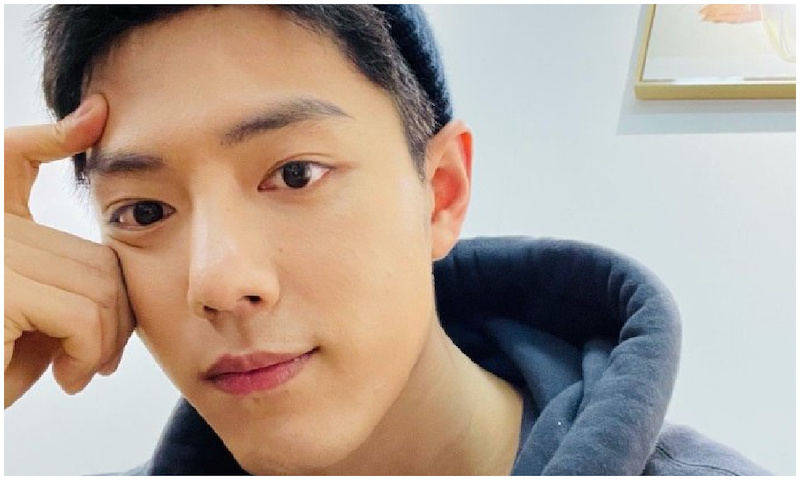 28.2 million followers @X玖少年团肖战DAYTOY
Xiao Zhan (1991), also known as Sean Xiao, is one of the hottest Weibo bloggers at this time who consistently ranks first lately in daily ranking concerning most influential and most interaction. Xiao is an actor and singer who co-stars in The Untamed (陈情令) together with Wang Yibo. Xiao Zhan and Wang Yibo are super popular within fan fiction communities, where boys' love fans imagine a romantic relationship between the two – which is not always appreciated by fans of Xiao Zhan.
By Manya Koetse
Follow @whatsonweibo

This text was written for Goethe-Institut China under a CC-BY-NC-ND-4.0-DE license (Creative Commons) as part of a monthly column in collaboration with What's On Weibo.

Spotted a mistake or want to add something? Please let us know in comments below or email us. First-time commenters, please be patient – we will have to manually approve your comment before it appears.