China Responds to Manchester Arena Attack: "Chinese People Stand Firmly with the British People"
As Manchester is waking up to a dark morning following a lethal terrorist attack at the Ariane Grande concert on May 22, news of the explosion has spread on Chinese social media. President Xi Jinping sent condolences to the British queen, saying the Chinese people stand firmly with the British people.
As Manchester woke up to a dark morning following the lethal attack at the Ariane Grande concert on May 22, the news is widely discussed on Chinese social media, with some present at the concert during the explosion. President Xi Jinping sent condolences to the British queen, saying the Chinese people stand firmly with the British people.
A suicide attack at the Manchester Arena has killed 22 people, leaving another 59 injured. The explosion occurred around 22.30 GMT+1. The attacker was carrying an improvised explosive device and has died. The police is still investigating if there is a larger network behind the attacker, but are treating the blast as a terrorist attack.
Xinhua News reported that President Xi Jinping has sent a condolence message to Queen Elizabeth, expressing deep sorrow to the victims and condolences to the injured and the families of those killed in the incident. He also said "the Chinese people stand firmly with the British people at this difficult time."
On Weibo, there are thousands of people commenting on the Manchester explosion and sharing their condolences: "For now, we can just grieve over the victims, console the injured, and denounce the attacker," some said.
"It's so horrible! I was also at the scene!", a netizen nicknamed 'Mary' (@玛丽莲梦露奥巴马忽忽) wrote: "I am very fortunate to have made it out safely. We heard a loud noise behind us and everyone started running and pushing while screaming and crying. It's the first time I realized how nearby the danger actually is."
The young woman also wrote: "I never expected that a night that started so happily attending this concert would end up with a sudden explosion. The police say there are 20 people dead and many injured, and that there were two explosions. The first happened close behind me; I only suddenly heard a loud noise, and then I looked and almost in the same second I saw how people had an expression of sheer panic on their face and began to shout and cry, pushing the crowd forwards."
News of the attack also led to concerned reactions on safety in Europe, with many saying "Europe is just a mess now." Similar reactions were made after the attacks in, amongst others, Berlin, Brussels, Nice, Cologne, and Paris.
"Is Europe really this chaotic? Or are local media just picking out this kind of news?", one confused netizen (@富文佩) wondered.
There are also many commenters asking about the attacker. "He certainly was not of a peaceful religion," ("肯定不是和平宗教干的"), some said.
"The power of religion is expanding, it is getting bigger and bigger," one commenter wrote, while there were also people calling "Islam doctrine a tumor in civilization."
Although there have reports of Islamic State supporters celebrating the Manchester attack online, there have been no official claims made yet.
– By Manya Koetse
Follow @WhatsOnWeibo
[showad block=1]
©2017 Whatsonweibo. All rights reserved. Do not reproduce our content without permission – you can contact us at info@whatsonweibo.com.
Social Media Blows up over Chinese Teen Celebrity Roy Wang Smoking in Beijing Restaurant
The star, who recently featured in a 'social credit' song, triggered controversy for smoking indoors and breaking the law.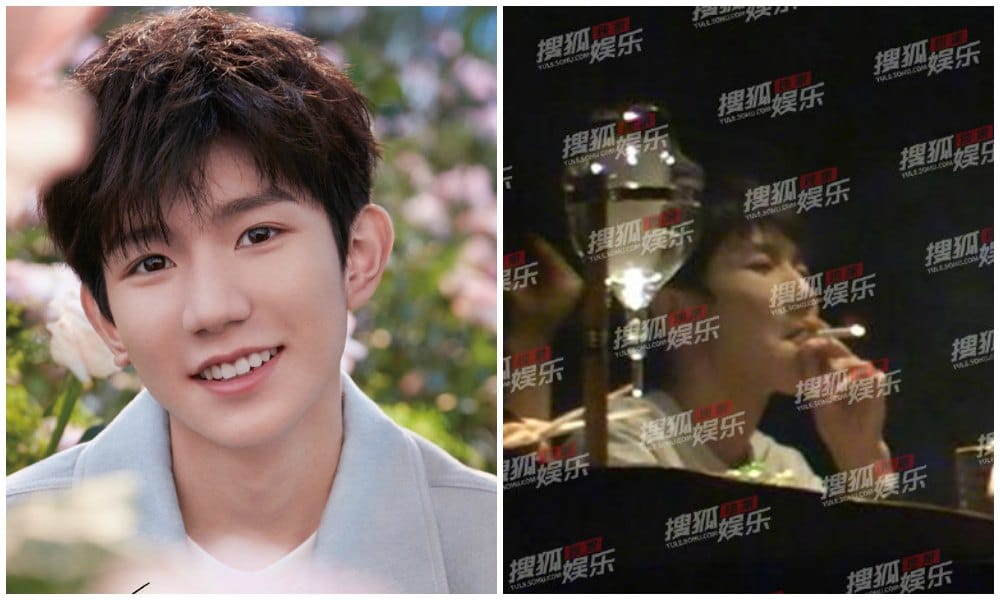 Roy Wang (Wang Yuan 王源), who is considered one of the most influential teens in China, was caught smoking during a '520' banquet in Beijing. May 20 (5.20) is China's unofficial second Valentine's Day.
The Sohu Entertainment channel published the exclusive photos of Wang smoking a cigarette. The hashtag 'Wang Yuan Smoking' (#王源抽烟#) received a staggering 1,4 billion views on Weibo on Tuesday, making it the number one trending topic of the day.
Wang was having dinner at a Japanese restaurant near Beijing's Worker's Stadium together with Chinese actor Jia Nailiang (贾乃亮) and teen idol Yang Chaoyue (杨超越) when the pictures were taken.
Roy Wang, who is now 18 years old, is a member of the super popular boy band TFBoys, but also has a solo career as a singer-songwriter and actor.
Wang often appears in high profile (government) events and media campaigns. With the TFBoys, he performed for the CCTV Spring Gala multiple times. Recently, he also starred in the 'social credit song' that was released by the Communist Youth League.
The fact that Wang's smoking has blown up on Chinese social media relates to two things. Beijing has banned smoking in all public indoor spaces since 2015, meaning that Wang was breaking the law by lighting up in a restaurant. Then there is also the fact that Wang, as a teen icon, is young and influential, with many people considering it inappropriate for him to smoke at all.
One popular comment on Weibo summarized the issue as follows: "Actually, smoking is quite normal. But 1) as a very influential teen idol you must surely avoid it – the fans are all young and they can easily be influenced. 2) It is not okay for him to smoke in a public place. It is forbidden by regulations, should you break those [regulations] as a celebrity?"
The incident led to Sina Headlines introducing the Weibo hashtag "Can You Accept that [Your] Idol Smokes?" (#你能接受偶像吸烟吗#), which received over 21 million views on Tuesday.
"Smoking is not a problem. It is harmful to one's health, and that's an individual choice. But smoking in a public place is inappropriate and bothers other people," some said, with others being less forgiving, writing: "If Wang does it again, he'll surely lose fans. It's unacceptable."
A poll, that 530,000 responded to, asked people if they could accept their idol smoking. A majority of people (50.3%) responded: "No, it's not setting a good example." Over 49% of respondents said they could forgive their idol for smoking.
Wang Yuan has now expressed regret on his social media account, after getting a warning from health authorities. He reportedly has been fined for smoking indoors.
Wang has nearly 73 millions fans on his Weibo page.
"I'm so sorry!" he wrote on May 21st: "This issue has made me deeply reflect on my actions, and how they negatively affect society. I feel sorry and ashamed. I apologize for setting the wrong example. I take on all responsibility and will accept punishment. As a public figure, I will now pay more attention to my words and actions. I hope nobody will follow my wrongful actions. I apologize again, and I will take this as a lesson to become a better person."
His post received over 219,000 shares.
Meanwhile, the restaurant where Wang smoked has received a visit from local inspectors, who found that there were no stipulated "No Smoking" signs on the premises. The restaurant has been ordered to adhere to local regulations as soon as possible, Phoenix News reports.
Update May 22: The first memes relating to Wang's smoking scandal have now also appeared online:
I was already expecting some 'Wang Yuan breaks the internet by smoking' memes. Voila. pic.twitter.com/nFJsoQDfgF

— Manya Koetse (@manyapan) 22 mei 2019
By Manya Koetse
Follow @whatsonweibo
Spotted a mistake or want to add something? Please let us know in comments below or email us. Please note that your comment below will need to be manually approved if you're a first-time poster here.
©2019 Whatsonweibo. All rights reserved. Do not reproduce our content without permission – you can contact us at info@whatsonweibo.com
Waves of Support for Huawei on Chinese Social Media following US Blacklisting
"My next phone will definitely be a Huawei."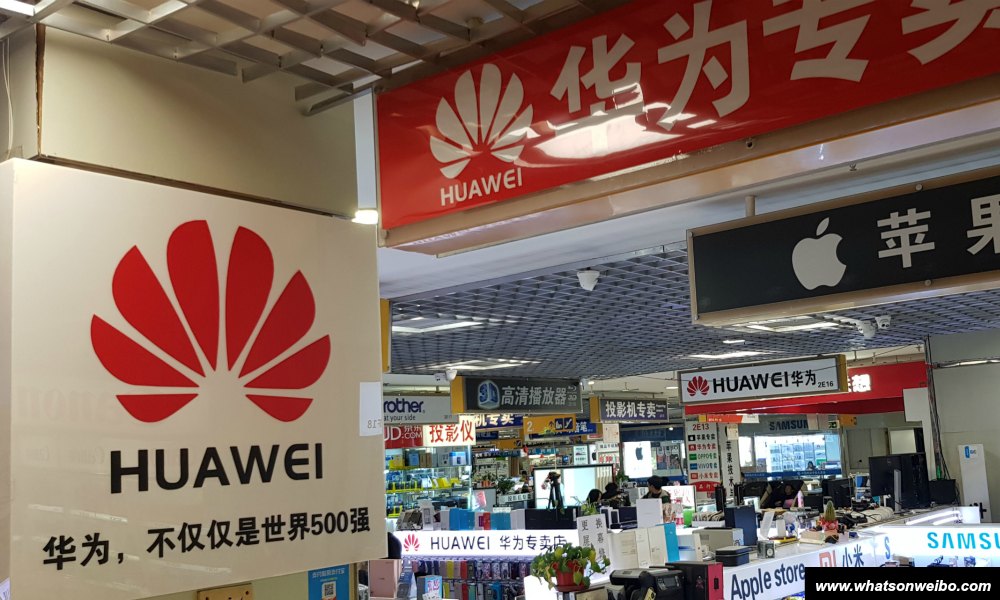 The US blacklisting of Huawei has left many Huawei owners across the world shocked and wondering if they will need to stop using their phone. In China, however, social media users are seemingly less worried, cheering on Huawei as China's 'national pride.'
Huawei smartphone users will allegedly receive no future updates from Android now that Google has suspended Huawei's access to its mobile Operating System, following orders issued by the US Trump administration, Reuters reported on Sunday.
The Chinese telecom giant was added to a trade blacklist earlier last week,as the China-US trade war reached another tipping point.
Huawei has been using Google's operating system for over a decade. Huawei debuted its first Android smartphone in February of 2009.
Besides being cut off from the world's best-selling operating system, some of the world's leading chip designers and suppliers are also ceasing their dealings with Huawei until further notice.
The news left many Huawei users outside of China worried and panicked. On Twitter, Huawei users have been asking what to do with their new Huawei device, with some saying they want to switch brands as soon as possible.
On Chinese social media, however, many people discussing this news are vowing not to abandon Huawei in light of the recent developments. "I've always used Huawei, and will never change," some said, with others even commenting: "I'm preparing to switch to a Huawei phone, I hope they can stand firm."
Huawei responded to the recent developments on May 20th, saying that Huawei does not need to depend on American suppliers for their chips, nor for their Operating System (OS). Huawei has reportedly been working on its in-house 'Hong Meng' OS since 2012.
They also promised to continue providing security updates and after-sale services for its smartphones and tablets, The Guardian reports.
Perhaps surprisingly, the majority of Chinese online responses to the issue are rather positive at the time of writing. The larger part of comments on Weibo are not necessarily anti-American, nor pessimistic about Huawei's future, but instead confident that Huawei will have no problems in overcoming the recent hurdles.
On Weibo, the hashtag "Huawei Doesn't Need to Rely on America for its Microchips" (#华为芯片可以不依赖美国供应链#) had over 19 million views by Monday night. The hashtag "Huawei's Self-Developed Operating System Hong Meng" (#华为自研操作系统鸿蒙#) also took off on Monday in response to the news that Huawei has been developing its own OS for years, in case it would no longer be able to depend on Google for the Android OS.
"What's been happening with Huawei recently teaches us an important lesson," one Weibo user (@叼着猫的小花鱼) wrote: "Sometimes, it's essential to have a plan B!" The Chinese idiom 'Jū ān sī wēi' (居安思危) is used by many, meaning "think of dangers in times of safety" or "be vigilant in peacetime." The second character of the idiom, ān 安, is also the first in the Chinese term for 'Android' (安卓).
Many netizens commented that they are looking forward to the Huawei OS, and predict that one potential consequence of the China-US trade war will be that all Chinese smartphones might eventually switch to a Chinese Operating System and use made-in-China chips and electronics.
On China's Douyin (Tiktok) platform, hundreds of people are sharing short videos of Huawei chief Ren Zhengfei (任正非) talking about Huawei as the world leader in 5G technology, with comment sections showing praise for the Huawei brand: "My next phone will definitely be a Huawei."
"We [Chinese] are becoming more and more confident," one of the 12,000+ comments on Douyin said.
Both on Weibo and Douyin, people express that Huawei is more than a brand to them, saying it is a "national pride." The slogan "Go China! Go Huawei!" ("加油中国 加油华为") is ubiquitous on social media.
"Some of my close friends are thinking of buying an iPhone, and I think it's shameful," one Douyin user wrote. "I will unconditionally support domestically produced products. Go Huawei!", others wrote on Weibo.
For now, Huawei users will still have access to the Android version on their existing devices and will still be able to download app updates provided by Google.
By Manya Koetse
Spotted a mistake or want to add something? Please let us know in comments below or email us.
©2019 Whatsonweibo. All rights reserved. Do not reproduce our content without permission – you can contact us at info@whatsonweibo.com