Jiujiang University Lecture: "Being a Virgin Is the Best Gift for a Husband"
A recent university lecture by Ding Xuan, an expert on China's traditional culture and women's issues, stirred controversy on Weibo after her statements on female chastity went viral. In an interview on May 22, Ding Xuan apologized but still defended her stance.
A recent university lecture by Ding Xuan, an expert on China's traditional culture and women's issues, stirred controversy on Weibo after her statements on female chastity went viral. In an interview on May 22, Ding Xuan apologized but still defended her stance.
A controversial lecture on traditional culture and values for women at Jiangxi's Jiujiang university has become a topic of discussion in Chinese media and on social media platforms.
The public lecture took place on May 14 at the Jiujiang University in China's southeast province Jiangxi. It was themed around women's virtues and "How to be a model woman in the new era." It caught the attention of netizens when a student posted pictures of the lecture and its alleged Powerpoint slides, which contained sentences such as "being a virgin is the best gift for a husband" and "wearing revealing clothing is vulgar."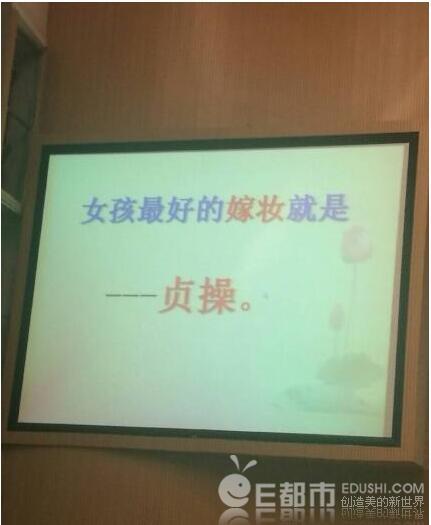 The lecture was held by the 63-year-old Ding Xuan (丁璇), a well-known expert from Hebei on traditional culture. She is also a member of the China Women's Development Foundation and is often invited to speak at educational institutes, enterprises, and governmental organizations about female virtues or other topics related to Chinese traditional culture.
Ding Xuan's talk at Jiujiang University drew much controversy over the past week, with people condemning her "feudal thinking." Many netizens said her speech countered gender equality. People also questioned why Ding was provided a platform at the university to spread these ideas.
In response to the controversy, Jiujiang University's Publicity Department denied that the lecture contained the slides shared on social media.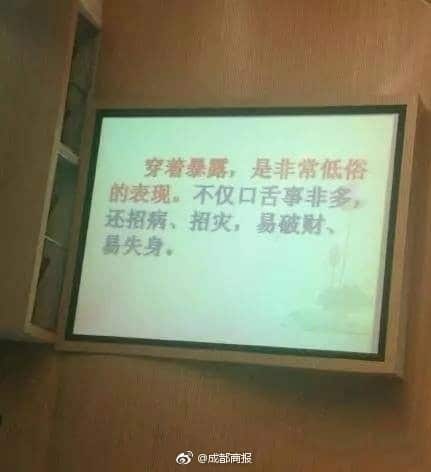 Chinese media outlet Global Times reported that the school still supported their decision to host Ding Xuan, saying her seminar did not contain anything "inappropriate," and that it was meant for female students to "respect themselves and find happiness."
On Weibo, however, many netizens are angered about Ding Xuan's lecture: "Any 'virtues' that are specifically taught to women and not to men are bad! Men and women both need to avoid immorality, why would you specifically teach morals to women?", some netizens said.
"A virtuous woman does not kill her child."
On video platform Tudou, What's on Weibo found this video featuring one of Ding Xuan's full lectures on "women's virtues." In this lecture, which was held in March of 2016, Ding talks about various issues on how to be a virtuous woman.
The lecture focuses on anything from posture to abortion. Ding stresses that women should not eat while walking, for example, should not raise their voice to greet their neighbors, should not cross their arms while talking, and mentions many other 'rules' that 'virtuous women' should live by.
Later in the lecture, Ding talks about abortion and shows the audience a disturbing anti-abortion video clip, featuring bloody abortion procedures and graphic pictures of aborted fetuses. While the sound of a crying baby is played, the clip shows blood-soaked fetal limbs and body parts.
Ding then continues to explain that women undergoing abortion are murderers who kill their own baby ("killed by their own mother by her own hand!") – emphasizing that virtuous women do not "kill their children."
"Taken out of context."
Since the controversy over the Jiujiang lecture, Ding Xuan has received a lot of attention, with various bloggers and journalists speaking out against her.
On May 22, Ding Xuan finally responded to the controversy in an exclusive interview with BTimenow (北京时间此刻), in which she confirmed that she was personally invited to give a lecture on women's issues by Jiujiang University.
Ding Xuan said that, although she did mention the statements that triggered controversy, they were taken out of context. She also apologized for "perhaps delivering her speech the wrong way."
About the statement on women wearing revealing clothing, she said: "[The people who criticized me] they did not attend my lecture and probably do not understand the circumstances. There were some students wearing revealing clothing that day, and I raised this issue. At the time, only a few people opposed to it and they left early."
Ding stressed that it is not her intention to make women do everything she says, but that her lectures just reflect her personal point-of-view and experiences. She said it is how she lives and how she teaches her daughter to live.
"Who is willing to marry a woman who has had an abortion before marriage?"
When BTimenow asked Ding why she raised the issue of revealing clothes to students that day, she answered: "They do not understand that I just said it for their own good. They are now nice-looking ladies who want to dress up, but they shouldn't dress like they are not wearing anything at all. Revealing their thighs and exposing their cleavage; their breasts are showing. Don't tell me we don't bear any responsibility to teach our children? Women should dress properly to protect themselves. Firstly to prevent getting sick, secondly to prevent sexual harassment."
In the interview, Ding also backed her statement about virginity: "We should remind girls to keep their chastity, which can guarantee the blessing of marriage. Who is willing to marry a woman who has had an abortion before marriage, and who has been someone's mistress? But people can also have their own point of view, I don't object to that."
Ding said she will continue to do lectures on female virtues for anyone who is interested. On Weibo, many netizens say these kinds of speeches should not be given at a university. "It is not appropriate for a university to hosts such a lecture," one person (@兔子栗子) said. "Wake up! The Qing dynasty is over!", others wrote.
Many Weibo users commented that if the university hosted these kinds of lectures for women, they should do the same for men. "[Many men] sleep with one girl after the other, yet they still expect to marry a virgin," some said.
Another commenter said: "Ding Xuan is a woman herself, why does she belittle herself this way? She should return to the feudal times – she is not a modern woman."
– By Manya Koetse
Follow @WhatsOnWeibo
©2017 Whatsonweibo. All rights reserved. Do not reproduce our content without permission – you can contact us at info@whatsonweibo.com.
15 Chinese Ad Campaigns That Make Abortion Procedures Look Glamorous
With pink flowers and dreamlike imageries, these prevalent advertisements promise Chinese women a fast and 'glamorous' abortion.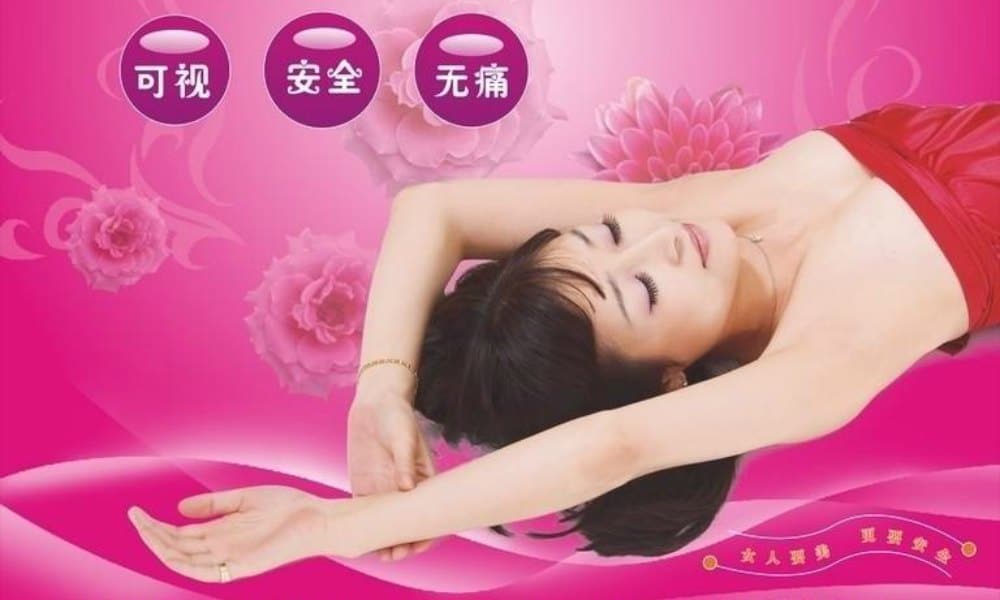 From bus stops to magazines, advertisements of clinics promising women a 'fast' and 'painless' abortion are commonplace in China, sending out the message that terminating a pregnancy is as easy as getting your nails done.
When it is rush hour in Beijing, street marketers often pass out flyers to people around busy subway stations. Most of the time, these pamphlets promote a new neighborhood restaurant or an upcoming real estate project.
Often, however, they promote abortion procedures at a local clinic. The pink and shiny ad campaigns advertise their abortion procedures in similar ways as beauty parlors or nail salons would market their services – a phenomenon which would be unimaginable in many western countries.
China's "Abortion Culture"
The legal and moral obstacles to abortion that are ubiquitous in the US or elsewhere are much less pervasive in China, a country that has one of the highest abortion rates in the world. According to the National Health and Family Planning Commission, approximately 13 million abortions are carried out in China every year (Yang 2015).
The actual number, however, is probably much higher. The official figures do not include the abortion statistics from private clinics, nor the estimated 10 million induced abortions per year through medicine (Xinhua 2014), let alone the numbers of sex-selective abortions– a practice that has officially been illegal since 2004.
There are various reasons why China's abortion rates are so high. In "Women's Health and Abortion Culture in China: Policy, Perception, and Practice," author Naomi Bouchard describes how the "visible abortion culture" in China today is an (indirect) consequence of the 1979 Family Planning Policy (better known as the One-Child Policy), family pressure, traditional values, and insufficient sexual education (2014, 2).
Especially the last dimension leads to unplanned pregnancies, notably in young women. According to official data, 4% of China's unmarried female teenagers experience an unplanned pregnancy, with 90% of them ending in abortion (Pan 2013). According to a doctor quoted in Bouchard's study, it is both lack of knowledge as well as embarrassment about buying condoms or other contraceptives that contributes to unplanned pregnancies in young women (2014, 17).
Thriving Abortion Industry
Besides the social factors that play an important role in China's "abortion culture," there is also the legal aspect that makes abortion procedures relatively common in the PRC. Unlike many other countries, China allows abortion for any reason (Theodorou & Sandstrom 2015).
The upper limit for legal abortions depends on circumstances. According to Hemmenki et al (2005), China's 1979 abortion law sets 28 weeks of gestation as the upper limit for pregnancy termination, although some provinces "have made their own laws stipulating the place and performer of the abortion." Other literature suggests that there is no limit fixed by statue (Jackson 2013, 423), and that abortions can take place up to the ninth month if the pregnancy is affected by severe anomalies (Deng et al 2015, 312).
All the aforementioned components have led to the existence of a thriving medical industry focused on abortion procedures in China, which comes with a strong commercial marketing of these procedures – advertised anywhere from bus stops to magazines and through flyers.
Scroll through the slider below (move arrows below) to see a selection of 15 advertisements for abortion procedures. The majority of these ads use the color pink and show young women either by themselves or with their partner. Besides addressing the women, their slogans also often speak to their partners ("If you love her, give her the best").
This ad by Jinzhong Friendship Hospital offers the service of "Korea JRS's dream abortions," persuading people to choose for their services with the underline: "You love her, give her the best." The main slogan says: "Bye bye pain, hello happiness."
Wife Killed in Guangdong While Chasing Car of Husband and Mistress
A woman in Guangdong's Zhongshan was crushed by her husband's car in September of this year while trying to catch her spouse in the act of cheating on her.
A woman chasing a car with her husband and his alleged mistress in it was tragically killed in Zhongshan earlier this year. Footage of the incident made its rounds on Weibo this weekend.
A 44-year-old woman was tragically killed earlier this year in Zhongshan, Guangdong, while trying to catch her cheating husband in the act while he was driving his Mercedes with his alleged mistress in the passenger's seat.
A surveillance video of the incident, that reportedly occurred on September 1st in Nantou (north of Zhongshan), was making its rounds on Chinese social media on Sunday. The video was released by Chinese audiovisual news platform Pear Video.
Footage shows how the Mercedes driver, later identified as the woman's 46-year-old husband, slows down for oncoming traffic in a narrow road, when his wife runs up from behind the car and spots a girl in the passenger seat.
She runs towards the passenger side's car door, and tries to open it, but the girl inside blocks the door.
As the woman keeps trying to pull the car door open, she follows the car as it slowly starts to drive away. When the driver suddenly hits the gas and speeds up, the woman is pulled along with the car, still holding the door handle.
Another surveillance camera further down the street captures how the woman first runs along but then trips and is dragged along under the car. She then falls on the street, where her lifeless body is left behind.
According to Chinese media reports, witnesses called for an ambulance but medical workers were not able to rescue the woman – she died as a result of being crushed by the car. The husband, the CEO of a local paint factory, later turned himself in at a local police station.
Three months after the incident took place, the case attracted the attention of netizens again when it became a hot social media topic this weekend. One video of the incident received 3,1 million views in a few days time.
"This just hurts to watch," one commenter said: "If you don't love each other anymore, just separate, there is no need for such a thing."
Others said that the man was definitely guilty of killing his wife – some even argued he deserved the death penalty for his actions.
Violent confrontations between women or men and their cheating spouses, or their lovers, often become trending topics on Chinese social media. In November of this year, footage of a woman smashing her husband's car windows also became trending online.
Various videos showing women publicly humiliating and beating up their husband's mistress also made their rounds on Weibo last year.
"China should set up special laws for cheating spouses and their lovers," some people on Weibo suggested.
By Manya Koetse
Follow @whatsonweibo
Spotted a mistake or want to add something? Please let us know in comments below or email us.
©2017 Whatsonweibo. All rights reserved. Do not reproduce our content without permission – you can contact us at info@whatsonweibo.com.