Jiujiang University Lecture: "Being a Virgin Is the Best Gift for a Husband"
A recent university lecture by Ding Xuan, an expert on China's traditional culture and women's issues, stirred controversy on Weibo after her statements on female chastity went viral. In an interview on May 22, Ding Xuan apologized but still defended her stance.
A recent university lecture by Ding Xuan, an expert on China's traditional culture and women's issues, stirred controversy on Weibo after her statements on female chastity went viral. In an interview on May 22, Ding Xuan apologized but still defended her stance.
A controversial lecture on traditional culture and values for women at Jiangxi's Jiujiang university has become a topic of discussion in Chinese media and on social media platforms.
The public lecture took place on May 14 at the Jiujiang University in China's southeast province Jiangxi. It was themed around women's virtues and "How to be a model woman in the new era." It caught the attention of netizens when a student posted pictures of the lecture and its alleged Powerpoint slides, which contained sentences such as "being a virgin is the best gift for a husband" and "wearing revealing clothing is vulgar."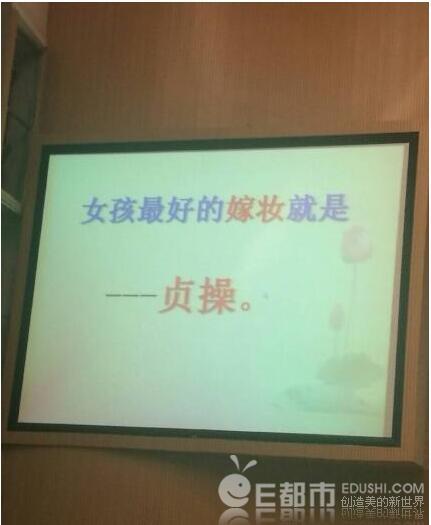 The lecture was held by the 63-year-old Ding Xuan (丁璇), a well-known expert from Hebei on traditional culture. She is also a member of the China Women's Development Foundation and is often invited to speak at educational institutes, enterprises, and governmental organizations about female virtues or other topics related to Chinese traditional culture.
Ding Xuan's talk at Jiujiang University drew much controversy over the past week, with people condemning her "feudal thinking." Many netizens said her speech countered gender equality. People also questioned why Ding was provided a platform at the university to spread these ideas.
In response to the controversy, Jiujiang University's Publicity Department denied that the lecture contained the slides shared on social media.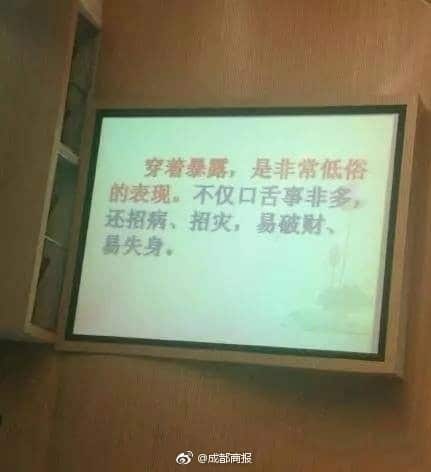 Chinese media outlet Global Times reported that the school still supported their decision to host Ding Xuan, saying her seminar did not contain anything "inappropriate," and that it was meant for female students to "respect themselves and find happiness."
On Weibo, however, many netizens are angered about Ding Xuan's lecture: "Any 'virtues' that are specifically taught to women and not to men are bad! Men and women both need to avoid immorality, why would you specifically teach morals to women?", some netizens said.
"A virtuous woman does not kill her child."
On video platform Tudou, What's on Weibo found this video featuring one of Ding Xuan's full lectures on "women's virtues." In this lecture, which was held in March of 2016, Ding talks about various issues on how to be a virtuous woman.
The lecture focuses on anything from posture to abortion. Ding stresses that women should not eat while walking, for example, should not raise their voice to greet their neighbors, should not cross their arms while talking, and mentions many other 'rules' that 'virtuous women' should live by.
Later in the lecture, Ding talks about abortion and shows the audience a disturbing anti-abortion video clip, featuring bloody abortion procedures and graphic pictures of aborted fetuses. While the sound of a crying baby is played, the clip shows blood-soaked fetal limbs and body parts.
Ding then continues to explain that women undergoing abortion are murderers who kill their own baby ("killed by their own mother by her own hand!") – emphasizing that virtuous women do not "kill their children."
"Taken out of context."
Since the controversy over the Jiujiang lecture, Ding Xuan has received a lot of attention, with various bloggers and journalists speaking out against her.
On May 22, Ding Xuan finally responded to the controversy in an exclusive interview with BTimenow (北京时间此刻), in which she confirmed that she was personally invited to give a lecture on women's issues by Jiujiang University.
Ding Xuan said that, although she did mention the statements that triggered controversy, they were taken out of context. She also apologized for "perhaps delivering her speech the wrong way."
About the statement on women wearing revealing clothing, she said: "[The people who criticized me] they did not attend my lecture and probably do not understand the circumstances. There were some students wearing revealing clothing that day, and I raised this issue. At the time, only a few people opposed to it and they left early."
Ding stressed that it is not her intention to make women do everything she says, but that her lectures just reflect her personal point-of-view and experiences. She said it is how she lives and how she teaches her daughter to live.
"Who is willing to marry a woman who has had an abortion before marriage?"
When BTimenow asked Ding why she raised the issue of revealing clothes to students that day, she answered: "They do not understand that I just said it for their own good. They are now nice-looking ladies who want to dress up, but they shouldn't dress like they are not wearing anything at all. Revealing their thighs and exposing their cleavage; their breasts are showing. Don't tell me we don't bear any responsibility to teach our children? Women should dress properly to protect themselves. Firstly to prevent getting sick, secondly to prevent sexual harassment."
In the interview, Ding also backed her statement about virginity: "We should remind girls to keep their chastity, which can guarantee the blessing of marriage. Who is willing to marry a woman who has had an abortion before marriage, and who has been someone's mistress? But people can also have their own point of view, I don't object to that."
Ding said she will continue to do lectures on female virtues for anyone who is interested. On Weibo, many netizens say these kinds of speeches should not be given at a university. "It is not appropriate for a university to hosts such a lecture," one person (@兔子栗子) said. "Wake up! The Qing dynasty is over!", others wrote.
Many Weibo users commented that if the university hosted these kinds of lectures for women, they should do the same for men. "[Many men] sleep with one girl after the other, yet they still expect to marry a virgin," some said.
Another commenter said: "Ding Xuan is a woman herself, why does she belittle herself this way? She should return to the feudal times – she is not a modern woman."
– By Manya Koetse
Follow @WhatsOnWeibo
©2017 Whatsonweibo. All rights reserved. Do not reproduce our content without permission – you can contact us at info@whatsonweibo.com.
Too Sexy for Weibo? Online Discussions on the Concept of 'Cābiān'
Delving into the ongoing discussion on 'cābiān' and its influence on women's expression in China's digital realm.
Chinese social media is seeing more discussions recenty on the blurred boundaries of Cābiān. This seemingly never-ending discussion raises questions – not just about sexually suggestive content, but also about the evolving perceptions of women's bodies and freedom in the digital age.
In the fast-moving world of China's internet, a new term has emerged: Cābiān (擦边). Originally a sports term describing a ball grazing the edge of a table (擦边球), it now primarily refers to the delicate balance in content that may be seen as sexually suggestive, teetering on the line between 'sexy' and 'sexually explicit' in the context of China's internet culture.
The term mainly refers to women's behavior, style, language, and actions that are considered inappropriate or that are pushing the boundaries of acceptability. Cābiān can be understood as borderline sexual content that basically navigates the boundaries of platform rules without actually breaking them. Nevertheless, is generally seen as 'not in line' with what is expected of Chinese women in today's society.
This term has sparked controversy recently, prompting fervent debates surrounding its implications for women's self-expression.

Too Sexy for Weibo? Jingchuan Liyu's Divisive Pictures

Social media plays a central role in the "cābiān" debate. A recent example involves a Weibo post by Jingchuan Liyu (井川里予, @悲伤荷包蛋), a prominent Chinese influencer active on Weibo and Xiaohongshu.
Jingchuan Liyu is known for embodying both innocence and sensuality in her online persona. Mainly by male netizens, she has been labeled as a symbol of "chúnyù" (纯欲). This term signifies a blend of childlike innocence (纯洁, chúnjié) and allure (欲望, yùwàng).
Jingchuan Liyu became a focal point in the cābiān debate when she posted a series of photos during the summer of this year. While these photos didn't violate any official guidelines, they departed from her typical "innocent yet sexy" style. In these pictures, she was seen wearing thongs and other undergarments, which apparently made some social media users uneasy.
The controversy surrounding the photos intensified when Jingchuan Liyu responded to these criticisms on her Weibo page. While her supporters defended her freedom to dress as she pleases, others viewed her photos as being more about provocative sexual suggestion than about freedom of fashion.

Dog-Headed Lolita: Judged, Harassed, and Labeled Cābiān

Beyond online debates, the condemnation of "cābiān" is also having real-world consequences. One recent example is the case of the Chinese influencer known as Dog-Head Lolita (狗头萝莉 @我是狗头萝莉).
Despite having a problematic childhood, 'Dog-Head Lolita' managed to turn her life around and became a successful streamer. But her reputation suffered a severe blow when explicit videos of her, recorded by her ex-boyfriend, were made public.
This incident and its aftermath damaged her career and, partly due to getting cheated by her manager, was left with a staggering debt of 6 million RMB ($836K). Trying to start an alternative career, Dog-Head Lolita took up selling Chinese pancakes (jiānbǐng 煎饼) at a street stall as a means to make a living and work towards repaying her debts.
In addition to her physical labor, she also posted short videos of herself selling pancakes online and continued to livestream and engage with her followers to generate more income.
While her efforts garnered sympathy and admiration from some netizens, she also faced accusations of using her pancake-selling business as a form of cābiān.
Her choice of attire, which emphasized her figure, became a central topic of discussion. Some netizens raised questions about whether her videos, showcasing her interactions with fans while selling pancakes, carried a sexual undertone. Moreover, there were arguments suggesting that her true business wasn't selling pancakes but rather producing sexually suggestive content.
Some critics of Dog-Head Lolita went further and turned online criticism into harassment. Some filed reports regarding the hygiene conditions of her business, while others intentionally vandalized her pancake cart and left insulting messages on it.
Facing this harassment linked to accusations of being cābiān, Dog-Head Lolita voiced her frustration on her Weibo page.
She emphasized that her physique was something beyond her control and that selling pancakes shouldn't be judged in the same way as her previous online presence. She complained that her livelihood was being scrutinized, even in the most ordinary and innocuous settings.

Challenging the Concept of Cābiān

Defining the precise boundaries of what is and is not cābiān is not easy, as it has become a catch-all term for anything remotely sexually suggestive, erotic, or resembling "soft pornography."
While the distinction between suggestive and non-suggestive content remains hazy, new voices have emerged to challenge the very idea of "cābiān."
Some believe that cābiān is a societal construct imposed on women, rather than an intrinsic concept. They argue that before the term "cābiān" gained popularity, suggestive pelvic dances were widespread in China due to the prevalence of K-pop boy groups, and male celebrities could appear shirtless and flirtatious on TV without anyone accusing them of "cābiān."
But when it comes to women, the standards of cābiān can be unclear and are often unforgiving. This term is used not only to regulate their clothing choices but also their behavior or even facial expressions—essentially, anything a woman might do.
Once a female online influencer is seen as attractive and desireable, she seemingly becomes more prone to be labeled a "cābiān nǚ" (擦边女) – a woman who is seen as flaunting her sensuality within the context of social media and online platforms.
If this trend of labeling people as sexually suggestive continues, "cābiān" might turn into an unclear social rule, resulting in ongoing moral judgments of women, especially female online influencers.
On the other hand, some netizens see the increasing acceptance of women displaying their bodies in a sensual manner as a form of female empowerment.
One notable Weibo by 'Wang'ede' (@王饿德) post that gained a lot of attention suggested that there is a distinction between how others interpret women's bodies and how women themselves perceive it. The post asserts that revealing skin and wearing "sexy" clothing can be a proactive expression of women's own desires and confidence rather than solely meaning to please a male audience.
This active pursuit is seen as a form of 'decolonization' of the traditional patriarchal gaze— it's described as "a reevaluation of women's bodies by women themselves that allows us to reclaim ownership of our bodies," as stated by the author of the post.

Neverending Discussions

As the debates continue, Weibo users are noticing a deadlock in these online discussions. Conversations about the who, what, and why of cābiān are recurring and appear to be never-ending.
In 2019, a significant debate arose concerning the attire worn by actress Rayzha Alimjan. In 2022, controversies revolved around busty women. There was also a cyberbullying incident involving a mother who had recently lost her son in a car accident and faced criticism for wearing elegant clothing and makeup (read). Most recently, there has been a series of new discussions, ranging from criticizing the latest TV drama starring singer/actress Lai Meiyun and onwards.
Contemplating this phenomenon, some internet users are thinking about the evolution of Jingchuan Liyu's style. A decade or two ago, her aesthetic might have been categorized as 'emo,' 'alternative,' or just seen as a form of decadent beauty. However, nowadays, it is quickly subjected to examination to determine whether or not it falls into the category of cābiān.
In the eyes of many Chinese netizens, this trend is seen as a discouraging step backward. Influential bloggers repost their previous cābiān-related Weibo posts from years or even just months ago, highlighting the seemingly futile nature of these discussions.
Who will be the next woman to be branded as cābiān? Will she face online insults and offline harassment? On Weibo, some express their exhaustion at being stuck in this repetitive loop, engaging in similar debates time and time again.
Perhaps it is time to reevaluate the term "cābiān" and engage in more meaningful discussions about women's bodies and their freedom in China. As one netizen put it on Weibo: "Maybe we should redirect this energy toward discussions that genuinely promote progress instead of endlessly revisiting these cyclic debates."
By Ruixin Zhang
edited for clarity by Zilan Qian & Manya Koetse
Get the story behind the hashtag. Subscribe to What's on Weibo here to receive our newsletter and get access to our latest articles:
Spotted a mistake or want to add something? Please let us know in comments below or email us. First-time commenters, please be patient – we will have to manually approve your comment before it appears.
©2023 Whatsonweibo. All rights reserved. Do not reproduce our content without permission – you can contact us at info@whatsonweibo.com.
Chinese Female Bodyguard Goes Viral after Assad's China Visit
This Chinese female bodyguard and not-so-secret agent suddenly rose to online fame during Assad's recent visit to China.
Earlier in September, Syrian President Assad and his wife arrived in Hangzhou before the start of the Asian Games. On September 24, they traveled to Beijing.
There was one person who did not leave the side of Syria's first lady and who captured significant attention on Chinese social media over the past few days: the Chinese female bodyguard accompanying Asma al-Assad.
Photos and videos of the bodyguard soon spread all over Weibo and on other Chinese social media platforms, where people praised her for her beauty (she looks a bit like Chinese actress Zhao Liying) and dashing posture ("英姿飒爽"), her "eyes blazing like torches" ("目光如炬"), her composed demeanor, and the glimpse she offered into China's secret service.
The online fascination with the female bodyguard is about more than the combination of her charming looks and professional demeanor; it also related to the gender dynamics of a woman working in a typically male-dominated field.
There is also a nationalistic element to it, and a sense of pride in China welcoming Assad within the context of China as a new world leader. This trip marked Assad's first venture outside the Middle East since the Syrian crisis began in 2011, and it is his first visit to China since 2004. Syria joined the Belt and Road Initiative (BRI) in January 2022.
Some netizens focused on scrutinizing the bodyguard's appearance, analyzing her outfit and hands to find out more about the protocol and training involved.
For example, some observers noticed that the buttons on her suit jacket were uneven, – the left side of her suit jacket's buttons were noticeably lower than the right side, – speculating that she might have some kind of weapon concealed in her inside pocket. Leaving the jacket unbuttoned might enable her to go from reaching inside to firing in just a few seconds.
Others noted how her hand joints appeared thicker than the average woman's, suggesting that she has undergone extensive training.
One blogger (@诤言无昧) reported that the bodyguard, who gained overnight fame this week, is Yan Yuexia (严月霞). Yan is said to be a special Zhongnanhai foreign guest agent for the Beijing Public Security Bureau.
The same blogger also claims that Yan is trained in diplomatic etiquette, foreign languages, combat, shooting, driving, riot control, swimming, water rescue, and more.
According to Taiwan news outlet United Times, Yan Yuexia was trained in martial arts since she was young.
After graduating from the People's Public Security University of China, she passed the assessment for the 'Security Guard Bureau' of the General Office of the Central Committee of the Communist Party of China (中共中央办公厅警卫局), earning her position as one of the close protection personnel for China's national-level leaders and becoming a staff member at the Foreign Affairs Security Bureau's 'Foreign Guest Protection Department' (特勤局外宾警卫).
She is an unexpected viral sensation in light of the China visit by Syrian President Bashar al-Assad and wife; the Chinese special agent and female bodyguard who accompanied them during their various activities in China. pic.twitter.com/lPQDEKjxc6

— Manya Koetse (@manyapan) September 27, 2023
It is not the first time that someone working within China's highest diplomatic circles becomes a viral sensation in China. Besides the popularity of China's diplomats themselves (read), those working 'behind the scenes' are often also greatly admired.
One example is interpreter Zhang Jing (张京), who joined the U.S.-China strategic talks in Anchorage in 2021. She gained popularity and respect for her composed and professional translation of China's top diplomat Yang Jiechi's (杨洁篪) lengthy speech directed at American Secretary Blinken and National Security Advisor Sullivan. Even during challenging moments, she stayed focused and wasn't hesitant to suggest that she translate first before moving on to the next speaker.
For many younger netizens, these women, both in terms of their intelligence, strength, and composure, along with their good looks, serve as role models and a source of inspiration.
"I admire her strength," some commenters write about Yan Yuexia. There are also those, however, who are concerned that the bodyguard's newfound popularity could jeopardize her status as a secret agent. Some have very different concerns, asking: "I wonder what it would take to marry her?"
By Manya Koetse
Get the story behind the hashtag. Subscribe to What's on Weibo here to receive our newsletter and get access to our latest articles:
Spotted a mistake or want to add something? Please let us know in comments below or email us. First-time commenters, please be patient – we will have to manually approve your comment before it appears.
©2023 Whatsonweibo. All rights reserved. Do not reproduce our content without permission – you can contact us at info@whatsonweibo.com.
Subscribe to our newsletter
Stay updated on what's trending in China & get the story behind the hashtag
Sign up
here
to become a premium member of What's on Weibo today and gain access to all of our latest and premium content, as well as receive our exclusive Weibo Watch newsletter. If you prefer to only receive our free newsletter with an overview of the latest articles, you can
subscribe for free
here.
Would you like to become a contributor, or do you have any tips or suggestions for us? Get in touch with us here.