Jiujiang University Lecture: "Being a Virgin Is the Best Gift for a Husband"
A recent university lecture by Ding Xuan, an expert on China's traditional culture and women's issues, stirred controversy on Weibo after her statements on female chastity went viral. In an interview on May 22, Ding Xuan apologized but still defended her stance.
A recent university lecture by Ding Xuan, an expert on China's traditional culture and women's issues, stirred controversy on Weibo after her statements on female chastity went viral. In an interview on May 22, Ding Xuan apologized but still defended her stance.
A controversial lecture on traditional culture and values for women at Jiangxi's Jiujiang university has become a topic of discussion in Chinese media and on social media platforms.
The public lecture took place on May 14 at the Jiujiang University in China's southeast province Jiangxi. It was themed around women's virtues and "How to be a model woman in the new era." It caught the attention of netizens when a student posted pictures of the lecture and its alleged Powerpoint slides, which contained sentences such as "being a virgin is the best gift for a husband" and "wearing revealing clothing is vulgar."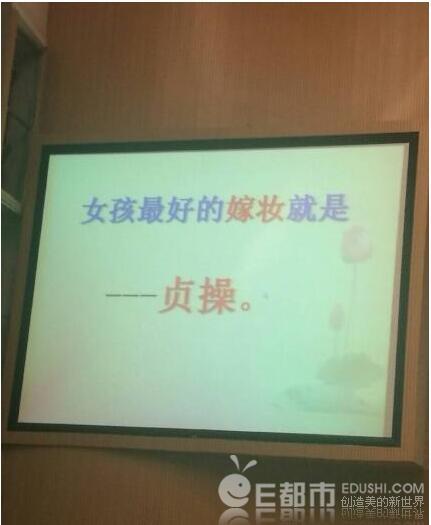 The lecture was held by the 63-year-old Ding Xuan (丁璇), a well-known expert from Hebei on traditional culture. She is also a member of the China Women's Development Foundation and is often invited to speak at educational institutes, enterprises, and governmental organizations about female virtues or other topics related to Chinese traditional culture.
Ding Xuan's talk at Jiujiang University drew much controversy over the past week, with people condemning her "feudal thinking." Many netizens said her speech countered gender equality. People also questioned why Ding was provided a platform at the university to spread these ideas.
In response to the controversy, Jiujiang University's Publicity Department denied that the lecture contained the slides shared on social media.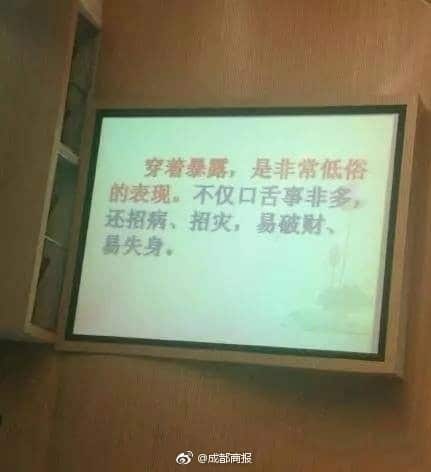 Chinese media outlet Global Times reported that the school still supported their decision to host Ding Xuan, saying her seminar did not contain anything "inappropriate," and that it was meant for female students to "respect themselves and find happiness."
On Weibo, however, many netizens are angered about Ding Xuan's lecture: "Any 'virtues' that are specifically taught to women and not to men are bad! Men and women both need to avoid immorality, why would you specifically teach morals to women?", some netizens said.
"A virtuous woman does not kill her child."
On video platform Tudou, What's on Weibo found this video featuring one of Ding Xuan's full lectures on "women's virtues." In this lecture, which was held in March of 2016, Ding talks about various issues on how to be a virtuous woman.
The lecture focuses on anything from posture to abortion. Ding stresses that women should not eat while walking, for example, should not raise their voice to greet their neighbors, should not cross their arms while talking, and mentions many other 'rules' that 'virtuous women' should live by.
Later in the lecture, Ding talks about abortion and shows the audience a disturbing anti-abortion video clip, featuring bloody abortion procedures and graphic pictures of aborted fetuses. While the sound of a crying baby is played, the clip shows blood-soaked fetal limbs and body parts.
Ding then continues to explain that women undergoing abortion are murderers who kill their own baby ("killed by their own mother by her own hand!") – emphasizing that virtuous women do not "kill their children."
"Taken out of context."
Since the controversy over the Jiujiang lecture, Ding Xuan has received a lot of attention, with various bloggers and journalists speaking out against her.
On May 22, Ding Xuan finally responded to the controversy in an exclusive interview with BTimenow (北京时间此刻), in which she confirmed that she was personally invited to give a lecture on women's issues by Jiujiang University.
Ding Xuan said that, although she did mention the statements that triggered controversy, they were taken out of context. She also apologized for "perhaps delivering her speech the wrong way."
About the statement on women wearing revealing clothing, she said: "[The people who criticized me] they did not attend my lecture and probably do not understand the circumstances. There were some students wearing revealing clothing that day, and I raised this issue. At the time, only a few people opposed to it and they left early."
Ding stressed that it is not her intention to make women do everything she says, but that her lectures just reflect her personal point-of-view and experiences. She said it is how she lives and how she teaches her daughter to live.
"Who is willing to marry a woman who has had an abortion before marriage?"
When BTimenow asked Ding why she raised the issue of revealing clothes to students that day, she answered: "They do not understand that I just said it for their own good. They are now nice-looking ladies who want to dress up, but they shouldn't dress like they are not wearing anything at all. Revealing their thighs and exposing their cleavage; their breasts are showing. Don't tell me we don't bear any responsibility to teach our children? Women should dress properly to protect themselves. Firstly to prevent getting sick, secondly to prevent sexual harassment."
In the interview, Ding also backed her statement about virginity: "We should remind girls to keep their chastity, which can guarantee the blessing of marriage. Who is willing to marry a woman who has had an abortion before marriage, and who has been someone's mistress? But people can also have their own point of view, I don't object to that."
Ding said she will continue to do lectures on female virtues for anyone who is interested. On Weibo, many netizens say these kinds of speeches should not be given at a university. "It is not appropriate for a university to hosts such a lecture," one person (@兔子栗子) said. "Wake up! The Qing dynasty is over!", others wrote.
Many Weibo users commented that if the university hosted these kinds of lectures for women, they should do the same for men. "[Many men] sleep with one girl after the other, yet they still expect to marry a virgin," some said.
Another commenter said: "Ding Xuan is a woman herself, why does she belittle herself this way? She should return to the feudal times – she is not a modern woman."
– By Manya Koetse
Follow @WhatsOnWeibo
©2017 Whatsonweibo. All rights reserved. Do not reproduce our content without permission – you can contact us at info@whatsonweibo.com.
Guangzhou Metro Security Guard Posts X-ray Images of Passengers' Adult Toys
Chinese netizens are annoyed by a Guangzhou Metro security guard posting the X-ray images of the private contents of passenger bags.
Gender issues, privacy awareness, and complaints by commuters about time-consuming regular security checks at Chinese subway stations – on May 7, these widely-discussed issues in today's China all came together in a Weibo post that soon went viral.
A screenshot posted to a group chat by a security guard nicknamed 'Crush' showed X-ray images of bags and suitcases of commuters, in which adult toys can be discerned.
"There are many beautiful girls in Guangzhou," the security guard said: "..but the problem is that they are not serious." He added: "My purity is tarnished as I see more and more adult toys."
These remarks, circulating around social media, prompted privacy concerns. As Weibo blogger @三千院雨Official wrote: "Why can you play with your smartphone while you're at work? How can these kinds of bad-mannered individuals be qualified as security guards? What gives you the right to take photos of passengers' personal belongings, spread them to other platforms, and make personal comments?"
The Weibo post regarding the X-ray images has received over 280.000 likes and more than 21.000 reposts so far. The blogger stated that the incident has now been reported to the authorities.
Many netizens voice their concerns over privacy rights violations under the post: "Every citizen hands over their privacy to the security guard out of trust. If the security guard not only fails to work for the people, but even violates their privacy, then public trust will be lost in the long run."
Some commenters are more emotional: "Is there something wrong with this guy? This is equivalent to disclosing personal information!"
The post thread has seemingly also become a battleground for gender issues. Recently, the feminist movement in China has been pressing for the destigmatization of sexual desire and adult toys. The remarks of the security guard that link adult toys to 'impurity' became a target of criticism. "Sexual fetishes that don't harm anyone are not wrong," one comment said, receiving over 2000 likes.
Discussions on sexism and gender discrimination, which have seen a rise on Chinese social media recently, also flared up again over this incident.
The last time these kinds of discussions flooded Weibo was in March, when Intel severed ties with its ambassador Yang Li, a female stand-up comedian. Yang Li is controversial for her jokes mocking men ("men are adorable, but mysterious. After all, they can look so average and yet be so full of confidence"), with some blaming her for being "sexist" and "promoting hatred against all men." Many women rallied behind Yang Li, promoting a more inclusive and safe environment for females.
Under the post on the Guangzhou metro incident, a comment that received two thousand likes said: "This is why girls feel disgusted with men. They want to interfere with everything, not just limited to their own duty." Some commenters, however, question how the security guard's gender can be determined simply based on the screenshot, and whether this in itself is a gender bias.
According to the Counterterrorism Law of China, which went into effect in 2016, the subways are required to do security checks on passengers entering the stations. Guangzhou Metro has rolled out comprehensive security checks since late 2017. The policy was met with opposition from residents, especially from commuters who believed these security checks were useless and time-wasting. Also, since railway companies typically outsource security tasks to external firms, the lack of professionalism on the part of security guards and the lack of accountability became a source of discontent ever since.
The ongoing dissatisfaction towards these mandatory checks might have heightened current discussions on the Guangzhou security guard, leading some people to question the efficiency of the checks in general: "If they wanted to, terrorists could simply target the long line of passengers awaiting security check outside the subway station."
Others complained about the time wasted waiting in line: "People's patience is limited. I'll wait and see when the tension [between passengers and security guards] will deteriorate into physical conflicts." Then there are those who are dissatisfied with the attitudes exhibited by the security guards: "I saw some security guards who looked like they were middle school students, but they were super arrogant. They should really thank Guangzhou Metro for creating jobs for them."
Yet there are also people who defend this practice of security checks at stations: "Security checks indeed are unable to eliminate the occurrence of accidents, but just like locking your door, they can pose an obstacle to those who are looking to break the law."
Following the online controversy, Guangzhou Metro issued a statement in the afternoon of May 7, stating the security guard involved, who worked at the Guangfo Line within Foshan's jurisdiction, has been identified. The company claimed to have terminated the contract with the guard and reported him to the police.
Later, the blogger posted a few screenshots that showed the security guard apologizing to her, saying that this incident has "created tremendous pressure" for him. The authenticity of the screenshots has not yet been verified at the time of writing.
This isn't the first time security guards working for Guangzhou Metro are involved in a controversy. Previously, Guangzhou Metro had apologized for asking a girl to remove her Gothic makeup before entering the station. Another security guard was previously dismissed for taking upskirt photos of a woman.
By Bobby Fung (@bobbyfungmr)
Spotted a mistake or want to add something? Please let us know in comments below or email us. First-time commenters, please be patient – we will have to manually approve your comment before it appears.
©2021 Whatsonweibo. All rights reserved. Do not reproduce our content without permission – you can contact us at info@whatsonweibo.com.
Censorship of Chinese 6B4T & Feminist Groups Prompts Wave of Support for "Douban Sisters"
Even those who don't agree with '6b4t' views condemn Douban's recent crackdown on 6b4t and feminist groups.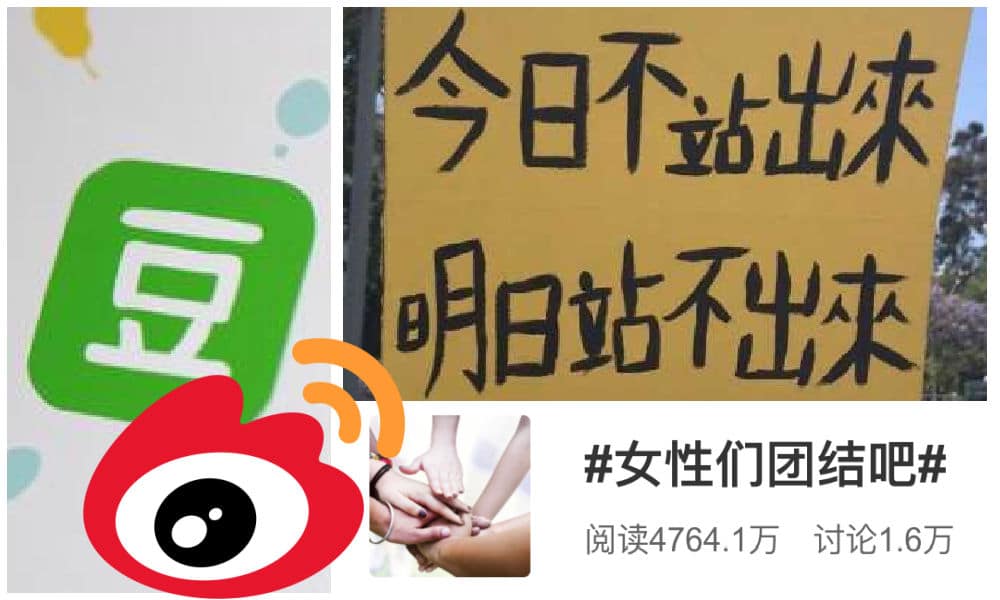 What is 6b4t? That is the question popping up in several places on Chinese social media this week after the popular networking platform Douban closed down several feminist groups and targeted the keyword '6B4T.'
Douban (豆瓣) is an influential Chinese social media platform that allows users to discuss and review books, music, films, and other topics. The platform has a 'group' (小组) function, with groups being like online forums revolving around a particular topic where Douban users can subscribe, post, and interact.
On the night of April 12, Douban closed down more than ten Douban feminist groups, of which some were linked to '6b4t' views.
6b4t is an online movement that originated in South Korea and is about female empowerment and independence that shifts away from patriarchal society and male-dominated fields in popular culture and beyond.
The '6B' stands for no husband, no children, no boyfriend, no male sex partner, not buying any products/brands that are unfriendly to women, and offering support to single women. The movement received some media attention earlier in 2019, when it was still about '4B' or the '4 no's' (no marriage, no kids, no boyfriend, no sex; the 'single women support' and 'refusal of buying misogynistic products' were added later). The '4T' stands for the rejection of shapewear (corsets), religion, otaku culture, and idols.
"A devastating blow for Chinese radical feminists"
The censorship of 6b4t-related groups on Douban sparked sharp criticism and anger online. On Twitter, 'HAL 10000' (@dualvectorfoil) called the crackdown "a devastating blow" for Chinese radical feminists.
Chinese radical feminists just suffered a devastating blow. On April 12, the Chinese government disbanded all radical feminist groups on Douban, a popular social networking website. Those are the only discussion forums that Chinese feminists could find.

— HAL 10000 (@dualvectorfoil) April 13, 2021
The Twitter account FreeChineseFeminists (@FeministChina) posted a screenshot of Douban's notification that the '6B4T' group had been removed, with the platform calling it an "extreme" and "radical" "ideology."
Douban, a social media site used by Chinese urban youth, closed more than 10 feminist groups and banned the keyword 6B4T, a feminist view from South Korea that advocates women not getting married and having no children. Douban calls 6B4T an "extreme" and "radical" "ideology." pic.twitter.com/o9QxhIZoqj

— FreeChineseFeminists (@FeministChina) April 13, 2021
On Weibo, many commenters also spoke out against the removal of the feminist Douban groups.
"I am 6b4t and although it might seem extreme in the eyes of some, I am not harming anyone at all," one person wrote, with another commenter adding: "This is completely limited to myself, I do not influence others."
"I've been 6b4t for years without even realizing," one Weibo user jokingly wrote: "I've been single forever!"
Another person admitted: "I don't really look at Douban, and I don't really understand 6b4t, but blowing up those groups like this goes too far."
"We have to firmly support our Douban sisters"
The account of Xianzi, the woman who became famous for the Xianzi versus Zhu Jun court case, also commented on the Douban censorship on April 13:
"I am not a follower of 6b4t at all, but I firmly support my Douban sisters and oppose how the feminist Douban groups have been shut out. First, 6B4T clearly is an important branch of contemporary online feminism – shutting these groups out is shutting out discussions on female topics. Seconds, the viewpoint of 6B4T is not radical at all, it just asserts that women do not need to enter heterosexual relationships and can break away from masculine control. This is completely up to women themselves and has nothing to do with anyone else. When even such a viewpoint is banned, and women insisting on being single are still seen as rebellious — this is the fundamental reason why we have to firmly support our Douban sisters."
Many people support Xianzi's statement, and meanwhile, the hashtag "Women Let's Unite" (#女性们团结吧#) also took off on Weibo, with many commenters calling on women to let their voices be heard.
"If someone is covering your mouth to try and silence you – scream louder," one person wrote.
The hashtag was also used to address issues of domestic abuse, a topic that has received a lot of attention on Chinese social media over the past year. In October of 2020, the death of the female vlogger Lamu, who was burnt by her ex-husband, also sparked an online movement that called on authorities to do more to protect and legally empower female victims of domestic abuse.
The 'Women Unite' hashtag page had received over 47 million views by late Tuesday night. Another relating hashtag, 'Douban Feminism' (#豆瓣女权#) was viewed over 40,000 times.
"You can disagree, but you can't silence them"
While the search for '6b4t' gave few new results on the Douban site at the time of writing, there were still some older posts on the topic.
One noteworthy one is that by user *Blossom*, who took the time earlier this year to explain what 6b4t means to her, saying "6b4t is an act of struggle, it is not a discipline."
In the post of February 2nd of this year, 'Blossom' explains that 6b4t is a way of resistance where the keyword is "sovereignty," namely the female sovereignty over her own body. 6b4t is a way to fight for radical feminism, Blossom claims:
"In the context of patriarchal society, women are sexually objectified while male sexuality equals power. Under this premise, marriage, childbearing, romantic love, and sexual activity are all about reinforcing the power of men and benefiting them. So we advocate 4b, which essentially is a non-violent and non-cooperative struggle mode, with the same characteristics as workers' and slaves' strikes."
Although there are also people expressing disagreement with the 6b4t movement, many defend their right to have online discussion groups about their ideas.
"You can disagree, you can call them into question, but you can't cover their mouths to silence them," one Weibo user wrote.
"We can have groups advocating marriage and childbirth, why can't we have groups advocating being single and childfree?", another person asked, with one commenter stating: "I do not advocate 6B4T, but I will defend to the death the right of these women to advocate 6B4T."
Throughout the years, feminist movements have often become a target of censorship on Chinese social media. Douban previously also censored content relating to the Zhu Jun sexual harassment case, and in the case of demanding justice for Lamu, some hasthag pages were also removed from Weibo. The renowned feminist Weibo account 'Feminist Voices' (@女权之声) was permanently banned in 2018, along with other feminist accounts.
"A new era of witch-hunting has started," one top comment in a thread of 2200 comments said: "Get ready to fight, let your voice be heard!"
A somewhat ironic consequence of Douban's latest censorship is that many people who had never heard about this 'radical feminism' now know what 6b4t is because it became a 'banned term.' "I've learnt a new word today," some commenters say, with others vowing to support their silenced 'Douban sisters.'
By Manya Koetse
Spotted a mistake or want to add something? Please let us know in comments below or email us. First-time commenters, please be patient – we will have to manually approve your comment before it appears.
©2021 Whatsonweibo. All rights reserved. Do not reproduce our content without permission – you can contact us at info@whatsonweibo.com.