The news assistant of a prominent Dutch China correspondent has lashed out against his former employer on Chinese social media, saying he fabricated news stories about China during the time he worked for him. As the controversial story has since been shared by Chinese state media outlet Global Times, Beijing's BTime website now says that "time is up" for the Dutch "story king."
On September 4th, Zhang Chaoqun (张超群), the former assistant of China correspondent Oscar Garschagen, published an article on Chinese social media platform WeChat in which he accuses the Dutchman of fabricating news.
Garschagen is a well-respected Dutch journalist who has been working as a China reporter for Dutch newspaper NRC Handelsblad (NRC) for ten years. He previously also worked as a correspondent in the US and Israel. He is currently based in Shanghai.
Zhang, who says he worked with Garschagen for two years, first published his accusations in a Chinese WeChat post ("我炒了写假新闻的外媒记者") via the 'Foreign Media in China' account (抢占外媒高地). After making its rounds in China's journalism circles through the WeChat app, the story was also shared on Weibo and Twitter.
Zhang published an English version of his story on China Data Insider later on Monday and publicly contacted the NRC newspaper's public advocate through Twitter, saying he wanted to expose "serious news fabrication."

In his English post, titled "A Correspondent's Guide to Making Fake News in China," he writes:
"Being a news assistant who helps with pitching stories, conducting researches, conducting/arranging interviews, and translating any necessary Chinese materials but never gets to write a story or have a proper byline (not even a research byline), I dare not say I have mastered the dark art of making fake new. But I have the luck of working with one of the greatest masters of the dark art for two years and watching him fabricating, twisting and distorting stories on many occasions."
In the article, Zhang then accuses Garschagen of bringing "fake news" in his reports on at least seven occasions. In one case, Zhang alleges that an interview included in a 2016 featured article about rising tensions around the South China Sea conflict actually did not take place at all:
"In June, 2016, as the South China Sea Arbitration Case became a global trending story, Mr Garschagen went to a small fishing town Tanmen, Hainan, with the hope of talking to Wang Shumao, deputy company commander of the maritime militia in Tanmen town. Mr Wang declined the interview request point blank. But why should a rejection get in the way of a good story? In the published story, Mr Garschagen said he waited for three days and finally "interviewed" Mr. Wang with the help from the provincial publicity department. Of course, the interview did not happen at all."
In other examples, he says that the Dutch reporter made up names of persons included in his work, wrote about scenes he did not actually witness, quoted people saying things they had never said, or combined stories of separate individuals.
Zhang also alleges that for a report about the economically weakening coal city of Lüliang in 2015 – which was triggered by an initial story by NPR.org – Garschagen and Zhang visited three places together: the airport, a coal mine, and the 'Zhongfen Liquor City.'
Garschagen's later report about the trip, however, focused on a cement factory in crisis which Zhang says they actually never visited – only the reporter of the original NPR story of four months earlier allegedly had been there.
The NPR story of September 2015 by international correspondent Frank Langfitt includes an interview with a cement factory's lower-level manager named Gao, while Garschagen's piece of January 2016 also includes an interview with the cement factory's former manager (and security guard) named Gao.
Both interviews show various similarities, and both stories include a fragment on a domestic appliance shop owner by the name of "Lei" ("Lei Lili" in the NPR piece and "Lei Li" in the NRC article), who says her business is doing bad because the people of Lüliang have no income anymore.
"I've fired my boss today and I'm proud of this decision," Zhang concludes his online complaint. The news assistant confirmed to Chinese English-language news site Sixth Tone that he emailed his resignation to Garschagen on Monday morning.
In response to the issue, Associated Press correspondent Gerry Shih tweeted on Monday: "Be nice to your news assistant today. Especially if you depend on him/her for everything. And you happen to make a lot of stuff up."
Be nice to your news assistant today. Esp. if you depend on him/her for everything. And you happen to make a lot of stuff up. Fucks sake.

— Gerry Shih (@gerryshih) 4 september 2017
After state media tabloid Global Times reposted Zhang's article on WeChat and Weibo, news outlet Beijing Time (北京时间 Btime.com) also reported the story under the title "Time's Up for 'Story King' Foreign Reporter" ("外媒记者当"故事大王"的日子已经不多了").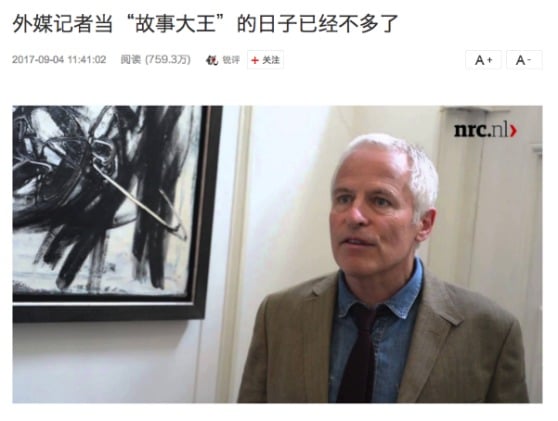 Although some Chinese netizens believed Zhang's account and said that foreign journalists often discredit China for their own political agenda, there were also people who questioned the story and wondered why it was republished by the Global Times, an outlet owned by official Party newspaper People's Daily.
"I started to wonder when I saw the source," one person wrote on WeChat. Others asked if the author might have written this to "to highlight their own justice."
On Btime.com alone, the story was viewed over 7,5 million times by Monday evening. Zhang's original post was also republished on other Chinese news media sites such as Sina News and Phoenix News.
Beijing Time wrote that although the truthfulness of Zhang's allegations had not yet been verified by a third party, "there are [indeed] some 'story kings' amongst foreign reporters, who are wasting their time relying on their imaginations and prejudice about China."
Garschagen, who has an account on Twitter (@oscargarschagen) and Weibo, has not yet responded on social media to the allegations that were made against him by his former assistant. He did tell Sixth Tone that he was "surprised" and "did not understand the accusations."
He also told Sixth Tone: "This attack on my integrity contains many distortions and untruths."
In a 2014 interview with Dutch blog The Post Online, Garschagen said about his Chinese colleagues that he had a "very positive" view on them.
UPDATE:
By Manya Koetse
Follow @whatsonweibo
©2017 Whatsonweibo. All rights reserved. Do not reproduce our content without permission – you can contact us at info@whatsonweibo.com.