Secret Tests Expose That Beijing's Five-Star Luxury Hotels Do Not Change Bed Sheets
Secret tests run by a review organization have exposed how Beijing's top-notch hotels do not change their bed sheets or clean their toilet seats. The report has caused a great commotion on Chinese social media, where it has become the talk of the day.
Secret tests run by a review organization have exposed how Beijing's top-notch hotels do not change their bed sheets or clean their toilet seats. The report has caused great commotion on Chinese social media, where it has become the talk of the day.
An online report by an assessment organization has exposed how some of Beijing's 5-star luxury hotels do not change their bed sheets or clean the toilet seats after guests check out. The tests concern the renowned hotel chains Hilton, the W, Intercontinental, Marriot, and Shangri-La.
The tests were done by a company named 'Better Choice, Better Life' (literally 'Blueberry Testing' 蓝莓评测), which has over 60,500 followers on their Weibo account.
In a video released online on September 4, the research team says:
"As a review organization, we've found some unexpected results in a test which triggers a horrible assumption. We've seen messes of different industries in our tests. However, none of them have shocked us like this. The test result may lead to serious debate. But everyone deserves the truth, which is why we decided to release it."
The video shows how members of the team check into several top hotels and mark their room's sheets, quilt covers, toilets, and bathtubs with fluorescence stamps that can only be detected through a UV torch. These stamps will be removed when their surface is washed or gently wiped.
After messing up the room a bit, they then check out the next day and let other team members book exactly the same room after them to see if the bed linens and other room items are properly cleaned after guests leave.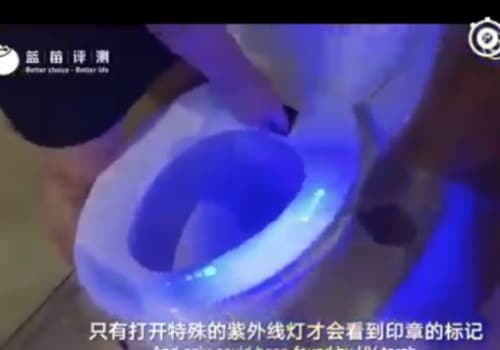 The team found that in most cases, the pillow case, bed sheets, and/or quilt covers still had the same stamps on them, meaning that their linens were not only unwashed, but also were not changed at all.
They also found their marks had not been wiped off the toilet covers and toilet seats – which were not even touched after the check-out of the previous guests. They also found that the drinking glasses in the bathroom were left untouched by the hotel cleaners.
The team concluded that Beijing's Hilton, Sanlitun Intercontinental, and W Hotel did not change their bed sheets after previous guests had departed and new guests had arrived. The JW Marriott Beijing did change the bed sheets and quilt cover, but not the pillow cases. Shangri-La changed all the bed linen except for one pillow case.
None of the hotels were found to have cleaned the bathtubs, nor the toilets, and all of them greatly lacked in their hygiene and service quality.
The standard room prices for the hotels vary between approximately US$200 and US$400 per night; all are over 2000 RMB.
Under hashtags such as "5-Star Hotels Do Not Change Their Bed Sheets" (#五星酒店不换床单#), the report has become a big topic of debate on Chinese social media.
"Knowing they don't even change the water glasses, are you still willing to stay at these 'luxurious' hotels?", some netizens wondered.
"We should set up an independent network of hotel guests," one commenter suggested: "And leave hidden marks for each other so the next guest can check whether or not the room is clean."
Some people write that they are not surprised by the outcome of the tests, saying they often bring their own sheets or pillows to hotels for this reason.
In response to the controversy, the Beijing Tourism Association held an official meeting with the management of the concerning hotels on the morning of September 5.
In an announcement on Weibo, they stated that they asked the hotels for clarification about the controversy, and required them to face up to their company's problems and to actively solve these issues and improve their quality of service.
The Beijing Tourism Association also stated that they would increase the supervision of these hotels, and would implement a strict inspection of their hygiene standards and service quality.
By Miranda Barnes & Manya Koetse
Follow @whatsonweibo
©2017 Whatsonweibo. All rights reserved. Do not reproduce our content without permission – you can contact us at info@whatsonweibo.com.
IKEA Being Sued in China over "Exploding" Drinking Glass
This IKEA glass case is blowing up.
March 15 is not only China's Consumer's Day, it is also the day that IKEA was scheduled to go to court in China over an exploding glass.
On May 20, 2017, a woman in Beijing was about to drink cooling boiled water from a 'Stelna' IKEA cup when the glass exploded in her face. The woman, whose name is Wang, lost consciousness and was sent to the hospital, where she needed four stitches in her lip. She also broke her front tooth due to the incident.
Wang is now suing IKEA for delivering a "flawed product," Chinese news outlet The Hour reports on Weibo. She is asking one million yuan (±158,000$) in compensation.
For now, however, the court case has been rescheduled because IKEA reportedly returned the court papers with no response. The Stelna IKEA glasses are also still being sold in its stores.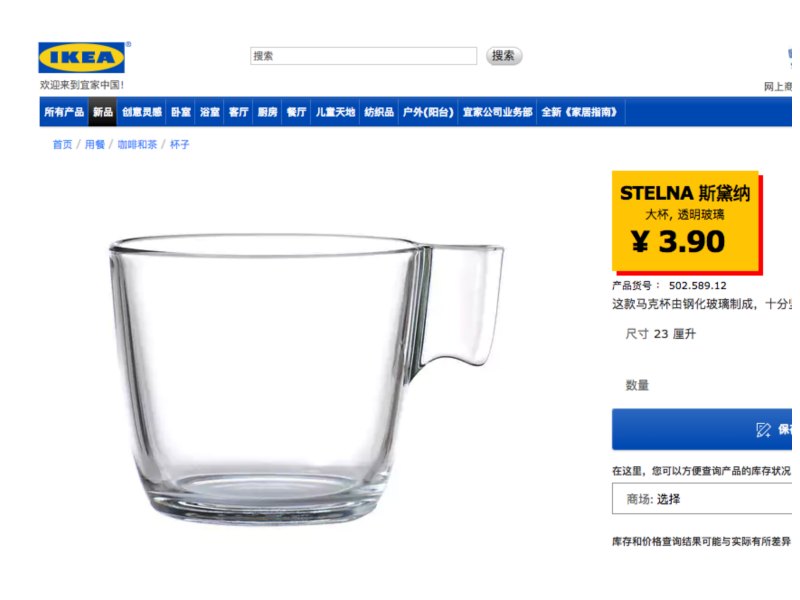 The 'exploding' glass case became a big topic on Weibo on March 15, receiving thousands of comments.
It is not the first time flawed IKEA products make the news. In 2013, the store's 'Lyda' glasses were recalled when at least ten people got injured after pouring hot liquids into it, causing the glass to break.
"My family has also bought IKEA glasses, and they also exploded," one commenter from Chongqing said: "Luckily, nobody got hurt."
"I poured boiling water into an IKEA glass the other day to prepare instant noodles in it, and it instantly exploded," another Weibo user (@宝先生的_太太) wrote.
Other commenters also complain over IKEA products, saying they've had things spontaneously breaking too.
Some worried people ask: "Is this just a normal risk of using glass, or does it really have to do with IKEA? Do we have to throw out our glasses now?"
But many netizens are more concerned about the legal aspect of the case. "In America, people can receive compensation [in court] as if they're the emperor, and in China they cannot even serve court papers!", some said.
"How is it even possible to ignore court papers?", others also wondered.
Cases such as this one often make the news on China's Consumer's Day (March 15). This year marks the 28th edition of the special day, when an annual consumer rights report is released and a special CCTV program is dedicated to protecting consumer rights and uncovering malpractices by companies.
In November of last year, English-language media also reported about glass IKEA products spontaneously exploding, including glass tables shattering without people being nearby.
In this particular case, the IKEA court case will be postponed to a later date. Sina News wrote that IKEA's customer relations manager said the company was not aware about the lawsuit until it was very close to the date. The court will resend the legal papers and schedule the case to appear later this year.
By Manya Koetse
Follow @whatsonweibo
Spotted a mistake or want to add something? Please let us know in comments below or email us.
©2018 Whatsonweibo. All rights reserved. Do not reproduce our content without permission – you can contact us at info@whatsonweibo.com.
15 Chinese Ad Campaigns That Make Abortion Procedures Look Glamorous
With pink flowers and dreamlike imageries, these prevalent advertisements promise Chinese women a fast and 'glamorous' abortion.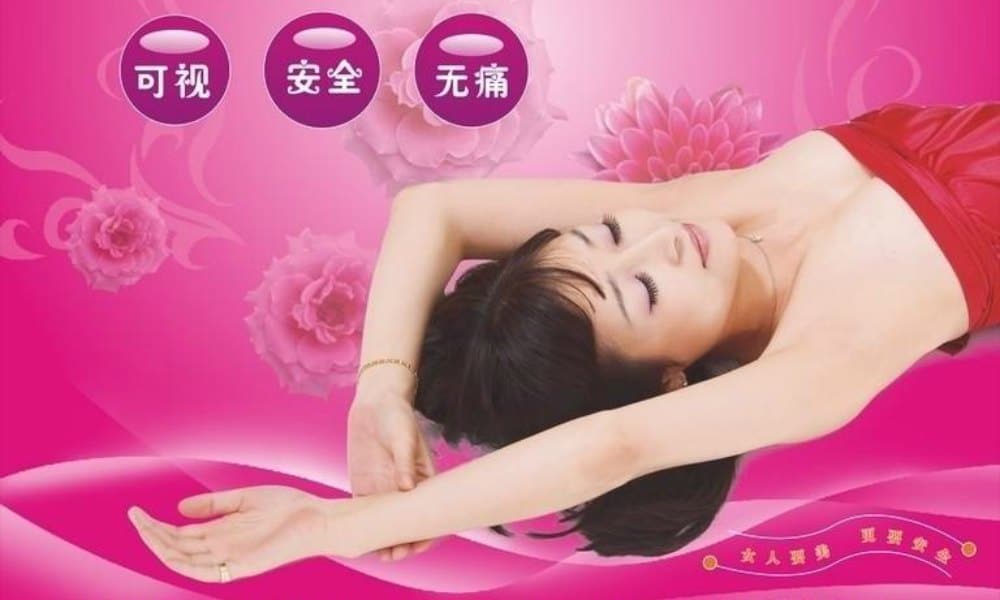 From bus stops to magazines, advertisements of clinics promising women a 'fast' and 'painless' abortion are commonplace in China, sending out the message that terminating a pregnancy is as easy as getting your nails done.
When it is rush hour in Beijing, street marketers often pass out flyers to people around busy subway stations. Most of the time, these pamphlets promote a new neighborhood restaurant or an upcoming real estate project.
Often, however, they promote abortion procedures at a local clinic. The pink and shiny ad campaigns advertise their abortion procedures in similar ways as beauty parlors or nail salons would market their services – a phenomenon which would be unimaginable in many western countries.
China's "Abortion Culture"
The legal and moral obstacles to abortion that are ubiquitous in the US or elsewhere are much less pervasive in China, a country that has one of the highest abortion rates in the world. According to the National Health and Family Planning Commission, approximately 13 million abortions are carried out in China every year (Yang 2015).
The actual number, however, is probably much higher. The official figures do not include the abortion statistics from private clinics, nor the estimated 10 million induced abortions per year through medicine (Xinhua 2014), let alone the numbers of sex-selective abortions– a practice that has officially been illegal since 2004.
There are various reasons why China's abortion rates are so high. In "Women's Health and Abortion Culture in China: Policy, Perception, and Practice," author Naomi Bouchard describes how the "visible abortion culture" in China today is an (indirect) consequence of the 1979 Family Planning Policy (better known as the One-Child Policy), family pressure, traditional values, and insufficient sexual education (2014, 2).
Especially the last dimension leads to unplanned pregnancies, notably in young women. According to official data, 4% of China's unmarried female teenagers experience an unplanned pregnancy, with 90% of them ending in abortion (Pan 2013). According to a doctor quoted in Bouchard's study, it is both lack of knowledge as well as embarrassment about buying condoms or other contraceptives that contributes to unplanned pregnancies in young women (2014, 17).
Thriving Abortion Industry
Besides the social factors that play an important role in China's "abortion culture," there is also the legal aspect that makes abortion procedures relatively common in the PRC. Unlike many other countries, China allows abortion for any reason (Theodorou & Sandstrom 2015).
The upper limit for legal abortions depends on circumstances. According to Hemmenki et al (2005), China's 1979 abortion law sets 28 weeks of gestation as the upper limit for pregnancy termination, although some provinces "have made their own laws stipulating the place and performer of the abortion." Other literature suggests that there is no limit fixed by statue (Jackson 2013, 423), and that abortions can take place up to the ninth month if the pregnancy is affected by severe anomalies (Deng et al 2015, 312).
All the aforementioned components have led to the existence of a thriving medical industry focused on abortion procedures in China, which comes with a strong commercial marketing of these procedures – advertised anywhere from bus stops to magazines and through flyers.
Scroll through the slider below (move arrows below) to see a selection of 15 advertisements for abortion procedures. The majority of these ads use the color pink and show young women either by themselves or with their partner. Besides addressing the women, their slogans also often speak to their partners ("If you love her, give her the best").
This ad by Jinzhong Friendship Hospital offers the service of "Korea JRS's dream abortions," persuading people to choose for their services with the underline: "You love her, give her the best." The main slogan says: "Bye bye pain, hello happiness."