Secret tests run by a review organization have exposed how Beijing's top-notch hotels do not change their bed sheets or clean their toilet seats. The report has caused great commotion on Chinese social media, where it has become the talk of the day.
An online report by an assessment organization has exposed how some of Beijing's 5-star luxury hotels do not change their bed sheets or clean the toilet seats after guests check out. The tests concern the renowned hotel chains Hilton, the W, Intercontinental, Marriot, and Shangri-La.
The tests were done by a company named 'Better Choice, Better Life' (literally 'Blueberry Testing' 蓝莓评测), which has over 60,500 followers on their Weibo account.
In a video released online on September 4, the research team says:
"As a review organization, we've found some unexpected results in a test which triggers a horrible assumption. We've seen messes of different industries in our tests. However, none of them have shocked us like this. The test result may lead to serious debate. But everyone deserves the truth, which is why we decided to release it."
The video shows how members of the team check into several top hotels and mark their room's sheets, quilt covers, toilets, and bathtubs with fluorescence stamps that can only be detected through a UV torch. These stamps will be removed when their surface is washed or gently wiped.
After messing up the room a bit, they then check out the next day and let other team members book exactly the same room after them to see if the bed linens and other room items are properly cleaned after guests leave.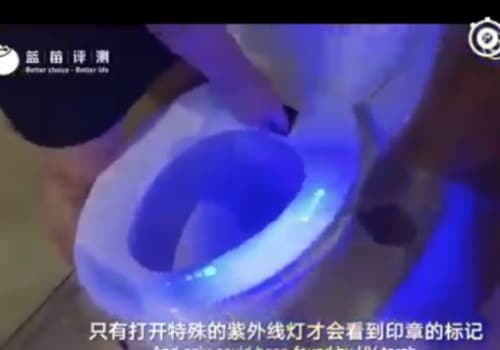 The team found that in most cases, the pillow case, bed sheets, and/or quilt covers still had the same stamps on them, meaning that their linens were not only unwashed, but also were not changed at all.
They also found their marks had not been wiped off the toilet covers and toilet seats – which were not even touched after the check-out of the previous guests. They also found that the drinking glasses in the bathroom were left untouched by the hotel cleaners.
The team concluded that Beijing's Hilton, Sanlitun Intercontinental, and W Hotel did not change their bed sheets after previous guests had departed and new guests had arrived. The JW Marriott Beijing did change the bed sheets and quilt cover, but not the pillow cases. Shangri-La changed all the bed linen except for one pillow case.
None of the hotels were found to have cleaned the bathtubs, nor the toilets, and all of them greatly lacked in their hygiene and service quality.
The standard room prices for the hotels vary between approximately US$200 and US$400 per night; all are over 2000 RMB.
Under hashtags such as "5-Star Hotels Do Not Change Their Bed Sheets" (#五星酒店不换床单#), the report has become a big topic of debate on Chinese social media.
"Knowing they don't even change the water glasses, are you still willing to stay at these 'luxurious' hotels?", some netizens wondered.
"We should set up an independent network of hotel guests," one commenter suggested: "And leave hidden marks for each other so the next guest can check whether or not the room is clean."
Some people write that they are not surprised by the outcome of the tests, saying they often bring their own sheets or pillows to hotels for this reason.
In response to the controversy, the Beijing Tourism Association held an official meeting with the management of the concerning hotels on the morning of September 5.
In an announcement on Weibo, they stated that they asked the hotels for clarification about the controversy, and required them to face up to their company's problems and to actively solve these issues and improve their quality of service.
The Beijing Tourism Association also stated that they would increase the supervision of these hotels, and would implement a strict inspection of their hygiene standards and service quality.
By Miranda Barnes & Manya Koetse
Follow @whatsonweibo
©2017 Whatsonweibo. All rights reserved. Do not reproduce our content without permission – you can contact us at info@whatsonweibo.com.