Grandpa Picks up the Wrong Kid from School, Takes Him to Get Flu Vaccine
Even grandpa makes mistakes!
The parents of a 6-year-old boy in Guiyang, Guizhou province, had the shock of their lives when they discovered their son Xiao Hongyu had been picked up from school by an elderly man on Friday afternoon.
The parents were told by their son's school teacher that their son had been picked up by his alleged 'grandfather.' School security footage showed how an unknown grey-haired man had stepped inside the classroom on June 8, and took the boy outside with him.
Soon after, the desperate mother posted the security footage images on her WeChat 'Moments' account, asking people for help – fearing that her child had become the target of a child trafficker.
When one person, an old classmate of the mother, recognized her own father in the images, the case was soon solved; the older man was supposed to pick his grandson Xiao Hongrui up from school, but instead took Xiao Hongyu with him.
Xiao Hongyu had been 'missing' for a total of four hours, a time during which his temporary 'grandfather' had taken him along for food shopping, and even took the little boy to the hospital to get a flu vaccine.
During an interview at the local police office, the man's son-in-law told reporters that grandpa had just come to visit from the countryside, and was not too familiar with his own grandson's appearance. The fact that Xiao Hongyu and Xiao Hongrui look alike and have a similar voice, as well as name, also did not help, and the man mistakingly took the wrong kid home.
Meanwhile, the man's real grandson, Xiao Hongrui, remained at school, waiting to be picked up.
According to various Chinese media reports, Xiao Hongyu did feel the situation was not right, and tried to tell the older man that he was not his grandson. But because the man suffers from hearing impairment, he did not hear the little boy's questions and remarks.
The school teacher in charge told reporters that the unfortunate mistake also occurred because Xiao Hongyu told his teacher that the man was "grandpa" when they asked him who the man was.
The topic became top trending on Sina Weibo on June 12. "In the eyes of a 6-year-old, every old man is a 'grandpa,'" many people commented.
Although the majority of people find the situation humorous, there are also many netizens who feel the issue is no laughing matter, because it means abductors and child traffickers can easily pick a child up from school.
They blame the school for not checking the man's status, the hospital for not checking the little boy's identity, and the parents for not teaching their boy not to leave with strangers.
This is not the first time a story such as this makes headlines. In 2016, an American grandfather also took the wrong child home. In that case, the child, just like Xiao Hongyu, also confirmed to teachers that the man was his grandfather.
In the UK, in 2013, a grandfather also took the wrong child to a doctor's appointment. The little girl's mother later told reporters that it is "every parent's worst nightmare."
By Manya Koetse
Follow @whatsonweibo
Directly support Manya Koetse. By supporting this author you make future articles possible and help the maintenance and independence of this site. Donate directly through Paypal here. Also check out the What's on Weibo donations page for donations through creditcard & WeChat and for more information.
Spotted a mistake or want to add something? Please let us know in comments below or email us.
©2018 Whatsonweibo. All rights reserved. Do not reproduce our content without permission – you can contact us at info@whatsonweibo.com.
Zhejiang Movie Theatre Displays Blacklisted Individuals in Avengers Movie Preview
A special 'trailer' before the Avengers movie premiere showed the audience blacklisted individuals.
A local movie theatre in the city of Lishui, Zhejiang province, showed a noteworthy 'trailer' before the Avengers: End Game premiere on April 24.
Chinese state tabloid Global Times reports that the sold-out premiere had a 'surprise' moment just before the movie was about to start: a short Public Service Announcement by the Liandu district court of Lishui displayed people who are currently on a 'debt dodging black list.'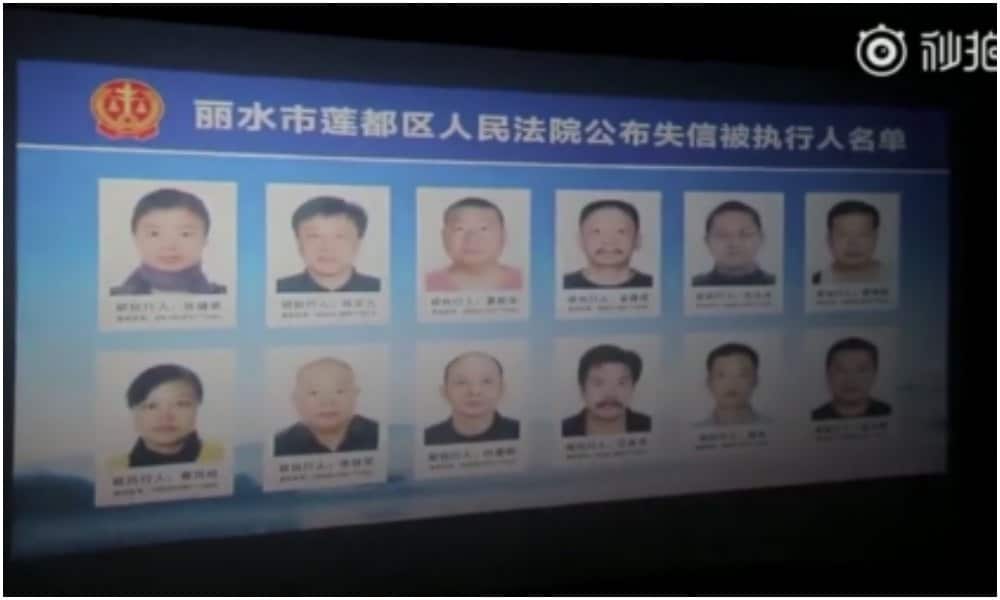 The short film also informed the cinema audience of potential consequences of being on a blacklist, including no traveling abroad, and no traveling by air or on high-speed trains.
According to Global Times, the local district court has registered a total of 5478 people on its blacklist since 2018.
The names and faces of more than 300 people on this list have reportedly been displayed on cinema screens, public LED screens, and on buildings. Allegedly 80 of them have since complied with court orders.
As part of China's emerging Social Credit system project, there are public court-issued lists of 'trust-breaking enforcement subjects' (信被执行人名单), referring to people or companies who have failed to comply with court orders.
Individuals on the judgment defaulter blacklist system run by the court system, whose information is publicized, can risk having their photos and names displayed on local LED screens on courthouses or other buildings (Dai 2018, 26).
Beyond that, they will face restrictions in various ways, from being denied bank credit to being restricted from staying in high-end hotels or traveling by air.
On Weibo, the Global Times post on the noteworthy cinema preview received over 4000 shares. The same news was also reported by CCTV and Phoenix News.
Some commenters joke about the Public Service Announcement, saying: "Blacklisters [can now say]: Mum! I was on TV! On a big IMAX screen! Together with the Avengers!"
Others leave comments in support of the measure, calling it "creative," and saying: "This is good, we should implement this all across the country."
"Blacklisters should be displayed on all kinds of platforms."
"This is for people to lose on their social credit," another commenter writes: "If you don't want to 'socially die' then just fulfill your duties."
But not everyone agrees. "People are buying a movie ticket to see their film," one person says: "They suddenly get exposed to this kind of content that has nothing to do with them, what about their rights as a consumer?"
By Manya Koetse
References
Dai, Xin, Toward a Reputation State: The Social Credit System Project of China (June 10, 2018). Available at SSRN: https://ssrn.com/abstract=3193577 or http://dx.doi.org/10.2139/ssrn.3193577 [5.3.19].
Spotted a mistake or want to add something? Please let us know in comments below or email us.
©2019 Whatsonweibo. All rights reserved. Do not reproduce our content without permission – you can contact us at info@whatsonweibo.com
Chinese Construction Worker Left Jobless after Exposing the Dangers of Flimsy Safety Helmets
No one seems willing to hire the day laborer after he exposed the substandard quality of workers' helmets.
First published
A video of a Chinese construction worker showing the shocking difference in quality between the safety helmets of laborers versus those of their supervisors went viral on social media earlier this month. Chinese netizens praised the whistleblowers' push for equal safety standards, but he is now left jobless and ignored.
On April 11, a Chinese day laborer by the name of Dou (窦) published a video on Kuaishou exposing the low-quality safety helmets for frontline construction workers.
In the video (embedded below), Dou shows two helmets. The yellow one, he claims, is the one worn by construction workers. The red one belongs to their supervisors. As he smashes the helmets together, Dou shows how the yellow one is immediately crushed, while the red one remains in perfect condition.
Dou's message was simple and strong: the helmets worn by supervisors are of much higher quality than those of construction workers, exposing them to considerable dangers while working.
The video was viewed at least 100 million times and sparked major online discussions on the safety of Chinese construction workers before it was taken down from video platform Kuaishou on April 18.
At time of writing, the hashtag "The Contrast between the Safety Helmets of Workers and Supervisors" (#工人和领导安全帽对比#) has been viewed 250 million times on social media platform Weibo, where netizens have collectively expressed their sympathies for vulnerable laborers whose "safety first", apparently, is not a priority at many construction sites.
The topic also made headlines in Chinese state media. State-owned broadcaster CCTV investigated the quality of Chinese safety helmets, and discovered that some available construction hats, priced as low as 4 RMB (0.59 U.S.$), did not meet safety standards.
A lawyer quoted by Global Times advocated that China's relevant government departments should launch a campaign to crack down on "inferior helmets" and "clean up illegal products from the source." The state-run newspaper also reported that workers wearing unsuitable helmets was "a norm in the construction industry," according to an industry insider.
China's Ministry of Emergency Management (中华人民共和国应急管理部) released a public statement on Weibo in response to the issue, reminding construction supervisors to abide by legal safety regulations.
But despite the overwhelming support for Dou, the day laborer is now left jobless and worried. In an interview with Chinese media outlet The Paper, Dou says that he can no longer find work since his video has gone viral: "I used to be able to find work every day," he said: "Why can't I find it now?"
In the interview, Dou suggests that his online fame over unequal safety helmet standards has made contractors afraid to hire him: "Even contractors that I used to work for are all declining my services." The situation has left Dou, father to three children, in financial troubles that have forced him to return to his hometown.
When reporters asked Dou why his viral video and earlier videos exposing the flimsy quality of construction hats were taken offline, he reportedly answered: "I need to live." Perhaps hoping to prevent further exclusion from the construction job market, Dou also claimed he had purchased the helmets in the video himself, and that his employer was not to blame.
"In the first few years of our lives we learn how to speak, and then we spend the rest of our lives learning to stay quiet."
News of Dou's predicament has attracted the attention of netizens. Earlier this week, the hashtag "Flimsy Safety Helmet Man Responds" (#脆皮安全帽当事人回应#) received more than 180 million views on Weibo, with many commenters expressing their worries over Dou's situation after addressing serious workplace safety issues.
One Weibo commenter wrote: "If this [unemployment] is the price you pay for speaking the truth, then who is willing to do so in the future?!" Another Weibo user wrote: "If you have nothing to hide, you'd have no problem hiring him."
"In the first few years of our lives we learn how to speak, and then we spend the rest of our lives learning to stay quiet," another commenter wrote.
Despite the public outcry against the injustice suffered by Dou, there are also those who point out that social media discussions can have an actual impact.
Some netizens referred to another incident that occurred last weekend when a video of a woman sitting on the hood of a brand-new Mercedes-Benz went viral.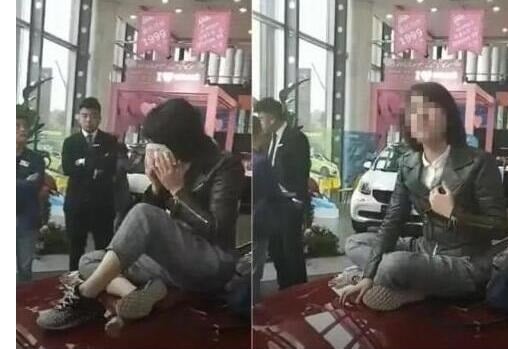 The woman had just purchased the Mercedes, and as the car was still standing in the showroom, it was leaking oil. After the dealer told her that she had to pay for the repairs, she climbed on the hood of the vehicle and, in tears, refused to get down.
A video of her protest immediately went viral, and millions from all over the country expressed their support for the woman. In light of the public controversy, Mercedes launched an investigation and suspended the showroom for violating regulations.
On Weibo, many people take the Mercedes incident as an example of how justice can prevail as long as netizens unite. But whether the power of social media will also have a positive outcome for Dou is yet uncertain. "He probably won't be able to find any work for the time to come," some Weibo users predict.
UPDATE 25 APRIL: Shortly after publishing this article, the hashtag "Flimsy Safety Helmet Man Finds Work" (#脆皮安全帽当事人已找到工作#) has taken off on social media platform Weibo. Dou has received the help of a friend in finding work at a local construction site in Qingdao, the same city where he previously worked.
Spotted a mistake or want to add something? Please let us know in comments below or email us.
©2019 Whatsonweibo. All rights reserved. Do not reproduce our content without permission – you can contact us at info@whatsonweibo.com