China's Popular Energy Drinks and Their Potentially Harmful Effects
After a new research found that energy drinks can potentially be harmful to health, Chinese state media warn Chinese netizens to "think twice" before drinking them. China currently has the largest energy drink market in the world.
Now that a new research found energy drinks to be potentially harmful to health, Chinese state media warn netizens to "think twice" before drinking them. China currently has the largest energy drink market in the world.
A new American study on the health impact of energy drinks points out that the negative effects of drinking one 32-ounce can are worse than drinking other caffeine-heavy drinks.
According to the research, that was published in the Journal of the American Heart Association, energy drinks can trigger potentially dangerous changes in blood pressure and heart activity.
Researchers have said that for people who have high blood pressure, heart problems other health issues, it might be better not to drink energy drinks until more is known about their health impact.
News about the study was shared on Chinese social media by state media outlets People's Daily and CCTV, writing that after drinking energy drinks, people have a 10-milliseconds higher QT interval, which is the time of the heart muscle to 'recharge' between beats. When your heart muscle takes longer than normal to 'recharge', it can lead to abnormal heart beats.
They also reported on the study's findings that people who drink energy drinks have an elevated blood pressure for more than six hours after finishing the beverage.
CCTV encouraged people to share the news and warned them to "think twice" before drinking energy drinks.
As in other parts of the world, energy drinks are most popular among young people in China who drink it as a normal beverage. According to Statista, the retail sales value of canned energy drinks in China increased from 9 billion RMB (±1,3 billion US$) in the year 2009 to an estimated 87.5 billion RMB (±12,6 billion US$) in 2019.
In Chinese, energy drinks are called 'functional beverages' (功能性饮料), which could also refer to sports or nutrient-enhanced drinks. As explained by Daxue Consulting, sports drinks primarily contain sodium, potassium, and magnesium, whereas nutrient-enhanced drinks usually include an extra supplement of vitamins.
Within 'functional beverages', energy drinks are classified differently from sports or nutrient-enhanced drinks as "drinks with other special functions" containing caffeine, taurine, and sugar together with other ingredients such as guarana and B vitamins.
Although the Maidong (脉动) sports drink (or 'vitamin water') is China's most popular 'functional beverage', Red Bull (红牛) is the market leader when it comes to the energy drinks category.
Other big players within this category are Hi Tiger (乐虎), Qili (启力), Lipovitan (力保健), and Eastroc Super Drink (东鹏特饮).
On Weibo, many netizens expressed their worries after reading the reports. "I just bought Red Bull yesterday!", one netizen responded, posting shocked emoticons. "I will stop drinking this from now on," a typical comment said.
"No wonder I always feel like my heart skips a beat when I drink Red Bull in the morning," a netizen named yoyowon wrote: "It makes me feel vague and absent-minded."
"I am happy I never bought this stuff – I always thought it was too expensive anyway," others wrote.
But some people were also confused, asking if the Maidong drink belongs to the same category as Red Bull. "Maidong is a sports drink," one person responded: "Functional beverages are not the same as sports beverages."
Many people wondered about the purpose of energy drinks after reading about the recent study. "Why don't people just drink coffee instead?", many asked. "In the end, drinking plain water is simply the best," one netizen said.
It remains to be seen how and if the recent study will affect the Chinese energy drink market, which has been explosively growing over the past few years. In 2015 alone, the energy drink consumption in China saw a 25% volume growth compared to the year before – four times more than the US.
One male Weibo user does not seem to care about the recent study, posting photos of himself drinking Red Bull: "I flew back to Chengdu last night, and am now off to Chongqing. Drinking some Red Bull – I am unstoppable!"
– By Manya Koetse
Follow @WhatsOnWeibo
[showad block=1]
©2017 Whatsonweibo. All rights reserved. Do not reproduce our content without permission – you can contact us at info@whatsonweibo.com.
Another Hotpot Controversy: Famous Food Critic Wants Hotpot Gone
Hotpot discussions are getting heated.
One of China's most famous food critics would rather see hotpot disappear, but hundreds of Chinese netizens do not agree at all.
After a hotpot restaurant became top trending on Weibo yesterday for recruiting 'Ivy League' graduates as waiters, another hotpot controversy has hit Chinese social media.
This time, the renowned Hong Kong food critic and cookbook writer Chua Lam (蔡瀾, Cai Lan) has stirred discussions among Chinese netizens over comments he made during an appearance on the Hunan TV talk show Day Day Up (天天向上/Tiantian Shangtian), SupChina and The Guardian reported on January 3rd.
When asked by one of the hosts of the show what dishes he would love to see disappear from the world, Chua answered: hotpot.
"Hotpot is the cooking style that lacks culture the most," the food critic added: "You just throw the ingredients in there, there's nothing tasty about it." Because the hotpot allegedly has no cultural significance and because the cooking style is so easy, the critic suggested it might as well disappear altogether.
Chua Lam is a popular personality on social media. On his Weibo account, he has more than ten million fans.
Read the full story at Hotpot Ambassador here.
By Manya Koetse
Follow @whatsonweibo
Spotted a mistake or want to add something? Please let us know in comments below or email us.
©2019 Whatsonweibo. All rights reserved. Do not reproduce our content without permission – you can contact us at info@whatsonweibo.com
Hotpot Restaurant with High Standards Goes Viral: Waiters Required to Have 'Ivy League' Diploma
Top-notch hotpot restaurant asks for top-notch waiters – stirring controversy online.
Marketing stunt or serious job requirement? This new Zhengzhou hotpot restaurant, that seeks to recruit ten 'Ivy League' graduates as waiters, has become the talk of the day on Chinese social media.
The job announcement of a new Chinese hotpot restaurant has gone viral on Weibo, as the new establishment requires that persons who apply to work as a server to have a degree at a "985" ('Ivy League') university.
The job requirements of the restaurant, which is located in Zhengzhou, Henan province, started attracting online attention on December 30. By January 2nd, the hashtag 'Hotpot Restaurant Requires 985 Diploma in Recruiting Waiters' (#火锅店招服务员要求985#) had received over 290 million views (!) on Sina Weibo.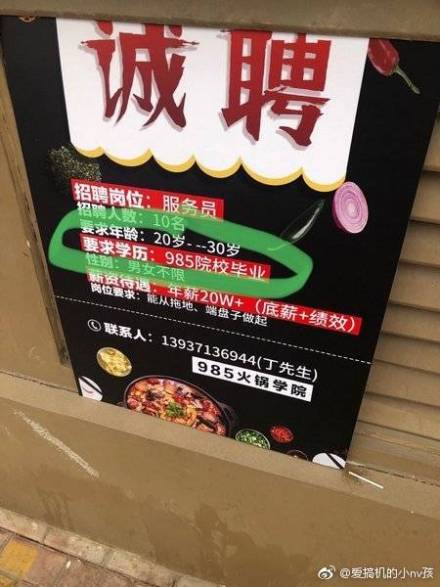 Some Weibo netizens said the recruitment announcement was an "insult" to those who have graduated from one of China's top universities, while others denounced the hotpot restaurant for purposely building hype to drive more customers to the new establishment.
"What does being a '985' graduate have to do with being a waiter?", one popular comment said: "To be kind-hearted and responsible is what matters." Others sarcastically comment that home delivery staff might be required to hold a PhD degree in the future.
The so-called "985 Project" was launched in 1998 by former President Jiang Zemin at the 100th anniversary of Peking University on May 4th of that year (985 refers to 1998, May). It was meant to raise the number of (internationally recognized) first-rate universities within China. China's '985' universities include, among others, Fudan University, Peking University, and Tsinghua.
The job announcement of the new Zhengzhou hotpot restaurant does not completely come out of the blue. The restaurant itself is also called "985 Hotpot College" (985火锅学院), and its outside appearance seems to be themed around the '985' idea.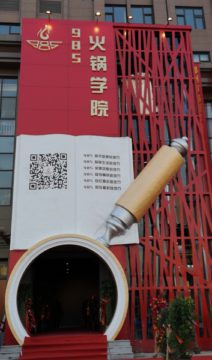 The restaurant's job advertisement states that the establishment is looking to recruit ten graduates between the ages of 20 and 30. The annual salary is approximately 200,000 RMB (±US$29,000), which is almost 2,5 times more than the local average pay and up to 8 times more than what waiters in Zhengzhou usually make, according to this Beijing Evening News article.
On January 2nd, the restaurant responded to all the commotion its job advertisement has caused, saying that "every person and organization has the right to pursue their dreams" and that they were hoping to find the right talents to "grow [the business] together."
Despite the fact that hundreds of netizens condemn the restaurant's call for 'Ivy League' waiters, there are also those who do not see a problem: "The business has the freedom to choose their own standards, and graduates also have the freedom to apply there or not," some write.
Hotpot restaurants are incredibly popular and common in China. The ubiquity leads to hotpot establishments becoming more and more competitive. In recent years, 'themed' hotpot restaurants have popped up like mushrooms in China's bigger cities, trying to attract customers with their unique concepts, such as revolution-themed hot pot restaurants, robot-themed hotpot places, or even classroom-themed hotpot.
The "985 Hotpot College" will have its highly educated waiters as a unique selling point. Whether or not their hot pot is tasty or not, however, is still unsure – despite the recent hype around the restaurant, its Dianping rating page is still awfully empty.
Want to know more about hotpot? Visit our sister site Hotpotambassador.com here.
By Manya Koetse
Follow @whatsonweibo
Spotted a mistake or want to add something? Please let us know in comments below or email us.
©2019 Whatsonweibo. All rights reserved. Do not reproduce our content without permission – you can contact us at info@whatsonweibo.com