"Seriously China?" – China's 'Completely Racist' Qiaobi Washing Powder Commercial
A Chinese ad campaign for washing detergent brand Qiaobi (俏比) that recently aired on TV and in cinemas is making its rounds on the internet, and is drawing much controversy for being "completely racist".
A Chinese ad campaign for washing detergent brand Qiaobi (俏比) that recently aired on TV and in cinemas is making its rounds on the internet and is drawing controversy for being "completely racist".
A commercial by Chinese washing detergent brand Qiaobi is drawing controversy outside of China. In the 50-second-commercial, a young woman turns a black man into a Chinese man by washing him using Qiaobi laundry tablets.
The ad starts with a young Chinese woman who is just about to do her laundry when a black man, carrying painting supplies and stained with (white) paint, steps into the room and whistles at her.
He steps forward as she flirtatiously motions him to come to her. Just as he is about to kiss her, she puts a washing detergent tablet in his mouth and pushes him into the washing machine.
She sits on the machine as he is being 'washed' while there's a close-up of the detergent brand Qiaobi. When the laundry is done, she opens the machine. Instead of the black man, we now see a Chinese man coming out. The woman smiles.
The commercial ends with the slogan: "Change Begins With Qiaobi" ("改变从俏比开始").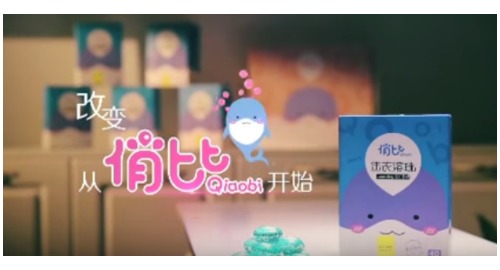 See the full video here:
The topic was covered by Shanghaiist and Vox on May 26 and made it to the number one topic on social media platform Reddit, where the original poster published a link to the commercial with the text: "Seriously China?".
Although Shanghaiist writes the commercial is new, it was uploaded to Chinese video platform iQiyi earlier this year, suggesting it has been around for some time already. The commercial seemingly has caused no commotion in the PRC. The video itself only got two likes and received no comments on iQiyi. It was also not published on the official page of Qiaobi.
Vox called the commercial "jaw-droppingly racist". Many Facebook users have responded to the ad with shock and disbelief, saying: "That is really the most racist ad I have ever seen."
[rp4wp]
On Reddit, one netizen wonders: "Why are Chinese people racist against black people?". One person answers it is because of "really bad reputation," and:
"A lot of Chinese going to America would give advice to other Chinese to watch out for the black people since they were known to be thieves, criminals, etc. This keeps getting spoonfed back to China by the American Chinese and then you have this bias start to show."
Another Reddit user named I am A Cloud writes:
"Poor experiences [with black people] have something to do with it, but also the mentality that lighter = purer/better/prettier/cleaner. In Beijing, you will notice almost all of the ads feature light-skinned Asians or white people. Most of their skin products are touted as lightening, and Chinese people avoid direct sunlight like the plague. To be fairer of skin is seen as being cleaner, more civilized, and more wealthy (because you don't have to work outside or get dirty). So then you bring along a black person, and they are the opposite of that ENTIRE mentality. One of my friends (half black, half white) grew up in Shanghai, and was often called ugly by the other children. Her hair wasn't silky like theirs, so they thought something must be wrong with it. Her skin was darker, so they assumed she was always dirty. Her nose was bigger, which is something they often see as ugly in both white people and black people alike. It's very deeply built into the culture that lighter skin is civilized."
The Shanghaiist's Christopher Ivan points out that the Qiaobi commercial format is copied from a series of Italian laundry detergent ads from about 9 years ago. In this commercial, a white guy is pushed into the laundry machine to come out as black, with the brand saying that "colored is better" (see video below).
Reddit user Hockeycannon has pointed out that a similar sort of commercial appeared as early as the 1940s. A Swedish detergent brand then also showed a white woman 'washing' a black man after which he is white.
But also before this period, there were ads in 19th century Europe using the same idea, such as this British Pears' soap brand ad.
China's Qiaobi washing powder ad thus far has caused far more controversy on English (social) media than on China's social media platforms. On Sina Weibo, there has been no mention of the ad at all yet.
The brand Qiaobi itself is also not popular online; it only has 45 followers on its empty Weibo account. Nevertheless, there are many Weibo users applauding the effectiveness of Qiaobi's products. "It works really well in removing stains," one Weibo user comments – apparently Qiaobi is better at making laundry detergent than it is at making commercials.
Update May 27: this topic has now become a big topic on Chinese social media, too:

– By Manya Koetse
Follow @WhatsOnWeibo
©2016 Whatsonweibo. All rights reserved. Do not reproduce our content without permission – you can contact us at info@whatsonweibo.com.
Another Didi Murder Shocks China: 20-Year-Old Woman Raped and Killed by Driver on Her Way to a Birthday Party
Xiao Zhao is the second woman in China to have been killed by her Didi driver this year, raising concerns among Chinese regarding the safety of the car-hailing app.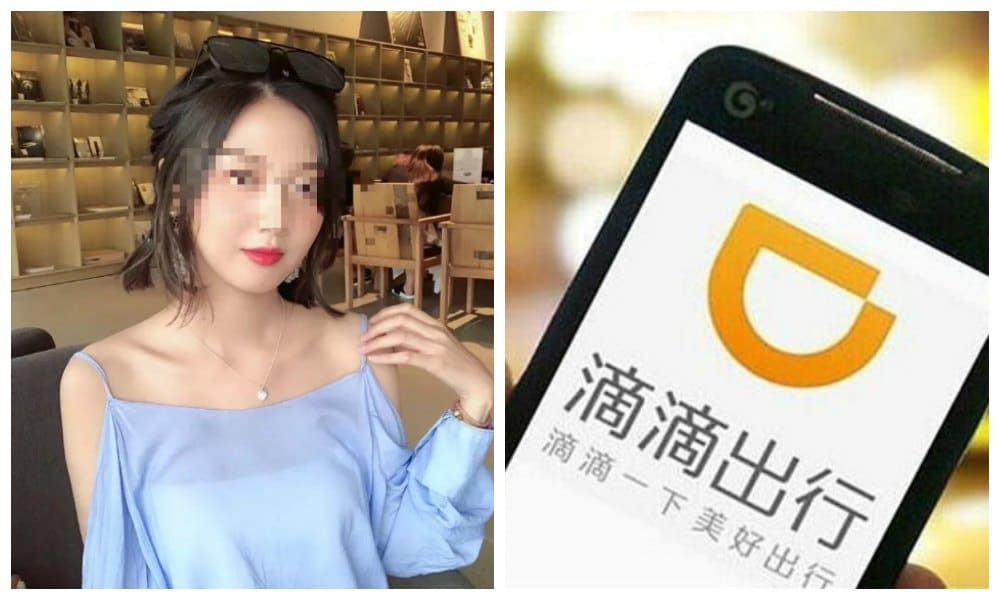 The 20-year-old Xiao Zhao, who went missing after she arranged a ride through Didi, China's popular Uber-like car-hailing app, has been found raped and murdered. Police have since arrested the suspect, the 27-year-old driver.
A 20-year-old woman from Wenzhou, Zhejiang, went missing on August 24 after taking a Didi taxi from Yueqing (乐清) to Yongjia (永嘉) county at one o'clock in the afternoon to attend a birthday party.
Her parents contacted the police when they could not reach their daughter Xiao Zhao after 14:00, which is when she had sent a message to a friend that she was in trouble.
Although her friend (@Super_4ong) immediately tried to contact Didi after Xiao Zhao had cried out for help, she was allegedly told to wait and no immediate action was taken.
Hours later, in the early morning on Saturday, August 25, police arrested the suspect responsible for the woman's disappearance, the 27-year-old driver from Sichuan.
Yueqing authorities reported that the body of Xiao Zhao was discovered in a mountainous area nearby, after the driver told police he had killed her and had thrown her body off a cliff. Local police report on their official Weibo account that the driver had also admitted to raping the woman.
It now appears that the driver had been reported by another female passenger earlier this week for indecent behavior. She came forward through WeChat today, claiming the same driver had harassed her around the same place where the murder took place. She was able to get away, and says she later contacted Didi to have his license removed but that Didi had not taken action yet.
Didi Chuxing (滴滴顺风车) is China's biggest ride-sharing company. Like Uber, it allows customers to arrange a taxi via the app or Wechat programme. Didi has around 450 million users in more than 400 cities across China.
The case is seemingly similar to another shocking Didi murder that occurred earlier this year. In May of this year, the murder of a 21-year-old flight attendant raised concerns among Chinese regarding the safety of car-hailing app Didi.
The 21-year-old Lucky Air flight attendant Li Mingzhu (李明珠) was killed in the early morning of May 6th after she had arranged a ride through Didi, and was on her way home from Zhengzhou Airport in Henan province. A friend of Li had received messages from her while she was on her way home, saying that her driver was "acting strange" and was telling her that he was "tempted to kiss her."
Unable to contact their daughter later that day, Li's family reported her missing on the afternoon of May 7. Her body was discovered by local police the following day. Police confirmed that the woman was killed by the driver with a weapon. The body of the driver was later retrieved from a river nearby.
At the time, Didi Chuxing issued an apology for Li's death, and said they had "incumbent responsibility." They also promised to improve their safety measures for passengers, but apparently have not succeeded in doing so; before yesterday's brutal killing, at least ten other Didi incidents also occurred since May, including the rape of a young female passenger on May 15 in Nantong (Jiangsu), the rape of an intoxicated woman in Foshan (Guangdong) who took a Didi taxi after going for a night out on May 13, and the sexual assault of another woman in Huai'an (Jiangsu).
Today, the company again issued a statement on Chinese social media, in which they said they were "filled with grief" over Friday's violent crime, and that they are deeply sorry: "We fell short of your expectations," they wrote. The statement received over 200,000 comments today.
The Didi murder is a major topic of discussion on Chinese social media today, with the hashtag "Wenzhou woman murdered when taking Didi" (#温州女孩乘滴滴遇害#) having been viewed more than 16 million times on Weibo at time of writing. Another similar hashtag (#女孩乘滴滴顺风车遇害#) was viewed more than 430 million times. Five of the top 10 'hot search' list topics relate to the murder.
One commenter (@Babylily杨杨莉莉) wrote: "As someone of the same age as she was, and me using Didi all the time, I'm just happy nothing has happened to me before. But I hope Didi can undertake action so that all women can safely use their services."
"I'm too afraid to ride with Didi now," others said. Amid safety concerns, some netizens now say they want Didi to incorporate an alarm button into its app, so that users can send for help immediately the moment they are being harrassed by their driver.
Others encourage women to quickly change settings in their app to allow the option to automatically share one's ride with friends, so they can exactly follow the location of the car.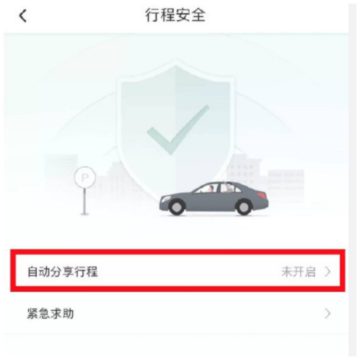 There are also many people who simply do not want to use Didi's services anymore; they are posting screenshots of them deleting the Didi app from their phones.
UPDATE: More details emerge.
By Manya Koetse, and Miranda Barnes
Follow @whatsonweibo
Spotted a mistake or want to add something? Please let us know in comments below or email us.
©2018 Whatsonweibo. All rights reserved. Do not reproduce our content without permission – you can contact us at info@whatsonweibo.com.
Remarkable Rebranding: Employees Confused and Angry about "58 Transport" Name Change to "Fast Dog Drivers"
Some workers at Fast Dog would've rather seen a cat in their company's remarkable rebranding campaign.
During the dog days of summer, Chinese transport company '58 Suyun' has made a remarkable move: they've rebranded under the name 'Fast Dog Drivers' (快狗打车). But since 'dog' is a derogatory term in Chinese that can mean 'damned' or 'bastard,' employees are reluctant to drive around with the new sign that marks them as 'damned drivers.'
Chinese logistics and delivery company "58 Transport" (58 Suyun/58速运) recently changed its name to "Fast Dog Drivers" or "Fast Dog Pickup [Service]" (loose translation of Kuài gǒu dǎchē 快狗打车), but workers are not happy about the name change.
A Chinese media news report (video) shows how workers in Zhengzhou have gathered at the office to express their anger about the name change. (Video also on Youtube here).
Many drivers feel the name has a double meaning, implying that either the drivers themselves are 'dogs' or that the people they serve are 'dogs,' or that they are actually picking up dogs.
'Dog' in Chinese (狗 gŏu) can be used as an insult, meaning 'damned' or 'cursed.' The words gǒudàn (狗蛋, lit. 'dog egg') or gǒuzǎizi (狗崽子, lit. 'dog bastard'), for example, can be translated as 'loser' or 'son of a b*tch.'
But 'dog' also pops up in many other vulgar or derogatory terms. Gǒupì (狗屁, lit. 'dog fart') meaning 'bullsh*t' and gǒurì (狗日) meaning 'lousy.'
Many Chinese (negative) idioms also use the word 'dog.' Gǒu yǎn kàn rén dī (狗眼看人低, lit. 'dog-eye-look-people-down')means 'to act like a snob.' Or gòu gǎi bù liǎo chī shǐ (狗改不了吃屎), literally 'a dog can't stop himself from eating shit,' meaning 'bad habits are hard to change.'
Some employees at the "Fast Dog Drivers" are afraid their new name might get in trouble, and refuse to have the new name sign on their minivans, asking: "Why can't the main company just change its name, and let us carry the old name on our vans?"
Some drivers have even put up signs on their van, saying: "We are respectful! We are no 'dogs'!"
One employee speaking to reporters (video) said: "If I call up a customer, am I supposed to say, 'Hello, this is 'Fast Dog' ['fast bastard'] speaking? I can't say that! I'd be scolding myself and the company!"
The employee further tells reporters: "Our company told us that JD.com also has a dog in its logo, yeah, but their name is still JD.com!" He says: "Just look at Tmall [e-commerce site 天猫 lit. 'day cat'], they have a 'cat' [in their name] and that's not insulting. Nobody uses 'cat' as a bad word, now do they, telling someone they're a 'cat' doesn't do anything, now does it?"
On Weibo, news about the name change is also causing some surprise: "Is this for real?", some say: "This name is so undignified!"
The name change surely is for real; '58 Transport' has also changed its Weibo account to 'Fast Dog Drivers' (@快狗打车官方微博). But the name introduction on its Weibo page has also attracted some dozen reactions saying: "Are your drivers 'dogs' ['damned']?"
Some people, however, mention the fact that one of China's biggest search engines also has a 'dog' in it: Sougou (搜狗) literally means 'searching dog.'
'58 Transport' or 'Fast Dog Drivers' is a company that operates in more than 25 major cities across China. It offers services in picking up goods, moving services, and other transport services, and especially stresses the speed of delivery and quality customer services as its main company strengths.
For now, according to reports, the workers in Zhengzhou do not need to put the new name on their minivans – if they do not have them yet – until the headquarters release instructions about the future marketing strategy of the 'Fast Dog' company.
By Manya Koetse
Follow @whatsonweibo
Spotted a mistake or want to add something? Please let us know in comments below or email us.
©2018 Whatsonweibo. All rights reserved. Do not reproduce our content without permission – you can contact us at info@whatsonweibo.com.