Distrust and Despair on WeChat and Weibo after Death of Wuhan Whistleblower
Dr. Li is now the face of the coronavirus crisis.
First published
The confusing information flows on the tragic death of Dr. Li are emblematic of the deeper problems behind the Wuhan pneumonia outbreak. Li is now the face of the Coronavirus crisis.
Many Chinese netizens had a sleepless night tonight as reports and posts poured in on the passing of Li Wenliang, one of the doctors who first tried to raise the alarm about the coronavirus outbreak in late December.
Individual posts expressing anger, distrust, and despair flooded Chinese social media after various sources, including the Party news outlet Global Times, first reported that Li had died earlier on Thursday, then later claimed that the young doctor was still alive but in critical condition, only to be followed by more reports stating that Li had passed away at 2:58 AM on Friday.
The 34-year-old doctor Li Wenliang was one of the eight 'whistleblowers' who tried to warn his colleagues about the Wuhan virus outbreak in late 2019, but was censored and reprimanded by local police for making "false comments."
He later became infected with the virus himself while working at the Wuhan Central Hospital.
At a certain moment on early Friday morning, both the hashtags "Li Wenliang Is Still Being Rescued" (#李文亮仍在抢救#) and the hashtag "Dr. Li Wenliang Has Passed Away" (#李文亮医生去世#) were trending on Chinese social media at the same time, with netizens' anger and confusion growing.
The Wuhan Central Hospital confirmed Li's death in an online announcement the early hours of Friday morning.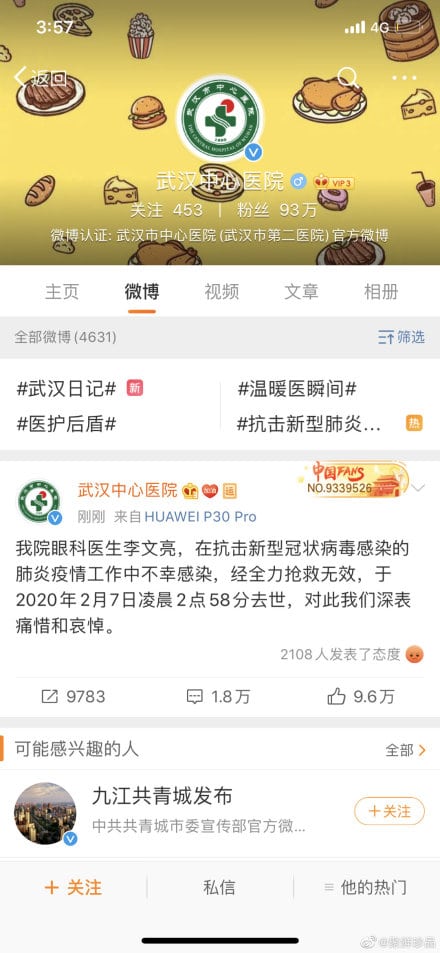 As discussions flared up on Weibo, netizens soon discovered that many posts were deleted, that only "blue V" Weibo accounts (verified official government, media, website, business etc accounts) were able to publish posts about Li's passing, and that news relating to Li was seemingly kept out of the top search lists on Weibo.
In response to this, the hashtag "Can You Manage, Do You Understand?" (#你能做到吗?你听明白了吗#) surfaced on Weibo, which is a reference to the letter Li was forced to sign earlier this year for "disturbing public order."
"Can you manage? Do you understand?

"I don't understand, fuck off." pic.twitter.com/zNBw93f5Rg

— Frankie Huang 🐯 (@ourobororoboruo) February 6, 2020
Many netizens are not just expressing their anger and sadness over the death of Li, but also about the way it was reported and the distrust in media, authorities, and social media platforms that comes with it.
By early Friday morning, the phrase "Can You Manage, Do You Understand?" seems to have become a protest slogan for freedom of speech.
The messiness of Chinese media first reporting his death, then claiming Li was still on life support, and then the definite news of his passing has struck a nerve among netizens as it also epitomizes the handling of the Wuhan virus outbreak itself.
Some Weibo users suggest that official media purposely changed the narrative on Li's passing to control the public opinion on the issue.
Many people express their frustration about not being able to trust supposedly trustworthy sources.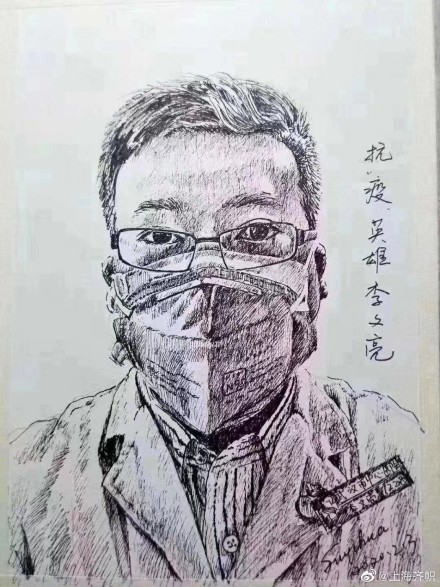 "They wouldn't let him live when he was alive, they wouldn't let him die when he was dead," some write.
"We know they're lying, they know they're lying, they know we know they're lying, we also know they know we know they're lying,..

but they still lie."

– one of the many popular Weibo posts on #LiWenliang under now censored #你能做到吗你听明白了吗 hashtag. pic.twitter.com/dG4DCFqpwi

— Manya Koetse (@manyapan) February 7, 2020
"Our hero, rest in peace," many commenters say.
Dr. Li is survived by his pregnant wife and their first child.
For more information about the main social media trends in China regarding the coronavirus, also see our article on the 8 Major Trends in Times of 2019-nCoV.
By Manya Koetse, additional research by Miranda Barnes
Follow @whatsonweibo
Spotted a mistake or want to add something? Please let us know in comments below or email us. First-time commenters, please be patient – we will have to manually approve your comment before it appears.
©2020 Whatsonweibo. All rights reserved. Do not reproduce our content without permission – you can contact us at info@whatsonweibo.com.
Confusion over Official Media Report on China's "Next Five Years" of Zero Covid Policy
Netizens interpreted this as a sign that China's current Covid strategy would continue at least five more years.
'The next five years': four words that flooded Chinese social media today and caused commotion among netizens who interpreted this as written proof that China's current Covid strategy would continue for at least five more years. But the Beijing Daily editor-in-chief has since responded to the issue, blaming reporters for getting it all mixed up.
On June 27th, after the start of the 13th Beijing Municipal Party Congress, Chinese state media outlet Beijing Daily (北京日报) published an online news article about a report delivered by Beijing's Party chief Cai Qi (蔡奇).
The article zoomed in on what the report said about Beijing's ongoing efforts in light of China's zero-Covid policy, and introduced Beijing's epidemic prevention strategy as relating to "the coming five years" ("未来五年").
Those four words then flooded social media and caused commotion among netizens who interpreted this as a sign that China's current Covid strategy would continue at least five more years. Many people wrote that the idea of living with the current measures for so many years shocked and scared them.
Soon after, the article suddenly changed, and the controversial "coming five years" was left out, which also led to speculation.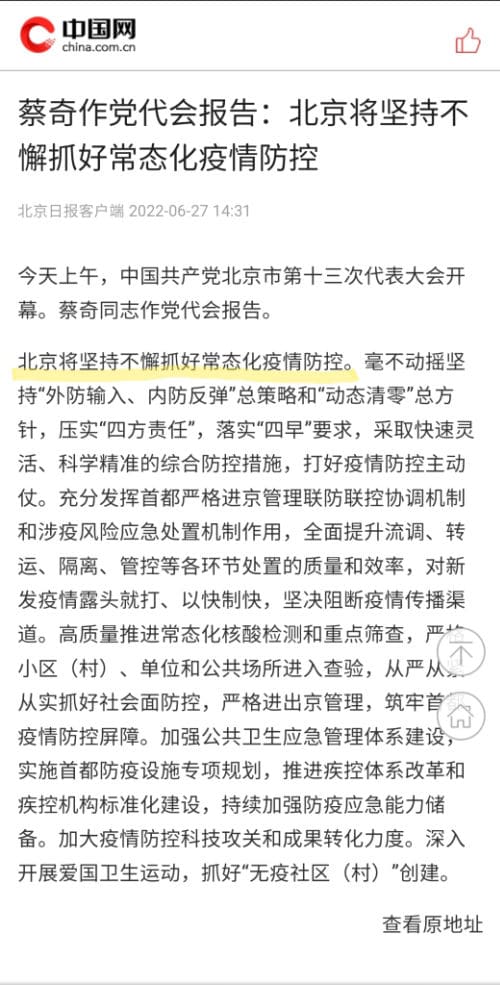 Beijing Times editor-in-chief Zhao Jingyun (赵靖云) then clarified the situation in a social media post, claiming that it was basically an error made due to the carelessness of reporters who already filled in information before actually receiving the report:
"I can explain this with some authority: the four-word phrase "the next five years" was indeed not included in the report, but was added by our reporter[s] by mistake. Why did they add this by mistake? It's funny, because in order to win some time, they dismantled the report's key points and made a template in advance that "in the next five years" such and such will be done, putting it in paragraph by paragraph, and also putting in "insist on normalized epidemic prevention and control" without even thinking about it. This is indeed an operational error at the media level, and if you say that our people lack professionalism, I get it, but I just hope that people will stop magnifying this mistake by passing on the wrong information."
Global Times commentator Hu Xijin (@胡锡进), who used to be the editor-in-chief and party secretary of the state media outlet, also weighed in on the incident in a social media post on Monday. He started his post by saying that the reporter who initially made the phrase 'next five year' go viral had a "lack of professionalism" which caused the overall misunderstanding.
Hu also added a photo of the relevant page within the original report that was delivered at the Congress, showing that the phrase 'the coming five years' was indeed not written before the segment on China's battle against Covid, which detailed Beijing's commitment to its strict epidemic prevention and control measures.
But Hu also added some nuance to the confusion and how it came about. The original report indeed generally focuses on Beijing developments of the past five years and the next five years, but adding the "in the next five years" phrase right before the segment was a confusing emphasis only added by the reporter, changing the meaning of the text.
Hu noted that the right way to interpret the report's segment about China's Covid battle is that it clarifies that the battle against the virus is not over and that China will continue to fight Covid – but that does not mean that Beijing will stick to its current zero Covid policy for the next five years to come, including its local lockdowns and restrictions on movement.
Hu Xijin wrote:
"I really do not believe that the city of Beijing would allow the situation as it has been for the past two months or so go on for another five years. That would be unbearable for the people of Beijing, it would be too much for the city's economy, and it would have a negative impact on the whole country. So it's unlikely that Beijing would come up with such a negative plan now, and I'm convinced that those in charge of managing the city will plan and strive to achieve a more morale-boosting five years ahead."
After the apparent error was set straight, netizens reflected on the online panic and confusion that had erupted over just four words. Some said that the general panic showed how sensitive and nervous people had become in times of Covid. Others were certain that the term "next five years" would be banned from Weibo. Many just said that they still needed time to recover from the shock they felt.
"The peoples' reactions today really show how fed up everyone is with the 'disease prevention' – if you want to know what the people think, this is what they think," one Weibo user from Beijing wrote.
To read more about Covid-19 in China, check our articles here.
By Manya Koetse
With contributions by Miranda Barnes
Get the story behind the hashtag. Subscribe to What's on Weibo here to receive our weekly newsletter and get access to our latest articles:
Spotted a mistake or want to add something? Please let us know in comments below or email us. First-time commenters, please be patient – we will have to manually approve your comment before it appears.
©2022 Whatsonweibo. All rights reserved. Do not reproduce our content without permission – you can contact us at info@whatsonweibo.com.
The Curious Case of the Henan Bank Depositors and the Changing Health QR Codes
"It must be American hackers who did this, right?", some Weibo commenters wrote in light of the miraculously changing Health Codes.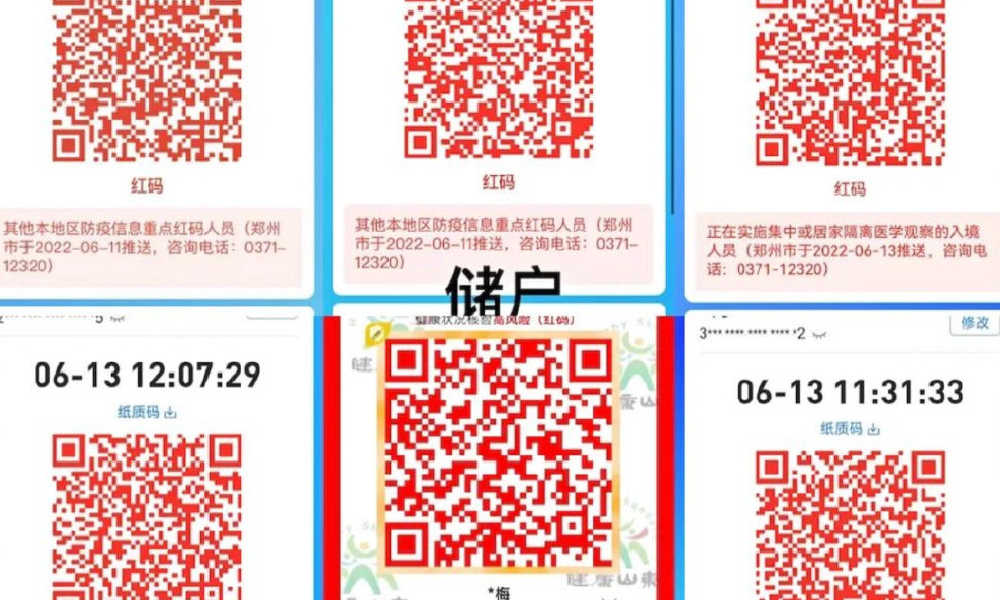 Where can people turn to once their money seems to have gone up in flames? How could Health Codes randomly turn from green to red? And who will stand up for justice? These are the questions asked by Chinese netizens in the Henan bank depositors case that is making headlines this week.
This week, the story of a Henan banking scandal and depositors' Health Codes suddenly turning red triggered online discussions in China and even made international headlines.
In between online deposit products, financial platforms, regional banks, and Health Code systems, the story is a bit messy. Here, we'll explain the story and its latest developments.
DUPED DEPOSITORS
The story starts in April of this year when people discovered that they were unable to withdraw money they had invested in online deposit products offered by various smaller regional banks.
Some people had deposited money via the Baidu money app (Du Xiaoman Financial 度小满), others had used another third-party platform, intermediaries, or one of the mini-programs run by the banks themselves.
By early May, it had become clear that dozens of depositors who once thought they had invested their money wisely had actually been duped. Four of the banks involved are located in Henan province, namely: the Yuzhou Xinminsheng Village Bank (禹州新民生村镇银行), Shangcai Huimin County Bank (上蔡惠民村镇银行), Zhecheng Huanghuai Community Bank (柘城黄淮村镇银行), and the Kaifeng New Oriental Country Bank (开封新东方村镇银行).
But there are also other smaller banks involved, including Guzhen Xinhuaihe Rural Bank (固镇新淮河村镇银行) and Yixian Xinhuaihe Rural Bank (黟县新淮河村镇银行) in Anhui.
As reported by South China Morning Post by late May, multiple customers had confirmed that they had not been able to withdraw funds either online or in person.
The sudden apparent closure of their withdrawal channels set off a wave of panic among depositors, who then protested in the provincial capital of Zhengzhou on May 23rd, demanding the return of their money.
Yang Huajun (杨华军), deputy director of the Henan branch of China's Banking and Insurance Regulatory Commission (CBIRC), arrived at the scene of the protests and – speaking through a megaphone – promised the demonstrators that as long as their funds were "legally" deposited, they would be protected by law.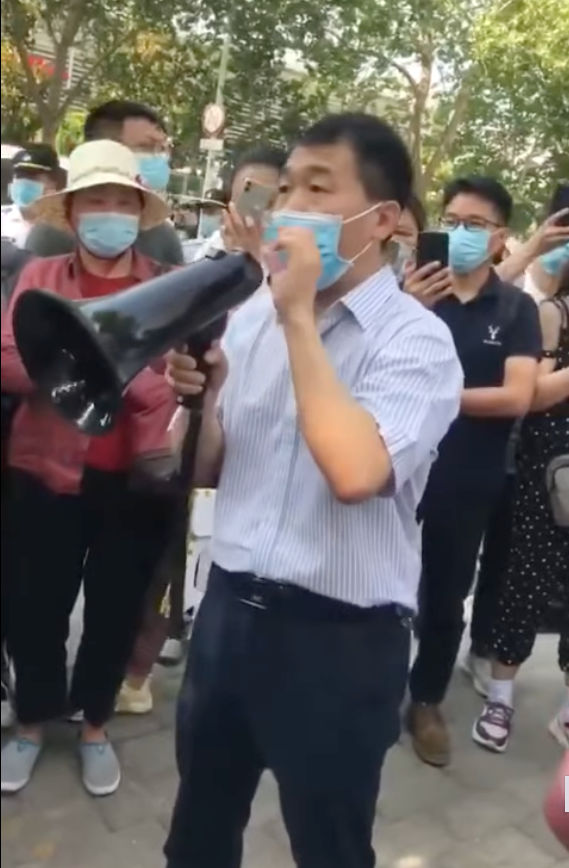 Many depositers, however, were unsure of whether or not their deposits were actually made in a "legal" way and what the definition of "legal" entailed in this case.
Over the past years, Chinese smaller rural banks have partnered with online platforms, often offering relatively high returns, in order to boost their deposit-reliant funding base.
In December of 2020, platforms Alipay, Du Xiaoman Financial, JD.com and Tencent Wealth Management all suspended the sale of online deposit products via their financial apps in light of heightened scrutiny from regulators concerning funds raised by unstable smaller lenders.
The smaller banks that are now at the center of the recent financial scandal then (illegally) reached out to their existing customers directly after December 2020 and convinced them to download the banks' apps in order to deposit even more money.
One of the persons duped is Mr. Sun from Shenzhen. As reported by Sina Finance, it was in 2020 when Sun came across a seemingly attractive online saving product via the Du Xiaoman Financial app. Although Sun was not familiar with the banks in question, namely the Yuzhou Xinminsheng Village Bank and Shangcai Huimin County Bank, he could not resist the deposit interest rate of 4.6%, which was much better than what the big banks were offering at the time.
In early 2021, Mr. Sun received a text message from Yuzhou Xinminsheng Village Bank saying that although the financial products had been taken offline, users would still be able to deposit through the bank's own online application. Mr. Sun ended up depositing his entire savings into the Henan-based rural bank, thousands of miles away from his own home.
And then, earlier this year, Sun came across the news that Henan New Wealth Group, the primary shareholder of all banks involved, was under investigation for fraudulous practices. When he opened up his online financial application, there was nothing to see but a notice that the system was under maintenance. Sun could no longer access his funds. Hundreds of other customers were seeing the same empty screens.
According to media reports, the current suspected scam case affects some 400,000 customers of seven local banks and involves a money sum of 40 billion yuan ($5,6 billion).
IN THE RED
As thousands of depositors have been fighting to recover their savings over the past two months, they were duped a second time earlier this week. Dozens of affected depositors claimed they had seen their Health Codes turn red without any logical reason on June 13 or June 14 – the day of a planned protest.
In China's Covid era, the Health Code system has become a pivotal tool in the country's battle to contain the spread of the virus. The Health Code system is embedded in various apps, most importantly in Wechat and Alipay, and uses various data to assess an individual's exposure risk. There is not one unified national Health Code application; they are developed by different actors and their management is different across Chinese provinces and cities.
If there is no detected risk, an individual is assigned a Green QR Code and is allowed access into any venue or location where a QR code scan is mandatory. With a Yellow Code, you should stay home for a week, and Red Code means you are high risk and need to quarantine for 14 days – this severely limits your freedom to move around and travel.
On June 13th, many affected investors saw their Health Code turn red when arriving in Zhengzhou, where they were allegedly coming to retrieve their savings and protest the injustice they suffered. The QR code color change was unexpected and strange, considering that there were no new reported Covid cases in their vicinity and also considering the fact that accompanying family members who made the exact same journey did not see their Health Codes change.
This raised suspicions that the duped depositors were specifically targeted, and that their Health Codes were being manipulated by authorities.
CNN reported that many distributors who had come to Zhengzhou were taken to a guarded quarantine hotel before being sent back to their hometowns via train the next day. According to a Chinese media report by Nanfang Daily, the depositors were not even asked to do nucleic acid testing and were told by local staff that they would get their Green Code back as soon as they left Henan.
Various media report that minimally 200 depositors saw their Health Code change from Green to Red earlier this week.
"OPERATION CODE RED"
The curious case of the Henan depositors scandal and the changing Health Code colors has become a trending topic on Chinese social media this week.
The topic of the duped depositors was also discussed online before this week, and it brought back memories of earlier financial scandals, such as the P2P chaos that occurred back in 2018.
But the topic of depositors' Health Codes changing to Red is something that attracted much wider discussions on the apparent abuse of a system that has now become a part of everyday life for people in China's Covid era.
The main proof for people that the Henan depositors were targeted in this apparent "Operation Code Red" is that, as mentioned before, the family members that were traveling together with the duped depositors never saw a change in their Health Code: those people who were listed on the affected regional banks' depositors list were seemingly singled out and purposely targeted.
"Who is in charge of changing the Health Code colors?" became a much-asked question on Weibo, with many blaming local Henan authorities for abusing their powers to try and stop protesters from raising their voices in Zhengzhou. One Weibo post on this issue received over 1,6 million views. Meanwhile, Henan authorities still said they did "not understand" what had happened.
"It must be American hackers who did this, right?", some Weibo commenters wrote, putting in a sarcastically smiling emoji, with others adding: "No, the aliens did this – it must have been the aliens!"
Others wrote that the situation at hand should be simple to figure out: "There is no way that this is an oversight or a data error. If you want to know who did this, look at who or which department has the authority to manage both epidemic prevention measures as well as finance affairs."
Many comments also showed a sense of disillusionment with how China's Covid management affects the people: "After seeing the chaos during the Shanghai lockdown, this does not even surprise me anymore," one person wrote on Weibo: "All we can do is pray that it won't happen to us."
"Why is Henan's "messy Red Code" incident so extremely vile and scary? Because once a person or institution holding public power looks at you in a bad light, they can give you a Red Code and take you away, in the name of legality. This is the evil that comes from unmonitored power," one blogger from Anhui wrote.
Other people also worried about foreign media reporting on this issue, saying this incident is being used to cast China in a bad light while local authorities are to blame: "We should unify the Health Code system into a national system in order to avoid this from happening again."
According to Chinese state media reports, the case has now been forwarded to the Health Commission of Henan Province for further investigation.
We will keep tracking upcoming developments. Meanwhile, check out our other reports on trending topics relating to China's banking and finance here. For more about Covid-related trending topics, check here.
By Manya Koetse
With contributions by Miranda Barnes
Get the story behind the hashtag. Subscribe to What's on Weibo here to receive our weekly newsletter and get access to our latest articles:
References (all other sources included in hyperlinks)
Lee, Amanda. 2022. "Rural Banks Freeze Customers' Accounts." South China Morning Post, May 31.
Spotted a mistake or want to add something? Please let us know in comments below or email us. First-time commenters, please be patient – we will have to manually approve your comment before it appears.
©2022 Whatsonweibo. All rights reserved. Do not reproduce our content without permission – you can contact us at info@whatsonweibo.com.