From "Voice of the People" to "Traitor of China": The Rise and Fall of Fang Fang's Wuhan Diary
How a Weibo journal got caught up in pandemic politics: the Wuhan Diary controversy explained.
Fang Fang's critical online account of the COVID-19 outbreak in Wuhan was widely celebrated before it was strongly condemned. This is a look into one of the biggest controversies in China's online media spheres this spring, and a breakdown of how this acclaimed Chinese novelist went from an ally in times of lockdown, to a traitor during pandemic politics.

This is the "WE…WEI…WHAT?" column by Manya Koetse, original publication in German by Goethe Institut China (forthcoming), see Goethe.de: WE…WEI…WHAT? Manya Koetse erklärt das chinesische Internet.

As China is gradually getting back to business after the COVID-19 crisis, the coronavirus crisis is still dominating social media discussions. But the way the virus comes up in online debates has changed over the past few weeks, as the global health crisis has become increasingly politicized. Rather than a show of global solidarity, the pandemic has spawned a lot of finger-pointing in online media and on social networking sites across the world.
Who is to blame for the spread of the virus? Who is doing more, which leader is doing better, where is the crisis mismanaged? What is fake news, what is truth? Who writes or says what for which reason?
Somewhere within these corona media wars and political games, there's the controversy regarding Wuhan Diary, which recently became a heated topic of debate on Weibo and beyond. 
FANG FANG AND WUHAN DIARY
"Fang was saying the things so many people wanted to say, and was asking the questions so many wanted answers to"
Wuhan Diary (武汉日记[1]) is written by the 65-year-old acclaimed Chinese author Wang Fang, better known as Fang Fang (方方).[2] It is an online account of the 2020 Hubei lockdown, originally published on WeChat and Weibo.
Throughout the lockdown period in January, February, and March, Fang Fang wrote about life in quarantine in province capital Wuhan, the heart of the epicenter, documenting everything from the weather to the latest news and the personal stories and tragedies behind the emerging crisis.
Fang's 60-post diary was published on her Weibo account (@方方), which had some 3,8 million followers at the time, from late January shortly after the lockdown began, until late March when the end of the lockdown was announced.
Shortly after starting her online account, Fang's daily journal gained wide traction. Amid the panic and uncertainty of the early days of the lockdown, social media flooded with rumors, fake news, and misinformation. Chinese web users were looking for alternative reliable sources to find out what was really happening in Wuhan.
Fang's online journal provided people with information regarding the new coronavirus, but it also captured the emotions and struggles of the people in Wuhan. She soon became a go-to first-hand account of what was going on in the city; she was the voice of a quarantined city in distress. At a time when people were craving unfiltered information and distrusting official media, her words became an anchor for many in a sea of confusing news flows.
The fact that Fang is a respected author contributed to the popularity of her online writings. With her compassionate representations of everyday life in Wuhan, she has since long been an important author for the regional literature. Her writings have drawn attention ever since the 1980s, when she won an award for the best National Novella (Landscape 风景, 1987). She has remained a relevant author throughout the years, even receiving the prestigious Lu Xun Literary Prize in 2010.
In documenting life in Wuhan during the ongoing COVID-19 outbreak, Fang touched upon many sensitive issues. Besides writing about problems such as overcrowded hospitals and mask shortages, she also directly questioned how authorities were handling the crisis and warned other writers for propaganda manipulation.
With the death of 'whistleblower' doctor Li Wenliang on the night of February 6, Chinese social media saw an outpouring of anger at Chinese authorities and state media. The public's anger showed itself at other moments too, both online and offline.
While many of Fang's publications on social media were censored and her Weibo account was temporarily blocked, the online Wuhan Diary only gained more attention, with the daily entries (or screenshots) spreading across WeChat like wildfire. "Dear internet censors, you should let Wuhan people speak,"[3] Fang wrote in February.
By demanding more transparency and accountability from Chinese (local) leadership, Fang was saying the things so many people wanted to say and was asking the questions so many wanted answers to.
CHANGING US-VERSUS-THEM DYNAMICS
"Whose side is she on, anyway?"
It did not take long for Fang's online journal to gain international attention. In mid-February, news articles covering the 'forbidden diary' from Wuhan also appeared in foreign media.
Although Fang's online writings received some backlash before – her critics mainly disliked how much of her diary entries were not fact-based but "merely hearsay" -, it wasn't until April when public opinion really shifted against Wuhan Diary after it became known that an international edition of her diary was on presale through Amazon.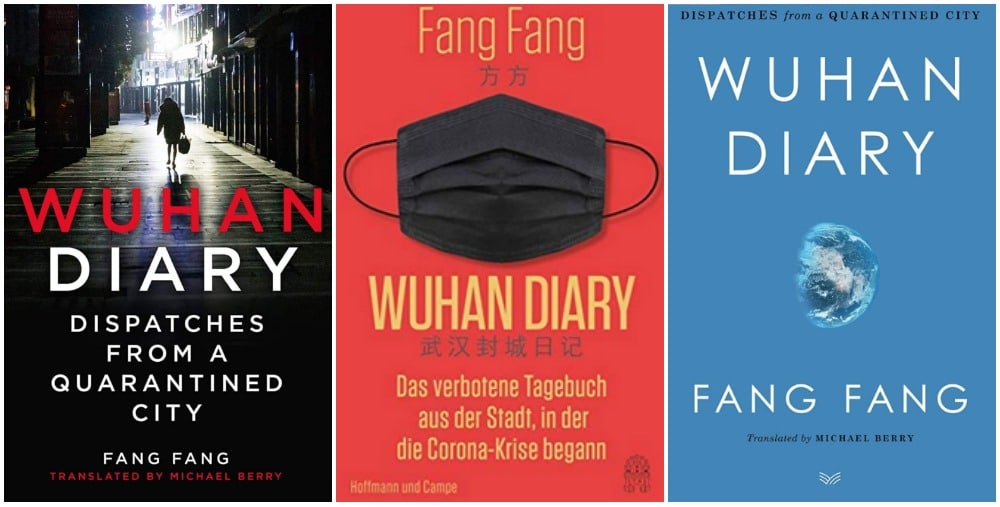 First, there was the announcement of the English version with the title "Wuhan Diary: Dispatches from the Original Epicenter" (later changed to "Wuhan Diary: Dispatches from a Quarantined City", translation by Michael Berry) published by Harper Collins; then, a German edition translated by Michael Kahn-Ackermann and issued by Hoffman Camp Press.
The criticism that Fang Fang has since been facing on Chinese social media is unprecedented. Rather than a Wuhan ally, many of her online readers now think of her as a "traitor" to China[4], saying she is airing China's dirty laundry to make a profit, and that she only writes about negativity and darkness to play to the tune of those countries slamming China. The author has seen an online stream of death threats and violent comments.
Fang Fang arguably would not have received as much backlash if China had not come to face such international scrutiny in light of the global spread of COVID-19. At the time of the early coronavirus outbreak and Fang's first diary entry, the corona crisis was still a national one, and to some extent even a regional one. Many saw Fang, a Wuhan native and acclaimed author, as a spokesperson for the people in times of fear, uncertainty, and collective suffering.
But as China increasingly came under international pressure over how it handled the epidemic in its early phases, anti-foreign and nationalistic sentiments grew by the day. With China being blamed for causing the pandemic – American President Trump even suggesting it did so deliberately – waves of angry nationalism flooded Chinese social media, and Wuhan Diary was caught in the changing us-versus-them dynamics of China's COVID-19 crisis.
In the eyes of many Chinese web users, a translated version of Fang's critical account of the Wuhan outbreak would only provide opponents of China with more ammunition. The upcoming translation's description on Amazon by itself was a source of outrage for many, allegedly putting too much emphasis on China's mishandling of the early outbreak. The fact that the original title of the book emphasized that COVID-19 started in Wuhan[5] was also something many netizens found offensive.  'Whose side is she on anyway?', they wondered.
"Western countries are attacking the motherland, and Fang Fang is knowingly giving them the bullets in advance," one Weibo commenter from Beijing wrote.
AN ONGOING ISSUE
"Your Wuhan Diary will only worsen Western misconceptions about China!"
The Wuhan Diary controversy seems to be an ongoing one. By early May, it was reported that at least two Chinese academics were reprimanded for speaking out in support of Fang Fang. Online discussions continue. By now, the Weibo hashtag "Fang Fang Diary" (#方方日记#) has received over 670 million views, with other scattered hashtags also drawing in thousands of responses.
On Fang Fang's Weibo page, now followed by more than 4,6 million web users, the author has responded to the recent controversy and allegations in multiple lengthy posts, claiming that most of her attackers, who blame her for only writing negative things, did not even read her diary. She argues that her written account is one of a trapped Wuhan resident in the middle of a catastrophe and that it should not be taken out of its this context.
Fang Fang is not the first Chinese writer to face online backlash for how 'China' is represented to the outside world. Besides the fact that Chinese literature is virtually inseparable from politics, there is an enormous number of Chinese web users ready to be outraged about China being misconstrued, ridiculed, humiliated, or otherwise suffering foreign insult.
This kind of angry nationalism often surfaces on the Chinese internet, and it has done so since the early days of social media in China. According to Ying Jiang, the author of Cyber-Nationalism in China, the roots of this "angry nationalism" expressed by today's Chinese netizens can be traced back to China's modern history, and more specifically to the "Century of Humiliation" (mid-1800s until after WWII) during which China faced many hardships brought about by foreign powers.
This history has been an important component of Chinese education campaigns for decades, and along with the economic prospering of China, the country has seen the rise of a more patriotic populace that is nationalistic in a way that is also increasingly anti-foreign.
Especially during noteworthy times such as the coronavirus outbreak – an opportunity for China to establish more international leadership -, negative media representations of the country, its government, and how it handled the COVID-19 crisis are sensitive and prone to controversy. A telling example is that three journalists of The Wall Street Journal were expelled from China in February over the paper's refusal to apologize for a published opinion article titled "China Is the Real Sick Man of Asia."
The online anger over Fang's translated work will not die out any time soon. On Weibo, discussions continue. "Fang Fang, your Wuhan Diary, that's merely hearsay and overly subjective, will only worsen Western misconceptions about China, and will only make more Western people discriminate against Chinese! You'll go down in history as a disgrace!", one Weibo user writes in early May.
Although many will not agree on how Wuhan Diary will be remembered, all the commotion and criticism has only increased the public's awareness about the book's existence; it will surely go down in the history of the COVID-19 impact in China, and the online media wars that came with it.
The English translation of Wuhan Diary is expected to be released via Amazon on May 19 (link), the English audiobook on May 28 (link) the German translation is expected June 9. On the China Digital Times website, Josh Rudolph has also translated parts of Fang's work.
By Manya Koetse
Follow @whatsonweibo
For more COVID-19 related articles, please click here.
[1] Also known in Chinese as: 武汉封城日记.
[2] Fang Fang is the pen name of Wang Fang.
[3] Zhao, Kiki. 2020. "Opinion: The Coronavirus Story is Too Big for China to Spin." The New York Times, Feb 14 https://www.nytimes.com/2020/02/14/opinion/china-coronavirus-social-media.html [5.2.2020].
[4] Mainly using Chinese terms汉奸 and 卖国贼, both meaning "traitor" or more specifically "traitor to China."
[5] Also see the original German title of the translation: "Wuhan Diary – Das Verbotenen Tagebuch aus der Stadt, in der die Corona-Krise began" [The Forbidden Diary from the City where the Coronacrisis Began].
Sources and further reading
Adlakha, Hemant. 2020."Fang Fang: The 'Conscience of Wuhan' Amid Coronavirus Quarantine." The Diplomat , March 23 https://thediplomat.com/2020/03/fang-fang-the-conscience-of-wuhan-amid-coronavirus-quarantine/[5.3.2010].
Fumian, Marco. 2020. "To Serve the People or the Party: Fang Fang's Wuhan Diary and Chinese Writers at the Time of Coronavirus." MCLC Resource Center Publication (April 2020) https://u.osu.edu/mclc/online-series/marco-fumian/?fbclid=IwAR32HvM6WO0JHIhFFIY85bd-qyOzGEfXrZpp6S0SxbiTQrGCjwe_n-jL63Y [5.1.2020].
Leung, Laifong. 2016. Contemporary Chinese Fiction Writers: Biography, Bibliography, and Critical Assessment. New York & London: Routledge.
Rudolph, Jodh. 2020. "Translation: Backlash To Wuhan Diary "Reveals A Serious Problem Society Must Correct." China Digital Times, April 21 https://chinadigitaltimes.net/2020/04/translation-backlash-to-wuhan-diary-reveals-a-serious-problem-society-must-correct/ [5.2.2020].
Wu, Yuwen. 2020. "Chinese propagandists don't want you to read this diary on the coronavirus lockdown in Wuhan." The Independent, March 2 https://www.independent.co.uk/voices/coronavirus-wuhan-lockdown-fangfang-diary-china-dr-li-a9368961.html [3.2.2020].
Ying Jiang. 2012. Cyber-Nationalism in China: Challenging Western Media Portrayals of Internet Censorship in China. Adelaide: University of Adelaide Press.
Zhao, Kiki. 2020. "Opinion: The Coronavirus Story is Too Big for China to Spin." The New York Times, Feb 14 https://www.nytimes.com/2020/02/14/opinion/china-coronavirus-social-media.html [5.2.2020].
Spotted a mistake or want to add something? Please let us know in comments below or email us. First-time commenters, please be patient – we will have to manually approve your comment before it appears.
This text was written for Goethe-Institut China under a CC-BY-NC-ND-4.0-DE license (Creative Commons) as part of a monthly column in collaboration with What's On Weibo.
Full Translation of Peng Shuai's Weibo Post and Timeline of Events
Over the past seven weeks, the whereabouts and safety of Chinese tennis star Peng Shuai have been a matter of constant concern in international (social) media. Here is a timeline of events and a full translation of the Weibo post by Peng Shuai – where it all began.
On the night of November 2nd of 2021, a Weibo post by the 35-year-old Chinese tennis player Peng Shuai (彭帅) sent shockwaves across social media. In her lengthy post, the three-time Olympian describes details surrounding an alleged affair she had with the 75-year-old Zhang Gaoli (张高丽), who served as China's senior Vice-Premier (2013-2018) and was also a member of China's highest ruling council, the Politburo Standing Committee (2012-2017).
Here, we will give you a short timeline of the things that unfolded from the moment Peng Shuai's story was published on Weibo, as well as providing the full text of her post and a translation.
Timeline of Events
November 2nd, 2021
On the night of November 2nd of 2021, 35-year-old tennis player Peng Shuai posts her story on her Weibo account, where she has over 590,000 followers. The post comes online at 22:07 and is sent through a mobile phone.
Although Peng's post was only online for about twenty minutes before it was deleted, its impact was irreversible. Peng Shuai's Weibo account remained online, but the name 'Peng Shuai' started to be censored on Weibo and other Chinese social media platforms, where online discussions about the tennis player and Zhang Gaoli were soon silenced. Peng Shuai's post and the ensuing silence triggered a wave of global concern about her wellbeing and whereabouts.

November 3, 2021
Peng Shuai's story makes headlines in the international media, with many Western media outlets describing the issue as a "#MeToo allegation." within the context of the global #MeToo movement, suggesting Peng's post was a "MeToo post." The tennis star did not mention '#Metoo' in her own writings.

November 16, 2021
Japanese tennis player Naomi Osaka attracts more international attention for Peng's whereabouts when she posts the #WhereisPengShuai hashtag on Twitter. Two days later, tennis star Serena Williams also writes on Twitter: "I am devastated and shocked to hear about the news of my peer, Peng Shuai. I hope she is safe and found as soon as possible. This must be investigated and we must not stay silent."

November 17, 2021
While the issue is still completely silenced in Chinese (social) media, the English-language state media outlet CGTN addresses the commotion on Twitter on November 17, when they share a screenshot of an email allegedly sent by Peng to WTA Chairman Steve Simon, saying she was not actually missing and not unsafe.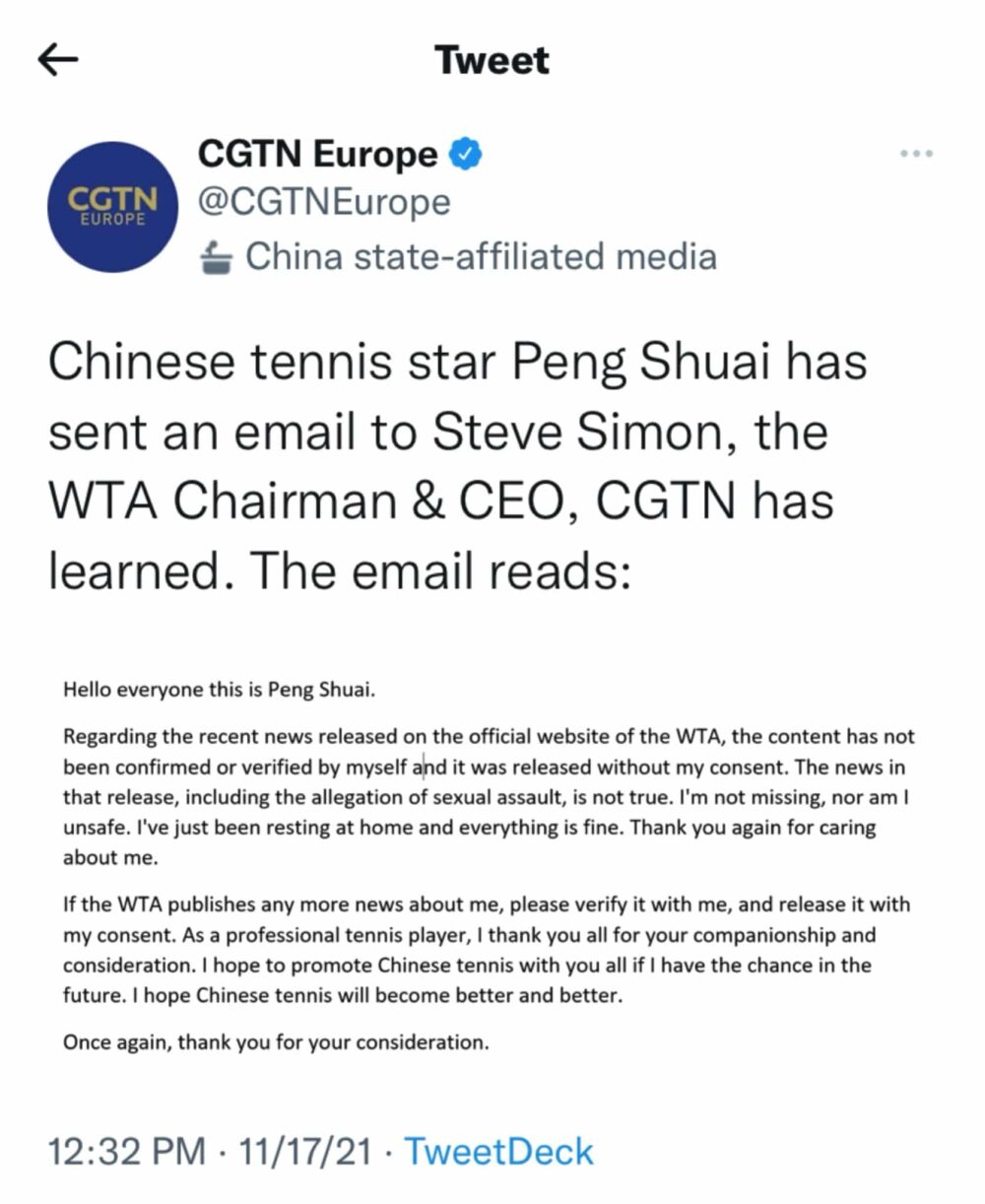 November 19, 2021
While many people still raised their concerns on Twitter – and a White House spokesperson even said the Biden administration was 'deeply concerned' about the reports alleging that Peng Shuai had gone missing – photos of Peng Shuai in her home showed up on November 19th, posted on Twitter by Chinese journalist Shen Shiwei (沈诗伟) claiming the tennis star posted them on her WeChat moments herself.

November 20, 2021
One day later, a video was also shared on Twitter by the same Shen, showing Peng enjoying dinner with friends and having conversations in which it was clearly indicated that the date was November 20, 2021.

November 21, 2021
During that very same weekend of November 20-21, Peng also reappeared in public when she attended the Junior Tennis Finals in Beijing. This was also the very first time in 19 days that she 'reappeared' in mainland China's online media spheres, where photos of her attendance at the games were also shared online.
On that same day, it was announced by the Olympics governing body that International Olympic Committee president Thomas Bach held a 30-minute long video phone call with Peng Shuai. Chinese sports official Li Lingwei and the Chair of the Athletes' Commission, Emma Terho, reportedly were also on the call, during which Peng explained that she was safe and well at her home in Beijing, but would like to have her privacy respected.

November 22, 2021
A Weibo post published by the French embassy in Beijing marks the first time for Peng Shuai's case to be addressed on Chinese social media.
In their post, the French embassy expresses concerns about the lack of information surrounding Peng Shuai, and reiterates its belief in promoting freedom of expression, equality between men and women, and combating sexual and gender-based violence. The post receives many replies, but its comment section is heavily censored.

December 1st, 2021
The WTA (Women's Tennis Association) announces the suspension of all tournaments in China amid concerns about the safety of Peng Shuai.
In a statement by Steve Simon, WTA Chairman & CEO, the immediate suspension of all WTA tournaments in China, including Hong Kong, was said to also be related to concerns about risks that all players and staff could face if the WTA were to hold events in China in 2022.
Due to the Covid19 situation, there were no WTA events scheduled for China in the near future.

December 7, 2021
The US announces a "diplomatic boycott" of the 2022 Winter Olympics in China. American athletes will still compete at the Winter Games. Although this boycott was not necessarily directed linked to Peng Shuai, many media outlets did connect it to concerns over the tennis player.

December 19, 2021
In an interview with Singapore-based media outlet Lianhe Zaobao (联合早报), Peng Shuai claims she did not accuse Zhang Gaoli of sexually assaulting her.
A video issued by Lianhe Zaobao shows a reporter asking Peng questions during a skiing competition event in Shanghai, where Peng could be seen talking to Chinese basketball player Yao Ming. When the reporter asks Peng if she is free, she answers that she has always been free and is not being monitored.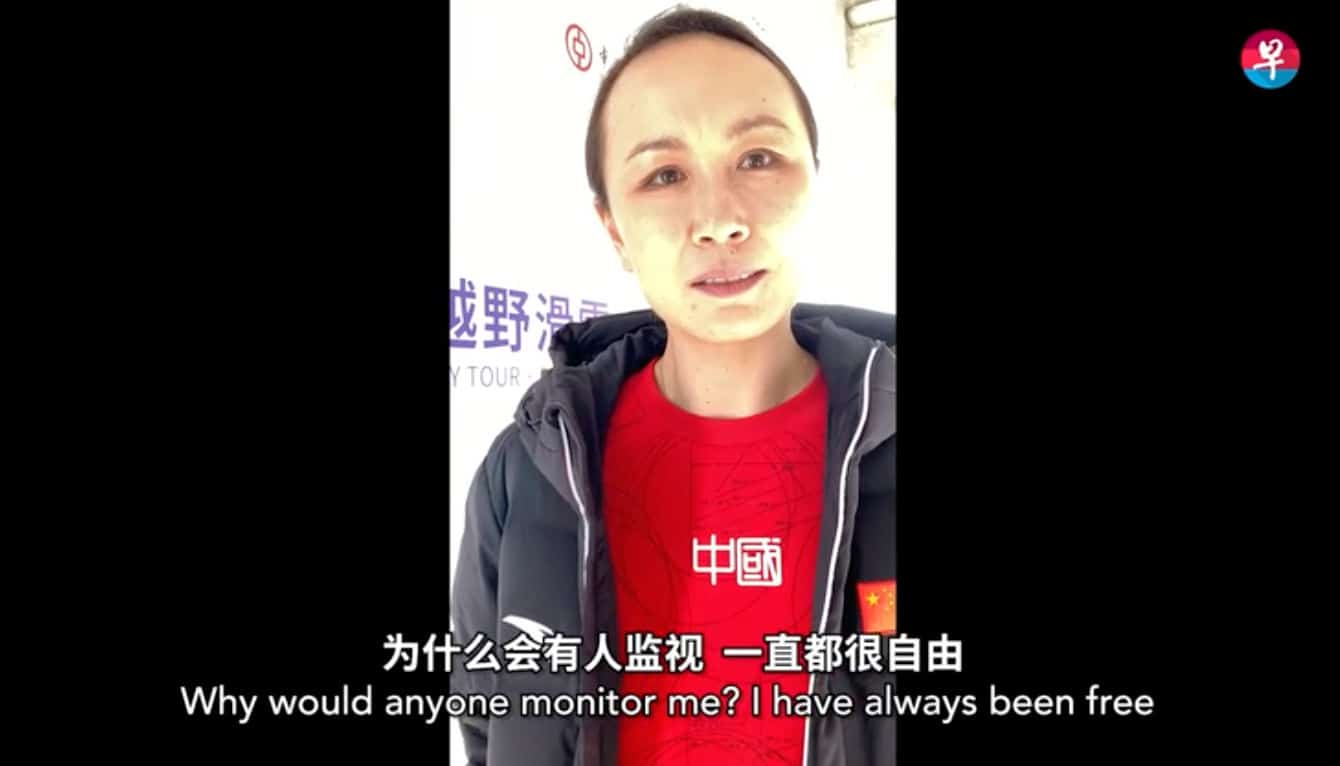 When the reporter addresses the allegations of sexual assault, Peng says:
"First and foremost, I must emphasize. I have never said or written about anyone sexually assaulting me. That's a very important point. On the Weibo post, that's my personal issue."
Peng also confirms that the English email that was screenshotted and published by CGTN on November 17 was written by her in the Chinese version, but that it was translated into English for her since her English language skills aren't good enough to write such an email herself.
Full Text Translation of Peng Shuai's Weibo Post
In a previous post, What's on Weibo gave a partial translation of Peng's Weibo post. Here, we will provide a full translation. Please note that this is a translation provided by What's on Weibo and not an official translation issued by any other party.
我知道说不清楚,说了也没有用。但还是想说出来。我是多么的虚伪不堪,我承认我不是一个好女孩,很坏很坏的女孩。大概三年前张高丽副总理你退休了,找天津网球中心的刘大夫再联系到我,约我打球,在北京的康铭大厦。上午打完球,你和妻子康洁一起带我去了你们家。然后把我带进你家的房间,和十多年前在天津时一样,要和我发生性关系。
"I know I can't say it clearly and that it's useless to say. But I want to say it anyway. I'm such a hypocrite. I'll admit I'm not a good girl, I'm a bad bad girl. About three years ago, Vice Premier Zhang Gaoli, you had retired and asked Dr. Liu from the Tianjin Tennis Center to contact me again to play tennis at the Kang Ming Hotel in Beijing. After we finished playing in the afternoon, you and your wife Kang Jie took me with you to your home. You then took me to your room, and like what happened in Tianjin over ten years ago, you wanted to have sex with me."
那天下午我很怕,根本没想到会是这样,一个人在外帮守着,因为谁都不可能相信老婆会愿意。七年前我们发生过一次性关系,然后你升常委去北京就再没联系过我。原本埋藏了一切在心里,既然你根本不打算负责,为何还要回来找我,带我去你家逼我和你发生关系?是我没有证据,也根本不可能留下证据。后来你一直否认,可确是你先喜欢的我,否则我也不可能接触的到你。
"I was very scared that afternoon, I had not expected things to go this way, someone was guarding outside, because nobody would believe that a wife would allow this. Seven year earlier we had sexual relations once, and then you – promoted as a member of the Standing Committee – went to Beijing and never contacted me again. I had buried it all inside me, and since you were not planning on taking responsibility at all, why did you come and look for me again, take me to your house, and force me [逼 = force, press for] into sex? I have no proof, and it would be impossible for me to keep any evidence. You denied everything afterward, but it is true that you liked me first, or otherwise, I wouldn't have had a way to come into contact with you."
那天下午我原本没有同意一直哭,晚饭是和你还有康洁阿姨一起吃的,你说宇宙很大很大,地球就是宇宙的一粒沙,我们人类连一粒沙都没有,还说了很多很多,就是让我放下思想包袱。晚饭后我也并不愿意,你说恨我!又说你这七年从未忘记过我,会对我好等等……我又怕又慌带着七年前对你的情感同意了……是的就是我们发生性关系了。
"That afternoon I originally did not agree and cried the whole time, and I still had dinner with you and auntie Kang Jie together. You said the universe is so big, that the earth is just a grain of sand in the universe, and that we as mankind are not even a grain of sand, and you said a lot more to alleviate the load on my mind. After dinner I still did not want to, and you said you hated me! You also said that in these seven years, you never forgot me and that you would be good for me etc etc. I was afraid and panicked and carrying the emotions of seven year ago, I agreed…yes, we had sex."
感情这东西很复杂,说不清,从那日后我再次打开了对你的爱,后来与你相处的日子里,单从你人相处你是一个很好很好的人,对我也挺好,我们从近代历史聊到远古时代,你同我讲万物的知识再谈到经济哲学,聊不完的话题。一起下棋,唱歌,打乒乓球,桌球,包括网球我们永远可以打得不亦乐乎,性格是那么的合得来好像一切都很搭。
"The feelings between two people can be very complicated, I can't clearly explain, [but] after that day I again began to open up to your love. In the days I interacted with you afterward, purely from how we got along, you were a very good person and also treated me well. We would talk about anything from modern history to ancient times, you spoke to me about so much knowledge and talked about economic philosophy, [we had] endless talks about topics. We played chess together, sang songs, played ping pong, billiards, and, including tennis, we could always have a good time. Our personalities got along well together, it looked like we were a great match."
自小离家早,内心极度缺爱,面对发生这一切,我从不认为我一个好女孩,我恨我自己,恨我为什么要来到这个世界,经历这一劫。你同我说你爱我,很爱很爱,来生希望在你二十岁我十八岁时我们就遇见。你说你很孤独,一个人很可怜,我们有聊不完的天,讲不完的话,你说你这个位置没有办法离婚,如果你在山东时认识,还可以离婚,可是现在没有办法。我想过默默无闻就这样陪着你,开始还好,可是日子久了慢慢的变了,太多的不公与侮辱。每次你让我去,背着你你妻子对我说过多少难听侮辱的话,各种冷嘲嘲讽。我说喜欢吃鸭舌,康洁阿姨会冲着我说~咿真恶心。冬天北京雾霾我说有时候空气不太好,康洁阿姨会对我说,那是你们郊区,我们这儿没感觉。等等诸如类似的话说了很多很多,你在时候她不这样说,好像和我们一样,两个人相处时是一个样,有旁人时你对我又是一个样。我同你说过,这些话听多了心里特别难受委屈。
"Since I left home early in my childhood, I felt a lack of love in my heart. Facing everything that was happening, I never thought I was a good girl. I really hated myself, hated why I had to come into this world and experience this disaster. You told me that you loved me, very very much, and that in the next life you hoped to meet me when you are 20 and I am 18 years old. You said you were very lonely, that you felt miserable, we had days of endless chats, endless talks, you said there was no way for you to divorce in your position, that if we'd met while you were in Shandong, you could have still divorced, but that there was no way now. I thought about staying with you like this without attracting public attention, which was okay in the beginning, but the days slowly started to change, and there was too much injustice and insult. Every time you let me go, your wife would say many offensive insulting words to me behind your back, [giving me] all kinds of sneers. When I said I like to eat duck tongue, auntie Kang Jie would go and say ~ ugh, how disgusting. During Beijing's winter smog, I said sometimes the air is not very good, and auntie Kang Jie would tell me 'that's just your suburbs, we do not notice a thing here.' And so on, there were many of such talks, but she would never do it when you were there. It was similar to when we were together – when it was just the two of us you'd be this way, when there were others there you'd act that way. I told you that these kinds of words were really painful to hear."
从认识你第一天到现在没用过你一分钱,更没通过你某去过任何利益或者好出,可名分这东西真重要。这一切我活该,自取其辱。从头到尾你都是一直让我保密和你的一切关系,更不可以告诉我妈和你有男女关系,因为每次都是她送我去西什库教堂那儿,然后换你家的车才能进院里。她一直以为我是去打麻将打牌,去你家玩。我们在彼此的生活中都是真实生活中的一个透明人,你的妻子好像甄嬛传的皇后一样,而我无法形容自己多么的不堪,很多时候我觉得我自己还是一个人吗?我觉得自己是一个行尸走肉,装,每一天都在装,哪个我才是真的我?我不该来到这个世界,可又没有勇气去死。我好想可以活的简单点,可事与愿违。
"From the first day I met you up to today, I've never used a penny of yours, and I've never used you for any personal benefits, but a person's status is very important. I deserved all of this, I courted disaster. From beginning to end, you have always asked me to keep my relationship with you secret, let alone tell my mother that we were in a relationship. Every time she brought me to the Xishiku cathedral, I would have to change to your car to be able to enter the courtyard. She always thought I was going to your place to play mahjong and cards. We were transparent individuals in each other's lives. Your wife seemed like the Empress in Empresses of the Palace (甄嬛传), and I can't describe how bad I felt, and how many times I wondered if I was still an actual person myself. I felt like a zombie, I was pretending so much every day that I didn't know who the real me was anymore. I shouldn't have come into this world, but I didn't have the courage to die. I wanted to live a simpler life, but things turned out contrary to what I wanted."
30号那天晚上争议很大,你说2号下午再去你家我们慢慢谈,今天中午打电话来说有事再联系,推脱一切,借口说改天再联系……,就这样和七年前一样"消失了",玩玩想不要就不要了。你说我们之间没有任何交易,是,我们之间的感情和钱,权利没有任何关系,可这三年的感情我无处安放,难以面对。你总怕我带什么录音器,留下证据什么的。是的,除我以外我没留下证据证明,没有录音,没有录像,只有被扭曲的我的真实经历。我知道对于您位高权重的张高丽副总理来说,你说过你不怕。但即使是以卵击石,飞蛾扑火自取灭亡的我也会说出和你的事实。以你的智商某略你一定否认或者可以反扣给我,你可以如此玩世不恭。你总说希望你母亲在天可以保佑你,我是一个坏女孩不配为人母,你为人父也有儿有女,我问过你就算是你的养女你会逼她这么做吗?你今生做的这一切日后心安理得的去面对你的母亲吗?我们都很道貌岸然……
"There was a big dispute on the night of the 30th [October], and you told me to come to your place on the afternoon of the 2nd [November] so we could talk things over. Today a phone call came that something had come up and you'd contact me again. Evading everything, with the excuse that we would get in touch another day ……, this is the same "disappearing act" as seven years ago, getting rid of me after you're done playing with me. You said there were no transactions between us, that's true, with all the feelings and money between us, it had nothing to do with power and wealth. But I have nowhere to leave my feelings of the past three years, it's very hard to face. You were always afraid that I would bring some kind of recorder and leave evidence or something. Apart from myself, there is indeed no evidence left, no recordings, no videos, only my distorted real experiences. I know that for someone of your status, Vice Premier Zhang Gaoli, you've said that you're not afraid. But even it's like striking a stone with an egg, and courting self-destruction like a moth to the flame, I will tell the truth about you. With your intelligence, I'm certain you will deny it or you can blame it on me, or disregard it. You always said you hoped your mother in heaven could bless and protect you. I am a bad woman who doesn't deserve to be a mother, but you are a father with both a son and a daughter. I have asked you this before: if it was your adopted daughter, would you have forced her to do this? Do you still have the courage to face your mother after everything you've done in your lifetime? We sure all like to pose as people with high morals…"
By Manya Koetse
Spotted a mistake or want to add something? Please let us know in comments below or email us. First-time commenters, please be patient – we will have to manually approve your comment before it appears.
©2021 Whatsonweibo. All rights reserved. Do not reproduce our content without permission – you can contact us at info@whatsonweibo.com.
Mainstream, Underground, and Online: Electronic Dance Music in China
A peek into China's electronic dance music scene, from Jean Michel Jarre to the country's post-covid club scene.
China has been called the "promised land for electronic dance music," but some critics say the industry is negatively affected by those prioritizing money over music. Still, the country's mainstream and underground dance scenes are thriving and the pandemic has brought increased recognition of local artists. This is a peek into China's electronic music scene, from Jean Michel Jarre to the country's post-covid dance scene.
This is the "WE…WEI…WHAT?" column by Manya Koetse, original publication in German by Goethe Institut China, visit Yi Magazin: WE…WEI…WHAT? Manya Koetse erklärt das chinesische Internet.

More DJs, more festivals, more fans, more online communities. Over the past few years, China's dance music scene has seen enormous growth in popularity, and electronic music now appears wherever people go, both online and offline, from live music events, night clubs, and fashion shows to reality shows, movies, and social media.
Following the continued explosion of electronic music culture in China's major cities, DJMag, a renowned UK-based platform dedicated to electronic dance music, even launched a special China Awards section in 2021. In this year's Top 100 DJ list there are eight Chinese DJs, the highest number ever since a DJ from China first made the list in 2017.
As an unexpected consequence of the pandemic, China's local dance community has seen heightened popularity of local DJs. While Covid19 has seriously affected the global dance music scene, it has been an ongoing opportunity to shine for local talents in mainland China.
Just five years ago, China-based DJ Spencer Tarring discussed the huge potential of China as "the rising promised land for electronic dance music." But what's the status quo of China's dance and DJ culture? Here we'll explore China's electronic music scene, from mainstream to underground and the online community.
From 'EDM' to 'Haoshi'
Let's first explain some terminology. 'Electronic dance music' is actually a huge umbrella term for percussion-based electronic music produced primarily for nightclubs, raves, and festivals, and performed/presented by DJs. In Europe, electronic dance music is often simply called 'dance' or 'dance music,' with subgenres including techno, house, trance, and many others (deBoni 2018).
There's also the acronym 'EDM.' Although it literally stands for 'Electronic Dance Music,' it is not the same as the overarching 'electronic dance music' genre, as it was adopted in the US to label commercial dance music. It has since been commonly used to solely describe the mainstream electronic dance music that is represented by world-famous DJs such as Tiësto, Martin Garrix, Armin van Buuren, or David Guetta (see Androids 2017; Jori 2021; Magnetic 2021).
In Mandarin Chinese, the term Diànzǐ yīnyuè (电子音乐), often abbreviated as Diànyīn (电音), literally means 'electronic music' and is used as a catch-all term for any music made using electronic instruments or involving electronic processing.
EDM is translated as Diànzǐ wǔqǔ (电子舞曲) ('Electronic Dance Music'), and also refers to commercial dance music. House is generally translated as Hàoshì yīnyuè (浩室音乐), techno as Tiěkènuò yīnyuè (铁克诺音乐), and trance as Chūshén yīnyuè (出神音乐).
Rewind: A Very Short History of Electronic Music in China
The history of electronic dance music in China brings us back to the early 1980s. In the decades and years before, there was strict music censorship under Mao's rule and the influx of Western music was limited. After Mao's death and the start of the Open Door policy, modern music from outside of mainland China became increasingly popular among young Chinese, inspiring local musicians to start writing and recording their own pop, rock, and modern music (Holm 1983; Latham 2007: 336).
China's 'New Wave' movement was partly triggered by 'The Concerts in China' by the French electronic music pioneer Jean Michel Jarre in 1981, who performed in Beijing and Shanghai in October-November of that year for a combined audience of 150,000 people (Billboard 1982).
Following the Jarre concerts, the New Wave movement also became visible at conservatories and music schools across China in the early 1980s when Chinese composers started to experiment with electronic music. While influenced by Western music, many examples of Chinese electronic music created in these years featured Chinese traditional musical elements (Li 2018).
Many Chinese people became more familiar with modern Western music in the 1980s and 1990s through cassette tapes that were shared and copied hundreds of times, and the so-called dakou culture which emerged in the mid-90s.
Dakou (打口) CDs were dumped by Western countries and imported into China as plastic garbage, intended to be recycled, but then flowed into Chinese cities and became available for listeners to buy from black markets.
Dakou CDs (and tapes) have a cut-out, a punch hole, or crack in them to mark them as waste and prevent them from being resold, but people were still able to restore them and listen to most of the music. The dakou culture greatly influenced China's music scene.1
Proper nightclubs first started to open up in big Chinese cities in the early 1990s, a time in which many people in the electronic music scene were more focused on the music rather than the money.
This is also when Ben Huang, who would become one of China's most well-known DJs, started his career. The Shanghai-born Huang was a student of modern dance and fine arts before he became active in the Beijing music scene and kick-started China's club culture.
Other big names emerging around this time are the so-called "godfather of Chinese dance music" Mickey Zhang, DJ Youdai (Zhang Youdai), Yang Bing, and famous electronic musician Weng Weng. They later also started organizing dance parties or setting up their own labels.
Although illegal rave parties emerged in various cities across the country since the mid-90s, China's first big rave party took place in the late 1990s at the Great Wall, organized by the Swiss collective 'Cheese' (Grefer 2016; Yiu & Charrieras 2021: 233). Vice China (2019) writes:
"What was most magical about China's party culture in the 1990s, is that it miraculously united all participants of any subculture. The people coming to these rave parties could come from completely different communities, from doctors to lawyers, from hoodlums to diplomats, local punks and sightseeing exchange students (..), on the dance floor surrounded by electronic music, nobody would talk about ideals and doctrines, actions and problems, everyone put all their conflicts aside and danced."
Nevertheless, much of the scene remained underground and many people in China had not been exposed to electronic dance music yet or did not understand it.
When the renowned British-Canadian electronic musician Richie Hawtin performed in Shanghai at some of the city's earliest techno events in the 1990s, some people wondered if the CD was stuck and if the mixer needed to be fixed.2
The Mainstream Scene: "Tuhai" and Rock Music Envy
Starting in the 2000s, more money-driven clubs started to open and the electronic dance music scene in China started to develop into two separate worlds; the underground with its underground scene and the mainstream with its mainstream scene.
"And there I am in the middle," DJ Ben Huang said in a 2009 interview.
Huang's comment is telling for a market where electronic music has become the second most popular music genre, while the 'real' Chinese fans of electronic dance still complain that there has been too little progress in the scene in recent years.
Online discussions indicate that many think that electronic dance music in China has become too commercialized too quickly and has become all about the money rather than the music – leaving little space for the underground scene to flourish, and lacking breeding ground to boost a stronger development of the local electronic music scene.
In 2016, Jiangsu television aired China's first-ever variety show featuring Electronic Dance Music (EDM) titled Heroes of Remix (盖世英雄remix). The show introduced international electronic dance music genres to a mainstream audience, mixing it with Chinese traditional influences. Two years later, the talent reality show Rave Now (即刻电音) premiered on Tencent Video, further promoting the popularity of EDM in China.
Against the backdrop of an ever-growing EDM industry in China with numerous nightclubs opening up all over the country, the release of the 2021 movie Upcoming Summer (盛夏未来), which focuses on electronic music, further assimilated dance music into China's mainstream pop culture. A hashtag dedicated to the movie on Chinese social media received over 650 million views (#电影盛夏未来#). (Note: the movie can now also be viewed through Netflix.)
While electronic music is divided into many genres, commercial EDM is by far the most popular type of electronic music in China. Some of the music played by Chinese local DJs that is deemed to be of lower quality than 'legitimate' EDM is also called 'Tuhai' (土嗨), a wordplay on 'too high' that refers to unoriginal bounce music with whistles and repetitive melodies.
The more the popularity of electric dance music is growing among the masses, the more music fans speak out, saying that China's mainstream electronic music does not represent authentic electronic dance music, even arguing it that it negatively influences the development of the entire genre; excessive commercialization has neglected the music itself.
The recent surge of Tuhai in Chinese clubs is also a side-effect of the pandemic, during which clubs have started booking far more local DJs with little experience to keep the shows going. To counter the so-called 'Tuhai virus', China's top DJ Carta launched the 'Chinese Bounce Mafia' alias together with trance DJ Luminn and DJ/producer Unity to mock the repetitive music genre.
In an interview with MixMag (Wycech 2020), Carta says:
"We started Chinese Bounce Mafia after seeing the number of shows these guys were doing and what was happening to the market. We all hated the music, so we said 'fuck these guys, if they can get all these shows, so can we'. So Chinese Bounce Mafia is our stand against what we see as a problem within the market. The name is a troll because people thought we've all sold out and given into bounce but we actually play anything from house to trance to big room to techno."
It is not easy to counter the Tuhai trend, which is not just ubiquitous in China's clubs but is also everywhere in the Chinese online music environment, triggering online discussions on how the low-standard music is negatively impacting the overall music quality in the online libraries of platforms such as QQ Music, Kugou, and Tencent Music.
Some Chinese electronic music fans even say they envy China's rock music scene. One article by the Music Economy Official Weibo Account (@音乐财经官方微博) on Sina said:
"As a fan of electronic music, I feel envious [of the rock music scene]. I envy their music festivals, I envy their good musicians, I envy their good fans, and this isn't the first time for me to admire China's rock scene in this way."
The Music Economy author argues that although it's been a bumpy ride for rock music in China, the genre has come a long way over the past four decades and has since been embraced by the general public.
One of the reasons why the author argues that China's dance music community has reason to envy the rock music scene is that there is an alleged pure love for music that draws people into the rock scene, while many people coming to the DJ culture enter the market for the money, not for the music. Because people are prioritizing money over music, too many compromises are often made, resulting in low-effort productions or mediocre festivals.
Another difference between China's dance and DJ culture compared to the rock scene, is that many rock music fans have grown up listening to the music and have followed their favorite musicians for years. China does not (yet) have a greater electronic music history to build on.
The author writes:
"I know it's not very scientific to compare rock to electronic music, but they are both imported products and when I see how rock is finally flourishing after having been through so much, I can't help feeling envious. Electronic dance music and electronic music in China still need to build on more experience. I hope more musicians can stop worrying about income and focus on the music, following their own dreams. I also hope more people will really start caring about electronic music and dance, and that they will start spending money on tickets and records to support their organizers and favorite musicians."
What also plays a role in this, is that DJ culture mostly takes place inside nightclubs and entertainment venues, where drinks and socializing are often considered more important by Chinese clubgoers than whoever is standing behind the DJ table. China's current commercial club culture is not a fruitful breeding ground for the further development of China's electronic dance music scene, the author claims.
Underground & Online Electronic Dance in Post-Covid China
Despite all negative consequences of Covid19 for the music industry, the pandemic has also had an unexpected positive influence on China's dance culture. With no international DJs allowed to travel into China, local DJ talents are getting increased recognition and there is more interest in the domestic dance scene.
As clubs were shutting down across the world in the spring of 2020, China entered its post-lockdown phase and nightclubs came back to life, with more people ready to explore the club scene.
Despite those voices expressing concern about the lower-quality EDM that is dominating China's club scene, there are also those who think it is not necessarily bad for electronic dance to go mainstream this way because it also indirectly creates more acceptance for non-mainstream sub-genres and electronic music at large.
In recent years, new underground nightclubs, festivals and independent labels have mushroomed in China. There is now a flourishing club music scene in various cities across the country: Beijing, Shanghai, Shenzhen, Hangzhou, Wuhan, Kunming, and Guangzhou have all played a pivotal role in the development of China's electro dance music culture, with Chengdu leading the way (Neocha 2021).
Among Chengdu's many electronic music clubs, there's .TAG ('To Another Galaxy'). The club, located on the 21st floor of Chengdu's Poly Centre, was founded by a small group of Chinese and Dutch music lovers and entrepreneurs, taking inspiration from clubs in Amsterdam and Berlin. TAG has become a city hotspot for underground house and techno, with local DJs such as Cora and HAO attracting a young and free-spirited clubbing crowd.
TAG was founded in 2013, the same year in which renowned record label SVBKVLT was established in Shanghai. SVBKVLT has pushed works from many local talents, including the Beijing-based electronic music duo Zaliva-D and Shanghai producer and artist 33EMYBW (Wu Shanmin).
Chengdu's .TAG and Shanghai's SVBKVLT are just some examples of China's thriving underground scene, as there are many other important players, including Beijing's underground techno club Zhao Dai, Shanghai's 3NTRY, club Elevator and ALL, or OIL in Shenzhen, featuring Chinese DJs and electronic music artists such as Slowcook, Yang Yang, Temple Rat, Knopha, Chuan, Max Shen, Luna Li, and many, many more.
China's electro music culture goes beyond clubs and festivals – the online environment is a big part of it. Although the 2021 shutdown of the Xiami Music app from the Chinese market created a vacuum for online electronic music streaming, other online music libraries such as QQ Music, Netease Cloud Music, Kuwo and Kugou are now competing over listeners.
On social media platforms Weibo and Wechat, there are various electronic music blogging accounts with thousands of followers but there are also hundreds of festival accounts, club accounts, label accounts, and DJ/creator accounts.
More in-depth discussions on China's electronic music scene can also be found on Chinese Q&A platform Zhihu.com, the social networking sites QQ and Douban, and on Bilibili. Over the past few years, other smaller online communities, from Moresound to Abletive, have also arrived at the scene for people to discuss the development of Chinese dance music.
Although many online discussions about the state of China's electronic dance music scene are quite critical of how the scene is evolving, it could still be seen as a sign of how the industry and its audience are maturing – growth comes with growing pains.
Despite all hurdles, new China-based talents are gaining traction and electronic music labels are popping up one after another. Covid has posed a major challenge to the scene but has also injected new energy into the domestic market.
Electronic music in China has come a long way since Jean Michel Jarre first made waves in the country, and after all these years, the genre is entering a new era. The next few years will show which direction Chinese electronic music is moving in, but one thing is certain: electronic music is part of China's music scene today and, whether or not everyone agrees on the quality of the beats that are booming, the music is here to stay.
On one online discussion page about Chinese electronic music, someone asked how others feel about Chinese DJ PantaQ arriving in the DJMag Top 100 DJ list. One commenter answered: "This is only the beginning. Chinese electronic music will start to shine on the international stage."
By Manya Koetse
Follow @whatsonweibo
1 Professor Jeroen de Kloet did extensive research into China's dakou culture. For more on China's dakou generation, we recommend reading: Jeroen de Kloet, China with a Cut: Globalisation, Urban Youth and Popular Music (Amsterdam: Amsterdam University Press, 2010).
2 This scene was described by Chinese DJ / producer Ma Haiing (MHP) in the book by Matthew Collin, Rave On: Global Adventures in Electronic Dance Music (London: Profile Books, 2018), Chapter 6.
References
– Androids. 2017. "An Idiot's Guide to EDM Genres." Complex.com, October 13: https://www.complex.com/music/an-idiots-guide-to-edm-genres/ [Oct 11, 2021].
– Billboard. 1982. "Jarre Fame Spreads – Even to China." Billboard Magazine (March 13): page 22.
– Collin, Matthew. 2018. Rave On: Global Adventures in Electronic Dance Music, London: Profile Books.
– De Boni, Luka. 2018. "The Rise of China's Electronic Dance Music Scene: From Underground Culture to Online Communities." What's on Weibo, August 26
https://www.whatsonweibo.com/the-rise-of-chinas-electronic-dance-music-scene-from-underground-culture-to-online-communities/ [Nov 1, 2021].
– De Kloet, Jeroen. 2010. China with a Cut: Globalisation, Urban Youth and Popular Music. Amsterdam: Amsterdam University Press
– Grefer, Philipp. 2016. "Disco(s), Techno and the EDM Storm: A Brief (and Personal) History of Electronic Music in China." The Beijinger, Nov 16 https://www.thebeijinger.com/blog/2016/11/04/discos-techno-and-edm-storm-brief-and-personal-history-electronic-music-china [Nov 12, 2021].
– Holm, David. 1983. "The Difficulty of 'Walking on Two Legs.'" Index on Censorship: 12 (1): 34-37.
– Jori, Anita. 2021 "The Meanings of 'electronic dance music' and EDM." In: The Evolution of Electronic Dance Music , edited by Ewa Mazierska, Tony Rigg and Les Gillon, Chapter 1. New York: Bloomsbury Academic.
– Latham, Kevin. 2007. Pop Culture China! Media, Arts, and Lifestyle. California: ABC-CLIO.
– Li, Qiuxiao. 2018. "Characteristics of Early Electronic Music Composition in China's Mainland," Contemporary Music Review 37:1-2.
– Magnetic. 2021. "STOP CALLING EDM EDM – HERE IS A PROPER DEFINITION." Magnetic Magazine, Jan 13 https://www.magneticmag.com/2015/10/stop-calling-edm-edm-here-is-a-proper-definition/ [Oct 12, 2021].
– Music Economy Official Weibo Account 音乐财经官方微博.2020. "电音圈有什么资格羡慕滚圈." Sina News, August 20 https://k.sina.com.cn/article_5255791141_13945022501900poao.html [Nov 27, 2021].
– Neocha. 2021. "Sleepless in Chengdu." July 5, https://neocha.com/magazine/sleepless-in-chengdu/ [Nov 27, 2021].
– Yiu, Alex and Damien Charrieras. 2021. "On the Fence: Electronic Dance Music Cultures in Hong Kong and Shenzhen." In: Sébastien Darchen, Damien Charrieras, John Willsteed (eds), Electronic Cities – Music, Policies and Space in the 21st Century, 223-243. Singapore: Palgrave Macmillan.
– Vice China. 2019. "触电中国 EP1:从荷东到锐舞,中国电音的起源与脉络." Tencent News, July 30 https://new.qq.com/omn/20190730/20190730A0CTCB00.html?pc [Oct 12, 2021].
– Wycech, Olivia. 2020. "An Edm Club In Taipei Has Unabashedly Banned Bounce Music…But What Even Is Bounce Music?" MixMag, October 20 https://mixmag.asia/feature/what-is-chinese-bounce-music [Nov 17, 2021].
Featured image by Ama for Yi Magazin.
This text was written for Goethe-Institut China under a CC-BY-NC-ND-4.0-DE license (Creative Commons) as part of a monthly column in collaboration with What's On Weibo.
Spotted a mistake or want to add something? Please let us know in comments below or email us. First-time commenters, please be patient – we will have to manually approve your comment before it appears.