"Invincible Wuhan Man": Coronavirus Patient Reading Political Book Goes Viral
No light reading in dark times for this "invincible Wuhan man."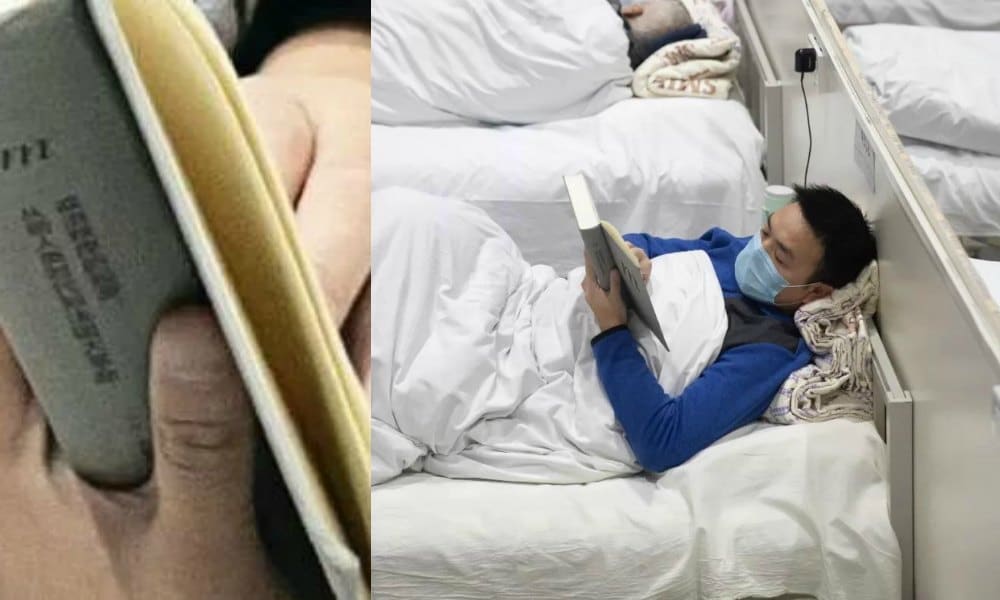 As the number of coronavirus infections continues to grow in Wuhan, three newly-built cabin hospitals have started to receive patients.
This week, there was one man among the patients at Wuhan's 'Fang Cang' shelter hospital (方舱医院) who attracted the attention of netizens as he was spotted in an online picture lying on the bed and reading a book.
It's rare enough to see someone infected with the much-feared coronavirus still engrossed in a book. But was especially noteworthy to many Weibo users is the type of book the patient was reading.
The book, that was identified as Francis Fukuyama's The Origins of Political Order, is not exactly known as 'light reading.'
One of the Weibo posts that pointed the reading man out in the photo, which was shot by Changjiang Daily (长江日报), described him as "an invincible Wuhan-er" (打不垮的武汉人).
The post has received over 172,000 likes and 46,000 reposts at time of writing.
Fukuyama's The Origins of Political Order (2011) is focused on modern state-building and the development of political institutions.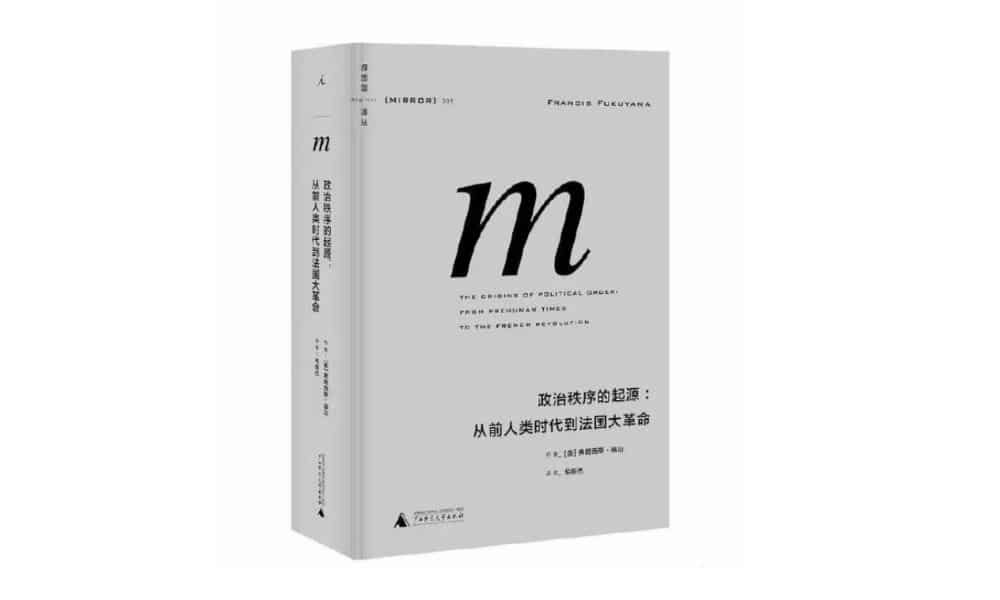 In this work, Fukuyama, a political economist, argues that in order for a government to be successful and stable, it needs the rule of law, a strong state, and accountability.
In the coronavirus outbreak, the unaccountability of China's political system has often been mentioned as a reason for why the epidemic was not contained in its infancy, which triggered calls for the resignation of Wuhan officials.
In a rare move, Beijing described the epidemic as a major test for its governance system and capacity, and acknowledged that there were shortcomings in its handling.
That a patient, suffering from the coronavirus, was reading Fukuyama's book, in particular, ignited online discussions – some Weibo users pointing out the irony of the situation.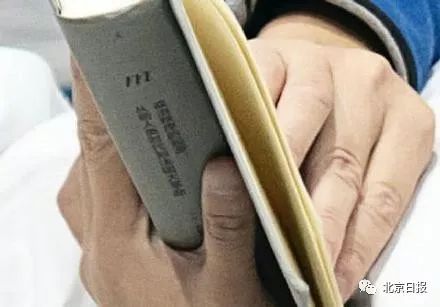 One Weibo user (@讲故事的澜斯基) wrote: "He is basically looking for the actual root of why he was infected [with the new coronavirus]."
Another commenter wrote: "Reading is a great way to ward off spiritual viruses."
There are also people who say that seeing this Wuhan patient gives them hope and strength. One netizen describes the picture as one that "gave me the most power and hope in recent days."
Another issue making this topic all the more noteworthy is the background of the Chinese publisher of Fukuyama's book, Imaginist (理想国). Its publications – mainly focused on the humanities, literature and arts – are often deemed "sensitive" by the Chinese authorities.
The influential publishing brand has a rocky recent past in mainland China, with some of its publications having been banned and removed from (online) bookstores. The former head of Guangxi Normal University Press, which Imaginist cooperates with, was sentenced to ten years in prison in 2018 (read more here).

According to Chengdu Business Newspaper (成都商报), the man in the spotlight is a 39-year-old postdoctorate studying science in the United States.
He stated that he just read the book out of interest and that he never anticipated going viral on the internet for it.
Although grateful for the attention he received, he reportedly said he hoped people could focus more on medical workers instead.
Along with this Wuhan patient going viral, Fukuyama's book has also seen a dramatic rise in popularity. As one Chinese writer noted on Weibo, The Origins of Political Order has risen to the first position in the popular charts of Douban, a popular online review platform.
By now, the Wuhan patient has become more famous than he could ever have anticipated; even author Francis Fukuyama himself has retweeted the image of the man reading his book at the coronavirus hospital ward.
A young man went viral in #China for reading @FukuyamaFrancis's Origins of Political Order at a module hospital in Wuhan designated for #coronavirus patients. His calmness contrasted with the bustling hospital and showed the power of civilization. https://t.co/aa3UTS9r3M pic.twitter.com/BUMZeEdZoA

— The Paper 澎湃新闻 (@thepapercn) February 7, 2020
Read more about the coronavirus crisis here.
Want to read Fukuyama too? Check out his book here.
By Bobby Fung (@bobbyfungmr)
Follow @whatsonweibo
Spotted a mistake or want to add something? Please let us know in comments below or email us. First-time commenters, please be patient – we will have to manually approve your comment before it appears.
©2020 Whatsonweibo. All rights reserved. Do not reproduce our content without permission – you can contact us at info@whatsonweibo.com.
"The End of an Era"? – Beijing Bookworm Closes Its Doors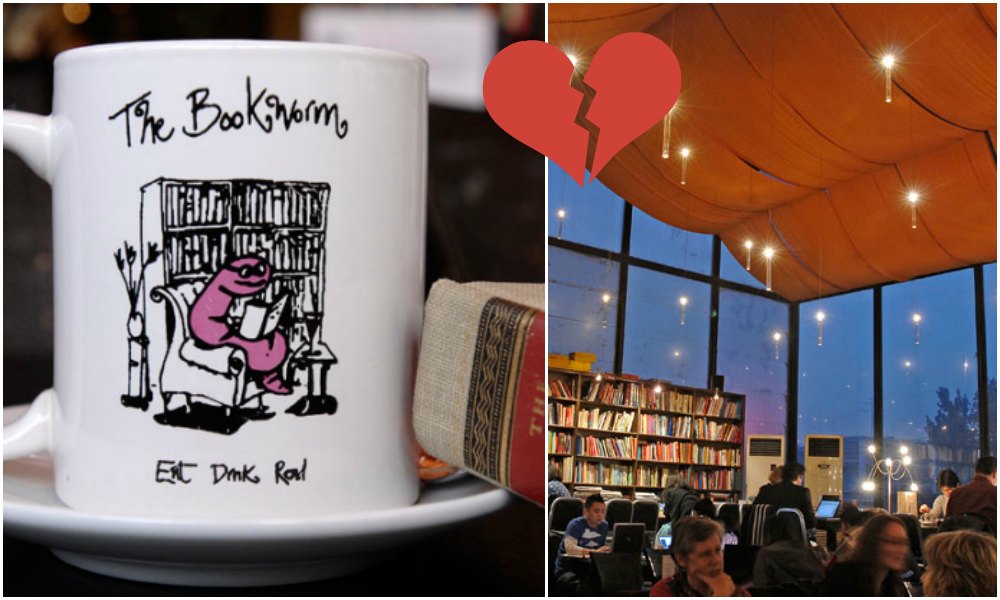 As news of The Bookworm's closing makes its rounds on social media, Beijingers have responded in shock, mourning the loss of an iconic and meaningful meeting place for book(worm) lovers around the city.
The Bookworm Beijing, at Nansanlitun Road, is a bookshop, library, bar, restaurant and events space that has become a center of cultural exchange for Beijing's foreign community since 2005.
The location is a beating heart of Beijing's literary world; a place where writers, journalists, students, diplomats, academics, and all kinds of people – both foreign and Chinese – come together to exchange knowledge, read, and sit down for a glass of wine.
Today, the Bookworm announced its sudden closure via WeChat, writing:
"It is with heavy hearts that we are forced to announce the impending closure of The Bookworm Beijing after 14 wonderful years in Courtyard No. 4 off SouthSanlitun Road. Despite our best efforts, we appear to have fallen prey to the ongoing cleanup of "illegal structures", and we have not been able to secure an extension of our lease."
The announcement further says that the location will be forced to suspend operations "most probably" as of Monday, November 11, and that the Bookworm will attempt to reorganize and find a new location.
News of the Bookworm's closing has been becoming a topic of conversation on various social media sites from WeChat to Twitter and Weibo.
Famous Chinese journalist and author Luo Changping (罗昌平) writes on Weibo: "The Bookworm is forced to close! It used to be next door to my former office, and it was once like my living room. Sigh."
Shanghai comedian Storm Xu called the closure of the Beijing Bookworm "the end of an era," saying he looks back on many good memories there.
"They had many events, good food, special books; I used to go there a few times per year," one person writes. "This really is so sad," other Weibo users respond.
There are also various Weibo commenters who also mention that news of Bookworm's closing comes just a day after the news that publisher of magazine-books and online bookseller Duku Books (读库) is forced to close its Beijing warehouse for the sixth time.
Over the past decade, many popular venues in Beijing have been forced to close their doors or relocate. Beijing hangouts such as Bed Bar, Salud, Vineyard Cafe, 2 Kolegas, Jiangjinjiuba, Mao Livehouse, Hercules, Aperativo, The Bridge Cafe, Great Leap Brewery Sanlitun, Jing-A Taproom 1949, and many others have all been closed over the past years.
Nightlife hotspot Sanlitun bar street was demolished and bricked up in 2017 as part of the mission of the city management to gentrify the area.
The demolishment of "illegal structures" in the city has been an ongoing effort of the local government for years. These efforts became especially visible in late 2017 when people in Beijing's Daxing area faced a large-scale evacuation campaign after a big fire broke out there on November 18, killing 19 people.
The large-scale evacuation campaign was also expanded to other areas of Beijing in a campaign by the municipal authorities aimed at unlicensed developments to target "illegal structures" and "buildings with potential fire hazards."
But many people on Weibo and WeChat questioned if the campaign was actually more about politics than about safety concerns – something that was strongly refuted by state media outlets at the time.
These questions will remain unanswered, also for the Bookworm. Is its closure really about closing down an "illegal structure," or are there more politically-motivated considerations playing a role here? On Weibo, some commenters say the location is closed down for being a home of free discussions and "free thinking," while others say that no matter what the place is, the building's safety and legal status is what matters here.
Perhaps the future will tell. We surely hope the Bookworm will soon pop up and open its doors in another location very soon.
Those who are interested can support the Bookworm by coming by and buying books, which will be heavily discounted, until November 11.
By Manya Koetse
Images: Bookworm images by The Bookworm, edited by What's on Weibo.
Sanlitun Image: Might have been taken by Manya in Beijing 2017, but we're not 100% sure so let us know if we're mistaken.
Spotted a mistake or want to add something? Please let us know in comments below or email us. First time commenters, please be patient – we will have to manually approve your comment before it appears.
©2019 Whatsonweibo. All rights reserved. Do not reproduce our content without permission – you can contact us at info@whatsonweibo.com.
Nineteen Eighty-Four Turns 70: Orwellian China and Orwell in China
"We still need independent, courageous thinkers like George Orwell. We still need 1984."
First published
George Orwell's classic Nineteen Eighty-Four turned seventy this week. For a country that is labeled 'Orwellian' so often, it is perhaps surprising that the modern classic, describing a nightmarish totalitarian state, is well-read within the People's Republic of China and is not banned from its bookstores.
"Big Brother is Watching You" is the sentence that people around the world have come to know through the novel 1984 or Nineteen Eighty-Four, that turned 70 this week.
Nineteen Eighty-Four is a novel about a nightmare future in the year 1984. It takes place in a totalitarian state where the Party is central to people's everyday lives and where propaganda, surveillance, misinformation, and manipulation of the past are ubiquitous.
The book revolves around Winston Smith, a citizen of London, Oceania, who works at Minitrue (Ministry of Truth) and who secretly hates the society he lives in with its all-controlling Party, the 'Big Brother' leader, and the Thought Police.
Smith is critical of the workings of the Party and the lies it imposes, which then pass into history and become 'truth'; as the Party slogan goes: "Who controls the past, controls the future: who controls the present controls the past."
"Orwellian China"
There is probably no other country in the world that has been described as "Orwellian" in English-language media as often as China has over the past few years. According to Google Trends, 'China' currently is one of the most related topics people in the US are searching for when they type in the word 'Orwellian' on the search engine.
The topic recently most associated with Orwell's novel is that of China's Social Credit System. In October of 2018, US Vice President Mike Pence addressed China's nascent Social Credit System in a speech on China, calling it "an Orwellian system premised on controlling virtually every facet of human life" (Whitehouse.gov).
Since then, George Orwell and Nineteen Eighty-Four have been used more often to describe developments in China.
'Orwellian' and 'China' come up with more than 28,000 results in Google News alone, the term often being used with any PRC news that relates to technology, government control, and propaganda.
Ironically, many of the news reports addressing 'Orwellian China' and its Social Credit System (SCS) are, in the Orwellian tradition, spreading misinformation themselves, conflating different issues or presenting speculation as fact – see some examples of speculative reporting on the SCS in this list.
But also when reporting on China's growing mass camera surveillance, the Xinjiang internment camps, the launch of the 'Study Xi, Strengthen China' [Xuexi Qiangguo] app, or the increasing use of facial recognition, the comparison to George Orwell's 1949 classic is everywhere in the English language media world today.
一九八四: Orwell's Nineteen Eighty-Four in China
For a country that is labeled 'Orwellian' so often, it is perhaps surprising that Nineteen Eighty-Four is actually not censored or banned in the People's Republic of China (PRC).
Since the first PRC edition of the novel was published in 1979, it has become a famous and well-read work that is available for purchase in Chinese or English in all big bookstores in Chinese cities or online via e-commerce sites as Taobao.com.
The famous sentence "Big Brother is Watching You" translates to "Lǎo dàgē zài zhùshìzhe nǐ" ("老大哥在注视着你") in Mandarin, and often pops up on social media, together with terms such as "doublethink" (shuāngchóng sīxiǎng, 双重思想) or "Thought Police" (sīxiǎng jǐngchá 思想警察).
On Douban, an influential web portal that allows users to rate and review books, films, etc, various editions of Nineteen Eighty-Four (most of them translated by Dong Leshan 董乐山) have been rated with a 9.3 or higher by thousands of web users.
"I like this book, it's just a bit too dark for me," some reviewers write, with others just saying the book is "very scary," or seeing some resemblance with the classic works of Chinese authors such as Wang Xiaobo or Lu Xun.
WeChat blog Vopoenix recently stressed the importance of Nineteen Eighty-Four, writing that the novel is not anti-socialism per se: "What Orwell really opposes is fascism, totalitarianism, and nationalism (..), what he really supports is political democracy and social justice."
70 years later, totalitarianism still has not disappeared, the blog writes: "(..) instead, it has evolved with the times in a more secret way (..). We still need independent, keen and courageous thinkers like George Orwell. We still need 1984."
One Douban reviewer writes about their thoughts after reading Nineteen Eighty-Four, saying: "What scares me is that sometimes people will ridicule North Korea for being so shut off from the world, but what about us? We're like frogs at the bottom of a well, but the scary thing is, we don't even know we're in the well."
"Just a work of fiction to Chinese"?
Public sentiments about the 70-year-old Nineteen Eighty-Four novel bearing a resemblance to (present-day) China are seemingly growing stronger on Chinese social media recently. The book appears in online comments and discussions on a daily basis.
"I finished reading the book today," one Weibo commenter writes: "The biggest thought I had is: this book is very suitable for Chinese people to read."
"I can now imagine what those ten years were like," one Douban user posts, referring to the Cultural Revolution (1966-1976).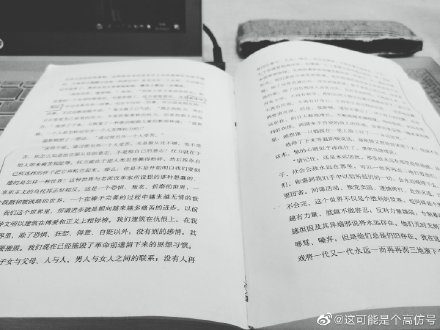 "Nineteen Eighty-Four is the first satirical book I've read that comes close to the situation in China. If you read it, you'll know what I mean," another reader writes.
Different from English-language (social) media, Chinese commenters are not mentioning the book in relation to the country's Social Credit System at all, but in relation to the heightened censorship that China has recently been seeing in light of the China-US trade war, the Tiananmen anniversary, and the Hong Kong protests.
One Weibo blogger writing a critique about the growing "bizarreness" of the "elephant in the room" (referring to all those big China-related issues that cannot be discussed on social media due to censorship) attracted the attention of Chinese netizens earlier this week (see the full translation of post here).
Many commenters spoke about the Weibo post in relation to Nineteen Eighty-Four, especially when the post addressing the censorship was censored itself.
Others also wrote that it seemed "like a miracle" that the book was not banned in China, and some suggested it might still happen in the future.
"It will be forbidden very soon," one Weibo commenter speculates.
"The future is becoming more difficult, really," one netizen recently wrote: "It's nearing 1984 (一九八四), and [we] might not be able to see it later."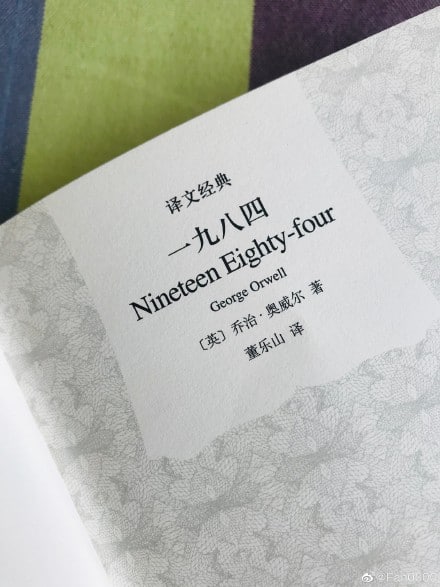 But, in Chinese online media, Nineteen Eighty-Four is by no means only mentioned in relation to China. There are also those blogs or news articles that mention the Orwellian aspects of the story of Edward Snowden, or connect Orwell to Trump's America.
In late 2018, state tabloid Global Times denounced the ubiquitous Western media reports on "Orwellian China." Author Yu Jincui wrote:
"Orwell's Nineteen Eighty-Four is a classic to Westerners, but it is just a work of fiction to Chinese and they are fed up with Orwellian style preaching from Western elites. This kind of conversation will lead nowhere."
But many netizens do not agree with the fictional part. "Nineteen Eighty-Four is not a work of fiction, it is a record of our future," one Weibo user writes.
"Is Big Brother watching me?" others wonder.
"The first time I read it, I just read it," another Douban user says: "The second time I read it, I really started to understand. Here's to George Orwell!"
Despite all speculation on social media, there are no indications that Nineteen Eighty-Four will be banned from China any time soon.
For now, even 70 years after its first publication and 40 years after its first Chinese translation, readers in the People's Republic can continue to devour and discuss Orwell's classic work and the mirror it holds up to present-day China, America, Europe, and the world today.
By Manya Koetse
Follow @whatsonweibo
PS: Some recommended reading on Social Credit in English:
* Creemers, Rogier. 2018. "China's Social Credit System: An Evolving Practice of Control."May 9. Available at SSRN: https://ssrn.com/abstract=3175792.
* Dai, Xin. 2018. "Toward a Reputation State: The Social Credit System Project of China." June 10, available at SSRN: https://ssrn.com/abstract=3193577 or http://dx.doi.org/10.2139/ssrn.3193577.
* Daum, Jeremy. 2017. "China through a glass, darkly." China Law Translate, Dec 24 https://www.chinalawtranslate.com/seeing-chinese-social-credit-through-a-glass-darkly/?lang=en [24.5.18].
* Daum, Jeremy. 2017. "Giving Credit 2: Carrots and Sticks." China Law Translate, Dec 15 https://www.chinalawtranslate.com/giving-credit-2-carrots-and-sticks/?lang=en [27.5.18].
* Horsley, Jamie. 2018. "China's Orwellian Social Credit Score Isn't Real." Foreign Policy, Nov 16 https://foreignpolicy.com/2018/11/16/chinas-orwellian-social-credit-score-isnt-real/ [10.6.19].
* Koetse, Manya. 2018. "Insights into the Social Credit System on Chinese Online Media vs Its Portrayal in Western Media." What's on Weibo, Oct 30 https://www.whatsonweibo.com/insights-into-the-social-credit-system-on-chinese-online-media-and-stark-contrasts-to-western-media-approaches/
* Koetse, Manya. 2018. "Open Sesame: Social Credit in China as Gate to Punitive Measures and Personal Perks." What's on Weibo, May 27 https://www.whatsonweibo.com/open-sesame-social-credit-in-china-as-gate-to-punitive-measures-and-personal-perks/.
* Kostka, Genia. 2018. "China's Social Credit Systems and Public Opinion: Explaining High Levels of Approval" SSRN, July 23. Available at https://ssrn.com/abstract=3215138 or http://dx.doi.org/10.2139/ssrn.3215138 [29.10.18].
Spotted a mistake or want to add something? Please let us know in comments below or email us. Please note that your comment below will need to be manually approved if you're a first-time poster here.
©2019 Whatsonweibo. All rights reserved. Do not reproduce our content without permission – you can contact us at info@whatsonweibo.com