Fight Between Officers and Street Vendor Caught on Video: Bystanders Yell "Hit Them!"
A fight between local officers and a street vendor in Guiyang (Guizhou) was caught on video and shared on Sina Weibo on March 24. Bystanders don't intervene in the situation, but instead cheer on the street vendor by yelling "hit them!"
A fight between local officers and a street vendor in Guiyang (Guizhou) was caught on video and shared on Sina Weibo on March 24. Bystanders don't intervene in the situation, but instead cheer on the street vendor by yelling "hit them!"
A video of a fight between four local officers ('city management' 城管) and a street vendor, selling food on the street in the capital of China's province of Guizhou, has gone viral on Chinese social media. The street vendor can be seen picking up a steel pipe and chasing after the officers.
The many bystanders can be heard screaming: "Hit them, hit them!"
According to The Paper, Guiyang authorities confirmed on March 24 that this confrontation occurred in the city on March 23. The city had announced stricter regulations for street vendors earlier in the month. Other cities, such as Beijing, have also cracked down on street vendors.
The video shows how the officers finally take over the steel pipe from the street vendor, who then flees. According to Netease News, the case is currently still under investigation.
"'The officers are coming' is like 'the devils are coming'," one Weibo user comments: "We can blame history for that."
"I really feel sorry for these local officers that all the people are yelling "hit them". They are helping the people by enforcing the law," one netizen says.
If the Miaopai video above does not work in your browser, this is the YouTube version:

– By Manya Koetse
Follow @WhatsOnWeibo
©2016 Whatsonweibo. All rights reserved. Do not reproduce our content without permission – you can contact us at info@whatsonweibo.com.
Grandpa Picks up the Wrong Kid from School, Takes Him to Get Flu Vaccine
Even grandpa makes mistakes!
The parents of a 6-year-old boy in Guiyang, Guizhou province, had the shock of their lives when they discovered their son Xiao Hongyu had been picked up from school by an elderly man on Friday afternoon.
The parents were told by their son's school teacher that their son had been picked up by his alleged 'grandfather.' School security footage showed how an unknown grey-haired man had stepped inside the classroom on June 8, and took the boy outside with him.
Soon after, the desperate mother posted the security footage images on her WeChat 'Moments' account, asking people for help – fearing that her child had become the target of a child trafficker.
When one person, an old classmate of the mother, recognized her own father in the images, the case was soon solved; the older man was supposed to pick his grandson Xiao Hongrui up from school, but instead took Xiao Hongyu with him.
Xiao Hongyu had been 'missing' for a total of four hours, a time during which his temporary 'grandfather' had taken him along for food shopping, and even took the little boy to the hospital to get a flu vaccine.
During an interview at the local police office, the man's son-in-law told reporters that grandpa had just come to visit from the countryside, and was not too familiar with his own grandson's appearance. The fact that Xiao Hongyu and Xiao Hongrui look alike and have a similar voice, as well as name, also did not help, and the man mistakingly took the wrong kid home.
Meanwhile, the man's real grandson, Xiao Hongrui, remained at school, waiting to be picked up.
According to various Chinese media reports, Xiao Hongyu did feel the situation was not right, and tried to tell the older man that he was not his grandson. But because the man suffers from hearing impairment, he did not hear the little boy's questions and remarks.
The school teacher in charge told reporters that the unfortunate mistake also occurred because Xiao Hongyu told his teacher that the man was "grandpa" when they asked him who the man was.
The topic became top trending on Sina Weibo on June 12. "In the eyes of a 6-year-old, every old man is a 'grandpa,'" many people commented.
Although the majority of people find the situation humorous, there are also many netizens who feel the issue is no laughing matter, because it means abductors and child traffickers can easily pick a child up from school.
They blame the school for not checking the man's status, the hospital for not checking the little boy's identity, and the parents for not teaching their boy not to leave with strangers.
This is not the first time a story such as this makes headlines. In 2016, an American grandfather also took the wrong child home. In that case, the child, just like Xiao Hongyu, also confirmed to teachers that the man was his grandfather.
In the UK, in 2013, a grandfather also took the wrong child to a doctor's appointment. The little girl's mother later told reporters that it is "every parent's worst nightmare."
By Manya Koetse
Follow @whatsonweibo
Directly support Manya Koetse. By supporting this author you make future articles possible and help the maintenance and independence of this site. Donate directly through Paypal here. Also check out the What's on Weibo donations page for donations through creditcard & WeChat and for more information.
Spotted a mistake or want to add something? Please let us know in comments below or email us.
©2018 Whatsonweibo. All rights reserved. Do not reproduce our content without permission – you can contact us at info@whatsonweibo.com.
Yangzhou Man Found Dead after Drinking, Friends Pay 1 Million RMB Settlement
Is Chinese drinking culture to blame for deaths related to alcohol?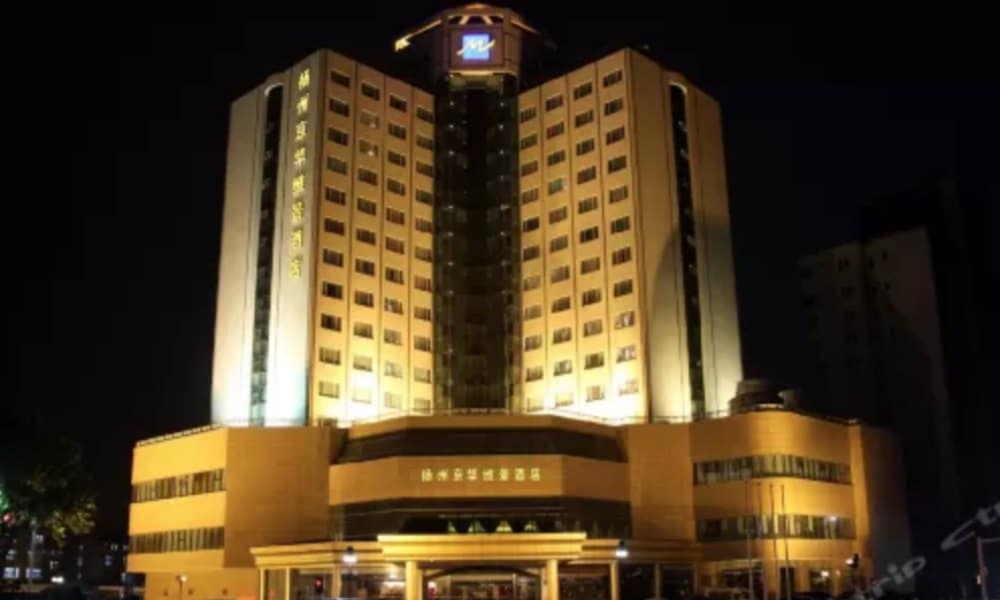 The recent death of a 30-year-old Chinese man at the Jing Hua Metropark Hotel (京华维景酒店) in Yangzhou, Jiangsu province, has triggered discussions on Weibo.
On Friday, May 19, the man was discovered in his hotel room bathtub by his friends. The following day, Yangzhou Police officially confirmed the man's death, China News reports.
The man, who was from the nearby Gaoyou County, allegedly died of a heart attack after drinking during a formal dinner with friends at the hotel.
Local media later reported that the friends present during the night reached a 1 million yuan (±US$157,000) settlement with the man's family. The cost of the settlement will be shared among the friends who were drinking that night.
In February of this year, two similar stories made headlines in China. In one case, a young migrant worker died after excessive drinking at a company lunch and dinner in southern China.
The man, according to SCMP, drank the equivalent of 600ml of baijiu (白酒), a popular spirit that contains around 50% alcohol.
The other case involved a man who died when he was left by his friends at a hotel in Jinhua, Zhejiang province, after heavily drinking at a banquet.
Those friends also paid a compensation together of 610,000 yuan (US$96,000) to the man's family.
Earlier this month, organisers of an alcohol drinking contest in Henan province were also ordered to pay a compensation of over US$70,000 after one participant died due to excessive alcohol intake in July of last year.
"We'd better bring our medical records before drinking with friends."
The most recent 1 million yuan settlement became a heated topic on Weibo, where one commenter stated that perhaps it is time to sign a legal waiver with all friends who drink together before they become legally responsible for potential settlement costs.
Another commenter suggested that alcohol manufacturers should be responsible for such deaths. The majority of the commenters, however, blamed Chinese drinking culture (中国酒桌文化) for these incidents.
In the Chinese traditional drinking culture, people are usually encouraged to drink as much as they can, or to exceed their limits; the goal sometimes is to literally "take someone to the ground by drinking."
When someone proposes a toast, everyone at the table is required to finish their glasses, sometimes at a very high pace.
Since Chinese drinking culture usually involves drinks with a high alcohol percentage, such as the aforementioned baijiu, heavy drinkers have a higher risk of alcohol poisoning.
Despite some claiming that the 'long, traditional' drinking culture is meant to strengthen people's relations, critics argue that China's coercive drinking culture is a toxic practice that is harmful to people's health.
The pressure to drink sometimes goes beyond friendly relations, as those who decline a drink can be verbally attacked or looked down on by others participating in the event.
Especially during formal business dinners, the amount of alcohol one can drink is taken as a sign of their strength of character or abilities; those who can consume the most are regarded as the best candidates and may receive financial benefits or better business relations with others because of it.
"It would be better for us to bring medical records with us before we started drinking with friends," one Weibo netizen jokingly comments.
"It's good they have to pay compensation [to the family]," another person writes: "This might put an end to the Chinese drinking culture where people are basically forced to drink alcohol."
By Chauncey Jung
Follow @whatsonweibo
Spotted a mistake or want to add something? Please let us know in comments below or email us.
©2018 Whatsonweibo. All rights reserved. Do not reproduce our content without permission – you can contact us at info@whatsonweibo.com.