Extreme Bullying Videos on Chinese Social Media: A Concerning Trend
So-called 'campus violence videos' (校园暴力视频) have become a concerning trend.
A string of extremely violent videos have recently been posted on Chinese social media, showing multiple bullies beating up their victim on camera. These so-called 'campus violence videos' (校园暴力视频) expose the seriousness of China's bullying problem.
Many netizens become angry when seeing violent school videos popping up on Chinese social media: "Ten girls holding a steel pipe in their hands, participating in an armed confrontation. This scum of the earth should be chopped to death!" – is one comment on March 22, in response to a video where a group of girls are captured on video beating other girls with steel pipes.
It is just one of many examples of violent videos that have surfaced on Chinese social media practically every day over the last year.
Weibo Violence (#微博曝料#)
According to Baike, China's equivalent to Wikipedia, 'Campus Violence' (校园暴力) refers to any type of violence on schools and the campus, either between students, students and the teacher, or student's vandalism on the school premises. Campus violence is no longer simply the problem of the school; it has become the focus of public attention, especially now that more and more cases are caught on tape and spread on social media.
Many bullying videos expose how young girls are beating on other girls. One video shared on March 23 shows how two girls are repeatedly hitting one girl in the face. But there are also other types of confrontations. Another video that was shared on March 22 was that of some high school students beating their teacher with a chair in the classroom.
According to one netizen called 'Happy Warm Brother' (happy热哥) who posted the video of the classroom confrontation, the incident occurred at a middle school in Lianping county, Guangdong.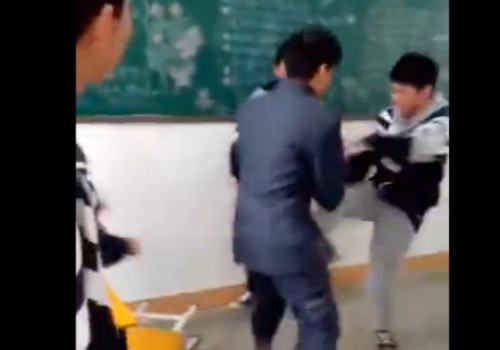 Many commenters react in shock: "These boys should be immediately expelled!" and "Such scum!". By noon of March 23, the video was shared nearly 1000 times.
'Weibo Violence' (#微博曝料#), 'Campus Violence' (#校园暴力#) or 'Exposing Campus Violence' (#校园暴力曝光台#), have been recurring online topics over the past year. In November 2015, a video of a schoolgirl getting kicked in the stomach surfaced online and caused quite some controversy. Since then, this kind of violence has been a daily topic on Weibo, with one after the other video coming out. Some also include sexual assault, with girls tearing off the clothes of their victim and kicking on a naked girl.
Sina Weibo recently described the phenomenon of bullying videos as follows: "Lately, videos and news of campus violence has appeared online again and again. They are a serious disturbance of school order and a pollution of student's healthy studying environment. It's bringing a bad influence to schools and society at large."
Not another one!
China is dealing with a real epidemic of school violence. As CNN reported earlier, the emergence of these kinds of violence is connected to different factors, including peer pressure, broken families, feelings of insecurity and increased time spent online.
According to the NoBullying movement website, boys and girls act differently when bullying. Girls commonly form girl groups to gang up on their victim to show that they are in control or to gain popularity. They are also more inclined to make cruel jokes and pranks to embarrass or humiliate the victim. This might play a role in the fact that there seem to be more Weibo violence videos of girls bullying on girls than those of boys.
Although the extreme bullying video's have become a recurring topic of discussion, the online censorship on these kinds of video's is weak to non-existent – they are freely shared on video platforms Youku or Miaopai and then shared through WeChat or Sina Weibo.
"Not another school violence video!" – a netizen called Zhong Yuejuan (钟学隽) responds when Weibo user Zhou Licheng (周李城), who focuses on school violence, posts another shocking violent video: "There's another one every day, when will we come up with a way to deal with campus violence?"
Chinese netizens have started using the hashtag 'Urgent action to implement laws' (#迫切呼吁立法#) to address the problem of bullying in schools.
The anti-bullying shout outs of social media users have not gone unheard, as the prevention and punishment of this kind of violence has increasingly become a topic of focus for Chinese government and state media.
Stopping the Violence
Bullying videos and Weibo violence were a 'hot topic' during this year's plenary sessions (lianghui), where committee members called for higher punishments and a better legal system to counter campus violence, Chongqing Evening News columnist Shi Heming (史鹤鸣) writes on March 22.
Part of the reason why bullying is such a big issue in China is that the perpetrators barely face legal consequences, and that the problem culturally is not seen as a serious one. As China Daily writes about bullying: "Few offenders receive proper punishment in China. In most of the cases that do not involve severe physical harm, the only "punishment" offenders receive is criticism from schools. As for parents, most of them consider bullying incidents as "small fights" between their children, and it is precisely because of such an attitude that bullying cases have not declined in China."
In the Chongqing Evening News, Shi pleads for a better use of existing Chinese laws. Although children under 14 years of age cannot receive criminal penalties in China, minors from 14 to 16 years of age can be punished for theft, assault and manslaughter. From 16 years on, they can be punished like adults. According to the law, Shi pleads, there are ample possibilities to punish bullies for their violent deeds. Besides punishment, there should also more focus on the prevention of these kinds of violent acts.
In Phoenix News, author Xie Zhusheng (叶竹盛) also pleads for halting campus violence by making the culprits carry more responsibility for their deeds.
Chinese politician and Minister of Education Yuan Guiren recently made a statement about China's school violence problem, saying that the laws will be adjusted so that bullies will be able to get stricter punishments.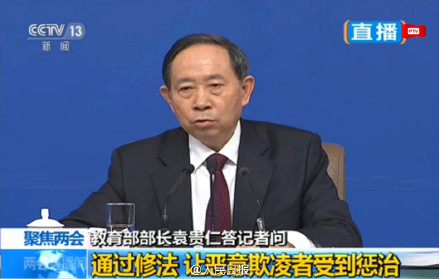 "They should've done this earlier," one Weibo user responds: "The law should protect those children who need it the most."
– By Manya Koetse
Follow @WhatsOnWeibo
On this page we have listed some bullying videos that are written about in this article. They contain graphic content, that may be disturbing to some viewers.
©2016 Whatsonweibo. All rights reserved. Do not reproduce our content without permission – you can contact us at info@whatsonweibo.com.
Open Sesame: Social Credit in China as Gate to Punitive Measures and Personal Perks
While English-language media describe China's social credit system as a Black Mirror-like authoritarian implementation, Chinese social media users seem to focus more on the advantages than the burdens.
Chinese social credit system has become a hot topic – especially in foreign media. But what's true and what's not? How is the issue discussed on Chinese social media? What's on Weibo explores some recent developments in the emerging field of social credit in China.
"Big brother is watching," some English-language media write, others compare it to 'Black Mirror,' while some call it righout "creepy"; China's emerging social credit system is an issue that many foreign journalists and China watchers are currently concerned with – sometimes even alleging that the Chinese social credit system is "as bizarre as it sounds."
On Chinese media and social media platforms, there seem to be very different attitudes on social credit in China. Apart from official stances that say it promotes a "harmonious society," netizens also seem to focus much more on the perks than the alleged dangers of social credit records.
Jeremy Daum at China Law Translate published an insightful article (must-read!) in late 2017 in which he made the point that foreign media are grossly conflating Sesame Credit (aka Zhima Credit) and Social Credit, and in doing so, are misrepresenting what is happening in China regarding these systems. So what actually is fact and what is fiction when it comes to the social credit in China?
Sesame Credit versus Social Credit
There is so much Chinese terminology relating to social credit in China that it is perhaps not that surprising that the lines have become blurred between the actual Social Credit system and a number of private programs.*
In a recent article titled "China's Social Credit System Is Not What You Think It Is" (in Dutch), ChinaTalk author Ed Sander (@edsander) sets out existing misconceptions about China's credit systems.
The most important existing misconception is that it is often suggested that there is just one 'social credit system' in China. In reality, there are two separate systems that operate independently; the commercial credit systems (such as the Sesame Credit by Alibaba) and the Social Credit system by the Chinese government, which it has promised to roll out nationally by 2020.

Sesame Credit (芝麻信用)

The system that has arguably been most discussed in foreign media is Sesame Credit (Zhīma xìnyòng 芝麻信用), implemented by Alibaba's Ant Financial. Sesame Credit already had 520 million users as of 2017.
As Jeremy Daum points out, Sesame Credit is one of the business trials that has been granted permission by the People's Bank of China to experiment with individual credit reporting. NB: The central bank has its own Credit Reference Centre since 2006, which is tasked with operating a national commercial and consumer credit reporting system to enable financial institutions to assess borrowers' creditworthiness.
Sesame Credit was launched in 2015. Because it is part of the Alibaba family, Sesame Credit has an enormous amount of data at its disposal, from e-commerce sites to finance products (Taobao, Tianmao, Alipay, etc), through which it compiles users' own scores, going from 350-950, for those who have opted into the program. The scores are based on a number of things, including people's payment history, their contacts and network, and online behavior.
It is not mandatory for users to opt into Sesame Credit. Some have compared the system to a loyalty program, although it is a bit more than that. Since 2015, for example, Sesame Credit also cooperates with the popular online dating service company Baihe.com (百合网), so that people can link their dating profile to their credit score.
One of the reasons why foreign media have written so much about Sesame Credit as an 'Orwellian system' is that it incorporates a publicly available 'blacklist' into its scoring process. The 'blacklist' is a Chinese courts' list with the names of people that have an effective court justice against them.
Inclusion on this list can make users' existing Sesame Credit drop dramatically, which would make people miss out on all perks of having a high Sesame Sore, e.g. no deposits in renting cars, bicycles, or booking hotels (Xinhua 2017).
Some media* have conflated this with the overall negative side effects of being on list of court debtors; it is not Sesame Credit, but the Social Credit schemes that can punish citizens by revoking certain government benefits and putting them on heightened scrutiny until they repay their debts (Daum 2017b).
Besides Sesame Credit, there are also other corporations rolling out credit scores. One of them is Tencent Credit (腾讯信用), which was also established in 2015 and had a trial running in January of 2018.

Social Credit System (社会信用系统)

China's Social Credit system is currently not a national one – it is outlined to be implemented nationwide by 2020 – but it is being experimented with in various regions and cities across China.
Daum (2017) describes it as a 'policy' or 'ideology of data use' rather than a 'system', and explains it as "the Chinese Party-State's shorthand for a broad range of efforts to improve market security and public safety by increasing integrity and mutual trust in society."
Chinese social management expert Samantha Hoffman says the system is just "adding technology and adding a formality to the way the Party already operates," which reiterates a stance by scholar Rogier Creemers, who claims that the system itself is not 'new' and can be compared to decade-old ways in which the government is keeping a tab on its citizens (Creemers et al 2016).
The Social Credit 'system' essentially will be focused on accumulating and integrating information, and will create measures that encourage 'trustworthy behavior' and punishes those who are not 'trustworthy' (Daum 2017). It is unlikely that the collected personal data will be reflected in one single score, as has been suggested by various media.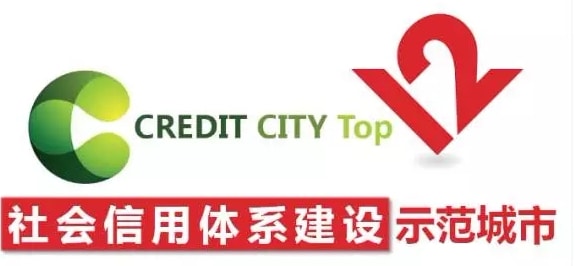 Earlier this year, the PRC's National Development & Reform Commission and People's Bank of China released a list of the 12 top cities implementing Social Credit experiments this year, namely: Hangzhou, Nanjing, Xiamen, Chengdu, Suzhou, Suqian, Huizhou, Wenzhou, Weihai, Yiwu, and Rongcheng.
Rongcheng, a county-level city in Shandong province, has been at the center of a recent Foreign Policy article by Mistreanu (2018), which describes how many Rongcheng citizens have already embraced the Social Credit pilot, and seem happy with how it improves the community.
The Rongcheng Credit system is one of both rewards and punishments, as also described of other bigger local systems by Daum (2017b). Online defamation or abuse of family members will negatively affect one's societal credit, whereas taking care of one's parents or positively influencing one's neighborhood will lead to better rankings. In Rongcheng, top rankers are praised by being displayed on a board near the village center (Mistreanu 2018).
Sesame & Sharing
China's social credit system and Sesame Credit are a hot topic on social media networks such as Twitter or Facebook, where they are often discussed in negative ways. On Sina Weibo, one of China's biggest social media platforms, however, both topics are discussed very differently. Sesame Credit is mostly linked to fun extras and the Chinese sharing economy.
At time of writing, Sesame Credit has 240.000 fans on its official Weibo account (@芝麻信用), where they promote the most recent benefits to users with higher credit scores, such as the possibility to get Hello Bicycle (哈罗单车) rental bikes without deposits.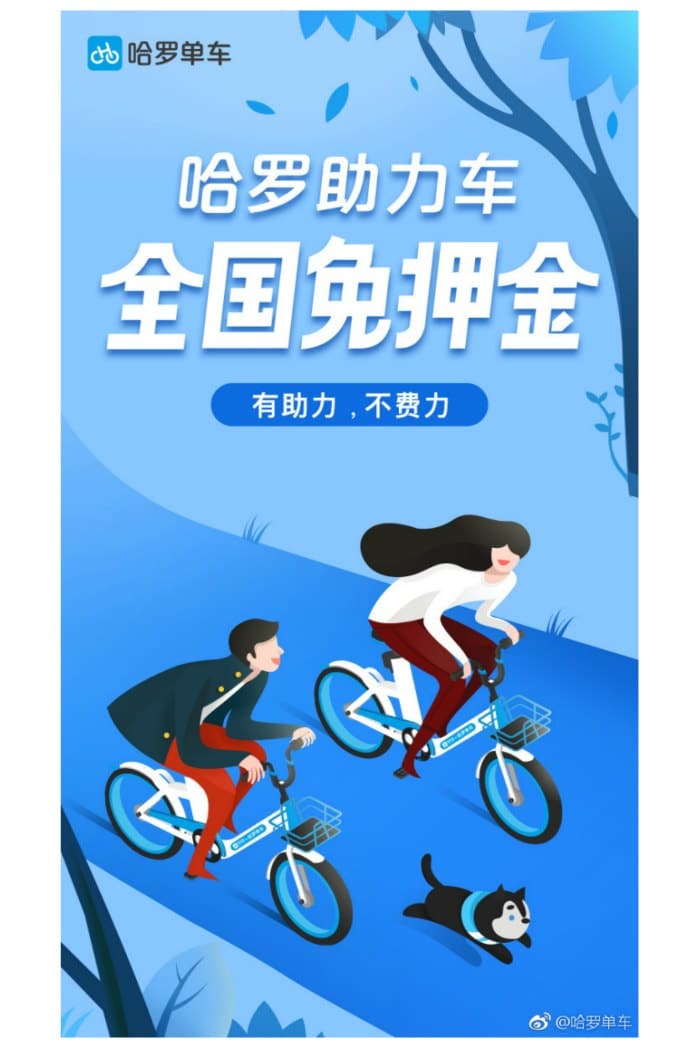 Some netizens discuss the recent cooperation between Ford and Alibaba, in which people with a Sesame Credit Score over 700 points can test drive the new Ford Explorer for three days for free.
Apart from Hello Bike or Ford, there is a myriad of other brands that seem happy to participate in the Sesame Credit system and the idea of Shared Economy.
Mobrella, an operator of umbrella sharing services for urban consumers, allows Sesame Credit users with a score over 600 to use their umbrellas without paying deposits. Anbai (按呗), a company focused on shared massage chairs, also lets 600+ scorers use their relaxation chairs for free.
"Thumbs up for sharing [economy]!", some netizens comment.
The benefits of a higher Sesame Credit score go beyond brand services. In places such as Shanghai, Hangzhou, or Wenzhou, for example, people with a credit score of respectively 600 and 500 can go to the local library and borrow books for free without paying any deposit. Some places offer public self-service booths where people can borrow their books without having to go to the library.
At the Zhejiang University Hospital, patients with a Sesame Credit score over 650 can enjoy privileges such as seeing a doctor first and worry about payment later, or free use of available wheelchairs. In Shenzhou and other cities, people with a 650+ score can rent cars without paying deposits.
There are countless examples of how a higher credit score is making life easier and more convenient for people in dozens of cities across China, which is why a score of approximately 650 is something people strive for. "I overheard some people on the subway today discussing how they could raise their Sesame Credit score to rank over 640," one Weibo user says: "I'd never even checked my score, but somehow it currently is as high as 810!"
Karma & Credit Scores
Different from Sesame Credit, the national and/or local social credit system is not discussed much on Chinese social media. When it is discussed, there seems to be more focus on the punitive side of the system than on the rewards.
In early May, for example, a young man from Shanxi was the first local person to be put on the so-called "lose trust blacklist" (失信黑名单), and was banned from traveling by train for 180 days as part of the Social Credit implementation, after jumping over the ticket barriers at Yangling Station. Many commenters supported the ban, saying: "This kind of people with no regard for the rules should be banned from traveling indefinitely."
Another example is that Guangdong authorities, on May 22, announced the implementation of a special blacklist for people violating the rules of the bike-sharing industry. Those vandalizing a bike, for instance, could be banned from using any bike-sharing service and their social credit will be negatively affected. A top commenter wrote: "Excellent, absolutely excellent – I hope this will be implemented all across the country."
A recent experiment by Shenzhen police, in which facial recognition technologies were used to catch jaywalkers, also attracted the attention on social media. State newspapers reported that these kinds of traffic violations will also influence people's personal credit in the future.
Although many people see the social credit systems working as a sort of 'law of karma', not all netizens agree. One person responding to the jaywalkers' case says: "When it comes to traffic violations – we have relevant laws for those. Making them affect one's personal credit seems to be over the top."
Credit Cities
What is noteworthy about the nascent Social Credit systems on Weibo is that many local governments have already set up their own Social Credit Implementation accounts – some have even already been registered in 2014.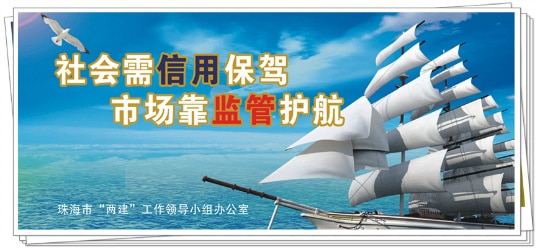 Zhuhai (Guangdong) has its own "Social Credit System & Market Control System" Weibo account (@珠海市两建办); there's an account by Wenzhou (Guangdong) (@温州-谢枫); Suzhou (Jiangsu) (@苏州工业园区信用平台); Suqian (Jiangsu) (@诚信宿迁); Wuhu (Anhui) (@信用芜湖), and others.
Although these accounts are not yet popular, without many fans or discussions, their online presence does signal that Weibo might have hundreds of similar accounts in the future when the Social Credit system is implemented nationwide, with cities informing citizens of new measures and/or guideline relating to the credit system through social media.
With Hangzhou currently being the top city when it comes to building the social credit system, along with the city closely working together with Sesame Credit, it has now even been labeled "Credit City" (信用之城) by Chinese media.
Rather than framed as "creepy" or "bizarre" by foreign media, it is words such as "safety", "harmony", and "convenience" that are mostly used by Chinese media to describe these avant-garde cities, where "trust" and "credit" are seemingly becoming a crucial asset for citizens who care about 'karma' and 'personal perks.'
"I support it," one Weibo commenter writes: "I hope it will have a positive influence on society."
By Manya Koetse
Follow @whatsonweibo
* Some Terminology:
'Social credit system': 社会信用体系
'Sesame Credit': 芝麻信用
'Credit scores': 信用评分
'Personal credit systems': 个人征信系统
'Credit information services': 征信服务
'People's personal credit structure': 民间个人征信机构
* Some media such as The Independent in: "China wants to give all of its citizens a score – and their rating could affect every area of their lives."
References (others linked directly within text)
Creemers, Rogier. 2018. "China's Social Credit System: An Evolving Practice of Control."May 9. Available at SSRN: https://ssrn.com/abstract=3175792.
Creemers, Rogier; Peter Marris; Samantha Hoffman; Pamela Kyle Crossley. 2016. "What Could China's 'Social Credit System' Mean for its Citizens?" Foreign Policy, Aug 15
http://foreignpolicy.com/2016/08/15/what-could-chinas-social-credit-system-mean-for-its-citizens/ [26.5.18].
Daum, Jeremy. 2017. "China through a glass, darkly." China Law Translate, Dec 24 https://www.chinalawtranslate.com/seeing-chinese-social-credit-through-a-glass-darkly/?lang=en [24.5.18].
Daum, Jeremy. 2017b. "Giving Credit 2: Carrots and Sticks." China Law Translate, Dec 15 https://www.chinalawtranslate.com/giving-credit-2-carrots-and-sticks/?lang=en [27.5.18].
Mistreanu, Simina. 2018. "Life Inside China's Social Credit Laboratory." Foreign Policy, April 3 http://foreignpolicy.com/2018/04/03/life-inside-chinas-social-credit-laboratory/ [26.5.18].
NDRC. 2018. "首批社会信用体系建设示范城市名单公布." http://www.ndrc.gov.cn/, Jan 9 http://www.ndrc.gov.cn/xwzx/xwfb/201801/t20180109_873409.html [26.5.18].
Sander, Ed. 2018. "China's Sociaal Kredietsysteem is niet wat je denkt." ChinaTalk, May 5 http://www.chinatalk.nl/chinas-sociaal-kredietsysteem-is-niet-wat-je-denkt/ [26.5.18].
Sohu. 2017. "芝麻信用分600以上可以免押金借书了." Sohu, Sept 13 http://www.sohu.com/a/191704017_402387 [27.5.18].
Xinhua. 2017. "Chinese courts use technology to tighten noose on debt defaulters." China Daily, Oct 4 http://www.chinadaily.com.cn/china/2017-10/04/content_32830450.htm [26.5.18].
Xinhua. 2018. "深圳交警"刷脸"治交通违章 处罚或将挂钩个人信用." Xinhua News, May 8 http://www.xinhuanet.com/local/2017-04/24/c_1120864742.htm [26.5.18].
Xiao, Eva. 2018. "Tencent's new credit system to use payments, social data." Tech in Asia, Jan 31 https://www.techinasia.com/tencent-credit-launch [26.5.18].
Zhang Yuzhe, Peng Qinqin and Dong Tongjian. 2017. "China Gives Little Credit to Companies Handpicked to Develop Credit-Reporting Sector." Caixin Global, May 14 https://www.caixinglobal.com/2017-05-15/101089851.html [26.5.18].
Directly support Manya Koetse. By supporting this author you make future articles possible and help the maintenance and independence of this site. Donate directly through Paypal here. Also check out the What's on Weibo donations page for donations through creditcard & WeChat and for more information.
Spotted a mistake or want to add something? Please let us know in comments below or email us.
©2018 Whatsonweibo. All rights reserved. Do not reproduce our content without permission – you can contact us at info@whatsonweibo.com.
China's Online 'Baoman' Community Shut Down: Behind Rage Comics (Baozou Manhua)
Why have China's most popular Rage Comics (Baozou Manhua) channels been shut down?
Rage Comics, known as Baozou Manhua in Chinese, have become a widespread phenomenon on Chinese social media over the past decade. Online censors are now targeting channels spreading these popular webcomics, which serve as a humorous weapon to China's younger generations. What's on Weibo explains.
Sixteen Weibo accounts relating to Rage Comics (暴走漫画) were shut down by Sina Weibo administrators this week for allegedly "insulting" and "slandering" the names of Chinese heroes and martyrs.
The official Weibo administrator account (@微博管理员) issued a statement in the evening of May 17, writing:
"In accordance with the Law on the Protection of Heroes and Martyrs (英雄烈士保护法), the Cybersecurity Law (网络安全法), and other legal guidelines, Weibo has fulfilled its corporate responsibility (..) and has focused on disposing of harmful information that insults, slanders, or in any other way infringes on the name, portrayal, or reputation of heroes."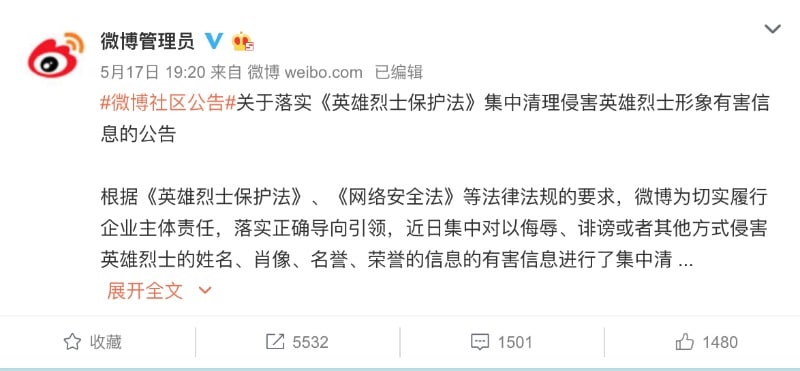 Among the banned Weibo accounts are @Baozoumanhua (@暴走漫画), @Baozoudashijian (@暴走大事件), @HuangJiguang (@黄继光砸缸) and @DongCunRuiattheoffice (@办公室的董存瑞) – all very popular channels through which China's so-called 'Rage Comics' are created and spread.
The ban also goes beyond Weibo, affecting Rage Comics accounts on Q&A platform Zhihu.com, video-streaming sites Youku and iQIYI, and official Baozou Manhua websites.

China's Online 'Baoman' Community

What are Rage Comics? Many internet users will be familiar with the online crude and simple online comics featuring various characters, often created with simple drawing software such as MS Paint, telling stories about everyday annoyances or personal embarrassments, and ending with a punchline. The jokes are often straightforward and politically incorrect (MacDonald 2016).
This genre of webcomics first surfaced in North America on the English-language website 4chan, after which it became more widespread in online communities such as Tumblr, Reddit, and beyond.
The Chinese translation of 'Rage Comics' is Bàozǒu Mànhuà (暴走漫画), with 'baozou' literally meaning 'out of control', and 'manhua' meaning 'sketches', popularized through the Japanese manga term. The term baozou manhua is also abbreviated as Baoman (暴漫).
Baoman became more popular in mainland China when 'Wang Nima' (@王尼玛 on Weibo) launched the website baozoumanhua.com (now offline) in 2008, inspired by the success of the webcomics on English-language online communities (Chen 2014, 690).
The website baozoumanhua.com became a thriving online community and media platform – allowing users to create their own Baoman through the creator's tool (制作器), and to browse the popular comics of the day through its many channels, the 'Baozou Daily', an online forum, videos, and gif collection.
In 2012, the website officially registered the copyright of their Baoman products, as baozoumanhua.com started receiving 5000 to 8000 daily submissions of new comics (Chen 2014, 692-695); Chinese 'rage comics' then also became more widespread on platforms such as Weibo or Wechat, where these 'rage faces' are commonly sent as emoticon-like stickers during chat conversations.
Some of the popular Baoman characters are the same in China as in the US, such as 'rage guy' or 'troll face', or the 'B*tch please' meme – which is actually the face of Chinese retired professional basketball player Yao Ming responding to a journalist's question during a post-game press conference.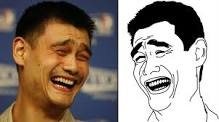 The Yao Ming image is typically used as a 'reaction face' to convey a dismissive attitude towards comments in online discussions (Knowyourmeme 2018).
But there are also typically Chinese characters or biaoqing (表情 'expressions'), for example, those based on Chinese celebrities or referencing to Chinese pop culture (Chen 2014, 695; Xu 2016).
As described by Christina Xu in the Field Guide to China's Most Indispensible Meme; although Chinese 'Baoman' and/or 'biaoqing' all started as a Chinese response to the American Rage Comics, and still use some original characters, an "entirely separate pantheon has emerged" in the PRC (Xu 2016), in which Chinese netizens have collectively built a uniquely Chinese online 'subculture' and Baoman community.
Baoman have been especially functional in China for urban Chinese youth to "vent their frustration about the inequalities they face on a daily basis," as Chen (2014) points out in "Baozou Manhua, Internet Humour and Everyday Life."
These issues go from rising unemployment to the high cost of living, or the difficulty of entering Chinese universities through the gaokao (national entrance exam) system.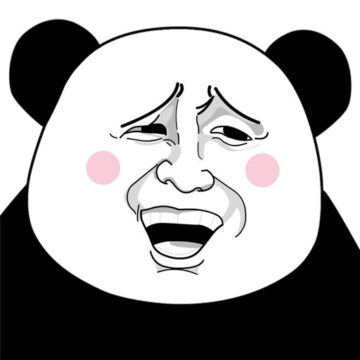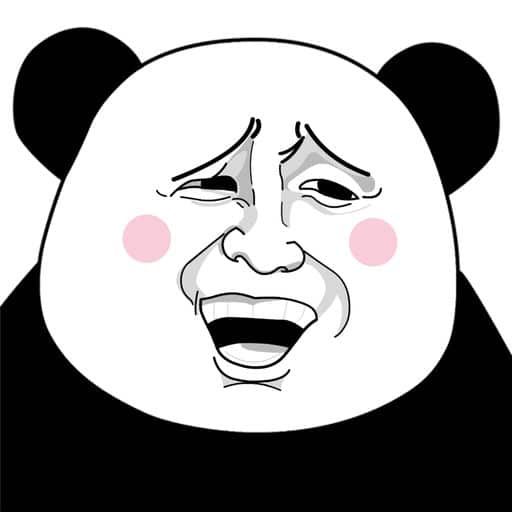 Self-mockery and self-satire is an important part of China's so-called "diaosi tribe": a huge group of Chinese youths who've labeled themselves 'diaosi' (屌丝), basically meaning "losers", as they struggle with the hardships of everyday life and growing social inequality. The ugly, amateuristic graphics of the Baozou manhua suit this youth culture, meeting their need for expression in a culture that focuses on 'keeping face' (Ma 2016, 20).
According to baozoumanhua.com founder Wang Nima, the Baoman genre provides Chinese gao gen (grassroots) netizens "a 'lance' to express themselves" (Chen 20154, 693); meaning this kind of humour can also serve as a frivolous way of resistance, using humor as a weapon to talk about daily frustrations.

No Disrepect for Chinese Heroes: A 'Ban' on Baoman

The recent ban on Baoman directly relates to a 2015 image and a 2014 short Baozou manhua video clip, which was reposted to online news app Jinri Toutiao earlier this month. Both the image and the clip joked about some of China's renowned heroes, including Chinese civil war figures Ye Ting (叶挺, military leader) and Dong Cunrui (董存瑞, PLA soldier who destroyed an enemy bunker in a suicide bombing) (Lin 2018).

(The clip in question; some commenters say the words have been taken out of context.)
In the clip, Sixth Tone reports, video host Wang Nima – wearing a 'rage face' mask as always – narrates: "Dong Cunrui stared at the enemy's bunker, his eyes bursting with rays of hate. He said resolutely, 'Commander, let me blow up the bunker. I am an eight-point youth, and this is my eight-point bunker.'" The script, Qiqing Lin writes, was meant as a pun on a KFC sandwich that was broadcasted in 2014.
Although sarcasm and crudeness are very much inherent in the Baoman humor, this does not mix well with the new law that has recently been implemented in mainland China to 'protect' its national heroes.
The Law on the Protection of Heroes and Martyrs (yīngxióng lièshì bǎohùfǎ, 英雄烈士保护法), has been introduced in March of 2018, as China Daily writes, "so that the country and the people forever remember the sacrifices made by the nation's heroes and martyrs for the good of the country."
It has thus become illegal to make fun of Chinese heroes, and people who "defame" them can now face criminal punishment.
But is this law really the only reason for the shutdown of Baoman channels? Or is it the fact that the all too popular Rage Comics are a representation of an online subculture that goes against the government's view of "healthy developments" of Chinese youth and cultural industries?
Baozoumahua.com founder 'Wang Nima', who now has over 16.6 million followers on Weibo, responded to the ban on the Baoman channels on Thursday, saying he offered his "profound apologies" for bringing an "unhealthy influence" into society. The 40,000 comments to his post were not available to view at time of writing.

The Future of China's Baozou Comics

Over the past few days, the ban on Baozou Manhua has been a huge topic of discussion on Chinese social media, although most comment threads have become publicly unavailable.
Current bans on China's most important online webcomics channels do not necessarily predict their existence and survival in the future. Over the past few months, various online (announced) bans were overturned or denied after triggering controversy (e.g. the ban on gay content or the alleged Douyin targeting of Peppa Pig).
Although channels and hashtags are easy to take offline for censors, the actual creation and spread of new and existing Baoman is virtually impossible to combat. No sources thus far have pointed towards a current ban on the actual comics themselves (just their channels).
Besides the shutdown of the various social media channels, the closure of the baozoumanhua.com media empire is a huge blow to its fans and creators. The website's founder Wang Nima's net worth is estimated to be around 4 billion yuan (±US$628 million), according to Daily Economic News (每日经济新闻).
Netflix recently paid $30 million for the Chinese animated film 'Next Gen', which is also based on the original webcomic '7723' by Wang Nima. Baozou financed and produced the film, which Chinese majors Alibaba and Wanda will reportedly release in China this summer (Amidi 2018).
Whether or not that will happen, and whether or not baozoumanhua.com will be allowed to go online again, is something to be seen.
For many netizens on Weibo, the fact that Baozuo Manhua has been punished for things in the past with a new law that has just been introduced, is something they find unjust. But there are also those who say it serves them right and that the names of Chinese heroes can not be slandered.
"Why Baozuo Manhua?", one netizen says: "Why not other programs with vulgar content? (..) It's unfair!"
Another Weibo commenter says: "China is a big country with many people, and since their education levels are unequal we need a level of control, but it doesn't mean we should control absolutely everything. If there's a problem it gets blocked and deleted, but problems do not get solved at their root."
"Wang Nima I love you, I wait for your return," one fan writes.
By Manya Koetse
Follow @whatsonweibo
References
Amidi, Amid. 2018. "Why Did Netflix Pay $30 Million At Cannes For The Chinese Animated Film 'Next Gen'?" Cartoon Brew, May 13. https://www.cartoonbrew.com/feature-film/why-did-netflix-pay-30-million-at-cannes-for-the-chinese-animated-film-next-gen-158348.html [20.5.18].
Chen, Shih-Wen. 2014. "Baozou manhua (rage comics), Internet humour and everyday life." Continuum: Journal of Media & Cultural Studies 28(5): 690-708.
China Daily. 2018. "英雄烈士保护法(yīngxióng lièshì bǎohùfǎ): Law on the protection of heroes and martyrs." China Daily, May 3. http://www.chinadaily.com.cn/a/201805/03/WS5aea50e6a3105cdcf651ba95.html [20.5.18]
Know Your Meme. 2018. "Yao Ming Face / Bitch Please." Know your Meme. http://knowyourmeme.com/memes/yao-ming-face-bitch-please [20.5.18].
Lin, Qiqing. 2018. "Popular 'Rage Comics' Brand Gagged for Making Fun of Martyrs." Sixth Tone, May 18. https://www.sixthtone.com/news/1002298/popular-rage-comics-brand-gagged-for-making-fun-of-martyrs [19.5.18].
Ma, Xiaojun. 2016. "From Internet Memes to Emoticon Engineering: Insights from the Baozou Comic Phenomenon in China." HCI (3) 9733, Lecture Notes in Computer Science (Springer): 15-27.
Xu, Christina. 2016. "A Field Guide to China's Most Indispensible Meme." Motherboard, August 1. https://motherboard.vice.com/en_us/article/bmvd74/china-meme-face-a-biaoqing-field-guide [20.5.18].
MacDonalds, Sean. 2016. Animation in China: History, Aesthetics, Media. London: Routledge.
Spotted a mistake or want to add something? Please let us know in comments below or email us.
Directly support Manya Koetse. By supporting this author you make future articles possible and help the maintenance and independence of this site. Donate directly through Paypal here. Also check out the What's on Weibo donations page for donations through creditcard & WeChat and for more information.
©2018 Whatsonweibo. All rights reserved. Do not reproduce our content without permission – you can contact us at info@whatsonweibo.com.