Extreme Bullying Videos on Chinese Social Media: A Concerning Trend
So-called 'campus violence videos' (校园暴力视频) have become a concerning trend.
A string of extremely violent videos have recently been posted on Chinese social media, showing multiple bullies beating up their victim on camera. These so-called 'campus violence videos' (校园暴力视频) expose the seriousness of China's bullying problem.
Many netizens become angry when seeing violent school videos popping up on Chinese social media: "Ten girls holding a steel pipe in their hands, participating in an armed confrontation. This scum of the earth should be chopped to death!" – is one comment on March 22, in response to a video where a group of girls are captured on video beating other girls with steel pipes.
It is just one of many examples of violent videos that have surfaced on Chinese social media practically every day over the last year.
Weibo Violence (#微博曝料#)
According to Baike, China's equivalent to Wikipedia, 'Campus Violence' (校园暴力) refers to any type of violence on schools and the campus, either between students, students and the teacher, or student's vandalism on the school premises. Campus violence is no longer simply the problem of the school; it has become the focus of public attention, especially now that more and more cases are caught on tape and spread on social media.
Many bullying videos expose how young girls are beating on other girls. One video shared on March 23 shows how two girls are repeatedly hitting one girl in the face. But there are also other types of confrontations. Another video that was shared on March 22 was that of some high school students beating their teacher with a chair in the classroom.
According to one netizen called 'Happy Warm Brother' (happy热哥) who posted the video of the classroom confrontation, the incident occurred at a middle school in Lianping county, Guangdong.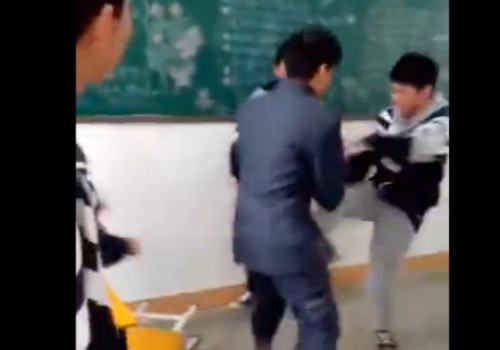 Many commenters react in shock: "These boys should be immediately expelled!" and "Such scum!". By noon of March 23, the video was shared nearly 1000 times.
'Weibo Violence' (#微博曝料#), 'Campus Violence' (#校园暴力#) or 'Exposing Campus Violence' (#校园暴力曝光台#), have been recurring online topics over the past year. In November 2015, a video of a schoolgirl getting kicked in the stomach surfaced online and caused quite some controversy. Since then, this kind of violence has been a daily topic on Weibo, with one after the other video coming out. Some also include sexual assault, with girls tearing off the clothes of their victim and kicking on a naked girl.
Sina Weibo recently described the phenomenon of bullying videos as follows: "Lately, videos and news of campus violence has appeared online again and again. They are a serious disturbance of school order and a pollution of student's healthy studying environment. It's bringing a bad influence to schools and society at large."
Not another one!
China is dealing with a real epidemic of school violence. As CNN reported earlier, the emergence of these kinds of violence is connected to different factors, including peer pressure, broken families, feelings of insecurity and increased time spent online.
According to the NoBullying movement website, boys and girls act differently when bullying. Girls commonly form girl groups to gang up on their victim to show that they are in control or to gain popularity. They are also more inclined to make cruel jokes and pranks to embarrass or humiliate the victim. This might play a role in the fact that there seem to be more Weibo violence videos of girls bullying on girls than those of boys.
Although the extreme bullying video's have become a recurring topic of discussion, the online censorship on these kinds of video's is weak to non-existent – they are freely shared on video platforms Youku or Miaopai and then shared through WeChat or Sina Weibo.
"Not another school violence video!" – a netizen called Zhong Yuejuan (钟学隽) responds when Weibo user Zhou Licheng (周李城), who focuses on school violence, posts another shocking violent video: "There's another one every day, when will we come up with a way to deal with campus violence?"
Chinese netizens have started using the hashtag 'Urgent action to implement laws' (#迫切呼吁立法#) to address the problem of bullying in schools.
The anti-bullying shout outs of social media users have not gone unheard, as the prevention and punishment of this kind of violence has increasingly become a topic of focus for Chinese government and state media.
Stopping the Violence
Bullying videos and Weibo violence were a 'hot topic' during this year's plenary sessions (lianghui), where committee members called for higher punishments and a better legal system to counter campus violence, Chongqing Evening News columnist Shi Heming (史鹤鸣) writes on March 22.
Part of the reason why bullying is such a big issue in China is that the perpetrators barely face legal consequences, and that the problem culturally is not seen as a serious one. As China Daily writes about bullying: "Few offenders receive proper punishment in China. In most of the cases that do not involve severe physical harm, the only "punishment" offenders receive is criticism from schools. As for parents, most of them consider bullying incidents as "small fights" between their children, and it is precisely because of such an attitude that bullying cases have not declined in China."
In the Chongqing Evening News, Shi pleads for a better use of existing Chinese laws. Although children under 14 years of age cannot receive criminal penalties in China, minors from 14 to 16 years of age can be punished for theft, assault and manslaughter. From 16 years on, they can be punished like adults. According to the law, Shi pleads, there are ample possibilities to punish bullies for their violent deeds. Besides punishment, there should also more focus on the prevention of these kinds of violent acts.
In Phoenix News, author Xie Zhusheng (叶竹盛) also pleads for halting campus violence by making the culprits carry more responsibility for their deeds.
Chinese politician and Minister of Education Yuan Guiren recently made a statement about China's school violence problem, saying that the laws will be adjusted so that bullies will be able to get stricter punishments.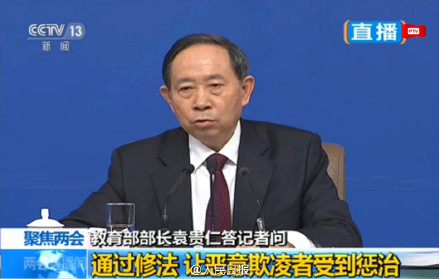 "They should've done this earlier," one Weibo user responds: "The law should protect those children who need it the most."
– By Manya Koetse
Follow @WhatsOnWeibo
On this page we have listed some bullying videos that are written about in this article. They contain graphic content, that may be disturbing to some viewers.
©2016 Whatsonweibo. All rights reserved. Do not reproduce our content without permission – you can contact us at info@whatsonweibo.com.
Can't Enter Uni Because of Daddy's Bad Social Credit – The Blacklist Story That's Got Weibo Talking
When one bad social credit listing affects the entire family.
The story of a Chinese student who got admitted to a renowned university and was then denied access because of his father's bad social credit has got Chinese social media talking.
Getting access to a top university is not easy in China's fiercely competitive education environment. For one student from Wenzhou, Zhejiang province, the results of his gaokao (national university entrance exams) were so good that he received the happy news that he was accepted into one of these renowned universities in Beijing.
Unfortunately for him, that news was later followed up with an update that he could not be accepted due to his father's bad social credit standing.
The story, which was widely covered by Chinese state media (including the English-language CGTN), received much attention on Chinese social media this week.
The young man's father, named only as 'Mr. Rao' (饶先生), ended up with a bad credit standing after owing a debt of 200,000 RMB (±US$29,900) to a local bank for more than two years. Since Rao did not succeed in paying off his debt after warnings given, he was informed by a local court that he had ended up on a so-called "lose trust list" or "black list" (失信名单/失信黑名单).
Towards a More Credit-Based Society
In 2014, China's government first announced plans of its "Social Credit System" (社会信用体系) that focuses on accumulating and integrating information, and will create measures that encourage 'trustworthy behavior' and punishes those who are not 'trustworthy.'
The system is planned to go national by 2020, and is currently implemented in various regions across the country.
However, the public black list was introduced before this time, with Chinese courts in 2013 starting to publicly give out the names online of people who have not complied with court orders.
Additionally, In 2006, the People's Bank of China (PBOC) also already began operating its own independent Credit Reference Center tasked with managing a national commercial and consumer credit reporting system. With the recent launch of the so-called 'trust alliance' (信联), a new unified platform that has access to an enormous number of personal credit data, China's credit-based society has taken another leap – with state level and commercial organizations joining forces in further developing China's credit systems.
In recent (English-language) media reports, the lines are often blurred between the Social Credit system and a number of private programs, including the Sesame Credit program. These misunderstandings partly come from the fact that both the government's plans on introducing their 'Social Credit System' (社会信用体系) and the Central Bank's endeavors to build a stronger personal credit industry (个人征信行业) were major developments in the period from 2013-2015 up to the present. Together with the 2013 judicial online blacklist, these policies and programs all built on a stronger credit-based society that governs both economic and social areas.
The 'system' (there is not one system in place yet) works through rewards and punishment mechanisms. In the city of Zhuhai, for example, individuals or companies with good credit are put on a "red list" which potentially means they could be praised online (Zhuhai credit website) or given rewards, whereas those put on the "black list" (f.e. due to serious misbehavior or promise-breaching) will be subject to various restrictions (Zhang & Zhang 2016, 157).
Those restrictions could include a halt on loans or a national ban from traveling by air or train. Since private programs and institutions also have access to the public blacklists, one company or person's bad credit status can affect their status among various platforms and for various institutions – and thus, potentially, could also influence their children's access to schools and universities.
A Controversial Measure
The recent story of Rao's son paying the price for this father's bad credit listing has stirred controversy online over children being affected by their parents' bad credit listing.
One Weibo news thread on the issue received nearly 30,000 comments.
One of the most popular remarks on the story said: "If it is okay to treat those who are associated with an offender as guilty (连坐), then it's time to punish the sons and daughters of corrupt officials, too."
"A father's bad credit has nothing to do with the children!", another Weibo user said.
But another popular comment called the measure "effective," with others agreeing: "If he waited two years to pay off his debt, he was basically asking to be on the blacklist. That his bad credit influences his child's education is just to reap what one has sown."
Various Chinese media, including financial newspaper Caijing, report that the boy's father was previously warned by the local court that his bad credit standing could potentially have consequences for his children too, but that he still did not comply with court orders to pay back his loans.
Since Rao's son has been denied access to the university as long as his father has a bad credit standing, Rao has allegedly paid back the loan and has asked the local court to be removed from the blacklist.
There are also commenters on Weibo, such as @闪电McQueen, who say the university's actions are nothing newsworthy: "This is just the [political] examination of people's records, it's not specifically about the black list, it's common knowledge, let's not make it all about that black list."
This commenter's reaction reiterates the idea that the social credit system and black list system is actually not that new, as Rogier Creemers has previously described in Foreign Policy (2016): "The Chinese Communist Party government has always sought to keep tabs on its citizens, for instance through the "personal file" (dang'an) system of a few decades ago."
Another person on Weibo says: "The people who are saying the child is the victim here should also know that people who end up on the blacklist are generally not people without money, their kids have enough opportunities, it's just that if they owe money [to the bank], paying the tuition fee for their kids would become a problem."
As for Rao's son, whether or not he will be able to start at his new university in Beijing in the new semester, now that his dad has paid off debts, is yet unclear. Some commenters say it would be better if he didn't: "Who wants to go to a university who does this anyway?"
UPDATE (7.16.18): Jeremy Daum at the ever-insighful China Law Translate blog has further looked into this case and found that the institution in this article, which has not been named in Chinese media, is most probably a private academy. He was also able to verify that this concerns a real story with no fake names used – he was able track Rao down in the public blacklist.
UPDATE: A quick review of published enforcement actions in the relevant region by @yiqinfu was able to identify the case and verify entry onto the judgment defaulters list. This includes name and address etc, so I will not post it here, but can confirm there is a real case. https://t.co/yUw5DVAqgX

— China Law Translate (@ChinaLawTransl8) 16 juli 2018
By Manya Koetse, with contributions from Miranda Barnes
Follow @whatsonweibo
References
Creemers, Rogier; Peter Marris; Samantha Hoffman; Pamela Kyle Crossley. 2016. "What Could China's 'Social Credit System' Mean for its Citizens?" Foreign Policy, Aug 15
http://foreignpolicy.com/2016/08/15/what-could-chinas-social-credit-system-mean-for-its-citizens/ [15.7.18].
Zhang, Keting, and Fang Zhang. 201. "Report on the Construction of the Social Credit System in China's Special Economic Zones." In: Yitao Tao and Yiming Yuan (eds), Annual Report on the Development of China's Special Economic Zones (2016): Blue Book of China's Special Economic Zones, 153-171. Singapore: Social Science Academic Press.
Spotted a mistake or want to add something? Please let us know in comments below or email us.
©2018 Whatsonweibo. All rights reserved. Do not reproduce our content without permission – you can contact us at info@whatsonweibo.com.
China's "University Counseling" Business: High School Graduates Pay over $7,500 to Pick the Right University
How much is the selection of the right university worth?
Many Chinese high school graduates are willing to pay a high price for the right selection of their higher education institutions. Paying over US$7,550 for so-called 'university counselors,' Chinese students pay a higher price for the process preceding their uni years than the total cost of their entire college education.
A recent news item reported by China News Agency on the growing popularity of university counseling services has generated discussions on Chinese social media.
University counseling services have become an especially hot business now that the gaokao, China's national university entrance exams, are over.
These kinds of counseling services help students to choose the best available institution based on their exam results, but they also include personality tests and the exploration of the potential future majors students could take on.
Promising to help students through big data and one-on-one consultations with experts, these university counseling agencies charge high prices. Service prices range from a few thousand Chinese Yuan to as high as ¥50,000 (±US$7,550).
According to Tsinghua University's official admission guidelines, undergraduates are generally charged a ¥5,000 (±US$642) annual tuition fee, meaning that (parents of) high school graduates are willing to pay much more for the selection process of the university than the entire 4-year tuition of the educational institute.
Unlike university applications in western countries, Chinese high school graduates generally face stricter limitations in their selection of future colleges and universities. A high mark in the gaokao does not necessarily guarantee the admission to a top-level university; competition is fierce, and, depending on the location, universities will reserve spots for students depending on their hukou (residence permit).
Chinese universities are generally not flexible in letting students switch university majors, meaning that even if students change their preferences, they are still likely to stick to their majors for their entire undergraduate life. This also adds to the weight of the decision to enroll in a certain university programme.

Real Demands

Besides the high price, there is another downside to these consulting services. According to the China News Agency, these consulting services are not always reliable, as the 'experts' and 'big-data analysis' are not always subjective but promotion-focused.
Those downsides, however, have not halted the boom in demands for these counselling services.
Statistics from the Chinese Ministry of Education show that as of 2016, there are 2596 universities and 506 different majors in China. For high school graduates and parents with little knowledge of university admissions, anyone helping them find their way in this world of higher education is of great value to them.
Chinese media outlet Jiemian notes that China's different provinces have different rules for filing university enrollment applications. In Inner Mongolia, for example, there is only one opportunity to apply for a higher education institution, for which students can select a maximum of six majors. If these students do not have an effective application strategy, they might end up going to a second-level institution.
Those with limited knowledge of Chinese higher education are also more prone to fall for one of the many scams; non-MOE-approved 'universities' take advantage of the sometimes confusing names of Chinese universities by luring students into enrolling at their fake university that has a name very similar to a top-notch one.
Although high school teachers sometimes assist their pupils in the search for the right college, they are not capable of helping all students – most students end up doing the university application themselves.

A Waste of Money?

On Weibo, this topic has sparked some discussions among users, especially those who have negative experiences with these expensive services.
"I spent a lot of money on these services," one Weibo commenter says: "Now I am in a school in a rural suburb that takes 90 minutes to get to. If I were to see that consultant again, I would beat the crap out of him."
Other users deem the services unnecessary: "I don't think it is necessary to spend that money. Asking friends and elders will be enough." Another user also does not believe in wasting money on a service that he sees no value in: "I am glad I saved that ¥50,000."
There are also people, however, who do think the booming university counseling business is helpful: " I think there are many problems people get to deal with at university. If you're clueless, it is good to get other people's advice."
"There are many universities in China. It might be easy for those who can make it to the '985/211' [the top level schools in the PRC], but not for the others," another commenter suggests.
Both sides have a clear point: some counseling services may not be reliable and will not offer their clients the best university selection. But there are also those who actually benefit from getting their advice. In the end, it is the university counseling companies that get the short end of the stick.
By Chauncey Jung
Follow @whatsonweibo
Spotted a mistake or want to add something? Please let us know in comments below or email us.
©2018 Whatsonweibo. All rights reserved. Do not reproduce our content without permission – you can contact us at info@whatsonweibo.com.