"Invincible Wuhan Man": Coronavirus Patient Reading Political Book Goes Viral
No light reading in dark times for this "invincible Wuhan man."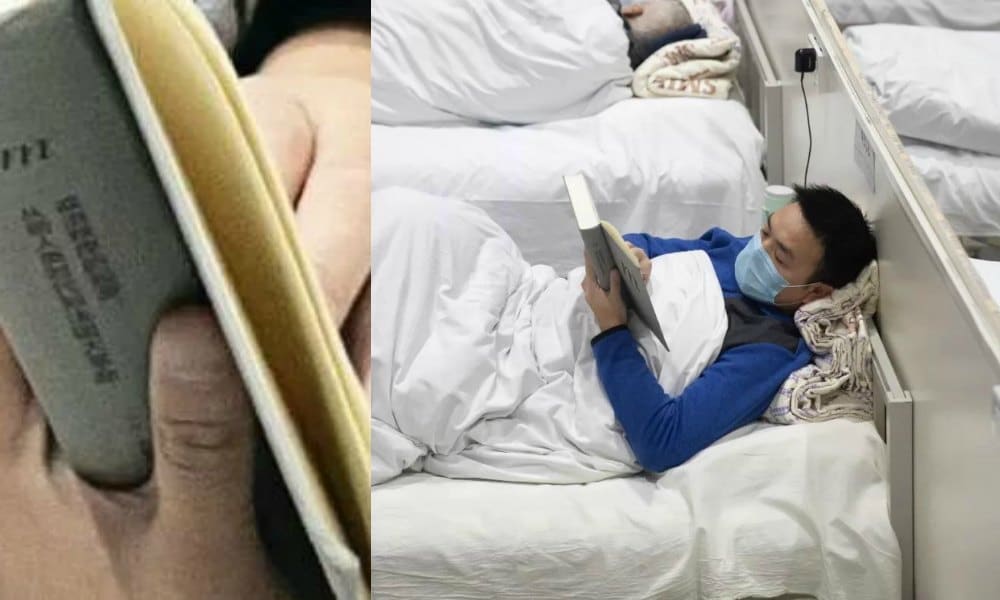 As the number of coronavirus infections continues to grow in Wuhan, three newly-built cabin hospitals have started to receive patients.
This week, there was one man among the patients at Wuhan's 'Fang Cang' shelter hospital (方舱医院) who attracted the attention of netizens as he was spotted in an online picture lying on the bed and reading a book.
It's rare enough to see someone infected with the much-feared coronavirus still engrossed in a book. But was especially noteworthy to many Weibo users is the type of book the patient was reading.
The book, that was identified as Francis Fukuyama's The Origins of Political Order, is not exactly known as 'light reading.'
One of the Weibo posts that pointed the reading man out in the photo, which was shot by Changjiang Daily (长江日报), described him as "an invincible Wuhan-er" (打不垮的武汉人).
The post has received over 172,000 likes and 46,000 reposts at time of writing.
Fukuyama's The Origins of Political Order (2011) is focused on modern state-building and the development of political institutions.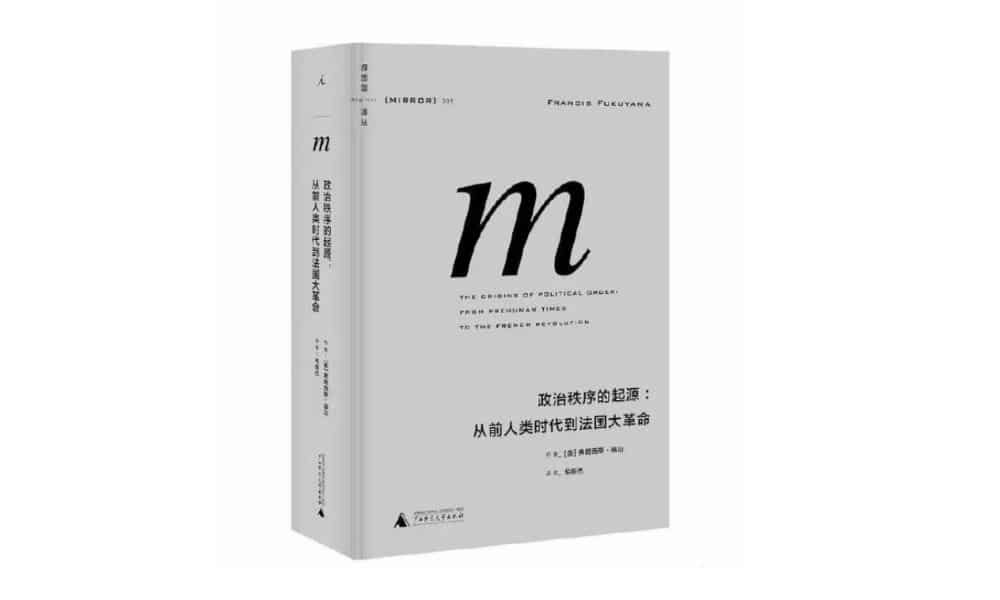 In this work, Fukuyama, a political economist, argues that in order for a government to be successful and stable, it needs the rule of law, a strong state, and accountability.
In the coronavirus outbreak, the unaccountability of China's political system has often been mentioned as a reason for why the epidemic was not contained in its infancy, which triggered calls for the resignation of Wuhan officials.
In a rare move, Beijing described the epidemic as a major test for its governance system and capacity, and acknowledged that there were shortcomings in its handling.
That a patient, suffering from the coronavirus, was reading Fukuyama's book, in particular, ignited online discussions – some Weibo users pointing out the irony of the situation.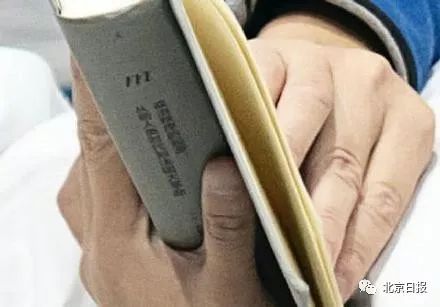 One Weibo user (@讲故事的澜斯基) wrote: "He is basically looking for the actual root of why he was infected [with the new coronavirus]."
Another commenter wrote: "Reading is a great way to ward off spiritual viruses."
There are also people who say that seeing this Wuhan patient gives them hope and strength. One netizen describes the picture as one that "gave me the most power and hope in recent days."
Another issue making this topic all the more noteworthy is the background of the Chinese publisher of Fukuyama's book, Imaginist (理想国). Its publications – mainly focused on the humanities, literature and arts – are often deemed "sensitive" by the Chinese authorities.
The influential publishing brand has a rocky recent past in mainland China, with some of its publications having been banned and removed from (online) bookstores. The former head of Guangxi Normal University Press, which Imaginist cooperates with, was sentenced to ten years in prison in 2018 (read more here).

According to Chengdu Business Newspaper (成都商报), the man in the spotlight is a 39-year-old postdoctorate studying science in the United States.
He stated that he just read the book out of interest and that he never anticipated going viral on the internet for it.
Although grateful for the attention he received, he reportedly said he hoped people could focus more on medical workers instead.
Along with this Wuhan patient going viral, Fukuyama's book has also seen a dramatic rise in popularity. As one Chinese writer noted on Weibo, The Origins of Political Order has risen to the first position in the popular charts of Douban, a popular online review platform.
By now, the Wuhan patient has become more famous than he could ever have anticipated; even author Francis Fukuyama himself has retweeted the image of the man reading his book at the coronavirus hospital ward.
A young man went viral in #China for reading @FukuyamaFrancis's Origins of Political Order at a module hospital in Wuhan designated for #coronavirus patients. His calmness contrasted with the bustling hospital and showed the power of civilization. https://t.co/aa3UTS9r3M pic.twitter.com/BUMZeEdZoA

— The Paper 澎湃新闻 (@thepapercn) February 7, 2020
Read more about the coronavirus crisis here.
Want to read Fukuyama too? Check out his book here.
By Bobby Fung (@bobbyfungmr)
Follow @whatsonweibo
Spotted a mistake or want to add something? Please let us know in comments below or email us. First-time commenters, please be patient – we will have to manually approve your comment before it appears.
©2020 Whatsonweibo. All rights reserved. Do not reproduce our content without permission – you can contact us at info@whatsonweibo.com.
Xi'an Outbreak Largely Under Control, But Weibo is Grieving the Death of an Unborn Baby
On the 15th day of lockdown, Xi'an has largely brought the Covid19 outbreak under control, but at what cost?
"Are we really fighting this epidemic to save lives?", some wonder after Xi'an enters its 16th day of a very strict and sometimes messy lockdown. The story of a pregnant woman having a miscarriage in front of the hospital gate has brought the public's anger to a boiling point.
On January 4th at around 4.30 pm, a Weibo user nicknamed 'Don't Make It Rain Ok' posted a heartbreaking story on social media about her pregnant aunt, who lost her baby on January 1st when she did not receive medical care in time and was left waiting outside of the hospital. It was one among multiple stories showcasing the struggles faced by thousands of citizens during the Xi'an lockdown, the biggest one in China since Wuhan was shut down in 2020.
While the story about the pregnant woman was top trending on Weibo on Wednesday and Thursday, the Xi'an city government declared that the Covid19 situation in the city of 13 million inhabitants was reaching the phase of "zero in society" ("社会面清零"), meaning that the outbreak was largely contained in the city's main communities after two weeks of lockdown, during which over 42,000 people were quarantined and brought to other locations.
But rather than cheers of joy, Weibo was dominated by sad stories of people whose lives have been seriously impacted by the restrictions and hurdles they face in times of a lockdown that was mismanaged by local authorities, according to many.
The woman losing her unborn baby because of severely delayed emergency services struck a chord with a lot of netizens. This is a translation of the original post, which was removed from social media without given reason on January 6:
"My aunt said on January 1st 2022 at around 7:00 pm that her stomach hurt, so she called 120 [emergency telephone number]. But 120 was constantly busy and there was no way to get through. Only when she called 110 [police] she was taken to Xi'an Gaoxin Hospital (高新医院). After all this, it was already past 8 pm before she arrived, but she eventually was at the entrance and still wasn't allowed to get in, the delay lasting until after 10 pm – she was told her nucleic acid [test] had exceeded the four-hour time frame. My aunt sat down at the entrance for a while, and because the delay was lasting so long, she was starting to bleed. I saw the video sent by my aunt's husband, seeing my aunt struggling to support her body with both hands sitting on the chair, blood flowing down the chair and down her pants, the floor was full of blood! Also because of the excessive bleeding, the hospital staff saw it really wasn't going well and only then was she admitted and taken into the surgery room. As a result of the untimely medical treatment, my aunt had a miscarriage after carrying the baby for eight months. At eight months, the baby died in the womb without a pulse because of wasted time. Originally I was thinking of telling this story on another platform, but I actually just saw in my Moments [WeChat timeline] that a friend posted a screenshot of another story told by someone and I discovered we are not the only ones to go through something like this at this hospital. I just wept. My aunt also has an 11-year old son who is alone by himself, looking after himself, he still doesn't know what happened to my aunt – he just knows her belly hurt."
The incident sparked outrage on social media, where one hashtag dedicated to the topic received 780 million views on Thursday alone (#西安孕妇流产事件相关责任人被处理#) after it was publicly announced that the hospital's general manager Fu Yuhui (范郁会) would be suspended and that the staff responsible for the incident at the outpatient department were fired.
The hospital was ordered to publicly apologize for the incident, and the local Health Commission director also made an apology.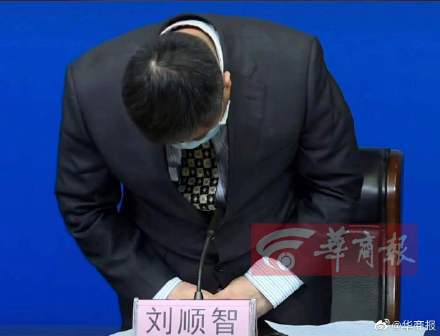 But the apologies did not seem to reduce the anger many expressed online.
"Are we fighting the epidemic to save lives?", one popular blogger wondered in an article dedicated to the incident ("西安孕妇医院门口流产:抗疫,是为了救命啊") published on January 6th. The author argues that the ultimate purpose of China's epidemic prevention and control is to save lives and that a hospital and its staff should do everything in their power to save people's lives rather than letting them suffer outside of their door with the excuse of 'epidemic prevention and control.' In the end, a person's life is more important than their Health Code and the last time they did a Covid test.
The story of the miscarriage was not the only one going viral these days relating to people not being able to get the medical help they need. One story to go viral on January 3rd was that of one Xi'an resident (@太阳花花花00000) reaching out for help via social media platform Xiaohongshu because her father suffered from chest pains and they could not get through to emergency telephone lines fast enough. The original poster later updated their post to share that he had passed away.
Such a sad post on social media by this Xi'an resident whose father suffered a heart attack – the covid situation and strict lockdown in the city made it difficult to get help fast enough. They finally did get help, with much delay, but the father unfortunately didn't make it. 💔 pic.twitter.com/vL3rTWqqS9

— Manya Koetse (@manyapan) January 3, 2022
The man's daughter later clarified in the media that her father was refused access to medical services at multiple hospitals before he also encountered issues at Gaoxin Hospital where he did receive treatment at 10pm – an astonishing eight hours after reaching out to emergency services. He reportedly passed away due to the severe delay in this treatment (#西安网友称父亲被多家医院拒诊后离世#).
Then there was another pregnant woman (@A有雨有晴天) who allegedly suffered a miscarriage after being refused to be taken to the hospital (#西安又一孕妇流产 警察护送被拒诊#). She came out with her story on January 5th, but it happened on December 29th. The woman claims that she sought help but that various hospitals refused to take her in during the extreme lockdown circumstances.
On January 5th and 6th, the death of a 39-year-old man also sparked online anger. According to online reports, the man could not get through to emergency services on December 31st while suffering from severe chest pains. He was refused to be taken in by two hospitals because he supposedly did not have a current negative Covid19 test result. He died shortly after being taken in by a third hospital. A hashtag dedicated to the incident received over 150 million views on January 6 (#西安一男子连续被3家医院拒诊最终猝死#).
"Help the helpless!", some on Weibo wrote: "What would you do if these were your loved ones?!"
"How many people have passed away due to this kind of 'prevention and control'?", other commenters wondered: "What is wrong with the Xi'an authorities?"
Besides the staff fired at the Gaoxin Hospital, the Municipal Discipline Inspection Commission reportedly also gave official warnings to the local deputy secretary and Xi'an Emergency Center director Li Qiang (李强) and local Health Commission director Liu Shunzhi (刘顺智) for not properly fulfilling their duties regarding emergency work during the lockdown.
By Manya Koetse
With contributions by Miranda Barnes.
Spotted a mistake or want to add something? Please let us know in comments below or email us. First-time commenters, please be patient – we will have to manually approve your comment before it appears.
©2021 Whatsonweibo. All rights reserved. Do not reproduce our content without permission – you can contact us at info@whatsonweibo.com.
"Xi'an, What Are You Doing?!" – Lockdown Mismanagement Leaves Residents Angry and Scared
Quarantined Xi'an: "This outbreak is really putting the city's management to the test."
On the 11th day of strict lockdown in the city of Xi'an, many residents are struggling with food shortages and meeting basic needs. Others are emphasizing the rays of light in dark times.
For many living in the city of Xi'an, the New Year did not start off bright and joyful, but dark and filled with anxiousness.
On December 22, more than 13 million residents were ordered to stay at home and a strict lockdown began after the city saw a new wave of Covid19 infections, recording 143 infections in the two weeks before since December 9th.
December 28 marked a record high of 175 new confirmed cases in a single day. By December 29th, the number of recorded infections reached 1,117, going up to 1,444 on January 1st and 1,573 on January 2nd.
As the city entered its tenth day under strict lockdown this weekend, Weibo saw an outpouring of anger and disbelief from sleepless netizens who expressed their shock over the way in which local authorities were managing the Covid19 outbreak and the lockdown itself.
With most offline and takeout stores being closed and residents not allowed the leave their compounds, getting food supplies and other essentials became a serious problem for many.
Residents were initially allowed to have one person in their household go out to buy groceries, but rules were later tightened, not allowing residents to leave at all except for Covid19 testing.
Although many households soon received government supplies, there were also communities where no food had been delivered yet and where online groceries were delayed. Some on Weibo complained that they had already been eating instant noodles for eight days straight, unable to get any vegetables.
These were some of the hashtags and taglines on Weibo surrounding incidents sparking outrage.
Food Shortages in Xi'an #西安买菜难#
The hashtag "Difficult to Buy Food in Xi'an" (#西安买菜难#) had received over 370 million clicks by Sunday, January 2nd.
Many people are sharing their stories of saving up what they have left at home, not eating vegetables or fruit for over a week, and expressing their fear of going hungry and not having enough formula to feed their babies. Some also write about not being able to get much-needed medicine for family members with medical conditions such as cancer or diabetes.
"I'm a student who is stranded in Xi'an," one young woman wrote: "I'm lucky that I rented a room for a month so I have a place to stay, but I'm worried about whether or not there is enough food to eat! In this phase of developing the New Era of Socialism with Chinese Characteristics, there are still people who are worried about not being able to eat." She later adds: "I just have two packs of noodles left, preparing to delay eating them as long as I can and will only eat them when I am most hungry."
Other people also expressed concerns over not being able to get other essentials, such as sanitary napkins and diapers: "Where can I buy diapers for my baby? I can't get them offline, I can't get them online, but this is also a basic necessity!"
While people are crying out for help over not being able to get food, there are also many videos on Weibo showing how local anti-epidemic workers are distributing food throughout the city.
As anti-epidemic workers are bringing food to local communities, videos such as these having been going viral on Weibo. pic.twitter.com/lWdidgXNmm

— Manya Koetse (@manyapan) January 1, 2022
Hundreds of netizens posted photos of the vegetable boxes they received from the government, expressing gratitude over the food and the volunteers who brought it to them. While some are creative in making dolls from their received vegetables, others are making drawings of the vegetables they wish they had.
"I feel like I'm living in a parallel universe if I see the residents of Xi'an in the news," one local Weibo user writes on January 2nd: "In Baqiao District (灞桥区) of Xi'an, the fact is that from the lockdown up to now, our neighborhood hasn't seen a single grain of rice or vegetable from the government."
People living in Shajing town (沙井村) also sent out messages online to share their struggles. One person posted a video showing a long line of people queuing up for steamed buns.
In light of Xi'an lockdown, some people in Shajing Village are really struggling. Endless lines for steamed buns, hungry people & those who've had nothing but noodles for 8 days straight: "When will we get food? Everyone in the house is hungry. We can only ask for help on Weibo." pic.twitter.com/CWxL2UDBxH

— Manya Koetse (@manyapan) January 1, 2022
"The landlord here in Shajing town received two cabbages, two carrots, and two potatoes, but the tenants didn't get anything," one Weibo user from the area wrote.
Man Gets Beaten Up for Buying Steamed Buns #西安小伙买馒头被群殴#
A video showing how one Xi'an resident got beaten up by two community guards upon return to his compound after buying food went viral on social media this week.
The hashtag "Xi'an Guy Gets Beaten Up Buying Mantou [Steamed Buns]" (#西安小伙买馒头被群殴#) received over 230 million views on Weibo. Other hashtags related to the incident received 330 million and 90 million views respectively (#西安通报2名防疫人员殴打市民#, #警方通报西安2名防疫人员殴打市民#)
The incident happened on December 31st around noon in the Yanta District of Xi'an. Social media users who posted a video of the incident said the man had left the compound to buy some buns because he was hungry.
But there was also this video of a resident being beaten by anti-epidemic workers after he allegedly left his community to get steamed buns because he was so hungry. The two community workers have reportedly been detained by Xi'an police. pic.twitter.com/lxHv6zl1gF

— Manya Koetse (@manyapan) January 1, 2022
The man can be seen standing at the gates of the compound talking to the guards when one of them approaches him from behind and seemingly grabs his phone. Another guard then physically attacks the man, with two other community workers also joining in punching the man, his food getting scattered on the floor.
It was later reported that the guards apologized for their actions. Local police also sent out a statement that, in accordance with the law, the two guards who punched the man will be detained for seven days and were each given a 200 yuan fine.
The video angered many people for various reasons, with some also understanding why social tensions are rising in local communities where people are unsure of when they'll get food while the guards are also put in a tough job during such a strict lockdown.
Sudden Quarantine of Mingde Bayingli Community #西安明德八英里小区#
Another hashtag attracting major attention on Chinese social media was one concerning the Mingde 8 Yingli community (明德八英里小区) in Yanta District, where dozens of residents received news that they would be quarantined away from their compound together in the night of January 1st due to new infections in their proximity.
Residents complained on Weibo and WeChat that they were unsure of where they were heading, that they were put in buses together for hours until being driven off to a remote guest house without proper supplies. Old people, small children, and pregnant women were among those being taken away for quarantine without allegedly being provided with the things they needed, and without any measures to protect them against the dangers of infection.
Others wondered what the point of the isolation was. After all, these residents were already staying inside their homes since the 20th of December, besides going out for Covid19 tests. What was the point of taking them away together?
Many commenters were moved to tears when they saw an image of an old man standing in line for the quarantine. The man, holding a walking stick, was seemingly all alone and did not seem to have luggage or food supplies with him. People worried about his wellbeing.
One WeChat article titled "Xi'an, Is This How You Control the Virus?" ("西安,这就是你的防疫管控?") criticized the way in which the situation was handled, but it was soon taken offline.
Still, many others on Weibo also wrote things such as: "Xi'an, what are you doing?", expressing disbelief that the city seemingly was not prepared for a lockdown like this even though it has been two years since the pandemic started.
On January 2nd, Chinese media reported that two local Xi'an officials, Wang Bin (王斌) and Cui Shiyue (崔诗越), were removed from their positions in order to "strengthen the epidemic prevention and control efforts."
"It's begun now," some commenters posted, suggesting that local authorities are turning things around to improve the situation in the city's districts.
There are also many netizens praising the efforts of anti-epidemic staff who are working around the clock to get food to the various communities.
One viral video showed a woman breaking down in tears as she told a local health worker that she was on her period, but that there was no way for her to get sanitary pads.
"They also can't help it," one person responded: "This outbreak is really putting the city's management to the test."
"I started my first day as a volunteer today," one Weibo user wrote: "It was very tiring, but it is cool that I am doing what I want to do. I know things are not perfect. But we're trying."
This volunteer health worker from a local art troupe played the patriotic "My People, My Country" (我和我的祖国) on New Year's Eve in Xi'an where the strict lockdown continues. Residents are cheering from their windows. pic.twitter.com/QqAh0L4MGb

— Manya Koetse (@manyapan) January 1, 2022
One volunteer health worker from a local art troupe played the patriotic "My People, My Country" (我和我的祖国) on New Year's Eve while residents were cheering from their windows. On Weibo, the same sentiment was shared by many: "Come on Xi'an! A big thank you to all the frontline workers in the fight against the epidemic."
Meanwhile, the cries for help also continue. "I really understand the hard work of the [anti-epidemic] staff," one Xi'an citizen writes: "But our family will soon run out of food. We live in a tiny neighborhood – please don't forget about us."
By Manya Koetse
Spotted a mistake or want to add something? Please let us know in comments below or email us. First-time commenters, please be patient – we will have to manually approve your comment before it appears.
©2021 Whatsonweibo. All rights reserved. Do not reproduce our content without permission – you can contact us at info@whatsonweibo.com.