From Stay-at-Home Dad to Fashion Designer – 'Super Dad' Rises to Fame
He majored in International Business, but ended up as a stay-at-home dad with a talent for design. Qian Xiaofeng, who has created over a hundred outfits for his 5-year-old daughter, is rising to fame on Chinese social media as a children's clothing designer.
From Disney princess dresses to little Chanel outfits, this Chinese stay-at-home dad can make almost everything. Having created over a hundred outfits for his 5-year-old daughter, including hair bands, necklaces, and brooches, 'super dad' Qian Xiaofeng (钱晓峰) is making his rounds on Chinese social media.
According to China's Sohu News, Qian Xiaofeng first caught the attention of Chinese netizens when he started posting pictures of the designs for his daughter on WeChat about a year ago. Although he majored in International Business, Qian started to become interested in fashion when he first had a daughter.
Qian, a Shanghai resident, revealed to Sohu that he always had an artistic talent and wanted to study arts, but chose another path because his father thought International Business would give him better career opportunities.
After getting married and having his first child, Qian and his wife decided that since she had a flourishing career, he would take on the task of becoming a full-time father and take care of his daughter and the household.
At the start of his designer adventure, Qian only drew the designs for special theme outfits and let a crafty friend make the clothes. Eager to learn to sew himself, he then later took on a 6-month sewing course and now does everything himself.
Although many commenters on social media say that Qian's daughter is lucky to have him as a father, Qian says he is the fortunate one; because of his daughter, he is finally doing what he really wants to do.
Qian says he started out this journey to give his daughter a "fairy-tale childhood." Now, he hopes to turn his design into a brand that he can leave to his daughter when she grows up.
On Weibo, netizens hope that Qian Xiaofeng will soon expand his business. "The Christmas tree outfit is adorable, just sell it on Taobao," a popular comment says.
Others also reply: "I want to make my kid happy this way, too!"
In the Sohu feature article, Qian also praises his wife for making it possible for him to pursue his new-found ambitions. As for the little girl – she is happy to wear her dad's creations.
Some netizens doubt Qian's motivation to create these dresses. "Actually, I think he is the one who wants to wear his own designs," one person says: "His daughter has now become the Barbie doll he likes to dress."
By Manya Koetse
Follow @whatsonweibo
©2017 Whatsonweibo. All rights reserved. Do not reproduce our content without permission – you can contact us at info@whatsonweibo.com.
Why Paint Buckets Are This Spring Festival Travel Season's Hottest Item
Spotted at train stations and bus terminals: this Spring Festival travel season's 'magical object' is a plain paint bucket.
Spotted during the first days of the Spring Festival travel season: paint buckets. Why are so many people bringing plastic barrels with them on their travels home for the Chinese New Year?
During Chinese New Year, also known as Spring Festival, China's urban areas gradually become more deserted as people return to their native provinces and hometowns to celebrate the new year with their family and friends.
Many of those returning home are migrant workers, who struggle to make money all year long and often only return home during the Spring Festival.
'Chunyun' (春运), the Chinese term for the passenger transportation around Chinese New Year, is the biggest annual mass migration of the world. The travel season has kicked off this weekend and will last until approximately March 12. About 2.98 billion trips are expected to be made during the chunyun, Chinese state media reports.
With so many people on the move, it is easy to detect what objects and products are the trend or the 'chunyun magical tool' (春运神器). After the travel pillow with earphones, or the underwear with money pockets, this season's hot item is the paint bucket.
After one netizen named 'Little Grass' (@小小草) first noted the trend, various (media) accounts on Weibo, such as that of the Communist Youth League Shanghai, have starting reporting about it; the paint bucket has become such a popular product that some people are even taking more than two dozen with them.
Travelers have discovered that the big, plastic, empty painting buckets are very useful both during their travels and back home. As stations, trains, and buses get overcrowded during the chunyun, it is often impossible to find a seat – the paint buckets serve as an excellent 'stool', or as a 'table'.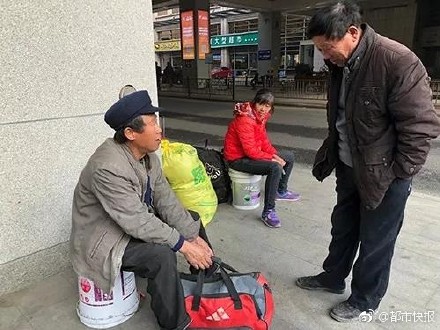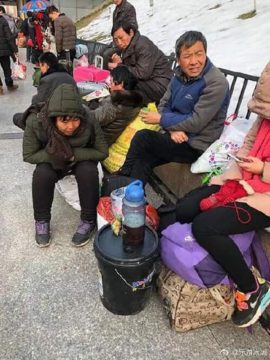 The buckets are also a solid and easy-to-carry 'trunk' to hold traveler's articles during transit. They're especially popular to put eggs in – because they won't break as easily in the bucket – or to transport large volumes of rice.
Plastic buckets are also a popular item to bring home to the rural areas because they can be used to store (animal) food and feed the pigs or to hold liquid to water the crops.
Because the buckets are cheap, light, and easy to stack, people can bring home many of them – enough to give away to family members and neighbors in their hometowns.
On Weibo, the latest paint bucket trend has set a discussion in motion, receiving thousands of comments.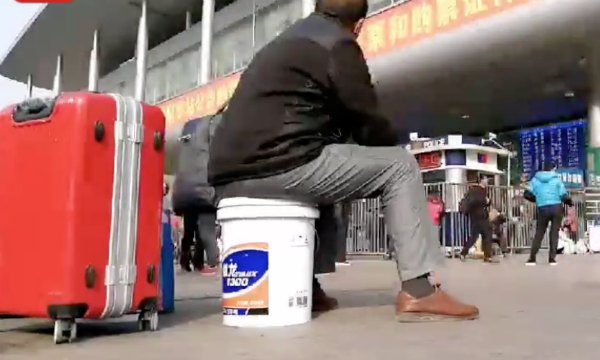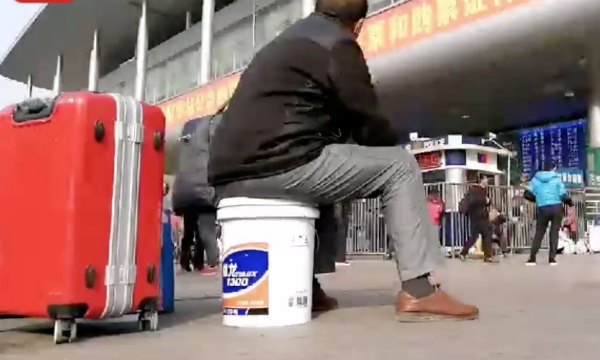 "These buckets are strong and practical, my family uses them as garbage bins," one commenter writes. Other people praise the multifunctional item for being eco-friendly in its re-use.
Some people note that the bucket trend is nothing new: "My dad has been using them for years."
"Nothing but good stuff to say about these buckets," one other person says: "They're durable and will last for years!"
By Manya Koetse
Follow @whatsonweibo
Spotted a mistake or want to add something? Please let us know in comments below or email us.
©2018 Whatsonweibo. All rights reserved. Do not reproduce our content without permission – you can contact us at info@whatsonweibo.com.
A Grannie Make-Over: "Before and After Leaving My Kid with My Mother-in-Law"
Grannie knows best? Not everyone agrees on these 'after staying with grannie' make-overs.
Chinese grannies seemingly have an entirely different view on how their grandchild should look like than parents do. These 'before and after mother-in-law visit' photos are going viral on Chinese social media.
"Because of a business trip, my mother-in-law took care of my son for two weeks," one Weibo blogger wrote on November 23rd: "As a result, I barely recognized my son when I came back home."
The funny blogger is hinting to some screenshots that are currently going viral on Chinese social media, in which a mother says in a chat conversation that she went to visit her hometown for two days and left her son with his grandmother and her mother-in-law – leading to an unwelcome make-over.
The photos of how her child looked before the trip show a happy kid with thick black hair.
"Before leaving," the text says.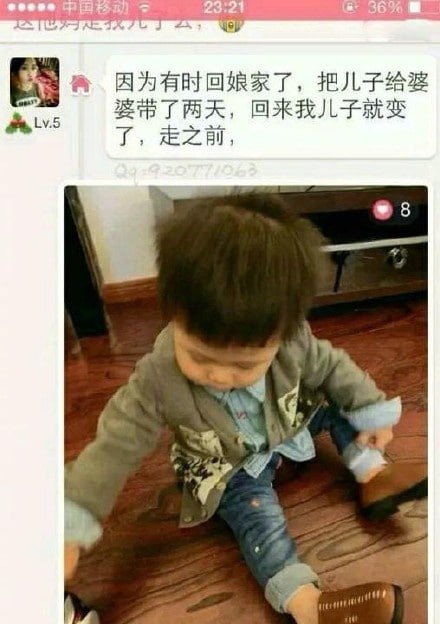 Another "before leaving" photo.
And then the screenshot shows the "after coming back" photos.
The mother writes: "Clothes are gone. Hair is gone. He looks like a beggar."
On Weibo, the photos are a source of much banter for most netizens. Many seem to recognize the situation, saying: "My mother-in-law would do exactly the same." Some people, however, vent their frustration:
"The other night I went out to buy something with my husband after dinner. When we came back my mother-in-law had changed my child into some old garments. Super ugly. I took them off right away. It's just unbearable, she'll always insist that he's cold!"
Others swear they would not leave their child with their mother-in-law, saying: "It's not just about how she changes his clothes, but also about what she teaches him!"
Over the past few years, 'before and after staying with grannie' photos have become an online phenomenon with people sharing photos of their children before staying over at their grandmother's, and afterwards,
Similarly, last year also saw an online trend where young women showed their 'before and after' looks after celebrating Chinese New Year in their hometowns; going from fashionable urban outfits to comfortable and warm 'countryside' clothes.
Amidst all banter, one commenter stands up for the grannies, saying: "Young people only look at what looks nice [on a kid]; grandmothers just want their grandchildren to be warm and snuggy."
By Manya Koetse
@manyapan
Follow @whatsonweibo
Spotted a mistake or want to add something? Please let us know in comments below or email us.
©2017 Whatsonweibo. All rights reserved. Do not reproduce our content without permission – you can contact us at info@whatsonweibo.com.