From Stay-at-Home Dad to Fashion Designer – 'Super Dad' Rises to Fame
He majored in International Business, but ended up as a stay-at-home dad with a talent for design. Qian Xiaofeng, who has created over a hundred outfits for his 5-year-old daughter, is rising to fame on Chinese social media as a children's clothing designer.
From Disney princess dresses to little Chanel outfits, this Chinese stay-at-home dad can make almost everything. Having created over a hundred outfits for his 5-year-old daughter, including hair bands, necklaces, and brooches, 'super dad' Qian Xiaofeng (钱晓峰) is making his rounds on Chinese social media.
According to China's Sohu News, Qian Xiaofeng first caught the attention of Chinese netizens when he started posting pictures of the designs for his daughter on WeChat about a year ago. Although he majored in International Business, Qian started to become interested in fashion when he first had a daughter.
Qian, a Shanghai resident, revealed to Sohu that he always had an artistic talent and wanted to study arts, but chose another path because his father thought International Business would give him better career opportunities.
After getting married and having his first child, Qian and his wife decided that since she had a flourishing career, he would take on the task of becoming a full-time father and take care of his daughter and the household.
At the start of his designer adventure, Qian only drew the designs for special theme outfits and let a crafty friend make the clothes. Eager to learn to sew himself, he then later took on a 6-month sewing course and now does everything himself.
Although many commenters on social media say that Qian's daughter is lucky to have him as a father, Qian says he is the fortunate one; because of his daughter, he is finally doing what he really wants to do.
Qian says he started out this journey to give his daughter a "fairy-tale childhood." Now, he hopes to turn his design into a brand that he can leave to his daughter when she grows up.
On Weibo, netizens hope that Qian Xiaofeng will soon expand his business. "The Christmas tree outfit is adorable, just sell it on Taobao," a popular comment says.
Others also reply: "I want to make my kid happy this way, too!"
In the Sohu feature article, Qian also praises his wife for making it possible for him to pursue his new-found ambitions. As for the little girl – she is happy to wear her dad's creations.
Some netizens doubt Qian's motivation to create these dresses. "Actually, I think he is the one who wants to wear his own designs," one person says: "His daughter has now become the Barbie doll he likes to dress."
By Manya Koetse
Follow @whatsonweibo
©2017 Whatsonweibo. All rights reserved. Do not reproduce our content without permission – you can contact us at info@whatsonweibo.com.
A Grannie Make-Over: "Before and After Leaving My Kid with My Mother-in-Law"
Grannie knows best? Not everyone agrees on these 'after staying with grannie' make-overs.
Chinese grannies seemingly have an entirely different view on how their grandchild should look like than parents do. These 'before and after mother-in-law visit' photos are going viral on Chinese social media.
"Because of a business trip, my mother-in-law took care of my son for two weeks," one Weibo blogger wrote on November 23rd: "As a result, I barely recognized my son when I came back home."
The funny blogger is hinting to some screenshots that are currently going viral on Chinese social media, in which a mother says in a chat conversation that she went to visit her hometown for two days and left her son with his grandmother and her mother-in-law – leading to an unwelcome make-over.
The photos of how her child looked before the trip show a happy kid with thick black hair.
"Before leaving," the text says.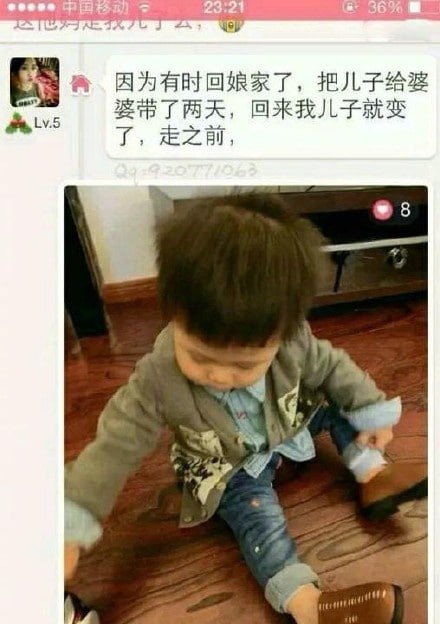 Another "before leaving" photo.
And then the screenshot shows the "after coming back" photos.
The mother writes: "Clothes are gone. Hair is gone. He looks like a beggar."
On Weibo, the photos are a source of much banter for most netizens. Many seem to recognize the situation, saying: "My mother-in-law would do exactly the same." Some people, however, vent their frustration:
"The other night I went out to buy something with my husband after dinner. When we came back my mother-in-law had changed my child into some old garments. Super ugly. I took them off right away. It's just unbearable, she'll always insist that he's cold!"
Others swear they would not leave their child with their mother-in-law, saying: "It's not just about how she changes his clothes, but also about what she teaches him!"
Over the past few years, 'before and after staying with grannie' photos have become an online phenomenon with people sharing photos of their children before staying over at their grandmother's, and afterwards,
Similarly, last year also saw an online trend where young women showed their 'before and after' looks after celebrating Chinese New Year in their hometowns; going from fashionable urban outfits to comfortable and warm 'countryside' clothes.
Amidst all banter, one commenter stands up for the grannies, saying: "Young people only look at what looks nice [on a kid]; grandmothers just want their grandchildren to be warm and snuggy."
By Manya Koetse
@manyapan
Follow @whatsonweibo
Spotted a mistake or want to add something? Please let us know in comments below or email us.
©2017 Whatsonweibo. All rights reserved. Do not reproduce our content without permission – you can contact us at info@whatsonweibo.com.
Questions Surrounding the Death of 14-Year-Old Russian Model in China
"A 14-year-old model, isn't that considered child labor?," netizens wonder.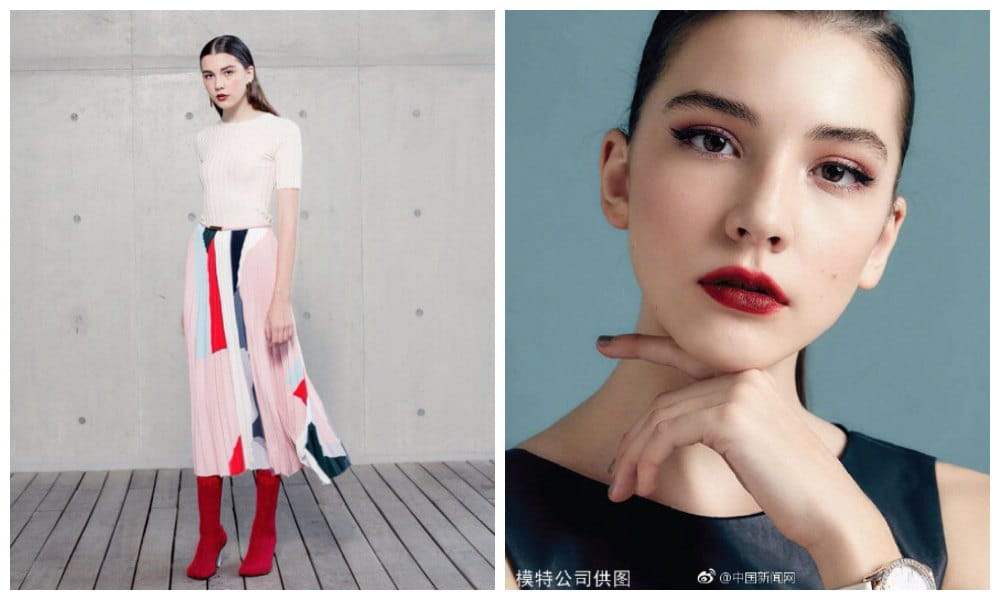 The passing of a 14-year-old Russian model made headlines this week after media reports claim excessive hours and bad employment conditions contributed to the girl's sudden death. The Chinese model agency that hired her denies allegations of her alleged "slave contract."
The death of the 14-year-old Russian model Vlada Dzyuba has sparked discussion both inside and outside China about the working circumstances of foreign models in China. The young model passed away on October 27 during a two-month stay in China for the Shanghai Fashion Week.
Various media, including English-language newspaper Siberian Times, reported the girl fell ill due to exhaustion and meningitis after a 13-hour Shanghai fashion show, blaming the heavy workload for her condition.
It is also claimed the young model only made approximately $8 a day after paying her airfares, hotels, and food, and that she had no medical insurance in China.
Dzyuba's mother told a Russian television channel that her daughter had called her from her work in China saying: "Mama, I am so tired. I so much want to sleep."
The girl, originally from Perm, was hired by Chinese model agency ESEE and has been in China for more than 60 days before she got sick. She was legally allowed to work as a model in the PRC.
ESEE Model Management issued a statement on Weibo about Dzyuba's death on October 29.
In the statement, the modeling agency says: "Friends from the media, colleagues from the fashion world, we are so sorry to have lost an angel. We're grieving over Vlada's passing."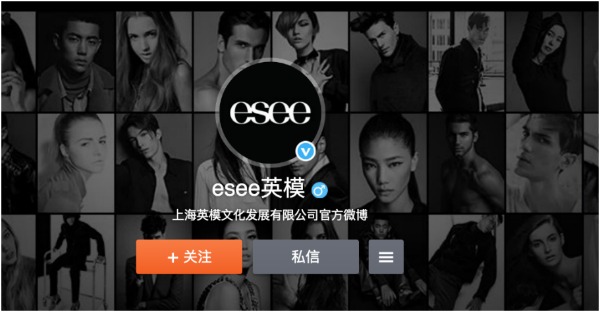 The agency also reports the details about the final days of Dzyuba, saying she was hired by ESEE for a total of three months. After the Shanghai Fashion Week ended on October 18, the model was sent out to Yiwu, Zhejiang, for a project from October 23 to 27.
Although the model agency claims Dzyuba has various moments of rest during October 24 (at 10:00, 12:00 and 17:00), she started feeling unwell during the night and was sent back to Shanghai on the 25th where she was taken to a hospital at 18:00.
Her Russian contacts were informed when her health deteriorated the next day. Dzyuba passed away on Friday, October 27, at 7:36.
While the statement included no medical details, Voice of America reports that a hospital record provided by the agency listed multiple causes of death, including sepsis, a life-threatening illness caused by the body's response to an infection.
On Weibo, Dzyuba's death sparked many discussions, with netizens wondering: "14 years old? Why was she allowed to work in China?" or "Wouldn't this be considered child labor?"
"Children are children, do not let them become money-making machines," another Weibo user said.
"Even if she passed away from an infection, was this not brought about due to a lowered immune system because of overwork?," others wonder.
There are also netizens who ask about the responsibility of the Russian modeling agency: "Generally the treatment of foreign models in China is very good (..) Either this model already had health issues, or the Russian company arranged too much work for her in China."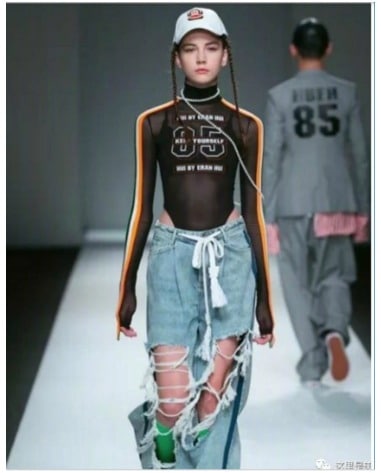 South China Morning Post reported about foreign models in China last year, writing that there is an increased demand in China for foreign models, especially from eastern Europe, where the wages are comparatively low and from where the air fair to the PRC is relatively inexpensive.
With so many questions remaining unanswered, Russian diplomatic staff have reportedly been asked to investigate the circumstances of Dzyuba's death.
By Manya Koetse
Follow @whatsonweibo
Spotted a mistake or want to add something? Please let us know in comments below or email us.
©2017 Whatsonweibo. All rights reserved. Do not reproduce our content without permission – you can contact us at info@whatsonweibo.com.