From Stay-at-Home Dad to Fashion Designer – 'Super Dad' Rises to Fame
He majored in International Business, but ended up as a stay-at-home dad with a talent for design. Qian Xiaofeng, who has created over a hundred outfits for his 5-year-old daughter, is rising to fame on Chinese social media as a children's clothing designer.
From Disney princess dresses to little Chanel outfits, this Chinese stay-at-home dad can make almost everything. Having created over a hundred outfits for his 5-year-old daughter, including hair bands, necklaces, and brooches, 'super dad' Qian Xiaofeng (钱晓峰) is making his rounds on Chinese social media.
According to China's Sohu News, Qian Xiaofeng first caught the attention of Chinese netizens when he started posting pictures of the designs for his daughter on WeChat about a year ago. Although he majored in International Business, Qian started to become interested in fashion when he first had a daughter.
Qian, a Shanghai resident, revealed to Sohu that he always had an artistic talent and wanted to study arts, but chose another path because his father thought International Business would give him better career opportunities.
After getting married and having his first child, Qian and his wife decided that since she had a flourishing career, he would take on the task of becoming a full-time father and take care of his daughter and the household.
At the start of his designer adventure, Qian only drew the designs for special theme outfits and let a crafty friend make the clothes. Eager to learn to sew himself, he then later took on a 6-month sewing course and now does everything himself.
Although many commenters on social media say that Qian's daughter is lucky to have him as a father, Qian says he is the fortunate one; because of his daughter, he is finally doing what he really wants to do.
Qian says he started out this journey to give his daughter a "fairy-tale childhood." Now, he hopes to turn his design into a brand that he can leave to his daughter when she grows up.
On Weibo, netizens hope that Qian Xiaofeng will soon expand his business. "The Christmas tree outfit is adorable, just sell it on Taobao," a popular comment says.
Others also reply: "I want to make my kid happy this way, too!"
In the Sohu feature article, Qian also praises his wife for making it possible for him to pursue his new-found ambitions. As for the little girl – she is happy to wear her dad's creations.
Some netizens doubt Qian's motivation to create these dresses. "Actually, I think he is the one who wants to wear his own designs," one person says: "His daughter has now become the Barbie doll he likes to dress."
By Manya Koetse
Follow @whatsonweibo
©2017 Whatsonweibo. All rights reserved. Do not reproduce our content without permission – you can contact us at info@whatsonweibo.com.
Would You Like Coffee with Your Sneakers? Chinese Sports Brand Li-Ning Registers Its 'Ning Coffee' Brand
Li-Ning enters the coffee market: "Will they sell sneaker-flavored coffee?"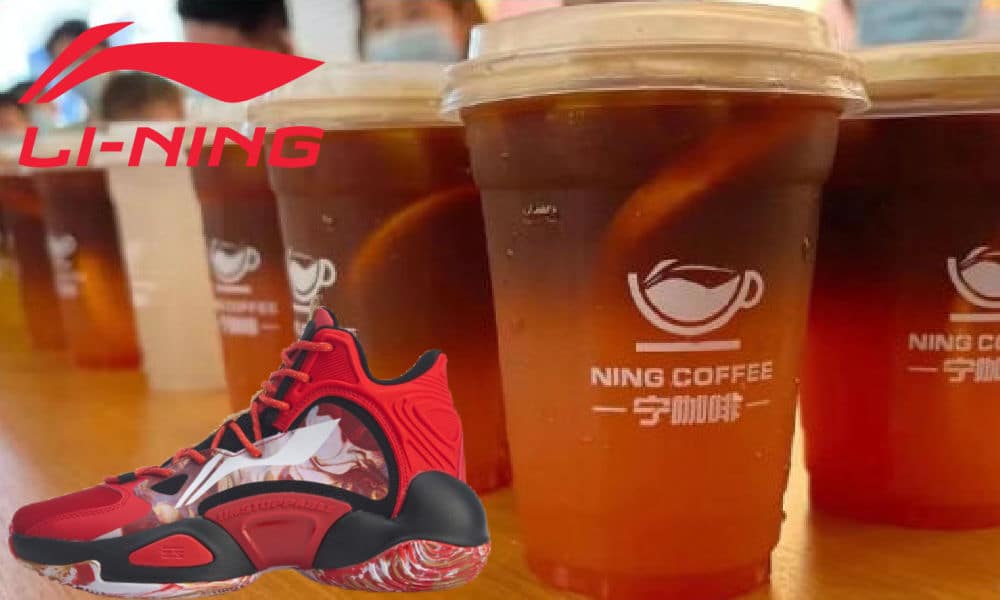 An unexpected competitor is joining China's coffee market. With over 7000 stores in the country, Li-Ning has the potential to become the biggest athletic coffee chain yet.
Another player is joining mainland China's growing coffee market. It's not an American coffee giant, nor a coffee house chain from Hong Kong – it is China's leading sportswear brand Li-Ning Sports (李宁体育).
Li-Ning registered its coffee brand under the 'NING COFFEE' trademark. As reported in an article written by 'Investment Group' (@投资界) and published by Toutiao News (@头条新闻), Li-Ning has confirmed on May 6 that it will provide in-store coffee services to enhance customers' shopping experiences in the near future.
The move means that Li-Ning could potentially become a big player in China's coffee market, competing with major brands such as Starbucks, Luckin Coffee, Costa and Pacific. If the in-store coffee cafes would roll out in most of its shops, there could be over 7000 Ning Coffee cafes in China in the future. By the end of 2021, Li-Ning Sports had a total of 7,137 stores in China.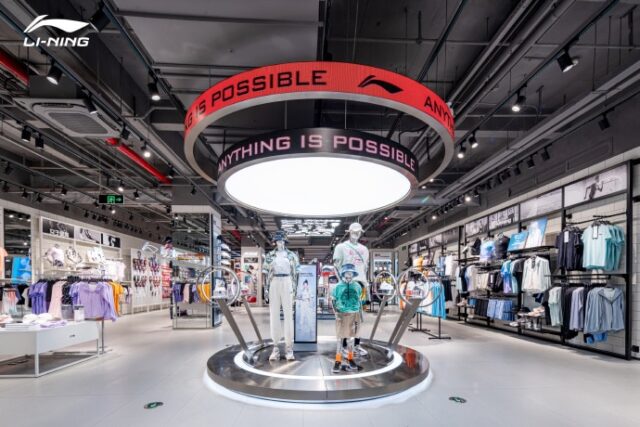 Starbucks has 5,400 stores in China. Leading domestic coffee chain Luckin Coffee expanded to over 6000 stores last year. Costa Coffee, although closing some of its China stores in 2021, announced that it aims to have a total of 1,200 stores open in China later this year. Looking at Li-Ning's presence across China, its in-store coffee cafes could be serious competition for the leading coffee chains in the country.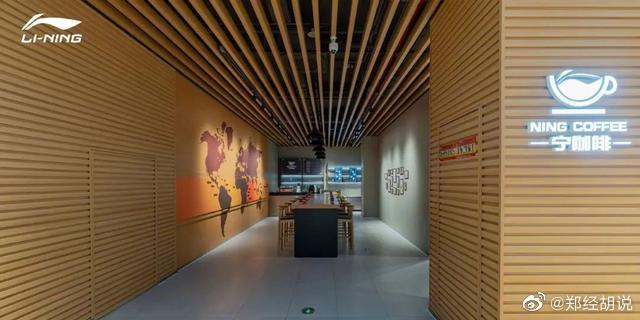 Over the past few years, various Chinese sportswear brands, including Anta Sports and Erke, have seen a rise in popularity, but Li-Ning is still China's most famous brand name for athletic apparel and shoes. The company was founded in the early 1990s by Chinese Olympic gymnast and business entrepreneur Li Ning (1963) and was generally seen as a Nike copycat – the original logo was even similar to the Nike swoosh. Although Li-Ning looked like Nike, the brand is more appealing to many Chinese consumers due to the fact that it is cheaper and made in China.
Li-Ning markets itself as being "deeply and uniquely Chinese" (Li Ning official website 2022), which has made it more popular in an era of "proudly made in China" (read more about that here). Moreover, it also promises to offer high-quality sportwear at a price that is cheaper than the American Nike or German Adidas.
Li-Ning's success is also owed to its marketing strategies. Besides being the official marketing partner of many major sports events, including the NBA in China, the brand has also contracted with many household athletes and famous global ambassadors.
Over a decade ago, marketing observers already noted that despite the remarkable success of Li-Ning in China, the brand still had a long way to go in order to strengthen its image as a long-term brand, recommending Li-Ning to "create excitement around the brand" by building more associations related to lifestyle and coolness to better resonate with younger Chinese customers (Bell 2008, 81; Roll 2006, 170).
With its latest move into the coffee market, it is clear that Li-Ning is moving its brand positioning more toward the direction of lifestyle, trendiness, and luxury. Although purchasing a coffee at Starbucks or Luckin is part of the everyday routine for many urban millennials, coffee is still viewed as a trendy luxury product for many, relating to both cultural factors as well as economic reasons. As noted by Cat Hanson in 2015, the price of a single cup of coffee was equal to a month's worth of home broadband internet (read more).
Previously, other fashion brands have also opened up coffee stores in China. As reported by Jing Daily, international luxury brands Prada, Louis Vuitton, and FENDI also opened up coffee cafes in mainland China.
Another unexpected coffee cafe is that of China Post, which opened its first in-store 'Post Coffee' in Xiamen earlier this year. On social media, many netizens commented that the brand image of the national post service clashed with that of a fairly expensive coffee house (coffee prices starting at 22 yuan / $3,3).
"The postal services are located in cities and in the countryside and are often used by migrant workers, and generally this demographic isn't buying coffee," one person commented, with another netizen writing: "This does not suit the taste of ordinary people, it would've been better if they sold milk tea."
On Weibo, Li-Ning's journey into the competitive coffee market was discussed using the hashtags "Li-Ning Enters the Coffee Race" (#李宁入局咖啡赛道#) and "Li-Ning Starts Selling Coffee" (##李宁开始卖咖啡##).
Like with China Post, many commenters say the combination of sportswear and coffee is not something they immediately find logical. "Will they also sell sneaker-flavored coffee?" one person wondered, with others thinking selling coffee – seen as a product from western countries – does not exactly match with Li-Ning as a 'proudly made-in-China' brand.
"How would you feel about trying on some clothes at Li-Ning while sipping on Li-Ning coffee? I understand Li-Ning is jumping on what's popular, and this time it's coffee," one Weibo user writes, with others also writing: "I think it has potential."
"I'm willing to try it out," various commenters write. For others, they want to see the menu first: "It all depends on the price."
For more about the coffee and tea market in China, check our other articles here.
By Manya Koetse
Get the story behind the hashtag. Subscribe to What's on Weibo here to receive our weekly newsletter and get access to our latest articles:
References
Bell, Sandra. 2008. International Brand Management of Chinese Companies. Heidelberg: Physia-Verlag.
Roll, Martin. 2006. Asian Brand Strategy: How Asia Builds Strong Brands. New York: Palgrave Macmillan.
Spotted a mistake or want to add something? Please let us know in comments below or email us. First-time commenters, please be patient – we will have to manually approve your comment before it appears.
©2022 Whatsonweibo. All rights reserved. Do not reproduce our content without permission – you can contact us at info@whatsonweibo.com.
King of Workout Livestream: Liu Genghong Has Become an Online Hit During Shanghai Lockdown
Liu Genghong (Will Liu) is leading his best lockdown life.
With their exercise livestreams, Liu and his wife are bringing some positive vibes to Shanghai and the rest of China in Covid times, getting thousands of social media users to jump along with them.
On Friday, April 22, the hashtag "Why Has Liu Genghong Become An Online Hit" (#为什么刘畊宏突然爆火#) was top trending on Chinese social media platform Weibo.
Liu Genghong (刘畊宏, 1972), who is also known as Will Liu, is a Taiwanese singer and actor who is known for playing in dramas (Pandamen 熊貓人), films (True Legend 苏乞儿), and releasing various music albums (Rainbow Heaven 彩虹天堂). He is a devout Christian.
Besides all of his work in the entertainment business, Liu is also a fitness expert. In 2013, Liu participated in the CCTV2 weight loss programme Super Diet King (超级减肥王, aka The Biggest Loser) as a motivational coach, and later also became a fitness instructor for the Jiangsu TV show Changing My Life (减出我人生), in which he also helped overweight people to become fit. After that, more fitness programs followed, including the 2017 Challenge the Limit (全能极限王) show.
During the Covid outbreak in Shanghai, the 50-year-old Liu Genghong has unexpectedly become an online hit for livestreaming fitness routines from his home. Together with his wife Vivi Wang, he streams exercise and dance videos five days of the week via the Xiaohongshu app and Douyin.
In his livestreams, Liu and his wife appear energetic, friendly, happy and super fit. They exercise and dance to up-beat songs while explaining and showing their moves, often encouraging those participating from their own living rooms ("Yeah, very good, you're doing well!"). Some of their livestreams attract up to 400,000 viewers tuning in at the same time.
The couple, both in lockdown at their Shanghai home, try to motivate other Shanghai residents and social media users to stay fit. Sometimes, Liu's 66-year-old mother in law also exercises with them, along with the children.
"I've been exercising watching Liu and his wife for half an hour, they're so energetic and familiar, they've already become my only family in Shanghai," one Weibo user says.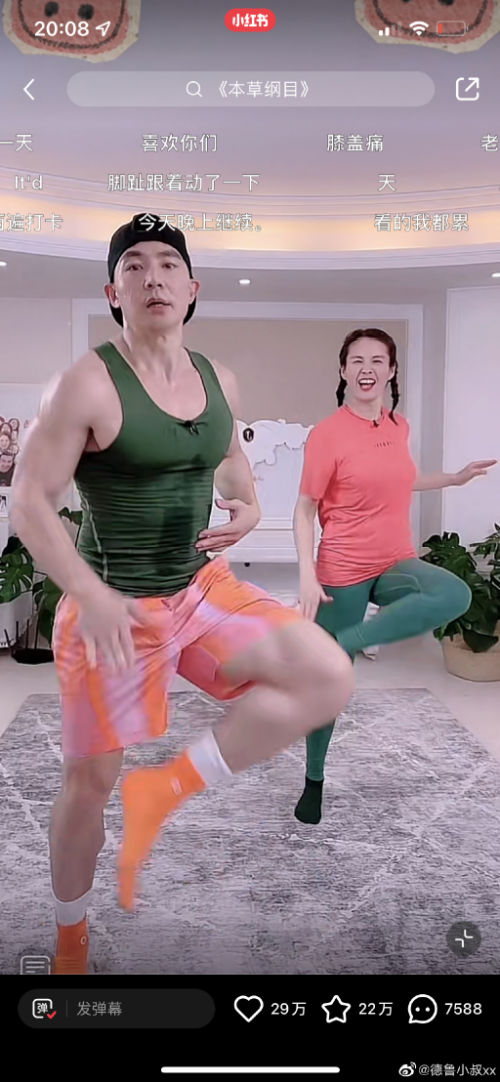 "I never expected Liu Genghong to be a 'winner' during this Covid epidemic in Shanghai," another person writes.
Along with Liu's online success, there's also a renewed interest in the Jay Chou song Herbalist's Manual (本草纲目), which is used as a workout tune, combined with a specific dance routine. Liu is also a good friend and fitness pal to Taiwanese superstar Jay Chou.
This week, various Chinese news outlets such as Fengmian News and The Paper have reported on Liu's sudden lockdown success. Livestreaming workout classes in general have become more popular in China since the start of Covid-19, but there reportedly has been no channel as popular as that of Liu Genghong.
The channel's success is partly because of Liu's fame and contagious enthusiasm, but it is also because of Vivi Wang, whose comical expressions during the workouts have also become an online hit.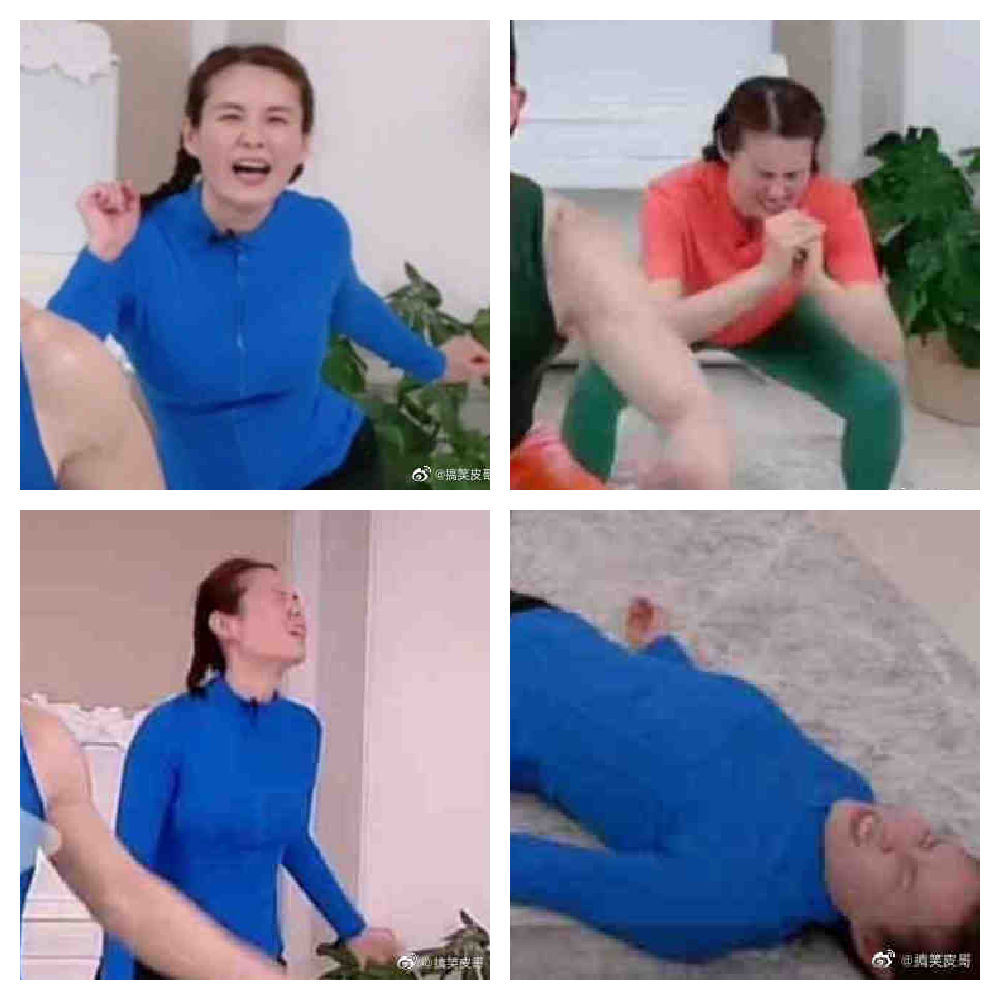 While many netizens are sharing their own videos of exercizing to Liu's videos, there are also some who warn others not to strain themselves too quickly.
"I've been inside for over 40 days with no exercise" one person writes: "I did one of the workouts yesterday and my heart nearly exploded." "I feel fine just watching," others say: "I just can't keep up."
Will Liu (刘畊宏) has become an online sensation in China together with his wife for their livestreamed workout sessions from Shanghai, especially inspiring those in lockdown to break a sweat. This routine to Jay Chou's song Herbalist's Manual (本草纲目) is the hit of the moment. pic.twitter.com/X4VvEBWvFU

— Manya Koetse (@manyapan) April 22, 2022
Watch one of Liu's routines via Youtube here, or here, or here.
For more articles on the Covid-19 topics on Chinese social media, check here.
By Manya Koetse
Get the story behind the hashtag. Subscribe to What's on Weibo here to receive our weekly newsletter and get access to our latest articles:
Spotted a mistake or want to add something? Please let us know in comments below or email us. First-time commenters, please be patient – we will have to manually approve your comment before it appears.
©2022 Whatsonweibo. All rights reserved. Do not reproduce our content without permission – you can contact us at info@whatsonweibo.com.