K-Pop's Recipe for Success: Why Korean Idol Groups Got So Big in China and are Conquering the World
The success of K-Pop in China and beyond is evident – the causes for its success are less obvious.
K-Pop (Korean pop music) is one of South Korea's most successful export products today. With bands such as BTS that are dubbed the 'biggest boy band on the planet', it is obvious that the locally produced K-Pop has become a globally well-liked phenomenon. Although its popularity is obvious, the reasons why K-Pop became so big, from China to the US and beyond, are less evident.
On coming Saturday, October 13, the South-Korean boy band BTS will perform in an Amsterdam area in front of thousands of fans who have been looking forward to this event for months. Ticket sales for the first concert of the 7-member boy group in the Netherlands were sold out within minutes, despite their relatively high prices, with people paying up to €250 ($290) in the official sales, or even €400 ($460) and more for a single ticket in the unofficial online sales afterward.
It is not just the success of the BTS European tour that is making headlines; the record-breaking views on YouTube on their videos – the latest being the song 'Idol', that had more than 200 million views in little over a month – is also attracting the attention of the media.
And BTS is not alone. Other Korean pop (K-Pop) groups such as EXO, BIGBANG, TWICE, Shinee, or Got7, have also broken records when it comes to online video views or Spotify plays.
Although the English-language media attention for the K-pop phenomenon is more recent, the Korean entertainment industry has since long been extremely popular in China and on Chinese social media. In this overview, What's on Weibo explores the K-Pop popularity (focusing on its idol boy and girl groups), its short history, and success formula.
BTS and More: An Army of Fans
The pop group BTS (방탄소년단), also known as the Bangtan Boys (防弹少年团, lit: 'Bulletproof Boyscouts'), is an award-winning seven-member South Korean boy band formed by Big Hit Entertainment that debuted in the summer of 2013. They are currently hyped as the "biggest boy band on the planet."
Initial auditions for the band were held in 2010, followed by roughly three years during which the band was formed and prepared for their major debut, that was promoted on social media months before their actual launch in June of 2013.
The band consists of multi-talented young men. Singer-songwriter Kim Seokjin (Jin) (1992) was studying film at Konkuk University when he was invited to audition by Big Hit; rapper Min Yoongi (Suga) (1993) was an underground rapper before he was signed; dancer and rapper Jung Hoseok (J-Hope) (1994) was part of a dance team in his pre-BTS life.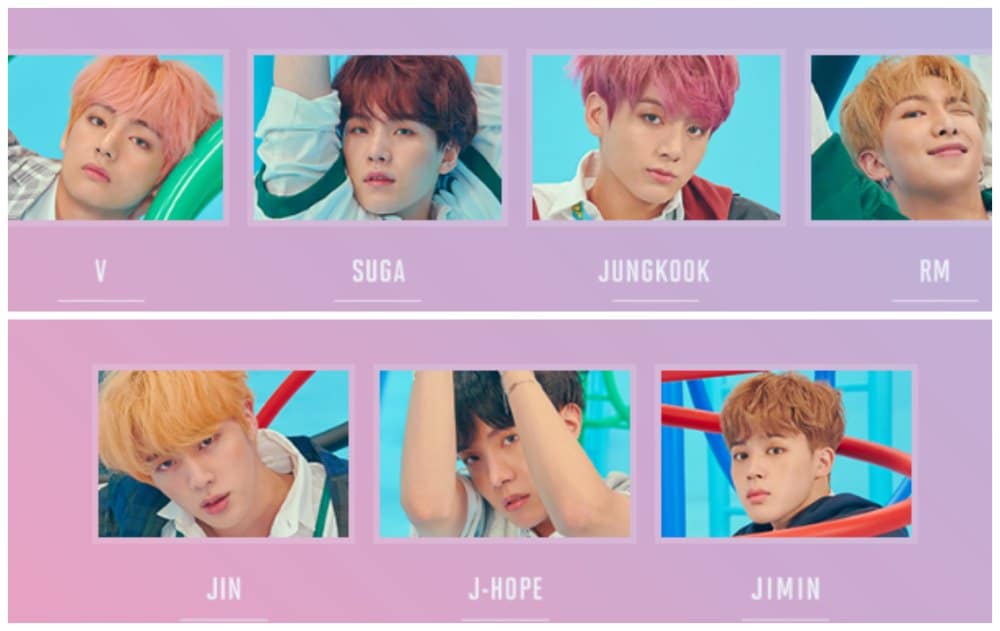 Lead rapper Kim Namjoon (RM) (aka Rap Monster, 1994) was already active in the music scene as rapper and producer; dancer and vocalist Park Jimin (Jimin) (1995) was a top student as Busan School of Arts before joining; vocalist Kim Taehyung (V) (1995) is known to have one of the most expressing voices of the group; and main vocalist Jeon Jungguk (Jungkook) (1997) was only 12 years old when he auditioned for BTS, followed by three years of intense training.
BTS, formerly 'Behind The Scenes', is known for its strong social media presence, which helps to spread its music and connect to its fans, who call themselves an 'ARMY' (also stands for Adorable Representative Master of ceremonies for Youth). The band has more than 16 million followers on Twitter, 3.3 million fans on Weibo, 12 million subscribers on Youtube, and nearly 8 million followers on Facebook.
Although BTS is the band that is currently dominating the headlines, there are many more K-Pop bands that are extremely popular on Weibo and beyond. The nine-member South Korean–Chinese boy band EXO, for example, has dozens of fanclubs on Chinese social media. Band member Oh Se-hun alone already has almost 9,5 million fans on his Weibo page. BIGBANG has more than 7 million Weibo fans, the eight-member girl band Girl's Generation (少女时代) is on the rise with 1,5 million Weibo followers, Super Junior over a million, and the list goes on.
CREATING SUCCESS
A Short History of K-Pop: Finding a Sublime Entertainment Formula
Besides media attention, there has been ample scholarly attention for the Korean pop culture phenomenon over the past decade. The year 2012 especially marked a special moment in the history of K-Pop, when the song 'Gangnam Style' by Korean rapper Psy broke all YouTube records and became a global hit.
But before K-Pop became a global force to reckon with – that seemingly rose out of nowhere -, it had already made its first international successes in neighboring countries China and Japan since the early 2000s.
In China, the success of Korean popular culture is defined as Hallyu (韩流)*, the 'Korean Wave' since 1997 (Yang 2012, 105). Hallyu encompasses far more than idol bands; it includes the boom of South-Korean dramas, films, celebrity idols, and entertainment programs. In 2002, for example, the South-Korean soap opera 'Winter Sonata' became a hit in both China and Japan.
The early 2000s mark the 'first Korean wave' in China, that mainly revolved around TV dramas produced in South Korea and were liked by females above the age of 30. It was followed by the second wave from the mid-2000s to 2010, when the K-Pop music genre popularized in China.
The third period, after 2010, marks the moment when K-Pop was further incorporated into mainstream Chinese popular culture, with a ubiquity of K-Pop idols in everyday Chinese pop culture, and the launch of Chinese versions of Korean entertainment programs (Ahn 2014, 47). It was also in this 'third wave' that you saw the debut of pop groups such as EXO. Formed in 2012, that band incorporates both Korean and Chinese members, performing in both languages.
Although K-Pop from South Korea became somewhat less visible in the PRC during the past few years, mainly because the industry suffered from various politically-motivated bans on Hallyu in China, the genre's influence on China's mainstream pop culture is evident, with some Chinese groups, for example, also being modeled after K-Pop bands.
Entertainment Powerhouses
Many studies explain the foreign success of Korean popular culture in Asia, mainly China and Japan, through "cultural proximity," saying that the success of K-Pop especially occurred in China and Japan because they have, for example, linguistic similarities and corresponding Confucian values (Ahn 2014, 47; Messerlin & Shin 2017, 412).
But the more recent global wave of K-Pop shows that cultural proximity is not the sole answer to the genre's success. Besides, there is actually nothing traditionally "Korean" about K-Pop, which only emerged in the 1990s (Shin & Kim 2013, 256).
The genre's success mainly lies in the big players that brought forth the first Korean pop idol groups and have excelled (and still do) in selecting the right entertainment "products" to invest in, with a strong focus on both on the production side and the market demand side.
SM Entertainment, JYP, and YG Entertainment are the first major and leading entertainment houses of the 1990s. Big Hit Entertainment, home to BTS, followed later; founder Bang Si-Hyuk (1972) used to collaborate with JYP Entertainment founder Park Jin-Young (1971) before going his own way in 2005.
-SM Entertainment, founded 1988 by musician and TV host Lee Soo Man (1952)
-YG Entertainment, founded in 1996 by musician Yang Hyun-Suk (1970)
-JYP Entertainment, founded in 1997 by musician and producer Park Jin-Young (1971)
-Big Hit Entertainment, founded in 2005 by producer/songwriter Bang Si-hyuk (1972)

What characterizes these entertainment houses is that they are/were small in terms of revenue and employees (very different from big labels such as Sony or Universal), and play multiple roles as intermediate between musicians and consumers, as well as producers.
Different from many international big players in the entertainment world, K-Pop entertainment companies integrate processes of artist selection, songwriting, management, signing advertisement deals, etc. in-house rather than leaving these processes to various parties outside their own studio (Shin & Kim 2013, 260). Significant about the founders of these entertainment powerhouses is that they all had ample experience in the music industry themselves before starting their studios.
The story of SM Entertainment, which was founded by musician and TV host Lee Soo Man in 1988, is crucial in understanding the beginning of the K-Pop industry. Lee was inspired by the transforming American music market after spending time there in the 1980s, and decided to replicate US entertainment in a new way. In his first studio he brought together the right equipment, the right expertise, and the right talent all in one place to kick-start his business (Shin & Kim 2013, 263).
Although the first acts that came from SM's studio were no instant success, Lee was determined in learning through trial and error until he found the right beat and image that struck a chord with young consumers. In doing so, he adopted a strategy in which teenagers were surveyed on what they wanted, and in which he focused on scouting new talent from all over the country to give them intensive training in dancing, singing, and acting at the SM Studio (Shin & Kin 2013, 264).
In 1996, eight years after Lee Soo Man started his entertainment company, and going through years of changing, refining, and improving his strategies, the first success was there. The boy band H.O.T., consisting of five hand-picked members who each had their own strength, debuted in 1996 and became the first major success in the short history of K-Pop.
Companies that followed after SM's initial successes further experimented in adopting new strategies and trying out new styles of music, but stayed true to the idea of in-house training of young, new artists, rather than selecting renowned artists with defined styles (Shin & Kim 2013, 264). With frequently held auditions and training programmes that can last for years, some trainees start as young as 5 or 6 so that they are fully equipped for the entertainment industry by the time they reach adolescence (ibid., 265).
More than being teachers, producers, songwriters, marketers, etc., these entertainment houses are also trend watchers; training their talents in various areas now in order to be able to place them in the right setting and format in the future, corresponding with (global) market demands.
Companies such as SM place an emphasis on the export of music, and focus on appealing to global audiences, making use of hundreds of composers and experts from around the world in doing so. In producing and performing the K-pop girl band Girl's Generation's song 'Genie', for example, SM Entertainment used a Japanese choreographer, a Norwegian songwriter, and Korean lyricist (Shim 2016, 38).
SHAPING SUCCESS
The Popularisation of K-Pop: A Digital Strategy
Although a main cause of K-Pop's initial success lies in the (training) strategies adopted by the aforementioned entertainment houses, there are also other major factors that have contributed to its global influence.
The Korean government contributed to the initial success of K-Pop by developing a world-leading internet infrastructure (although the goal of developing that infrastructure, obviously, was not to promote K-Pop), which helped the rapid rise of the genre through online strategies.
According to some studies (e.g. Messerlin & Shin 2017, 422-425), Korean entertainment companies have been the first in the world when it comes to realizing the potential of the internet for the distribution and marketing of their performances; they were already long awake to its possibilities and were acting upon them, while many big players in Europe and America were still focusing on traditional album formats.
What also helped the spread of K-Pop at the time were the relatively friendly and equally balanced Korean policies on issues such as copyright, that were (and are) less protective and restrictive compared to America or the EU (Messerlin & Shin 2017, 421).
The first success (1997-2007) of K-Pop and other Korean popular culture products in China, Japan, and other countries within Asia, have also been called the first major Korean Wave, whereas the current period (2008-present), represents the 'New Korean Wave,' that is defined by the role that is played by new media technology and social media as a platform for K-Pop to reach every corner of the world (Jin 2016).
Online strategies were particularly relevant in the context of the (early) K-Pop industry because 1) it was dominated by relatively small businesses that did not have the means to invest in other major publishing platforms than that of efficient online distribution and 2) they did not have costly plants where they could produce CDs, DVDs, or vinyl. Having the high-tech Korean electronical market on their side, online strategies were thus a natural and cost-efficient solution to give publicity to their performances (Messerlin & Shin 2017, 426). More so than focusing on traditional album releases, the release of digital singles that come with visually attractive online videos, for example, is one important K-Pop production characteristic.
Probably the best example showing that this strategy works is the global success of 'Gangnam Style' that was made possible through YouTube. By now, six years after its release, the world-famous song by Psy, who was signed by YG Entertainment, has over 3,2 billion plays on YouTube.
The revenue of concert tickets for K-pop performances, its merchandise industry, the digital singles, advertisement income, the many brands wanting to associate themselves with the star industry that K-pop has generated, etc., makes K-Pop production a money-making machine that shows that the model that focuses on traditional (CD) album formats and promotional single releases has become outdated.
CONTINUING SUCCESS
Marketing more than a Band: Active Fans and Interesting Characters
While South-Korea's innovative music enterprises were crucial for the international launch of K-pop, its worldwide fanbase has now also become a motor driving its continuing success.
Different from the initial spread of K-Pop in China or other Asian countries – where K-Pop has become common in everyday pop culture -, is that many consumers of the genre in the US, Europe, or elsewhere, fully depend on the internet and social media to access K-Pop, as it is not a genre that is prevalent in the mainstream popular culture of their own countries.
The fact that fans of K-Pop in these regions have to actively seek for the latest information and releases of their favorite groups, also means that they have become participatory and engaged consumers in the spread of K-Pop – almost turning them into the 'soldiers' of fandoms such as the BTS 'army'. They have become part of enormous (online) subcultures in various countries across Europe and America.
More than just listening and watching K-pop, these fans become members of the 'culture' by translating material, circulating it to friends, or integrating it on their own social media channels (Jin & Yoon 2016, 1285).
What further strengthens this fandom is that the successful K-Pop bands are anything but one-dimensional. More than just building on their synced choreography, flawless singing, fashionable looks, and visually attractive videos, the band members of groups such as BTS, EXO, or TWICE, have their own identities, voices, and goals that go beyond music; their various characters and roles within the group resonate with their different fans.
The fact that many K-Pop groups and members also have an androgynous and gender-bender appearance also makes them more interesting to many fans, with many K-pop boys being 'pretty and cute' and girls having a 'strong and handsome' look, breaking through typical male and female stereotypes.
Furthermore, more than pop bands, these K-Pop groups have virtually become 'platforms' with their own streaming channels, websites, television shows, merchandise shops, lively online communities, stories, and so on.
In their recent appearance on the US Tonight Show by Jimmy Fallon, BTS frontman RM explained the group's mission in perfect English, saying: "It is about speaking yourself, instead of letting other people speaking for you. Cause in order to truly know ourselves, it is important to firstly know who I am, where I'm from, what my name is, and what my voice is."
Many find their voice in K-Pop. And that is a sound, from a local Korean product to a global force, we can expect to grow much louder in the future.
By Manya Koetse
Follow @whatsonweibo
* For clarity: note that due to scope this article focuses on the development of the K-pop phenomenon, and does not explore the anti-Hallyu or anti-Korean wave movement in China, and the previous bans on Hallyu in the PRC.
References
Ahn, Jungah. 2014. "The New Korean Wave in China: Chinese Uders' Use of Korean Popular Culture via the Internet." International Journal of Contents, 10 (3): 47-54.
Jin, Dal Yong. 2016. New Korean Wave: Transnational Culture in the Age of Social Media. University of Illinois.
Jin, Dal Yong, and Kyong Yoon.2016. "The Social Mediascape of Transnational Korean Pop Culture: Hallyu 2.0 as Spreadable Media Practice." New Media & Society 18 (7): 1277-1292.
Messerlin, Patrick A. and Wonkyu Shin. 2017. "The Success of K-Pop: How Big and Why So Fast?" Asian Journal of Social Science 45: 409-439.
Shim, Doobo. 2016. "Hybridity, Korean Wave, and Asian media." Routledge Handbook of East Asian Popular Culture,Koichi Iwabuchi, Eva Tsai, Chris Berry (eds), Chapter 3. London: Routledge.
Shin, Solee I. and Lanu Kim. "Organizing K-Pop: Emergence and Market Making of Large Korean Entertainment Houses, 1980-2010." East Asia 30: 255-272.
Yang, Jonghoe. 2012. "The Korean Wave (Hallyu) in East Asia: A Comparison of Chinese, Japanese, and Taiwanese Audiences Who Watch Korean TV Dramas." Development and Society, 41 (1): 103-147.
Spotted a mistake or want to add something? Please let us know in comments below or email us.
©2018 Whatsonweibo. All rights reserved. Do not reproduce our content without permission – you can contact us at info@whatsonweibo.com
These Are the Foreign Brands Apologizing to China amid Hong Kong Tensions
Who's apologizing and why? An A-Z list of the foreign companies caught up in China's online brand hunt.
First published
Foreign luxury brands hoping to appease the Chinese market are walking on eggshells as the political crisis in Hong Kong is deepening. Chinese netizens and state media recently condemned foreign brands for showing any signs of disregarding the One-China Policy. An online witch hunt has begun: this is the list of brands.
While the political crisis in Hong Kong is deepening, the propaganda machine in mainland China is running at full speed to condemn anti-Beijing 'rioters' and promote the one-China principle.
As state media has been intensifying its news coverage on the situation in Hong Kong, with virtually all outlets using similar narratives, Chinese web users started to focus on foreign (luxury) brands and whether or not they list Hong Kong, Macau, or Taiwan as being part of China.
Starting on August 8, Chinese social media platform Weibo has seen dozens of hashtags taking over Chinese social media in relation to the big brand scandal; one foreign brand after the other was exposed as 'ignoring' China's one-China principle on their website or products.
By the beginning of this week, the online brand hunt had almost become like an online contest, with thousands of netizens suggesting new brands that are allegedly not respecting China's sovereignty.
Although the trend initially began with Chinese web users condemning brands -starting with Versace-, Chinese state media soon also reported about the online controversies and intensified the movement.
Communist Party newspaper People's Daily wrote that Western brands are quick to apologize, but should also "learn from their mistakes" in the long run, and cannot disregard the One-China Policy if they want to do business in China.
State media outlet Global Times also published an illustration online, writing the slogan "China can't be one bit less" ("中国一点都不能少") that has been used by state media to emphasize China's one-China principle since the 2016 South China Sea dispute.
In response to the controversies, it has been raining apologies from foreign brands on Chinese social media the past days.
Who is mainly responsible for this online witch hunt? Although it first started with Chinese web users sharing images and screenshots of foreign brands and their 'erroneous representation' of China, state media and celebrities soon also started to play a major role in this issue and have contributed to the enormous snowball effect of the trend.
What's the 'correct' way to list Hong Kong or Taiwan according to the one-China principle? Below is an image of the (adjusted) website of Valentino where it lists countries and lists Hong Kong and Taiwan as being part of China.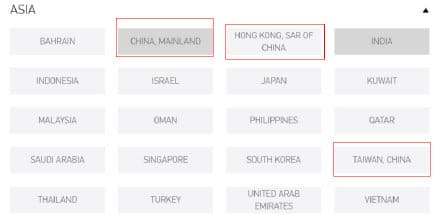 Here's a list of the global brands have become tied up in controversy on the mainland this week (this list might still be updated):
● ASICS 亚瑟士
Japanese footwear brand
Brand Weibo account:
https://www.weibo.com/asicsofficial (240,000+ fans)
Hashtag:
"ASICS lists HK & Taiwan as Separate Countries" (#亚瑟士将香港与台湾列为国家#): 110 million views.
What's the problem?
The ASICS website listed Hong Kong and Taiwan as countries.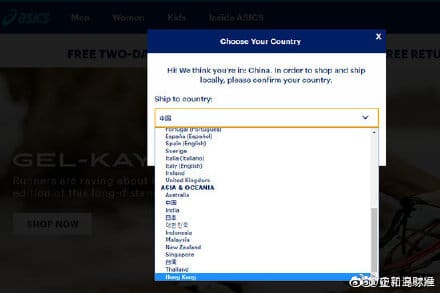 Apology?
Yes, statement on August 12, followed by "ASICS apologizes" hashtag (#亚瑟士致歉#), 6,5 million views on Weibo. The footwear brand emphasized that it abides by the one-China policy and that it will correct its "mistakes."
Consequences:
Besides some netizens who vow not to buy any of the brands in this list disregarding the PRC's one-China policy, there are no indications as of now that the brand is affected by the issue.
● CALVIN KLEIN
American fashion brand
Brand Weibo account:
https://weibo.com/calvinklein (303,000 fans)
Hashtag:
"CK Exposed for Insulting China" (##CK被曝辱华##): 1,5 million views.
What's the problem?:
Calvin Klein faced criticism for listing Taiwan and Hong Kong as separate countries or regions on its website.
Apology?
Yes, statement on August 13, followed by "CK apologizes" hashtag (#ck道歉#), 15 million views on Weibo.
Consequence:
Chinese actress Jelly Lin, Calvin Klein's brand ambassador for the Asia-Pacific region, announced an immediate termination of collaboration with the American fashion house. The hashtag for this event (#林允终止与CK合作#) received no less than 510 million views. Zhang Yixing (Lay Zhang), a Chinese member of K-pop group Exo and a Calvin Klein model, warned the US clothing company to respect Beijing's "one China" policy but did not stop working the brand (he did terminate collaborations with Samsung, also in this list).
● COACH 蔻驰
American luxury accessories company 
Brand Weibo account:
https://www.weibo.com/coachchina (4+ million fans)
Hashtag:
"Coach Lists HK, Macau, Taiwan as Countries" (#蔻驰将港澳台列为国家#): 6 million views.
What's the problem?:
Less than 24 hours after Versace's apology, Coach was among the second batch of brands, along with Givenchy, ASICS, and Fresh, to be exposed online for erroneous geographic listings. Coach got in trouble for a t-shirt displaying 'Hong Kong' as an independent region and listing 'Taipei' as belonging to 'Taiwan,' while Shanghai and Beijing are listed under China.
The brand was also found to have listed Hong Kong and Taiwan as independent countries under its website's  "search country" option.
Apology?:
Yes, statement on August 12, followed by "Coach apologizes" hashtag (#蔻驰道歉#), 300 million views on Weibo.
Consequences:
Coach's China ambassador, supermodel Liu Wen, said on Weibo on Monday that she had cut off her endorsement deal with the fashion label (#刘雯终止与蔻驰合作#, 6 million views) as the brand "seriously impacted the national sentiment of the Chinese people." State media outlet Global Times suggested the brand faced "potential boycott in China."
● FRESH 馥蕾诗
American beauty brand 
Brand Weibo account:
https://www.weibo.com/freshbeauty (339,500 milion fans)
Hashtag:
No separate hashtag for this incident.
What's the problem?:
Fresh faced backlash for listing 'Hong Kong' as a separate region on its official (English) website.
Apology?:
Yes, statement on August 12, followed by "Fresh apologizes" hashtag (#fresh道歉#,) 8 million views on Weibo.
Consequence:
No known direct consequences.
● GIVENCHY 纪梵希
French luxury fashion and perfume house
Brand Weibo account:
https://weibo.com/officialgivenchy (1.5 milion fans)
Hashtag:
The topic 'Givenchy T-Shirt' (#纪梵希t恤#) became big on Weibo. The hashtag page has over 500 million views.
What's the problem?:
Like Coach, Givenchy also got in trouble for a t-shirt displaying 'Hong Kong' as an independent region and listing 'Taipei' as belonging to 'Taiwan.'
Apology?:
Yes, statement on August 12, followed by "Givenchy apologizes" hashtag (#纪梵希道歉#,) 290 million views on Weibo.
Consequence:
Chinese singer Jackson Yee terminated his brand partnerships with Givenchy (#易烊千玺与纪梵希解约# 680 million views).
● POCARI SWEAT 宝矿力水特
Japanese sport's drink
Brand Weibo account:
https://www.weibo.com/pocarisweat (15400 fans)
Hashtag:
"Pocari Sweat Get Out of China"(#宝矿力水特滚出中国#) is one of the early hashtags associated with the Pocari controversy. With just over 300,000 views, it did not gain huge traction on Weibo.
What's the problem?
Pocari Sweat is among the earliest brands – if not the earliest- to be caught up in the brand controversy relating to the protests in Hong Kong. As described by Japan Times, pro-democracy demonstrators praised Pocari after it pulled advertising from Hong Kong television station TVB, which protesters accuse of pro-Beijing coverage. Pocari became a popular drink among Hong Kong protesters.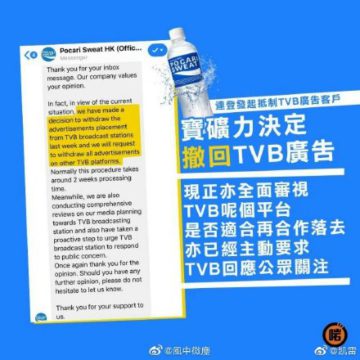 Apology?:
The mainland China office of the brand issued two apology statements on July 11 and 21 in which it emphasized that it operates separately from the Hong Kong division and that it respects China's "one country, two systems" policy.
Consequence:
Pocari Sweat was condemned by Chinese state media, but it is not clear if people in mainland China are drinking less Pocari because of the issue.
● VALENTINO 
Italian fashion house
Brand Weibo account:
www.weibo.com/valentinoofficial (413,000+ fans)
Hashtag:
No particular hashtag.
What's the problem?:
Valentino listed Hong Kong and Taiwan as separate countries in the region/language menu on its foreign website.
Apology?:
Yes, statement on August 13, in which Valentino apologizes for making "a mistake" on its website. The website has since been changed.
Consequence:
No known consequences, the website seemed to be quickly adjusted, and many netizens expressed their praise for that and for the fact that the recent trend seems to make foreign brands more aware of the importance of respecting the One-China Policy.
● VERSACE 范思哲 
Italian fashion house
Brand Weibo account:
https://www.weibo.com/versacechina (850,000+ fans)
Hashtag:
"Versace Suspected of [Supporting] Hong Kong and Macau Independence" (#范思哲涉嫌港独澳独#): 3.2 million views.
What's the problem?:
Versace is the first brand to be targeted in this week's brand-hunting trend. An image of a T-shirt that listed Hong Kong and Macau as independent countries was first posted on Weibo by a female netizen on August 8, who wrote: "I discovered this recently, and wondered if the design of this t-shirt means that Versace is supporting Hong Kong independence?" Three days later, the image had circulated so much that it became a trending topic. Commenters called out the brand for being "two-faced" and for profiting from Chinese money while disregarding Chinese sovereignty.
Apology?:
Yes, statement on August 11, followed by "Versace apologizes" hashtag (#范思哲道歉#,) 860 million views on Weibo. In its statement, Versace stated that the t-shirts had already been recalled and destroyed in late July, and that the fashion house "deeply apologized for the controversy" that was caused by an "error in its t-shirt design." Versace further stated that the brand "loves China" and "resolutely respects China's territorial sovereignty."
Donatella Versace, the designer and chief creative officer of Versace, also issued a personal apology through Instagram, writing: "Never have I wanted to disrespect China's National Sovereignty and this is why I wanted to personally apologize for such inaccuracy and for any distress that it may have caused."
Consequence:
Chinese celebrity Yang Mi ended her relationship with Versace. The announcement received a lot of attention on Chinese social media (#杨幂终止与Versace合作# 1.1 billion views).
● SWAROVSKI 施华洛世奇
Austrian jewelry company
Brand Weibo account:
https://www.weibo.com/swarovskicom (500,00+ fans)
Hashtag:
Swarovski, together with Calvin Klein, was one of the brands that popped up in the general 'luxury brand scandal' after the Versace controversy had snowballed and had moved to Coach, Givenchy, ASICS, and Fresh. The Swarovski issue was exposed just a bit later and had no separate hashtag on Weibo.
What's the problem?
Swarovski went trending on Chinese social media for classifying Hong Kong as a country on its website.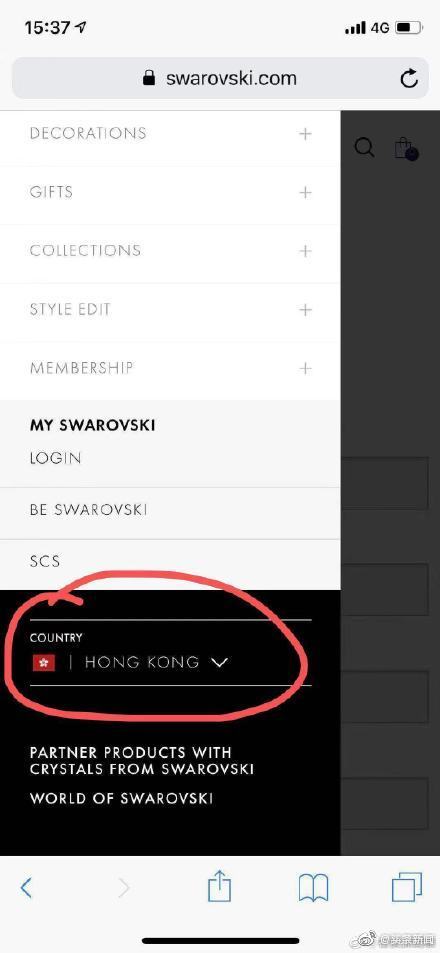 Apology?
Swarovski issued an apology statement on August 13. The hashtag "Swarovski Apologizes" received over 750 million views on Weibo (#施华洛世奇道歉#).
Consequence:
Chinese actress Jiang Shuying, also known as Maggie Jiang, announced on Tuesday (August 13) that she would be ending her cooperation with Swarovski (#江疏影与施华洛世奇解约#, 410 million views).
CURRENTLY UNDER SCRUTINY BUT NO APOLOGIES:
● AMAZON 亚马逊
American e-commerce company
Brand Weibo account:
https://www.weibo.com/amazonchina (4.4 million fans)
Hashtag:
"Amazon T-shirts" (#亚马逊t恤#), 140 million views; "Amazon Sells Hong Kong Independence Shirts" (#亚马逊售卖港独T恤#), 18 million views.
What's the problem?
Amazon is one of the latest brands to be added to the virtual PRC wall of shame of international brands going against Beijing's "One China" principle. On August 14, screenshots of the Amazon e-commerce platform selling t-shirts promoting an independent Hong Kong and displaying anti-China slogans went viral on Weibo.
Reaction
Amazon did not apologize for the merchandise sold on its platforms, but the company did respond to ChinaNews (#亚马逊回应T恤事件#), emphasizing that Amazon always has and will respect China's one-China principle, and abide by local laws of the countries Amazon is active in. There were also netizens on Weibo saying they understood that Amazon cannot be responsible for all the merchandise sold by its online shops around the world.
● SAMSUNG 三星 
South Korean Tech Company
Brand Weibo account:
https://www.weibo.com/samsung (2.8+ million fans)
Hashtag:
No separate hashtag for this issue, although the announcement that Zhang Yixing would terminate his contract with Samsung did receive over 980 million views, making it one of the bigger hashtags in this brand scandal.
What's the problem?:
Samsung faced criticism on August 14 for damaging China's "territorial integrity" by displaying choices Hong Kong, China, and Taiwan as "countries" on its website.
Consequence:
Chinese celebrity and K-Pop star Zhang Yixing (Lay Zhang) announced on August 13 that he would no longer work together with Samsung as a brand ambassador for "hurting the national feelings of Chinese compatriots" (#张艺兴与三星解约#, 980 million views!).
By Manya Koetse
Follow @whatsonweibo
Spotted a mistake or want to add something? Please let us know in comments below or email us. Please note that your comment below will need to be manually approved if you're a first-time poster here.
©2019 Whatsonweibo. All rights reserved. Do not reproduce our content without permission – you can contact us at info@whatsonweibo.com
How the Hong Kong Protests Are Discussed on Chinese Social Media
"Hong Kong, the Pearl of the Orient, is no longer blooming, but covered in cuts and bruises."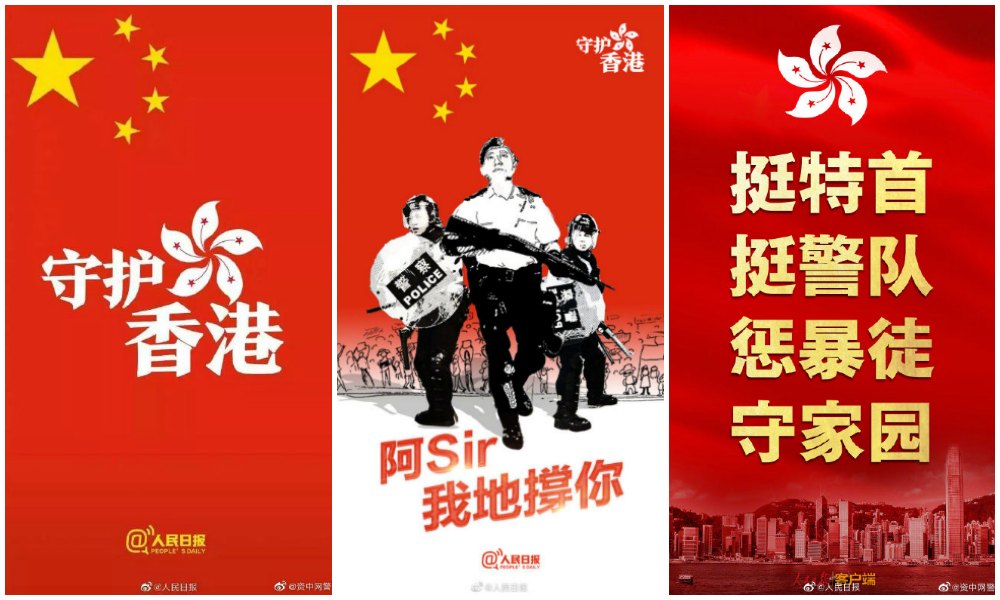 Although discussions on the Hong Kong protests were initially silenced on Chinese social media, the demonstrations are now trending all over Weibo, with state media propagating hashtags and illustrations in favor of Hong Kong government and in support of the Hong Kong Police Force.
The political crisis in Hong Kong shows no signs of de-escalating after another series of mass demonstrations and violent clashes between police and protesters.
This week marks the ninth consecutive week of protests in Hong Kong. The first demonstrations started in March and April of this year against an extradition bill that would allow local authorities to detain and extradite people wanted in mainland China.
After demonstrations escalated in June, the bill was declared "dead" and suspended by Hong Kong leader Carrie Lam, but it was not formally withdrawn.
Protests have since continued throughout June, July, and into August, and are now about much more than the extradition bill alone – they are, amongst others, about greater freedom and democracy in Hong Kong, and about less political influence from the Beijing government.
Protesters are calling for Lam's resignation and for democratic elections, and have denounced violent tactics and "abuse of power" used by the Hong Kong Police Force.
The absence of the police during an attack on residents by suspected gang members dressed in white shirts at the Yuen Long station on July 21 is one of the incidents protesters mention as police misconduct.
But there is also a division between demonstrators, and not necessarily one unified voice. There are also those, for example, who support Hong Kong police. And those who denounce the actions of angry protesters.
China's Central Government Condemns Protests
Although authorities in mainland China initially remained quiet on the topic of the Hong Kong protests, the Hong Kong and Macau Affairs Office of the State Council, China's top agency for handling Hong Kong affairs, held its first press conference on its stance regarding Hong Kong demonstrations on July 29.
Yang Guang, the office's spokesperson, condemned the actions of protesters over recent weeks, saying that they "exceeded the boundaries of acceptable protest."
On August 6, there was another press briefing where Yang Guang used stronger language to denounce the protests, saying that the "radical protests (..) severely impacted Hong Kong's prosperity and stability, pushing it into a dangerous abyss" and that those behind the demonstrations should not "misjudge" the situation and "mistake our restraint for weakness."
Main Stances on Chinese Social Media
On Chinese social media sites, news and discussions on the Hong Kong protest were initially silenced (also see this article), but that has changed now.
Although discussions are still heavily controlled, the topic of the Hong Kong demonstrations has been dominating the trending streams over the past days on China's popular social media platforms.
On Douyin, one of the most popular short video / social media apps in mainland China, there are dozens of different videos of violent incidents in Hong Kong that are being reposted and liked thousands of times.
On news app Toutiao, articles relating to the Hong Kong protests are in the recommended and 'hot' sections, while bloggers and news accounts on WeChat are also posting and reposting Hong Kong related content.
For the scope of this article, we will solely focus on Weibo – the narratives that are spread in daily discussions on the platform are comparable to those on other platforms.
Although the ensuing examples are the main types of posts on Hong Kong that are most popular on Chinese social media now, and definitely receive a lot of support, there are also posts with other views and ideas that might be blocked before ever making it to Weibo or other apps/platforms.
But the restrictions on free discussions on social media do not only relate to platform censorship.
Recently, there are also instances in which Chinese netizens speak out in support of the protesters in Hong Kong who then become a victim of the so-called "human flesh search engine."
One female Weibo user, responding to the demonstrations in Hong Kong, wrote on August 5th: "Respect to every person out there striking and protesting!" Other Weibo users then made screenshots of her comment and revealed personal details about the woman (a 26-year-old Chinese citizen), labeling her a traitor.
One blogger reposting the woman's photo and Weibo profile has 1,3 million followers, making this incident quite big and serving as a warning to other Weibo users not to spread their 'politically incorrect' views on the Hong Kong protests.
"Protect Hong Kong, Support the Police Force"
With over 5 billion views, the hashtag "Protect Hong Kong" (#守护香港#) is very popular on Weibo these days.
The hashtag is promoted by Party newspaper People's Daily, that also launched another viral hashtag, namely "Officers, We Support You" (#阿sir我们挺你#, 300 million views).  The word for 'officer' used in this hashtag is "Ah Sir" or "阿Sir", a uniquely Hong Kong form of address used for policemen and teachers.
Using the "Protect Hong Kong" and "Officers, We Support You" slogans, People's Daily has also issued an illustration that shows three police officers carrying weapons and protective screens. Behind them are protesters, and above them is China's Five-starred Red Flag.
The main idea behind these hashtags/illustrations is that the People's Republic of China (PRC) firmly supports the Hong Kong government and the Hong Kong Police Force in dealing with so-called "thugs" or "bandits"  ("暴徒").
A common stance expressed by Chinese netizens is that pro-democracy protesters are "damaging public security" in Hong Kong and are "dividing the nation."
"Talk about democracy and freedom in a fair and reasonable way," one commenter writes: "Don't talk about freedom and democracy while breaking the law and acting outrageous."
"It's horrible to see," another person says: "The Pearl of the Orient is no longer blooming, but is now covered with cuts and bruises."
Many stories of violence used against the police force are circulating on Chinese social media. Some videos show protesters using potentially dangerous laser pointers to shine directly in faces of police officers. Last Tuesday, student leader Keith Fong was arrested for possession of such lasers.
One particular trending story concerns a bald police officer named 'Liu Sir' (刘sir) who was violently attacked by a group of protesters on July 31st. The mob allegedly punched and kicked him, and assaulted him with sticks and objects before he pulled out his gun.
Officer Liu, who has sustained some minor injuries from the incident, responded to the incident writing in a text: "[I] just hate the fact that they are also Chinese – it feels wrong to hit them and also wrong not to. It really pains me!"
Officer Liu has become somewhat of a hero on Chinese social media, as his image is propagated by Chinese state media through photos and illustrations.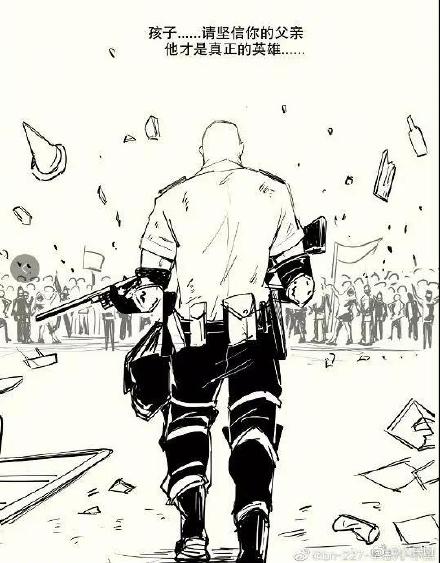 The idea of 'protecting' Hong Kong and supporting its police force goes hand in hand with the idea that Hong Kong is, and "always will be," a "part of China."
Many commenters in the comment sections express their anger about Hong Kong protesters attacking police and throwing the Chinese flag into the water. "If you do not want to be Chinese, then don't live on Chinese territory," some write.
"Hong Kong's Colonial Mentality" 
A post by an economics blogger (@同行中的我, 14674 fans) that received more than 6500 'likes' on Weibo argues that one problem behind the protests is that Hong Kong youth are stuck in a "colonial mentality."
The blogger says that Hong Kong people have a lack of patriotic education and have no "sense of belonging." It is this Hong Kong mentality, the writer argues, that prevents the region from blooming. Without mainland China, Hong Kong is nothing, the post says.
This sentiment is reiterated by many commenters on Weibo, who write things such as "Without a country, you have no home."
Hong Kong Island was ceded to Britain in 1842 as part of the Treaty of Nanjing. July 1st of 1997 marked Hong Kong's return to China, and the moment it became a Special Administrative Region (SAR) of the PRC, based on the principle of "one country, two systems."
Those who are protesting for Hong Kong independence are also called "Pro HK Independence 'Poison'" on Weibo (港毒分子, a wordplay with characters meaning 'Hong Kong-independence/poison-members': a derogatory term for those supporting Hong Kong independence).
"The Pro HK Independence Poison comes from Hong Kong education. Its education comes from its system. So to get rid of this poison, you first need to replace the system, and then change education in Hong Kong," one person suggests.
"Biased Media Representations"
"Western media only use pictures that are taken out of context -they have an ulterior motive," Weibo news blogger Jianhua (@建华Wei业) writes: "They fabricate news about Hong Kong police power abuse and violence."
The accusation of Western media representing the Hong Kong protesters as the 'good guys' and the Hong Kong police as the 'bad guys' is repeated on Chinese social media quite a lot these days.
One major example is the aforementioned case of Sir Liu, as many media allegedly only forwarded those images or footage of the police pulling his gun, leaving out the part where he was attacked by protesters first.
Since there is a clear pro-Hong Kong Police Force dominant narrative on Weibo, many netizens defend the police and describe the protesters as violent and unreasonable rioters.
"US Meddling in Hong Kong Affairs"
Besides criticism on supposed biased media representations of the situation in Hong Kong, there is also criticism on the role of the United States in the Hong Kong protests.
One photo of American diplomat Julie Eadeh meeting up with student leaders involved in Hong Kong's pro-democracy movement circulated on Chinese social media this week, with state media accusing the US of playing a role in "creating disorder" in Hong Kong.
"What Is America Up To?"(#美国居心何在#) is one of the hashtags related to the incident that is shared on Chinese social media, promoted by CCTV.
"America has no right to meddle in Hong Kong affairs," commenters on Weibo respond: "Hong Kong is China's Hong Kong."
Adding fuel to this discussion is the fact that some Hong Kong protesters have recently started waving American flags at demonstrations (read more about that here).
Trending on August 9 is an incident in which a woman angrily pulled the American flags from protesters' hands at Hong Kong airport. Many people on Weibo praise the woman for being so "courageous" to stand up to the demonstrators. "We just want Hong Kong to be stable and peaceful," the woman stated to the media.
Others on Weibo call on protesters in Hong Kong to be reasonable. "I feel that the situation in Hong Kong is getting more and more complicated," one commenter writes: "I hope the protesters can rationally overthink why they are participating in these demonstrations; they shouldn't let themselves be used by others."
"I just cannot make sense of what these angry youth are doing," another commenter writes: "They are waving the American flag. But when they leave [Hong Kong], people won't see them as Hong Kongnese – foreigners will all think they are Chinese. I just don't get where they're going."

Keep an eye on What's on Weibo for more related stories in the time to come. Follow us on Facebook, Twitter, and subscribe to notifications via the bell in this screen (Chrome/Firefox/Android).

By Manya Koetse
Follow @whatsonweibo
Spotted a mistake or want to add something? Please let us know in comments below or email us. Please note that your comment below will need to be manually approved if you're a first-time poster here.
©2019 Whatsonweibo. All rights reserved. Do not reproduce our content without permission – you can contact us at info@whatsonweibo.com