"One Step Forward for Germany, One Step Back for China" – Weibo Discussions on Homosexuality
On June 30, two important moments happened for gay emancipation – one is called "a step forward", the other "a step backward."
The June 30 concurrence of Germany legislating same-sex marriage and China banning "displays of homosexuality" in online videos, has triggered heated discussions on Chinese social media. Many Chinese express bittersweet feelings, saying that Germany's 'step forward' makes it clear that China is going 'backward' when it comes to societal attitudes toward homosexuality.
On the same day that same-sex marriage was legalized in Germany, Chinese regulators issued new criteria for online programs that classify homosexuality as an "abnormal sexual relationship."
According to the new regulations that were released on Friday, online videos in mainland China can no longer portray "abnormal sexual relations," listing homosexuality together with incest and sexual abuse.
"It won't be long before our voice will be gone from Weibo. If we disappear, we hope you won't give up."
The new criteria drew a lot of criticism on social media. Many Chinese LGBT groups, including Comrade's Voice (@同志之声: 'comrade'- tóngzhì – is a common way to refer to gays), denounced how Chinese regulators represented homosexuality. Comrade's Voice even made a public plea, asking the regulators to correct their "errors," as they are "harmful to China's LGBT community."
Their Weibo post received over 23330 comments and 90000 shares within 24 hours. The post has since been locked for further comments.
On July 1st, Comrade's Voice wrote that their options for posting and commenting on Weibo had become limited, and that there were indications their account, which has over 160670 followers, might soon be closed by online regulators.
"We want to thank everyone for making Comrade's Voice such a powerful voice since it came into being in 2009. Our [recent] post received over 80.000 shares (..), we thank you for your courageous voices. The post has now been disabled for commenting and sharing. As we've seen with others, it won't be long before our voice will be gone from Weibo. If we disappear, we hope you will not give up on any opportunity to let your voices be heard. Equal rights don't come dropping from the sky. Please be kind-hearted and loving, please stay positive about the future. Our work won't stop (..). Our existence is in your hands."
Many commenters showed their support. One woman wrote: "As a mother, I won't stop fighting – my child has the right to choose whoever she wants to love when she grows up."
"I love men! I am guilty! I am at fault! I am inhumane!"
As news of the new criteria went viral on Chinese social media, news of the legalization of gay marriage in Germany also made headlines – only adding more fuel to the fire.
"I just don't know how to respond to this," one female netizen wrote: "I see both of these news items together in the list of trending topics,.. one about Germany's gay marriage legalization, and the other about Chinese censorship of displays of homosexuality,.."
"The opposite of this progress is what is happening in China," one person responded with a broken heart emoticon.
Others also pointed out that while Germany is going a step forward, China is going a step backwards ("一个在进步 一个在倒退"), especially now that online censorship has been sharpened. One person wrote:
"Why don't we just go back to dynastic rule?1 (..) Love for the country and love for the Party is not the same thing. I love China dearly. But now I can't do anything but helplessly look how she is being pestered. The 404 error pages just keep coming. The Hou Liang Ping case2, the Chinese table tennis team3, the Shanghai Nanjing West street incident4, etc etc. Is 2017 the year that things are going downhill? It is not that we do not love our country, but our country does not love us."
Another male netizen wrote:
"I love men! I am guilty! I am at fault! I am inhumane! I will wear the dunce cap (高帽子) and the horizontal banner, so that all the people can criticize and humiliate me!"5
In large numbers, Weibo netizens applauded Germany's new law and expressed their support for China's gay community. "I am not gay, but I am rooting for you," many said.
"Thank you all for raising your voices for the gay community. I know that the majority of people are heterosexual, but the fact that you are supportive gives us great courage," one 21-year-old netizen wrote.
"In reality, there are still many people in society who cannot accept gays."
"In Taiwan, gay marriage is legalized. In Germany , gay marriage is legalized. In China, homosexuality is 'abonormal sexual behavior'," some commenters wrote.
Many jokingly said that China might as well go back to the times when men wore a braided queue and women had their feet bound.
Although the vast majority of people on Weibo speak out in support of the LGBT community, there are also people who point out that these supportive voices on social media do not necessarily reflect the reality. He writes: "Online, you see how the majority of people here feel about homosexuality, but in reality, there are still many people in society who cannot accept gays. As for me, I would already be very happy if my family could accept my sexual orientation."
But today, rainbow flags are ubiquitous on Weibo and anti-gay comments are difficult to find. Virtually all commenters seem to agree that defining homosexuality as an "abnormality" along with incest and perversity, on the same day that Germany becomes the 23rd country to legalise gay maririage, is a step back for China.
One Weibo blogger by the name of TangTang posted on July 1st:
"I oppose the new online regulations.
1. Please tell me what freedom of speech is, because is this what it's supposed to be?
2. I am not homosexual, but I will defend to the death the rights of gay people.
3. I will wait and see when this post gets deleted."
By Manya Koetse
Follow @whatsonweibo
1*"现在的中国 要不把辫子留起来吧" Freely translated. Commenter literally says "how about we bring back the braids," referring to the common hairstyle of the Qing dynasty. The braided queue was also a sign of repression.
2 This is about allegations of sexual abuse at Beijing Film Academy: https://www.hongkongfp.com/2017/06/13/social-media-users-fight-back-weibo-censors-allegations-sexual-abuse-beijing-film-academy/
3 About the turmoil in the national table tennis team: https://chinadigitaltimes.net/2017/06/minitrue-quiet-top-players-ping-pong-protest/
4 East Nanjing Road protest over housing crackdown: http://shanghaiist.com/2017/06/12/shanghai-property-protest.php
5Practice during Cultural Revolution: http://www.bbc.com/news/world-asia-china-19807561
©2017 Whatsonweibo. All rights reserved. Do not reproduce our content without permission – you can contact us at info@whatsonweibo.com.
About Lipstick King's Comeback and His 'Mysterious' Disappearance
After Li Jiaqi's return to livestreaming, the 'tank cake incident' has become the elephant in the room on social media.
Earlier this week, the return of China's famous livestreamer Li Jiaqi, also known as the 'Lipstick King', became a hot topic on Chinese social media where his three-month 'disappearance' from the social commerce scene triggered online discussions.
He is known as Austin Li, Lipstick King, or Lipstick Brother, but most of all he is known as one of China's most successful e-commerce livestreaming hosts.
After being offline for over 100 days, Li Jiaqi (李佳琦) finally came back and did a livestreaming session on September 20th, attracting over 60 million viewers and selling over $17 million in products.
The 30-year-old beauty influencer, a former L'Oreal beauty consultant, rose to fame in 2017 after he became a successful livestreamer focusing on lipstick and other beauty products.
Li broke several records during his live streaming career. In 2018, he broke the Guinness World Record for "the most lipstick applications in 30 seconds." He once sold 15000 lipsticks in 5 minutes, and also managed to apply 380 different lipsticks in another seven-hour live stream session. Li made international headlines in 2021 when he sold $1.9 billion in goods during a 12-hour-long promotion livestream for Alibaba's shopping festival.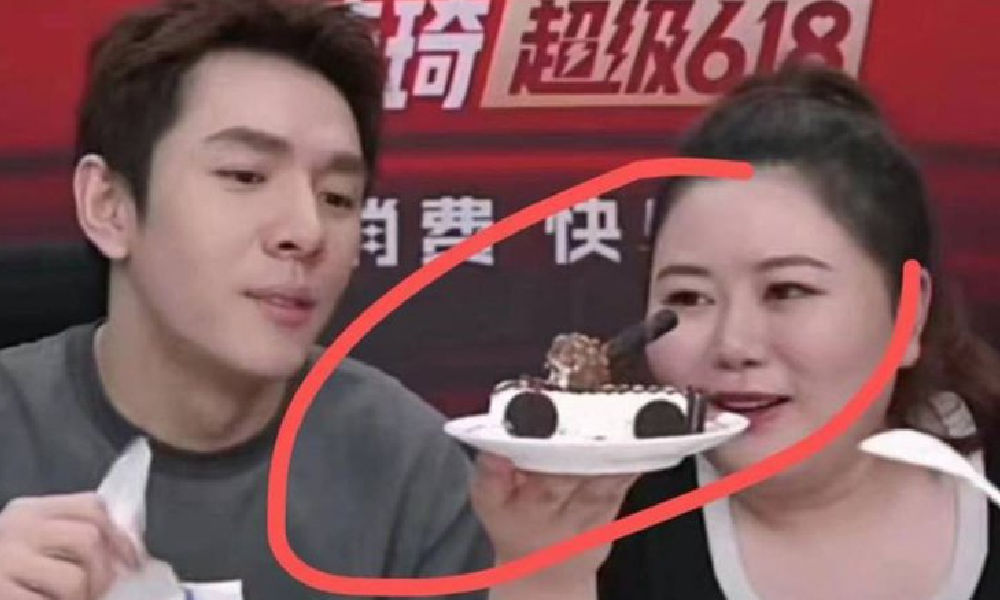 But during a Taobao livestream on June 3rd of this year, something peculiar happened. After Li Jiaqi and his co-host introduced an interestingly shaped chocolate cake – which seemed to resemble a tank, – a male assistant in the back mentioned something about the sound of shooting coming from a tank ("坦克突突").
Although Li Jiaqi and the others laughed about the comment, Li also seemed a bit unsure and the woman next to him then said: "Stay tuned for 23:00 to see if Li Jiaqi and I will still be in this position."
The session then suddenly stopped, and at 23:38 that night Li wrote on Weibo that the channel was experiencing some "technical problems."
But those "technical problems" lasted, and Li did not come back. His June 3rd post about the technical problems would be the last one on his Weibo account for the months to come.
The 'cake tank incident' (坦克蛋糕事件) occurred on the night before June 4, the 33rd anniversary of the violent crackdown of the Tiananmen student demonstrations. The iconic image of the so-called 'tank man' blocking the tanks at Tiananmen has become world famous and is censored on China's internet. The control of information flows is especially strict before and on June 4, making Li's 'tank cake incident' all the more controversial.
But no official media nor the official Li Jiaqi accounts acknowledged the tank cake incident, and his absence remained unexplained. Meanwhile, there was a silent acknowledgment among netizens that the reason Li was not coming online anymore was related to the 'tank cake incident.'
During Li's long hiatus, fans flocked to his Weibo page where they left thousands of messages.
"I'm afraid people have been plotting against you," many commenters wrote, suggesting that the cake was deliberately introduced by someone else during the livestream as a way to commemorate June 4.
Many fans also expressed their appreciation of Li, saying how watching his streams helped them cope with depression or cheered them up during hard times. "What would we do without you?" some wrote. Even after 80 days without Li Jiaqi's livestreams, people still commented: "I am waiting for you every day."
On September 21st, Li Jiaqi finally – and somewhat quietly – returned and some people said they were moved to see their lipstick hero return to the livestream scene.
Although many were overjoyed with Li's return, it also triggered more conversations on why he had disappeared and what happened to him during the 3+ months of absence. "He talked about a sensitive topic," one commenter said when a Weibo user asked about Li's disappearance.
One self-media accountpublished a video titled "Li Jiaqi has returned." The voiceover repeatedly asks why Li would have disappeared and even speculates about what might have caused it, without once mentioning the tank cake.
"This cracks me up," one commenter wrote: "On the outside we all know what's going on, on the inside there's no information whatsoever."
"It's tacit mutual understanding," some wrote. "It's the elephant in the room," others said.
Some people, however, did not care about discussing Li's disappearance at all anymore and just expressed joy about seeing him again: "It's like seeing a good friend after being apart for a long time."
By Manya Koetse 
Elements in the featured image by @karishea and @kaffeebart.
Get the story behind the hashtag. Subscribe to What's on Weibo here to receive our weekly newsletter and get access to our latest articles:
Spotted a mistake or want to add something? Please let us know in comments below or email us. First-time commenters, please be patient – we will have to manually approve your comment before it appears.
©2022 Whatsonweibo. All rights reserved. Do not reproduce our content without permission – you can contact us at info@whatsonweibo.com.
Residents in Locked Down Lhasa Say Local Epidemic Situation is a "Giant Mess"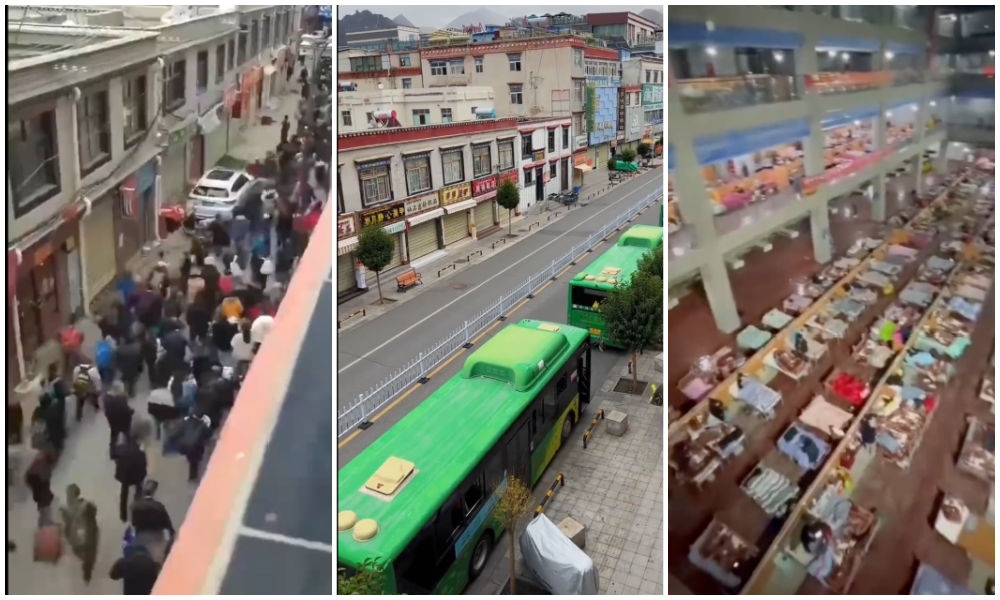 They've been in lockdown for 42 days already, but according to some Lhasa-based bloggers, there have been no improvements in the local epidemic situation. They say there is a stark difference between what officials are reporting and the daily reality they are dealing with in Tibet.
"The epidemic situation is bad in Lhasa, please pay attention," one netizen wrote on Weibo on September 15, pointing to many new posts surfacing on Chinese social media about the difficulties people are facing in Lhasa city in Tibet.
Over the past week, many Tibet-based bloggers have posted on social media about the local circumstances, and hundreds of Chinese social media posts talk about similar problems in the region. Despite the ongoing lockdown, they say, there are still a growing number of positive cases within Lhasa communities; buses are allegedly going back and forth to bring people to quarantine sites where those testing positive and negative are mixed; they claim that there is an absolute lack of management and control; and many locals suggest that the official reports do not reflect the actual number of Covid cases at all.
According to the official numbers, Tibet saw its peak in Covid cases on August 17 and has since reported fewer new cases, reporting a total of 118 new cases on Thursday.
"I am a bit shocked!" one local social media user wrote: "What I saw was a total of 28 buses lined up outside Lhasa Nagqu No. 2 Senior High School, and then still more [buses] were coming. One bus can fit around 50 people, so there must have been around 1400 positive cases. There was a blind man, there were elderly people in wheelchairs, there were swaddled-up babies, from getting on the bus at 9.30 pm up to now, we've been waiting for 5 hours and we're still waiting now. It's just pure chaos at the school entrance, there is no order. I won't sleep tonight."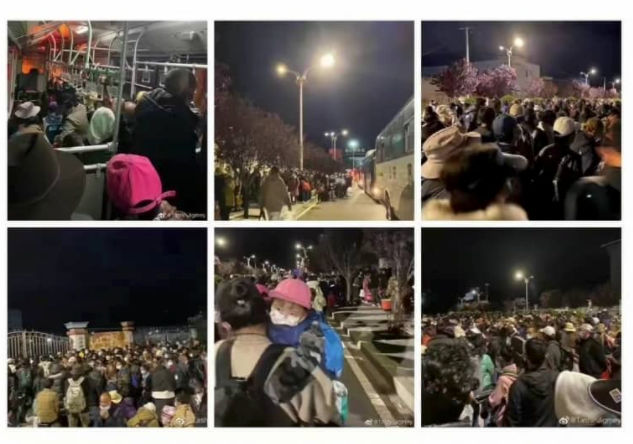 On the 14th of September, another netizen wrote:
"In order to welcome central government leaders to Lhasa and to demonstrate the "excellent" epidemic prevention capabilities of the local government & the "outstanding" results of the fight against the epidemic to them, they moved citizens to the rural areas and let them all stay crowded together in unfinished concrete buildings, with all kinds of viruses having free reign."
On a Lhasa community message board, one Weibo user wrote: "Lhasa has already been in lockdown for over a month, yet our little community has so many infected people that I'm wondering how effective a lockdown actually is? Has Tibet been forgotten? When other places in China have a few positive cases it becomes a hot topic. But what about Tibet? And what about Lhasa?"
Another anonymous poster writes: "Regarding the Lhasa epidemic situation, the numbers were already a bit fake before, but I can understand it was also to take the public sentiment into consideration. I personally don't care how you report the data, as long as the epidemic prevention and control work is properly managed, then the lockdown can be lifted soon and nobody will say anything about it. But a month has passed already, and in a town with some hundred thousands of people, the epidemic work is increasingly getting worse. Many people around me have never even left the house and inexplicably turned out to test positive. Meanwhile those who tested positive are quarantined together with people who still tested negative, it's a giant mess."
"Lhasa hasn't had a Covid outbreak for the past three years, the city doesn't have enough experience in controlling the epidemic."
"It's the 42nd day of lockdown," another person wrote on Friday: "People are lining up to go to centralized isolation, Lhasa has been in lockdown longer than Chengdu, but it doesn't make it to the hot topic lists. People who tested negative again and again suddenly turn out to be positive. Lhasa hasn't had a Covid outbreak for the past three years, the city doesn't have enough experience in controlling the epidemic. It's going to be hard to restore tourism here before the end of the year. Before, big crowds would come to visit.
Over the past few days, following a heightened focus on the situation in Xinjiang, there has also been more attention for the epidemic situation in Tibet.
"Please pay more attention to the topic of the Lhasa epidemic," one person wrote, repeating a similar message sent out by many others: "Lhasa doesn't need your prayers, we need exposure."
On Friday, one popular gamer with more than a million followers wrote on Weibo:
"Many have been reaching out to me via private messages, saying that the epidemic situation in Tibet's Lhasa is very serious. If it's really like this, I hope matters can be settled as soon as possible. I don't know if this post can stay up or not, but I want to try my best to speak up and generate more attention to this epidemic trend. I experienced two months of lockdown in Shanghai myself and understand what it feels like. I have faith in our nation, and I believe the country will definitely take action. Everyone in Tibet, jiayou [come on]."
Many of the comments and posts coming from Lhasa are similar to those we saw last week, coming from Yining in Xinjiang. Social media users based in these places complain that many of their posts have been deleted and that it is very difficult for local residents to make their voices heard.
This is different from the previous lockdown situations in, for example, Xi'an, Shanghai, or Chengdu, where people posted videos, photos, and shared their lockdown experiences, either from home, from the Covid testing lines, or from the makeshift hospitals.
A Weibo hashtag on Tibet's covid outbreak (#西藏疫情防控#) has repeatedly surged up Weibo's trending searches only to be batted down again. It purports to show now-familiar but still grim scenes: haphazardly arranged quarantine centers, barely edible food, no potable water

— Alexander Boyd (@alexludoboyd) September 15, 2022
On the one hand, the reason why people in places such as Lhasa or Yining have more difficulties in making their stories heard in China's hectic social media environment relates to the fact that these places have a relatively small population size – while Yining and Lhasa have approximately 542,00 and 465,000 inhabitants respectively, there are 21 million people in Chengdu and some 26 million in Shanghai.
But a bigger barrier to posting about their circumstances is formed by the social media censorship that is extra strict when it comes to Xinjiang and Tibet as these places are considered sensitive political subjects, which is why topics related to these regions see far more aggressive online censorship – even for seemingly innocuous posts.
One Weibo user with over 600,000 followers wrote: "In such a sensitive place as Tibet, I really needn't worry about whether they're gonna see my post or not. I posted to vent my anger and scolded the leadership for a bit and within 24 hours the police came to my hotel and asked me to delete my posts. Now that everyone is asking for help like this, they will definitely see it, but they are determined to do this and do so on purpose, it's clear they don't care about people's lives."
Meanwhile, Chinese official media reporting on the epidemic situation in Tibet stress the collective effort to fight the virus in Lhasa. On September 15, People's Daily reported how 18 sister provinces and cities across China sent their best teams to Tibet to help with local anti-epidemic work and to bring supplies.
The Tibet-based military blogger ZhufengZhengrong (@珠峰峥嵘) writes: "It's been over a month and my comrade-in-arms are still fighting on the front line (..). I just hope the epidemic will end soon, and that I will be able to meet my family and hold my children and weep."
By Manya Koetse 
Get the story behind the hashtag. Subscribe to What's on Weibo here to receive our weekly newsletter and get access to our latest articles:
Spotted a mistake or want to add something? Please let us know in comments below or email us. First-time commenters, please be patient – we will have to manually approve your comment before it appears.
©2022 Whatsonweibo. All rights reserved. Do not reproduce our content without permission – you can contact us at info@whatsonweibo.com.