"One Step Forward for Germany, One Step Back for China" – Weibo Discussions on Homosexuality
On June 30, two important moments happened for gay emancipation – one is called "a step forward", the other "a step backward."
The June 30 concurrence of Germany legislating same-sex marriage and China banning "displays of homosexuality" in online videos, has triggered heated discussions on Chinese social media. Many Chinese express bittersweet feelings, saying that Germany's 'step forward' makes it clear that China is going 'backward' when it comes to societal attitudes toward homosexuality.
On the same day that same-sex marriage was legalized in Germany, Chinese regulators issued new criteria for online programs that classify homosexuality as an "abnormal sexual relationship."
According to the new regulations that were released on Friday, online videos in mainland China can no longer portray "abnormal sexual relations," listing homosexuality together with incest and sexual abuse.
"It won't be long before our voice will be gone from Weibo. If we disappear, we hope you won't give up."
The new criteria drew a lot of criticism on social media. Many Chinese LGBT groups, including Comrade's Voice (@同志之声: 'comrade'- tóngzhì – is a common way to refer to gays), denounced how Chinese regulators represented homosexuality. Comrade's Voice even made a public plea, asking the regulators to correct their "errors," as they are "harmful to China's LGBT community."
Their Weibo post received over 23330 comments and 90000 shares within 24 hours. The post has since been locked for further comments.
On July 1st, Comrade's Voice wrote that their options for posting and commenting on Weibo had become limited, and that there were indications their account, which has over 160670 followers, might soon be closed by online regulators.
"We want to thank everyone for making Comrade's Voice such a powerful voice since it came into being in 2009. Our [recent] post received over 80.000 shares (..), we thank you for your courageous voices. The post has now been disabled for commenting and sharing. As we've seen with others, it won't be long before our voice will be gone from Weibo. If we disappear, we hope you will not give up on any opportunity to let your voices be heard. Equal rights don't come dropping from the sky. Please be kind-hearted and loving, please stay positive about the future. Our work won't stop (..). Our existence is in your hands."
Many commenters showed their support. One woman wrote: "As a mother, I won't stop fighting – my child has the right to choose whoever she wants to love when she grows up."
"I love men! I am guilty! I am at fault! I am inhumane!"
As news of the new criteria went viral on Chinese social media, news of the legalization of gay marriage in Germany also made headlines – only adding more fuel to the fire.
"I just don't know how to respond to this," one female netizen wrote: "I see both of these news items together in the list of trending topics,.. one about Germany's gay marriage legalization, and the other about Chinese censorship of displays of homosexuality,.."
"The opposite of this progress is what is happening in China," one person responded with a broken heart emoticon.
Others also pointed out that while Germany is going a step forward, China is going a step backwards ("一个在进步 一个在倒退"), especially now that online censorship has been sharpened. One person wrote:
"Why don't we just go back to dynastic rule?1 (..) Love for the country and love for the Party is not the same thing. I love China dearly. But now I can't do anything but helplessly look how she is being pestered. The 404 error pages just keep coming. The Hou Liang Ping case2, the Chinese table tennis team3, the Shanghai Nanjing West street incident4, etc etc. Is 2017 the year that things are going downhill? It is not that we do not love our country, but our country does not love us."
Another male netizen wrote:
"I love men! I am guilty! I am at fault! I am inhumane! I will wear the dunce cap (高帽子) and the horizontal banner, so that all the people can criticize and humiliate me!"5
In large numbers, Weibo netizens applauded Germany's new law and expressed their support for China's gay community. "I am not gay, but I am rooting for you," many said.
"Thank you all for raising your voices for the gay community. I know that the majority of people are heterosexual, but the fact that you are supportive gives us great courage," one 21-year-old netizen wrote.
"In reality, there are still many people in society who cannot accept gays."
"In Taiwan, gay marriage is legalized. In Germany , gay marriage is legalized. In China, homosexuality is 'abonormal sexual behavior'," some commenters wrote.
Many jokingly said that China might as well go back to the times when men wore a braided queue and women had their feet bound.
Although the vast majority of people on Weibo speak out in support of the LGBT community, there are also people who point out that these supportive voices on social media do not necessarily reflect the reality. He writes: "Online, you see how the majority of people here feel about homosexuality, but in reality, there are still many people in society who cannot accept gays. As for me, I would already be very happy if my family could accept my sexual orientation."
But today, rainbow flags are ubiquitous on Weibo and anti-gay comments are difficult to find. Virtually all commenters seem to agree that defining homosexuality as an "abnormality" along with incest and perversity, on the same day that Germany becomes the 23rd country to legalise gay maririage, is a step back for China.
One Weibo blogger by the name of TangTang posted on July 1st:
"I oppose the new online regulations.
1. Please tell me what freedom of speech is, because is this what it's supposed to be?
2. I am not homosexual, but I will defend to the death the rights of gay people.
3. I will wait and see when this post gets deleted."
By Manya Koetse
Follow @whatsonweibo
1*"现在的中国 要不把辫子留起来吧" Freely translated. Commenter literally says "how about we bring back the braids," referring to the common hairstyle of the Qing dynasty. The braided queue was also a sign of repression.
2 This is about allegations of sexual abuse at Beijing Film Academy: https://www.hongkongfp.com/2017/06/13/social-media-users-fight-back-weibo-censors-allegations-sexual-abuse-beijing-film-academy/
3 About the turmoil in the national table tennis team: https://chinadigitaltimes.net/2017/06/minitrue-quiet-top-players-ping-pong-protest/
4 East Nanjing Road protest over housing crackdown: http://shanghaiist.com/2017/06/12/shanghai-property-protest.php
5Practice during Cultural Revolution: http://www.bbc.com/news/world-asia-china-19807561
©2017 Whatsonweibo. All rights reserved. Do not reproduce our content without permission – you can contact us at info@whatsonweibo.com.
Beijing Introduces New Rules: Employers Can No Longer Ask Female Candidates about Marital or Childbearing Status
It's supposed to promote equality on the job market, but will it change things?
First published
Chinese employers are reportedly no longer allowed to ask female job candidates if they are married or have children. But will this help the position of Chinese women on the job market?
Nine government departments in Beijing have jointly released a document stating that employers are no longer allowed to ask female job candidates about their marital or childbearing status.
Although the issue made headlines in China on June 27, a document issued by the Chinese Ministry of Human Resources and Social Security in February of this year already contained the stipulations. The notice shared by state media today is dated May 20, 2019.
The document is titled "Notice on Further Strengthening Recruitment Management to Promote Women's Employment" ("关于进一步加强招聘活动管理促进妇女就业工作的通知") (link), and states that no requirements for gender should be included in any recruitment plans or interviews.
Xinhua News reports that the document prohibits asking about the marital or fertility status of female candidates during interviews, and also eliminates pregnancy testing from pre-employment health examination lists.
The recent move is part of a wider effort led by China's Ministry of Human Resources and Social Security to ban discrimination against women in the workforce.
Companies violating these rules will reportedly be fined 10,000 yuan ($1452) or more if they refuse to correct their practices.
At time of writing, the topic "Recruiters Cannot Ask about Women's Marital & Childbearing Status" (#招聘不得询问妇女婚育情况#) received over 340 million views on social media platform Weibo.
Gender discrimination on China's job market
Gender discrimination in the job-search process has been a hot topic in China for years. A 2015 study found that 87% of female college grads say there is gender discrimination for female job candidates.
The position of women in China's job market is a complicated one.
On the one hand, education levels for women have greatly improved among Chinese women over recent decades, bringing greater gender equality – not just within the family, but within the society at large.
China boasts one of the higher levels of female labor force participation in the world. In 2018, the female labor force participate rate was 61%.
But at the same time, Chinese women face huge disadvantages in their working lives. Preferences for male candidates are ubiquitous in job advertisements, or may state that women who are married with children are preferred candidates. On average, women also still earn 36% less than men for doing similar work.
Since the end of the One Child Policy, social pressure to have a second child and calls for extended maternity leaves for women are potentially harming the (economic) position of women in China in the long run.
With a 98-day paid maternity leave and paid leave for prenatal checkups, Chinese laws on maternity leave are quite generous. But because this significantly increases the financial costs for (private) companies, many employers would rather hire a man than a woman who has not had children yet.
With the introduction of the "two-child-policy", a woman could take a total paid leave of almost 200 days if she had two children. Calls to extend maternity leave to three years caused controversy on Weibo in 2014, when women said that nobody would hire a woman that could potentially be gone for six years.
In 2018, news came out that one school in Zhengzhou, Henan, had a policy of giving 'time slots' to female teachers to get pregnant with their (second) child. When one female teacher fell pregnant before her 'turn' was up, she was dismissed.
Earlier this year, the case of a woman in Dalian who was let go by the company for falling pregnant within her trial period also ignited discussions online.
When women who are already employed have a baby, they also have a greater chance of being demoted or earning less. A survey by job recruitment site Zhaopin.com found that 33 percent of women had their pay cut after giving birth and 36 percent were demoted (NPR).
When it was announced in 2016 that Anhui province would introduce a paid 'menstrual leave' for working women on their period, many female netizens protested the policy, saying that granting women special days off would only "make it even harder for women to be hired."
Will this really help?
As for the latest announced regulations – many netizens are not too optimistic that they will actually change the position of women on the job market.
"Lazy politics, do they think that a few laws will solve the basic problem? And that companies will listen?"
"How will you implement these regulations?", others wonder.
"Even if they're not allowed to ask, they have others way to find out your status," another person writes.
One Weibo commenter remarks: "I asked my friend who works in human resources if they really ask these questions. He answered: 'Of course we don't, that would be very unprofessional.' 'But if you filter out the resumes do you take gender into account?' He answered: 'Ha ha ha! Of course we do!'"
Some responses on Weibo are even more pessimistic, saying: "This will just make companies deny women of a certain age altogether. If you really want to change things you should give both men and women maternity leave."
"To be honest," one commenter named Absolom writes: "The costs that come with women's childbearing should either be a responsibility taken up by the family (if you think that childbearing is a private affair), or by the state (if you think heightening childbearing rates is of importance to society). The ones least responsible for this are companies. If you put all responsibility on companies, I'm afraid that it's still the women who suffer in the end. If they're not allowed to ask, these companies simply won't hire women of childbearing age at all."
The majority of comments on Weibo also convey the idea that the policy might lead to companies not hiring women at all anymore; making things worse for them instead of improving their position on the job market.
But not all responses are negative. "I do support this policy," one person comments: "When I just graduated and was looking for a job, one employer once expressed his concern over my single status, [saying] they were afraid I'd get married. Recently I was also looking for work, and one person straightforwardly asked me if I was okay with quitting my job if I'd get pregnant."
Even so, the supportive comments are difficult to find among the thousands of reactions. "Are you 30 and single?" one Weibo user writes: "You might as not go to the job interview at all anymore."
By Manya Koetse, with contributions from Miranda Barnes
Follow @whatsonweibo
Spotted a mistake or want to add something? Please let us know in comments below or email us. Please note that your comment below will need to be manually approved if you're a first-time poster here.
©2019 Whatsonweibo. All rights reserved. Do not reproduce our content without permission – you can contact us at info@whatsonweibo.com
Horrific Dalian Attack Dominates Discussions on Weibo: Suspect Arrested
People's Daily writes the attacker suffered from "mood swings" after a fight with his girlfriend.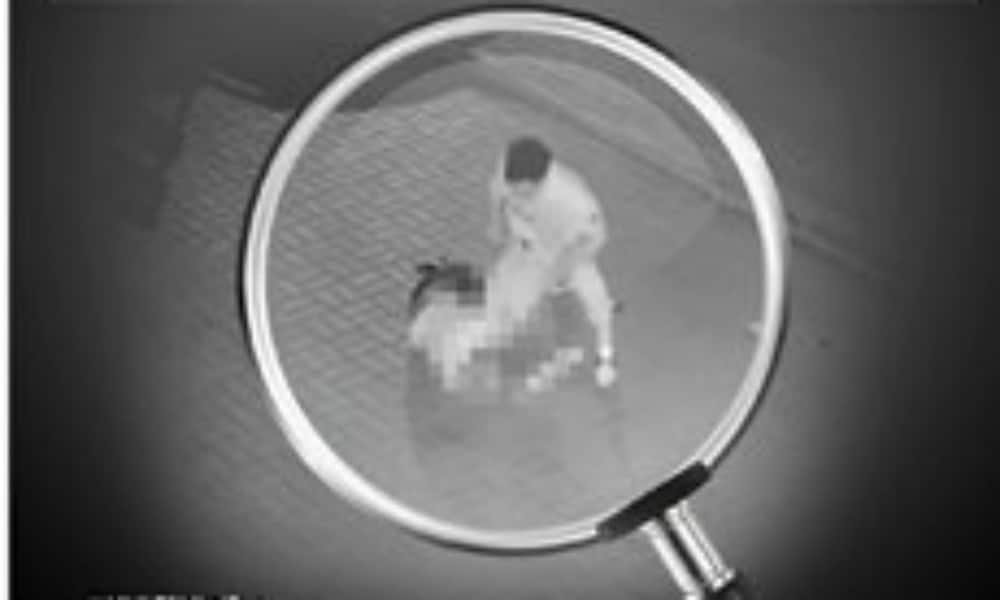 First published
A gruesome attack on a woman walking the streets alone was caught on surveillance cameras this weekend. The violent assault has been a major topic of discussion on Chinese social media for the past two days. After a manhunt for the attacker, state media now report that he has been arrested.
A shocking surveillance video capturing a female pedestrian being attacked and severely beaten by a man is dominating discussions on Chinese social media these days.
The surveillance video started making its rounds on WeChat and Weibo on Monday. The extremely disturbing footage shows how a woman is walking by herself and is then approached by a man who beats her to the ground, severely kicks her head and body some twenty times, tears her clothing, and then drags the woman away by her hair (warning graphic).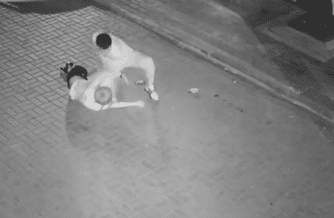 Chinese authorities and social media companies could not seem to find the source of the video right away.
Since the footage was captured at night, it did not clearly show the surroundings, leading to police all across China launching an investigation to find out more about where this took place. On Tuesday morning, the Ministry of Public Security asked the public to provide leads on the incident.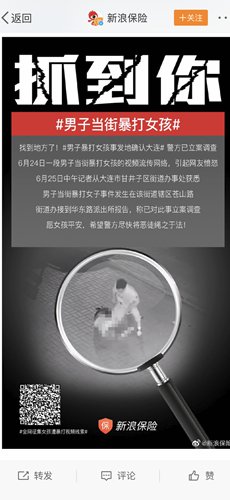 It now turns out that the horrific attack occurred on June 22 at 0:44 AM in the Ganjingzu district in the city of Dalian, where police received a report that night that matches the incident on the video.
The victim has been identified as the 29-year-old Wu, who is reported to have suffered "soft tissue damage to her face" due to the attack, and who has since been discharged from the hospital following treatment.
Although some netizens questioned how it would be possible for the victim to only suffer "soft tissue damage," further details were not disclosed.
The security company which the surveillance camera belonged to stated they did not know how the video had leaked online in the first place.
On Tuesday afternoon, some reports claimed the attacker had not been arrested nor identified yet. Other reports said that Dalian police were investigating a suspect by late afternoon.
"He suffered from mood swings after a fight with his girlfriend."
On Tuesday night at 23:45, state media outlet People's Daily reported on Weibo that the suspect had been detained.
The newspaper stated that the suspect is a 31-year-old man from Dalian named Wang. According to People's Daily, he suffered from "mood swings" after a "fight with his girlfriend," and randomly attacked and molested the victim "after a night of drinking." He has now confessed to his crime.
Photos of the alleged suspect are making their rounds on social media, although official sources have not confirmed that these photos are indeed of the 31-year-old Wang.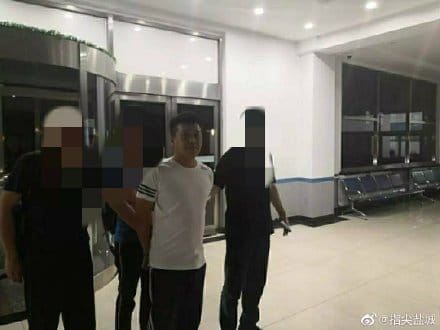 By now, the Weibo hashtags "Man Beats up Girl in the Middle of the Street" (#男子当街暴打女孩#) and "Woman Viciously Beaten and Dragged Away by Man Late at Night" (#女子深夜遭男子暴打拖行#) received a staggering 1,35 billion and 120 million views, showing that this case is closely followed by Chinese netizens – comparable to the Didi murder cases that also received major attention in 2018.
Many comments on Tuesday night criticized Chinese state media for reporting on the suspect's alleged "mood swings."
"This brings a whole new meaning to the term 'mood swings'," one commenter noted. "Let's hope his prison cell mates will beat him every day he has a 'mood swing.'"
"I don't want to know anything about his feelings before he used this kind of violence! I don't want to know anything about his experience! It's never a reason to do this to a stranger!"
"So mood swings lead to people randomly attacking and molesting an innocent passer-by?!" Others wrote: "He broke up with his girlfriend and wanted revenge on all women."
In late May of this year, a young woman was stabbed to death in the city of Nanchang, in what appeared to have been a random attack; the attacker, a 32-year-old man, was unable to find a wife and suffered from a mental illness.
In 2015, a man with a sword stabbed a woman to death in front of the Uniqlo store in Beijing's Sanlitun area. That same year, another Chinese man stabbed five random women who resembled his ex-girlfriend.
About the Dalian case, one commenter says: "This degree of violence just makes my blood run cold. For the police, it might just be another case, and they're not making a big fuss about it, and that saddens me."
Another Weibo user writes: "The evil for women in society is just too much. To be violently attacked like this on your way home – it's just inexplicable. I hope the victim will get well soon."
By Manya Koetse and Miranda Barnes
Follow @whatsonweibo
Spotted a mistake or want to add something? Please let us know in comments below or email us. Please note that your comment below will need to be manually approved if you're a first-time poster here.
©2019 Whatsonweibo. All rights reserved. Do not reproduce our content without permission – you can contact us at info@whatsonweibo.com