"One Step Forward for Germany, One Step Back for China" – Weibo Discussions on Homosexuality
On June 30, two important moments happened for gay emancipation – one is called "a step forward", the other "a step backward."
The June 30 concurrence of Germany legislating same-sex marriage and China banning "displays of homosexuality" in online videos, has triggered heated discussions on Chinese social media. Many Chinese express bittersweet feelings, saying that Germany's 'step forward' makes it clear that China is going 'backward' when it comes to societal attitudes toward homosexuality.
On the same day that same-sex marriage was legalized in Germany, Chinese regulators issued new criteria for online programs that classify homosexuality as an "abnormal sexual relationship."
According to the new regulations that were released on Friday, online videos in mainland China can no longer portray "abnormal sexual relations," listing homosexuality together with incest and sexual abuse.
"It won't be long before our voice will be gone from Weibo. If we disappear, we hope you won't give up."
The new criteria drew a lot of criticism on social media. Many Chinese LGBT groups, including Comrade's Voice (@同志之声: 'comrade'- tóngzhì – is a common way to refer to gays), denounced how Chinese regulators represented homosexuality. Comrade's Voice even made a public plea, asking the regulators to correct their "errors," as they are "harmful to China's LGBT community."
Their Weibo post received over 23330 comments and 90000 shares within 24 hours. The post has since been locked for further comments.
On July 1st, Comrade's Voice wrote that their options for posting and commenting on Weibo had become limited, and that there were indications their account, which has over 160670 followers, might soon be closed by online regulators.
"We want to thank everyone for making Comrade's Voice such a powerful voice since it came into being in 2009. Our [recent] post received over 80.000 shares (..), we thank you for your courageous voices. The post has now been disabled for commenting and sharing. As we've seen with others, it won't be long before our voice will be gone from Weibo. If we disappear, we hope you will not give up on any opportunity to let your voices be heard. Equal rights don't come dropping from the sky. Please be kind-hearted and loving, please stay positive about the future. Our work won't stop (..). Our existence is in your hands."
Many commenters showed their support. One woman wrote: "As a mother, I won't stop fighting – my child has the right to choose whoever she wants to love when she grows up."
"I love men! I am guilty! I am at fault! I am inhumane!"
As news of the new criteria went viral on Chinese social media, news of the legalization of gay marriage in Germany also made headlines – only adding more fuel to the fire.
"I just don't know how to respond to this," one female netizen wrote: "I see both of these news items together in the list of trending topics,.. one about Germany's gay marriage legalization, and the other about Chinese censorship of displays of homosexuality,.."
"The opposite of this progress is what is happening in China," one person responded with a broken heart emoticon.
Others also pointed out that while Germany is going a step forward, China is going a step backwards ("一个在进步 一个在倒退"), especially now that online censorship has been sharpened. One person wrote:
"Why don't we just go back to dynastic rule?1 (..) Love for the country and love for the Party is not the same thing. I love China dearly. But now I can't do anything but helplessly look how she is being pestered. The 404 error pages just keep coming. The Hou Liang Ping case2, the Chinese table tennis team3, the Shanghai Nanjing West street incident4, etc etc. Is 2017 the year that things are going downhill? It is not that we do not love our country, but our country does not love us."
Another male netizen wrote:
"I love men! I am guilty! I am at fault! I am inhumane! I will wear the dunce cap (高帽子) and the horizontal banner, so that all the people can criticize and humiliate me!"5
In large numbers, Weibo netizens applauded Germany's new law and expressed their support for China's gay community. "I am not gay, but I am rooting for you," many said.
"Thank you all for raising your voices for the gay community. I know that the majority of people are heterosexual, but the fact that you are supportive gives us great courage," one 21-year-old netizen wrote.
"In reality, there are still many people in society who cannot accept gays."
"In Taiwan, gay marriage is legalized. In Germany , gay marriage is legalized. In China, homosexuality is 'abonormal sexual behavior'," some commenters wrote.
Many jokingly said that China might as well go back to the times when men wore a braided queue and women had their feet bound.
Although the vast majority of people on Weibo speak out in support of the LGBT community, there are also people who point out that these supportive voices on social media do not necessarily reflect the reality. He writes: "Online, you see how the majority of people here feel about homosexuality, but in reality, there are still many people in society who cannot accept gays. As for me, I would already be very happy if my family could accept my sexual orientation."
But today, rainbow flags are ubiquitous on Weibo and anti-gay comments are difficult to find. Virtually all commenters seem to agree that defining homosexuality as an "abnormality" along with incest and perversity, on the same day that Germany becomes the 23rd country to legalise gay maririage, is a step back for China.
One Weibo blogger by the name of TangTang posted on July 1st:
"I oppose the new online regulations.
1. Please tell me what freedom of speech is, because is this what it's supposed to be?
2. I am not homosexual, but I will defend to the death the rights of gay people.
3. I will wait and see when this post gets deleted."
By Manya Koetse
Follow @whatsonweibo
1*"现在的中国 要不把辫子留起来吧" Freely translated. Commenter literally says "how about we bring back the braids," referring to the common hairstyle of the Qing dynasty. The braided queue was also a sign of repression.
2 This is about allegations of sexual abuse at Beijing Film Academy: https://www.hongkongfp.com/2017/06/13/social-media-users-fight-back-weibo-censors-allegations-sexual-abuse-beijing-film-academy/
3 About the turmoil in the national table tennis team: https://chinadigitaltimes.net/2017/06/minitrue-quiet-top-players-ping-pong-protest/
4 East Nanjing Road protest over housing crackdown: http://shanghaiist.com/2017/06/12/shanghai-property-protest.php
5Practice during Cultural Revolution: http://www.bbc.com/news/world-asia-china-19807561
©2017 Whatsonweibo. All rights reserved. Do not reproduce our content without permission – you can contact us at info@whatsonweibo.com.
From Reckless Driving to Cyber Bullying: Wuhan Mother Jumps to Death after Son Gets Run over by Teacher's Car
The Wuhan mother received online harassment for dressing nicely and for allegedly hyping the case for compensation.
A tragic incident that unfolded in Wuhan has garnered significant attention on Chinese social media this week. It involves a mother who took her own life a week after her son was tragically crushed to death by a car driven by his teacher within the primary school campus.
The little boy named Xiaotan, a grade one student, was run over by a car near the school gates of the Wuhan Hanyang District Hongqiao School (弘桥小学) on May 23. He was just about to pick up a paper plane from the ground when he was hit by the car.
As reported by Thatsmag on May 26, the boy's parents could not accept the teacher's explanation of how the incident could have happened.
The teacher claimed he tried to wave the boy away with his hand when he appeared in front of his car and then waited before proceeding. But CCTV footage from the school showed that the car initially stopped for 2-3 seconds after the front wheels ran over Xiaotan, and then started driving again, causing the back wheels to run over the boy.
The teacher reportedly was not supposed to drive his car there at all according to school rules. According to school staff members, the teacher deviated from the designated path for vehicle entry and exit within the school premises.
On May 25th, the Education Bureau of Hanyang District made an announcement stating that the teacher in question had been criminally detained by the public security authorities and that legal actions will be taken based on the findings of the ongoing investigation into the incident. The school's principal and deputy principal of the school were also removed from their positions.
Following the incident, the boy's mother, Yang, spoke out about the incident at multiple occasions, as she was looking for justice. The way the school and authorities responded to the incident seemed to further exacerbate her despair, as more questions lingered.
Why was her child not sent to the nearest hospital after the incident? Why was the teacher driving so recklessly? Why was a car allowed to enter the primary school campus at all?
On the evening of June 2, Yang jumped from the 24th floor of a building in her residential community.
Cyberbullying
In the wake of this tragedy, the discussions on Chinese social media primarily revolve around the issue of cyberbullying. Many people believe that it was the online harassment Xiaotan's mother endured that ultimately led her to take her own life.
After the death of her son, Yang voiced her grievances in multiple ways. The woman, a successful local real estate agent, received online slander for dressing nicely or even because she wore makeup. Other people accused her of hyping her son's death to get more compensation, as she waited around the school for answers and an apology while mourning her son and talking to reporters.
Before her tragic death, Yang had published a post online in which she said she wanted to go and be together with her son (#坠楼离世母亲曾发文称想陪孩子一起去#).
Many people compared the story to that of Liu Xuezhou (刘学洲). The teenage boy became well-known in 2022 after an online search for his biological parents turned into a nightmare. Not only did Liu Xuezhou discover he was a victim of human trafficking, he also suffered online harassment. The situation eventually drove him to commit suicide.
One Weibo blogger (@开花富贵老娘发飙) highlighted that the Wuhan mother's death should not solely be attributed to online harassment but rather to the lack of psychological support for individuals who go through such immense tragedies and suddenly find themselves in the spotlight of online attention. The blogger emphasized the need for psychological intervention for victims like the mother in Wuhan and Liu Xuezhou, as they often resort to expressing their grievances online, only to become a target of cyberbullies.
Commentator Hu Xijin (胡锡进) also responded to the issue in a post on June 4, in which he highlighted that the case is tragic and complex, and that cyberbullying is one factor that worsened the mother's mental state. Online harassment must be avoided at all costs, Hu argued: "Internet users need to think about how to express their opinions without being harsh towards those who are grieving."
On Douyin, where Yang frequently posted, many people mourn the tragic death of both mother and son.
Meanwhile, multiple commenters note how the cars inside Wuhan's school campuses have disappeared, and that even outside of Wuhan in other cities in Hubei, there are no longer cars parked inside the primary school campus. Various sources report that, following the incident, it was announced that vehicles are no longer allowed to park inside school campuses.
On June 3, various bloggers also noted how accounts that were involved in the online harassment of Yang have now been restricted or blocked by the Weibo platform.
By Manya Koetse, with contributions by Miranda Barnes
For information and support on mental health and suicide, international helplines can be found at www.befrienders.org.
Get the story behind the hashtag. Subscribe to What's on Weibo here to receive our newsletter and get access to our latest articles:
Spotted a mistake or want to add something? Please let us know in comments below or email us. First-time commenters, please be patient – we will have to manually approve your comment before it appears.
©2023 Whatsonweibo. All rights reserved. Do not reproduce our content without permission – you can contact us at info@whatsonweibo.com.
When a Scene from a 2010 Chinese TV Drama Goes Viral: The 'Cao Cao Flips Rice Bowl' Meme
Cao Cao flipping the rice bowl is another Cao Cao meme that's widely used to convey internal struggles about facing reality.
These days, a viral meme originating from the Chinese TV series Three Kingdoms (三国) has gained significant traction on Chinese social media.
In a memorable scene from the 2010 series, Cao Cao, a prominent warlord in Chinese history played by actor Chen Jianbin (陈建斌), angrily flips his rice bowl upon receiving news of a surprise attack, only to gather the spilled rice back into the bowl later.
This scene featuring an enraged Cao Cao has resurfaced and struck a chord with individuals reluctantly facing reality.
This short scene from the 2010 Chinese historical drama "Three Kingdoms" – in which Cao Cao angrily flips over his rice bowl on the table and then shortly after puts it all back in the bowl – has gained significant traction on Chinese social media recently. pic.twitter.com/DrM3Xgi35F

— What's on Weibo (@WhatsOnWeibo) June 3, 2023
Turning into a popular meme, Cao Cao flipping the rice bowl has become widely employed to convey sentiments of self-inflicted humiliation or the hesitation to undertake certain actions.
The Context of the Scene
The specific scene comes from episode 12 of the Three Kingdoms. Warlord Cao Cao, who is governor of Yan Province, is enjoying his meal when his advisor comes in to inform him about a surprise attack by Chinese military general Lü Bu (吕布), capturing almost the entire province.
Upon receiving this alarming report, Cao Cao's anger flared, and he promptly flipped his rice bowl upside down on the table, an act now commonly referred to as "Cao Cao flips the rice bowl" (曹操盖饭).
Cao Cao's anger was intertwined with disbelief at Lü Bu's audacity to execute such a daring attack. Cao Cao's advisor swiftly clarified that the mastermind behind the attack was Lü Bu's strategist, Chen Gong (陈宫), who was also renowned as a brilliant strategist during the Three Kingdoms era.
As he grasped the true situation, Cao Cao gradually regained his composure and meticulously gathered the spilled rice back into his bowl – an act now known as "Cao Cao retrieving his bowl of rice" (曹操撤回了一碗饭),- before resuming his meal.
The catchphrase that is used to describe Cao Cao retrieving his rice utilizes the word "chèhuí" (撤回), which means "to recall" or "to retract." It can be understood as "Cao Cao recalled his bowl of rice," drawing a parallel to the recall function in WeChat that allows users to retract or cancel a message after it has been sent.
How To Use the Meme
The contrast between the forceful act of flipping the rice bowl and the subsequent unwillingness and silence displayed while putting the scattered rice back into the bowl is a key factor contributing to the meme's viral nature on the internet.
Netizens have creatively applied Cao Cao's meme in various situations to express their own internal struggles or a sense of self-inflicted humiliation they experience (自己打自己脸).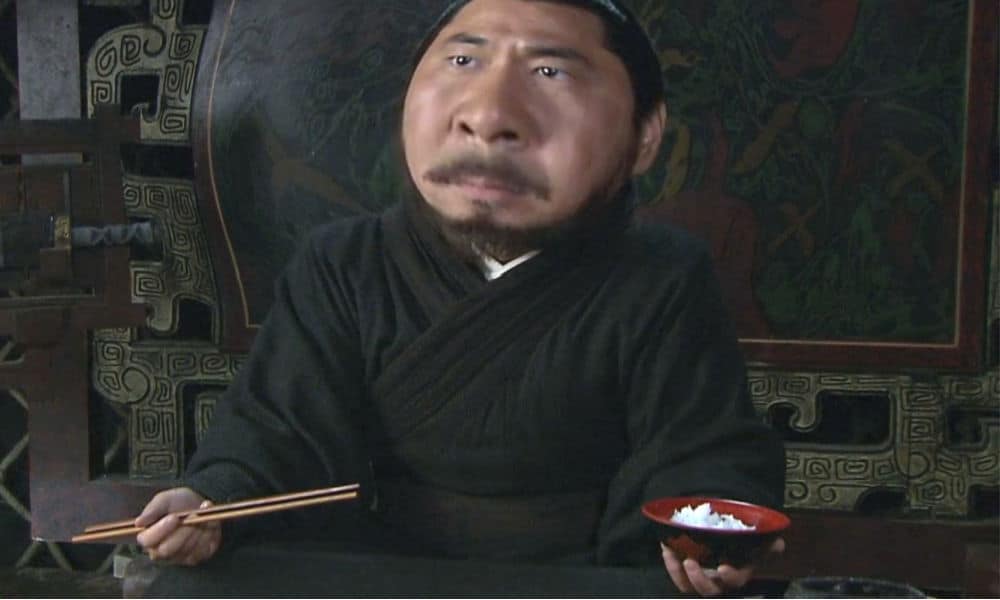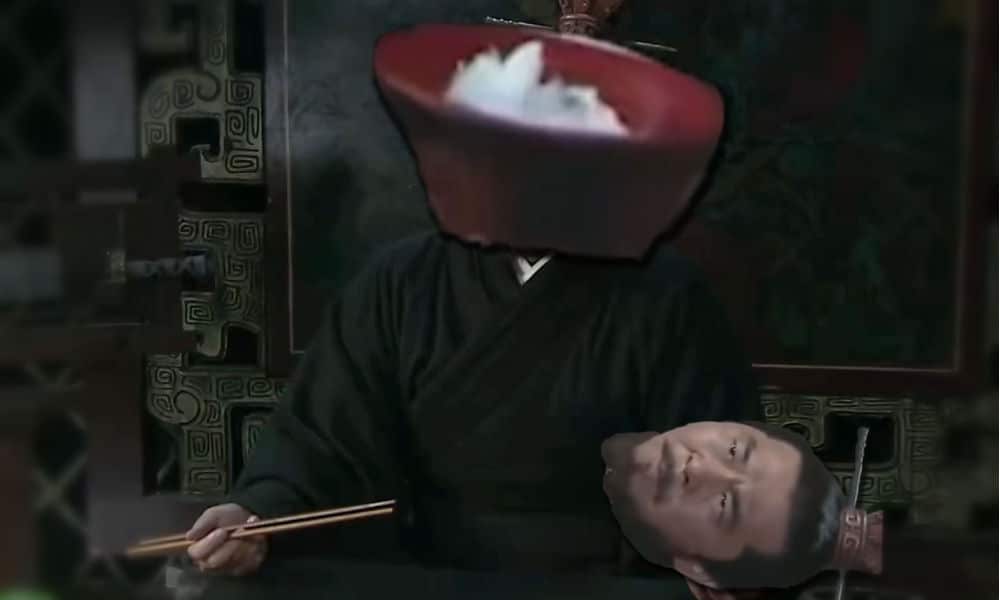 For instance, the meme effectively captures the feelings of both white-collar workers and students who utilize the "Cao Cao flips the rice bowl" meme on Fridays. On this day, they express their frustration with the demanding work week and their eagerness to leave their tasks behind.
On Friday it's f*ck this job… pic.twitter.com/S8cHTQOzgX

— What's on Weibo (@WhatsOnWeibo) June 3, 2023
However, the arrival of Monday brings a sense of reality as they realize the necessity of returning to the office or school. The "Cao Cao retrieves his bowl of rice" meme is then employed to represent the unavoidable resumption of their daily routines.
…on Monday, it's back to work… pic.twitter.com/ST1v8eqjyq

— What's on Weibo (@WhatsOnWeibo) June 3, 2023
In this regard, the meme is somewhat comparable to the English "F*ck This Job, *Goes to Work*" meme (link).
"Not Possible, Absolutely Not Possible"
It is not the first time for Three Kingdom's Cao Cao to achieve viral status through memes.
Prior to the emergence of the 'Cao Cao flips/retrieves the rice' meme, Cao Cao was already well-known for another meme phrase: "Not possible, absolutely not possible" ("不可能,绝对不可能").
This meme originated from a scene where Cao Cao received news of Liu Bei's rebellion, immediately after confidently asserting that Liu Bei, another major warlord, would never betray him.
The meme captures the essence of self-deception and the unwillingness to accept the truth. Similar to the current popular meme, this meme is often used to depict situations where someone unintentionally exposes their own flaws or contradicts their previous statements, symbolizing a self-inflicted "slap in the face."
Read more of our articles about memes in China here.
By Zilan Qian
Get the story behind the hashtag. Subscribe to What's on Weibo here to receive our newsletter and get access to our latest articles:
Spotted a mistake or want to add something? Please let us know in comments below or email us. First-time commenters, please be patient – we will have to manually approve your comment before it appears.
©2023 Whatsonweibo. All rights reserved. Do not reproduce our content without permission – you can contact us at info@whatsonweibo.com.
Subscribe to our newsletter
Stay updated on what's trending in China & get the story behind the hashtag
Sign up here to become a premium member of What's on Weibo today and gain access to all of our latest and premium content, as well as receive our exclusive newsletter. If you prefer to receive just our weekly newsletter with an overview of the latest, you can subscribe for free here.
Would you like to become a contributor, or do you have any tips or suggestions for us? Get in touch with us here.