"One Step Forward for Germany, One Step Back for China" – Weibo Discussions on Homosexuality
The June 30 concurrence of Germany legislating same-sex marriage and China banning "displays of homosexuality" in online videos, has triggered heated discussions on Chinese social media. Many Chinese express bittersweet feelings, saying that Germany's 'step forward' makes it all the more clear that China is going 'backward' when it comes to societal attitudes toward homosexuality.
The June 30 concurrence of Germany legislating same-sex marriage and China banning "displays of homosexuality" in online videos, has triggered heated discussions on Chinese social media. Many Chinese express bittersweet feelings, saying that Germany's 'step forward' makes it clear that China is going 'backward' when it comes to societal attitudes toward homosexuality.
On the same day that same-sex marriage was legalized in Germany, Chinese regulators issued new criteria for online programs that classify homosexuality as an "abnormal sexual relationship."
According to the new regulations that were released on Friday, online videos in mainland China can no longer portray "abnormal sexual relations," listing homosexuality together with incest and sexual abuse.
"It won't be long before our voice will be gone from Weibo. If we disappear, we hope you won't give up."
The new criteria drew a lot of criticism on social media. Many Chinese LGBT groups, including Comrade's Voice (@同志之声: 'comrade'- tóngzhì – is a common way to refer to gays), denounced how Chinese regulators represented homosexuality. Comrade's Voice even made a public plea, asking the regulators to correct their "errors," as they are "harmful to China's LGBT community."
Their Weibo post received over 23330 comments and 90000 shares within 24 hours. The post has since been locked for further comments.
On July 1st, Comrade's Voice wrote that their options for posting and commenting on Weibo had become limited, and that there were indications their account, which has over 160670 followers, might soon be closed by online regulators.
"We want to thank everyone for making Comrade's Voice such a powerful voice since it came into being in 2009. Our [recent] post received over 80.000 shares (..), we thank you for your courageous voices. The post has now been disabled for commenting and sharing. As we've seen with others, it won't be long before our voice will be gone from Weibo. If we disappear, we hope you will not give up on any opportunity to let your voices be heard. Equal rights don't come dropping from the sky. Please be kind-hearted and loving, please stay positive about the future. Our work won't stop (..). Our existence is in your hands."
Many commenters showed their support. One woman wrote: "As a mother, I won't stop fighting – my child has the right to choose whoever she wants to love when she grows up."
"I love men! I am guilty! I am at fault! I am inhumane!"
As news of the new criteria went viral on Chinese social media, news of the legalization of gay marriage in Germany also made headlines – only adding more fuel to the fire.
"I just don't know how to respond to this," one female netizen wrote: "I see both of these news items together in the list of trending topics,.. one about Germany's gay marriage legalization, and the other about Chinese censorship of displays of homosexuality,.."
"The opposite of this progress is what is happening in China," one person responded with a broken heart emoticon.
Others also pointed out that while Germany is going a step forward, China is going a step backwards ("一个在进步 一个在倒退"), especially now that online censorship has been sharpened. One person wrote:
"Why don't we just go back to dynastic rule?1 (..) Love for the country and love for the Party is not the same thing. I love China dearly. But now I can't do anything but helplessly look how she is being pestered. The 404 error pages just keep coming. The Hou Liang Ping case2, the Chinese table tennis team3, the Shanghai Nanjing West street incident4, etc etc. Is 2017 the year that things are going downhill? It is not that we do not love our country, but our country does not love us."
Another male netizen wrote:
"I love men! I am guilty! I am at fault! I am inhumane! I will wear the dunce cap (高帽子) and the horizontal banner, so that all the people can criticize and humiliate me!"5
In large numbers, Weibo netizens applauded Germany's new law and expressed their support for China's gay community. "I am not gay, but I am rooting for you," many said.
"Thank you all for raising your voices for the gay community. I know that the majority of people are heterosexual, but the fact that you are supportive gives us great courage," one 21-year-old netizen wrote.
"In reality, there are still many people in society who cannot accept gays."
"In Taiwan, gay marriage is legalized. In Germany , gay marriage is legalized. In China, homosexuality is 'abonormal sexual behavior'," some commenters wrote.
Many jokingly said that China might as well go back to the times when men wore a braided queue and women had their feet bound.
Although the vast majority of people on Weibo speak out in support of the LGBT community, there are also people who point out that these supportive voices on social media do not necessarily reflect the reality. He writes: "Online, you see how the majority of people here feel about homosexuality, but in reality, there are still many people in society who cannot accept gays. As for me, I would already be very happy if my family could accept my sexual orientation."
But today, rainbow flags are ubiquitous on Weibo and anti-gay comments are difficult to find. Virtually all commenters seem to agree that defining homosexuality as an "abnormality" along with incest and perversity, on the same day that Germany becomes the 23rd country to legalise gay maririage, is a step back for China.
One Weibo blogger by the name of TangTang posted on July 1st:
"I oppose the new online regulations.
1. Please tell me what freedom of speech is, because is this what it's supposed to be?
2. I am not homosexual, but I will defend to the death the rights of gay people.
3. I will wait and see when this post gets deleted."
By Manya Koetse
Follow @whatsonweibo
1*"现在的中国 要不把辫子留起来吧" Freely translated. Commenter literally says "how about we bring back the braids," referring to the common hairstyle of the Qing dynasty. The braided queue was also a sign of repression.
2 This is about allegations of sexual abuse at Beijing Film Academy: https://www.hongkongfp.com/2017/06/13/social-media-users-fight-back-weibo-censors-allegations-sexual-abuse-beijing-film-academy/
3 About the turmoil in the national table tennis team: https://chinadigitaltimes.net/2017/06/minitrue-quiet-top-players-ping-pong-protest/
4 East Nanjing Road protest over housing crackdown: http://shanghaiist.com/2017/06/12/shanghai-property-protest.php
5Practice during Cultural Revolution: http://www.bbc.com/news/world-asia-china-19807561
©2017 Whatsonweibo. All rights reserved. Do not reproduce our content without permission – you can contact us at info@whatsonweibo.com.
No Cookie-Cutter #MeToo Approach: An Overview of China's Me Too Movement
There is no China-based, Chinese #metoo movement as there is in the US and other countries.
In the months after the #Metoo movement first shook social media in the US and other countries, "#Metoo in China" has become a much-discussed topic. What's on Weibo provides an overview of what has happened in the PRC regarding the global #Metoo movement.
Ever since the #Metoo movement caught fire on social media with people sharing personal stories of sexual harassment, many journalists, China watchers, and Me Too activists have been closely watching if, and how, the #Metoo movement would surface in China.
More than five months after #Metoo particularly shook entertainment and media circles in the US, it has become evident that the #Metoo movement has not taken off in the PRC as it has in some other countries.
What is noticeable about those 'Me Too' stories that did become big in China, is that (1) they mostly relate to sexual harassment in academic circles, that (2) the majority is linked to US-based Chinese and the overseas Chinese community, and that (3) some stories on sexual harassment that went viral in China were only framed as '#Metoo' accounts by English-language media – not by the posters themselves.
Some US news outlets have determined that there is no 'me too' movement in China because it has been silenced by the government. Although there has in fact been online censorship regarding this issue, there is no sign of a truly China-based 'Me Too' movement in which regular female netizens collectively share their stories of sexual abuse in the way it has unfolded in many Western countries.
At time of writing, neither the #Metoo hashtag nor its Chinese equivalents (#我也是,#Metoo在中国, #米兔) were censored on Chinese social media platform Sina Weibo. In addition, contrary to some reports in English-language media, Chinese mainstream media have reported about the Me Too movement since October 2017, with some state-run media (e.g. CRI) serving as a platform for victims of sexual harassment to make their stories known to the public.
This is an overview of some important moments in mainland China since October regarding the global #Metoo movement.
---

15 October 2017: Me Too
Ten days after the New York Times first published an article detailing sexual harassment complaints against Hollywood mogul Harvey Weinstein, American actress Alyssa Milano posts a tweet that urges victims of sexual abuse to come forward using the words 'me too'.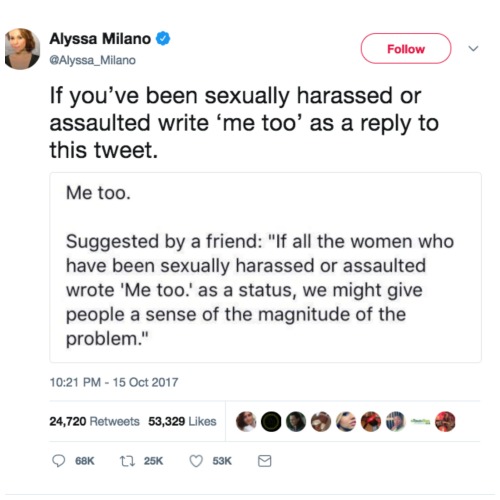 The 'me too' slogan was first used in 2006 by Tamara Burke to help sexual assault survivors in underprivileged communities.
#Metoo soon becomes a hashtag and movement that particularly rocks the American entertainment industry and focuses on the widespread prevalence of sexual assault and harassment, especially in the workplace.

16 October 2017: China Daily Controversy
The state-run newspaper China Daily publishes an opinion column by Canadian-Egyptian author Sava Hassan titled "Weinstein case demonstrates cultural differences," in which Hassan alleges that sexual harassment is less common in China because "Chinese traditional values and conservative attitudes tend to safeguard women against inappropriate behavior from members of the opposite gender."
The article is linked to on Twitter by China Daily, writing: "What prevents sexual harassment from being a common phenomenon in China, as it's in most Western societies?"
Over recent years, various surveys have pointed out that sexual harassment is, in fact, a problem in mainland China. A 2016 survey amongst over 2000 working females conducted by the Social Survey Center of China Youth Daily indicated that more than 30% experienced sexual harassment. Another survey by the China Family Planning Association also showed that more than 30% of China's college students have been sexually assaulted or harassed.
The article and tweet trigger waves of criticism and is temporarily taken offline. At time of writing, the article is available online again at the China Daily website.

October – November 2017: State Media Reports #Metoo
Various mainstream and state-run Chinese media extensively report about the "Me Too" movement in North America and elsewhere.
Some examples (in Chinese):
*People's Daily, October 30 2017: "我也是受害者!揭发性骚扰运动走上法国街头" ["I am also a victim! The movement to expose sexual harassment is heading to the streets of France."] http://world.people.com.cn/n1/2017/1031/c1002-29617842.html
*Xinhua, November 4 2017:"美国揭露性骚扰运动延烧到国会山" ["The US movement against sexual harassment extends to Capitol Hill."] http://www.xinhuanet.com/2017-11/04/c_1121905779.htm
*Xinhua, November 6 2017: "我也是"运动蔓延 美国会酝酿反性骚扰培训" ["As 'MeToo' movement grows, America explores anti-sexual harassment trainings."] http://www.xinhuanet.com/world/2017-11/06/c_129733177.htm
*Xinhua, November 11 2017: "随笔:"我也是",你有勇气说出吗?" ["'Me Too': Do You Have the Courage to Speak Out?"] http://www.xinhuanet.com/2017-11/16/c_1121965426.htm
*Sina News, December 1 2017: "大声地说出来 羞耻的不是你" ["Speak out loud: you are not the one to be ashamed."] http://news.sina.com.cn/c/2017-12-01/doc-ifyphtze2990099.shtml
*China Daily, December 6 2017 "《时代》揭晓2017年度人物:性骚扰丑闻"打破沉默者" ["Time announces Person of the Year 2017: those breaking the silence on sexual harassment."] http://language.chinadaily.com.cn/2017-12/07/content_35249891.htm


27 November 2017: Shanghai Harassment goes Viral
The 28-year-old Xu Yalu (nicknamed 'Brazil Teacher Xu' 巴西徐老师) posts on WeChat about how she has been harassed multiple times by the same man in Shanghai from 2013 to 2015, and that the police will not do anything to stop the man.
The article, titled "I was harassed three times within two years time by an old pervert" ("上海静安寺,我2年内被一个老色狼猥亵3次") receives more than 1.19 million views before it is taken down by Chinese censors. Three days later, Xu Yalu republishes her article on Zhihu.com where it is not taken offline.
Although the original article by Xu Yalu does not mention the '#metoo' hashtag once, this story is placed into a larger Chinese '#metoo' context by the New York Times and Reuters.

November 2017: Sophia Huang Xueqing Steps Forward for Chinese 'Metoo'
Huang Xueqin (黄雪琴 aka Sophia Huang Xueqing), a female reporter, launches a survey focused on the sexual harassment of Chinese female journalists and emerges as an initiator of a potential Chinese #Metoo movement by launching ATSH, an Anti-sexual harassment platform on WeChat.
Huang speaks to various English-language media about the silence with which the global #metoo movement is met in China. According to HKFP, Huang receives over 200 responses from female journalists, of which only 16% say they have never experienced sexual harassment.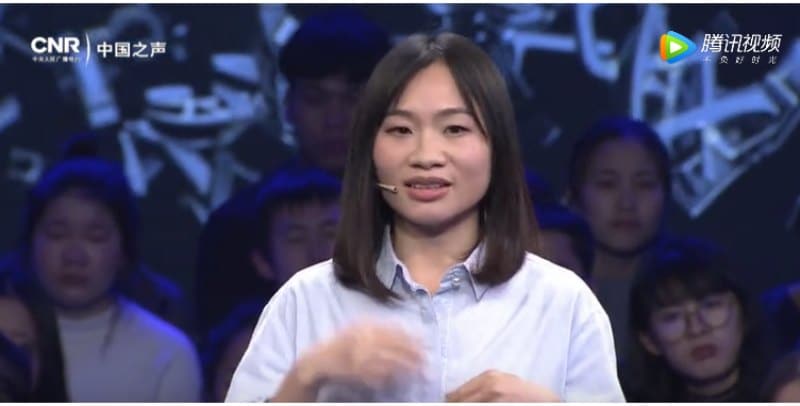 Later, in January, Huang publicly speaks out in a special show titled 'Hear me Speak' by the CRI TV programme "China's Voice" (中国之声) about the 'Metoo' movement in China and about her personal experiences being sexually harassed as a journalist.

1 January 2018: Wo Ye Shi
With the hashtag 'Wo Ye Shi' (#我也是, "#metoo") a US-based former doctoral student named Luo Qianqian (罗茜茜) comes forward on Chinese social media (@cici小居士) with sexual harassment allegations against her previous supervisor Chen Xiaowu (陈小武).
Luo accuses the award-winning professor Chen of sexually harassing her and several other students 12 years ago at Beihang University, also known as Beijing University of Aeronautics and Astronautics (BUAA). On the Chinese Q&A platform Zhihu.com, Luo shares how her supervisor attempted to force himself upon her. She also posts several testimonies online to support claims that Chen also sexually assaulted at least seven other students.
In a blog post on Weibo, Luo writes that she was inspired to come forward with her story when she first heard about the Harvey Weinstein scandal and the launch of the "#metoo" campaign on Twitter and Facebook.

4 January 2018: "Social movements play limited role"
State-run newspaper Global Times, commonly regarded a Party mouthpiece, publishes an article in which it addresses claims made by Western media outlets that "sex-related crimes are serious in China," but that the country "'rarely' takes sexual assault allegations seriously."
Although Global Times acknowledges that sexual violence is a problem in China, as it is in other countries, it also stresses that "social movements can only play a limited role in reducing sexual harassment."
Instead, it says that the most effective solution is that "more efforts should be put into establishing and perfecting laws and regulations so as to deter potential sexual violence and properly handle it if it happens."

7 January 2018: Fudan Survey
Former Fudan student 'Taoligeriler' (@桃莉格日勒在路上), inspired by Luo Xixi's account, starts a petition asking Fudan University in Shanghai to do more to tackle the problem of sexual harassment on campus.
SCMP reports that the petition collects 300 signatures in a day. On Weibo, Taogeriler writes: "About the petition against sexual harassment, I have asked a lot of people to join, but many people feel it does not have anything to do with them."

11 January 2018: "Say no to sexual harassment!"
After investigating the claims of Luo Qianqian and other former students, Beihang University fires Chen from his position. Three days later, the Education Departments also recalls his scholar title.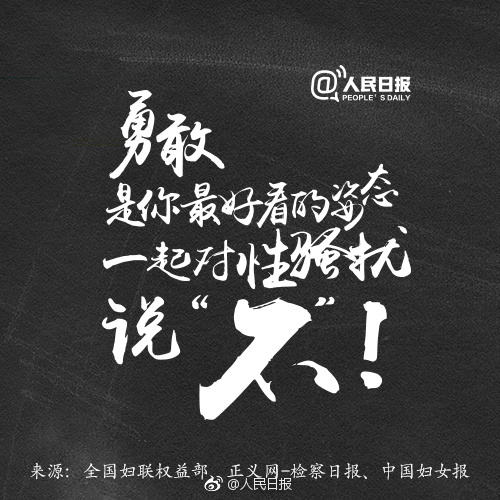 Meanwhile, Party newspaper People's Daily launches an online campaign titled "Being courageous is the best you can be. Turn things around and say no to sexual harassment!"

15-19 January 2018: Manifests and Hashtags
According to the South China Morning Post, students and alumni across China have been inspired by Luo's account to press their own universities for change. The report does not give out numbers, but estimate that "between 30 and 50 campaigns had emerged on social media over the past week."
One of them is an anti-sexual harassment manifesto drafted by Xu Kaibin 徐开彬, a journalism professor at Wuhan University. It is signed by approximately 50 instructors from over 30 Chinese colleges.
Although there are not many accounts of women sharing their own stories of sexual assault on Weibo, various hashtags emerge on Chinese social media as variations to #metoo. Besides #woyeshi (#我也是)there is also #MeTooInChina (#MeToo在中国).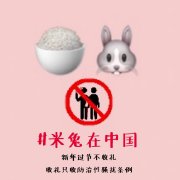 From January 17 to February 17, the hashtag #MeTooInChina gets temporarily blocked on Weibo. In response to this, Weibo users launch the alternative hashtag #mitu, written as #米兔, which literally means 'rice bunny', but sounds like the English #metoo, and the hashtag #MiTuinChina (#米兔在中国#).

31 January 2018: Chinese-American lawyer Hua Qiang's #Metoo
Chinese state-run news outlet CRI.com publishes a feature article about LA-based Chinese-American lawyer Hua Qiang (华强) who has joined the #metoo campaign by sharing her story of sexual harassment.
Hua Qiang tells CRI that during a 2008 annual conference for lawyers, an influential lawyer by the name of Malcolm S. McNeil gave her a ride home after her car broke down. On the highway, Hua states, the lawyer suddenly started harassing Hua, grabbing her bosom, while driving. Too afraid to cause an accident on the freeway, Hua was too scared to fight him off. His wide network and strong influence in the area also made Hua too afraid to speak out, until the #metoo movement arrived.

February 2018: MeToo in South Korea
The spread of the 'Me Too' movement in South Korea makes headlines in Chinese (state) media and becomes a topic of discussion on Chinese social media.

9 March 2018: Wang Ao Speaks Out
Chinese assistant professor of East Asian Studies Wang Ao (王敖) at Wesleyan University, Connecticut, writes an article on sexual harassment on Chinese social networking site Douban, in which he expresses his admiration of Luo Qianqian and her #MeToo story.
In a lengthy post*, Wang details sexual harassment cases he has encountered inside academic circles.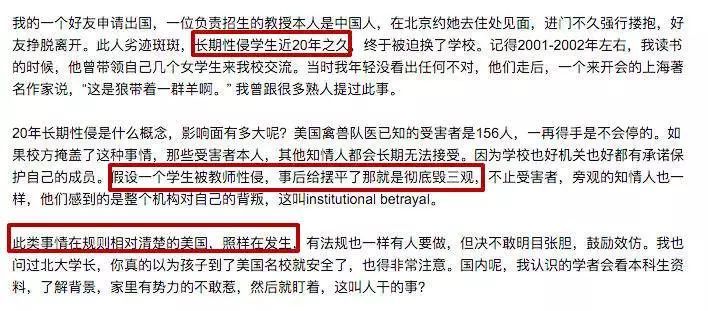 In one example, Wang tells about an acquaintance who planned to study overseas and received an invitation from the professor in charge of admissions. When she arrived at his Beijing residence, the man tried to grab her and she finally manages to escape. Wang also alleges that the same professor has been targeting students for more than 20 years, and even had to change schools because of it. Although Wang does not mention any names in his article, the Douban link is soon removed.

10-16 March 2018: The Gary Xu Scandal
Wang Ao publishes another article on March 10, first on Douban and then on Zhihu, in which he provides a name with the professor mentioned in his earlier story. According to Wang, it concerns Xu Gang (徐钢), better known as Gary Xu, a prominent art curator at the Shenzhen Biennale and associate professor of East Asian studies at the University of Illinois Urbana-Champaign (UIUC). UIUC is known for its large numbers of Chinese students.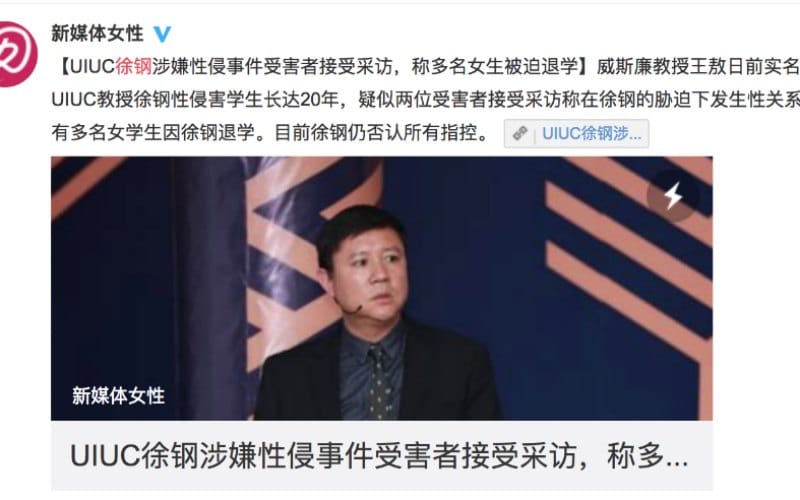 Wang adds that not only students but also some his own colleagues became a victim of Xu's improper conduct. A female commenter under the name "Survivor 2018" replies to the thread, telling her own story of alleged abuse by Xu Gang.
Chinese law graduates in North America start asking people to offer relevant information regarding Xu Gang's misconduct to be able to take legal actions against the professor.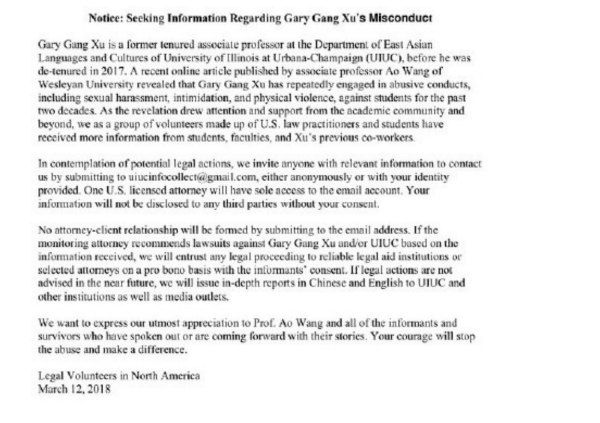 On March 16, Xu Gang posts a lengthy article through WeChat in response to the accusations made against him. Xu states that he supports the #MeToo movement, but that he denies any sexual misconduct allegations and says that Wang just aims to destroy his reputation.
Meanwhile, Chinese media outlet Sixth Tone reports that two women have come forward about sexual misconduct they say they experienced at the hands of Xu.
One woman told Sixth Tone she was forced into unwanted sexual actions with Xu, which she says "ruined her life" at the time. She furthermore claimed that other UIUC students also had sexual relations with Xu. In 2015, an undergraduate student already reported Gary Xu to the school for engaging in sexual misconduct with several female students.

March 19 2018: Gary Xu Non-Active
According to Sixth Tone, the University of Illinois responded to this case through email, saying that "the University investigates and takes appropriate action whenever conduct is reported that may jeopardize or impact the safety or security of our students or others," and that they are not allowed to discuss any potential investigations. They added that "Dr. Xu currently is not teaching any courses but will hold his tenured status until Aug. 16, 2018, when he will resign from the university."
Xu has since also been fired from his post as the curator of the upcoming 2018 Shenzhen Biennale.

March 20 2018: Various Hashtags
Many discussions using the 'metoo' hashtag on social media now relate to how the #metoo movement is gaining traction in South Korea.
*MeToo: 34.8 millions views, 20.000 comments, 241 fans of this hashtag.
*WoYeShi #我也是: 1.7 million views, 2339 comments, 6 followers of this hashtag.
*MeTooinChina #Metoo在中国#: 7.2 million views, 6941 comments, 134 followers of this hashtag.
*MiTu #米兔: 3.2 million views, 8050 comments, 0 followers.
*MiTuinChina #米兔在中国: 3.5 million views, 4456 comments that include this hashtag, 64 followers of this hashtag.

---
Besides discussions of the Gary Xu scandal and developments in South Korea, By now, there are sporadic discussions of China's 'metoo' movement on Weibo. "I still hope #metoo can influence China," one netizen (@末未木十) writes.
Another netizen says: "The #metoo movement is meaningful, but it hasn't really been able to become a reality in China."
"#MetooinChina has returned," one other Weibo user says: "But there's barely discussions about it anymore. Now, the hashtag "International Women's Day Against Harassment" (#三八反骚扰#) has been deleted. I wonder when that one will come back."
Perhaps saying that there is no Chinese MeToo movement at all is too crude; after all, there are important stories and initiatives in China that are connected to the global #metoo movement. But unlike in the US and other countries, these events have not led to a wider movement of common netizens widely sharing their own stories of abuse on social media.
Why is this the case? According to the Washington Post, it is because of China's "patriarchal culture and a male-dominated one-party state that obsessively protects those in power."
Stephany Zoo at RadiiChina says that 'metoo' has not taken off because China's business landscape is built on guanxi, relationships, and that speaking out would pose too much of a risk to individuals within such a stability-focused culture.
One Chinese blogger claims that China's metoo movement has been hindered by, amongst others, the decade-old abuse case of Tang Lanlan. This case triggered massive attention earlier this year when Chinese media exposed the identity of the victim, potentially ruining her chances to lead her life out of the public eye.
The Chinese so-called 'human flesh search engine' could cause victims of sexual abuse to become victimized once again by becoming the focus of attention in an online environment that is joined by more than 700 million people; in order to protect oneself, not speaking out in public might be the safer option in the eyes of many people.
But maybe there is also another reason for it, namely that some social movements emerge in a country because it is the right time and the place for it. Just as many Chinese movements have never emerged in the US, many American movements will have no success spouting up in the PRC. #Metoo is not a movement that can have a cookie-cutter approach – even if it does spring up in other countries, it will have different shapes, voices, and outcomes.
"Foreign media can report whatever they want [about China]," one Weibo commenter says: "In the end, it's up to us to pay attention to [the movements] we find important."
By Manya Koetse with contribution from Boyu Xiao
Follow @whatsonweibo
* title: 《关于学校里的性侵犯,我看到了什么,想了什么,能做什么》
Spotted a mistake or want to add something? Please let us know in comments below or email us.
Want to support what we do? Please see our donations page.
©2018 Whatsonweibo. All rights reserved. Do not reproduce our content without permission – you can contact us at info@whatsonweibo.com.
Liberal Writer Li Jingrui Angers Chinese Feminists: "Weaklings and Warriors Are Not Defined by Gender"
Why do prominent mainland liberals speak out against Chinese feminism?
While Chinese feminist social media accounts are facing an online crackdown, a major discussion has erupted on Weibo after prominent liberal writer Li Jingrui voiced her negative stance on the feminist movement in the PRC today. The incident highlights the existing conflict between 'mainland liberals' and 'mainland feminists.'
In the days following International Women's Day, discussions on feminism in the PRC have been buzzing on Chinese social media.
A discussion that particularly received attention on Chinese social media this week is one that is taking place between mainland liberal thinkers and Chinese feminists on the issue of women's power struggle in China.
The discussion was triggered when Li Jingrui (李静睿), a well-known female author and supporter of Chinese democratic activists, spoke out about China's feminist movement. An online crackdown affecting various feminism-related social media accounts fuelled the debate.
FEMINIST VOICES SILENCED

"The account won't be reactivated because it has posted 'sensitive and illegal information.'"
On the eve of March 8, the renowned feminist Weibo account 'Feminist Voices' (@女权之声), which had over 181,000 followers, was pulled offline after it had actively posted about Women's Day during the day. The Feminist Voices' Wechat account also disappeared the next day.
The Feminist Voices platform's founding editor Lü Pin (吕频) spoke out on Twitter about the issue, saying that she was told by Sina Weibo's customer service staff that the account would not be reactivated because it has posted "sensitive and illegal information."
Lü Pin stated that preceding the account's deletion, Feminist Voices had encouraged people on Weibo to announce their "anti-sexual harassment declaration" in response to the international #MeToo campaign.
Besides Feminist Voices, other accounts were also affected by the online crackdown around Women's Day 2018. Amongst them was the 'Feminist Forum' (女权主义贴吧), which saw more than 19,000 Weibo posts erased from the internet by late February.
THE LI JINGRUI CONTROVERSY

"I would never use my female sex as an excuse for being weak. Weaklings and warriors are not defined by gender."
While the heightened censorship caused outrage amongst many feminists on social media, a controversial post by the liberal writer and former legal journalist Li Jingrui (李静睿) popped up on Weibo. Li is well known for her involvement in social justice movements together with her husband Xiao Han (萧瀚), a prominent liberal scholar.
In her post, Li addressed the Chinese feminist movement, writing:
"I have no interest in the concept of social collectives, and I have no strong sense of gender awareness. I like to cook and do housework. I don't feel angered when I do these things, nor do I feel enslaved. Instead of focusing on gender issues, I prefer to study and discuss broader political and cultural issues, and spare no efforts to lead a serious and full intellectual life. I feel no hostility towards the male sex, and I do not feel like fighting them. I just feel guilty that I know there are certain things I really want to fight, but I do not have the guts to do so. I would never use my female gender as an excuse for being weak. Weaklings and warriors are not defined by gender. Lin Zhao* stood on the barricades. I hope I'll [continue to be] be aware of power and treasure freedom – I'll always fight for it. This has nothing to do with being a woman. It is a matter of humanity. Gender is not an obstacle, nor should it ever be an excuse."
*Lin Zhao is a prominent Chinese dissident who was imprisoned and later executed during the Cultural Revolution for her criticism of Mao Zedong's policies.
Shortly after Li Jingrui published her post, she received a lot of criticism from the online feminist community, of which many people previously supported Li for her contribution to civil rights activism in China, and for the fact that she and her husband address politic issues while facing strict censorship.
Some of the main problematic points of Li's post as addressed by disgruntled feminists on Weibo are the following:
– That Li considers feminism as a social collective.
– That she reinforces the stereotype that feminists hate cooking and cleaning, and that they dislike men.
– That Li is unaware of her privilege to be able to choose if she wants to cook or clean, but that many women do not enjoy that same privilege.
– That she implies that her intellectual goals are more important and of a 'higher standard' than feminist goals are.
– That she hints that feminists are cowards who hide behind their gender.
– That she does not realize that feminists pursue the same human equality and freedom as she herself does.
Another issue that caused some consternation online is that Li's husband Xiao Han also left a comment on Li's post saying he agreed with her stance. Some commenters used this against Li, saying that she is "brainwashed" by her husband and relies on him to build her self-worth.
BROADER POLITICAL TOPICS

"My friends who are lawyers, public intellectuals, or Tibetan, have no platform to have their voices heard."
In response to the controversy her post evoked, Li Jingrui published another post on March 8 in which she reiterated her idea that there are more important matters in China's public debate than feminist issues.
In this post, Li warns Chinese feminists that they still enjoy relative freedom of discussion compared to other activists in the PRC. Li mentions that lawyers, public intellectuals, and her "Tibetan friends" have since long been silenced and have no platform to speak from, something which seems to have already been "taken for granted."
Li explains that, instead of a focus on Chinese feminism, she would rather see attention shifted towards more "broad political topics" and to those whose voices are consistently silenced.
Her second post again received much criticism, with some commenters from feminist circles arguing that they were all facing "high censorship," and that those topics undergoing more censorship were not necessarily more important than those facing less control.
Li's main opponents come from a new generation of young Chinese feminists (both male and female) and online influentials such as Zhou Yun (周韵, @一音顷夏) or '@Linsantu.'[1]
But Li also received much support from like-minded commenters, including from influential accounts such as Luo Zhiqiu (@洛之秋) and Dagudu (@大咕咕咕鸡).
People speaking out for Li claimed that Chinese feminists are not "real feminists," but "feminazis" (女权纳粹) or "countryside feminists" (中华田园女权: a term to describe women who label themselves as feminists but cherry pick the rights they think they should have).
In their defense of Li Jingrui, these commenters say that people such as Li and her husband are fighting the "real fight," and are in touch with reality, supposedly unlike the Chinese feminists they attack.
MAINLAND LIBERALS VERSUS CHINESE FEMINISTS

"Li Jingrui just prioritizes human rights over women's rights, what's wrong with that?"
This is not the first time that China's 'mainland liberals' clash with feminists. In "Mainland Liberalism and Feminism" (大陆自由派和女权主义 2016), Weibo blogger @bdf84 writes: "We may think that liberals pursue freedom and democracy, and oppose the oppression of totalitarianism. And since feminists oppose the oppression of women, the two are seemingly natural allies. But this is not true." [2]
Although both mainland liberals and feminists care about people's equality and oppression, their perspective on how oppression works and freedom can be attained is radically different. Whereas feminists mostly seek to explain (female) oppression through social and cultural (gender) constructions, mainland liberals are concerned with political systems, and generally, do not believe that culturally constructed power dimensions constitute oppression.
Now that the Li Jingrui has gained much attention on Chinese social media, there are also some people who do not understand the two sides of the discussion. "Since when do human rights oppose women's rights?", one netizen (@文盲摇曳有声) wonders. "Li Jingrui just prioritizes human rights over women's rights, what's wrong with that?", others write.
But the two sides of the discussion show no signs of mutual understanding, as some feminist commenters respond with much indignation and are met with derision by their opponents.
Meanwhile, as fierce online debates continue, Li Jingrui has deleted the posts on her Weibo account related to the discussion. "My personal life has come under attack," she says: "It's useless. In the future, I will not participate in these kinds of discussions again."
On Twitter, the editor of Feminist Voices is not involved in these discussions – she is mourning the account's erasure during the recent crackdown. "The trace of us has been totally erased from social media in China," Lü Pin writes: "We are still in shock."
By Boyu Xiao & Manya Koetse
Follow @whatsonweibo
[1] As described by Hariette Evans on Wagic.com, these new feminist communities are often transnational. @Linsantu, for example, is a Columbia University graduate, whereas Zhou Yun is a PhD candidate at Harvard University's Sociology department.
[2] A 2013 article by Li Sipan (李思磐, alias of the political sociologist Li Jun) titled "Why don't Chinese mainland liberals support feminism?" ("中国大陆自由主义者为何不支持女权主义?") is also fully focused on this polarized discussion.
Spotted a mistake or want to add something? Please let us know in comments below or email us.
©2018 Whatsonweibo. All rights reserved. Do not reproduce our content without permission – you can contact us at info@whatsonweibo.com.