The Controversial Case of the Chinese Gene-Edited Baby Twins & Reactions on Weibo
He Jiankui's claim of "gene-edited twins" has sparked international uproar.
The claim by Chinese researcher He Jiankui that he has edited the genes of two babies to make them resistant to HIV has sparked outrage worldwide. On Weibo, responses are mixed.
Over the past week, news that a Chinese researcher from Shenzen has helped make the world's first genetically edited babies has made international headlines.
Chinese doctor He Jiankui (贺建奎) and his research team have allegedly succeeded in altering the DNA of embryos, making them resistant to HIV. The twin girls were born this month.
The news was revealed on Monday, November 26, at the Human Genome Editing Summit (国际人类基因组编辑峰会) in Hong Kong, and earlier in exclusive interviews with the Associated Press. According to AP, He and his team have altered embryos for seven couples during fertility treatments, with one pregnancy resulting thus far. An eighth couple had initially agreed to participate, but later withdrew from the project.
The parents involved reportedly declined to be identified or interviewed, and details on where this was done or where the parents of the twin live have not been revealed. The twin girls are only known as 'Lulu' (露露) and 'Nana' (娜娜).
The researcher, whose work received massive criticism from the international science community, apologized on Wednesday that his research "was leaked unexpectedly," but still said he was "proud" of altering the genes of twin girls so they could not contract HIV, BBC reports.
He Jiankui is an associate professor at Shenzhen's Southern University of Science and Technology of China, but said that his research was not affiliated with the institute. The University also stated that his research violates its academic ethics, and that He is currently under investigation.
On Weibo and other Chinese social media, the topic has received great attention over the past few days. The Weibo hashtag "Gene-edited Babies" (#基因编辑婴儿#) received over 250 million views over the past two days, while the hashtag "First Case of Gene-Edited HIV Immune Babies" (#首例免疫艾滋病基因编辑婴儿#) had received 1,6 billion (!) views at time of writing.
People have responded to the controversial experiment with mixed reactions. A majority of netizens simply wonder why the researcher has not been arrested yet and what charges He may face.
But there are also quite some commenters who think the researcher has done groundbreaking work that will be important for the future. "In one hundred years time, this might be considered pioneering work. The pioneers will always be the target of an attack," some popular comments say, with others agreeing: "New things will always be questioned and criticized."
But then there are also those who care most about the babies, and some who think the controversial project damages China's image. "These poor little babies have been used as guinea pigs, they will probably be followed by scientists their entire lives to be researched. What were those parents thinking? Nobody knows what kinds of effects this kind of remolding might have! This is a violation of the laws of nature."
Others say: "This is unfortunate for the children, it is unfortunate for China, and it is unfortunate for mankind."
Chinese state media report that the National Health Commission of the People's Republic of China is currently investigating this case.
By Manya Koetse
Follow @whatsonweibo
Spotted a mistake or want to add something? Please let us know in comments below or email us.
©2018 Whatsonweibo. All rights reserved. Do not reproduce our content without permission – you can contact us at info@whatsonweibo.com
China's COVID-19 Vaccine Freebies: Get One Vaccine, Get Milk & Eggs for Free!
"Do I get free transport and a freebie with that vaccine?"
While American vaccine incentives – where some counties would offer a free beer and fries to encourage more Americans to get the COVID-19 vaccine – made international headlines, Chinese vaccine incentives have also been attracting the attention on Weibo and beyond.
Forget about free beer and fries. How about getting free milk, eggs, toilet paper, laundry detergent, or sesame oil after getting your shot? In China, and especially in Shanghai, some local vaccine sites have been offering all kinds of noteworthy freebies to encourage citizens to come and get their shots.
Since March and April of this year, netizens are sharing photos of COVID-19 vaccine posters online, such as this one, where you get a carton of milk after getting vaccinated: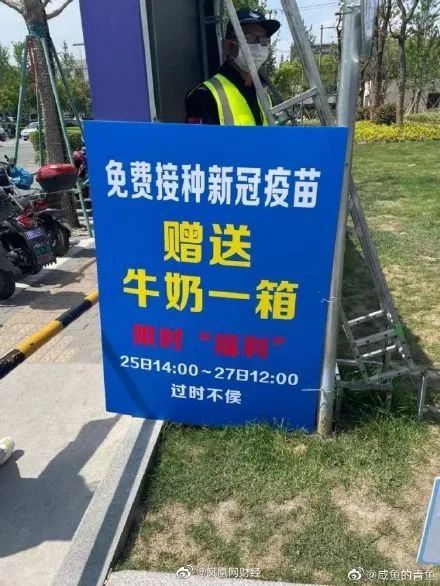 Or these, where you get free vegetable oil or sesame oil:
Or how about two boxes of eggs?
One local initiative even offered free toilet paper earlier this year:
Another place in Shanghai offered bags of rice for free with your shot:
And others offered free pick-up services to those getting vaccinated:
Here you see people leaving with their milk cartons (and vaccinated!):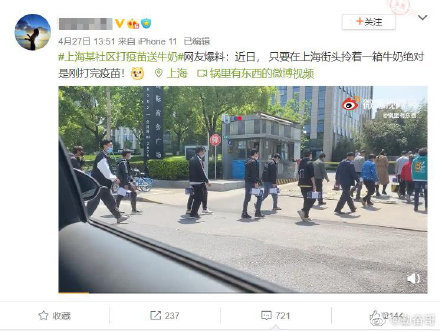 The freebies were meant to encourage more people to get their shots. But because of recent new COVID-19 cases in places like Anhui and Liaoning, more people are now in a rush to get vaccinated. Viral videos and posts on social media showed long queues at vaccine sites.
Popular WeChat account Xinwenge (新闻哥) reported a rapid shift in attitudes among young people towards getting the vaccine, from "do I get free transport and a freebie with that vaccine?" to "I'll stand in line and do anything as long as I can get vaccinated."
Is it a concert? Is it a lottery? No, it's covid-19 vaccines. pic.twitter.com/mF4FjyD87G

— Manya Koetse (@manyapan) May 18, 2021
"Confirmed local cases will motivate people more [to get the vaccine] than eggs and milk," one blogger from Guangdong wrote on Weibo.
Despite the surge of people going out to get their vaccine, some places still offer vaccine freebies. On social media, people are sharing the photos of their 'vaccine souvenirs'; plastic bags with milk and cookies.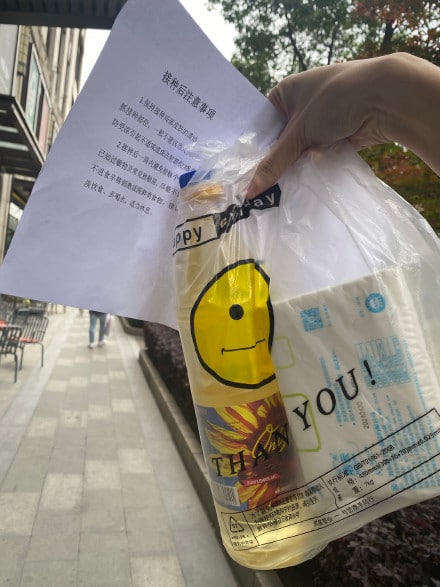 One Weibo user writes: "I was never so enthusiastic about getting my shot, until I heard they offered free milk and laundry detergent."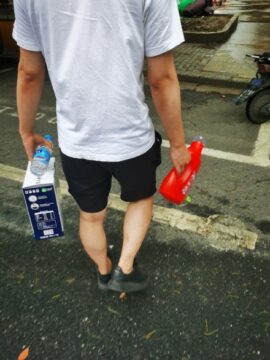 Another Weibo user also shows off their 'vaccine present', getting free milk, soap, and rice with their COVID-19 vaccine: "And I didn't even have to stand in line!"
By Manya Koetse & Miranda Barnes
Spotted a mistake or want to add something? Please let us know in comments below or email us. First-time commenters, please be patient – we will have to manually approve your comment before it appears.
©2021 Whatsonweibo. All rights reserved. Do not reproduce our content without permission – you can contact us at info@whatsonweibo.com.
Chinese Doctor Knocks Herself Out in Controversial Self-Experiment
Dr. Chen wanted to warn about the dangers of sevoflurane and other drugs.
A female doctor has become a topic of discussion on Chinese social media for her self-experimentation with anesthesia.
Dr. Chen (陈大夫), a Nanjing doctor who works in the Obstetrics and Gynecology department, conducted the experiment in response to an ongoing discussion on whether or not a handkerchief dipped in inhalation anesthetics could cause immediate unconsciousness ("一捂就晕").
The discussion was triggered by news of the death of a 23-year-old woman from Foshan, Guangdong Province, on February 8. The recent college graduate was found in a hotel room and it was later ruled that the cause of death was acute respiratory failure due to sevoflurane toxicity. The victim's company supervisor, a 39-year-old man named Peng, is now suspected of fatally sedating and raping the young woman.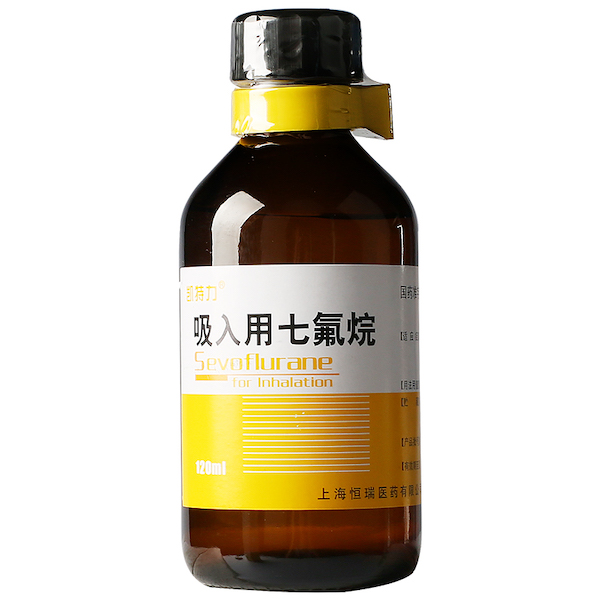 The case led to speculation among netizens whether or not sevoflurane could have knocked out the woman in seconds. There have been ongoing debates on the effects of general anesthetics used to sedate unsuspected victims, with some specialists arguing that it is not so easy to make someone slip into unconsciousness within a matter of seconds – saying it would take much longer than and only if an unusually high dosage is used.
Dr. Chen posted on February 10 that she was certain that it is possible for certain inhalation anesthetics to immediately make someone pass out, but her claim was refuted by others. The popular Weibo blogger Jiangning Popo (@江宁婆婆), a police officer, was one of the persons involved in the discussion claiming Chen was wrong.
Dr. Chen is active on Weibo under the handle @妇产科的陈大夫, and with over two million followers on her account, she is somewhat of a 'celebrity' doctor.
Instead of spending time arguing back and forth on the internet, Dr. Chen decided to put the issue to the test herself with an unopened bottle of sevoflurane that she had previously purchased for the planned sterilization of her dog. The sevoflurane had already passed its expiry date.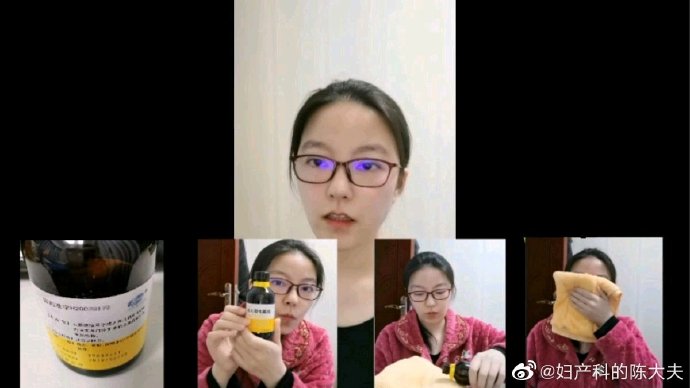 On February 16, Dr. Chen then asked someone else to film her doing the self-experiment and she posted the video on Weibo, in which she inhaled sevoflurane on a cloth. The doctor soon passed out in the video, which has since been deleted.
The experiment in the video lasts 64 seconds, and shows Chen:
– 00:01-00:06 Opening the bottle of sevoflurane
– 00:07-00:12 Preparing a cloth
– 00:13-00:23 Putting the sevoflurane on the cloth
– 00:23-00:26 Closing the cap of the bottle
– 00:27-00:28 Putting the cloth on her mouth and nose
– 00:29-01:33 = the time frame of losing consciousness (with first symptoms starting at 0:44) to going limp and falling on the floor (1:20) and being completely unconscious (1:21-1:33).
Dr. Chen's experiment immediately sparked controversy after she posted the video on social media.
Although sevoflurane is a prescription drug and a controlled substance, it is also sold online as a type of drug. According to The Paper, the number of rape cases in China facilitated by drugs have risen over the past three years, with many 'date rape drugs' being sold and bought over the internet.
With sevoflurane being a controlled substance, Dr. Chen's video triggered discussions on whether or not she was actually involving in a criminal act by doing the self-experiment. She also received criticism from within the medical community that she used this medication outside of the hospital environment.
Dr. Chen soon deleted the video herself and then called the police to personally explain and apologize for the incident, with the news soon going viral (#女医生拿自己做实验后报警并致歉#, 270 million views).
But despite the controversy, the doctor still defends her actions to some extend. Although Chen stated on February 17 that her self-experiment was "not right," dangerous, and should never be imitated by anyone, she later also explained on her Weibo page that she thinks sevoflurane as a prescription drug is too easy to get your hands on and that the existing laws to prevent people from buying it are too weak.
The doctor has succeeded in raising public awareness on the dangers of these kinds of drugs. She also reminds both women and men never to leave their drink unattended, as the dangers of someone slipping something in your drink are real and the consequences can be grave.
As the incident has gone trending on Chinese social media, many commenters praise Dr. Chen for her experiment, while others also praise her for being transparent and admitting her mistakes.

By Manya Koetse
with contributions by Miranda Barnes
Follow @whatsonweibo
Spotted a mistake or want to add something? Please let us know in comments below or email us. First-time commenters, please be patient – we will have to manually approve your comment before it appears.
©2021 Whatsonweibo. All rights reserved. Do not reproduce our content without permission – you can contact us at info@whatsonweibo.com.