Overview of the Dolce&Gabbana China Marketing Disaster Through Weibo Hashtags
The D&G China marketing crisis in hashtags.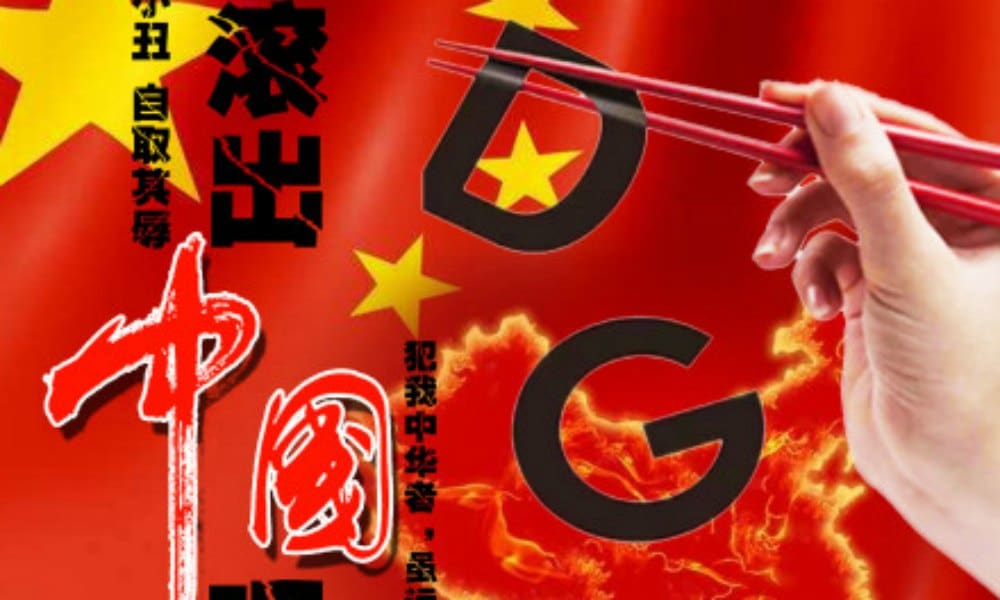 First published
The controversies surrounding Italian fashion brand D&G in China have been dominating Weibo's top trending lists this week. Because it's a somewhat messy affair, we'll explain the story hashtag by hashtag.
November of 2018 will go down in Dolce & Gabbana history for the China marketing nightmare that has been unfolding over the recent days.
The Italian fashion house, that has been founded in 1985 by designers Domenico Dolce and Stefano Gabbana, is now facing consumer outrage and backlash on Chinese social media. Chinese e-commerce sites have removed Dolce & Gabbana products and Chinese netizens are posting photos of empty D&G stores.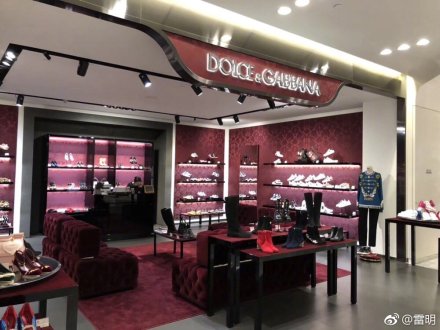 An overview of what has happened over the past week through Weibo hashtags:

SUNDAY, NOVEMBER 18
"DG LOVES CHINA" #DG爱中国#
15,7 MILLION VIEWS – On Sunday, November 18, Dolce & Gabbana posted three videos to social media in a series titled "Eating With Chopsticks" in light of its "DG Loves China" campaign, promoting its upcoming big fashion show in Shanghai that would take place on Wednesday, November 21st.
The brand had been doing quite well in China in the month before. The Digital Crew website wrote in October that D&G had "hit the nail on the right spot" with their recent move to cast Chinese celebrity Dilraba Dilmurat and Chinese stylist Han Huohuo at their Milan fashion show catwalk, receiving praise from Chinese netizens.
Its new video campaign, however, was not received with praise. The videos feature a Chinese-looking model dressed in D&G clothes using chopsticks to eat Italian dishes such as pizza, cannoli, and spaghetti. Unsuccessful at clumsily trying to eat these dishes, a male Chinese voice-over in the video then suggests things such as that the cannoli might be "too big" for the lady, and that she could try by digging in and eating smaller pieces with her chopsticks.
(Watch all clips here on Youtube and judge for yourself.)
The clips were not much appreciated for various reasons. Some Chinese netizens thought the campaign was making fun of Chinese chopsticks, others thought the comment of the Italian bread being "too big" for the Chinese model had a sexist undertone.
"A disgusting campaign," some called it.
Meanwhile, English-language media wrote that Dolce & Gabbana's latest campaign was called "racism" by Chinese. Although the ad was indeed called racist by some Chinese on Weibo, the majority of commenters were mainly upset about the portrayal of chopsticks in the series. The hashtag "D&G Ad" (#DG广告#) received 170 million views.

WEDNESDAY, NOVEMBER 23
"D&G SUSPECTED OF INSULTING CHINA" #DG涉嫌辱华#
410 MILLION VIEWS – The social media storm snowballed out of control after screenshots of comments attributed to fashion designer Stefano Gabbana went viral on Wednesday, also being reposted by major Chinese state media accounts such as Global Times.
Various Instagram screenshots showed how, from the account of Stefano Gabbana, statements were made about China being a "shit country" and other derogatory remarks.
The screenshots were posted by Instagram user Michaela Phuong Thanh Tranova (@michaelatranova), a fashion business student, although it is still unclear why this Instagram user would have a private Instagram conversation with Stefano Gabbana and whether or not they are acquainted.
The statements went viral on Chinese social media, where they led to waves of criticism and anger, with people defending China and calling for a boycott of D&G.
Amid the allegations, the designer on Wednesday said that his Instagram account had been hacked and posted an image with the words "NOT ME" written across one of Tranova's screenshots. The company similarly claimed to have been hacked in a statement posted on its official Instagram page. "We have nothing but respect for China and the people of China," the statement read.

WEDNESDAY, NOVEMBER 21
"DG BIG SHOW CANCELED" #DG大秀取消#
820 MILLION VIEWS – Later on Wednesday, the D&G issue hit the topic trending lists on Weibo, when it was announced that the big Shanghai fashion show was called off.
According to Jing Daily, it was China's Cultural and Tourism Department that ordered Dolce & Gabbana to cancel the event, just a few hours before it was scheduled to take place and amid reports that Chinese celebrities were canceling their attendance at the show for the fact that the brand was "insulting to China" (辱华).
The official D&G account did not mention the reason for the cancelation, nor who ordered it, but just wrote on Weibo: "The fashion show that was planned on November 21st at 20.00 has been rescheduled due to circumstances, we deeply regret any inconvenience caused."
By now, the online anger about D&G insulting China through its ad and Gabbana's statements had grown so big, that most people simply wished for the Italian fashion house to "get lost."

FRIDAY, NOVEMBER 23
"DG USES CHINESE TO APOLOGIZE" #DG用中文道歉#
360 MILLION VIEWS – On Friday afternoon, China time, Dolce and Gabbana released an apology video on its official Weibo account. The video shows Domenico Dolce and Stefano Gabbana sitting at a table with grave expressions on their face (see embedded Tweet below).
The founder of @dolcegabbana said sorry in Chinese to all Chinese people around the world, saying that they will respect Chinese culture more. The apology video was posted on its official Weibo account in China. pic.twitter.com/ADflYhMIhC

— Global Times (@globaltimesnews) 23 november 2018
The two speak in Italian as they say that they "feel very grieved" over what their "statements and actions" have brought about "for Chinese people and their country" over the past few days, and that they hope they can be forgiven for their "misunderstanding of [Chinese] culture."
They end the video by apologizing in Chinese, saying "duibuqi".
Before midnight, the video had received more than 166,000 comments and more than half a million shares. Over 100,000 people 'liked' the post.
Among the most popular comments, there were those inquiring if Gabbana's Instagram had been hacked or not, since the video does not mention it. "Were you hacked or not, because if you weren't, then I won't accept your apology," one of the most popular comments said.

FRIDAY, NOVEMBER 23
"Requesting D&G Money Back" #DG柜姐回应退预存金#
160 MILLION VIEWS – Meanwhile, a screenshot of a WeChat conversation between a customer seeking a refund and a representative from Dolce & Gabbana Hangzhou also has gone viral on Chinese social media, ending up in the top ten charts of the day.
The screenshots show that the woman demands back a deposit she paid D&G of 2400 yuan ($346), saying she no longer wants to wear the brand for fear people would "throw sh*t at her."
D&G Hangzhou then responded to the issue, saying that they would not refund money because of this "temporary crisis."
"A temporary storm can also turn into a permanent one," some commenters said.
Whether or not this "temporary" storm will indeed turn into a serious long-term China marketing crisis for D&G is yet to be seen. In the past, Daimler China also found itself at the center of a social media storm in China after using a Dalai Lama quote in its advertisement in March of this year (listen to this BBC news fragment here), which seemingly had little consequences for the brand, as it is still expanding in China.
The Lotte group also faced serious backlash in China in light of the THAAD crisis. The Lotte boycott of 2017 in the end turned out to be critical for the brand's presence in China, with the group losing $46 million every quarter due to the China situation.
By Manya Koetse, with contributions from Miranda Barnes
Follow @whatsonweibo
Spotted a mistake or want to add something? Please let us know in comments below or email us.
©2018 Whatsonweibo. All rights reserved. Do not reproduce our content without permission – you can contact us at info@whatsonweibo.com
Shanghai Disney's Crystal Castle Sold for RMB 1.8 Million
Shanghai Disney's cherished object was sold off to the "dirty rich."
Who'd spend RMB 1.8 million on a small crystal Disney castle? For most Weibo commenters, it's just a castle in the air.
Almost three years after Shanghai Disney first opened its doors, its sparkling 'enchanted storybook' crystal castle has now been sold for RMB 1.8 million ($276.500).
The minitiature bling bling castle has been an eyecatcher and a much-photographed object at the Disney resort.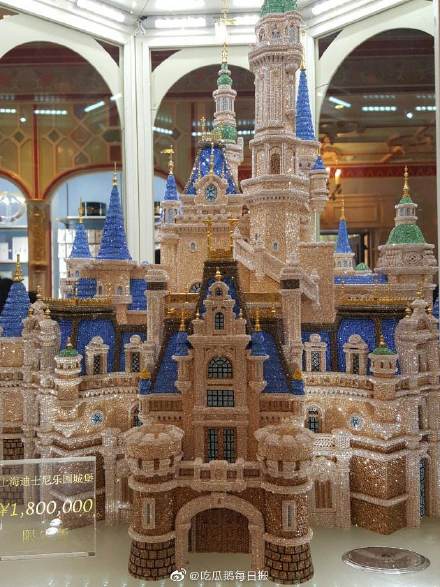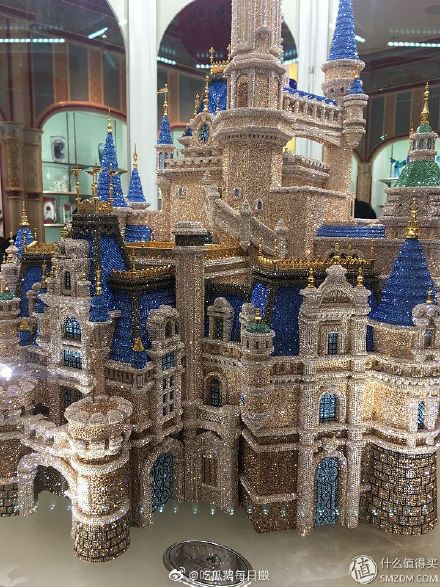 Today, the hashtag "1.8 Million Shanghai Disney Crystal Castle Sold" (#迪士尼180万水晶城堡被买走#) went trending on Sina Weibo with some 180 million views, with many people wondering what kind of person would spend so much money on a decorative crystal castle.
According to a Weibo user, the castle was bought by a "tuhao" (土豪), Chinese slang for a "dirty rich" or extravagantly wealthy person (more info).
"Even if was RMB 180 [$27], I still wouldn't be able to afford it," a popular comment said.
"I went there just some days ago and was joking about whether someone would actually ever buy it – now it's sold!"
"I'm happy I was still able to see it [before it was sold]," many commenters write, with hundreds of people sharing their own photos of the little castle. In 2017 alone, the park attracted 11 million visitors.
For the same price of the small crystal castle, the buyer could have visited the park 3706 times during high season (a peak season entrance ticket is priced at RMB 499/$75).
The display where the crystal palace was shined now shows a bronze statue of Frozen.
By Manya Koetse
Spotted a mistake or want to add something? Please let us know in comments below or email us.
©2019 Whatsonweibo. All rights reserved. Do not reproduce our content without permission – you can contact us at info@whatsonweibo.com
Digitalizing China's Beauty Industry: Introducing Supermakeup's 'Beauty Charging Stations'
Are 'makeup charging stations' the next trend in China's beauty industry?
You're on the road and need a skin, make-up, or hair fix-up before your next appointment, but have no time for a spa session and would rather avoid dirty toilet rooms? These are the kinds of situations that Beijing's Supermakeup company has claimed to have found the solution for.
With its 'beauty charging stations' in public urban spaces, the Supermakeup company is trying to launch a new kind of beauty industry where women can use their self-service 'spa booths' and make-up product stores in the middle of a street or shopping mall.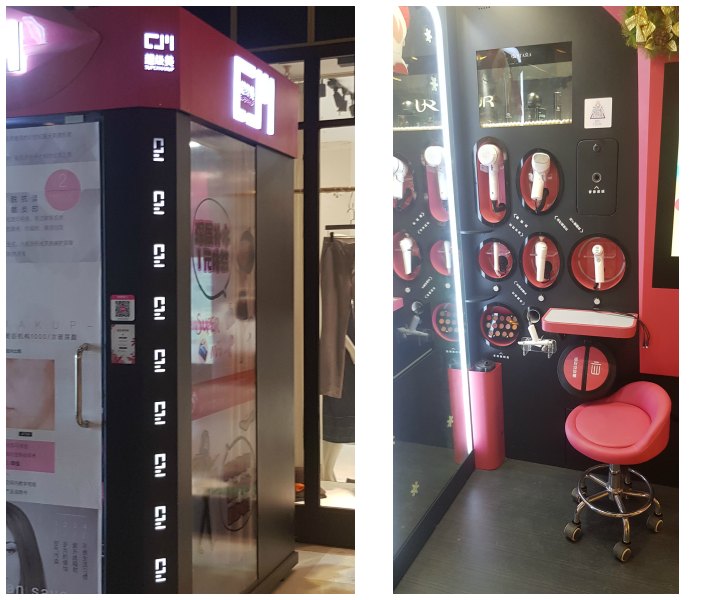 Access to the booths is provided through the Supermakeup app or via its WeChat programme, and payment of products and access is done via WeChat Pay.
The Supermakeup Company (北京超级美科技有限公司) was established in March of 2018 and is headquartered in Beijing.
Will this be the big next trend that will further digitalize China's beauty industry? We tried it out for you, check out our latest video below.
By Manya Koetse 
Spotted a mistake or want to add something? Please email us.
©2019 Whatsonweibo. All rights reserved. Do not reproduce our content without permission – you can contact us at info@whatsonweibo.com.