Tradition or Abuse? Chinese Views on the Yulin Dog Meat Festival
What is the general view on the dog meat festival within the PRC?
The start of the annual Yulin Dog Meat Festival has made global headlines, with international celebrities and politicians condemning the event. The tradition has mainly sparked outrage outside of China, but what is the general view on the dog meat festival within the PRC?
The controversial annual Yulin Dog Meat Festival (玉林狗肉节) has started in the southwestern Chinese province of Guangxi, despite loud voices protesting its takeoff this year. The festival, that is now internationally condemned by celebrities and politicians, draws mixed reactions on Chinese social media platforms.
A MORAL AND LEGAL ISSUE
"Is this even legal? That's the question."
Although many dog lovers and animal welfare campaigners from around the world call on the Chinese government to stop the festival and its dog meat industry, China's Foreign Ministry spokesperson Hua Chunying recently clarified that the Yulin government has never supported or organized the festival.
The event, that is locally organized by city residents, starts from June 21st every year and has been drawing controversy since 2010. The recurring festival celebrates the summer solstice by eating lychees and dog meat. An abundance of food stalls in Yulin sell dog meat specialties throughout the event, that allegedly is a long-standing local tradition. It is estimated that around 10.000 dogs are slaughtered during the ten-day festival (Yan 2015, 46).
Is this even legal? That's the question. China has no law that bans the eating of dogs; eating dog meat is a personal freedom. This suggests that the controversy over the Yulin event is purely moral and not legal.
But what makes the issue murky and extra troublesome for dog lovers and animal welfare campaigners is that China actually has no legal dog farms, nor legal dog slaughter houses. It is therefore not clear where the Yulin festival dogs come from. Are they stray dogs? Are they "victims of dognapping"? And if so, would this not be considered illegal (Cao 2014; Yan 2015, 46)?
It is these questions, and the persisting reports of animal cruelty during the event, that have made Yulin's Dog Meat festival extremely controversial – not just internationally, but also within China, where more and more people are now denouncing the annual dog-meat-fest.
MORE RESOLUTE OPPONENTS
"62% of Chinese surveyees think the dog meat festival harms China's international reputation"
Over recent years, it seems that the Yulin Dog Meat Festival has grown more resolute opponents than enthusiastic supporters within mainland China.
A recent opinion poll revealed that 64% of Chinese now oppose the festival. The survey was conducted by Beijing Horizon Key (北京零点指标信息咨询有限公司) and was held amongst 2000 people in the 16-50 age category from 1000 different cities, 500 counties and 500 villages (Jiemian 2016).
The survey also revealed that 62% of Chinese surveyees think the dog meat festival harms China's international reputation, and that 51.7% of the people feel that the Chinese dog meat industry should be banned altogether. 69.5% of the surveyed claimed they had never eaten dog meat in their life.
HYPOCRITICAL ACTIVISTS
"Yulin's dog meat should be made into a brand and be widely promoted."
Yet there are also those who are still strongly in favor of the festival. In the Beijing Review (2015), Hu Jianbing of rednet.cn suggests that it is hypocritical to denounce the eating of dog meat when there are so many other animals that are being eaten. Why would the consumption of dog meat be more "horrific" or "disgusting"? Hu says that the festival should go on, as long as there are no illegal abductions of dogs:
"The festival should be continued and could be further developed into a big business. Yulin's dog meat should be made into a brand and be widely promoted."
On Sina Weibo, there are also people praising dog meat for its taste and disagreeing with the Yulin protesters. By now, the Yulin dog meat festival has become a much-discussed issue, especially in light of the international condemnation for it.
MIXED REACTIONS
"My family also raises dogs, and we will always kill and eat them after raising them for years."
Chinese netizens vehemently discuss the dog meat festival on Weibo under the hashtags of 'Yulin Dog Meat Festival' (#玉林狗肉节#), 'Who Advocates the Dog Meat Festival?' (#谁是玉林狗肉节推手#), the popular hashtag 'Boycott the Yulin Dog Festival' (#抵制玉林狗肉节#), and others. The topic has received thousands of comments, with many people venting their thoughts on their own Weibo pages or commenting under Yulin-related news articles.
The discussion draws many mixed reactions, because many netizens disagree on what the focus issue actually is. Is it about whether or not people should eat dog meat? Is it about preserving local traditions? Is it about animal welfare laws in China? Or is this about Western media condemning Chinese traditions? On Chinese social media, it is about all of those things, with different people viewing the issue from different angles.
One netizen writes: "I have seen so many posts about this, here's my two cents: my family also often raises dogs (to protect the home), and we will always kill and eat them after raising them for years, because they've become old and useless. It would be a pity to bury it, especially because we can't afford to eat dog meat very often. My dad likes to eat it, I don't really. But I would never object to my dad eating dog meat. Ever since the Dog Meat Festival, I've begun to detest the behavior of all those activists. At this year's summer solstice I'll also eat a few pieces of dog meat!"
THE CORE OF THE ISSUE
"Eating dog meat is okay, animal cruelty is not."
Many netizens emphasize that they feel it is not right to eat dogs because of their relation to humans: "It is true that we are carnivores," another Weibo user comments: "But since ancient times, we've had a special connection to dogs. Every time I see people eating dog meat or hear them justifying it, it disgusts me!"
But not all netizens understand what the fuss is about: "China is so big and powerful, and yet some little dogs draw international attention. In Africa, people are starving to death yet nobody cares. In Syria there are so many refugees that people don't care about. The Western world.." one netizen says.
"Every year it's the same battle and I am sick of this issue. I try to avoid all news related to it, but I can no longer stand those of you morons who say 'well don't you also eat pork and cows?' – screw you! We raise dogs and take them into our homes like friends, we take care of them with medicine and injections when they are sick. Do you take your cattle into your house like friends? If not, then you have nothing to say!" one Tianjin netizen writes.
There are also many netizens who share shocking pictures and videos of dogs being cruelly killed for their meat. Virtually all netizens respond to these images in shock: "Human nature is so low, it makes my hair stand on end. Society is evil."
In the end, the Yulin dog meat festival discussion is genuinely multifaceted. As long as eating dog meat is not banned in China, eating dogs will remain a personal and legal choice. Perhaps the question of whether or not dog meat should be allowed is not at the core of the issue, nor is the question whether or not Yulin's dog festival is tradition or abuse. The many videos, pictures, and online documentaries show that the Yulin festival is a tradition that undeniably involves animal abuse. It is therefore both a tradition and abuse.
Most Chinese netizens seem to agree that what should be tackled first is not necessarily the tradition of eating dog meat itself, but the abuse that comes with it. As one netizen puts it: "Eating dog meat is okay, animal cruelty is not."
– By Manya Koetse
Follow @WhatsOnWeibo
References
Cao Yin. 2014. "Experts: Dog Meat Festival 'Illegal'." China Daily (June 16). Online at http://www.chinadaily.com.cn/china/2014-06/16/content_17589087.htm [6.23.16].
Luan Xiang 栾翔. 2016. "调查显示六成民众呼吁取缔玉林狗肉节 官方称从未组织 [Poll Shows 60% of People Oppose the Yulin Dog Meat Festival – Government States They Do Not Organize It]" . Jiemian 界面 (June 20). Online at http://www.jiemian.com/article/704030.html [6.23.16].
Yan Wei. 2015. "Dog Meat Festival: Traditional Custom or Abuse?" Beijing Review (29): 46-47.
©2016 Whatsonweibo. All rights reserved. Do not reproduce our content without permission – you can contact us at info@whatsonweibo.com.
Coca Cola Introduces "Ocean Plastic Bottles" to Combat Marine Waste Problem
Coca Cola's innovative ocean plastic bottles have become top trending on Weibo.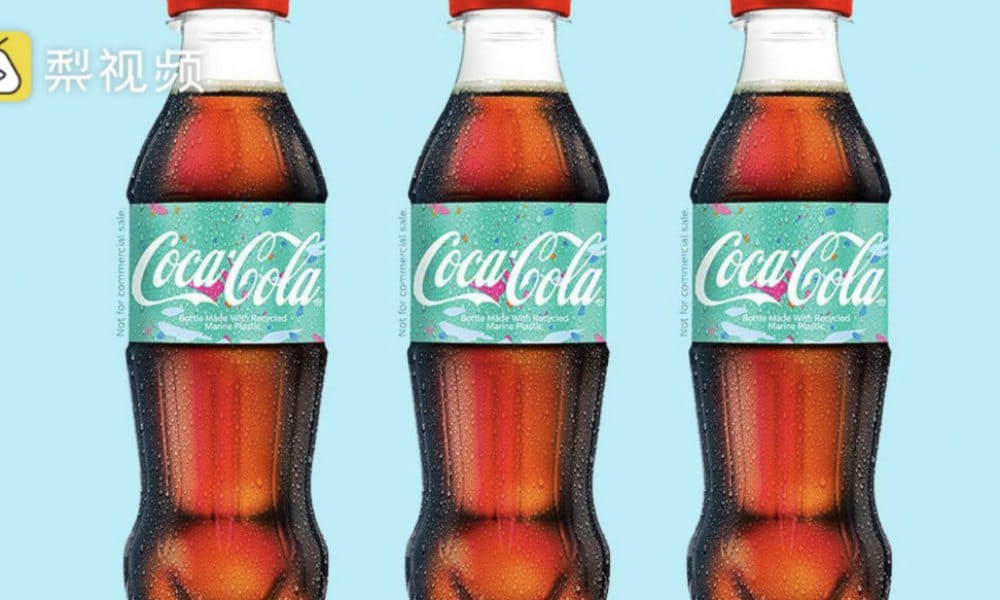 As Coca Cola introduced the world's first bottles made from recycled ocean plastic waste this week, the topic has risen to the top trending on China's Sina Weibo.
As reported by Business Insider, Coca Cola has released 300 sample bottles showing the potential of its new technology that is able to transform lower-grade recycables into high-quality food packages.
The Coca Cola bottles were produced using 25% recycled marine waste, collected by volunteers and fishermen during 84 beach cleanups in Spain and Portugal, the report says, with the company's long-term goal being to have all its plastic bottles be made from 50% recycled plastics by 2030.
Coca Cola will start to use more recycled plastic for its bottles from 2020 on.
With the topic now having reached 140 million views on Weibo, many people are discussing the issue. The majority of commenters applaud the environment-friendly initiative, but there are also some who say they fear the bottles would somehow contain "more pollutants" or start to "taste like the ocean."
Others write they do not necessarily want to drink Coca Cola, but would like to obtain one of their 'ocean plastic' bottles as a collector's item.
The Chinese news reports about the new Coca Cola initiative raise awareness on the problems of how plastic waste in oceans jeopardizes marine life.
"Environmental problems require immediate action," one Weibo users writes: "A good company will take on the responsibility to do something."
Some 200 billion plastic bottles are sold in China every year – many of them are already being recycled. Coca Cola, however, will reportedly be the world's first company to use ocean plastic waste for its bottles.
Coca Cola is an important player in the Chinese beverage market; the company has introduced more than 60 products under 20 brands within mainland China.
Also read:
McDonald's China Introduces Cola Chicken on Its Menu
Coca Cola in China: "Not a Single Bottle of Coke Should Be Sold to Chinese"
Ginger Coca-Cola Comes to China with Some Smart Yin Yang Marketing
By Manya Koetse
Spotted a mistake or want to add something? Please let us know in comments below or email us. First time commenters, please be patient – we will have to manually approve your comment before it appears.
©2019 Whatsonweibo. All rights reserved. Do not reproduce our content without permission – you can contact us at info@whatsonweibo.com
This Is the BBQ Restaurant Jack Ma Visited in Zhengzhou
Jack Ma's late-night snack means overnight success for this Zhengzhou skewer place.
Whatever Jack Ma does or says makes headlines in China. The superstar Alibaba founder has especially been a topic of discussion over the past week since his meeting with Tesla's Elon Musk at the World AI Conference in Shanghai, where the two billionaires had a discussion about the risks and rewards of AI development.
But on social media platform Weibo, Chinese netizens have not just been discussing what Jack Ma has been saying over the past few days – what he has been eating has also become a topic that has attracted thousands of views and comments this week.
A BBQ skewer restaurant in Zhengzhou, Henan Province, gained overnight fame after a visit from the business magnate and his group. The Alibaba delegation visited Zhengzhou for a meeting concerning a strategic partnership between Alibaba and the local government.
Jack Ma visited the barbecue skewer restaurant around one o'clock in the morning, and was photographed and filmed by many people standing around.
Ma visited Dehua Pedestrian Street and Zhengdong New Area before arriving at the Zheng Xiwang restaurant. Ma was with a small group of people and spent a total of 700 yuan (around 100 US dollars).
Grilled skewers are popular all across China, but especially in the Zhengzhou region, which is also nicknamed the "holy land of skewers."
The Zheng Xiwang restaurant visited by Ma was founded in 1991 – although it was just a street stall at the time – and has been thriving ever since.
Besides skewers, Jack Ma allegedly ordered stir-fried Hunan prawns and spicy clams.
As Ma's visit to Zhengzhou and the restaurant has gone viral, some social media users write that they have also visited the restaurant immediately after, sharing photos and their receipts as proof.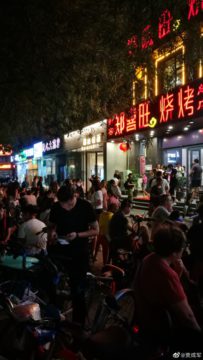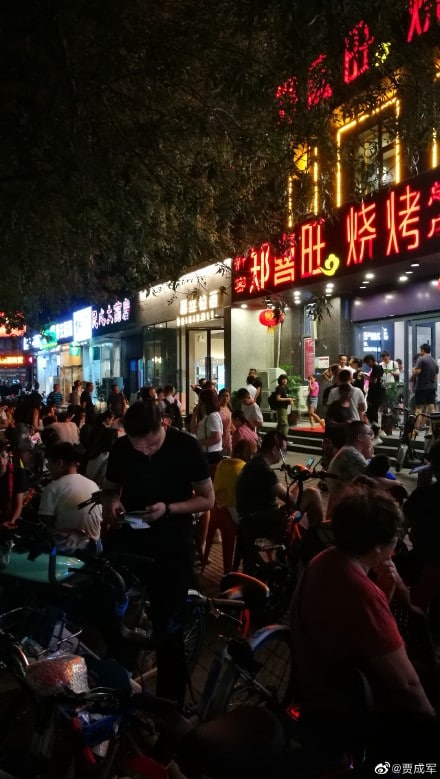 Weibo user Jia Chengjun (@贾成军) from Henan shared photos of people lining up to get a table at the popular restaurant.
According to various reports on Weibo, the restaurant's owner initially offered Jack Ma the dinner for free, but the billionaire refused and paid anyway. His payment method will not come as a surprise; he paid with Alibaba's online payment platform Alipay.
"Why would you offer him a free meal anyway?" some netizens wondered: "He surely has more money than you!"
Curious to try the same food as Ma? Zheng Xi Wang is located at the intersection of Fuyuan Street and Yingxie Street in Zhengzhou (福元路与英协路交叉口向西160米路北(银基王朝南门)).
By Manya Koetse
Follow @whatsonweibo
Spotted a mistake or want to add something? Please let us know in comments below or email us. Please note that your comment below will need to be manually approved if you're a first-time poster here.
©2019 Whatsonweibo. All rights reserved. Do not reproduce our content without permission – you can contact us at info@whatsonweibo.com